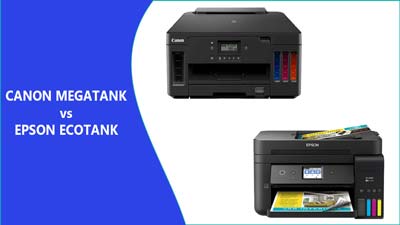 If you have a high-volume paperwork office or you're tired of having to change printer cartridges every week, then an ink tank can be an excellent product for you.
They're efficient, practical, easy-to-use, and long-lasting. Among the many models available, the Canon Megatank and Epson Ecotank are the two most popular and best overall.
But just as they are so amazing, you'll want to know what each one offers and how you can pick the ideal model according to your needs. So we decided to take a look at each one, try them, and figure out what they're better for and how you can get the most out of each.
Care to find out what we learned with these printers? If yes, then read up!
What Are Ink Tank Printers?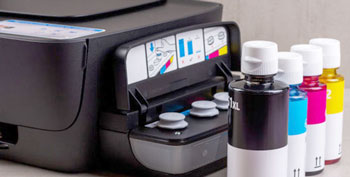 Before we get deep into the subjects, let's explain what ink tank printers are and how they work. Well, you could say that ink tank printers are the most affordable, efficient, and practical printing machines over the long term.
They combine the ability to print hundreds of pages a day at low prices with the largest ink reservoirs, so you can print tons of stuff at a high rate, with little money, and for weeks on end.
The reservoir of these printers is just like the gas reservoir of a vehicle. You won't have to change a cartridge to add new ink. Instead, you just need to fill the tank of the printer with the required ink, and it will be ready to keep printing.
What makes them so efficient at printing is their mechanism, though. Using an airtight tube, the print prevents the ink from drying. But at the same time, it allows the machine to use less ink than average at a faster rate – delivering decent printing results in less time with less ink.
So, it is safe to say that ink tank printers will be ideal for anyone who prints a lot. In offices or places where printing is necessary, having an ink tank printer will come like the most cost-efficient investment.
What Is the Canon Megatank?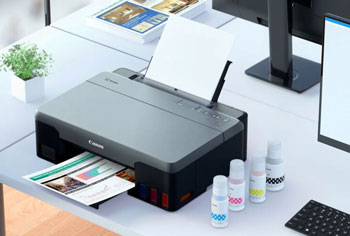 Now that you have a better idea of what an ink tank offers, it is time to hop on and learn about the two models we're talking about in this article.
We're going to start with the Canon Megatank. As an ink tank printer, it offers the chance to deliver hundreds if not thousands of pages per day without running low on ink. The advantage of this model, however, comes from their easy-to-use controls and superb cost over the long term.
There are various Megatank models. But they're all based on the same machine: a family-use or home machine that lasts years without a single refill. Yes, the Megatank is a decently fast and efficient machine that will handle most jobs. But it doesn't focus on high-volume or high-speed tasks like others.
Luckily, it tends to be a piece of cake to use, comes with various features to enjoy, and won't empty out your wallet at first.
Pros:
Decent initial price for the quality
Extremely affordable in the long run
Totally easy to use and practical design
Ideal for casual printing
Cons:
Can't print more than a few hundreds a month
Printing speed can be pretty slow
What Is the Epson Ecotank?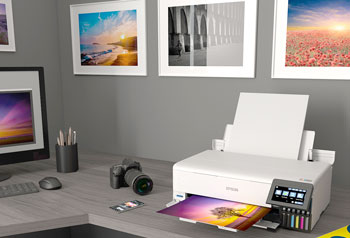 The first company to create large ink reservoirs for printers was Epson. And their first model was the Ecotank.
This was the first family of ink-tank printers. And it comes with models that vary exponentially in speed, capacity, features, functions, and more. But all of them are focused on one thing: delivering the fastest and most efficient printing.
And the Ecotank series from Epson focuses on the small and large business instead of home or occasional use. That means they are equipped with high-volume systems that can handle hundreds of pages a day without problems.
If you want to enjoy maximum printing capacity for several years, then an Epson Ecotank will come like your best bet.
Pros:
Excellent graphics & text print quality
Handles thousands of prints monthly
Fast & practical printing system
Huge tank capacity for more prints per charge
Cons:
Expensive initial cost & recharge prices
Somewhat complicated operation
Epson Ecotank vs. Canon Megatank: Factors to Consider
So, now that you have a better idea of what each one offers – let's compare them thoroughly. We're going over their quality of printing, speed and volume, ink capacity, and overall costs. This will give you a better idea of what each offers and how you can get the ideal one accordingly.
Text & Graphics Quality
As you should know by now, an ink tank printer doesn't provide the highest quality when it comes to graphics or texts. Because they're made to work fast and in huge volumes, they don't have the same components and design to provide high-quality imagery.
Luckily, they're not so bad. We found that both Megatank and Ecotank perform similarly in terms of quality. You will receive decent results with crisp and bright images in both.
However, there's a slight advantage from the Canon Ecotank. It tends to produce a bit clearer images and smoother-looking text. That means you get the best overall result with an Ecotank printer than with a Megatank.
Still, neither of these printers matches the quality of a laser printer. So you get decent results – but even the Ecotank can't match printers that focus on quality over quality or efficiency.
Speed & Volume
You also want to know which one performs faster and provides more volume capacity per day. Well, you'll be excited to know that once again, the Epson Ecotank is the winner.
This happens because the Canon Megatank works awesomely well, providing different features like automatic feeders and even an Ethernet connection so you can feed it digitally. Yet, its design is more oriented towards occasional printing or copying than for business demands.
You may get about 500 prints per month out of a Megatank. That feels like a lot, but for business settings, that will not meet half of the total quota.
In contrast, an Epson Ecotank (in any of its models) can handle thousands of prints per month. That's a lot for a printer that's mainly designed for efficiency and still delivers decent quality.
It is safe to say that an Ecotank can handle about 50 prints a day without problems (sometimes more). So, if you want something that delivers tons of volume per day with decent speed, then you'll love an Ecotank printer.
Ink Capacity
How do you know the total quantity of prints you can get out of an ink tank? Well, you consider the capacity. Here, you will find that both printers have almost the same capacity. But once again, it is the Epson Ecotank that offers the larger tanks.
If you get a standard Megatank or Ecotank model, the total ink capacity per tank may be between 5,000 and 20,000 pages. That means you can get up to 4 years with 500 pages per month.
A Megatank, for example, offers enough black in for 18,000 total pages of pure text. If you need to print 500 pages per month, it will last about 3 years.
On the other hand, an Ecotank may offer a similar experience. Yet, some Ecotank models come with something that no Canon printer does – an extra-large bag/tank that can handle up to 40,000 black-text prints in a single charge.
To have a better idea of what that means – you can print about 1,000 pages a month for up to 40 months. That's more than 3 and a half years of 30 pages a day. In high-volume places that demand at least 100 prints per day – one of these tanks can easily last a year.
Initial Price & Costs
Lastly, you'll want to know which model offers the best value for the cost. And here's where the tables turn.
While you may have found the Epson Ecotank better in all the previous factors, it loses enormously in the price section. This happens because Epson makes premium tank printers that perform better, but cost up to thrice as much as a Canon Megatank.
The price can vary, though. An affordable Epson Ecotank can be half as expensive as a regular Canon Megatank. Of course, you'll feel the difference in quality and capacity still. But even then, this is not just about how much it costs at first – but how much it will cost in the long term. Once again, Epson loses the battle.
Not only it sells the printers at higher prices, but it also happens that its affordable Ecotank models tend to have more expensive cartridges or replacement ink bottles. This places the cost per page at about 2 cents per print.
Sure enough, this elevates the price over time – making it difficult to receive a return or saving on the money before the first year.
A Canon Megatank, on the other hand, tends to be affordable at all times – even the replacement inks tend to be super accessible. And if you don't need to print much, then you can get 2 years of printing capacity from a single charge.
Megatank printers often have a total cost of 1 cent per print. That's twice as affordable as an Ecotank.
Canon Megatank vs. Epson Ecotank: Which One to Choose?
In the end, the battle between epson ecotank vs canon megatank is all about your needs and requirements. You shouldn't pick the most efficient or fast or the most affordable; you should focus on getting the model that works better for what you're looking for.
Having said this, you can go for a Canon Megatank if you're looking for an excellent return on your investment in the long term over efficiency or performance. If you're using the printer for home applications, then a Megatank is your best bet.
But if you need fast printing at high volume and for better quality, then an Epson Ecotank will match your demands much better. Any business environment that demands high-volume printing will find the Ecotank a way more practical choice.
So, what are you going for? Make sure it is exactly what you need. Then it won't disappoint you.
Related: