Which printing method is better for your business: sublimation vs vinyl?
This blog post will compare and contrast the two approaches to help you decide which is best for you.
By the end of this post, you should have a good idea of what each printing process entails and decide which is right for your business.
Let's get started!
Sublimation Vs Vinyl Breakdown
Sublimation and vinyl are two different shirt printing methods, but what exactly are they, and how do they differ?
Sublimation
Sublimation is a printing process that uses heat to transfer dye onto fabric.
The fabric is first placed on a heat-resistant surface and then heated until the dye turns into a gas.
As the gas cools, it binds to the fabric, creating a permanent image.
Vinyl
Vinyl is a type of plastic that can be cut into shapes and fused to fabric using heat.
Vinyl is not as durable as sublimation, but it is much less expensive.
As a result, vinyl is often used for temporary designs, such as team jerseys or event t-shirts.
Vinyl is also popularly used for Cricut Vinyl Labels from kitchen organizers to DIY wine labels!
The video below shows you how to use a vinyl machine and heat press!
So when it comes to sublimation vs vinyl, it depends on your needs and budget.
Read More: What is a Sublimated Jersey? We cover sublimated jerseys (and more on sublimation) here!
Benefits Of Sublimation Printing
Sublimation printing is a unique process that uses heat and pressure to transfer sublimation ink onto an object.
This printing technique has several advantages over traditional methods, such as screen printing and stenciling.
Other benefits include:
Sublimation printing offers greater color accuracy and consistency than other methods.
The inks used in this type of printing tend to be much more durable, making them suitable for a wide range of applications.
Sublimation creates waterproof images, which are ideal for use on sports equipment, such as swim goggles or bike helmets.
Sublimation is also often used for fabrics because it produces a very durable print that won't fade over time. It can also be used on other materials such as metal and glass.
Overall, sublimation printing is a fast and versatile technique that can provide a host of benefits for businesses and individuals alike.
Thinking of starting a business? Grab this T-Shirt Business Checklist!
Benefits Of Vinyl Printing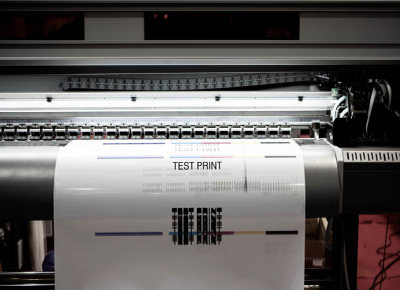 Vinyl printing is a popular and effective method of promotion, with numerous benefits for businesses looking to build their brand.
For example:
Vinyl printing is highly customizable, making it possible to create engaging visual displays that capture the attention of passersby.
Vinyl printing allows for precise color and detail so that any artwork or text can be brought to life with rich colors and sharp edges.
Vinyl printing is durable and long-lasting, enabling businesses to promote their products or services well into the future without fear of fading or wear.
It's relatively cheap and easy to set up. However, it's not as versatile as sublimation and is often limited to simple designs.
Whether you need a temporary advertisement or a permanent display, vinyl printing can help your business achieve its goals and stand out from the competition.
Read More: Is Screen Printing Cheaper Than Vinyl? See if screen printing would be an easier route to take!
Cost Comparison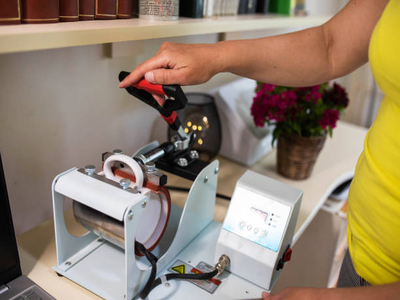 Let's look at the cost comparison between sublimation and vinyl printing.
Sublimation is More expensive
Sublimation is the more expensive option.
This is because the equipment required to do sublimation printing is more costly than vinyl printers.
In addition, the inks used in sublimation printing are also more expensive.
However, sublimation offers advantages in terms of print quality.
Sublimation prints tend to be higher quality than vinyl, and they are more resistant to fading and wear over time.
So, sublimation may be the better option for projects where print quality is paramount.
Read More: How Long Does Sublimation Ink Last? Get an idea of costs with this guide!
Vinyl is the economical choice
On the other hand, vinyl printing is the more economical choice.
This is because vinyl maker machine is less expensive than their sublimation counterparts.
In addition, the inks used in vinyl printing are also less costly.
However, vinyl prints tend to be less durable than sublimation prints, meaning they may not last as long.
Therefore, if you're looking for a cost-effective printing method that can handle basic designs, vinyl printing may be the way to go.
Ultimately, it all comes down to your specific needs and what you're looking to achieve with your printing project.
How to Choose
What Makes Sublimation Preferable Over Vinyl?
Sublimation is a printing process that uses heat to transfer ink onto a substrate.
This means that the ink becomes a part of the substrate rather than sitting on it.
One advantage of sublimation is that it allows for full-color prints with high levels of detail.
The downside is that it can be more expensive than other printing processes, requiring specialized equipment.
Why is My Sublimation Not Transferring? Read how to troubleshoot sublimation!
What Makes Vinyl Preferable Over Sublimation?
On the other hand, Vinyl printing involves using a vinyl cutter to create your design.
The design is then applied to the substrate using heat and pressure.
Vinyl printing is often used for signs and banners because it produces a durable and weather-resistant print.
Speaking of banners, check out this cool article on Making a Banner with Cricut!
So, Which Printing Process Is Right For You?
Sublimation is the way to go if you need a high-quality, full-color print that will last for years.
However, if you're looking for a cost-effective option best suited for basic designs, vinyl printing may be better.
Ultimately, it depends on your specific needs and what you're looking to achieve with your printing project.
Whichever option you choose, sublimation or vinyl, you can be sure that you'll have a professional and eye-catching finish.
Final Words
So, sublimation vs vinyl, which is the best choice for your needs?
The answer depends on what you're looking for in your projects.
Sublimation gives high-quality, durable prints that will last for years with no fading.
If you want something less expensive and don't mind sacrificing a bit of quality, vinyl printing is right for you.
Articles You Might Enjoy Reading: