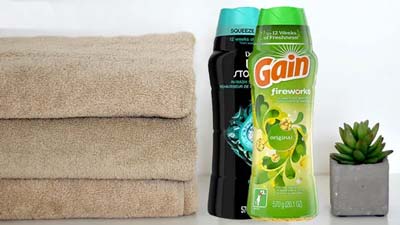 Did you know people can remember a smell with 65% accuracy even after a year whereas visual memory drops to 50% clarity just after a few months?
Yep, that's how much powerful impact a smell can make!
Imagine wearing a suit that smells funky in your job interview. Your first impression will be ruined before you can even say "Hello" to anyone!
Want to smell fresh, feel comfortable and give your cloth a subtle scent that impresses the people you meet every day?
Add a laundry scent booster to your wardrobe and get ready to have a feel-good fragrance that lingers all day!
The best laundry scent booster actually lasts for weeks, not days and throws a challenge that even your sweaty gym clothes can't stand against.  
Top 7 Best Laundry Scent Booster in 2021
1. Downy Unstopables In-Wash Scent Booster Beads
Have your clothes started to smell more like your closet and less like you recently?
Don't worry, it's quite natural for the fabric to pick up smell after being in storage for a long time without usage.
Downy Unstopables In-Wash Scent Booster comes in handy in times like this. With small laundry scent beads, this booster helps freshen up your wardrobe with minimal effort. Use once during the wash and enjoy the benefit of having scented clothes for up to 12 weeks.
White or colored? Cotton or silk?
Downy Scent Booster can be applied to all types of colors and fabrics! With a bright, vibrant and airy smell, the beads help bring your cloth back to life by removing all the stinky, sweaty smells you picked up from outside.
You can also use fabric softener alongside these beads to keep your cloth wrinkle-free and delightful-smelling.
Want to have a fresh load of laundry that smells wonderful for weeks?
Shake the Downy bottle, pour it into the cap, toss it into the machine at the beginning of your wash and see the magic happen after the clothes come out!
You can also choose from the product's other available scents including Lush, Shimmer, Spring and Tide original scents.
Highlighted Features:
Once added to the fabric, the fragrance lasts up to 12 weeks.
You can use this product regardless of the fabric's color and material.
Compatible with all machines including HE and TL.
You can also use fabric softener, detergent alongside these perfumed beads.
2. Arm & hammer In-Wash Scent Booster
Arm & Hammer is a reputed brand that has been serving people for over 170 years. The company is determined to make people's lives easier by providing solutions for cooking, cleaning, pet care and oral problems.
One of the significant sectors the company has invested in is laundry care. From detergents to power racks to scent boosters, it has spread its wings in almost every corner!
The In-Wash Scent Booster from this manufacturer comes with a strong promise of deodorizing your clothes with long-lasting freshness.
How would you feel if you could smell the tropical sun-grown fruity floral fragrance while sitting right at your home?
That's what this wash scent booster guarantees to do!
The delectable combination of floral smell with vibrant citrus odor leaves the people around you with the feeling of a warm, gentle breeze passing by them. The trace of freshness lasts long enough to take the smell everywhere you go.
The product comes in liquid form which is made of hydrated silica, liquitint pink, sorbitan oleate, sodium chloride, fragrance and sodium bicarbonate. You can use this liquid on all kinds of fabrics, colors and load types.
Highlighted Features:
Tropical sunshine floral smell with fresh citrus odor gives long-lasting freshness.
Compatible with HE machines, it's safe to use in all selections.
You can use this liquid for both white and colored loads.
Even a little amount of this liquid makes your laundry smell fresh all day long.
3. Snuggle Laundry Scent Booster
A little or a lot?
Do you still get confused about how much scent booster is needed to freshen up your laundry?
Well, don't worry! Snuggle has got your back!
1 pack of Snuggle contains 56 little concentrated packs that are all premeasured for your convenience. All you have to do is to place a single pack into the washer before you add your laundry, toss detergent as you need and wait for your clothes to come alive with long-lasting freshness!
The scent of this booster is described as "Blur iris bliss". It's actually a combination of fresh red berry perfume with bright citrus flavor.
The smell also carries a warm woody note that's perfectly balanced so that it doesn't overwhelm you by any means.
As you need only 1 pack per a load of laundry, Snuggle is way more economical than other products. The mini packs dissolve completely with both hot and cold water and do not leave any plastic film behind.
However, if you are using a large capacity machine(LG) to wash your loads, it's better to use 2 packs for the ideal result.
Highlighted Features:
To take you out of the guessing work, Snuggle comes in premeasured packs.
Red berry with bright citrus combination leave your cloth smelling fresh.
As you require only 1 pack per load, it's a cost-effective solution.
You can use the mini packs in both hot and cold water.
During wash the pack dissolves completely without leaving any plastic behind.
4. Gain Fireworks In-Wash Scent Booster
Did every other scent booster fail to impress you in the past?
Then you must have a strong distaste for strong perfumes that most scent boosters seem to have!
For people who prefer a mild scent that just masks the smell of the detergent, Gain Fireworks is a good option to consider. This booster comes in a form of yellow beads that dissolve completely in the washing machine even during a cold wash. Once washed, you can put your clothes in the dryer and the clothes still smell fantastic for weeks!
Depending on your preference, you can use as many or as few beads as you want of these scented beads. The beads work their charms through all sorts of fabrics regardless of color and material.
Compatible to work with both standard and high-efficiency washers, this is the best laundry scent booster that's safe to use with all machine types.
To get the most out of this product, shake a little(or a lot!) amount of beads into the cap and toss it into the machine before putting your laundry.
Just a handful amount is enough to enhance your laundry. However, if you prefer even a milder scent, use half of a cap for a load.
Highlighted Features:
Being a mild-scented booster, it doesn't overwhelm you by any means.
You can safely use it with a regular and high-efficiency washer.
Clothes stay fresh up to 12 weeks even after putting them inside a dryer.
Gainwork Original is a newer version that contains 5 extra ounces.
5. Mrs. Meyer's Clean Day Laundry Scent Booster
There's something to be said about a cruelty-free product that doesn't use any animal-derived ingredients. And Mrs. Meyer's Clean Day doesn't disappoint in this regard!
Mrs. Meyer's Clean Day is a trusted brand that makes products inspired by gardens. Being passionate about the environment, the manufacturer uses essential oil, sea salt and plant-derived ingredients for making these in wash scent boosters.
Mrs. Meyer's Clean Day comes in a lovely lavender fragrance that has a sweet floral smell to freshen up your laundry.
Besides the formula's ability to add a clean touch to your clothes, the herb "lavender" has many therapeutic benefits.
The fragrance of this plant is known to promote calmness and relieve stress. It also helps reduce fatigue, anxiety and even mild pain.
As the freshener comes in a concentrated form, you don't need to add a lot of amount to your laundry.
For regular suits and dresses, we recommend using less than what you would use(pour a teaspoon first and see how it goes!) for other products.
However, if you have given your bedsheet or pillow cover to the washer, use a bit extra for better result.
Highlighted Features:
Concentrated lavender formula does a good job while pouring a little amount.
Being made of plant-derived ingredients, the freshener is safe to use.
You can use this formula on both conventional and HE washing machines.
With a soothing lavender fragrance, the freshener reduces stress and fatigue.
6. Purex Crystals In-Wash Fragrance and Scent Booster
Did you know the septic system of your household gets greatly affected by the chemical products you pour down its drain?
Yep! And the system's life gets shorter every time you choose the wrong product!
Purex Crystals are made of carefully chosen ingredients that are all safe for septic systems. You can use this formula for all types of machines including traditional and high-efficiency washers.
The 39-ounce fabric freshener comes in a bottle under the name of fresh spring water scent. The bottles are also available in 2 other sizes including 15.5-ounce and 21-ounce.
Depending on when you wear your clothes the next time, the formula helps keep your fabric fresh for a long time(up to 12 weeks!).
1 cap or 2 caps?
What should be the right amount of crystals for a load you reckon?
Well, the great thing about using Purex is that you can use as much as or as little as you want!
Depending on how large the load is, you can alter the amount. For a typical large or super load, we recommend using 1 full cap for the ideal result.   
Highlighted Features:
Purex Crystals is safe for all sorts of loads including towels and activewear.
Offering 12 weeks of freshness, it comes with a long-lasting scent.
There are 3 different sizes including 15.5, 21, 39 ounces to choose from.
You can use these crystals for both traditional and high-efficiency washers.
7. Dreft Blissfuls In-wash Scent Booster Beads
There's no denying the fact that babies smell D.E.L.I.C.I.O.U.S! No wonder how they bend us to their will so easily, huh?
While childhood doesn't last forever, the amazing baby smell can be captured by adding Dreft Blisfuls Scent Booster to your laundry!
Being the best in wash scent booster, this formula is suitable for washing all types of fabrics including baby clothes and adult garments.
The main ingredients of this fabric freshener are perfume dispersant, perfume and dye. The product comes in a bundle of 4 where each bottle of Dreft solution contains 10-ounce detergent.
Depending on how stinky your clothes are and how large the load is, you can use as little or as much as the formula you want. There's a cap indicator that lets you measure the detergent before you toss it into the washer.
For a standard load of cloth, it's enough to use detergent up to 1st line of the cap. A little goes a long way in terms of using this detergent, so it's best to start with less amount.
Highlighted Features:
Dreft detergent is designed to dissolve fully in water.
With a lovely baby-like scent, it brings back nostalgic memories of childhood.
You can use it for both baby and adult cloth types.
Using just a little amount of this detergent gives you long-lasting freshness.
Laundry Scent Booster Comparison Table
Things to Consider Before Buying Laundry Scent Booster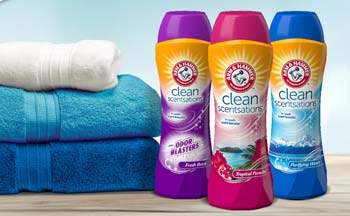 Ingredients
Any scented thing can trigger bad reaction if you are allergic to that particular smell or ingredient used in that product.
For this reason, it's advised to read out the ingredients or have a look at the laundry scent booster reviews to see if anyone has any bad experience with it.
Also, before putting any scent in the washing machine, check to see if any of your family members is sensitive to any particular ingredient.   
For instance, if your kid is allergic to herbs, it's probably a good idea to avoid all sorts of plant-derived scents as doing so might cause body rash on him/her.
Form
There are different types of laundry scent boosters available in the market. Depending on your preference, you can choose to purchase this product in liquid, detergent or bead forms.
Each type works in different ways to freshen up your clothes. Liquid or detergent fresheners require a bit of guessing to measure properly. Beads or crystals, on the other hand, can easily be counted or poured in a cap for the right measurement.
For people who want a hassle-free experience, there are mini packs available that contain enough beads inside to be sufficient for one load of laundry.
However, in that case, make sure that pack dissolves completely in the water and doesn't leave any plastic film inside the washer.
Scent Intensity
Mild or bold?
Which one matches your personality the most?
Bold scents usually last for the longest time while giving you freshness all day long! Some of the bold scents involve citrus flavor, strong floral smell etc.
For people who prefer mild scents, there are formulas that contain fragrance just enough to give your cloth a fresh, laundered smell. These scents don't last for a long time and need to be used more frequently for that reason. You can also use it when folding a shirt that will get rid of bad smell although you keep the shirt folded for a long time.
Machine Compatibility
Generally, standard washing machines are compatible with all sorts of scent boosters.
High-efficiency machines (HE), on the other hand, is a different story. The mechanism of a high-efficiency machine is such that it uses 50% less water than a traditional machine. As they are energy-efficient, they also consume only 20-50% of the energy consumed by a traditional washer.
For these reasons, HE machines require special products that have low-suds and quickly disperse into the water.
The best laundry scent booster should have the ability to work in less water and not create excess suds even in HE washers. Also, the scent booster shouldn't leave any sticky film that may lead to extra rinse cycles.
Common Questions and Answer
Q1. How Do Laundry Scent Boosters Work?
Ans: Scent boosters come in the form of beads/crystals, liquid or detergent that are packed with fresh scents. When you put these fresheners into the washer, the component dissolves itself into the water and leaves a long-lasting fragrance on your fabric that you wouldn't get from your standard detergent.
Q2. Can You Put Scent Boosters In The Dryer?
Ans: No, absolutely not!
Fabric fresheners are designed to work with water. Make sure you toss the scent boosters into the drum of your washer before adding your clothes. Then use your standard detergent alongside the boosters for the best result.
Q3. Does Scent Boosters Soften Up The Fabric?
Ans: No, that's a job for the fabric softener.
Scent boosters only add a refreshing smell to your laundry, nothing less or nothing more. If you want to improve the texture of your cloth, you need to use fabric softener for that purpose.
Q4. Can You Use Scent Booster As Air Freshener?
Ans: It depends on what type of fabric freshener you are using.
Boosters that come in bead forms can usually be used as an air freshener. Simply place a few beads into a spray bottle and fill it up with water.
Leave it overnight and give the bottle a little shake in the morning to mix everything. There you go! Your brand-new air freshener is ready to roll!
Final Words
Just like a clean, fresh-scented cloth can put you in people's good note, a whiff of bad smell will turn heads as if you've come from a swamp!
Not interested in turning people's mood off?
Invest in the best laundry scent booster and take a fresh clean scent everywhere you go!
From spring flowers to bright fruity flavor, there are various fragrance options available to entice your sense. Just pick the one you like the most and smell the difference right away!
Relevant article that you may like: