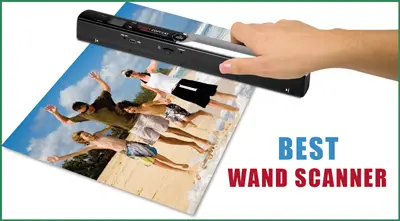 These days, people are taking care of their business on the go. The need for portable office equipment is more than ever.
Thanks to the advancement of portable technologies, things like printers, scanner, etc. are getting smaller and handier.
With the rise of home-based jobs, handheld scanners are more than just a necessity. In places where you can't take your smartphone to do all the scanning, you can rely on the best wand scanner to take care of all your scanning needs.
Long gone are the days where people are chained to their workspaces or desks. It's the era of multitasking. When you are dealing with a lot of documents, a handheld portable scanner lets you seamlessly scan files wherever you are.
Having a proper scanning wand for photos and paper documentation like invoices, receipts, etc. comes handy while you are out on jobs.
| | | | |
| --- | --- | --- | --- |
| | | | |
| | VuPoint Solutions Portable  Wand Scanner | | |
| | Aibecy Portable Handheld Wand Scanner | | |
| | Vupoint Solutions Magic Wand Portable Scanner with Color LCD Display | | |
| | Pandigital S8X1103LP 8.5 "x14" Portable Wand Scanner | | |
| | | | |
How Does Wand Scanner Works?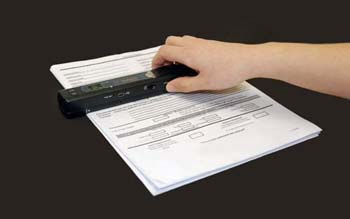 A wand scanner works just like a regular document scanner. However, it's more portable, and you can take it anywhere you want. Now, you might ask, why do you even need one when you can use your smartphone and decent scanning app to do all the work?
It's all about the scanning quality. For example, it's a waste of time to take a picture of a picture for scanning purposes. When done properly, scanned photos can be used to reprint at the same or even better quality.
A wand scanner is a bar-shaped device that has a set of tiny light sensors. It's called the detector array, which takes up most of the device's length. When you pass the device over a document, the portable unit illuminates the page just like a regular scanner.
The sensor then picks up the document as a set of point lights. On the surface of the scanner, there are rollers that measure the length of the page in order to scale the document correctly.
Then, the device turns the light signal into digital data and stores them on an SD card. These portable wand document scanners are powered via batteries.
Now that you know how these portable scanner wands work, it's time to look at some of the most popular devices on the market.
Best Wand Scanner Reviews: Top 10 Recommendation For 2021
Here are some of the most reliable handheld wand scanners out there that should allow you to scan hundreds of photos and sheets with ease.
1. VuPoint Portable Wand Scanner
From scanning articles to family photos, a magic wand scanner can be a neat little device to have around. The VuPoint Solutions magic wand does everything you would expect a portable handheld scanner to do. This also happens to be the most popular as well as the best portable wand scanner on the market.
It can digitize newspapers, photos, documents as well as any smooth surface with ease and also with great accuracy. With this device, you can easily scan up to 35-inches (length) at 900 DPI.
Take this device to the library or to your workplace and store image and legal-size document at the highest resolution.
This is a plug and play device. This means you won't have to mess around with any driver installation. Simply scan your documents, and it will store them on an SD card.
After that, connect the wand to your pc via the supplied USB cable and transfer those scanned documents. It is as simple as that.
You can easily scan documents that are 8.27 inches wide, and on the lowest DPI settings, it can scan up to 98 inches long. The whole scanning process takes about 3 seconds to finish.
Lastly, this small unit is powered by two standard AA batteries. You can easily perform at least 150 color scans on a full charge.
Highlighted Features:
900 DPI maximum resolution.
It comes with an OCR software.
Three resolution choices (300, 600 & 900 DPI).
Supports microSD card up to 32GB.
2. Aibecy Wireless Wand  Document & Images Scanner
Stop wasting money or paper on photocopies and get yourself a good portable wireless scanner like this one. It's a simple yet functional handheld wand scanner that works as advertised. If you keep your expectations low, you will find the overall performance of this device to be satisfactory.
It doesn't come with SD cards or batteries, and honestly, this isn't that of a deal-breaker. It's an easy-to-use scanning device that requires a bit of a learning curve.
For example, if you want HD quality scans, you will need to slide it a bit slower. You can select three DPI settings, and the speed will vary accordingly.
If you can move the device smoothly, the scan will be just as good. The intuitive design makes it very easy to use just about anywhere.
Thanks to its compact size, you can pack it easily and carry it around. The instructions are well written and very clear. It even comes with free OCR software.
The Aibecy portable scanning device is perfect for images and A4 size documents. It features a real-time scanning detector to avoid distorted scans.
The max DPI is 900 and has a scan width of 8.27-inch. It also has a small TN display panel on the top that shows the current status of the document that you are scanning. 
Highlighted Features:
Supports JPG and PDF formats.
Max resolution is 900 DPI.
Scan status indicator light.
Features real-time scanning detector.
3. Vupoint Solutions Handheld Scanner with Color LCD Display
Another amazing magic wand from Vupoint, and this time it's the 2-in-1 portable scanner. That's right; it's a magic wand that also comes with a dock.
The high-resolution scanning is fast and works great for photos. In addition to that, it has a 1200 DPI resolution that's probably the highest in this list of reviews.
If you are looking for the best handheld photo scanner, this is the one. You can easily digitize thousands of family photos in HD in the dock mode without the risk of image distortion.
The auto-feed dock takes the guesswork out of scanning. This is probably the best handheld portable scanner you can find on the market.
Another cool feature is its 1.5-inch color LCD panels. This display is a whole lot better than TN displays.
You can use this screen to preview your scans, select DPI, and much more. The scanning width of this unit is 8.5-inch, which is slightly wider than the rest of the units featured in this review.
As for the scanning length, it can scan up to 125-inch. Now that's pretty impressive. In terms of speed, accuracy, quality, and versatility, it's really hard to beat this one.
You can even scan curtains with this wand. On a side note, if you want to use the 1200 DPI setting, you will need to connect it to the auto feeder.
Highlighted Feature:
– 2-in-1 versatile portable scanner for high-res photo scans.
Ability to preview scans using the 1.5-inch color LCD.
8x zoom supported to preview down to the last detail.
Capable of scanning at 1200 DPI in dock mode.
4. Pandigital S8X1103LP  Handheld Portable Scanner for Book and Photos
Looking for a portable scanner with Wi-Fi capabilities? The Pandigital S8X1103LP can easily scan all your images and documents in high resolution and give you amazing PDFs and JPGs. In the wand scanner mode, this device supports up to 600 DPI scanning, and in the dock mode, it goes all the way up to 1200 DPI.
It's easy to use, and the price is on point. This is an affordable wand scanner that transfers the scans over Wi-Fi to your mobile or computer.
What makes it even better is the combination of a docking station and a rechargeable battery unit. This little gem can easily turn into a regular scanner when you use it in dock mode.
You can scan directly in JPEG or PDF. It also supports storage expansion up to 32 GB by installing a microSD card.
You can use it without one if you transfer all the scans over Wi-Fi to your computer. You can also view your scans live from your mobile if you use it without the SD card.
In short, this 2-in-1 wand or feed scanner is a great wireless device to have around if you scan a lot of receipts, documents, photos, and more.
It can also scan and deliver grayscale images. Last but not least, there is a small, color LCD preview screen that makes this wand scanner even better.
Highlighted Features:
It has 128 MB onboard storage.
Supports file transfer via Wi-Fi.
Color LCD preview display on top.
Scans at 1200 DPI at dock mode.
5. Flip-Pal Mobile Scanner
Finally, we have the classic Flip-Pal mobile scanner. It might look like a regular scanner, but this one doesn't require a computer to scan photos and files.
In fact, this is the original mobile scanner developed for large and fragile documents. Another unique feature of this device is StoryScans software.
This allows you to combine the scan and the recorded voice into a high-definition file that's ready for presentation.
The reason why you would want to opt for this one is because of its ability to scan fragile documents in a safe manner. Thanks to its unique flatbed design, your memories will be safe while you are scanning.
As for the mobile scanner itself, this device is highly accurate, simple, and quick to operate. It's also one of the most versatile mobile scanners out there.
This one lets you do more than just scanning old photos and files. It comes with useful software and apps for both pc and smartphones.
One downside of this unit is its resolution. You can scan at max 300 DPI. I know this isn't a lot and could be a deal-breaker for you guys.
So, keep that in mind when you decide to buy this one. However, it's fast and ideal for old and fragile documents. Also, if you prefer a flatbed scanner, this is the one to get.
Highlighted Features:
Lis- EasyStitch & StoryScans software provided.
Designed for fragile and old photos and documents.
Doesn't require any external power source.
Can be used without a computert Element.
6. IRIScan Book 5 – Best Wand Scanner For Books
If you want to get your scans done faster, look no further than the IRIScan Book 5 mobile wand scanner. For basic scans, it takes about 1 second to complete.
For black and white scans, it can be done in under 2 seconds. And it takes only 3 seconds to make a full-color scan. Now that's very impressive.
You can directly scan your color documents to JPEG and PDF at 1200 DPI. It also provides options to scan at 300 and 600 DPI. 
Another neat feature of this device is its ability to scan up to 300 pages with just one battery. This saves you a lot of time between changing the battery and scanning the pages.
This wand scanner has a scanning width of 8.27-inch, which is pretty standard for devices like these. As for the length, it is 98-inches.
The OCR software that it comes with is compatible with Mac OS and Windows. It's also highly compatible with most spreadsheet and word processing software.
This scanner supports microSD cards up to 32 GB, but you will have to purchase it separately as it isn't included in the box.
You will, however, get a micro USB cable, calibration sheet, and a user manual. Powering this mobile scanner is a Lithium-iON powered rechargeable battery.
Highlighted Features:
List EleThe mini LCD preview display supports zooming in and out.
It comes with Readiris Pro 15 OCR software for free.
Scans directly to JPEG and PDF.
Fastest mobile scanner on the marketment.
7. Magic Wand Document Scanner
Want a portable scanner that's handy and more efficient than a flatbed? In terms of portability, this one is by far the easiest to carry around.
The whole device is 9.5-inch long and weighs only 0.44lbs. This ultra-compact scanner will fit virtually anywhere. Size isn't the only good feature of this product, though.
It's also highly efficient. Want to know why? First of all, you get a dual connectivity option. You can connect this device via a regular micro USB cable or connect it wirelessly via Wi-Fi.
The second is the scanning speed. Scanning photos at 1050 DPI under 5 seconds is possible with this fast scanner.
The third is its impressive clarity. You can easily convert any document or picture into digital files with great detail and high clarity.
You can also set the desired DPI settings to match the document that you are scanning. Fourth, this device is also compatible with iOS, Android, Windows, Mac OS & even Linux.
Using the display on the top, you can preview what you have scanned and check for any distortions on the file.
The display is slightly larger, which is better for viewing scanned documents. Keep in mind that you won't be able to view the scans while you are still scanning. No live preview option, sadly.
Highlighted Features:
Most compact mobile scanner on the market.
Support up to 1050 DPI resolution.
Uses a CCD sensor to scan documents and photos.
Built-in Wi-Fi connectivity.
8. VuPoint Solutions PDS-ST441PU-VP
If you are a fan of VuPoint Solutions but don't have the budget to buy their high-end magic wands, then the PDS-ST441PU-VP might just be the perfect portable scanner for you.
Right out of the bat, there are some compromises that you will need to make. First, you will only get 900 DPI maximum scanning resolution.
The highest is 900×900 and if you are okay with this, the rest of the downgrades won't matter much to you. Another small sacrifice you will have to make is the preview display.
It doesn't come with one. Instead, you will get a TN display that only shows you a basic option like the DPI setting.
You can also go with the color preview display model, but that would cost you a bit more. On a side note, it is ideal for people that want a basic scanner for documents, receipts, and bills.
You can scan in black and white or color at high resolution. It's also small & lightweight, just like the rest of VuPoint's scanners.
Make sure to keep it steady while scanning if you want accurate JPEGs. You can also save it later in a PDF format; it's up to you.
Also, if you want to achieve 900 DPI scans, use VuPoint's auto-feeder or tabletop scanning stand. These are sold separately. Keep in mind that this unit doesn't come with a docking station.
Highlighted Features:
900 DPI scans on dock mode.
Lightweight and easy to carry around.
Easy to calibrate.
Affordable price tag.
9. Magic Wand Portable Scanners for Documents 900DPI
The MUNBYN photo scanner is a reliable, fast, and easy to use portable scanning device that's perfect for digitizing your business files and memories in the most convenient way possible.
It is a lightweight device that's ideal for on-the-go scanning. This device weighs only 0.44 lb. that makes it easy to carry.
It has three DPI settings. Starting with the 300 DPI, which is perfect for scanning receipts and business cards.
Scanning documents takes only 3 seconds to complete when you choose the lowest resolution. For books and documents, select the 600 DPI setting that takes 1 second more than the previous setting.
As for scanning photos, the 900 DPI setting takes only 5 seconds to complete. You don't need any flatbed scanner or docking station for this one.
This handheld device makes high resolution scanning convenient and more efficient than an auto feeder. It's a plug and play device that is compatible with the most famous OS's.
It's also OCR tech supported and comes with its own OCR software. This scanner scans photos and documents up to 8.27-inch wide.
The length is adequate for most legal documents. Out of the box, you will get a cleaning cloth, a USB cable, the software CD, and a user manual. 
Highlighted Features:
Can scan books vertically and horizontally.
Three DPI settings.
Connects wirelessly to your computer.
It comes with a 16 GB microSD card.
10. ClearClick Portable Photo & Document Scanner
Well, we are finally at the end of this best portable wand scanner review. However, there is another product that made it into our list, and that's the Avision MiWand 2 Lite.
It's a small and portable device that does the job. It's also extremely user friendly and scans faster than most portable scanning device.
However, if you go too fast, you will lose image quality. With just three AA batteries, you can scan documents nonstop for 7 hours.
That's about 300 pages until the batteries go out. Once you are done scanning, you can easily connect it to your computer via the USB cable.
This device is compatible with most famous operating systems like Windows, Mac OS, and Linux. You can also take out the memory card and put it in your laptop's SD card slot for file transfer.
As for the storage, this scanning device supports up to 32 GB microSD card, but you will need to purchase it separately.
As for its features, you will instantly fall in love with its instant preview screen. Also, it comes with its own auto feeder that allows you to scan at a maximum resolution of 1200 DPI. When using the auto feeder, you can scan documents that are up to 47-inch long.
Highlighted Features:
Can scan document up to 47-inch long.
1.45-inch instant preview LCD screen.
1200 DPI max resolution.
It comes with its own auto feeder.
Top 10 Wand Scanners Comparison Table
VuPoint Solutions Magic Wand

Aibecy Portable Handheld Wand Wireless

Vupoint Solutions Magic Wand Scanner

Pandigital S8X1103LP 8.5 "x14"

Magic Wand Portable Scanners

VuPoint Solutions PDS-ST441PU-VP

Magic Wand

Document Scanner
Wand Scanner Buying Guide For Books, Photos, Documents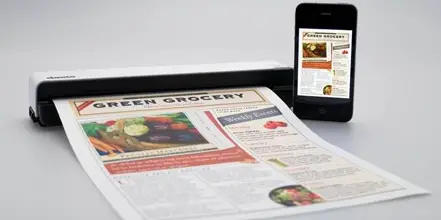 While most of the magic wand scanners out there are pretty similar in terms of price and features, we would always recommend you go with scanners from reputable brands. Also, get the one that you think is sufficient for your needs.
It's not a good idea to always go for the most expensive models on the market. You don't want to spend money on features that you would end not using at all.
With that in mind, here are some of the key features that are essential in a handheld scanner.
If you want to buy the right one, make sure these features are present in the device that you want to buy.
Resolution
Always check the maximum DPI of the scanner. What really matters in the quality of the scans. Just don't expect the quality of an office scanner from these handheld units.
However, you can get close to that scan quality if you buy the right unit. Dots per inch or DPI, in short, is used to measure scan resolution. The maximum DPI available is 1200. However, not all scanning wands are capable of achieving 1200 DPI.
There is no point in buying a portable scanner if the scanned documents aren't very readable. The lower resolution is only ideal for small documents such as bills, receipts, etc.
Go higher if you want high-quality, clearer scans. The best wand scanner on the market is only capable of 1200 DPI scans. Even then, you would have to put the wand in the docking station or on an auto feeder.
Also, the lowest DPI is 300, which is only useful for scanning small documents. 600 is for legal papers and important documents. Make sure to choose the right resolution before you start scanning.
Types
Let's get straight to the point. There is only one type of wand scanners, and they all do the same thing. However, some models come with their own docking stations that turn them into sheet-fed scanners. If you count the add on, that makes it two different types.
➥ Auto Feeder
Having a docking stand means you can scan at a maximum resolution without having to worry about image distortion. The docking station works as an auto feeder where you feed the document through it.
It takes in the document at a certain pace, and the wand on top of it does the scanning at max DPI. This is an efficient way to scan high-res photos while you take care of other things.
➥ Handheld Only
The basic scanning wand that works by waving the scanner over the document in a steady and gentle manner. You can only scan flat surfaces. This includes any flat surface like wall arts, curtains, etc.
However, there is a limitation. You are limited to the size of how much you can scan. For example, all the scanning wands will have a standard width of 8.27-inch. The length will vary from device to device.
Intended Purpose
If you only want to create high-resolution scans of photos, I recommend you go with a scanner wand that has its own docking station. Also, make sure the maximum DPI is 1200. This is mandatory if you want high-quality scans of photos.
On the other hand, if you want to scan fragile documents and photos, you will need a flatbed scanner or something that is designed to handle fragile pieces. For regular document scans like bills, letters, receipts, etc. any wand scanner will do.
You can go creative here.  These handheld scanners can virtually scan any flat surface as long as it is within the capacity of the scanner. By capacity, I mean the width and length of the scanned object.
For example, you can scan floral patterns, designs on carpet, designs on t-shirts, and any other flat surfaces. You can then take the design and use it wherever you want.
Power Source
Mobile scanners are usually powered by AA batteries. However, some models will feature rechargeable batteries that are built-in to the device. Having a rechargeable battery means you won't have to carry around an extra pair of batteries with you.
On the other hand, you will have to frequently charge the device. You should also consider battery life. If you have to make a lot of scans on a regular basis, good battery life important.
High-resolution scans will draw a lot of power compared to low-res scans. In general, you can expect about 300 color scans with two fully charged AA batteries.
There are models that support dual power mode. If you are out of batteries but still want to do more scanning, you can plug the device via a USB cable and start scanning.
Storage
All the handheld scanners on the market have a microSD card slot. Most of them will easily support up to 32 GB microSD card. There are devices out there that support microSD cards up to 128 GB. If you do a lot of scans and high-resolution ones, it's a good idea to go with the highest storage capacity.
Keep in mind that most of the scanners won't ship with an SD card. You will have to buy it separately. The same goes for the batteries. While making your order online, make sure to buy an SD card, or else you won't be able to do any scans.
Performance
It's not worth paying a premium for a scanner if it doesn't perform well. If you have a portable scanning wand, this is definitely the feature that you should look into the most.
The wand should be able to scan without distorting the image. Not all of us have steady hands, and that's why the scanner should be able to autocorrect the slight mistakes that happen when you wave the wand.
Compatibility
The scanner should be compatible with all the operating systems out there. This includes different versions of Windows, Mac OS, Linux, etc. The best ones are also compatible with iOS and Android.
If you want to plug the device directly into your computer, make sure there is a USB port. You could always take out the SD card to transfer your files, though. Some device takes this compatibility feature a step further by featuring Wi-Fi connectivity.
Having WI-FI means you can connect the scanning device to your mobile or laptop without any cords or cables. You can also store the scans directly to your mobile as well as preview the scans live with Wi-Fi connectivity.
Construction
Go with a portable device that is both lightweight and functional. You need to be able to carry it anywhere and scan anywhere. Make sure the design is functional for regular use.
OCR/Software
OCR stands for optical character recognition. This software recognizes the text on your scans and creates an editable PDF or DOCX file for you. You can later edit the texts on the file.
This is a must-have feature, and most of the device will come with some sort of OCR software. Some device also gives you additional software for attaching multiple scans to a high-res large file.
Some Advantages Of Using Wand Scanner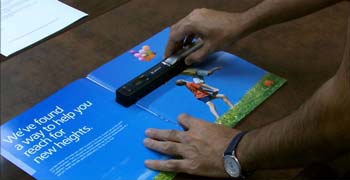 Depending on how you plan to use them, these scanners have both advantages and disadvantages. The most obvious disadvantage would be the scan quality. Don't expect the scanner to produce high-quality copies, as you would typically find on a regular tabletop scanner.
With that being said, there are models out there that can produce high-quality scans, but those are slightly expensive. Again, it depends on what you need and expect from these portable units.
Portability
The main reason why you would want to pick one of these is because of their ability to scan anywhere at any time. There are places where flatbed scanners aren't allowed. On the other hand, wand-type scanners are allowed in a lot of places where the use of camera and smartphones are prohibited.
These are small, peculiar little machines that you can easily carry around. You can convert anything with a flat surface into digital data on the go. If you have to deal with a lot of books, documents, and photos, these are the right tools for the job.
High-Resolution Scan Of Large Photos
When you need to scan large media, these portable units are the tools for the job. It's not efficient to use a smartphone to capture large media. You will lose picture quality, and the scanned image will look more like a photo rather than a scanned copy.
On the other hand, you can take multiple swipes using the scanner and stitch them using photoshop. This way, you will get a high-resolution scan and save yourself a lot of time and effort.
Easy Storage
You don't need to use an additional device for storage. These portable units come with SD cards to save the scanned copies. Some of them have Wi-Fi connectivity that allows you to view the scanned documents directly on your phone.
Easy Adjustments
There is also a small display on the scanner that allows you to see if anything is being cut off or if you are scanning the document at an angle.
No Need To Worry About Shaky Hands
Slight movements during the scanning process can be aggravating. If you have shaky hands, it will be quite problematic for you to get a nice, scanned copy. However, some units, especially the higher-end ones will auto-correct the movement.
Some Disadvantages Of A Wand Scanner
Now, some drawbacks might make you want to think twice before you purchase them.
Requires Practice
To get a good scan using these portable models, you will need a lot of practice. For example, you need to pass the wand at the right speed. You can't go fast or slow. Also, you need to keep the wand steady and straight.
Not Ideal For Archives
Scanning books using a handheld scanner is generally frowned upon. This is because of the nature of these units. When you are trying to scan a book, you would normally try to flatten the page.
And depending on how old the book is, there is a high chance that you would damage the binding or even rip off the pages and so on. Also, scanning pages from old books using a wand scanner isn't easy either.
How To Use A Handheld Portable Scanner For Scanning Document?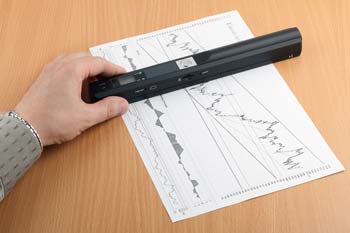 For this demonstration, I'll be using the VuPoint Solutions Magic Wand Portable Scanner. Since most of the products out there are more or less the same, showing how this specific tool works will give you a good idea about the rest of the models out there.
The basic principle is the same. You just slide the wand scanner over a flat surface to begin scanning. Let me show you how to work with one in detail.
Insert the batteries and turn on the power. If it's a rechargeable unit, make sure to fully charge it up and before you begin scanning.
Make sure you have enough space on your SD card. Some units won't ship with one, so you would have to buy one separately. Also, make sure you have a working SD work in the slot.
If you want to show the correct time stamp on your scanned files, adjust the date and time correctly.
Depending on what you want to scan, you should adjust the resolution accordingly. Press the resolution button and choose the proper resolution. Always use the highest resolution setting if you are scanning a photo. Do keep in mind that higher resolution means it will take up more storage space.
For normal documents like book pages, sheets, etc. you can select low to medium resolution.
Find a flat surface to put the document on. You don't have to adjust the lighting condition since the device will take care of all that.
Adjust the length and width as you need and place the scanner over the document. Make sure the mini display is on the top so that you can see exactly what is being scanned.
Make sure the portion of the document you are scanning is between the width markers. Scanners have a fixed maximum width.
Now, press the scan button and slowly start sliding the wand scanner. Keep a steady hand and slowly drag the wand over the piece of paper. Make sure to slide it evenly.
When you are done, press the scan button again to stop scanning.
Before you put your magic wand back in, make sure to check the scanned document using the small LCD display on the device.
If you want to efficiently scan all your documents, scan each piece three times, and choose the best version.
Now, take out the SD card or connect the wand via a USB cable to your pc and check the files. Save it, print it, or do whatever you want.
Frequently Asked Questions
1. What is a VuPoint magic wand?
The magic wand from VuPoint is a handheld document and photo scanner. It is a powerful device and also the most popular one in the handheld scanner industry. The VuPoint magic wand is also the most widely used device until now.
2. How does a portable scanner work?
Portable scanners have the same detector array similar to a regular tabletop scanner but smaller. These portable units have rollers and detectors that scan the document when you pass the device over it.
3. What is the difference between a flatbed scanner and a handheld scanner?
The first obvious difference between the two is the size. A flatbed scanner is larger and also more expensive than a handheld scanner. The former is also wider and can scan high-quality images.
Whereas the handheld model has a fixed width and will require more passes to cover a larger area. A flatbed can scan high-res photos in a single pass and won't have any image distortion.
4. What is the best way to scan old photos?
Ironically, the best way to scan old photos is via a smartphone that has a good camera. However, if you want to preserve the quality of the original image, it's better to use a professional scanner. It will cost you a bit to scan old photos, but there are places where you can get it done much cheaper.
5. Is it better to scan photos as PDF or JPEG?
When you scan photos in PDF format, you will lose image quality because you don't know how the image will be compressed. It also makes it difficult to edit them later on. That's why you should always scan photos in JPEG format.
6. Should I scan photos at 300 or 600 dpi?
If you want to make prints out of your scans, 600 DPI is a good option. It will capture more detail for you to work on. However, for general work purposes, 300 DPI will be enough just to get by.
7. Is 600 dpi or 1200 dpi better?
1200 DPI is always better because you will get a more detailed output with finer lines. If you are aiming for quality, 1200 DPI is the right choice. On the downside, it takes time to scan at this resolution.
Final Words
And that's all there is to it. If I have to point out a particular product to crown as the best wand scanner, it has to be the VuPoint Solutions Magic Wand Portable Scanner. It has everything you need to start scanning on the go.
If you can't spend a bit more, get the one that comes with an auto feeder. Trust me on this; this will make your scanning task a whole lot easier and more efficient.