When it first launched, Thangs 3D became the world's first geometric search engine for 3D models, but how do you find what you need?
Navigating through Thangs 3D models is easier than you might think.
With helpful search tools and various ways to explore the platform, Thangs 3D is surprisingly user-friendly.
If you are looking for answers, you have come to the right place.
Our guide will help you find what you need!
How Does Thangs 3D Work?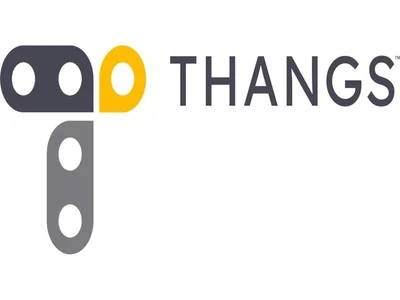 At first glance, you might just assume that Thangs 3D is a basic search engine specializing in 3D models, but it offers so much more to 3D printing enthusiasts.
Thangs 3D has over 13 million models available to users, and that number grows every day!
Thangs 3D blends the concept of a large-scale search tool with a unique type of social media platform.
Communicate With 3D Printing Enthusiasts
While you don't have to make an account to navigate the Thangs 3D printing platform, by creating one, you can communicate with other 3D printing enthusiasts.
Users can comment on models, save their favorites to their profile, send private messages to other accounts, and even use collaboration tools on new team projects.
Like Facebook or Instagram, users can even "like" the designs uploaded by other users!
Where Are the Searchable 3D Models on Thangs 3D Sourced? 
As you would expect, users can upload their own complete models directly to Thangs 3D.
Users even have the option to upload partially complete models to the sharing platform, which is helpful because it allows them to ask for feedback from other users.
In addition to uploads from 3D model creators, Thangs 3D automatically aggregates 3D models from other websites, like Thingiverse, Parker, McMaster-Carr, and others.
This certainly helps to explain why Thangs 3D has so many models available.
How to Find What You Need On Thangs 3D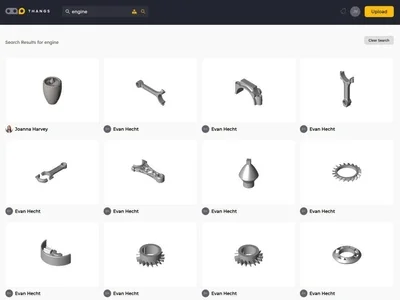 The most obvious way to find the Thangs 3D models you are searching for is to use the straightforward search bar in the middle of the home screen.
Using the Thangs 3D Search Bar
While you may assume that the Thangs 3D search bar functions just like any other text-based search bar, it has some unique ways to find what you are looking for.
Like Google or any other search engine, you can search through the 13 million indexed Thangs 3D models by entering the name of the model you're looking for or a phrase close to it.
Geometric Searches Available
The Thangs 3D search bar differs from a typical text-based search bar because users also have the option to do a geometric search.
Users can upload directly into the search bar by dragging and dropping a file or uploading one from their computer or mobile device.
Once a file has been uploaded or dropped into the search bar, Thangs 3D uses its powerful technology to search its entire database to find similar geometric models.
The video below illustrates how one user navigated the Thangs 3D models search bar:
Read More: 3D Printing Programs Free. Here are the top FREE 3D printing software options out there.
Searching Thangs 3D by Category
You can use the search bar to search via text or upload a file to narrow your search by searching for objects uploaded directly to Thangs 3D or objects people searched for externally.
You can also explore both categories, which will yield more results.
You can view more specific categories simply by selecting one of several buttons.
On the main home screen, you will see categories for trending designs, popular designs, new uploads, and downloads.
Trending Icon
As the name implies, the Trending icon will display trending designs that week, meaning they receive many likes, comments, and downloads.
In some cases, these trending models are uploaded by popular users with a significant amount of followers.
Popular Icon
The Popular icon has a drop-down feature, which allows you to select the timeframe of popularity.
Users can view popular designs that week, month, or year.
You can also choose to view the most popular models of all time for your 3D printer.
New Uploads Icon
As you would expect, the New Uploads icon will display models uploaded most recently.
Like the other icons, the results will differ from day to day.
Downloads Icon
Finally, the Downloads icon will show models downloaded the most on the entire Thangs 3D platform.
Much like the Popular icon, you can select the timeframe for the Downloads icon, meaning you can view the most downloaded models that week, month, year, or all time.
Customizing Your Thangs 3D Search Results
While the above-mentioned search methods can be beneficial, Thangs 3D also has a way to personalize and customize your search results.
Doing so helps you narrow down the results further, making it easier to find what you are looking for!
Steps to Customize Results
To customize your search results, click the Personalize icon, which displays a drop-down menu.
Then, choose the model types that you are looking for.
Options include "Show images and renders," "Show images only," or "Show renders only."
From there, you move to Step 2 of your personalized search, choosing the file types you want to see displayed.
There are 42 3D print file types to choose from, and users can select as many or as few as they would like.
These 3d printing files include the following:
3mf
asm
bin
blend
bobbin_
catpart
catproduct
dwg
dxf
fbx
gcode
glb
gltf
iges
igs
ini
ipt
jpeg
jpg
jt
model
obj
par
ply
png
prt
sat
sldasm
sldprt
step
stl
stp
txt
usdz
x_b
xml
x_t
You can select all file types if you prefer a broader search.
Finally, the third step in a personalized search is to choose whether or not you would like to have your settings saved.
You can save those search settings as the default search option or give them a specific name, so you can quickly select them the next time you search for an object on Thangs 3D.
How to Search Through Specific Categories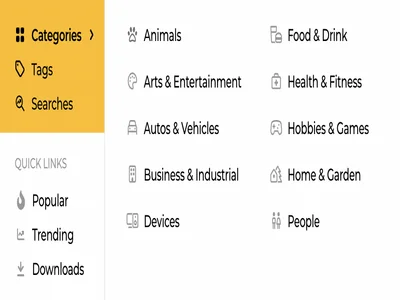 Another way to narrow your searches of Thangs 3D models is to search specific categories.
This is a great place to start if you are unsure what you are looking for and would prefer to simply browse models within a category. 
Doing so can be helpful if you are looking for inspiration or even looking to collaborate with a like-minded designer.
Steps to Search Pre-Organized Categories
To search through pre-organized categories, go to the Thangs 3D home page and click a tab in the top right-hand corner labeled "EXPLORE."
Once you click the "EXPLORE" tab, a drop-down menu will display categories you can select.
They are organized as follows:
Animals
Arts & Entertainment
Autos & Vehicles
Business & Industrial 
Devices
Food & Drink
Health & Fitness
Hobbies & Games
Home & Garden
People 
Once you have selected your preferred category, you can perform a search of the results within that category. 
Search Within a Category
Suppose you chose the Arts & Entertainment category.
You could search for the most popular models within that category, trending uploads, or even a more personalized search.
This method makes it easy to find what you are looking for.
After selecting the EXPLORE drop-down tab, you can also choose to view common searches.
Select the "Searches" option next to the magnifying glass icon, which will display the 14 most popular searches.
Common searches like "Lego Pieces" or "Star Wars Figures" will often appear amongst these common searches.
This may not be useful if you are looking for a specific item, but it can be helpful when looking for inspiration.
After You Have Performed a Search
Once you have used the search bar, you get the results Thangs 3D was able to find.
You can then narrow down the results of the Thangs 3D models that match your text description or geometric upload through various filters.
These filter options will appear above the highest-ranked result at the top of your screen.
Categorize Your Results
You can categorize your search results by Source Type, meaning the website where the results were located. 
You can also choose to categorize your results by their printability.
To do so, click the Printable drop-down, which will allow you to select "Consistent Normals" or "Watertight."
Simply make your selection, then click "Apply."
You also have the option to filter the results according to their cost.
For example, if you would only like to view models that are free to use and download, simply select the "Free Models" option.
If you would prefer to view models that require payment, select "Paid Models." You can choose "Select All" or ignore the cost filter if you have no preference. 
Read More: Is 3D Printing Expensive? Consider the costs using our guide!
Searching Tags on Thangs 3D
Whenever someone uploads a new model to Thangs 3D, they can also choose to mark it with one or more tags.
Tags help the Thangs 3D search engine locate and organize uploads.
There are hundreds of tags to choose from, and categories can range from broad to very specific.
You can see 10 of the most common tags by selecting the "Tags" icon within the EXPLORE drop-down menu.
You can also search tags by typing them into the search bar.
Once you find a model you like, you can also note which tags appear alongside it.
Clicking those tags would then take you to all the other models labeled with that same tag.
This makes it relatively easy to find similar uploads you will find useful.
Other Ways to Find What You Are Looking For
As you can see, there are quite a few different ways to search for Thangs 3D models.
While it may seem like a basic, text-based search engine at first glance, it is truly unique and offers users the ability to perform personalized searches.
A Community Experience
Another highlight of the Thangs 3D platform is that it delivers users a community experience.
Users can create their own profiles where they can communicate with other designers, save their favorite models, and even display their own uploads.
If you find an uploaded model with similarities or physical properties to what you are looking for, you can also browse the uploader's profile to see what other models they have uploaded.
Since there is even an option to send personal messages and comment on uploads directly, you can ask questions of other Thangs users and collaborate on future projects.
Asking other like-minded users to help you find what you are looking for is a unique way to find a specific model type.
Use a Leaderboard
You can even view a 'Leaderboard,' which displays the most popular profiles on the Thangs 3D platform.
The rankings can be organized by week, month, year, or all-time.
This can be useful for inspiration, as it helps you quickly locate some of the most popular and talented designers on the entire platform.
From there, you can browse their uploads.
Thangs Sync
Thangs Sync offers another way to access the models you are looking for.
It's free to sign up for and acts as a downloadable addition to a Thangs 3D account.
Essentially, Thangs Sync allows you to sync your 3D files to the cloud, so you can automatically capture every new version of a design.
This is an outstanding tool for complex collaborations with clients and 3D design partners.
It's also helpful to ensure you have immediate access to the types of 3D designs you are looking for when searching Thangs 3D models.