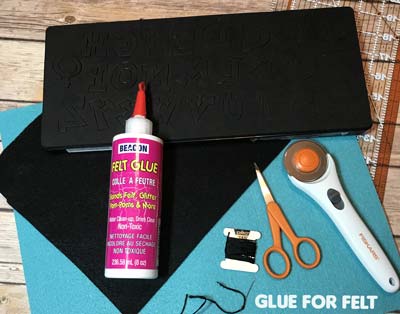 With the world coming to a shut-down and everyone at home, now is the time to indulge in arts and crafts for both the young and the elderly.
This hobby will calm your mind and at the end of it, you will feel proud to have made something with your hands.
To do so, you need a few materials like buttons, colors, glitters, colored paper, felt, etc. For making things stick together, glue is an essential part of a hobbyist's kit. However, all glues are not the same.
If you are in the mood for making boxes or other 3D toys using felt, you will need special glues.
Permanent or hot or tacky glues are the types that work better on felt than other types of adhesive. There are many of these types of glues available but you need to pick the right one for your DIY project.
To help you decide which is the best glue for felt, this article discusses the ones that have made it to the upper half of the seasoned users' list. Have a read and determine the one that is perfect for your felt projects.
Benefits Of Using Glue For Felt Projects
Felt projects can be diverse and result in various types and sizes of products like jewelry boxes, decorative objects, and many more. You can use mirrors, beads, glitter, or other embellishments to make your felt project more glamorous.
To help these objects stick together, you need glue. Your project could focus on sticking felt on felt. Or you may work with sheets of felt and stick small beads or buttons on these. Even if you want to stick felt pieces on cardboard, a felt glue can be used.
Basically, as felt is a different type of fabric, it's better to use a glue for felt projects unlike other types of glue that will not adhere for a long time.
Top 8 Best Felt Glue Reviews in 2021
1. Scotch Super 77 Multipurpose Adhesive Spray
When versatility is what you want, this spray adhesive is what you need.
A fast-drying formula makes this glue for felt and other materials like wood, plastic, cardboard, paper, metal, cushion foam, and others extremely handy. For school projects that need to be completed within a short time, this product is ideal.
With low soak-in and tacky properties, you can use this on a wide range of crafts to get a wrinkle-free and professional look. Be it in your classroom, home, or office, it will give you a simple and fast way to do projects like mounting photos and paintings.
Unlike other glues, this does not bleed through the layers of felt, and thus it will not leave any darker colored patches on your work. After it dries, it gives a clear effect to retain the original felt color.
The repositionable spray glue makes it easy to do jobs like posters, presentations, graphic designs, etc. You can work with newspapers, foil, tissue paper, acetate, and fabrics. While the light spray enables repositioning, the heavier spray helps to make the bonds stronger.
As the product is acid-free, you can safely use it on illustrations, maps, photos, and others. With a low moisture content, when you spray this glue, it doesn't soak the substrate. It can also stand high temperatures so that your project will not fall apart even during the hottest summers.
Highlighted Features:
Repositionable, versatile spray adhesive.
Acid-free for safe use on maps, color photos, and illustrations.
Low moisture content will not make the substrate soggy.
A fast-drying formula for quick projects.
Non-bleed and clear properties for a professional finish.
2. Aleene's Always Ready Tacky Glue

Encourage that hidden creativity of yourself or your children with this flexible glue for felt projects.
Indulge in all sorts of household, craft, and hobby assignments with this all-purpose glue that comes in a 4-ounce bottle. The cap stand is a convenient feature that keeps the tacky glue fluid and ready to run! Non-toxic, it is safe for use by children.
Let your creative juices flow as you take on projects that involve different materials like ceramic, paper, foam, metal, felt, wood, and even fabrics that are non-washable. The glue starts to work instantly on contact with the surface and creates a permanent bond.
If your children are into making slime, don't say no as this adhesive is completely safe for them to use and its tackiness is just right to give the perfect shape and consistency to slime!
You can choose how thin or thick the flow you want from the adhesive. Just cut off the top of the tip with your scissors. If you cut the first ridge at the top, it will give you a thin flow. If you want thicker ones, cut the tip off toward the base for a wider flow that's needed for a large project.
The easy-pour nozzle is convenient and it can be opened to dip in a paintbrush. Thus, it gives you the flexibility of usage. Moreover, it is easy to clean using water.
If you want a more cost per bottle option, you can also get a pack of 3 bottles, each containing 8 ounces of glue.
Highlighted Features:
Multi-purpose glue for a wide range of materials.
Non-toxic and child-friendly.
Convenient cap stand to keep the glue fluid.
The nozzle can be cut to allow thin or wide flow.
Cleans up easily with water.
3. Beacon Adhesives Felt Glue
For bonding all types of materials under the sun, here's the perfect adhesive for felt and others!
Your creativity will reach the next level with this product in your crafts box! Be it Halloween costumes, Christmas tree trinkets, or gifts for birthday goody bags, you can do it all by yourself, thanks to this wonderful felt glue.
The non-soak formula will leave no dark blotches on your labor of love. It dries clear and hence, you get to retain the original felt color. Talk about professional results!
With its thick consistency, you can apply it comfortably with no fear of excess pouring as the case is with the other runny adhesives. Even children will have a fun time working with it as it's completely safe and non-toxic. The cherry on top is that it has no odor and thus, using it is a pleasant experience.
After application, you will need to wait for three to four hours for this glue to be completely dry. Otherwise, the bonds will be weak and your projects may not be durable.
Users have claimed it works much better than craft glue for holding little pom-poms to different substrates. If you are in the habit of making storyboards for children using felt and other fabrics, this product is the ideal one for you.
If the kids made a bit of a mess when using this product, don't worry as it can be easily cleaned with just water.
This product is available in a 4-ounce bottle. However, if you feel the need to use more, it would be cheaper for you to get the 8-ounce pack.
Highlighted Features:
Thick consistency for easy application.
Non-toxic, no-odor, children-friendly.
Cleans up easily with water.
Works on felt and other materials.
Non-soak formula to prevent dark patches.
4. Aleene's Felt and Foam Tacky Glue, Original Version
Running late to complete that felt and foam project?
You have nothing to worry about as this is a special adhesive for felt, foam, and a host of other materials. Crafting has never been easier for both children and adults as this provides all the properties of a dream adhesive!
When you apply it, it immediately responds with a strong grab that results in a tight bond with the substrate. The application is super-easy with its thick consistency. You will never find it in a runny state that makes handling it difficult and messy.
However, if you do make a mess, it's easy to clean up with water. Make this your go-to adhesive for all your felt projects. Use your creativity to the best of your ability and surprise everyone with your talent! Add your own touch to your home, office, or classroom.
It's safe for use by children, thanks to its non-toxic, low-odor formula. You will not need to use this in a well-ventilated area, unlike strong-smelling glues. This gives you the flexibility to work from the comfort of any place you wish.
The 4-ounce bottle will give you enough glue to complete a few projects. You can use it to stick beads, buttons, glass, or other baubles on felt or foam. It's the perfect partner for making costumes and trinkets that are bespoke.
Highlighted Features:
4-ounce, easy-pour bottle for convenient application.
It can be used to stick beads and glass to foam and felt.
It's easy to clean up with water.
It grabs tightly to create a strong bond with the substrate.
Non-toxic formula is suitable for children.
5. Bob Smith Industries BSI-142 Clear Foam
If you are into serious artistic and industrial projects, you need a professional and strong glue.
This product is a silicone-based glue that has been specially made for different compositions of foam. It is crystal clear when it dries and hence, leaves none of the undesirable dark patches on finished work. When allowed to dry completely, the bonds created are flexible.
Drying takes a long time and it does not form a quick bond instantly. As there is no catalyst to speed up the drying time, it should be left alone after application for 10 to 12 hours. By this time, the bond will have reached its maximum strength.
However, if you do want a faster bonding time, you can apply it on one piece and join the other piece. After joining both, pull them apart and allow air-drying them for ten minutes. The adhesive acts like cement when the pieces are re-joined. There will be sufficient tack to take the curing to the next level.
You can use this product for joining plastic, wood, and other materials to foam. In fact, it is strong enough to be used for canopies. However, avoid using this on aircraft controls as the bond is not flexible enough for hinges.
It's recommended not to use this glue for sticking two non-porous materials like metal. Remember that for drying the glue completely and for maximum bond strength, it will only do so when exposed to air.
Highlighted Features:
Industrial-grade adhesive for professional projects.
A silicone-based, crystal clear formula with no cloudy residue.
10 to 12 hours needed for complete drying.
Works well to bond plastic, wood, and other materials to foam.
Not recommended for sticking non-porous materials.
6. Aleene's 15626 No-Sew Felt Glue
Sometimes when your hands are full of sewing projects, you could do with some help from an adhesive.
Here's a no-sew glue so that you can stick together small pieces of fabric and felt and sew over later. This is not meant to be a permanent glue and especially so for washable clothes and other wearables.
If you have a lot of costumes to put together for your children's dolls or Halloween, then this glue is a Godsend. It can speed up your sewing time and the overall process by helping you put temporary glue to small areas. Instead of using cumbersome pins, this can become a smarter choice for you.
For hemming clothes and holding them together, this glue for felt and fabrics come to a lot of use. You will have no trouble putting your needle through the glued bits. Once you wash it off, the glue will come off. Hence, you can keep the glue and complete stitching.
Available in a 4-ounce bottle, the nozzle has been designed for easy application. Moreover, by cutting close to the tip or the base, you can control the width of the glue flow to suit your purpose.
Although the glue washes off, it has a strong bond with fabrics. You can patch up an old teddy bear or ragdoll and the glued parts will stay in place. This product is very handy if you're in a hurry to finish any project like cosplays.
Highlighted Features:
Ideal for sewing projects to hold pieces together.
Temporary bonds that can be washed off.
Available in 4-ounce bottles.
Convenient pack to control the flow of glue.
It can hold tiny bits of fabrics together.
7. Biaoyun Sew Glue Liquid
Wouldn't it be good to do away with stitching and just glue the fabric and felt parts together instead?
Yes, now it's possible! Just put a thin layer of this adhesive on your fabric and place the other fabric piece on to glue them together. Press the pieces together for 30 seconds and voila! No stitching required!
Don't sweat about applying on hard to access areas like creases. The package includes a silicon brush just for this purpose. The product strives to relieve you from sewing stress.
With its fast dry property, you can patch up and quickly fix any frays, small holes, or other minor stuff on your clothes. As it takes about a minute or two to dry, you can readjust the affected areas within this time. It takes a full day to properly cure after application.
This is the best felt glue for use on a wide range of fabrics – felt, linen, suede, cotton, silk, leather, denim, flannel, nylon, and synthetic fabrics. For any sewing project, you can use this product so that it reduces the time it takes to complete a whole assignment.
Wait till the glue is completely cured. It is clear and won't leave any marks on your fabrics. They will remain as soft and pliable as before. The strength of the bond is also commendable. In addition, it can withstand extreme temperatures and is also waterproof.
Highlighted Features:
Non-sew glue for permanent bonding.
Waterproof bonds that can withstand extreme heat or cold.
Usable on a wide range of fabrics.
Fast drying time for quick fabric fixes.
Leaves fabrics soft with no marks.
8. Aleene's 17843 Quick Dry Tacky Glue

When you're running short of time to complete school projects or any crafts assignment, you can depend on the quick-dry formula of this glue to use on felt and other materials.
It combines the best of both worlds as the tacky glue creates a strong bond and that too in a very short time. It's renowned for its superior performance among both new and seasoned DIYers.
This is especially handy when you're making small bows and other things with folds and creases. The glue holds these folds and dries fast so that you get professional-grade results.
The non-toxic and low-odor adhesive is safe for use by children as it will not give out any toxic fumes. Hence, you can use it anywhere without the necessity to be in a well-ventilated area.
The 8-ounce bottle comes in a squeezable format so that you can pour only the amount you need. Hence, this prevents wastage and a consequent mess. Even if there is a mess, it can be cleaned up quickly with water.
This product is clear and leaves zero dark blotches or patches on your felt projects. You can still get the original felt color even at the places joined by this adhesive.
It's a versatile and necessary aide for all hobbyists and craft enthusiasts. Keep in mind that it dries faster for wood and paper. However, this is not a recommended glue for use between glass pieces as the dried glue will show through.
Highlighted Features:
Fast-dry tacky glue for quick turnaround projects.
Strong bond within a short time.
Especially suitable for small crafts with folds that need fast drying.
8-ounce squeezable bottle that reduces wastage.
Dries clear and doesn't leave any marks.
Felt Glue Buying Guide For Beginners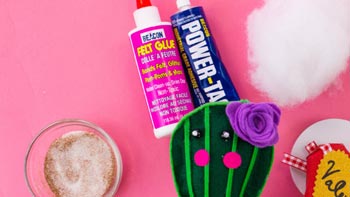 As all glues are not the same and not meant for all types of felt projects, here's what you should consider before buying felt glue.
Kid-Friendliness
If your kids are involved in DIY projects, choose a safe, non-toxic glue. It will have less odor. School glues fall in this category and can be used on wood, ceramics, paper, and even Styrofoam. Another type of non-toxic glue is tacky glue, which has a low odor too.
Hot glue should never be given to kids. Even older children should be allowed to use this under supervision only. Industrial glues should be kept out of reach of all children.
Drying Time
When you want to give a finishing touch to your project, a glue that takes a bit of time to dry is ideal. It gives you the space to make a few tweaks. On the other hand, when you are looking for a quick finish to your project, you will need a glue that takes little time to dry.
Permanent glues take a long time to dry. Thick school glue or tacky glue to use on felt also needs longer drying time. But if you're looking for a glue that will dry super-fast, then pick a hot glue.
Easy Availability 
School glues and tacky adhesive for felt are easily available in arts and crafts stores or stationeries. Hot glue and other types of industrial glues are not as easy to access as these should not be used regularly in households. They require well-ventilated areas and other safety measures.
Type Of Project
For kids' felt projects, it's okay to use school or tacky glue. They will hold the felt pieces or cut-outs together.  But for more serious projects that involve needle felted bits or more artistic felt endeavors, white glue will show up as patches when they dry and hence, not recommended.
Felt on felt projects do nicely with hot glue. Don't try using hot glue to make felt pieces stick on plastic or tin.
Permanency 
If you are looking for a glue that will stick forever, then a permanent glue like an industrial glue or hot glue will serve your purpose well. Not only is it permanent, but it is also waterproof, thus keeping your crafts safe. Moreover, they are clear when dry, thereby not showing any patches through the felt.
Permanent glues are great for sticking on bits of glass and beads on felt. On the other hand, thick glues like tacky glue will not give you a durable result if not left alone for a long time.
Ease Of Cleaning Up
Using glue on projects may leave a mess on the workstation or even on your hands. so, if you're looking for one that's easy to clean up, then you should choose a school glue. However, thick glues or tacky glues can turn messy if you put too much on the felt piece.
If used too much, industrial glues form a crust after drying. They are not very easy to clean up. Clip the crust with a razor or nail scissors.
Form
Dried glue can be milky or clear. Sometimes after you have completed a project using felt, you may notice parts of it appearing cloudy where you put the glue. In many cases, such a result is not desirable and hence you need to choose a glue for felt that will that is clear and won't show any blotchy part.
Another glue form is liquid as opposed to the ones found in a stick. The stick glues are great when children are involved in a craft project. The liquid ones can make a mess. Then you have hot glue in a gun that you apply with glue sticks.
Frequently Asked Questions (FAQ)
1. Is Tacky Glue Better Than Ordinary White Glue?
Answer: For felt projects, tacky glue is better than ordinary white glue. Tacky glue holds better and is more suitable for felt whereas white glue is alright for school craft projects involving paper. Tacky glue is also a bit thicker than the other one.
2. Will Any Fabric Glue Work For Felt Projects?
Answer: Yes, fabric glues apply for felt crafts also. However, some of these glues may leave blotches or show when they are dry. So, use them only after testing them out. Although it would be okay for children's projects, for a more professional job, try some fabric glues before going for the final project.
However, the best glue for felt is a permanent one like hot or industrial glue.
3. Should We Avoid White Glue For Felt Crafts?
Answer: Yes, you should totally avoid the white craft glue because of their thin consistency. It will be difficult to apply, will not stick, and spoil the felt layers by soaking through them and showing them when dry.
4. How Long Does It Take For Tacky Glue To Dry?
Answer: Tacky glue takes quite some time to dry. As it is thicker than ordinary glue, it takes more time to dry. Your project should be left to stand for at least an hour after you have stuck felt pieces together using tacky glue. However, the drying time varies from brand to brand.
5. What Is A Repositionable Adhesive?
Answer: A repositionable adhesive does not result in a permanent bond. Hence, you can work with it on many types of materials like paper, plaster, fabric, photos, etc. It allows you to reposition photos and other objects.
The repositionable adhesive will make the object stick but you can peel it away as the bond is temporary.
Conclusion
All types of DIYers and hobbyists need glue as part of their project. And when these involve felt, they need adhesives that are specially formulated to hold felt cut-outs and pieces together.
Plus, if you want to add embellishments like beads, glasses, and stones, you cannot do without a good adhesive.
Now that you have a list of the most talked-about adhesives, you should pick the best glue for felt that will give you more bang for the buck.
Check if the one you plan to buy is permanent or not and is safe for the kids. Go for the industrial type only if there is a seriously professional project on your hands.
You can hugely improve the quality and finish of your crafts by using the right glue. Here's wishing you more successful DIY and fun felt crafts that you will be proud of!
Also read: