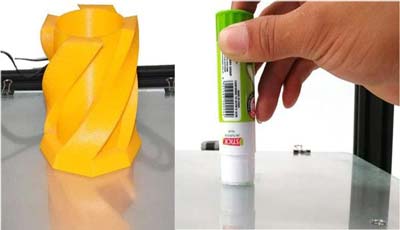 Did you know that 3D printing's market share is expected to hit almost 35 billion USD by 2024? There's no doubt that 3D printing is a steadily growing industry.
If you're into 3D prototyping with PLA, you likely understand the significance of bed adhesion. If your prints fail to stick to the build plate, they will wobble and come out warped and badly shaped.
The final result will be an eyesore instead of the beautiful model you were hoping for.
Do you know what you need to prevent these issues?
The best glue for PLA. I mean an adhesive that is easy to put on the print bed and effective enough to hold the prints in place for efficient printing.
Basically, Cyanoacrylate glue is usually the best choice for bonding PLA parts. This guide is meant to help you avoid getting bad glue and find the right glue.
A product that will prevent warping and wobbling and achieve fantastic prints as pictured by your designs. I mean high-quality adhesives that are water-soluble and easy to remove when you're done.
Let's jump in.
Our Recommended Top 6 Best Glue for PLA
1. Magigoo All-in-One 3D Printer Adhesive
Magigoo is a brand of Thought3D Ltd, a company with major interests in the R&D sector. Through the use of high-quality materials and vast knowledge in 3D printing, the company offers some of the good glue for PLA that you can find on the market. 
For those looking for the ideal glue for a variety of surfaces, the Magigoo All-in-One 3D Printer Adhesive would be a perfect choice. It can be applied on Kapton, PEI, glass, and even buildtak.
This product, which comes in a little 50ml bottle, works well not only for PLA but also for other 3D printing filaments.
You can use it for ABS, PTU, PETG, HIPS, and more.
What I find exciting about this product is that it is super easy to use. All you have to do is shake it up and give the tube a gentle press.
Apart from that, this is an adhesive made with cost-saving in mind. In that regard, it is a strong substance that sticks efficiently. You do not need to apply it to the entire surface of the print bed. Only the active area needs coverage.
Can you believe that one 50ml bottle can hold 100 prints for you? That is super economical if you asked me.
Yet, the adhesive power is incredible. This is the sort of glue that holds your models so securely that they will not move or warp during the printing process.
Finally, what makes the product so popular is that it is safe. It is not flammable, and it doesn't come with a bad smell.
Highlighted features:
Versatile – use it with PLA, PETG, ABS, TPU, and more.
Compatible with different surfaces – Kapton, glass, PEI, and more.
Economical – holds up to 100 prints.
Strong and effective – provides a very firm hold to prevent warping/moving.
Safe – odorless and not flammable.
Easy to apply – just shake and press.
2. Layerneer PLA Glue
Finding a 3D printer glue that does precisely what you want it to do is no easy task. Most products either don't hold reliably or they don't release efficiently and cleanly. Some end up clogging your nozzle and ruining the prints.
You'll face none of that with the Layerneer 3D Printer Adhesive.
This product works like a charm, holding the prints securely when heated. And when the heating stops and the temperature cools, the glue releases its grip.
The amazing thing is that the product does not leave any residue. You never again have to worry about your nozzle getting clogged or the prints getting ruined or stained.
If you're looking to keep the printing cost to a minimum, here is an adhesive that supports your goal. First off, just a little glue goes a long way. Secondly, can you believe that you can actually recharge the adhesive you've already used?
Here's how that works – you gently swipe a damp sponge over the already used glue that is remaining on the print bed. That will reactivate it and make it ready for reuse.
Crazy enough, the recharged glue works as seamlessly as the unused glue. How cool is that?
Getting rid of the glue from the print bed when you're done printing is a piece of cake. The product, being water-soluble, is easy to wash out with a damp towel.
If you're looking for a 3D printer glue that you can use with PLA, ABS, and PETG, this is the product to purchase.
Highlighted features:
Sticks and releases efficiently.
Doesn't leave a residue or clog the nozzle.
Cost-effective – a little goes a long way.
Used glue can be recharged with a damp sponge – reduces the cost.
Water-soluble and thus easy to wash off.
Poses no bother as it is low-odor.
3. FYSETC 3D Printer Glue Sticks
The best PLA glue is a product that sticks and releases without a struggle and prevents the prints from moving. With consideration to these factors, the FYSETC 3D Printer Glue Sticks are worth getting.
What makes these sticks special is that they go a long way. Collectively, the three sticks help you create dozens if not hundreds of prints. It all depends on the size, but the glue has a large coverage.
A lot of brands offer their glue in one container. But that might not be very convenient for you, especially if you like to carry the adhesive around. Knowing that, FYSETC offers their product in 3 tubes. You can leave a tube and have the rest at home.
That way, you don't have to carry the glue every time you go to or from school.
The idea of the three sticks is also good because if anything happens to one stick, such as contamination, you still have the other two.
The manufacturer also made the tubes easy to use. You just open the lid and rub the upper part on the print bed.
Thankfully, the glue is very effective, so you needn't apply it to the whole bed surface. Just the active parts will be enough.
As a high-quality product, the FYSETC 3D Printer Glue Sticks are comfortable to use. They do not smell, and they are easy to wash off. You only need wet paper towels to remove the glue from your printer.
Highlighted features:
Durable – the three sticks can last over 100 prints.
The glue sticks well to heated beds and releases easily when heating stops.
Does not give off toxic/pungent fumes.
Effective – holds the models securely.
Easy to clean with water.
4. Loctite Ultra Gel Control Super Glue
Getting a product that satisfies your needs to the letter is no easy thing. But there is one product that comes with all the features to make everything easy and convenient for you.
Loctite is a familiar brand to most people, and guess what? It has just the product you need to keep your prints in place – the Loctite Ultra Gel Control Super Glue.
The Ultragel is renowned as the ideal product for fixing broken items at home and in the office. What you may not have known is that this glue is also very effective for 3D printing. How so?
Firstly, the product comes with a patented applicator. Cleverly designed, the applicator allows you to apply the glue very precisely.
Unlike other products that come in difficult-to-use tubes, this glue's tube is extremely easy to use. To squirt the liquid, all you have to do is press the sides.
Thankfully, when you stop pressing, the product also stops flowing. This avoids wastage and ensures you don't end up with a mess. With this unit, applying the adhesive only to the areas you want is a breeze.
When seeking PLA glue, you want to go for something that holds. It'd be so inconvenient for the models to move while you're busy trying to come up with the perfect prints.
Do you know why people love the Loctite Ultra Gel Control Super Glue? Being rubber-toughened, the glue is one of the toughest and formulas in the market. It will not loosen because of impact or vibration.
Highlighted features:
Multipurpose product – for 3D printing and fixing broken items.
Patented applicator that reduces wastage.
Tube features EZ-squeeze side-pressing design for easy application.
Rubber-toughened formula that holds very securely.
5. ACEIRMC 3D Printer Glue Sticks
When doing 3D printing, you want your parts to be attached firmly to the print bed so that there's no warping or bending. That's how you come up with beautiful shapes.
Aceirmc is a brand that is really dedicated to helping you achieve this objective. Its glue has superior properties to hold items so solidly that they do not move at all during the printing process.
What people find really impressive about the Aceirmc glue is that it can be reused. Once you're finished with one print, you don't have to reapply the adhesive. Just reheat the print bed and use the previous application. Still, your items will stick effectively.
But the thing that makes the product a great buy is the ease of application. Just open the lid and rub the stick on the print bed. There's truly no complication in using this product. When done, you just reseal the stick with the lid.
The design of the sticks makes them a good option for someone who's constantly on the move. You could just throw one stick in your bag as you go out and leave the rest at home.
When seeking the best glue for PLA plastic, you're not just looking for something that holds. It also got to be easy to remove.
For that, Aceirmc got you covered. Its adhesive is ridiculously easy to wash off from the build plate. All you need is water and a towel or soft-bristle brush.
Highlighted features:
Drip-free as it has good viscosity.
Sticks solidly and prevents bending and warping.
The application is effortless.
Cleans efficiently from the build plate.
6. Insta-Cure from Bob Smith
Are you serious about coming up with the most beautiful 3D models? Then you got to make sure the prints stay in place during the printing process. That means looking for the most reliable glue on the market. And what else other than the Insta-Cure from Bob Smith?
When it comes to strength, this is perhaps the best unit there is. To put things into perspective, this product is like superglue on steroids.
When heated, the adhesive sticks very strongly. You can be sure that your parts will not make the slightest movements, no matter the vibration.
A good 3D adhesive is a versatile one. A product that works not only for PLA but also other filaments. And that is exactly what the Insta-cure is. This product works for PETG, ABS, and almost every other 3D printing filament.
Apart from the 3d printing business, the glue helps in various ways around the home and office. It's a reliable adhesive for fixing a range of items including paper, wood, rubber, plastic, clay, and so on.
Are there chips or cracks in your granite countertop? This is the product you need to fill them up. Its versatility is truly amazing.
Application is a piece of cake. You only remove the cap and squeeze out the gel. Thankfully, the applicator is shaped for precise streaming to avoid creating a mess.
Highlighted features:
Super strong glue for a firm hold.
Versatile – works for PLA, ABS, PETG, and more.
Precise-tip applicator.
Can be used for sticking a wide variety of items at home/office.
Comparison Table Glue For PLA
| | | | |
| --- | --- | --- | --- |
| | | Number of prints per tube | |
| | | | ABS, PETG, PLA, HIPS, TPU |
| | | | |
| | | | |
| | | | PVA, ABS, PETG, PLA, HIPS, TPU |
| | | | |
| Insta-Cure from Bob Smith | | | |
Glue for PLA Buying Guide
If you're into 3D printing, and you like to create quality prints, glue is a must-have product. By applying it to the print bed, you make your items stay steady so that the filament is laid down as accurately as possible.
However, not just any glue out there is suitable for 3D printing. There are a specific set of qualities the adhesive needs to have to qualify for the application. For instance, it has to stick well and release without a hitch.
To make sure what you're getting is the best glue for PLA that you need, be sure to consider the following factors.
Read our related article on What to Use to Glue 3D Prints Together for more glue picks and tricks!
Effectiveness
I don't know if you've ever used an adhesive that would barely stick items, have you? It can feel very frustrating. Now, picture this: printing involves some level of vibration as well as temperature changes. These factors can cause the applied adhesive to fail.
Therefore, when shopping, you want to purchase a product with really high adhesive power. Something effective that will hold the models in place. Because you see, if the glue releases while you're printing, your print will get ruined.
Ease of use
If you've worked with a range of adhesives in the past, you've likely encountered difficult-to-use models. The top is hard to open, and when it does open, the glue pours allover and messes everything up.
When thinking about the ease of use, the container design is a crucial thing to think about. Go for a model with an easy-to-use tube design. The cap should open and close effortlessly. Moreover, the product should flow out with precision so you can apply it to the parts of the bed that you want.
Easy sticking and release
I have already pointed out the importance of effectiveness when choosing PLA glue. Mostly, the temperature is used to control the adhesiveness of the product.
Heat is applied to make the glue stick through the printing process. And when the process is done, the heating is stopped, and the bed is allowed to cool down. As the glue cools, it stops gripping the print.
When deciding, go for an adhesive that releases without a struggle.
Ease of cleaning
When you are done printing, you know what you will have to do? Cleaning the build plate, obviously. The process will be a piece of cake or very exhausting, depending on the kind of glue you used.
It is recommended that you use water-soluble glue. That way, you'll not need any special solvent to remove it. All you'll need is some water and a sponge or towel and perhaps a soft-bristle brush. You should not have to struggle to wash off the glue.
Read More: What Do You Clean a 3D Printer Bed With? Learn what it takes to keep your printer bed clean!
Multiple uses
Of course, the fact that you're on this page means you're looking for an adhesive to use when printing with PLA filaments. However, that shouldn't mean that if you have another printing material, like PETG, PTU, or ABS, the glue cannot be used.
Good PLA glue is that which you can use with all types of 3D filaments.
Moreover, in case a book cover gets torn, or a leather bag's seams are falling apart, the glue should be able to help.
Whenever you're purchasing PLA glue, versatility is a factor you shouldn't ignore. Get a unit that is suitable for multiple uses.
Tips to Use PLA Adhesive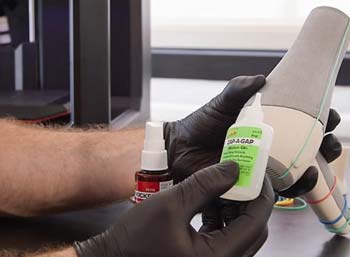 Using glue when doing PLA printing is absolutely essential. Without the glue, you risk having an unsuccessful print. Besides, not using an adhesive can lead to print head damage.
By applying the right glue to the build plate, you make it easy to have successful prints. Moreover, releasing the print when you're done becomes easy.
Fortunately, applying glue is a piece of cake.
Step 1
Start with a clean print bed. You want to make sure there's no remaining debris or greasy spots from the previous prints. To do that, give the bed a quick wipe down with a paper towel soaked in alcohol.
Step 2
Apply the glue. You have two choices – applying the glue to the whole bed or only to the parts where you want the prints to stick to.
After applying glue, go ahead and print your items. Be sure to use the correct temperature settings.
Tips:
You don't have to apply glue for each print. After removing the print, you could just use the residual glue layer for the next print. Some people like to apply a little extra glue to help the residual adhesive stick. Others just swipe a wet towel over the print bed to activate the residual glue.
In the event that there's a buildup of the residual glue or the surface looks uneven or pitted, it's advisable to wash off the residual glue. Warm water and a brush or towel will do.
To help the first layer stick, consider increasing using slightly higher temperature figures for it. Just raise the print head, and bed temperatures by 5 degrees then switch back to the right level when doing the second layer. But if you notice a problem with the transition from the first layer to the second, just use a constant temperature setting for all the layers.
Note:
When cleaning the print bed, do not use soap or special cleaning products. These can leave residues or damage the build plate. Water will be enough.
People Also Asked (FAQs)
Why Do I Need Adhesive Glue When Doing 3D Printing?
Without a proper support structure, materials like PLA, PETG, and ABS move on the build plate, making the printing process very difficult. The reason why applying adhesive is important is that it holds the print in place, allowing easy and accurate printing.
Why Do Most People Prefer Glue Sticks for Print Bed?
Glue sticks are easy and convenient to handle, unlike adhesive tape. Crucially, glue sticks don't leave a residue, which makes subsequent prints easy and simplifies the cleaning process afterwards.
Once the temperature goes back down, the adhesiveness of the glue reduces, making it effortless to remove the print. And since the glue is water-soluble, you can just wash it off with water.
Must I Reapply the Adhesive After Each Print?
It is not a must to apply a fresh layer of glue for every print. Some adhesives can last up to 5 prints per layer. You, however, may want to drip a little glue onto the plate before doing each print to make certain the grip is firm.
Note: if you notice unevenness on the surface, you'll need to reapply the adhesive.
Must you Heat the Print Bed Even When Using PLA Glue?
Heating is an essential step. Actually, it is the heat that helps the glue work. When heated to the right temperature, around 70 to 90 degrees, the prints stick. When the heating is stopped, and the temperatures go down, the tackiness of the glue also reduces, and it becomes possible to remove the prints without a struggle.
Final Verdict
In these times, it is in your hands to create products cheaply. In that regard, 3D printing allows you to craft different plastic items from toys to showerheads and bottle openers.
But if you're to come up with beautiful items and create items from your designs with accuracy, then you need to print effectively. Crucially, you have to ensure the prints stay steady on the build plate. Moving and wobbling will ruin the process and result in bad prints.
That is why you need the best glue for PLA. Products such as those reviewed above make the prints stick firmly to the build plate, allowing the nozzle to lay the filament without trouble. The result is accurate printing that ends up with beautiful items.
Also Check: