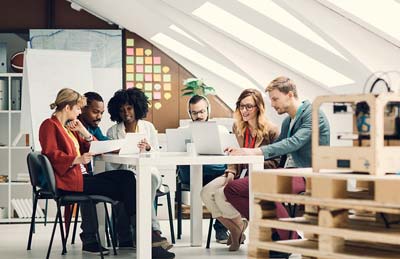 The concept of 3D printing was considered novice to the masses just a decade ago!
However, now it has reached many corners of the world through easily available 3D printers. Globally accessible e-commerce platforms like Amazon and AliExpress have made that possible by shipping the devices to almost any location.
As a result, entrepreneurs around the world have come up with refreshing ideas to use this technology for launching their startups.
You can join them by incorporating 3D printing into your next venture. If you are wondering what it could be, here are some 3D printing business ideas for your new endeavor!
Before you dive in, be sure to save our How Hard is 3D Printing? article to help determine if this is the right career path or hobby for you!
The Real Scenario Of 3D Printing Business Industry
Despite being one of the newer industries, businesses based on 3D printing show lots of opportunities for the coming years. At the same time, the technology itself is advancing exponentially and pushing the boundaries further.
So how far can you actually go making it the backbone of your newest endeavor?
Well, we are happy to inform you that the business entities relying on this technology has seen a growth of about 500% in the last five years!
It has impacted the US economy by generating over $1.76 billion of earnings, creating over 1.5 million jobs and producing about $3 billion of economic value.
In total, it has contributed over more than 11 billion dollars into the US economy as of 2019. Over two million businesses are driving this sector of which a whopping 97% are run from home! All in all, it is a very promising industry where you can shine solely with your hard work, masterful strategies and a little bit of capital.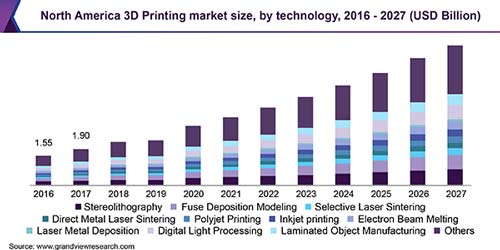 Picture- North America 3D Printing MarketCourtesy- https://www.grandviewresearch.com/industry-analysis/3d-printing-industry-analysis
3D Printing Business Sectors Nowadays
Now that we're positive that 3D printing can be a viable business, the next question is, which sectors can you extend your services to? Here is a brief list of them-
1. Manufacturing Prototypes
At present, 3D printing is most extensively used for manufacturing prototypes. That comes as no surprise considering it is the oldest application of this technology since its inception in 1983. You can help companies to mass-produce a popular model or test the new ones at affordable costs.
2. Low-Volume Manufacture
In addition to prototyping, 3D printing also helps with low-volume manufacturing of a brand new product so that the client can just test the waters in potential markets. You can cater to the small business owners by offering such services since they need to keep the cost low while also ensuring impactful efficiency.
3. Automotive Parts
Another large area where 3D printing has shined and will continue to for a long time is producing parts for automobiles. GE Aviation is one of the best examples of this since they already produced 30,000 3D printed fuel nozzles in its first three years! Your clientele here can include individuals, mechanics or larger entities. This nozzle size post has some additional information for 3D printing enthusiast persons.
4. Healthcare
3D printing shook the biomedical world by developing personalized prosthetics, artificial food, substitute organs and more. Globally, the healthcare market of 3D printing reached $973 million in 2018 and is expected to grow four times by 2026. So you have plenty of opportunities here to begin your new adventure!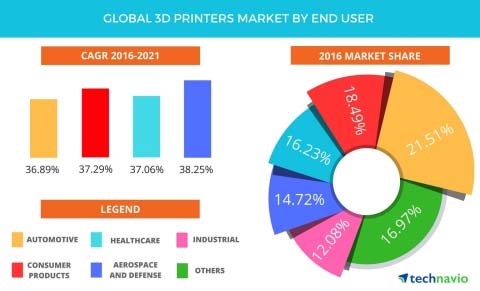 Picture- Global 3D Printing Sectors Analysis
Read More: Can You 3D Print Food Safe? Learn about food-safe 3D prints and 3D-printed food here!
3D Printing Business Ideas You Can Implement Right Now!
Before diving into the specific 3D printed products for your venture, let's explore the broader categories of 3D printing business. By going through these brief descriptions, you will understand the various ways of involving 3D printing in your new endeavor.
A. Based on Concept and Workflow
1. Subcontracting
Subcontracting in general terms means outsourcing one part of the bigger project. The person or entity this part is assigned to is called subcontractor. Your company can be this entity for third parties who only need to print a particular 3D model.
In such cases, you don't need to draw up any ideas or bring up concepts of your own. The client provides you with the 3D model (usually as a CAD file) and then you just print it out with your 3D printer. Subcontracting attains maximum profit by catering to niche clients like artists, mechanics and jewelry makers.
Read More: How to Design Parts for 3D Printing. Here's what you need to know about creating models, choosing the rigth software, and preparing files for printing!
2.  Reverse Engineering Through CAD
There are many people who wonder how a visually stunning piece drawn in 2D would look with an extra dimension on it. Transforming people's ideas on paper into a tangible 3D structure could be your brand new venture! All you have to do is tell your experts to convert the given 2D design into a 3D one by utilizing CAD.
This particular concept or strategy is called reverse engineering. You take the 2D version of an object from your client, implement its design in the CAD software, modify it as necessary and then feed the new file to your 3D printer. The resulting profit would include charging for the conversion, modification and execution.
3. Creative Outlet
Utilizing your experience and skills of the 3D printing tools, you can put a new spin on the typical items of interest. For instance, how would people respond to a 3D rendition of a classic painting?
It could also be something educational like the periodic table of chemistry or something catering to the emotional side of customers like a 3D valentine card!
You can materialize any of these concepts in samples, take feedback from acquaintances on it, make required modifications and print them in bulks for sale.
4. Designing Service Center
If you don't want to take the burden of coming up with concepts all by yourself, let the clients take it!
Open up a service center where clients can meet you and discuss their requirements upfront. Based on their concepts or visualizations and relevant parameters, you can design a model matching the conditions.
After they have said yes to a printed sample, you can start making as many copies of it as necessary for the deal.
By doing so, you can keep an eye on the whole process – from the designing to the delivery.
Therefore, if you are someone who likes to maintain supervision on all business aspects, this will be the one for you.
5. Online Store
For those of you who prefer to play it safe and not lose any money, launching an online store offering mainstream shopping items would be the best idea.
E-commerce itself is among the most booming internet-based industries now. So investing your two dimes in it may actually be a pretty smart move!
Just print out popular items of online shoppers which can be built through a 3D printer and the CAD software.
The most common items in this category include jewelry, toys, showpieces and certain articles of clothing. We will discuss them in detail soon in an upcoming section.
6. Rapid Prototyping
Rapid prototyping is the process of manufacturing numerous instances of a part or a 3D model within a short time using CAD. This helps both small businesses and established enterprises to improve their efficiency without compromising the quality.
You can be a valuable part of their manufacturing process by offering such rapid prototyping through your 3D printing business.
It is an affordable alternative to the usual prototypes which require tons of expense. By reducing both cost and timeframe while maintaining the quality, you can make the clients very happy!
7. 3D Selfie Studio
This is an idea for those of you who want to have a younger customer base. It is also more unique and interesting than the other approaches described here.
Many of the millennials and people of similar age groups would definitely love to see a 3D version of their carefully enhanced digital photographs.
It would serve as a reminder of their beautiful selves by being an interior decoration piece. Alternatively, it can also be something quirky to celebrate with close friends.
8. Electronics Assembly
You can join hands with a friend or colleague who is involved in assembling computers, laptops and similar electronic devices.
Your 3D printing charms can come to use here if you print out the parts, cases and any other required printable item for them!
B. Based on Products
Now that you have some idea about the most profitable approaches for a 3D printing business, let's explore what kind of items you can make with this technology to attract the masses!
1. Interior Decoration
3D printing can allow designing an endless range of decorative items to enhance interior aesthetics. Since the 3D printer can work with many different filaments and almost any color one can think of, you can explore almost all limits of your creativity working on such projects. you can check our 3d printing filaments listed below:
So let your customers bring in fresh new designs of attractive interior pieces from your brand! 3D printing will help you to develop these with ease while also supporting the mass production of your most popular items! This way, you can have full creative freedom while also ensuring a stable income source.
2. Jewelry
No matter what era it is, jewelry will always have an undeniable appeal to us. Ornaments in traditional designs do attract a large number of customers because of their classic beauty. However, there are also people who keep looking for something new in the jewelry market to keep their looks fresh.
You can contribute to this area by coming up with unique designs for jewelry. The best part is that you don't have to depend on a third-party for materializing those designs. You can do it yourself with the 3D printer. Alternatively, you can hire freelance jewelry designers to create the patterns and then print them in bulk!
3. Toys
Kids already have a highly imaginative mind. You can help its horizon extend even further by producing innovative and interesting toys for children! Since 3D printers can develop almost any shape or structure one can think of, you can your adventurous fantasies to good use and turn them into realistic 3D toys.
The best aspect of this business idea is that it may never go out of demand. That is because there will always be children on this planet who value tangible toys over the virtual ones on digital devices. So you can always expect a good turnout at the end of every fiscal period.
4. Custom Pet Collars
Every pet owner wants their precious furry friend to look exquisite. One way to do so is adorning them with unique customized collars. You can combine your artistic ideas and 3D printing skills to develop products that meet these requirements. They can be vibrant or pastel, patterned or monotone – anything the client wants!
The good thing about these collars is whatever design they follow; they are always the same shape – a flat thread flexible enough to encircle the pet's neck easily. As a result, you don't have to worry about printing out complex shapes or structures. All it would require is the required colors and the most suitable filaments.
5. Earbuds
The music-lovers always welcome fresh new designs for their gadgets. Earphones are the most common device for them since they can wear this anytime anywhere and listen to their favorite tracks with ease. You can put your own spin on the regular white and black earbuds by producing your own creative designs!
Besides, since 3D printing can transform almost any vision into reality, you can also take orders for custom earbuds where the client can decide what design they want. By giving them the freedom of wearing their own creation every day, you will gain a commendable following quite soon.
6. Apparel
3D printing has also infiltrated the ever-evolving world of fashion! Renowned designers around the world have begun implementing their artistic designs of bikinis, dresses and shoes through 3D printers. For instance, Nike has developed the Vapor Laser Talon boots for professional football players in 2012!
You can join in the fun as well by producing such wearable pieces through your own clothing line. Hire talented fashion designers who are inclined towards such combinations of technology and apparel. 3D printing makes its production process easier by convenient adjustments of the fitting parameters.
7. Character Figurines
We all have fantasized about a tangible realistic version of our favorite characters from comics, anime, movies and video games. Now we all have the option to actually get something like it through the figurines based on those characters.
While it is not a new concept, 3D printing can make the entire manufacturing process much more affordable and efficient. Along with printing out the specific favorites of your clients, you can also partner up with big names in the relevant industries to produce a line of figurines together.
8. Spare Parts
Many vehicles may have failed to keep up with the fast-paced progression of automotive technology. As a result, many of the cars are discontinued after a while and thus owners of these automobiles struggle to find a replacement for the damaged parts.
You can turn their failure into an opportunity by offering to produce spare parts of vehicles which are not produced any more by their respective companies. 3D printing can easily develop a brand new copy of such parts. Since the printers can work with metals, polymers and similar materials, it should be an absolute breeze.
9. Implants and Prosthetics
3D printing is used extensively to develop implants and prosthetics for medical purposes. People who have suffered from deadly attacks or injuries can have a new comfortable life with the help of these replacements. Because of these, they don't have to work with one limb or live on only liquid food.
Therefore, there is plenty of opportunities for you to mass-produce these implants and prosthetics with your 3D printer. To get familiar with such products, their effects on health and the corresponding requirements, you can enlist yourself in a relevant educational course. Then plan the business prospects and launch grandly!
10. Firearms
This idea is an ideal one for the people who have experience in law enforcement agencies or military services. If you are among these individuals, you can put your knowledge of firearms into good use with some help from 3D printing technology!
The first instance of this was in 2014 when a Japanese man 3D printed his guns. Although the beginning of developing firearms this way was a little controversial, you can stay on the right side by going through the proper channels. You will need the legal documents and authorizations to start this kind of 3D printing business.
11. Bio-printing
From the beginning of the new millennium, many biological researchers have started incorporating artificial components into their experiments and observations. It can be external or internal parts of the human body built with inkjet or 3D layers of living cells for studying tissue engineering.
This is where 3D printing can jump in to accelerate the process by developing such artificial pieces with higher efficiency. The biggest advantage of doing so would be the designing software's capability to build complex structures with accurate measurements. You can produce these in bulks for biological firms and institutes.
12. Specialty
Along with all the ideas mentioned above, there are some products that thrive primarily on 3D printing technology.
This includes developing products that are not made of wood but imitate its texture and patterns.
They can also be about printing objects which require the strength of carbon fiber and flexibility of plastic at the same time. Your business can focus solely on these projects and still thrive with regular profits.
Read our related article on How to Make a 3D Printed Phone Case. Customize your own or make and sell personalized phone cases using your 3D printer!
How To Start 3D Printing Business: Beginners Guide

Before launching any business, you should have enough knowledge about the product or service you are going to offer through it. So if you want your new business to be centered around 3D printing, you ought to know as much as possible about it.
Invest in trying out various types of 3D printing and working with most of the filaments available nowadays. After you have gained enough theoretical and practical knowledge of this topic, proceed by following the steps briefly discussed below to start your 3D printing business:
1. Brainstorming Ideas
At first, it is important to figure out what kind of work or business venture you are interested in. Then list down all the ideas you and your potential business partners can think of. This will help you to pinpoint the target industry and stay on track throughout the next two steps.
2. Market Research
Research the current market of your chosen ideas thoroughly. Dig deep to find out informative researches already conducted by similar business entities. Observe the latest and the most sustainable trends in this area. You can then draft effective surveys and assess their feedback from focus groups to guide in the later stages.
3. Forecast
Based on the results of your extensive market research, you will get data to forecast the future of 3D printing businesses.
So use them to make feasible projections for your particular venture.
Estimate expenses, total time period and more of such factors regarding the entire new endeavor or its individual products.
4. Planning
Now that you have both the research data and your estimations, make a feasible plan on how to achieve your goals in the most effective way.
This will require detailed information like your target customers, investment capability, required 3D printing technologies, startup costs, end goals, and similar core attributes.
5. Business Entity
Get ready to officially register your brand new company. But before that, you will need to carefully specify its category as an entity since this will impact your taxation and personal liabilities in the future.
Among the options of partnership, corporation and sole proprietorship, the last one is the riskiest. So going for either of the previous two will make it less stressful for you.
Most of the successful 3D printing companies have chosen LLCs and DBAs for this matter.
6. Tax Registration
Next, you have to file for tax registration on federal and state levels. The tax amount will vary according to the areas your business reaches, its size, niche and similar relevant details.
This is an important step since ignorance in this part can result in fees and penalties in the future. Just apply for an EIN or get one through IRS digitally.
7. Bank
Open up a bank account for your business and issue a credit card for it. This will help you to keep track of company finances, encourage investments and conduct smooth digital transactions.
Skipping this step and mixing corporate finances with personal ones could risk your personal assets including house and cars.
8. Business Accounting
Make sure you have the right people and processes in place to keep an eye on the income flow and expenses of your company.
Maintaining infallible financial records guarantees an accurate analysis of where your company is heading next. Additionally, it makes annual tax filing easier to calculate.
9. Permits and Licenses
The market research must have concluded which permits and licenses you will need to start the business. Now it's time to get your hands on them!
Apply for these documents and make sure you succeed in obtaining each one, otherwise, your company can shut down anytime.
10. Business Insurance
Regardless of their size or category, every business needs to get good insurance schemes to save them in times of trouble.
If you plan to hire employees for the new 3D printing company, you may also need to apply for workers' compensation insurance to meet the legal requirements of the state.
11. Brand Identity
It is very important for each new brand to establish its unique identity early in the game.
This will help you to leave a lasting impression on the target customer groups and thus motivate them to engage with your brand.
Make your objectives clear with a catchy tagline and arrange for promotions on relevant channels.
12. Web Presence
Web presence is crucial in the age of internet. Every business of this era must have an official website with all the standard information present.
This will help to attract potential customers, investors and partners for your business to thrive. It will also ensure a global reach for your growing brand of 3D printed products.
Conclusion
As you can see there are plenty of 3D printing business ideas to explore for your new endeavor.
You can combine your knowledge in this sector with previous work experiences in any of these fields.
This will make your company or franchise a force to be reckoned with in the 3D printing industry.
So start sketching new viable concepts and approaches to utilize this budding technology for creating a promising future for your business today!
Our Other Printing Related Article: