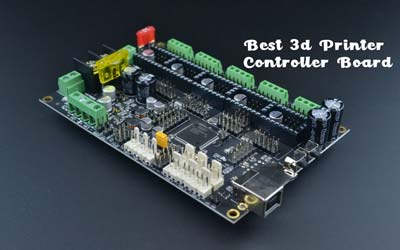 Did you know there are over a hundred items you can craft on a 3d printer? From toys and utensils to electronic hardware and water bottles, the options are endless.
That might bring up the question – just what's the mechanism behind the intelligent operation of the 3d printer?
One of the critical items that make 3d printers what they are is the controller board. It is in charge of parsing g codes from the firmware and making the motions possible.
If you're using an old printer model or you'd just like to step up your device's performance, getting the best 3d printer controller board might be something you're looking to do.
But when exploring your options, it might be a little confusing to choose the right thing, considering there are numerous brands and models on the market.
Well, don't fret because I am here to offer you some help. I'll walk you through the top 8 3d printer board controllers and help you select the model that fits your needs and budget.
Let's jump in.
Our 8 Best 3d Printer Controller Boards
1. BIGTREETECH SKR Mini E3 V1.2
Kicking off our list is the feature-rich BIGTREETECH SKR Mini E3, which is a V1.2 controller from the renowned brand Bigtreetech.
Boasting a 32-bit ARM Cortex M3 microprocessor, the SKR Mini E3 packs a lot of power. For someone looking to boost the speed of 3D printer, this would be a great unit to consider. Its 32-bit processor with 72 MHz frequency speeds up the printing process, leveling up the efficiency.
The board comes with the open-source firmware Marlin 2.0. This is a huge plus especially for a new user with minimal knowledge of the g codes.
Upgrading the software is not complicated. You can load the provided SD card and do it with ease. The firmware loads quickly in only about 10 seconds.
Concerning power compatibility, there great news in that the machine is versatile, supporting 12v to 24v inputs.
One of the qualities of a good controller board is the ability to control the temperature. With regard to that, this controller works seamlessly. First off, the PCB is wired rigorously to ensure the heat dissipation is effective.
When the controller is up and running, you'll be surprised how much quieter your printer becomes. The TMC2209 drivers are to thank for that.
If you own a Creality machine, the M3 is perhaps the best 3d printer controller board upgrade. It is plug and play for Ender 3 Pro and it is also well compatible with Ender 5 and a range of other CNC machines.
Highlighted features:
Powerful, high-efficiency microprocessor – 32-bit ARM Cortex M3.
High-quality for efficiency and quietness.
Supports an LCD with a size of 2.8 to 3.5 inches.
Compatible with RGB color LEDs.
Versatile power inputs – 12 to 24v.
Compatible with BLTouch auto-leveling sensors.
2. BIGTREETECH Newest SKR Mini E3 V2.0 3D Printer Board
Coming in next is another great device from the Bigtreetech family – the Newest SKR Mini E3 V2.0. Even though there are many similarities with the previous version (V1.2), there are a few subtle differences.
This model comes with an important feature called the sensorless homing function, which the V1.2 lacks. This feature makes it possible for you to home an axis without needing a physical limit switch. I can't even begin to explain how much ease of use and convenience that provides.
Perhaps the most significant added features of the V2.0 are the ZAM and ZBM. The duo allows connecting steppers to the Z gantry and drives them parallel from a single 2209. With the V1.2, driving a dual Z setup with this board requires a motor splitter.
Now, the whole process is all taken care of with built-in technology. Thus, the V2.0 is a viable option for someone seeking lots of convenience.
Another fantastic addition to this unit is the intelligent power loss. Now, imagine if the power goes out while you're printing. Usually, you'd have to set up the printer all over again, which wastes time and depends on your being there.
However, with the V2.0, things are different. Its intelligent data saving capability allows it to resume where it left off. Such convenience!
The mofset capacity on this board is drastically elevated for the heated bed and hot end connections. While the V1.2 can only draw 60 amps from both connections, the V2.0 can draw 85 amps from the hot end and a whopping 220 amps from the heated bed.
Why these high power ratings? In case of a power surge, the high power handling capability provides safety for the internal components. Moreover, there's better heat dissipation.
If you own an Ender 10s pro or any other CNC machine for which you need better control and higher performance, the SKR E3 V2.0 would be a great consideration.
Highlighted features:
Sensorless homing function.
32bit 72mhz arm level cortex-m3 series microprocessor.
Superior power-handling capacity for safety.
Excellent heat dissipation.
Power-resume function after a blackout.
Automatic shutdown upon project completion.
Uses Marlin 2.0 firmware, which comes in a free SD card.
3. BIGTREETECH Direct SKR Mini E3 V1.2 | Led Screen Controller Board
Here's yet another entry from BIGTREETECH that comes with great features.
Its microprocessor is a 32 bit 3d printer controller with a frequency of 72MHz ARM cortex M3 series. It's a powerful little processor and its performance is great.
In addition, the unit has a reservation of ports that support BL touch and also TFT screen.
A huge plus of purchasing this unit is that it comes with the TFT35 12864LCD already installed. The LCD is touchscreen compatible, and as expected, it is super easy to use, making navigation a piece of cake.
Would you like to upgrade your Creality machine to be Wi-Fi-compatible? Here's the best 3d printer board to make that happen. The BTT V1.2's Wi-Fi interface brings great convenience, allowing you to send your designs to be printed remotely without the need for cables. How fantastic is that?
When it comes to motor drivers, this is where things start to get really beautiful. If you've been dealing with the issue of noise, now is the time to solve it. You can't believe how quiet the printer becomes once you install the V1.2, which comes with TMC2209 drivers.
Whether you're a beginner or an experienced user, some ease of use is something wonderful.
The V1.2 is a plug and play for several Creality machines, including Ender 3 and 3 Pro. Installation is easy, there's an LCD screen, and the Marlin 2.0 is already installed.
Highlighted features:
Robust 32-bit microprocessor Cortex M3 series.
Communication interface via USB, SD card, and WIFI.
Power input of 12v to 24v.
Touchscreen-compatible V3.0 TFT35 LCD.
The TMC2209 motor drivers make the stepper motors really quiet.
4. BIGTREETECH 3D Printer Part SKR V1.4
Would you like to step up the power even further? Then, the SKR V1.4 from Bigtreetech is for you. This device might seem little, but it packs considerable amounts of power. Its processor is 32-bit Cortex M3 series with a whopping 100MHz frequency.
Because of that, the controller levels up the printing efficiency, allowing you to complete jobs a lot more quickly.
One of the most important features of the V1.4 is the Wi-Fi adapter. For someone that loves the convenience of sending designs to the printer without needing cables, this is great news.
Want to be able to send and receive commands with Marlin to an ic2 device? Then you might be pleased to hear that the board comes with an ic2 connection. In addition to the ic2, there's also an SPI connection.
As you may agree, having LED lights in a 3d printer is a great convenience. It makes it possible to view the printing process, which is so much better than printing blindly.
But a lot of times, if your printer doesn't have the light built-in, you're forced to purchase an adapter for the lights.
What makes the V1.4 unique is that it comes with a row of RGB lights that you can set right there on the board without needing any adapters.
If you're looking to have a BL touch installed on your printer, the process will be really easy for you. That is thanks to the dedicated BL touch support, which is installed on the board. It includes the probe and the servo.
One of my personal favorites when it comes to the features is the increased number of fan pins. The board comes with four controllable fan pins.
That brings heat dissipation efficiency and as the pins are controllable, you can easily turn them off when you're not printing.
Highlighted features:
32bit ARM level Cortex-M3 series processor with 100MHz frequency.
Wifi adapter for wireless operation.
Reserved connections for ic2 and spi.
4 dedicated fan pins that are controllable.
Comes with BL touch support.
Has dedicated pins for closed-loop connections.
Compatible with TFT and LCD.
5. FYSETC Duet 2 WiFi V1.04
The Duet 2 WiFi V1.04 is a 32 bit 3d printer controller that comes with up to 256 micro-stepping. You probably don't need that much power, but it is good to have, and besides, it offers great future-proofing.
If you've used the Duet 2 Ethernet, then this board is pretty much the same, only with a few additional features. Of the main changes, there's the Wifi connectivity, which gives you a lot of convenience in that you can connect devices wirelessly.
Are you seeking a means to silent your printer? This 3d printer motherboard comes with 2660 TMC stepper drivers which make the steppers operate super quiet.
What I love the most about the TMC 2660 drivers is that they deliver great quality, printing without any marks.
Being able to reset your 3d printer quickly is always a huge plus. It is good to see this board comes with not only a reset but also an erase button.
Configuration can be done through the firmware, meaning you don't have to go through the pain of dealing with the trim port for voltage adjustment.
Some folks say operating this board is complicated, but tell you what? When you know how to configure the firmware correctly, then everything else becomes a breeze. Fortunately, you can do that on the configurator website and the process is easy and quick.
The software UI is extremely easy to use. It comes with all the important features built-in and works rather reliably.
Highlighted features:
32-bit microprocessor.
Super-efficient and quiet 2660 motor drivers.
Dedicated Wifi module.
SDcard and USB connectors are integrated.
Duet firmware can be configured via a web interface.
Has dual extruders though it is extendable to up to 5 extruders.
6. BIQU MKS-Base V1.6 Plate Controller Board
Are you a fan of the Ramps-class firmware? The BIQU MKS-Base V1.6 Plate Controller Board is for you. The unit comes with Atmega 2560, a low power 8-bit microprocessor that works flawlessly.
It might not be as robust as the 32-bit units, but it still executes instructions powerfully.
Something wonderful about the V1.6 is that it contains five instead of four outputs for stepper motor drivers. Therefore, you can hook the drivers that work for you.
The board's power input can be either 12 or 24 volts, which means there's versatility with regard to power input. I also like how the positive and negative are colored differently to prevent confusion.
With regard to communications, the board has a pc interface square that includes USB and SD card.
One of my most favorite features is the silent motor drivers, which helps in the much quieter 3D printing operation.
Picture the power going off while you're printing. When the power comes back, either of the following two scenarios will happen.
If you're using a regular printer, you'll have to set up the printing again. But if you have the V1.6, you needn't worry about the process. This unit comes with resume printing.
Also, the controller board has an automatic shutdown feature. In case the printing process finishes and you're not there to turn off the printer, this board will shut it down automatically to conserve power.
Highlighted features:
8-bit Atmega2560 microprocessor.
Up to 5 motor drivers.
6 endstop connectors, which include min and max.
Has USB, SD card, and AUX-1 connectors.
Optimized heat dissipation, thanks to the 4-layer PCB.
7. BIGTREETECH Direct BTT GTR V1.0 32 Bit CPU Control Board for 3D Printer
BTT GTR V1.0 is a high-performance motherboard with a 32bit processor cortex M4 series. It has a higher frequency of 168MHZ, which greatly improves its work.
The unit comes with a special power supply chip that supports 12v to 24v power input and has an output current capacity of up to 3A. It has a power efficiency mechanism that helps in solving overheating in the board even when it's using a 24v input. That's a huge plus right there.
Another unique feature of BTT GTR is its capability to support many languages including Chinese simplified, English, and more. What's really amazing is how easily you can switch from one language to the other without any problem.
When it comes to motor drivers, this is the best 3d printer controller.  It has 6 motor drives that support TMC160, TMC2208, and others.
Also, BTT added 3 CNC fan pins, thus making it possible to dissipate heat efficiently. Similarly, it has slots for touchscreen, which helps in supporting LCD 2004 to 12864 screens.
Looking for a unit that is futureproofed with regard to the firmware? You'll be glad to see the board is upgradable.
Thankfully, you can configure the firmware straight from the SD card, which makes upgrade and installation easy and quick.
If you want to connect devices wirelessly, you can do that, thanks to the WIFI serial connectivity.
This BIGTREETECH GTR V1.0 is capable of supporting many other high-tech functions like filament detection, an automatic shut down after you finish the work, and resume printing after a blackout. All these features make operating your printer so much easier and convenient.
Highlighted features:
Accepts 12 to 24v power supply.
High-performance board – 32bit, 168MHz Cortex M4 series.
6 Motor drivers for increased power.
Supports SD cards.
Has WIFI printing capability.
Better heat dissipation, thanks to the high-performance mofset tube.
8. MKS Gen L V1.0 3D PCB Board
If you're using the factory board of the Ender 3, you might agree that this budget gadget comes with various challenges.
The main issue is that it doesn't come with a bootloader, which is a huge barrier to firmware upgrade especially for someone new to 3d printing.
Moreover, the machine has a really small micro-controller (Atmega 1284P).
Want to break free from the limitation of such factory boards? Then, the MKS Gen L V1.0 3D PCB Board is for you.
This 3d printer board comes with a bootloader, so upgrading the firmware is a piece of cake even for a beginner.
With five instead of four motor driver outputs, the unit provides plenty of convenience. A variety of drivers are supported, including the TMC2208, A4988, and more.
Instead of having only the min endstop output, the Gen L V1.0 goes a step further and comes with both the min and max.
One thing I noticed about this board is that it doesn't have an SD card output. On the brighter side, it has 4 servo outputs.
Since this board comes with the resume printing function, there's no worry about the printing process getting completed once the power comes back after a blackout.
In addition to that, the gadget also comes with an auto shut off feature.
Highlighted features:
8-bit Atmega 2560 micro-processor.
Uses Marlin firmware.
Five motor driver outputs.
Min and max endstop outputs.
Four servo outputs for BLTouch.
Auto-resume printing after a blackout.
Auto-shutdown after printing is done.
Comparison Table for Best 3d Printer Boards
BIGTREETECH SKR Mini E3 V1.2

BIGTREETECH Newest SKR Mini E3 V2.0

32bit 72mhz arm level cortex-m3 series

BIGTREETECH Direct SKR Mini E3 V1.2 + TFT35 E3 V3.0

32-bit 72MHz Cortex M3 series

BIGTREETECH 3D Printer Part SKR V1.4

32bit ARM level Cortex-M3 series with 100MHz frequency

Supports TMC2130
TMC2209
8825
TMC2208
A4988

BIQU MKS-Base V1.6 Plate Controller Board

8-bit Atmega2560 microprocessor

BIGTREETECH Direct BTT GTR V1.0 32 Bit CPU Control Board for 3D Printer

32bit, 168MHz Cortex M4 series

MKS Gen L V1.0 3D PCB Board

Supports TMC2100A4988
TMC2208
3d Printer Controller Buying Guide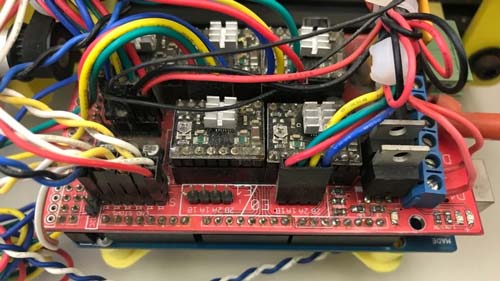 When it comes to 3d printers, the controller board is often called the 'mind'. That is simply because the gadget is in charge of many important functions including parsing the g codes from the firmware. Essentially, it transforms commands into mechanical motions.
Thus, without a controller board, a 3d printer wouldn't work.
Maybe your factory controller board is not up to the tasks you're looking to complete with your printer. Perhaps you're looking to update your printer to be in line with more modern technology.
Whatever the case, a new PCB is just what you need.
In this section, I will walk you through the features to look for to get the best 3d printer controller board for your needs.
Read More: What Causes Stringing in 3D Printing? Not sure why your projects are coming out stringy? Here are possible causes and solutions.
Is the firmware compatible? 
Before you purchase a controller, you got to make sure it matches the components of your printer. Crucially, the firmware needs to be compatible with your 3d printer.
Apart from that, the board's components need to fit those of the printer. For instance, if your printer has dual extruders, the board should be built to support at least two extruders.
Also, if your printer has a certain number of fans, the controller board should have enough pins.
Another consideration you can make is what you'd like to upgrade on the printer. For example, if the printer didn't come with enough connections, you could get a controller board with the connections you'd like to have.
What stepper drivers are included?
Stepper drivers are some of the critical parts of a controller board. They are in charge of controlling the stepper motors by sending electric signals there.
To put things into perspective, it is the stepper motors that control the motions of the extruders and nozzles on the print bed. Seeing it is stepper drivers that control the operation of the stepper motors, it is easy to see the gravity of the role they play in the operation of 3d printers.
When choosing a board based on the stepper drivers, there are a few things to keep in mind. Firstly, think about the noise level.
Drivers like TMC2209 and 2660 offer incredible levels of quietness, and that's why most people prefer them. These two drivers are also pretty powerful, making it possible to print quickly and cleanly.
Read More: 3D Printer Setup Guide. If you're new to 3D printing, check out this guide for easy setup advice!
Communication styles 
When 3d-printing, you need a source of the designs you're going to print. That source could be a computer, an SD card, a mobile phone, or any other device.
That is where communication considerations come in. When looking for the right 3d printer control board, consider the available communication ports.
Some of the essential wired communication ports you may want to have include mini USB, micro SD, and type A and C USB.
If you want some higher levels of convenience, you may want some wireless communication too. Usually, wireless communication with 3d printers is conducted via Wi-Fi.
Wi-Fi capability is a huge plus that allows you to send designs to be printed remotely without needing cables.
How much processor power is provided?
Processor power is, without a doubt, one of the vital features to check when searching for a controller board. Older 3D printers were using an 8-bit processor, but now with new technology, new printers using the more advanced 32-bit processors.
The reason why processor power matters is that it indicates the number of calculations the board can make per minute. And with that, the processor power determines the efficiency of the printer.
8-bit processors are not bad for a beginner. However, if you're serious about productivity, you should consider going with a 32 bit 3d printer controller.
Read More: How Long Does 3D Printing Take? Learn how long you can expect to wait on your 3D print in this informative guide!
People Also Asked (FAQs)
What is a 3d printer controller board?
A controller board is essentially the brain of a 3d printer. It is the gadget in charge of translating the codes from the firmware into mechanical elements such as motion and temperature.
Why change my factory 3d printer control board?
There are several reasons why you may want to install a new controller on your 3d printer. Maybe the control board doesn't contain the various features you need.
For instance, maybe it doesn't have an SD card slot or you want to install new fans, and hence need a board with more fan pins. If your old printer doesn't have Wi-Fi capability, installing a new board with this feature may be an option.
How does a 3d printer control board work?
A control board is part of the mind of the 3d printer. It sends precise current pulses to the printer's motors, which control the delicate movements of the extruders and 3d printer nozzles.
What should I consider when looking for the right 3d printer controller?
When searching for a controller, the first thing to mull over is compatibility. Make sure the components of the board are in line with your 3d printer. Aside from that, consider the features you'd like to have – drivers, connectors, wireless capability, and more.
Read More: What is a Brim in 3D Printing? This short guide takes a look at brims, what they're use for, and how to use them in 3D printing!
Final Thoughts
Don't you sometimes get amazed by the sophisticated movements of a 3d printer and its ability to complete complicated projects?
Behind the complexity of the device is a vital part called the controller board. It is in charge of parsing the codes and laying the foundation for the movements of the extruders and nozzles. The board also regulates various crucial processes/elements, including temperature.
Whether you're building your 3d printer or you're looking to upgrade your old printer, getting the best 3d printer controller board is a step in the right direction.
If you've decided to go ahead and purchase a controller board, be sure to consider its suitability for your printer.
For the highest efficiency, get a 32-bit unit with good motor drivers such as TMC2209 or 2660. The review above should come in handy for those who want to get the best quality at the most affordable prices.