When you talk to your 3D-printing-enthusiast friend about slicing up the fruits, he or she may not perceive it quite the way you think!
That is because "slicing" has an entirely different definition in the world of 3D printing.
Here it stands for slicing up your original 3D model file into many fine layers. This converted file called g-code carries the language your 3D printer will understand. So it will start implementing each layer according to the g-code instructions and you will get to see the result within minutes!
Among the many slicing software tools available today, Cura and Simplify3D are two of the most popular options.
While they perform the same function, they do differ in a number of aspects. We will dig deep into those factors today comparing Cura vs Simplify3D.
So let's see who slices it the best!
Read our related article, What is Slicing in 3D Printing? We define this term for beginners in a quick guide!
What is Cura?
Cura is a software application used in the slicing stage of 3D printing. It efficiently divides the given digital image or file into many layers or "slices". This sliced version called g-code varies from printer to printer. Each of the slices is then implemented in sequence by the 3D printer.
The free software was made utilizing three programming languages namely C++, Python and QML to reach its maximum efficiency. It was originally developed by software engineer David Braam. However, now it is a product of Ultimaker – a manufacturer of 3D printers.
It rose to fame in 2013 and has gone through several upgrades since then. The latest stable release in this line has been the 4.3 version launched in September of 2019.
Currently, more than a million people on the planet use Cura to print about 1.4 million models every week!
Besides, the software has also garnered lots of praise from professionals and received several accolades since its inception.
The most renowned and reliable names in the 3D industry like PrinterChat, All3DP and G2 have included it among the best software choices. In the 2019 edition of 3D Printing Industry Awards held in London, it won the title of Software Tool of the Year.
You can make Cura work with any of the top three operating systems – Windows, Linux and macOS. The kind of files compatible with this software includes the typical image formats (JPG, PNG, GIF and BMP), as well as 3D formats like OBJ, STL, 3MF and X3D.
Advantages of Cura
Free and Open-source
The best part of Cura is that it will not demand any money from you! It is a free software system that you can download from the official Ultimaker website.
As a result, the beginners in 3D printing can always rely on Cura to turn them into experts! It is also helpful for professionals who have budget constraints.
Besides, its open-source nature allows you to peek into the background coding from the official Cura repository on Github!
You can redistribute it and make modifications of your own according to your individual project requirements.
Easy Setup and Use
Setting up Cura is as easy as using it – fast and simple! First of all, download and install the latest 64-bit or 32-bit software version according to the specifications of your device.
Use a micro USB cable to connect the printer to your computer or laptop where the software now resides. Let its OS search and install the driver.
You can now add the machines and modify the G-code settings if needed. Now just navigate to the main window, open or create a file and let the fun begin!
It allows you to adjust the speed, quality and similar factors for each printing.
Fast Weekly Updates
Like all other competent technological products, the Cura software also goes through regular updates to bring in the latest 3D printing conveniences.
The difference is in the speed of these updates. Cura can save you a good amount of time by getting done with it fast through short cycles every week!
LGPLv3 License
Although the software initially had the Affero General Public license, it then modified into the Lesser General Public License or LGPL.
This change has allowed its developers to integrate more with third-party CAD applications. As a result, you can explore more creative ideas with Siemens NX, SolidWorks etc.
Disadvantages of Cura
Slow Processing
Compared to its competing programs in the market, Cura does not do a good job when it comes to model processing speed.
It takes longer than others to process the models and can get even slower while dealing with more complicated models. The software can freeze or hang up trying to process them.
Inconvenient Support Settings
Unfortunately, Cura does not provide good enough support control for 3D printing models. This means – you may have to put in extra effort and time to find the right supports in the software.
Ultimaker has tried to solve this issue by bringing tree supports on board but they are still not up to par.
What is Simplify3D?
Another popular slicing software for 3D printing is Simplify 3D. It converts the 3D model file into a g-code which the printer can understand and implement.
However, it does bring a lot more on the table than most of its competitors. The features offered here exceed the basic expectations of any user.
You will have the freedom here to optimize models and troubleshoot the printing process. So you can explore the full range of your creativity without compromising efficiency.
It can deliver you the results within just a few seconds! The operating systems suitable for it are Windows, Linux and Mac OS X.
Because of all these conveniences and top-class features, Simplify3D was nominated in the 2018 3D Print Industry Awards for the title of 3D Software of the Year. It has also won the title of Top 3D Slicing Software in the 2015 Pinshape Awards by an overwhelming number of user votes.
Advantages of Simplify3D
Extensive Compatibility
Simplify3D is compatible with a wide range of 3D printers including 125 unique models!
So, you don't have to look for a new slicer if you are getting a new printer. You can also use multiple devices with this software since it enables easy switching between machines.
The brands whose firmware work well with Simplify3D include reliable names like Sprinter, Marlin, FlashForge, Repetier, MakerBot and more!
Useful Simulations
This software allows you to view simulations of the process and the end result before printing your model.
These simulations are realistic so that you can figure out if any stage or aspect of the process needs to be changed. As a result, you don't have to deal with correction tasks after the printing is finished.
Customizable Support Structures
The support structures of Simpliy3D is regarded among the best ones available in the industry right now. It builds the necessary support structures by themselves once you open up the model file.
Then it gives full control of it in your hands so that you can customize them structures in any way you want!
One of the Fastest
One of the leading reasons for most professionals to choose Simplify3D over other slicer software systems is its high processing speed.
It can get the job done in a matter of seconds which saves the experts much time.
So they can focus on other aspects of the 3D project and complete it long before the deadline without compromising its quality.
Disadvantages of Simplify3D
Slow Update Cycle
Contrary to most of its contemporaries, Simplify3D has not paid much attention to making its update cycle any swifter.
Unfortunately, it has one of the slowest update cycles among all 3D printers. You can expect an average of only two new updated versions every year!
A Bit High Cost
The software of Simplify3D comes at a moderate price point. While a little over a hundred bucks may seem reasonable to the professionals, it is definitely not among the top choices for most hobbyists.
Besides, its cost doesn't fare well against competing brands that are providing their product for free.
Comparing Simplify3D Vs Cura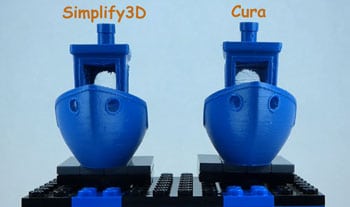 Uses
Both of them do the same thing for the user – slice up the file image for 3D printing. However, they cater to different levels of users.
The amateurs who are just beginning their journey in 3D printing usually opt for Cura since it is free and has all the basic features.
Once they get used to the functionalities and specifications of 3D printing, they tend to switch to something more sophisticated, versatile and rich in features – like Simplify3D.
Processing Speed
Although the processing speed varies a lot depending on the complexity of your 3D file, Simplify3D almost always wins in processing speed.
Cura can deliver the printed model in minutes but the rush may not result in smooth cuts.
On the other hand, Simplify3D can get you the same output in a much shorter timespan – SECONDS, and that too without compromising the quality.
Update Cycles
Cura is known to put out new versions of its software adapting to the latest technological advancements every week.
In contrast, Simplify3D takes a long time to release its new updates. On average, the users receive only two stable versions of the software per year.
Compatibility
Being the product of a manufacturer like Ultimaker, Cura works the best with 3D printers of its own brand like 2+, 3, S3, S5 and S5 Pro.
However, it is also compatible with some printers built by third-party manufacturers. All 93 of them are listed on the official Ultimaker website alphabetically.
Simplify3D has a lot more to offer since it is compatible with over 520 3D printers! As a result, you will have seemingly endless options to choose your most desired printer from.
Technical Specifications
Let's take a look at what kinds of file formats, operating systems and other technical elements these two slicer software systems support:
Windows Vista and up, Mac OSX 10.11 and up, Linux [Ubuntu 14.04, OpenSuse 13.2, Fedora 23, ArchLinux and up]

Windows Vista and up, Mac OS X 10.7 and up, Ubuntu Linux 14.04, Debian, Fedora

Intel Core 2,
AMD Athlon 64

Available Hard-disk Space
Support Structures
Cura and Simplify3D both can build the required support structures automatically for your 3D model. However, it is easier to remove them afterward on the latter. You will find it more convenient to operate on these structures with the customizable support of Simplify3D.
Cost
If you are running on a tight budget, the open-source software Cura is definitely the right choice for you. It requires no money or investment. All you have to do is download it from the website and set up on your device! Simplify3D will cost you a reasonable amount while also delivering advanced features and quality.
Bottom Line – Which One is For You?
At last, we can announce the winner of this glorious battle of Cura vs Simplify3D!
Considering all the factors discussed above, Simplify3D seems to be the better option. Although it comes at a high price, the slicing software does deliver top-notch quality of 3D models.
It has more features to take advantage of for the professionals in this area. Besides, it is much faster in processing and offers compatibility with a wide range of printers.
Cura is good for the novice players in this field who are just starting to get the hang of it. It is free, open-source and doesn't have high-end system requirements.
You can also choose it over Simplify3D if you want more than two update cycles per year.
Our Other 3D Resources: