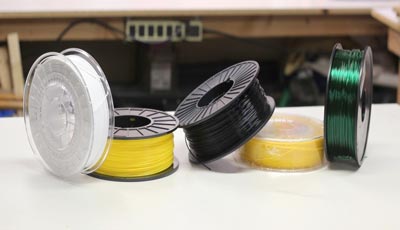 If you are an artist and a 3D art enthusiast, then this will be the perfect read for you. Technology has advanced in this era to the point where we can now create real-life art forms from 3D machines. You may feel fascinated by knowing about how you can make them.
You can use high-quality filaments to create those 3D objects. These filaments create several layers after being melted by the machine to form an item.
Therefore, purchasing the best PVA filament will help you to produce superior results.
Best PVA Filament on The Market
As the perfect result depends on the filament quality, we have chosen some appropriate filaments to provide you better objects. Let us dive right into the filament products without further ado.
Read our related article, How Much Does Filament Cost for 3D Printing? Discover the various types of filament and their cost in this complete guide!
1. Fused Materials PVA 3D Printer Filament
If you want to produce prints that will dissolve when you soak them or submerge them in water, then a water-soluble filament will be your best option. This option is perfect for producing support structures. Such structures are an ideal option if you want to create intricate designs.
Fused Materials Filament is perfect for such instances. It has water soluble properties. As a result, you can create support materials easily for intricate designs. This PVA material will completely dissolve in water. Hence, it will be a perfect choice whether you are a beginner or a professional.
Furthermore, you can use this innovative device with dual extruder 3D printers. This type of usage will provide you superior support structures to use to create a final design.
Additionally, it contains a consistent diameter of – + – 0.03 mm. Meaning, you can achieve dimensional accuracy if you choose this device. As you will have no problem with accuracy, you can finish the designs without any hassle.
You can use this optimized PVA device for different varieties of materials. However, it will perform better for PLA material. Such filaments are known for giving superior results while working with PLA rather than other materials. Overall, this PVA 3D filament will be perfect for your projects.
Highlighted Features:
Weighs about 1.4 pounds.
Water-soluble feature is available.
You will get 0.03 mm dimensional accuracy.
Contains optimization for PLA works.
Print temperature is low.
Can work with dual extruder 3D printers.
2. Gizmo Dorks Filament
The terminology of PVA filament and how it functions may seem confusing to you. As polyvinyl alcohol filament has water-soluble properties, it entirely dissolves in water to work as a supporting filament.
We have found the perfect filament that will help you create unique designs. Gizmo Dorks product contains an excellent filament support property, which will allow the PVA to dissolve in water quickly but efficiently.
Most materials may not dissolve in water properly. However, you will not face such issues with this product.
To get the maximum and best result out of this device, you have to store it properly in a dry state when you are not using it.
That way, this product will retain all of its properties when you use it the next time. Otherwise, if the product remains wet, then it may dissolve. Furthermore, you can easily use this PVA 3D filter filament with dual extruders to create intricate supports.
Additionally, you can create prints or supports that you can, later on, dissolve again. This option may not be available with other products. Therefore, you can potentially use this device to print structures that you can later dissolve when you need to.
Highlighted Features:
Excellent product dissolves in water properly.
2.85 mm external diameter is present.
You can use it with extruders to create support designs.
Contains 1.8 pounds of weight.
White color product is compatible with RepRap.
Perfect for any standard spool based 3D printer.
3. Polymaker PolyDissolve Support Filament
Before choosing a PVA filament product randomly, you have to take a closer look at the brand. It is a common mistake that many people make. You may purchase a product without learning about its brand. However, if the manufacturer does not have enough experience, you will not benefit from that purchase.
We understand how troublesome and time-consuming it can be to do that. Therefore, we have researched for you. Polymaker is a brand that creates excellent PVA filament products. You can use their device for reliable results.
Their PolyDissolve product, in particular, contains high-quality features to produce superior support designs and prints. For any PVA filament, size is a crucial feature. This product includes a standard PVA filament 1.75mm size, which you can use to create your desired results.
It comes in a natural color, which provides a traditional look. Additionally, the manufacturer offers an aluminum bag with a resealable property. Hence, after each use, you can keep the product properly dry and sealed.
Besides a profound level of solubility, this device comes with superior compatibility. Meaning it can support PLA, TPU, PVB, and Nylon material filaments as well. As you will have no issues with dissolving, you will get excellent interface support as well.
Highlighted Features:
Item contains 1.65 lbs weight.
Reliable Polymaker brand will provide excellent filaments.
Comes in a natural color.
This product comes with a 1.75mm standard size.
You can use it for TPU, PolySmooth, Nylon and PLA filament.
Perfect for investment casting applications.
4. eSUN PVA 3d Filament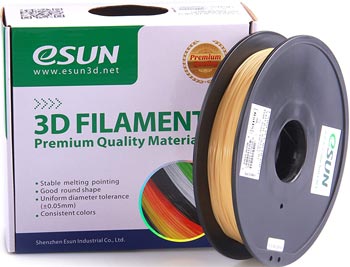 One of the most popular filament brands out in the market is eSUN. This brand is known for producing excellent quality filaments that provide accurate support structures for your final design. TIn particular, their .75mm PVA filament is a popular product because it contains just the right amount of diameter to dissolve properly in water.
A significant problem with most filaments is that you may have trouble removing them for the final finishing once you use them as a support structure. That is not the case with this product. The eSUN filament will come off without any hassle. You can even use your hands to remove them from your design.
Furthermore, this device is easy to print but known for not leaving much of a mess behind after finishing the work. You can integrate this product into your workflow because as soon as you dunk it in warm water, it will dissolve away immediately.
That brings us to the next point of temperature. As a 3D artist, any filament's most intense feature comes with the melting point and temperature. If the filament does not melt in hot water properly, you will have to deal with many messes.
Fortunately, the eSUN PVA filament comes with a printing temperature of 190-220oC. This amount is perfect for creating support structures without leaving much of a mess.
Highlighted Features:
Weight of the item is 1.10 pounds.
You will get a product with a 1.75mm diameter.
Comes with a printing temperature of 190-220oC.
White color will provide contrast.
Performs best if you keep it dry.
5. 9732 – Ultimaker Natural PVA Filament
You may choose a filament based on how quickly it melts. But it is a wrong belief that the quicker it melts, the better result will be. After all, we know how slow and steady wins the race. That also goes for 9732 – Ultimaker Filament.
Their product may take some time to melt, but we can assure you that it will provide a far superior result compared to the other ones. It lacks melting temperature but makes up for that with a proper diameter and other features.
You can get up to 2.85 mm external diameter unlike the other products if you choose this device.
Furthermore, it contains polyvinyl alcohol material. This material is known for acting as the perfect support structure for 3D designs. The most exciting fact about this device is that it contains dissolving properties. Once you dissolve it in water, it will change into polyvinyl acetate form.
This particular form is harmless. Therefore, you will not have to deal with any toxic materials, unlike some other products. Zero harmful material means it will be children-friendly. Hence, this device will be the perfect option if you are creating school projects.
Moreover, this device contains approximately 3mm natural filament components. The filament's width is essential because it can ultimately determine how much support it will provide to your base design. If you want to create a large structure with intricate details, 3mm diameter will be the better option in such a case.
Highlighted Features:
Primary component of the device is polyvinyl alcohol.
You will have no trouble dissolving it in water.
A 2.85mm external diameter provides better support.
Weighs about two pounds.
Comparison Table for Top 5 PVA Filament
PVA Filament Buying Guide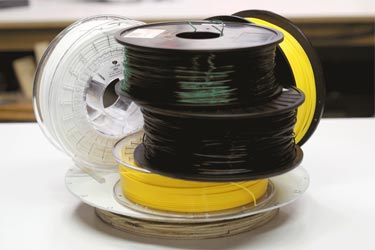 PVA filaments are not that easy to purchase because of the sensitivity to software and 3D printers. That is why we have decided to narrow down some of the best and primary features that you have to look out for before purchasing any PVA filament.
Strength
This feature is important because, ultimately, you will be using PLA filaments to support your base design. Since you need this filament as support, it is evident that it should have the proper strength to keep the main structure in place.
Therefore, the higher the filament's power, the better it will be for your 3D printer.
Flexibility
Interestingly, the filament's flexibility should be low, unlike its strength. This disproportional relation may seem confusing to you. If the filament is more flexible, then it will quickly move from its place. After all, the primary job of any PVA filament is to hold a proper position.
That will become a problem if the filament you choose has a higher rate of flexibility. Therefore, try to make sure that the filament you choose contains only a moderate amount of flexibility.
Read More: What Can Dissolve PLA? It's easier than you think to dissolve this organic material!
Durability
Another essential feature of the filament you choose is durability. As you already know by now from our review that PLA components can dissolve in water swiftly.
When you are doing a larger project, you may have to keep your primary design under PLA filament support for hours. If the filament does not have good durability, you will not finish the project correctly.
Print Temperature
The main property of any filament is its printing temperature. After a specific temperature, it will not function properly and may even damage your primary product.
Therefore, you have to keep in mind that most PVA filaments require a temperature between 180 and 200 degrees celsius.  If you can maintain the temperature between such a range, then you can remain worry-free.
Read More: Can You Recycle Failed 3D Prints? We cover ways to reuse and recycle your failed prints!
Solubility
You may be wondering why solubility is an essential feature for filaments. PVA or polyvinyl alcohol component is known for its solubility. When you create a 3D design or model, the support structure requires dissolving once your project is complete. If your filament does not have any water-soluble components, then you will have to purchase additional solvents.
To avoid such hassle, you can go for PVA filaments as they can easily dissolve in water. You will, therefore, not need to purchase any other solvent.
Read More: How to Convert Scrap 3D Prints into Filaments. Recycle failed prints and scraps using this SIMPLE guide!
Hips vs PVA: What is the Difference Between Them?
Hips is known as a waterproof plastic that you can commonly use in 3D printing. On the other hand, PVA or polyvinyl alcohol is a type of filament that you can use for dual extrusion printing. Here, we will be comparing these two products.
PVA
The ideal filament for your 3D printer machine is PVA filament. Why? Because you can effortlessly create intricate and geometric designs with the help of this filament.
It comes with a water-soluble property. Therefore, you will not have trouble dissolving the support material.
There will be no need to purchase additional solvent because the universal solvent, water, is enough for this product type.
This filament does not contain any toxic material that may be harmful to the environment or your health.
HIPS Filament
The problem with regular polystyrene is that they break easily. If you want to use a product that will not break quickly, then hips will be a better option. It is waterproof plastic.
This type of material has superior resilience and durability.
Usually, PVA filaments are relatively more expensive. You can choose hips as an alternate option because it provides cost-effectiveness.
Aside from using it as support material, you can also create designs with hips. Therefore, you can do both works with this one product.
Read More: How to Choose 3D Printer Tools as a Beginner. Beginners will benefit from these helpful tools!
Frequently Asked Question
What is PVA filament?
Polyvinyl alcohol or PVA is a type of filament that you can use to create support materials for your 3D designs. This type of product is popular due to the excellent features it contains. One of the most important of them is water-solubility.
Are PVA filaments safe to use?
Yes, unlike many filaments, PVA does not contain any harmful components. It will not be harmful to your health or the environment. Therefore, they are also children-friendly. You can go for this type of filament without worrying about toxic materials.
What is the best PVA filament?
There are many types of filaments available in the market. All of them have their perks. However, in our opinion, the Gizmo Dorks PVA Filament is an excellent product. It contains superior water-soluble quality and compatibility. Therefore, you can use it with many types of software.
How can I speed up the dissolution of PVA?
Although it takes about 24 hours for PVA to dissolve, you can use warm water and sonic bath cleaner to speed up the process. If your 3D printer is smaller in size, the sonic bath cleaner will be a better option. You can also use pliers or spudger.
What is the alternative to PVA filament?
There are a few options. One is hips, and the other one is ABS. Hips material is a good option if you want a filament that will not break easily. On the other hand, the ABS one will be a better choice if you wish for high-impact resistance. And here's a good post If you're interested in more about ABS filament.
Final Words
No other tools will help you create intricate designs or manage the internal cavities of 3D prints like a PVA filament. It will assist in acting as a supporting structure for your design and provide superior flexibility.
Among the ones we reviewed here, the eSUN PVA Filament works the best because it comes with proper dissolving features. Hopefully, our best PVA filament review should help you choose the correct type of PVA for your 3D works.
Related article that you may like: