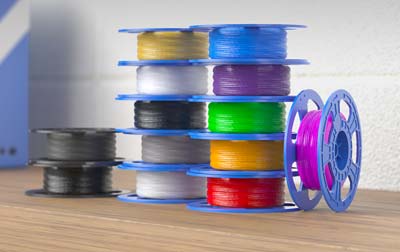 3D printing is pretty cool; you can create lots of fun stuff with it.
But over the years, it has grown from a technological gimmick into a valuable part of mechanical engineering and crafts.
And each component of this process is crucial, including the nylon filament material.
If you're not using great print material, the whole project falls apart. Recently, users have started leaning toward 618 and 645 variants of nylon filament compared to older ABS and PLA. But the best nylon filament can be hard to filter out, so we're here to help.
10 Best Nylon Filament Reviews in 2021
There are several benefits of using a polyamide filament (which is the chemical name for nylon). It has high heat-resistance, takes shape well, and is decently flexible when you need it to be so. Since the market is full of options, here are our top picks.
Read our related article, How Much Does Filament Cost for 3D Printing? We take a look at the various filament types for 3D printing and their costs.
1. Polymaker PolyMide CoPA 3D Printer Nylon Filament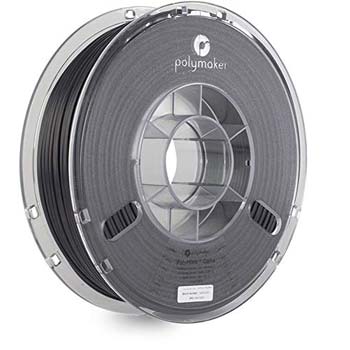 An average nylon filament for 3D printing has one downside: it warps. Some nylon will do this more than others, and it's not a fixable issue. Your best bet is to use a filament that prevents this issue right off the bat, and that's what this one does.
The anti-warp guarantee is all thanks to a consistent 2.85 diameter of the fiber itself. Unlike poor-quality products, the PolyMide CoPA maintains thickness all through.
The density of the nylon is the same from start to end. So, you'll get satisfyingly straight surfaces on any print.
Another related feature is that this filament does not need a heating chamber to give great results.
While many will prefer a heating chamber to make sure the material doesn't cool down too fast, there's no need to worry. This nylon holds form pretty well.
Thermal durability is important, and that's what you get. This polyamide doesn't start to get soft until temperatures hit 180⁰C, and it has an even higher melting point. It's also quite heavy-duty; it flexes on a thin print but isn't likely to break easily.
Since the target customer base is engineers and enthusiasts, mechanical performance is key. And you'd love to use this nylon for machine parts.
It is compatible with most 3D printers and is relatively easy to use. And of course, it comes in a neutral color as well as black.
Highlighted Features:
Doesn't start to get soft until 180⁰C.
Consistent diameter helps reduce warp.
Pliable but isn't likely to snap.
Wide compatibility with 3D printers.
2. Gizmo Dorks 1.75mm Nylon 3D Filament
It sucks if your 3D-printed items melt at the slightest heat. This sensitivity is especially concerning if you're using it as part of a machine.
But this nylon 3D printer filament doesn't reach pyrolysis until temperatures reach 350⁰C, which is perfect for professional use.
As for strength, you'll be pleasantly surprised at how strong it is. Peptide bonds hold the material together, like any strong polyamide.
You'll find it to be remarkably resistant to breakage, especially if you use a higher fill setting. It will, however, be flexible if you print a thin sheet.
Like nylon is supposed to, it will absorb moisture if left out in the open. For storage purposes, we recommend air-sealed containers.
However, the tendency to absorb liquid is useful when you're applying coats of paint. You can use adhesive tape easily too.
The filament is 1.75mm thick in diameter, which nicely pairs with this 2.2-pound roll. Warping is a far smaller concern since the manufacturers have made sure to maintain consistency in the build. Additionally, the heat resistance helps retain print form.
This nylon can work fast too. You will get 28mm/s to 34mm/s print speeds with it, and your print should finish quickly depending on size.
It's best to use a heated bed for perfect results. But you can work without one, too; it should churn out decent results anyway.
Highlighted Features:
This nylon doesn't reach pyrolysis until it reaches 350⁰C.
1.75mm thick filament.
Whole roll weighs 2.2 pounds.
Prints relatively fast at 28-34mm per second.
3. Taulman 1.75mm Black 645 Nylon Filament for 3d Printer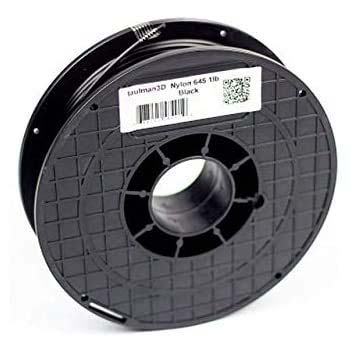 While many of our readers are simply looking for nylon filaments for passion projects, there are some serious users.
This product is perfect for engineers and technicians who require industrial-grade filaments for shuttles and medical equipment. It's durable, and its design keeps expert use in mind.
Nylon is well-known for absorbing moisture; great filaments do it right. And before you want it to, the manufacturers keep it sealed in vacuum-sealed packaging and climate-controlled environments. Its integrity isn't compromised for a second before you open it up.
There are two main variants of nylon used for 3D printing: 618 and 645. This item is the latter. The whole spool weighs 1 pound, and the filament is 1.75 mm thick. Its diameter is an ideal fit with most kinds of 3D printers.
And since it's a 645 Nylon, you'll find it virtually impossible to break. However, pliability isn't a sacrifice you have to make to gain durability.
Engineers prefer Taulman's nylon for use in aircraft and heavy-duty machinery. Its industrial strength is its best feature.
You'll want high heat on the hot end while printing, about 270⁰C, to make sure you get the best results.
The temperature requirement implies that this material can withstand high-heat conditions as well.
Here's a pro tip: always defrost the spool in the microwave for about ten minutes before use.
Highlighted Features:
Highly durable and well-suited for industrial use.
Requires hotbed while printing.
175mm filament comes in a 1-pound spool.
Comes in vacuum-sealed packaging.
4. Dremel DF45-NYP-B Nylon 3D Printer Filament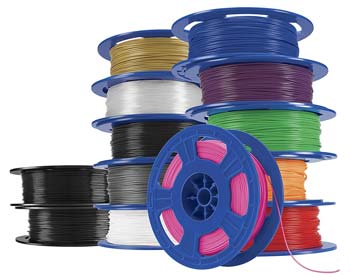 It's a chore when you have to spend time finishing off the rough edges on a 3D print. We all prefer a nylon 3D filament that has smooth edges straight out of the machine. Dremel won't disappoint you there. Their product is a great mixture of durable and seamless.
Let's talk about compatibility first because these great results come with a disadvantage. This filament has very specific printer compatibility; you can use it only with a 3D45. In case you use a 3D20 or a 3D40-FLEX, you're out of luck.
However, this 1.8-pound spool of 1.75 mm filament is a delight to use. You will barely face any warping issues or disfigured smaller prints. 
As mentioned above, it needs only minimal post-processing as the printed edges are quite smooth. Sanding like a woodworker isn't necessary.
Durability and flexibility aren't mutually exclusive, even though you may have to sacrifice one for the other sometimes.
With this product, you won't have to. The nylon is both decently durable and flexible. You'll get more flex on thinner sheets, and they are less prone to breaking.
On the less fortunate side, it softens at lower temperatures than its competitors. The recommended printing temperature is 245⁰C; you can give or take ten degrees. For a longer lifespan, we suggest keeping it away from heated areas.
Highlighted Features:
Minimizes rough edges on the prints and needs minimal post-processing.
Needs 230 to 250⁰C printing temperatures for ideal results.
Only compatible with the 3D45 printer model.
Produces a good mixture of durable and flexible material.
5. Hatchbox PA Nylon Filament for 3d Printing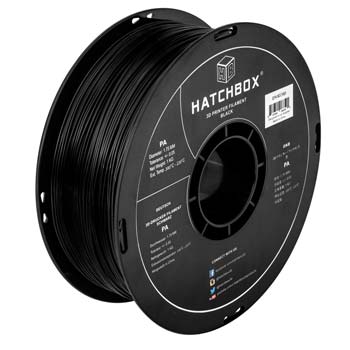 While a good nylon filament for 3D printer can have a niche application, you can tell a great one by its versatility.
Essential quality shows when you can use the material on several projects without a hiccup. And that's exactly what you get in this product.
Let's start with the physical properties of this thing. This filament can be flexible in relatively thin sheets and solid in a thicker slab.
You can make virtually anything with this 2.2-pound of 1.75 mm spool of polyamide. A phone case, dog tag, or a wallet – you can make it all.
While you're printing, you'll notice that this nylon produces amazingly accurate results.
The manufacturers have boiled precision down to a science. On even the sharpest corners, it's dimensionally accurate at about +/- 0.03 mm. You could print and needle and not be disappointed.
And while you're at it, forget about a hotbed. You don't need one. Within a range of 200 to 220⁰C of printing temperature, all your prints will come to life. The print won't shrink over time, as some other materials might.
Of course, one thing Hatchbox didn't forget (and many other companies did) is that we love using colored nylon.
Of course, you could paint any nylon print later on if you needed. But this product comes in various bold and bright color variants you may like.
Highlighted Features:
Extremely accurate, up to +/- 003 mm dimensional accuracy.
Isn't prone to shrinkage, even in the cold.
Has several color options.
Optimal printing temperature at 200-220⁰C without a hotbed.
6. SainSmart ePA-CF Carbon Fiber Filled Nylon Filament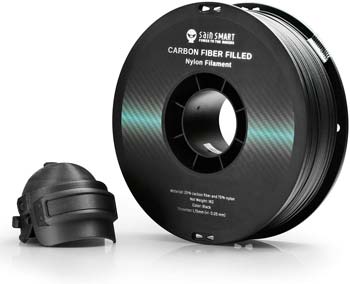 Okay, nylon isn't all that bad. But what if you infused the filament with carbon fiber? It sounds interesting as a concept, and it shows far greater results when implemented properly. If you like the idea, you'll love the results once you use this carbon fiber nylon filament.
The material is one-fourth carbon and three-fourth nylon, which is about an ideal mix.
This composite is usually stronger than nylon or PLA and is far less likely to break. It's not brittle, unlike pure nylon can be at its worst.
Of course, you might be concerned about warping. Polymer materials warp when there's a drastic change in temperature from the print and immediately after, while it cools down rapidly. Fortunately, the carbon is much better at holding form, and it's virtually warp-free.
This whole spool is 2.2 pounds in weight; that might sound like a lot, but carbon does admittedly weigh a bit more than nylon.
The filament itself is 1.75 mm thick, and that's standard. However, it can give you pretty accurate results, with a dimensional accuracy of 0.05 mm.
While you're printing, keep the bed temperature between 60 to 80⁰C. An extruder temperature within 240 to 260⁰C should be fine.
Try to keep in mind that carbon softens relatively slowly than nylon. Therefore, a slower print speed will yield the best results.
Highlighted Features:
Has a carbon-infused nylon composition.
Virtually zero chance of warping.
Very accurate prints, up to 005 mm.
Gives the best results at around 20 mm/s print speeds.
7. eSUN ePA 1.75mm Filament for 3D Printing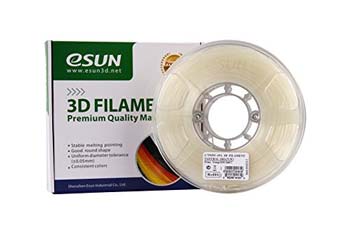 An uneven pull on the spool while 3D printing can affect the overall print quality. You'll face this issue more with smaller-diameter spools than bigger ones.
To make sure that doesn't happen, using eSUN's filament is a great choice. It has a larger-than-average spool that maintains an even pull.
As with any ePA filament, this one also absorbs moisture more than you'd like. It's best to keep it dry before, during, and after printing.
Does PETG need drying? Filaments, no matter the type, should be dry to avoid warping, stringing, and to uphold the integrity of the print.
The packaging is vacuum-sealed, but we recommend using airtight containers for later storage as well. You can never be too safe.
Despite the absorbing nature of this nylon, it's not a victim of shrinkage. Your prints will hold form decently for a long while, even after printing.
Of course, you need to take care of the conditions you keep it in. Still, engineers have the mechanical upkeep issues sorted out beforehand anyway.
No matter how fine your print is, it's no good if it's not accurate. To rid you of that worry, we can assure you that this filament is accurate up to 0.05 mm. Most serious users will be satisfied with the results.
And as for its lifespan, that's decent too. Since this nylon gives you super durable prints that last longer than the competitors, you won't have a problem. And the 2.2-pound spool has a 1.75 mm filament that works with most 3D printers.
Highlighted Features:
Larger spool than average that maintains an even pull.
Low shrinkage after printing.
Quite accurate fine prints.
Absorbs moisture easily; requires airtight storage.
8. Kodak Nylon 6/66/12 Filament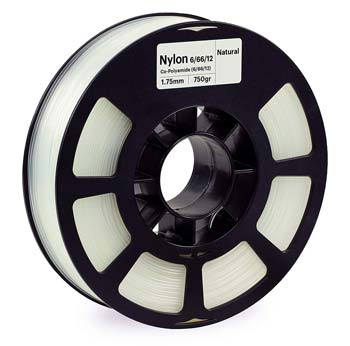 If you're making a drone and want to 3D print parts at home, you'll need thebest nylon filament you can get your hands on. This filament is perfect for enthusiasts and professionals, thanks to its world-class accuracy and quality.
Some nylon filaments just can't stand any moisture, as we've seen before. Well, this one can (and pretty well, might we add).
You can rest well with your print flying out in the open on a drone. It comes in a vacuum-sealed Ziploc bag that you can use again too.
Unlike many competing products, this nylon will give you smooth prints. That means you will spend less time on post-processing, and they'll all look good out of the oven.
You can always apply an extra finish for the perfect results, and you can paint over the surface easily too.
When you're working on a delicate project and need to focus on the minute details, there's no room for errors.
For example, if there's one wrong calculation on your drone, it might just lose balance and crash. With a dimensional accuracy of 0.03 mm, you get the best-in-class prints.
We suggest you print at temperatures between 240⁰C to 250⁰C. You'll find that this nylon makes some of the strongest machine components, and they're impact-resistant.
To put a cherry on top, you get a wide range of colors to choose from, so your drone always looks fly.
Highlighted Features:
Best-in-class accuracy.
Supremely moisture-resistant.
Comes in various color options.
Reusable Ziploc bag included.
9. FibreX PA6-GF30 Glass Fiber Reinforced Nylon
Time to look at something you'd use in a space shuttle. We say that because this filament contains Nylon 6 with a 30% glass fiber composition.
What that essentially means is this is the strongest item on the list and to be used in the most industrially-challenging projects.
First off, this thing more durable than any of the cheaper alternatives. It's 33% stronger, 40% stiffer, and half the price you'd pay for Xstrand GF30 PA6.
Your prints will barely bend, but that doesn't mean it'll break. It's not brittle; this composite is rather extremely strong.
You can use it with practically any open-source 3D printer, and it'll be compatible. Keep the hotbed between 60 to 75⁰C and the extruder at around 260⁰C to 280⁰C. We recommend pressing down the base into the bed for extra grip and to avoid lifting.
Given this material's abrasive nature, using a brass nozzle might not be a good idea. Try using a hardened nozzle of about 0.4 mm or different size of nozzle.
Keep some hairspray, PEI sheet, and a perf board around. A generous amount of hairspray on the glass sheet will give you great results.
This PA6 material also resists lubricants and fuels well. Professionals prefer using it in an automotive application under the hood. It can take heavyweights, so feel free to use 3D printed parts in your car.
Highlighted Features:
30% glass fiber composition with Nylon 6.
Compatible with any open-source 3D printer.
Quite abrasive and needs a hardened nozzle.
Extremely strong and stiff but isn't brittle.
10. Inland 1.75 mm Natural Nylon 3D Printing Filament
Average users have average needs; a few nice features are nice too. That idea might just apply in choosing a nylon filament as well. Well, if you're looking for one that gets the job done well, Inland's product is a good choice.
This spool weighs just 1.1 pounds and has a 1.75mm filament wrapped around it. After a print, you'll realize that the nylon is quite flexible, as expected.
It's decently hard as well, with a nice balance in between. The overall physical properties will vary on what you're printing.
What's a nice surprise is the value for money you get with this item. It can avoid a lot of sticky situations, quite literally.
The nylon is rated UL94-V2 in terms of flame-retardance. Additionally, it resists oils, lubricants, and other liquids well.
One of the downsides is that this nylon isn't that friendly to moisture, as you'd expect from any nylon filament.
Store it in a non-ventilated area with a warm room-temperature to maintain its integrity. It can still withstand heat, though.
For best results, keep the nozzle temperature between 230⁰C to 260⁰C and apply adhesive to the bed beforehand.
Under the right printing conditions, you'll get premium results. You can use this nylon in many projects, but we suggest staying away from industrial use.
Highlighted Features:
Printing temperature between 230⁰C to 260⁰C for best results.
175mm thick premium quality nylon filament.
Averse to storage in humid and cold rooms.
Requires a layer of adhesive on the bed.
Nylon Filament Buying Guide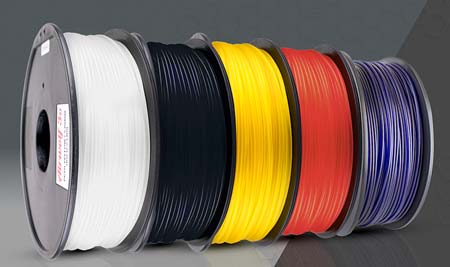 Polyamide, also known as nylon, is the leading contender in the world of 3D printer filaments.
It's a top choice because of its ability to carry weight, flexibility, and durability. If you need help choosing the right nylon filament for your needs, here are the things to consider.
Flexibility
Nylon filaments are usually flexible, which many people prefer. But there can be varying degrees of flexibility to this material, and you might need more or less of it.
If you're using it for 3D printing machine components, for example, you'd want a stiffer variant.
Any thin print will be more flexible than a thicker one. If you want a thin but stiff end-result, you can find options that suit your needs. Another good choice can be to get a nylonx and carbonx composite. These things are stiffer but far less brittle.
Dimensional Accuracy
Accuracy is essential in engineering projects, especially if you're printing tiny mechanical components.
It can be difficult to work if the screws or bolts you make don't fit with other parts. Any dimensional accuracy under 0.05mm is really good.
Filaments will usually mention the accuracy in their product description or packaging. However, a better option will cost more.
Consider whether you need high precision in the project you're developing. If you're making a walking stick, it would hardly matter.
Nylon v Composite
Nylon is a great choice on its own. The best nylon filament will fail to disappoint you. But there are certain times when you'd want to consider a carbon fiber or a glass compound infused with nylon. These have their advantages.
While nylon doesn't quite break easily, a carbon fiber mix will make it stronger. It isn't all that flexible but is powerful in strength.
And the stiffness does not mean it's brittle either. Glass fiber is another industrial-grade option you can try.
Moisture Absorption
Unlike most other filament options, nylon is hygroscopic. To make it simpler, it can absorb moisture from thin air and eventually lose its fresh quality. While this may cause concern, storing in an airtight and cool environment keeps nylon filament in near-perfect shape.
Most of these commodities are packages accordingly anyway. So, it's not likely that you might receive a compromised product.
But being hygroscopic also has advantages. It makes painting over your prints far easier; layering adhesives is another upside as well.
Top 5 Nylon Filament Brand on the Market
There are all kinds of nylon filaments available today, but only a few brands do it justice. While competition is fierce, regular buyers know and love these manufacturers' products. Let's look at the top 5 brands leading the industry.
1. Taulman 3D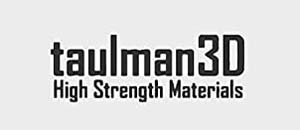 Thomas Martzall searched the market for the best nylon filament for 3D printing, and he was disappointed. With a fierce goal in mind, he created Taulman 3D, dedicated to providing the best products of this kind you can find.
Manufacturing these filaments is hard work, especially since creators have to roll the nylon underwater. And nylon is notoriously hard to extrude. But Taulman does it all and gives you performance-grade nylon.
2. Rigid.ink

This company, on the other hand, sells some of the best Nylon 12 filaments. Try not to confuse it with Nylon 6, which is an inferior variant. These items are great for all purposes and perform amazingly.
However, the price is double that of a spool of PLA. So spend wisely while shopping for this remarkable product.
3. Black Magic 3D

Even as a newcomer in the market as a manufacturer, Black Magic 3D sells some of the best flexible nylon filaments. It's flexible but hardly elastic; however, it might alter form over the years.
Additionally, it's great for layered adhesion and makes for smooth prints. You won't need much post-processing.
4. eSUN
Although nylon can be tricky to use for 3D printing, eSUN manages that issue well. Even beginners will be able to use it easily. It's similar to Taulman 645 but warps far less.
Unlike most others, this filament has an almost-transparent opacity. And you can easily color over it. It also gives more accurate results as it requires higher heat in printing.
5. Polymaker

This international company makes thicker filament than others, and they reduce warping with their consistent thickness all-through. Customers choose this filament for their heat-resistant nylon.
Frequently Asked Questions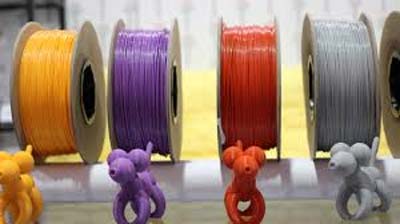 Is nylon stronger than PLA?
Nylon is more flexible than most other filaments. However, PLA and ABS tend to be stronger. That said, nylon is still known for industrial-grade strength.
Read More: What is the Toughest 3D Printer Filament? These filaments are so strong that they're used for industrial purposes!
Is nylon filament toxic?
While PLA is the least toxic 3D printing filament, nylon is quite the opposite. It releases fumes while printing at high temperatures, and you should remain at a safe distance.
What is nylon filament used for?
Nylon is one of the best options for 3D printing tools, end products, and prototypes. You can even use some products for industrial use.
Is nylon hard to print?
The ease of printing depends on machine compatibility and other factors. Nylon is a great option for 3D printing due to its strong and flexible nature. Some filaments are compatible with more printers than others, though.
How do you smooth nylon?
With a good filament, you shouldn't have to post-process much. When you do, sanding and adding layers of paint can help improve the surface finish of nylon.
Final Words
3D printing is all the rage nowadays. The best nylon filament for 3D printers is in high demand, from casual use by enthusiasts to professional-grade applications. We've compiled our top 10 picks and a buying guide to help you choose.
Related Resources: