One of the greatest inventions is undoubtedly the 3D printer that made many works easier for architects, engineers, designers, etc.
Many different types of filaments have also been created over time and have evolved in quality.
You might be someone who has just started working with 3D printers and filaments or somebody who is already a pro.
Despite being either, you might still face problems with black dots, low-quality filament, not good prints, and many more.
Worry no more because we have hand-picked the best ABS filaments by researching and going through many products to find the right ones from the best brands for you.
We present you with the top items available in the market to ensure you with the best purchase with the right information.
What Is ABS Filament?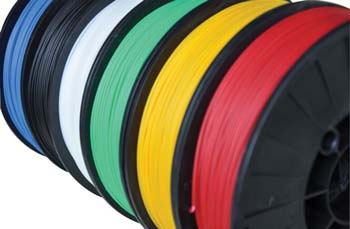 There are many types of filaments available in the market. One of those is ABS filament, which consists of Acrylonitrile, Butadiene, and Styrene polymers. These kinds of plastics are primarily known for their resistance and sturdiness.
Details of ABS Filament
ABS filament can withstand a heated bed temperature ranging from 95 degrees to 110 degrees Celsius. The extruder temperate ranges from 220 degrees to 250 degrees Celsius. However, the environment it functions in requires being in a closed chamber. A part cooling fan is not needed, neither a special hot-end.
You can also find the raw form of ABS filament that comes in the color white. It is because the neutral coloration causes it to be easily dyed. Hence, you can get the desired color during the manufacturing process.
Read our related article, How Much Does Filament Cost for 3D Printing? We break down the cost of various types of filament in this guide for beginners!
Benefits of Using ABS Filament for 3D Printing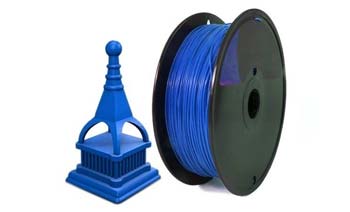 You might be wondering what could be the benefits of using ABS filament for your 3D printing. There are many advantages of using it, and you should take this into serious consideration if you want to improve your printing game.
It is one of the most common materials used for 3D printing in recent times as it can take many forms and maintain quality.
Durability
One of the most commonly used materials in 3D printing today is ABS filament, which can take many forms and maintain quality.
The ABS filament is a very durable thermoplastic and is an everyday use in rapid prototyping. It is also used in additive manufacturing for testing resistance and durability of product impact.
Having strong insulation is vital for electrical items to last for a long time. ABS has strong electrical insulation properties that make it one of the best in the market. You can even print overhangs about 45 degrees with this material.
Furthermore, it also has high machinability, flexibility, and strength that is preferable for engineers where mechanical uses are crucial.
Resistance
ABS is resistant to not only heat but everyday chemicals too. Comparing to other 3D printing materials, it can endure more stress, pressure, and heat. As a result, it is the right choice for "wear and tear" 3D prints. Moreover, the filament strings are lesser than the other filaments and give off a smoother finish.
Ease of Use and Pricing
Moreover, the ABS material is easy to process with glue parts and acetones. You can paint it with acrylic colors by filling off some materials. It also comes with a range of costs depending on the quality and variation. So you can choose according to the price you are budgeting.
Read More: How to Convert Scrap 3D Prints into Filaments. Here's how you can recycle your failed prints and reuse the filament!
Top 10 Best ABS Filament For The Money
You might have several options to choose from in the market and online. However, it can be challenging to choose from such a huge range of options. It is why we are providing you with the best filaments for you to choose from.
1. HATCHBOX ABS 3D Printer Filament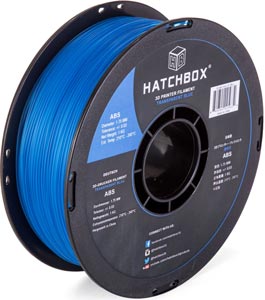 The first product on this list comes from this reliable brand manufacturing the best ABS 3D printer filament for several years now. It includes some desirable features that make 3D printing easy and convenient, making it suitable for different skill sets.
This ABS filament offers a clog-free printing experience. It reduces processing time by limiting machine errors. Moreover, the printer filament doesn't create bubbles when the machine is printing. This tangle-free material ensures uninterrupted printing for your utmost convenience.
Its filament comes in a 1.75 mm diameter spool that weighs only 1 kg. The recommended nozzle temperature for this ABS filament is 210 to 240 degrees Celsius. Moreover, with this special filament, you will be able to bring all your creative ideas to life.
You can also create the most intricate designs like a pro. The 3D models you can make with this filament won't only be durable but also heat resistant. They are not fragile at all. This feature increases the life expectancy of your printed artifacts. You can even make useful components such as phone cases and wallets.
They also offer a wide variety of colors to choose from. The colors are all vibrant and intriguing. Liven up your 3D models with the best ABS 3D printing filament on the market, which is also odorless.
Highlighted Features:
Allows clog free printing.
Create heat resistant 3D models.
Filament is odorless.
Various color options.
Can create functional prototypes.
2. SUNLU ABS 3D Printer Filament
Here is an ABS filament that offers a higher heat resistance for your 3D models than any other product on the market. The ABS filament mainly consists of a strong thermoplastic material that gives it the durability to endure long-term usage.
Hence, you can rely on this product instead of investing in some mediocre printer filament. The strength and durability of this material make it suitable for producing functional prototypes. It will let you manufacture items that are close to the production level design in terms of functionality.
It also makes the printing process somewhat hassle-free. Most filaments clog up the printer while you're printing a design.
As a result, it ruins the project and wastes a lot of time. Thanks to this highly efficient ABS item, you won't have to worry about that issue anymore.
The filament spool has a 1.75 mm diameter with a dimensional accuracy of +/- 0.02 mm. They ensure a strict diameter tolerance to offer better consistency. Besides that, it's compatible with all 1.75 mm FDM 3D printers and is the best ABS filament for ender 3. And here's a good post If you're interested in purchasing different brands and models of FDM 3d printers.
There is another innovative feature of this ABS filament that will make your life easier. It applies an acetone finish to your printed models, which gives it a polished tone. Thus, you don't need to finish it manually.
Highlighted Features:
Made of strong thermoplastic material.
You can make production-level designs.
Easy to use.
Suitable for multiple printers.
Applies an acetone finish.
3. NOVAMAKER 3D Printer Filament
Third on this list is a revolutionary printer filament consisting of high-quality imported material. It has a 100% virgin material shipped straight from Taiwan and gives it the endurance to tolerate heavy-duty usage for an extended period.
The models you create with this filament will not only look attractive but will also last for longer. This ABS printer filament comes with a strict diameter tolerance of +/- 0.03 mm. It makes sure the filament thread is perfectly round around the spool. Thus, you get consistent extrusion due to this feature.
Most PLA filaments are brittle and tend to break down during the printing process. That is not the case with this product, though. We discuss durable PLA filament in another article about outstanding quality PLA filament that won't break earlier.
They have adjusted the degradability of this ABS filament to its optimum level. Now you can experience hassle-free printing every time you make a new 3D model.
It can also enhance your skills within a short period. Due to this feature, the filament is also suitable for different types of 3D projects.
The bright and vibrant colors will allow you to create the most visually pleasing designs. No matter what type of 1.75 mm FDM printer you have, you can easily use this material.
They have also reduced the bubbling effect of the thread. It's also odorless enough to be harmless.
This filament compatible with these printer:
Reprap
Airwolf
Afinia
MakerBot
PrintrBot
UltiMaker
Makergear
Solidoodle
Up!
Mbot
Lulzbot
Flashforge
3D PEN (3doodler pen)
Delta
Type A 
Highlighted Features
Made of 100% virgin material shipped from Taiwan.
Adjusted degradability for optimum performance.
Strict diameter tolerance of +/- 0.03 mm.
Comes in several bright and vibrant colors.
Odorless and harmless.
4. HATCHBOX ABS Filament
At number 4 is a world-class product that comes in a vacuum-sealed bag consisting of desiccant. The desiccant keeps the filament safe from any environmental factors that can damage it. You can also store it in a re-sealable plastic bag. That can keep it safe from moisture.
This thread spool weighs only 2.20 lbs and has a diameter of 1.75 millimeters. That makes it suitable for all types of 1.75 mm printers on the market. So, you no longer have to worry whether this exclusive product would be compatible with your 3D printer.
Furthermore, this filament especially is for a tangle-free printing experience. You won't even notice any bubbling effects in the printer, which could damage your 3D models' design. Speaking of 3D models, you can create different types of users or just for decorations.
The durable filament allows you to make functional models such as phone cases, dog tags, salt shakers, and much more!
It is a multipurpose product that experts would love to use. It's so easy to use that even the DIY fanatics would prefer it. You can hone your printing skills much faster with this product.
There are also several colors to choose from. With these many features at your disposal, your creativity will know no bounds.
Highlighted Features:
Weighs only 2.20 lbs.
No noticeable bubbling effects.
Sealed in a package filled with desiccant.
Easy to use for amateurs.
Wide range of colors to choose from.
5. KODAK ABS Filament 1.75mm for 3D Printer
This product on the list is an item that can significantly extend your printer's lifespan. It is because the manufacturer has added certain features to keep the 3D printer parts intact for longer. The ABS filament consists of premium quality materials that don't jam up while printing.
It will reduce the possibility of errors and decrease the time needed to build a 3D object of your choice. It also removes the fuss of replacing the filament repeatedly. This particular synthetic thread comes with the following dimensions of 8.7 x 8.5 x 2.3 inches.
Unlike most ABS filaments on the market, this spool weighs only 1.65 pounds. On top of that, it is also one of the most durable ones.
It allows you to build sturdy objects that can withstand some serious amounts of heat and give you the option to make functional prototypes at home.
Now you can make your own iPhone case instead of buying it for a steep price. Apart from that, this filament is perfect for multiple other purposes.
This thread will always deliver whether you want to build a detailed statue or a mini salt shaker. Plus, you will never run out of colors to choose from.
This manufacturer has been in business for many years and is recommended widely by professionals, mostly because of their friendly customer service and amazing products.
Highlighted Features:
Makes sure the printer parts stay intact.
Dimensions: 8.7 x 8.5 x 2.3 inches.
Build sturdier objects with high heat resistance.
Make different types of 3D models.
Customer service is satisfactory.
6. JAYO ABS Filament ABS 3D Printer Filament
At number 6, we have this excellent printer filament made of a strong thermoplastic material.
This high-quality material makes this item stronger and less brittle than PLA filaments. By the way, here's how to fix brittle filament if you're dealing with this issue.
Therefore, it's perfect for producing premium-level goods that need a higher heat resistance than others.
It doesn't mean you can just put it on the stove, and it won't melt! It's just an innovative way to reduce the chances of warping caused due to low temperatures.
This filament will allow you to make the most exquisite 3D designs of your life! You can improve your printing skills at a faster pace.
Besides all that, this high-end thread comes in 10 equally vibrant colors. As a result, this lets you make more abstract models and bring your wildest visions to life.
Due to its high durability, you can also create functional parts. You can print them even faster as the filament doesn't clog up the printer.
The 1 kg spool goes through several tests during manufacture. These tests make sure the product has a strict dimensional accuracy of +/- 0.02 mm.
Moreover, it comes in a vacuum-sealed packaging bag that keeps it safe from moisture and humidity. It prevents the risks of bubbling.
Highlighted Features:
More challenging and less brittle than PLA filaments.
Make high-quality goods with better heat resistance.
Improve your printing skills faster.
Available in 10 bold colors.
No bubbling or clogging.
7. Polymaker PolyLite 3D Printer Filament
Do you live in constant fear that your spool will catch fire during printing? Then we have the perfect printer filament for you!
This product is of a specially modified material that discards the risks of fire accidents. The bulk polymerized ABS resin has a lesser volatile content than most ABS filaments.
This product also remains safe from humidity and moisture until it delivers to you. The manufacturer seals it in a plastic bag along with desiccant.
Again, the desiccant makes it resistant to moisture and moisture damage. You can also choose to store it in the same bag as it is re-sealable.
We wrote a guide on How to Store 3D Printer Filament the right way, so if you're new to 3D printing, this is a good place to start.
It's also available in various bold colors that make your 3D models stand out. Now you can create attractive artifacts to liven up your interior décor. The models can add to your room's aesthetics as well. This spool has a diameter of 2.85 mm, which is +/- 0.05 mm accurate.
It's also entirely wound up around the spool to make sure you can feed it through the printer consistently.
This product also decreases the chances of the nozzle clogging up. As a result, the extrusion nozzle remains functional for longer. This product is not only easy to use but also suitable for your printer's essential parts.
Nevertheless, this 3D filament spool weighs only 1 kg with a weight accuracy of +/- 30g.
Read More: How Dangerous are Resin 3D Printers? Are they a cause for concern? Here's what you need to know about resin's potentially harmful effects.
Highlighted Features:
Made of bulk polymerized ABS.
Low volatility.
2.85 mm diameter with +/- 0.05 mm accuracy.
Offers smooth extrusion.
Make colorful artifacts that liven up your room.
8. JAYO PETG Filament 3D
As the eighth item on this list, we have included this great PETG printer filament modified for a smooth experience. This product is suitable for experts and amateurs alike. People of all skill sets will find this thread. It makes 3D printing more enjoyable.
The pioneers in the 3D filament business have approved this item. That's why all of their products go through rigorous tests that ensure high dimensional accuracy. This 1.75 mm filament spool is dimensionally accurate to +/- 0.02 mm.
It's one of the reasons why this thread is so compatible with several 3D printers. You will experience the same level of efficiency with almost all types of printers.
The ideal nozzle temperature for this ABS filament lies between 230 and 250 degrees Celsius. It requires a heated bed temperature of 60-80 degrees Celsius.
Moreover, the perfect winding of this filament ensures smooth operation. This feature also allows you to complete your projects more swiftly. You can make different types of 3D models with this ABS filament.
All of the models you make will boast the utmost durability and resistance to heat.
The amount of detail you can add with this filament is simply astonishing; hence you don't want to miss out on the chance of creating the best products with this amazing item.
See our related article on How to Dry Out PETG Filament using different methods for reliable results.
Highlighted Features:
Modified for a smooth printing experience.
Ease of use for all skillsets.
Ideal heated bed temperature: 60-80 degrees Celsius.
Make more detailed 3D models.
24 hours customer service.
9. eSUN Black ABS+ 3D Printer Filament
We are near the end of this detailed list of reviews, and we would like to add this budget-friendly printer filament at number 9. The thread comes with enhanced durability due to the ABS+ material it consists of. It is a modified form of traditional Abs, which ensures a lesser warp.
This affordable spool has a wide range of colors to choose from. It grants you the ability to work on different types of projects at once.
You can add your touch to your artifacts by experimenting with different colors for any given project. It doesn't limit your imagination as other filaments do.
Furthermore, this highly resistant 3D printer filament offers better layer bonding. Due to this feature, the models you create will be more rigid and can endure heavy-duty usage.
It also makes this filament suitable for making functional items for regular use. The printed goods can again endure decent amounts of heat without warping.
However, this filament works best only under certain conditions. It requires a steady extrusion temperature of 220 to 260 degrees Celsius.
The bed temperature also needs to remain between 100 and 110 degrees Celsius. This efficient product has dimensions of 8 x 3 x 8 inches and weighs only 2.2 pounds.
Highlighted Features:
Budget-friendly ABS filament.
Made with a modified form of abs.
Lesser warp than traditional abs.
Allows you to make functional goods.
Make more rigid 3D models.
10. ABS Filament, Less Odor ABS Filament 1.75mm
If you're tired of printer filaments that emit a pungent odor after coming out of the printer, then this product is suitable for you. This item has the least amount of odor content in its construction. It's made of a bulk polymerized ABS material that gives your 3D models better rigidity.
Contrary to PLA filaments, this one allows you to make more flexible 3D models. The spool is also resistant to a certain level of heat.
This feature makes it perfect for printing goods that remain in constant exposure to the sun. It offers an unmatched level of durability and resistance.
The amount of heat and pressure it can endure without breaking will surprise you. It also makes sure the ABS filament is packaged safely before delivery. The filament is dried up for 24 hours and packed in an airtight ziplock bag, which keeps it away from humidity and moisture.
To top it off, this product also comes with low volatile content. This feature significantly reduces the chances of an unwanted accident. Moreover, this manufacturer maintains strict production standards that make sure the product performs efficiently.
It also ensures that the ABS filament doesn't clog up the extrusion nozzle or interrupt the printing process in any way.
Highlighted Features:
Comes with limited odor content.
Low amount of volatile content.
Can resist a lot of pressure.
Vacuum sealed in an airtight bag.
Create more flexible models than PLA filaments.
Top Abs Filament Comparison Table
| | | | |
| --- | --- | --- | --- |
| | | Dimensional accuracy (mm) | Required nozzle temperature (°C) |
| | | | |
| | | | |
| | | | |
| | | | |
| | | | |
| | | | |
| | | | |
| | | | |
| | | | |
| | | | |
ABS Filament Buying Guide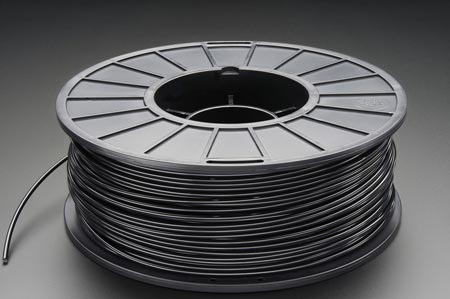 There are plenty of products that are available in the market. However, it can still be daunting for you to get the right filament for your printer, especially if you are a newbie. Thus, we are here to help you provide the correct information to make your purchase easier.
Filament Type and Spools
Before you purchase a filament, it is vital to know the type and the use of it depending on your projects. It is essential to research your filament first and avoid buying in spools as you won't know what would be the best unless you try it first.
Compatibility with Your Printer
The most vital aspect you need to keep in mind before purchasing a filament is to know what you want to print and the exact use. Different filaments are in use for Printing on various projects; hence they vary in properties.
Upon determining the actual purpose or use, make sure to choose a spool that is compatible with your printer. Also, ensure to keep an eye on the temperature of your extruder as it is an important element to look after.
Traits
In terms of texture, shape, and color, each filament varies from one another. It would be best if you also considered how flexible or thick you want your product to be. If you're going to have a prototype with a tough exterior, then ABS filament is the perfect one for you.
Color of Filaments
The natural colored filaments can be more budget-friendly than the colored ones. However, the colored filaments are more comfortable to set up in a 3D printer. Depending on your requirement and type of the project, choose your color type wisely.
Smell
Some filaments, when used, might give out a foul smell when the printing is complete. The release of toxic fumes might result in the occurrence of a foul odor. If you take the printing's aroma seriously, then choose the filaments accordingly to avoid this drawback.
Price
There are many different types and grades of filaments available in the market. While plastic is the cheapest filament material, the expensive ones consist of composite metal, stainless steel, mineral and wood 3D printing filaments. You can choose the type according to your preference.
Read More: ASA vs ABS Filament. See how these filaments differ and which is best for certain projects!
Top ABS Filament Brand on the Market Today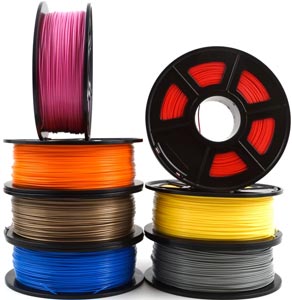 With time 3D printers have become very popular and high in demand. As a result, more manufacturers have entered the market to supply filaments for the printer. However, there have been a few ABS filaments at the top of the market.
SUNLU
With the help of a clog-free patent, this company has created a smooth and stable 3D printing process. One of the tops on the market, the SUNLU company, has designed the ABS filament to go through the mechanical winding to help give out the best printing possible.
After manufacturing, the item is dried for full 24 hours before vacuum packaging. The filaments can work under different variances of temperature. It also ensures that the filaments will be comfortable and tidy for your 3D printer's use without any problems.
Hatchbox
The Hatchbox Company is USA-based and is one of the best ABS filament brands that offer the best quality filaments at a fair and reasonable price. It is one of the best filaments for everyday usability since it is both the best in quality and is possible to purchase at an affordable price.
Moreover, the company has quickly risen to the top ranking and the market as one of the best filament makers and retailers. The material has an overall tolerance that is very great, and the color tends to be very clear.
Furthermore, it is quite strong and flexible compared to other 3D filaments available in the market. It is also budget-friendly, making it affordable for a lot of people.
Novamaker
This filament is created by a company that is highly in demand because of the awesome ABS filament they produce. Their best quality ABS filament is ideal for outdoor works such as car dashboards or boating equipment. It consists of a hundred percent new virgin materials from Taiwan.
The filaments are vacuum-sealed one day before shipment. Its dimensional accuracy is about 0.03 mm. furthermore, they are sealed in the best way possible to ensure optimal working conditions, even after months of their packaging date.
Polymaker
A company based in Shanghai is at the top of the market today. It is none other than Polymaker. Their PolyLite ABS filaments have made them a well-known brand amongst the makers and consumers of filaments for 3D printing.
Known for creating some of the best ABS print around, it is also most famous for its reliable performance. This high-quality filament also gives a tough and versatile performance.
Furthermore, it is one of the most durable products you will find in the market, making it even more special.
Tips for Printing with ABS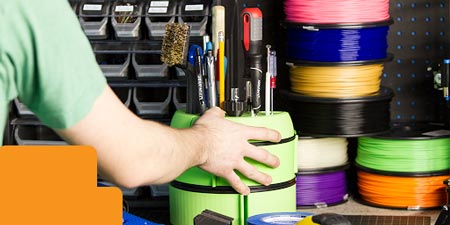 Ventilation
Before you start with the printing process, open your windows or doors for better ventilation. Please get a polymer according to your project type. Set your hot-end temperature at around 235 and 255 degrees Celsius when you print with ABS filament.
Temperature
You need to know that containing heat is mandatory as ABS tends to contract at higher rates when it cools down.
Working in a more relaxed environment is not suggested; instead, try working in an environment where you can at least slow down thermal contraction.
It is better to put the bed temperature between 110 and 130 degrees Celsius. For larger prints, the weather is better when set at 150 degrees as it will prevent the warping at the base of the part and help manage further thermal contraction.
Use of Adhesion
Using the correct and robust adhesion for your model is ideal. It is an essential requirement for large ABS parts to be firmly adhered to to ensure a perfect finish.
Most importantly, using the proper adhesion will help avoid the warping that can destroy part quality. Thus keep in mind to get the suitable adhesion for the perfect end to the process.
People Also Asked
Does ABS filament give off an odor while printing? Is it safe?
It is usual for plastics to give off a smell when burned or is worked under high temperature. And it is best to work in a well-ventilated space while using ABS filament for a printing process.
Why do bubbles occur during the ABS printing job?
The bubbles usually show up if you have turned the temperature set too high. It is a sign that you should lower down the heat. So, lower the weather if you see bubbles popping up, and it will be fine after a while.
Why is ABS such a popular 3D printing plastic?
ABS is mostly famous because it has outstanding quality and is budget-friendly as well. ABS filaments tend to have high durability and can work on higher temperatures giving off better-polished products.
Why do I get black dots in the extruded materials during a print job?
The occurrence of such an incident might occur for mainly two reasons. It might be because of the undesirable quality and the presence of impurities in the filament.
On the other hand, it can also be due to the excess heat given. The very high temperature might contribute to such cases, namely burnt marks.
Do dimension and the roundness of the filament have any effects on the printing quality?
According to some studies, having a close to near-perfect roundness and a consistent diameter throughout the entire spool of the product might lead to better quality prints. It is better to have a constant diameter within 0.05 mm.
Why is there smoke during an ABS printing job?
Filaments might have moisture existing within them, and it is very likely. When printing, the vapor or smoke shows up as the humidity encounters the heat. It is better to first dry in a damp-proof cabinet or dehumidifier to avoid such occurrences.
Why does my nozzle jam while printing?
One of the common problems that might occur is the jamming of the nozzle. However, this is not a big issue and not something to be worried about. It might mainly happen if there are impurities in the filament.
You might switch to another brand in that case. The polymer might not melt properly and wont be able to pass through the nozzle if the right temperature is not used. As a result it could also lead to the jamming of the nozzle.
Final Words
In order to get a clog free printing you should go for the ABS filament from Hatchbox. It will also provide you with different color options to choose from.
However, if you are looking for a filament to work on rigid models then you should go for the eSun black ABS which will give you a great outcome.
Finding the right filament and be satisfied with it might not be easy. We hope this article has helped you with the information you were looking for.
Keep the essential elements in mind before buying so that you can get the best ABS filament and find a purchase worth every penny.
Also read: