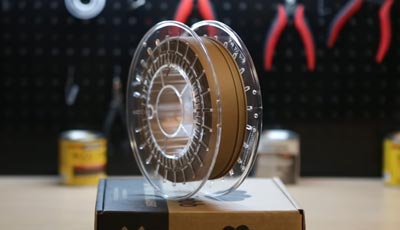 Thermoplastic filaments are widely used for various commodities, but sometimes, they don't exactly provide the right kind of texture when you're doing a wooden design.
In that case, a wood filament is just what you need; it is constructed of 70% polymer and about 30% wood fibers. Therefore, we will help you find the best wood filament for your everyday use.
Each of these is flexible enough for you to use in every way you'd use a typical thermoplastic filament. You can do some intricate designs with these products and get the form you had precisely in your mind.
10 Best Wood Filament in 2021
The good thing about a wood filament is that you have a lot of options to overview; we will list out some of the best options so that you can choose the one you like the most;
Read our related article, How Much Does Filament Cost for 3D Printing? Here's what you need to know about the different types of filament and their costs!
1. SUNLU Wood 3D Printing Filament
There are several interesting things about this product, one of the best things is that even though this is a wood filament, it comes in some attractive colors and color combinations.
This 3d wood filament is best known for its woodfibers' composition; it contains about 20% wood fibers. The whole wooden components are made from recycled wood.
The wooden counterpart is then mixed with a polymer, which is the perfect component for establishing exceptional flexibility and color combination. These will help you make unique designs with precision.
While having a flexible filament is excellent, you need to make sure that the dispersion rate is perfect if you want to get the best results when designing something using the filament.
Therefore, the accurate diameter rate comes in handy. That will ensure that the diameter is consistent with the flow since sometimes it might cause overflowing, which can be quite disrupting.
In that case, no other product performs better than this since it has a clog-free and bubble-free flow, which gives you better control and balance between the flow rate.
You might want to get this wood 3D filament for the best results. It is also compatible with most printers and devices, so you won't have to change your default settings much; it will work fine from the start.
Pros:
Wooden components made from recycled wood.
Amazing color combinations.
High-quality wooden texture.
Compatible with most printing devices.
Bubble-free dispersion rate.
Cons:
Requires slightly balanced temperature rate.
Slight clogging if not adequately dried.
2. XINGTONGZHILIAN Filament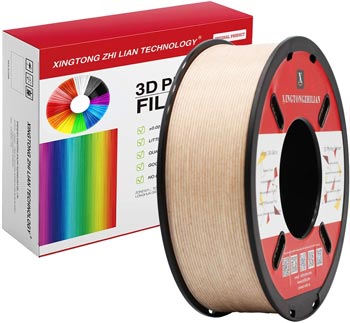 The best thing about this product is that you will be able to find various color combinations for this product, and whatever you use, you'll get the best out of every one of them.
Among several of their products, one of the best is the wooden filament, since those are perfect for making intricate wooden structures. Throughout, the percentage of wooden components is entirely accurate.
Another fantastic thing about its wood filament for 3D printers is that it is very smooth and accurate. No matter how deep the design is, the filament flow rate is perfectly balanced to have internal accuracy.
The roundness of the filament is also very important for balance and control. Otherwise, it would get quite unstable; then, it would be quite hard to control various situations.
For this product, the dimensional accuracy is about +/- 0.02mm, so you will get seamless flow throughout the usage without any issues. Each spool contains about 330m to 340m of filament.
Another great thing about this product is that it doesn't cause any bubbles or clogging during dispersion. So, that will prevent that nozzle from getting messed up due to overflow.
Moreover, it is made from entirely eco-friendly materials, which also has vacuum packaging. That is very important since extra moisture cause damage to the filaments, which may render them hard to use.
Pros:
Zero warping possibilities.
Great structural integrity.
Eco-friendly materials.
High-quality packaging prevents dust accumulation.
Compatible with high-precision nozzles.
Cons:
Due to the brittle build, it can break easily.
Not very suitable for beginners.
3. HATCHBOX Wood 3D Printer Filament
Hatchbox is known for some of the best filaments; most of its products are known for their incredible flexibility and usability. It's compatible with every printer out there.
3D printing wood filament is a unique approach to 3D printing. You might be thinking, why is it so different? Well, it will make the designs you make more natural and influence the texture.
This is a 1kg spool that is great for many purposes, including intricate designs and larger projects. The filaments contained in the whole spool ensure consistency in their constituents.
Another good thing about this product is the diameter assurance; Hatchbox ensures accurate diameter and filament quality no matter how long you use it.
3D printing isn't the only thing this product is good at; it will also help you make functional repair parts for different items. Each of those will be able to handle pressure and continuous movement.
Also, the functional parts will be free from wearing off, even if it comes in contact with any compartment in movement. It will always maintain the best structural integrity.
Moreover, the product will dry off quite quickly and take form without wasting any of your time. You can depend on it for any critical project or long constructional work.
Pros:
Perfect for complicated larger projects.
Great structural integrity and strength.
Great for making stretchy items.
All-natural texture looks impressive in some projects.
Easy to mix around with different colors.
Cons:
Needs to have better flow when using slower settings.
You might need a specific feeder to prevent jamming.
4. AMOLEN Dark Wood Walnut PLA Filament
In unique colors, nothing can beat AMOLEN filaments; they have a wide range of options that you can choose from, each better than the other. Each will suit different aesthetic needs.
We're discussing here is the Dark Wood Walnut version that is perfect for wooden textured designs and constructions. The natural accent of the product is accurate and excellent.
Another fantastic thing about this 3D printed wood filament is that it is compatible with most FDM printers, along with several others. So, you have the flexibility to use it in different scenarios altogether.
Even though this is one of the most affordable products available in the market, everything about it presents premium quality. It is a combination of PLA and recycled wood particles.
When you provide the right temperature rate, you will get a smooth and silky flow of the filament. That will help you keep better control over the designs that you're trying to do.
Also, it is great for large, complicated designs since the filament's structural integrity is perfect for such projects. It will make sure the product has perfect strength.
Also, due to the presence of 70% PLA, it is quite flexible. You can use it under any pressure and temperature; it will always stay in shape no matter what, which is excellent for longevity.
Pros:
Amazing wood surface color.
Diameter variance is about 30 microns.
Consistent filament flow.
Great for beginners.
Sufficient filament melting.
Cons:
Requires a slower printing speed.
Filaments can get wasted in larger projects.
5. Enotepad Wood PLA Filament
Diameter is a critical component for a quality filament. Having a proper diagram will ensure you get smooth flow no matter how long you use it.
So, in that case, this product is one of the most amazing products. Whenever you use this product, you will get a premium wooden structure, and the textures are highly accurate in intricate designs.
When you use wood 3D printing filament, you want something that flows seamlessly without any issues. One of the biggest issues of using filaments is that it can be quite messy when it clogs.
But in the case of this filament, it is quite remarkable with fast-flowing designs; the accurate diameter is excellent when you want to avoid a mess. It won't clog on the nozzle.
In the case of temperature, this filament is excellent for handling a higher temperature rate. The perfect temperature for this filament is about 170°C to 190°C temperature.
Another great thing about this filament is that it is entirely free from contaminants; it will not possess anything that might jam the nozzle or cause any mess during dispersion.
Additionally, that helps in maintaining a free flow of filament without any unnecessary tangling. That is great for longer usage and complex structural designs, which might be hard to handle in some scenarios.
Pros:
High-quality wooden components.
Free from contaminants.
Vacuumed packaging with desiccant.
Non-toxic build.
Free from any tangling issues.
Cons:
Not very compatible with hardened steel nozzles.
Printer might require recalibration to use it.
6. TIANSE 3d Printing Wood Filament
This printer filament comes in a little skin-colored wooden PLA that allows you to make humanoid models with some natural skin color accent.
Since you're buying a wood filament, you want the wood filament to contain a good amount of wood composites. The wood composition for this product is about 25% to 30%.
The recycled wooden addition is great for getting a more wood-like structure and design on the projects you work on. You might want to get this one if you intend to build projects on the natural side.
Another vital thing to mention is the spool size; this is about 1kg spool, which is great for extended projects. You can use it for as long as you need to without running out of any too soon.
Moreover, the highly flexible and robust items are great when you want to get stronger internal strength for the product. It will also help you maintain proper structural strength if you intend to build something stretchy.
Stretch is a very important factor when you're building something for everyday use. Also, some larger projects require balance and strong integrity so that they don't lose their shape easily.
Filaments need to be safe from external moisture, so this product's high-quality packaging is perfect for your use every day.
Pros:
Amazing dimension accuracy.
 Not very expensive compared to other products.
High amount of wooden composition.
Easy molding functionality.
Perfect for larger projects.
Cons:
Needs proper instruction to use.
Longer wooden grains require a long staining time.
7. Eryone Wood PLA Filament
This product's smoothness is praiseworthy; it is one of the greater products available on the market. You can build some amazing things using it for all printing purposes.
One of the greatest things about Eryone is its packaging since the packaging is essential for you to get the best out of any filaments. If the PLA contains moisture, it loses the ability to mold properly.
So, vacuum packaging is the right way to go if you want your product to last longer and get better molding functionality. It will also help with the proper heating of the filament.
The product's diameter rating is about 1.77mm, which is the perfect diameter for most 3D printers. That will enable you to do overnight projects at a higher speed.
Some products also clog the nozzle halfway through the build, which can be quite problematic since that will completely ruin the product's structural strength.
Therefore, it's very important to ensure that the filament is not clogging the nozzle in any scenario, and you're getting the best out of it. Higher speed won't even be a problem to handle.
Also, the proper retraction allows the product to reduce strings, and it will not waste any unnecessary filament in any use or project. So, you will get the most out of it with time.
What does retraction mean in 3D printing? Discover more about retraction, including common problems and solutions!
Pros:
High abrasive quality.
Sufficient speed rate of 50-100 mm/s.
Tolerance rate of the product perfect.
Easy to store and maintain.
Usable in most printing temperatures.
Cons:
With time the structure quality may degrade if not maintained.
Not perfect for larger projects.
8. iSANMATE Filament
This filament is on the list of the best wood filament because of its amazing build quality and strong balance, making this item an absolute go-to option for any occasion.
Due to its brittle composition, you might want to maintain a higher temperature rate so that you can start using this product; the filaments melt quite easily.
One of the best things about a woody structure is that you can feel the wooden designs much better. It is also constructed from recycled free parts, which is excellent for the environment.
The product of PLA can be quite damaging and not properly utilizing safer wooden builds and structures. So, if you want something good for you and your projects, then you should go with this.
Also, the product is relatively easy to use; you can do longer projects without worrying about damages or interruption. Accurate diameter also helps with that flow so that you don't get any interruption during dispersion.
That is also great for the printer you'll use since clogging, and jamming can cause long-term damage to the printer. When you use this, you're safe from that.
After the drying of the filaments, there's a meager chance that the project will shrink or get any damages with time. It will maintain the form it was built in the first place.
Pros:
Low shrinkage possibility.
Easy to operate around larger projects.
Includes an informative guide.
A laser measuring system ensures diameter.
Prevents moisture accumulation.
Cons:
Slight string effect during dispersion.
Not compatible with any printers.
9. 3D BEST-Q Rosewood
This rosewood material is one of the unique color combinations available in the market right now. Through this product, you will be able to make some very aesthetically pleasing products.
Color is essential in the case of 3D printing; you need some amazing color combinations that will help you get the best result for anything you want to make.
In that case, you need something that will make sure you get the best out of it. This is what this fantastic filament does; by using it, you can make some amazing products.
Due to the color being rosewood, you will get a much more vintage look in whatever you will make. If you want to work on any project that will establish that, you should go for this product.
Another amazing thing about this product is the diameter accuracy; you get free-flowing filament at any temperature without clogging your nozzle.
One thing to keep in mind that when the nozzle is clogged for longer periods, you might cause long-term damage to the printer nozzle. That can be much more expensive to fix in the long run.
Another great thing about this product is that you won't require a heating bed for it, and the default temperature rating is enough to get the best out of this product.
Pros:
Doesn't require any heating bed.
Great even in default settings.
Wood presence is about 30%.
Great for larger projects.
Nozzle doesn't need extra cleaning.
Cons:
Filament can be a little stiff.
Slightly prone to breaking off.
10. eSUN Natural Wood Filament
If you want a product that is perfect for smaller batches of work, then this is the one that will work better than any other. So, you should get this one for better performance.
Also, the wooden finishing is quite amazing for any project. You will be able to create fantastic structures without compromising any structural damage. Also, it is relatively easy to use.
Even though this is a smaller spool, it is quite incredible; you will be able to do intricate smaller projects. Along with that, you won't have to worry about the structural integrity of the filament.
It will dry up in such a way that will make sure you get the proper strength internally so that the product doesn't break under pressure. You can make sure the items reform their shape even after pressure.
Also, the accurate diameter rating is great when it comes to smooth nozzle dispersion. Even during high-speed flow, there won't be any spill or string. Also, it will prevent interruptions during long constructions.
Another important thing to mention is the packaging of the product; you need proper packaging to protect it from outside contaminants and other components of the sort.
Moreover, it is quite easy to handle and use whenever you want to; you don't have to do any extra work to set it up due to the lightweight classification. So, it'll be relatively easy to use.
Pros:
High-quality packaging.
Lightweight product.
Perfect for smaller projects.
Reasonably easy to set up.
Various color availability.
Cons
Slightly prone to absorbing moisture.
Higher temperature can cause more snapping.
Comparison Table for Top 10 Wood Filament
Wood Filament Buying Guide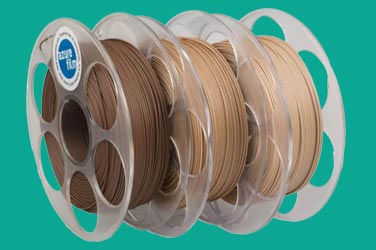 When you're buying a wood filament, the requirements are quite the same as most of the filaments that are available in the market. Let's help you with some of the things you need to make sure of:
Spool Size
Most products come in a 1 kg spool, but sometimes that might not be enough for you. So, the type of spool you use is very important for you to judge, since that will depend on what you're using it for.
So, we would suggest you make sure how much you might need for your project and go for something that you can use afterward, too. You don't want to refill way too frequently and buy a new one every now and then.
Therefore, we would suggest going for a larger batch to still have some leftovers that you can use afterward and get the best out of the money you're spending on them.
Elasticity
Another really important component that you really need to make sure of, because, without a flexible filament, your projects are prone to breaking off or snapping mid-construction.
That can completely ruin whatever you are building, and it can cause the items you make with the filaments to have low structural integrity. So, we would suggest going for something that has great flexibility.
In some cases, having higher flexibility can be the best choice since that will help you make the most out of the thing you make. They will also last longer, even in a high-pressure state.
Elasticity also ensures proper maintenance of the form of the items so that it doesn't lose structure when it comes in contact with any shock or anything.
Color Combination
Another really important thing is the color combination; since you're buying a wood filament, that means you want a quality wooden texture that will give more life to the products you're trying to make.
You need to make sure that the wooden texture is actually true to life since that's basically the main purpose of using a wood filament. So, you might want to look over the filament quality as much as you can.
There are also several different variations of the wooden color scheme, so you might want to check the availability and get the best wood filament there.
With all of that information together, you can choose a filament that will help you work on your projects better and make something you will love.
Tips to Use Wood Filament: Guide For Newbie
If you're using a wood filament for the first time, you might want to follow some steps so that you can get the best result when you use it;
The Size of the Nozzle
Nozzle is a very important thing when it comes to using a wood filament. Therefore, try using something that has enough clearance, so that there isn't any interruption in the dispersion of the filament.
That will also enable you to customize the layers with bigger lines. Therefore, you should definitely go for something based on your preference and dispersion accuracy. Follow our detailed guidelines about nozzle size.
Balance the Temperature
Another important thing is the temperature, because you wouldn't want to go too high when it comes to temperature. Because it will only make things much more harder to control, and it will be more smudgy.
Always Disconnect the Filament
Whenever you use the filament, for some uninterrupted flow, you need to keep the filament connected. But if you're purposely interrupting the process, you should always disconnect it from the machine.
Otherwise it will clog and make it much harder for you to use. It will make the cleaning process quite harder to control.
More filament that you can try for 3D printing:
PVA Filament
PLA Filament
TPU Filament
Nylon Filament
PETG Filament
Frequently Asked Questions
Do I need to follow any specific temperature rate when I'm using these filaments?
Most of the filaments should be compatible with the default temperature rate, but if you intend to get a different input speed, you might just have to increase the temperature a little to something that will smoothen the process a little more.
Are these filaments compatible with most 3D printers?
They are compatible with most 3D printers, but some of them are specifically built for printers that are much more durable and flexible when it comes to temperature rate. But most of the products here are compatible with most printers.
What's the specialty of wood filaments?
In the case of specialty, wood filaments contain about 30% to 20% of recycled wood particles. That composition allows it to have better flexibility and color scheme also a texture that will give you a more wooden feel.
Do we require a heating bed for the filaments?
You don't require a heating bed for the filament, you can just use it without one, but if you have one available, then you can definitely use that heating bed for better results. Still, the difference wouldn't be anything too noticeable.
Are these filaments good for beginners?
Most of the filaments included on this list are fairly easy to use; you won't really have to do any extra training to get the job done. Also, each of them will possess a well-explained guide that will help you understand most of the functions.
Which size should I get when I want to larger projects?
The 1kg spool is quite enough for most cases; you really don't have to go for anything different for that purpose. Also, if the filament is compatible with the nozzle, then no extra filament will be wasted; you can continue the printing as much as you want.
Final Words
Wood filaments are amazing, they are fun and easy to use, but when you're using them you need to make sure, they have the qualities that are important to you.
If you're looking for wood filaments with amazing dimensional accuracy, our recommendation is with SUNLU. There are few more products you can go for, but if you're looking for something that has a much smaller spool size, go for the eSun wood filament, these are the best wood filament available.