3D printers have changed the concept of making things. From fun toys to DIY projects, 3D printers are everywhere.
FDM 3D printers are one of them and are widely popular among hobbyists. So, why not try one of them for your next 3D printing job?
But choosing the right printer to accomplish your job isn't as easy as printing with these printers. Among hundreds of brands and models in the market, you need to pick the right printer depending on several factors.
For obvious reasons, this review of top 3D printers will be followed by a complete buying guide so that you can choose the best FDM 3D printer within your budget. Let's get going!
What is FDM 3D Printer Exactly?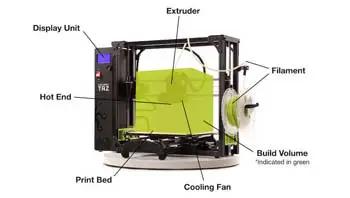 To tell you in the simplest language, an FDM 3D printer is a type of 3D printer that uses thermoplastic filaments to print 3D objects.
Ask how?
Various thermoplastic filaments are used by these printers. The filament is loaded in the printer and then heated to the melting point.
Once the filament melts and turns into fluid, it is pressurized through the print nozzle and extruded on the print bed layer by layer.
The design of the object you want to print is uploaded on the printer and divided into distinct layers. The printer then follows that diagram to print those layers, one top of another.
Finally, when all the layers are complete, you get a 3D object with these amazing printers.

Read More: What is a Raft in 3D Printing? If you're newer to 3D Printing, it's helpful to understand various terms. We discuss Raft in this short post.
Our Recommended Best FDM 3D Printer in 2021
From very low-budget models to expensive models, numerous 3D FDM printers are available. We will help you surf through some of them before you buy one to compare the functionality and effectiveness of each printer.
Sit back and buckle up!
1. ANYCUBIC Mega S 3D FDM Printer
The success and popularity of the ANYCUBIC 3D printer lie mainly in the high precision build of the machine. Every part of this printer is so nicely integrated that the device's stability surpasses most of its competitors.
A high-grade Titan extruder is the secret of the high-quality performance of this printer.
With the V5 extruder system combined with the classic extruder, it ensures the filament never gets clogged inside the machine, and the printing job is done with maximum precision.
The filament drive is so modern that it alerts you with a BEEP sound whenever the filament is running low. It can resume printing from the last position once the filament is refilled.
The same happens when you accidentally face a power cut. If the machine is stopped unexpectedly, you can resume the printing job from the point it is done. This is very handy as you don't need to start over everything.
The printer base, which is called Ultrabase, is designed to be a stable platform for the printed objects. Once the object cools down to room temperature, it falls off the bed quite easily.
Another interesting thing is the maximum print volume of this printer. It lets you print larger objects without making the printer unnecessarily bulky.
From the 3.5-inch TFT touch screen to the suspended filament rack, everything is there for a reason. All these add to the functionality of this printer and make it the best FDM 3D printer in this budget.
Highlighted Features:
Sleek and modern design where everything is integrated precisely.
Shakes less and prints more with a larger printing volume.
Titan extruder helps in better printing jobs with ultimate precision.
Every functionality is in your control with a big touch screen.
2. FlashForge – 3D-FFG-ADV3 Adventurer 3 Lite FDM 3D Printer
Adventurer 3 Lite is almost identical to its predecessor, Adventurer 3. If we ignore the built-in camera and filament run-out detection feature, there will be no distinct difference between these two models.
Whatever, let's talk about the Adventurer 3 Lite. The build is solid with a minimalist design that will catch your attention.
It fits in such a small place and makes as little noise as 45db while printing. No more growling of the printer while you need tranquility to keep an aware eye over everything.
The nozzle of this printer can be detached from the machine head for easy cleaning. It needs no technical knowledge to handle.
You can just go through the user manual coming with the printer to be familiar with the parts and functionalities.
Also, the nozzle heats up pretty quickly. It reaches the maximum temperature in just 50 seconds to be ready for clog-free printing. The base plate of this printer is also removable for easy removal of the printed object.
This heated build plate helps you print objects of a maximum of 150 cubic millimeters in volume, which you can say small considering the size of the printer.
It is compatible with a variety of PLA filament or ABS filament that are most commonly used.
The color touch screen of the printer helps you control everything with your fingertips. All these features are enough to make it a good FDM 3D printer for under 500 bucks.
Highlighted Features:
Small and compact with modern and minimalistic design.
The printing head and heated build plate both are removable.
Nozzle heats up quickly to reach the optimum temperature for printing.
Noiseless printing with auto filament loading system.
3. Creality Ender 3 FDM 3d Printer for Beginners
Creality is a widely known name in 3D printing, and Ender 3 is comparatively newer in their lineup.
This offers some ultra-high-quality printing with cool features and the latest technologies, making this the best FDM printer you can avail of in this budget.
One of the best things about this printer is its open-source modification system. Engineers and enthusiasts from all over the world can participate in the development of this printer which has made this printer so good for printing in FDM technology.
The power supply used in this printer is up to the mark, which safeguards the smooth and continuous operation of the machine.
Though the heating capability of this printer might be a bit low compared to other printers in this budget range, overall performance is satisfactory.
The thing that we must mention about this printer is its POM triangle-slot wheels. Previous 3D printers used a metal rod and bearing to move the nozzle back and forth, which creates loud noise while printing operation.
But with this POM triangle and slot wheels made of thermoplastic, the friction remains very low.
As a result, you get a noiseless operation from the printer, and the stability increases due to less friction. The power supply can heat the nozzle up to 90 degrees Celsius in just 5 minutes which might be enough for many of you.
A 3D FDM printer with high precision and performance on an affordable budget. A very good choice for beginners.
Read More: Best Way to Change Filament Ender 3. If you're new to 3D printing, here's how to change the filament in your Ender 3!
Highlighted Features:
The ingenious design of the MK-8 extruder gives high-performance printing with less risk of clogging.
Metal rod and bearing are replaced with thermoplastic slot wheels to reduce friction, noise and increase stability.
The power supply has two safety fuses to save your back in case of any electrical accident.
Great price to performance ratio.
4. FASTTOBUY Professional FDM 3D Printer Kit Pyramid A1.1
Those who have a passion for 3D printing might want to handle big projects from time to time. Pyramid A1.1 is the ultimate choice for printing big objects up to 300 X 300 X 400 mm in volume.
Compared to other popular 3D FDM printers, this printer has the biggest printing volume at one go.
Whenever the printing starts, the new advanced chipset comes into play which drives the printer almost silently.
The sound of the printer is so low that you can even sleep next to the printer while operating. Printing noise can often be an irritation for many users, which is absent in this printer.
With the filament run-out detection feature onboard, you will get an alarm whenever the filament on the spool is running out or low.
 Then you can add filament back to the spool, and the printer will resume printing from the last recorded position.
The same happens when the printer faces any power cut. If the printer loses power unwantedly, it saves the last position of the extruder and resumes printing when the power is back, so you don't need to start over.
The triangular structure of this printer works like magic when it comes to stability. Due to this delta frame construction, the printer is extremely stable and gives good quality output.
For whatever reason you use the printer, it guarantees you the best quality 3D printing within your budget.
Highlighted Features:
Delta box frame of the printer adds to the stability and gives better performance.
New advanced chipset of the printer runs it very quietly.
It has a print resume and filament run-out detection feature, which makes printing jobs easier.
The print volume is higher than most of its competitors.
Read More: How Hard is 3D Printing? If you're a beginner to 3D printing, you'll definitely want to stop by this guide!
5. VOXELAB Aquila 3D Printer
Just under $200, this large FDM 3D printer is a blessing for those who want to have the perfect 3D printing every time with high precision. The body of this printer is completely built with metal.
Despite being an all-metal printer, the printing noise of this printer is referred to as ultra silent.
If you already feel the silent state of sound that means no sound, what can be similar to ultra-silent? The sound output of this printer while in operation is claimed to be 0 dB which is mesmerizing.
Another interesting feature of this printer is the glass platform built with Carbon crystal. This enables the printer to heat up to its optimum temperature in just 5 minutes and hold the object quite firmly.
As a result, the object stays in plays without any wrapper and comes off smoothly after printing.
The machine is very easy to operate with a big color screen at the bottom of the front side. But unfortunately, this is not a touch screen where you can control the functions with the touch of your fingers.
Rather you need to adjust the settings using a rotary knob which is quite durable and gives smooth feedback.
The print volume is a bit smaller than other renowned printers but you should also keep its price in mind while comparing.
The print volume of this printer, which is 220 X 220 X 250 mm, completely justifies its worth at such an affordable price.
Highlighted Features:
Built from high grade metal and prints with high precision.
Glass build plate is something unique and holds the objects firmly.
Sound output while an operation is 0 dB, so no irritation at all.
Possesses other standard features like resume printing, fast heating, etc.
6. ANYCUBIC Commercial FDM 3d Printer
This professional FDM 3D printer outperforms many other printers in the market with its high precision and large volume printing and is widely popular as an industrial FDM 3D printer.
 The extruder of this printer is so well built and integrated with the system that the error margin in this printer is from 0.05 to 0.3 millimeters.
Coming to the print volume, Chiron can print objects of a maximum volume of 400 X 400 X 450 mm, which leaves you more room to turn your ideas into reality.
With this much printing space, you can play with your mind to generate astonishing size and quality objects.
Despite its large print volume, the printer is actually compact. It fits in tight spaces with a dimension of 651 X 612 X 720 mm and allows you to print amazing ideas on your countertop.
More fun is added when you know the build of this printer is modular. That means you can detach different sections of this printer for easy mobility.
With the automatic bed leveling feature, you don't need to spend a lot of time after leveling the printing bed. It adjusts in real-time with the change of nozzle height to give you a sound printing experience.
The print bed of this printer is called Ultrabase by ANYCUBIC, which ensures enough adhesion to hold the object in its place when the bed is hot.
Highlighted Features:
The huge print volume makes this printer stand out.
The extruder is designed and integrated with the system to give maximum precision.
Printing bed levels itself automatically with the change of nozzle height.
Functions can be controlled from the large color touchscreen.
With all standard features, this printer comes in less than $500, which is a great deal.
7. Fokoos FDM Printer Odin-5 F3
This foldable 3D printer has an 18% smaller machine body and 13% larger build volume than the previous one, making it a go-to 3D FDM printer for all your printing jobs.
With a moderate build volume, you can accomplish most of your 3D printing with this machine. The printer looks so sleek with its integrated extruder fitted with a dual fan for cooling.
As a result, the risk of clogging drastically decreases, and you get smooth printing every time. Also, the filament run-out detection system alerts you when the filament is running low.
Due to the double z-axis stabilization, the extruder moves so smoothly that you get a high precision result no matter the size of the object. And it creates minimal noise while moving back and forth which you can call silent printing.
The lattice glass platform of this printer is quite easy to clean because the printed objects strongly adhere to the platform when hot.
Once the objects cool down, they get removed so easily and cleanly that you won't face any edge curling with this printer. A great choice for professional or DIY workers.
We almost forgot to talk about its innovative folding design. You can simply fold the extruder with its bracket in a horizontal position to be compact.
It helps you carry the printer wherever you go. With a comparatively smaller platform, this printer can print your larger 3D objects.
Highlighted Features:
18% smaller in size and 13% larger build volume compared to previous generations.
Extruder with dual fan gives the maximum performance while producing the minimum sound.
Highly stable due to double z-axis stabilization and prints smoothly.
Lattice glass platform is very functional.
Resumes printing after a power outage or filament shortage.
8. SUNLU S8
Among the printers on our list, SUNLU S8 will place in the top 3 if we consider the build volume of this 3D printer.
With this much build volume, you can overtake most other printers in the market that can print objects of 310 X 310 X 400 mm in volume.
The frame of this printer is completely metal, leaving you a stable frame for noiseless operation. Though the build is modular, you don't need to rejoin every part.
All the parts come joined into two main modules, which you can easily combine by following the manual. The LCD screen on this machine might look outdated, but it is pretty simple to handle.
With an easy interface on the machine, you can control all the functionalities with the physical button under the LCD screen. Yes, you got it right. The screen isn't touch-enabled, yet it performs satisfactorily.
This printer is compatible with various materials like PLA, ABS, PETG, HIPS, Wood, Carbon, etc. With its solid filament drive, it is capable of giving precise output.
If the filament runs low, you get a warning from the system to reload the filament, and then the printer resumes printing from the last saved position by itself.
With all these features, this printer is a good fit for students or DIY workers who want to make their projects smoothly without investing much in a printer.
This budget-friendly, compact, and advanced printer can take care of all your 3D printing jobs effortlessly.
Highlighted Features:
All-metal frame for great stability and noiseless printing.
Z-axis dual linear rail ensures smooth movement of the extruder for great precision.
Compact in size but prints in larger volume.
Ready to print out of the box with simple installation.
Supports various materials as filament.
9. LOTMAXX Shark Dual-Color Printing 2 in 1 Printer
LOTMAXX is an upgraded dual extruder 3D FDM printer that handles 3D prints better than most printers in the market within this price range.
Though it resembles other good printers in some characteristics, it has some distinct features too to explain.
First of all, this comes in a flat box as the modules are separated before you assemble them to become a complete printer.
Though 95% of the parts are pre-assembled, you need to sweat yourself a bit to get it ready for printing. But that's not too much hard work.
In a couple of minutes, you can fix the z-axis on the bed and attach the screen and filament holder to the platform to make it ready.
And then it starts printing objects of a maximum volume of 235 X 235 X 265 mm. It might not be very big if we consider other printers on our list, but whatever you get is fascinatingly accurate.
The dual-extruder system in this printer lets you print in dual color at the same time. Auto leveling feature takes care of the printing bed and adjusts it according to the nozzle height.
Laser engraving technology in this printer allows you to have the best quality 3D print available at this price.
The ultra-quiet chipset and 3-fan heat dissipation system work together to run the machine for longer without making unwanted sound or heat.
This fine-tuned printer should be your ideal choice if you don't want to compromise quality.
Highlighted Features:
All-metal extruder design to increase precise performance and reduce noise.
Printing bed is magnetic, so you can easily attach it to the place.
Dual extruder system adds to quality with triple-fan cooling.
Ultra-quiet chipset works for noiseless printing in all directions.
10. Creality Ender 3 Max FDM 3D Printer
Do you remember the Ender 3 from our previous discussion? The elderly Ender 3 Max offers you even more than other printers in the Ender family.
With this, you can print up to 300 X 300 X 340 mm in volume, which is good enough to handle any of your big projects.
When it comes to the mainboard, this printer uses the same driver as the LOTMAXX Shark 3D printer to run the machine almost silently.
Though the number of cooling fans in this printer is less than the Shark model by 1, it greatly dissipates heat to instantly cool the model.
The Carborundum glass bed of this printer works amazing when it comes to adhering to the objects. It also heats up so quickly to get ready for printing.
Being a glass bed, it doesn't deform fast and holds the adhesion till it's hot. But once the bed is cooled down, you can easily remove the object off the bed.
The way we had complaints about the UI on Ender 3, you might face the same here as Ender 3 Max also has the same old-fashioned LCD screen with a rotary knob to control the functionalities.
It is definitely not a problem, but we expect something more modern and advanced at this stage of 3D printing.
Overall, it is a well-built machine that values your money and gives you the best output you can get from such a machine. It will be a good option for those who want more in return for less.
Highlighted Features:
Bears the name and fame of the Creality Ender series and does justice to it.
Prints noiselessly with the help of ultra-quiet chipset and all-metal extruder design.
Print volume is much larger compared to its own family and others.
Certified power supply saves the machine from accidents in cases of power surges.
How to Choose a FDM 3D Printer?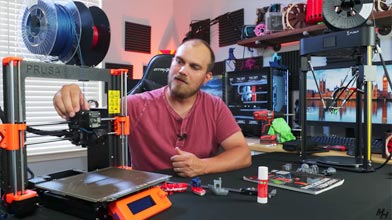 FDM 3D printers come in a variety of models and specifications. It is very difficult for a beginner to choose the right model according to the requirements and budget.
We have combined these two and tried to present you with some important factors that you need to keep in mind while choosing some of the best FDM 3D printers. Let's have a look.
FDM Technology
FDM or Fused Deposition Modeling is a technology used in 3D printers to render objects as final outputs. It uses various types of filaments to build objects layer by layer.
So, if you are looking for a 3D FDM printer, make sure the model you are looking for has FDM technology in the specification.
Often 3D printers of different technologies look alike, so don't get confused with the models. Check the specification thoroughly and make sure the model is built on FDM technology.
Read our related article on the various Types of FDM Printers. We go over the 4 FDM printer types and their uses.
Print Volume
This is arguably the most crucial factor for choosing a good 3D FDM printer. A large FDM 3D printer can print in larger volume, which often is required for professional works. Even DIY workers might sometimes need to print in larger volumes.
If you have a machine that can print larger, you can adapt it with smaller prints. But if the capability of your printer is low, you won't be able to produce larger objects if it is needed. So, choose carefully and always keep the print volume in mind.
Auto-levelling Base
The printing base in any 3D printer is crucial for precise output. If the bed isn't leveled perfectly, the object you will print might come out imperfect.
And it is a great hassle to adjust the bed according to the height of the nozzle every time you are going to print something.
So, choose a printer that has an auto-leveling feature to reduce your stress while printing.
Read More: Are 3D Printers Noisy? Here's what you can do to reduce noise!
Stable Extruder System
As the extruder in 3D printers moves back and forth to give you the perfect result, they must have maximum stability to not ruin the object.
If the extruder isn't adjusted with the frame well, it creates unnecessary friction and motion, which reduces the stability of the machine.
So, keep your eye on something that has great stability along the z-axis to save you from unwanted mistakes.
Noiseless Operation
Often that crackling sound of 3D FDM printers irritates like nothing else, and you might not want to be the victim of sound pollution while studying or taking a rest.
 The chipset of the printer and the motion of the frame are responsible for the noise generated while operating.
You need to select a chipset that can run the machine noiselessly. Also, an all-metal frame reduces vibration and unnecessary friction to a great extent.
As a result, you get a machine that can print almost silently. Some models even offer as low as 0 dB, so you should be aware of that.
Resume Printing
Modern printers come with this feature inbuilt. With this feature, your printer can resume printing from the last saved point if the printer shuts down unwantedly, like for a power outage.
 In that cases, printers with this feature will automatically go to the last recorded point once the power is back.
This also happens when your printer runs out of filament. When you reload the spool with filament, it starts working again. So, choose a printer that has this facility.
Filament Run Out Detection
With this feature onboard, you will be warned just before the filament runs out. So, you can quickly reload the filament spool with fresh filament and resume the printing.
This is a must for advanced printers, so don't compromise for anything less of that.
Intuitive UI
Easy UI leads you to easy functionality. Often we see models having LCD screens but without touch sensitivity.
In those models, we need to use some physical buttons or knobs to control the functions. It is better to have a touchscreen at your control so that you can manipulate functions easier and better.
Read More: How to Choose 3D Printer Tools as a Beginner. New to 3D printing? These tools can take your prints to the next level!
Types of FDM 3D Printers and Their Uses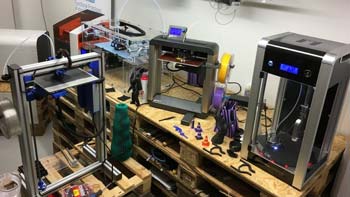 In general, FDM 3D printers are divided into four main types, and let's have a short breakdown of each type to make you understand the working principle of these types better. Four types of FDM 3D printers are:
Read More: How Long Does it Take to 3D Print a Small Object? We discuss printing times for 3D miniatures in this short guide!
Cartesian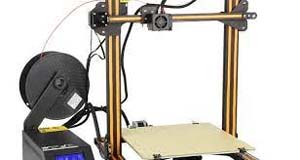 These are our most commonly known FDM printers that use the Cartesian coordinate system in mathematics to determine the printer head position.
In this system, the 3D space is divided into three axes: X, Y, and Z. Mainframe of these printers moves in the X and Y direction while the print bed moves along the Z direction to match that of the nozzle.
These are mostly used by beginners or DIY workers but have popularity among all 3D enthusiasts due to their effortless printing and low maintenance.
Delta
In this type of 3D printer, the head is fixed with three vertical columns in three points, which creates a delta frame, and the print bed here is circular.
As a result, the print head can quickly move in any direction, and the bed adjusts with the head.
With these printers, you can print faster than Cartesian printers because the print head here doesn't need to move two axes to overcome a distance. Delta printers are being popular nowadays for their quick response.
Polar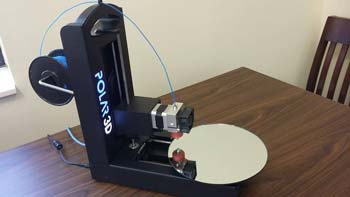 Though polar printers use a Polar coordinate system in mathematics, they are a bit tougher to explain as the polar coordinate system is difficult for us to imagine.
Just let us say that in this polar coordinate system, a length and an angle are used to determine the position of the print head.
The print bed here is circular, too, like the delta type. But the mainframe is somewhat different from other printers.
It uses a head that can adjust its length and angle to the print bed according to the instructions and quickly prints the object.
Scara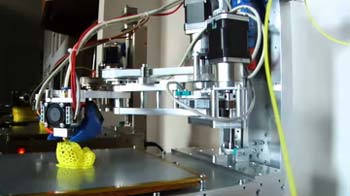 Scara printers are that huge robotic arms that commonly see in big factories or industries. They use their coordinate system, which is more flexible and can print more complex geometric shapes than usual.
Due to incomparable flexibility, print speed, and volume, Scara or industrial FDM 3D printers can do printing jobs beyond our imagination.
People Also Search:
Which filament is the best to use in 3D FDM printing?
Modern 3D FDM printers can handle variety of filaments. Among them, PLA is the most commonly used filament. 
ABS is also evenly popular among users due to its ductility and less brittle characteristics. Objects made with ABS look better when polished with acetone.
Why is 3D FDM printer used?
3D FDM printers are primarily used to make small prototypes of any object. In the case of individual users, it can produce toys or other objects. At the industry level, 3D printers are used to make different tools and molds.
What are the basic problems of 3D FDM printing?
In the case of 3D FDM printing, people often face problems with the adhesion of the first layer.If the print bed doesn't have enough adhesion to keep the object attached, it might fall off before the next layer comes in. Jamming of the extruder is another common problem in 3D printing.
Can 3D FDM printers be used at home?
Yes. 3D FDM printers are small, so they fit almost any house. You can print 3D objects like toys or miniatures of your design with these printers easily at home that reduces cost, and is environmentally friendly.
Which precautions should I take while 3D FDM printing?
To print perfect objects with 3D FDM printers, you should take care of the filament diameter you are using. If the diameter isn't right according to the specification of the printer, the final output might not be as expected.
Read More: How to 3D Print Figures and Miniatures. We share everything you need to know about 3D printed miniatures, including a cool printing video!
So, What's The FDM 3d Printer?
We've determined that the ANYCUBIC Mega S model. This option has a powerful printing capacity with thermoplastic filaments.
Technological advancement in the printing industry has taken us further to 3D printing with all its charm. As a result, we can now print objects of our imagination with just a simple 3D drawing and necessary tools.
This printing method helps us broaden our imaginations and turn them into reality with the touch of modernism. 3D FDM printers are there for decades and being continuously upgraded for better functionality.
If you can keep pace with that and master the techniques of using these printers to achieve your target, you are guaranteed to get something amazing as the output.