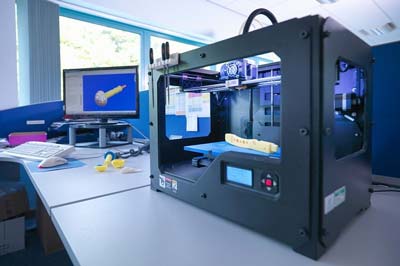 Even for the last 10 years, 3D printers were only available for large factory use. Thanks to the open-source revolution in recent times, today, it has become a regularly used product for engineers, schools, and designers. With the boom in the DIY field, more and more household users are now trying to get their hands on 3D printers.
Because of the lowered price and different versions, it's not quite an expensive product right now. When you can buy the best 3d printers under 500 USD, it's not that hard to fathom how convenient it has become to own one! If you're also looking for one such device for your next project, you've come to the right place. We will be reviewing some of the most useful 3D printers that cost you no more than only $500! 
Can You Get a Good 3d Printer Under a $500 Budget?
We know, this may be a bit hard to digest, that a highly technical device like a 3D printer can cost only around 500 USD. But to all of our utter surprise, this is, in fact, the reality.
The reason behind this is the surge of manufacturing companies and the lower production cost due to the diversification of production location. It made it entirely easy to cut the cost of manufacturing such devices and tag an affordable price to the machine.
So, yes, you can actually get a good and functional 500 bucks 3d printer quite easily. If you're ready to spend that 500 dollars you have with you, prepare to explore the different options, you have right now! 
Are 3D printers expensive to run? While 3D printing has certainly become more accessible to the general public, it still has its costs. Learn more!
Our Top 12 Best 3D Printers Under $500
Out of hundreds of choices we had, it wasn't easy to pick up only 12. But we tried to meet our different criteria to make sure that the devices we chose to deliver the optimum service you need. So here's what we found. 
1. Comgrow Ender 3 Pro 3D Printer 
To begin with our list, we have the Comgrow Ender 3 Pro 3D printer with us. It's a fully open-source device, which means if you are a developer, you can improve the printer by using the source code by yourself.
It has a wide 40 X 40 axis printing area that allows you to home any type of printing object within.
This, along with its lightweight formation, makes it a perfect choice for kids to play with their creativity. If you are planning for a 3d printer for a school, this one should be it. 
Made from durable aluminum 1100 material, it's sturdy enough to withstand rough use and high temperature. So no matter how hot it becomes, you can expect it to be performing evenly without any issue.
Speaking of temperature, the Ender 3 Pro can get hot up to 110-degree C in just about 5 minutes.
This makes it a prime choice for you to print easily on the go. As for the power supply, it is quite safe and secured, as well.
Because the Ender 3 Pro comes with a UL certified power supply, it protects the printer from any unwanted power surge. This saves it from getting damaged due to being overpowered.
Can you pause a print on Ender 3? Yes!
Even if there's a high power surge that turns the device off, it will pause the printing process and resume again from the same spot when the power is available at regular flow.
We wrote a guide on the best way to change filament Ender 3, so be sure to stop by!
Highlighted Features:
Made from durable aluminum 1100 material.
A completely open-source device can be altered by source code editing.
Heats up to 110-degree C in 5 minutes.
Resumes from the same spot after heavy power surge turn it off.
Easy to remove printing models.
Industrial Grade build and design.
2. ANYCUBIC Mega S Upgrade 3D Printer
Anycubic Mega S 3D printer comes right out of the box without the need to spend a lot of time setting it up. You need to follow only 3 steps to set the device up with 8 screws and 3 cables.
It takes only a few minutes to get this thing going. For those of you who are keeping an eye on the best 3d printer under 400 USD, the Mega S should be a prime choice for them.
This 400 dollar 3d printer Made from a rigid metal frame, the printer is as sturdy as it can get.
For the heavy-duty frame, the device minimizes the shaking while printing to make sure the printing quality is not altered or hampered.
It comes with a titan extruder that provides accurate extrusion for your 3D printing experience.
Again, the device features a solid filament drive with a mechanical design that is compatible with most filaments. This mitigates the clogging risk and improves the accuracy to print.
If the printing is hampered due to a power shortage or any other reason, the device will start again from the place it shut down. You only need to click one button to resume composing from the same spot.
An exciting feature of this device is that it has a sensor that pauses the printing and sounds an alarm when the filament is not available. It helps a big deal to save time and cost.
The device comes with a printing surface that is coated with a patented microporous coating.
It allows excellent adhesion when you're composing, and the final output will gently fall out of the surface when cooled down.
Highlighted Features:
Built from solid metal for rigidity and shake-proof print.
Easy to set up in minutes.
The printing surface is coated with microporous coating for the best result.
Stops printing and sounds an alarm when the filament is short.
Responsive TFT touchscreen for navigation.
3. Comgrow Ender 3 3D Printer
If you liked the Ender 3 Pro from Comgrow, it's evident that the Ender 3 will be on your wishlist, as well.
Similar to the Ender 3 Pro, this one also comes with a load of functions and features. The printing surface is quite compatible to withstand heat and can get hot enough up to 110-degree C within 4 minutes.
Made from high-quality material, the device is pretty much sturdy and shake-proof while the printing process is going on. You can simply keep on observing without having to intervene in the composing-process in any way.
What made us raise our eyebrows is the assembling parts. All the parts come unassembled, and you have to work with a few nuts and bolts to finally put all the parts together, spending around half an hour.
Still, the assembly session is not that hard and seems like anybody's job, which is a good idea.
The machine can resume from the place it stopped printing with simply a few clicks on the device. It doesn't start all over again when the resume command is pressed.
You get an upgraded extruder with the device that allows the device to reduce plugging risk to a higher level than most devices in the market.
The fun part is, this machine is movable. Having a V-shape construction with POM wheels makes it a noiseless device if you're planning to move it around.
Highlighted Features:
Made from solid material for sturdiness and reduce shaking.
It can resume printing from the place it left.
V-shape construction with POM wheels for mobility.
Upgraded extruder for a better reduction in plugging risk.
Reaches 100-degree C in 5 minutes.
4. Monoprice 121711 Select Mini 3D Printer V2
Monoprice has named their 121711 Mini 3D Printer correctly, as you can find very few compact printers like this on the market. This 14-pounds one-of-a-kind printer is pretty compact and easy to handle, a device that suits any place you put it on.
The open-frame design made it an absolute beauty. Plus, it played a vital role in saving up enough space, as well. It gets really easy to take out the printed model from the plate without any hassle.
It comes with a heated build plate and a wide range of extruder temperatures, which makes it a perfect choice to work with any type of filament you can get.
Starting from ABS and PLA to even more advanced material, the machine is suitable for any filament on the market.
What surprised us the most is that the machine comes fully assembled when you receive it. You don't need to put the parts together for it.
Just open the box and start using the printer on the go. It has a built-in USB slot and micro USB slot, as well, which makes it super fast to print right then and there.
To navigate with the composing options, this Mini 3D printer features a 3.7-inch IPS color display. It's sensitive to touch and easy to use as a smartphone screen.
Highlighted Features:
Comes completely assembled and ready to use.
Wide range of extruder temperature to support most filament types.
USB support for quick print.
Nozzle cooling fan for cooling down the heated plate.
Compact and easy-to-use device.
5. Comgrow Ender 3 V2 500 Dollar 3d Printer
From Ender 3 and 3 Pro, Comgrow has come a long way in developing their products. The Ender 3 V2 is the prime example of that. This printer will give your best value for the money.
It comes with an improved and better motherboard than the previous models to support better output.
The motherboard has a strong anti-interference that ensures more stable and faster motion performance.
Being a silent motherboard, the chip also allows the machine to keep low on decibels while composing the output.
To heat up the plate even faster than before, Ender 3 V2 comes equipped with a MeanWell power supply. This allows not only quicker heat up but also longer printing sessions, as well.
A new additional rotary knob on the extruder is a brilliant inclusion in this version. It makes the filament loading and feeding process even smoother and faster.
To improve the user interaction with the device, Comgrow has developed its UI system in Ender 3 V2 with the help of a 4.3-inch smart color touch screen. Interacting with the printer is easier and simpler than the previous versions.
As always, Ender 3 V2 does support the resume printing function. It can pick up the process right where it left it due to a power cut or any other reason.
Its carborundum glass platform allows the hotbed to get heat up quicker and faster than before and promotes a better printing experience.
Highlighted Features:
An improved silent motherboard for noiseless printing.
UL certified MeanWell built-in power supply.
Resume printing option from where it left printing.
Rotary knob for easy loading and feeding of filament.
 Carborundum Glass Platform for efficient heating.
6. LABISTS Mini Desktop 3D Printer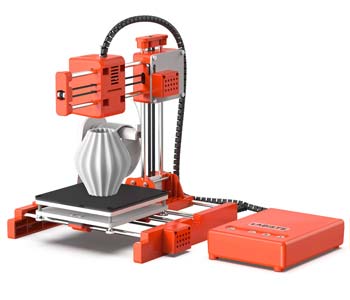 The Labists Mini Desktop 3D printer is a perfect choice for the kids who need to learn about 3D printing and put their hands on such a device for the first time.
If you're looking for the best 3d printer under 500 USD designed for kids, this one is your betting horse.
It comes with a compact design that is pretty user-friendly for little buddies to learn and play with. It comes with 3 main parts out of the box that should not take more than 5 minutes to put together.
The device has a 0.4 mm sturdy aluminum nozzle that can reach the operating temperature of 180-degree C in just 3 minutes. This makes it easy for teachers to cut the time to show the kids how the printing is done in a faster manner.
Again, the new and improved extruder provides high accuracy for you to enjoy block-free filament use in the machine.
If you're worried about the power consumption of the 3D printer, Labists Mini will keep you relaxed. Because this device runs on low power usage. That's more energy-saving and eco-friendly for the betterment of the environment.
For kids to play safely with it, the filament attached to the device is made from PLA material.
These PLA filaments are non-toxic and tasteless. No way these materials will cause any harm to our little buddies, and you either!
Highlighted Features:
Magnetic printing plate can be removed to take off the printed object.
Prints at a silent mode under 60 dB.
Contains non-toxic PLA material as filament.
It takes 5 minutes to assemble and get going.
Reaches 180-degree C in just 3 minutes.
7. ELEGOO Mars UV Photocuring LCD 3D Printer Resin Under $500
Elegoo Mars is a one of a kind UV enabled 3D printer you can find on the market at today's date. It comes with a 40W UV lighting, which, while coupled with the Elegoo resin, can produce extraordinary printing results beyond your expectation.
What makes it a unique device is the latest version of the Chitubox Slicing software it comes with.
It gives you an extraordinary user experience that you've never felt before. The software takes only 30 seconds to slice a 30Mb *.stl model file.
The open-sourced slicing apps would take it around 10 minutes to slice. That right there, is the speed you deserve for your composing job.
Its 3.5-inch bright color display is a great way to communicate with the device, even if you're offline.
Plus, you get to command for print while you're offline using the USB options on this device.
Simply put the file in the USB stick and connect it to the machine. Navigate through the LCD screen to print right from the flash drive.
Its robust build-quality is something you can't simply ignore. It is made with a combination of all-aluminum fuselage and acrylic cover, which makes it much more durable than most printers out there.
Read More: How Dangerous are Resin 3D Printers? Is resin a cause for concern? Resin can release toxins when heated. Here's what you can do to protect yourself!
Highlighted Features:
Comes with the latest Chutibox software.
3.5-inch color touchscreen display for navigation.
Offline printing via USB drive.
Unique steel ball design for more accurate output.
Study all-aluminum structure for durability.
8. ANYCUBIC Photon UV LCD 3D Printer
Anycubic Photon has been around for quite a long time with its state-of-the-art design in the 3D printing category. The Photon UV LCD 3D printer is no exception in this case.
The printer comes with an XY resolution covering 47 microns and a Z-layer height that goes down to 10 microns. This formation allows the machine to perfectly deliver unparalleled detail for your model.
Having a unique steel ball design is a great plus for this device. All you need is the Z-axis to return to zero. When it does, simply lock the leveling screw to level the plate and start printing right away.
Its all-metal design makes it a perfectly durable device for long-term use. This design allows it to be preventive of shaking and keeps it sturdy throughout the printing process.
The most crucial part of the design of this device is its extreme precision and details. It can turn imaginations into reality in minutes.
The package is packed with the latest version of their in-house software that allows you to design and set up the object with amazing details.
Highlighted Features:
Package comes with the latest version of in-house software.
All-metal build-up provides unparalleled durability.
Comes with a unique steel ball design for precise printing.
High-quality CNC parts for long-term use.
Smart and user-friendly device.
9. Comgrow Store Ender 5 Pro
Another Comgrow product on our best 3d printer kit under 500 list is the latest Ender 5 Pro.
This one packs in an upgraded V4.2.2 silent motherboard. It ensures that the printing process is both precise and noise-free.
What's new with this device is it adopts a metal extruder that ensures stronger pressure over the filament being used into the nozzle of the printer.
Another impressive addition to the device is the imported Capricorn blue tube. This tube is highly temperature resistant and allows the print to get a smooth and great printing texture.
To prevent the device from getting damaged due to an unwanted power surge, it comes with a built-in power supply system inside. This makes sure that the power it consumes is adequate and doesn't cause any harm due to overflow.
With an efficient hotbed in the middle, the printer can reach 110-degree C temperature in just 5 minutes.
That's a great way to start a quick-printing session if you're in a real hurry or need to show some project in a short period of time.
Although the machine comes as partially assembled, the total set up process is rather an easy one.
You need only a few moments to gather the parts of the device and get this thing going in no time.
Highlighted Features:
Comes with an advanced V 4.2.2 silent motherboard.
Built-in power supply ensures safe power flow.
Easy to assemble the device.
Heats up to 110-degree C in 5 minutes.
Comes with a metal extruder for stronger pressure on the filament fillup into the nozzle.
10. QIDI TECH 3D Printer
Another champ on our list is the Qidi Tech 3D Printer. It comes with an exceptional design that is sure to make your head turn. Its mesmerizing black-blue formation makes it a perfect device for use in any place.
Just as it looks, it comes with a pool of unique, useful features, as well. It is equipped with dual extrusion technology that makes sure you get the picture-perfect output from the machine according to your soft design.
Constructed from high-temperature aviation-grade aluminum, the machine is highly compatible with high heat. The heat-bed on the device can easily rise up to 120-degree C within minutes.
This is quite crucial for precise output. Plus, there are 4 side air blow turbo-fans that make sure that no stones are unturned when it comes to the best print quality.
Navigating the machine without using a PC is as simple as pie. It features a 4.3-inch responsive touch screen to put different commands on it.
If you don't have any online connection with the PC, connecting a USB drive will also work in this case.
Highlighted Features:
Device comes with the latest dual-extrusion technology.
Four side-air blow turbo-fans for cooling.
Noiseless printing experience.
4.3-inch wide touchscreen.
High temperature-resistant build-up.
11. Creality 3D Printer CR-10
If you're looking for a simple yet powerful 3D printers under $300 for your next project, there's' hardly any competitor to the Creatily CR-10. 
It is amazingly simple in design but can deliver precise results even if the object is complexly designed.
Its all-aluminum frame ensures a sturdy base for the device that allows it to last for a long time.
For all those shaking and trembling during the printing process, this robust formation makes an excellent choice to ensure long-lasting service.
There may be plenty of reasons for the printing to stop in the middle of the process, like power shortage, filament outage, etc. In these cases, the device will stop and again resume when you want from the same spot.
The package that arrives at your doorstep comes with three different pre-assembled parts, and it takes only 10 minutes to get all the parts together.
Again, the Creality CR-10 Mini 3D printer introduces POM engineering thermo-plastic wheels that ensure excellent stability and durability, as well.
Highlighted Features:
Constructed from a highly durable all-aluminum frame.
Printing can resume from where it was left.
Total printing area is 11.8 X 8.6 X 11.8 inches.
 Triangle-shot wheels for better stability.
Pre-assembled parts are easy to put together.
12. GEEETECH New A20M 
And finally, we have the Greentech New A20M to wrap our reviews up. The all-new A20M from Greentech comes with a dual extruder module coupled with a 2-in-1 out hot-end. This allows the device to produce four different types of color.
Yes, you've read it right. It can produce multiple colors on a printout. Apart from the traditional single color and dual color, it lets you print graded color and mixed color, as well. This makes it extremely easy for you to be creative with your designs.
With the UL certified power supply built-in with the machine, you can stay confident that the device is not going to get damaged by any type of power shortage or surges. It will automatically mitigate the surge or shut the device down.
Once shut down at a point, the device can restart and resume from the very same place when you command it again. This saves a lot of time and energy, for sure.
The wider the printer area, the better it is for you to create wonder. That's why the A20M comes with a wide printing area of 255 X 255 X 255 mm³. Now unleash your creativity like never before.
Assembling and installing the machine is simply a piece of cake. Right from the unboxing, it takes only three steps to install this device that hardly requires more than 10 minutes.
Highlighted Features:
Wide printing area of 255 X 255 X 255 mm³.
Dual extruder motor and filament.
Resume printing from where you left.
UL certified built-in power supply.
Comes with 4 different color printing options.
Top 12 3d Printers Under 500 Comparison Chart
3D Printers Under $500 Buyer's Guide
So, you're up to get one of the best 3D printers under $500 for yourself, right?
Well, if you've gone through our reviews, you may have got a good idea of how well-functioning 3D printers look like.
But before you get your hands on these devices, here's a quick guide to making sure you're picking the right one.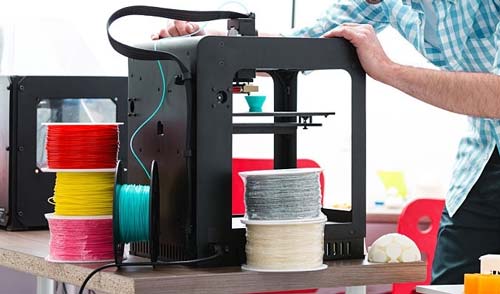 Determine The Budget
Let us get this straight, 3D printers come in a wide range of price tags. From 400 USD to even 100,000 USD – you can spend any amount to get one.
That clearly shows there's a printer for everybody. It's up to you to find your budget-friendly 3d printers.
So depending on what you're planning on doing with the machine, you need to set up your budget.
In this article, we have shown you some of the best budget 3D printers on the market for under 500 USD. The devices in this range are often used for educational and DIY project purposes.
So if you're not going for a commercial 3d printer of a newly invented design, you may stick to the low-budget options that we have reviewed here today.
Read our related article on How Much to Charge for 3D Printing. If you're thinking of starting a businesses (or already have one) that uses 3D Printing, this guide is for you!
Check The Accuracy
The accuracy of a 3D printer comprises two things – the thickness of the filament layers and the accuracy of the X and Y-axis.
For an average output, the maximum layer thickness should be between 50 to 100 microns. So it's great if you can stick in between.
Confirm The Print Speed
The print speed on a 3D printer is determined by the mm per the second parameter. But then again, this depends on the printer's accuracy.
The more accuracy the device comes with, the faster it will print. A machine with an accuracy of 100 microns will not perform as fast as a device with 300 microns.
Still, you need to make sure that the device you are going for comes with a fast printing speed compared to other brands of the same accuracy.
One things, Some people think low-cost 3d Printer is slow print speed but our research says it's just MYTH. If you find good printer on your budget from our list your will get very good printing speed because we just reviewed good quality 3D printer here.
Read our related article on How to Speed Up 3D Printing. Get the most out of your 3D printer with these helpful tips!
Choose Between Single Or Multiple Extrusion
The print head of the device is generally known as the extrusion head. If you're well and good with a single color print at a time, then a single extruder is the best choice for you.
But if you're looking for a two-color print or two types of materials at a time, then a dual extruder will be necessary in this case.
Look For The Print Volume
For personalized 3D printers, the print volume may not exceed 25 X 25 X 25 cm. This is because the devices are not for commercial use and don't need a great deal of volume for mass production.
Again, as you're going for a 3d printer for home use, you will need to look at the matters in a little bit 'home-use' way.
The larger the volume, the riskier it is for a failed attempt. So, in a sense, it is better to go for a tighter print area than a large one.
But if you can find a greater print volume within the same price range of your budget, there's no reason to ignore it either.
Materials Accepted By The Printer
The printing materials that you put inside the device are crucial. You need to make sure that the printer is accepting these materials in a well-synced manner.
While most home-use 3D printers accept materials like ABS and PLA, not all of the devices allow multi-purpose use.
You must comply with the rule of the device. If it doesn't accept a specific material, you should not use that material at all.
But if you're not into sticking to one specific type that is hard to find or collect, you can simply choose universal devices that support a variety of materials.
Is There A Software?
Most 3D printers do come with software that you can use for operating the device. In some cases, this software can help you build an entire design from scratch to print with it. But with most devices, this is not the case.
The usual software we get with the device is actually meant for retouching an existing design that you've prepared using other professional applications.
So, if you're not quite familiar with such software, you need to consult an expert before dividing to go for one.
Durability Is The Key
Lastly, you must check on the durability of the device. A printing session on a 3D printer will cause the entire structure to shake and tremble.
If not made from solid and durable material, the joints and parts of the device will struggle to put everything in its place in the long run.
So make sure the building material and the structure of the machine is made from solid metal or aluminum properties. These are some of the most relied upon materials for such constructions.
Read More: How Long Does it Take to 3D Print a Small Object? We discuss figurines and miniatures in this time guide!
How To Take Care Of Your 3d Printer For Longevity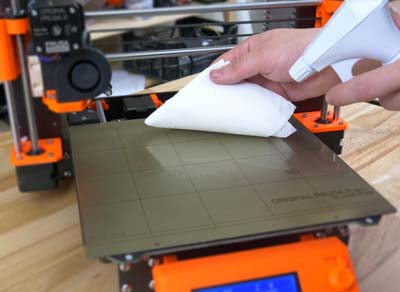 Using a 3D printer not only helps you to create wonders but also proves to be fun and exciting for all ages of users.
But in order to make sure the device is working in a perfect way, there are some measurements you need to take.
As a beginner user, if you are taking good care of a 3D printer, it will aid it to last long and provide excellent support throughout its lifetime.
Here in this section, we will go through some of the easiest maintenance options for your 3D printer.
Lubricate It
As this machine is a combination of numerous metal parts working together, lubricating the parts will help you a great deal to keep these parts energized.
All you need to do is simply put a drop or two on the rails and rods of the printer. It will make sure these parts are not getting jammed and keep on moving smoothly.
Clean The Build Plate
The build plate is the place where the actual object is prepared. In order to avoid wrapping, the device applies glue on the surface.
So obviously, foreign particles like dust and dirt can get stuck to the surface because of the glue.
To make sure the build plate is clean and clear, you need to clean it after every use. Plus, you may run another cleaning session before you use it the next time.
Clean The Extruder
The filament of the machine goes straight through the rollers for extrusion in the extruder.
During this time, some particles from the material may drop off and get stuck there. So you need to immediately get rid of these particles when you see them.
Use a soft toothbrush to clean these off the printer roller and apply gently.
Tighten The Screws
If you notice, the pulleys set up on the X and Y axis are stuck there with screws. Now when you're printing something, the screws will get loosened because of the vibration that occurs.
So after every printing work, you must give the device a thorough check for any loosened screw.
If you can see that any of the screws have loosened, you need to tighten them immediately so that no unwanted incidents take place in the next session.
Clean The Filament Nozzle
The print quality of a device significantly depends on the filament nozzle. If it is clogged for any reason, you can see the result is disastrous.
So the nozzle-cleaning should be done on a daily basis, or at least before you go for a printing session.
Replace The Build-Surface Tape
After long-term use, the build-surface tape may experience different scratches and damage. The best way to get rid of it is simply to peel off the tape and replace it with a new one.
Keep The Entire Printer Clean
Apart from all these specific cleaning and maintenance, you need to make sure you're keeping the device clean from dust on a daily basis.
Use a blower to get rid of dirt and dust and a microfiber cloth to keep the surface shiny and clean.
People Also Asked
Q1) What is the best 3D printer under $500?
Ans: Although there's no fixed call when it comes to deciding on the best 3D printer in the market under the 500-dollar budget, there are some close calls, too.
According to our study, Comgrow 3 Pro and the Comgrow 5 should have a definite chance of having this title.
Q2) Does a cheap 3D printer use PLA?
Ans: Yes, most cheap 3D printers do use PLA, but then again, there are some devices you may find that also works pretty well with ABS.
This all depends on the heat-bed temperature. If it can easily reach 100-degree C, it is good to go beyond PLA. And here's a good post If you're interested in ABS filament.
Q3) Does a 3D printer come with software?
Ans: Most 3D printers come with an application to operate them from a PC. But what you can do with the software is a good question. Some applications allow you to design, while some simply provide retouching capacity.
Q4) How difficult is it to learn 3d printing?
Ans: It's not actually a difficult task to learn 3D printing, but it does take a lot of time to get used to it. A 3D printer consists of a lot of parts that need to be familiarized.
Q5) What's the best software for 3d printing?
Ans: It's best to use the in-built software that comes with the device. But if you think you need a bit more professional touch, you can go for Fusion 360, Onshape, Tinkercad, Solid Edge, and many more!
Q6) What kind of computer do I need for 3d printing?
Ans: Any PC with a minimum AMD 64 processor, with 8 GB Ram, will be a good choice for 3D printing.
Final Words
Trust us; it's a pleasant experience to use a 3D printer. The good news is, 3D printers are not limited to industrial use only anymore, you can even find some of the best 3d printers under 500 USD in your nearest shop.
But the matter of fact is that you need to keep a close eye on various aspects while getting one for home and DIY use. Keep our buying guide handy to make sure you're not spending on anything useless.
Happy printing!
Also read: