Did you know that more than 590,000 3d printers were sold to consumers in 2018?
There's no doubt that 3d printing has grown into a massive industry and the reasons are obvious. This machine is fun to have.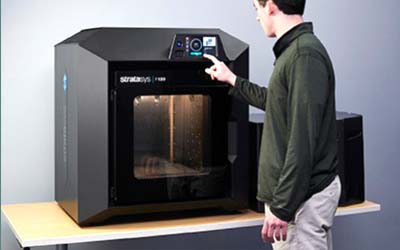 With the best abs 3d printer, you can make all sorts of items from stationery holders and toys to bowls and plastic business cards.
That being said, the world of 3d printing can be filled with confusion. Without proper guidance, the whole process could be unnecessarily expensive. For instance, there are tons of printers out there, but not all of them work for everyone's needs.
I am here to offer you the right support. In this article, I will introduce to you the top printers for abs and other materials.
Let's dive in.
Our Recommended Best ABS 3D Printer in 2021
1. Comgrow Creality Ender 3 Pro 3d Printer For ABS
In the past, I was used to DIY 3D printers heating up only to about 80 °C. What was even more annoying is that they took forever to heat up.
If you're tired of such printers and want an upgrade without breaking the bank, the Comgrow Creality Ender 3 Pro is for you. Can you believe that this bad boy heats up to 110 °C in just five minutes?
Now, that is some speed to help you reach high efficiency. It also makes it much easier to come up with quality prints.
This machine comes with almost all the accessories needed. You get tools including a sharp scraper, a micro SD and its reader, all the screws required, and a small filament to get you started.
You also get a power supply and its cable and an LCD screen for going through the menu. The screen makes the 3D printer setup a cinch.
The printer comes largely assembled, with only the vertical parts needing to be connected. You need about 30 minutes to an hour to put everything together, and the task is not complicated.
When looking for the best abs 3d printer, there are some crucial questions to ask. For instance, what's the printing speed and what filaments can be printed?
This unit prints at a maximum speed of 120 millimeters per second, which is pretty high. However, you might want to print at lower speeds to achieve good results.
It is a versatile gadget since it allows you to print most of the common filaments. I'm talking about ABS plastic, PLA, PETG, and flexible filament.
We wrote a guide on the best way to change filament Ender 3, so if you're new to the process, these instructions will help!
The print quality is fantastic. This machine prints at a fine point one-millimeter layer height. The detail level is breathtaking, with the layer lines being almost invisible.
This unit's power supply is encapsulated. The mains voltage is not exposed, making the machine relatively safe.
Highlighted features:
Heats up to 110 °C in 5 minutes.
Single nozzle of 0.4mm.
Uses 1.75mm filament.
180 mm per second max printing speed.
Come with an LCD screen.
Connectivity via micro SD or USB.
0.1 to 0.4mm layer resolution.
Relatively large – 17 x 17-inch base.
2. ANYCUBIC Mega S Upgrade FDM ABS 3D Printer
Just getting started with 3d printing? When purchasing a printer, it is best to look for a unit that will not require much assembly. One such machine is the ANYCUBIC Mega S Upgrade FDM 3D Printer.
What I love about this printer is that it comes with many accessories. You get all the installation hardware, screws, wire cutters, needles for cleaning the tips, tweezers, even an extra limit switch, and extra nozzles.
All the assortment of tools that you get for free from this seller would cost you a decent amount of money. So, it's nice that they're included.
Something I found really surprising is that you get 3 rolls of filament to get you started. So, how many meters on a roll of filament? The rolls are 10 meters each.
As you can guess, this is the sort of machine that prints right out of the box.
Connectivity is via USB or SD card. Luckily, the adapters for these are provided. Moreover, a free SD card comes with the package.
It was fantastic to see that the SD card actually has some sample prints already loaded.
Like I mentioned before, the installation is pretty straightforward. Most of the parts arrive assembled, meaning there's very little work for you to do as far as the assembly is concerned.
With an installation video, which you can find with a simple search on YouTube, you could be done in less than 30 minutes.
Printing using this machine is not difficult. At the front, a touch LCD screen is attached, which gives you all the controls.
As for the printing quality, I would say this is a rather fantastic device. The layers are accurate and hidden to the naked eye, and the prints are strong.
If you want a printer that prints right out of the box, go ahead and purchase this one. I'm sure you'll love the many accessories that come with it.
Highlighted features:
20 to 100 mm per second printing speed.
Connectivity is via USB or SD card.
Compatible with the Smplify3D, Cura, and Repetier-HOST software.
8.27 by 8.27 build plate surface.
Comes with numerous accessories – tweezers, cutters, ball-head wrench, etc.
Has an LCD screen that simplifies controls.
Mostly assembled, so installation is a breeze.
3. ELEGOO Mars LCD Cheap 3d Printer for Abs
Do you find 3D printers large and heavy and too bulky to be practical for home use?
Check out the ELEGOO Mars LCD 3D Printer. This is a lightweight and compact 3d printer. If you don't have much space to keep a printer, you may find this unit very useful.
What is unique about this unit is that it looks very nice and interesting.
Another amazing thing about the printer is its level of technology. A notable tech development is the lights. The 40 W UV lights allow you to have a good view of the resin laying process so that if there's a problem, you see it in time. 
This is so much better than realizing there was a problem with the printing when the process is done, as it saves time and avoids resin wastage.
The unit comes with most of the accessories needed for printing right out of the box.
That includes the 12V 5amp power supply with about 6 feet of reach, which is really helpful if the wall outlet is far away.
Also, you get a scraper, an Allen wrench, a pair of gloves, a measuring cup, a couple of bolts, and a USB drive that comes with a few models loaded.
All the accessories included would cost you at least 30 bucks if you had to get them separately, so they're much appreciated.
At the front, the unit has a small LCD screen. This makes calibration super easy. You'll love that it is easy to use.
Understanding and operating the ChiTu DLP software is a piece of cake. The fewer settings reduce the confusion that comes with other models.
The thing I absolutely love about this machine is the printing quality. Apart from the unit being a little slow, the detail and resolution are superb. 
Highlighted features:
Beautiful design with great tech features.
High layer to layer accuracy.
Great detail and resolution.
4.72 x 6.1 x 2.68-inch build platform.
22mm per second printing speed.
Comes with UV integrated 40W.
Connectivity is via USB.
4. QIDI TECH X-max Professional 3d Printer For Beginners
For safety purposes, some users prefer fully enclosed 3d printers. These printers mimic the lab environment, ensuring you come into contact with minimal amounts of the fumes produced.
When you see 90 percent of the users giving a device five stars, then you know it really got to pack some great quality. Let's dig deeper and see what this printer is about.
The fully-enclosed QIDI TECH X-max 3D Printer is an industrial-quality unit that allows continuous printing for long hours.
Its build quality is excellent and it looks and feels like a machine that will last. I specifically love the quality of the extruder. The direct-drive extruder is pretty rugged and has a hardened-steel nozzle that stands up to all filaments including the abrasive ones.
Versatility is one of the great perks of this unit. It is able to print any filaments that require high temperature, including ABS, polycarbonate, nylon, PETG, and more.
Making massive models? The bill size of this unit should interest you. It has an 11.8 by 9.8 by 11.8-inch on the z-axis, which should work pretty fine for most folks out there.
Most of the budget printers out there connect to source devices usually only via USB. If you're seeking to take things up a notch, the Max-X is a great device to consider. Apart from USB, the printer connects to devices via data cable, SD card, and even wirelessly via Wifi.
In case there's a blackout during the printing process, you won't lose the material already used. The printer resumes the printing process, thanks to its data-saving capability.
Want to save power? Here's how this printer makes that possible – after the print is finished, it goes off automatically.
Don't want to use a computer screen during the printing process? That's okay. This unit has a 5-inch LCD screen for defining your print settings. It is large enough and easy to use.
With regard to accessories, nothing out there has a better offer than the Max-X. It comes with an extra extruder and a spare relay.
Furthermore, you get a whole toolbox containing all the installation equipment needed. The tools and accessories therein include screws, spare nozzles, clips, spare filament guide tubes, and more.
You also get a free 1-kg roll of filament and a free SD card with a drive. Among the SD card's files, you'll the software, free video guides for setting up and using the machine, and plenty of other useful items.
If you're a beginner, this is the perfect unit for you.
Why? 
The installation is a breeze. Since the gadget comes mostly assembled, the installation will take you only 15 to 20 minutes.
Highlighted features:
Massive printer – 58 by 53 by 74 inches and 61 pounds heavy.
Compact design – fits a standard home or office table.
Enclosed – minimizes the fumes released, which is safer.
Smart design – a cube shape with black-gray color.
Bright LED light that makes monitoring easy even in the dark.
5-inch LCD screen that is super easy to use.
Connectivity is via USB, SD card, LAN cable, or Wifi.
Plenty free accessories – 1kg spool, cutters, screws, etc.
Extra direct-drive extruder and relay.
5. FlashForge 3D Printer for small business
If you're on a tighter budget but still want an enclosed 3d printer, you may want to check out the FlashForge 3D Printer Creator Pro.
This is much smaller than the Max-X, but it has great specs all the same. Actually, the machine weighs in at 24.3 pounds.
Like any great product, the Creator Pro comes with the accessories needed to get you started right away. These include filament mounts and tubes, data cable, mounting screws, fan extensions, and two rolls of PLA.
For the beginners out there, this is a suitable machine to obtain. Why? Most of the parts are already assembled, leaving minimal installation work for you.
In fact, the only major tasks involve attaching the extruder to its seat on the Z-axis and connecting the filaments.
Luckily, the installation hardware, including the screws and wrenches are already provided.
In just about 20 minutes, you'll be done with the installation and ready to print. Just be sure to read the manual to avoid hiccups.
The bed is made of a stable metal frame and the build size is 8.9 by 5.9 by 5.8 inches, which, though not very huge, works for most DIYers.
Still, you can achieve high efficiency with this machine. At the back, you can attach two spools. The unit's dual extruder allows you to print two items at once, which is really efficient.
Made of aluminum and with a 6.3-inch thickness, the plate is solid and stable. It is also really flat and guarantees non-warping printing.
Do you want a machine that allows you to print any filament? You will like the wide compatibility of this machine. With it, you can print TPU, TPE, PVA, PLA, PETG, ABS HIPS, and more.
Highlighted features:
Enclosed chamber printer.
Compact and relatively lightweight.
8.9 by 5.9 by 5.8 inches build volume.
Thick aluminum plate that prevents warping.
Compatible with many filaments including PETG, PLA, PVA, ABS, and more.
LCD screen with buttons.
LED lights that make monitoring easy.
Dual extruder – makes it possible to create two items at the same time.
6. Tenlog TL-D3 Pro | Large ABS 3d Printer
The Tenlog TL-D3 Pro 3D Printer is yet another machine that comes complete with all the tools and accessories needed. If you look to print right away after getting your printer, this would be a great unit to choose.
This machine comes with two spools of PLA filament, a couple of cables including power cords, USB, AND HDMI, rubber strips, cutters, wrenches, and a spatula.
Moreover, you get spare nozzles and tools for unclogging your hot end. An SD card and its reader are also provided.
When looking for the right printer for 3D, the heat bed is one of the parts you ought to never ignore. This unit comes with a 310 by 310-mm heat bed that is made of aluminum.
I like how a string leaf is used to nicely secure the heat bed cable. Under the bed, that's where you find the leveling knobs. They are big and easy to reach, and the orientation indication on them makes leveling a piece of cake.
A good abs 3d printer is one that doesn't give you a headache when it comes to the installation. Since the parts are mostly already connected, the assembly will take you only about 20 minutes when following the provided user manual.
Another crucial feature to look at is the type of screen on the printer. With this printer, ease of use is obviously taken seriously. How so?
The screen is large (4.3-inch) and it is touch, so you don't have to deal with buttons. Having a new and friendly user interface, the touchscreen makes operation a breeze.
As the printer comes with a dual extruder, several exciting printing modes are achievable. You can do mirror printing, dual material printing, and duplication.
Duplicate and mirror printing allow you to double the speed without experiencing reduced quality.
For a printer with a large printing surface that can handle different materials including PLA, flexible, ABS, TPU, and more, go for the Tenlog TL-D3 Pro. The print quality is awesome.
Highlighted features:
300 by 300 mm bed – enables you to print larger items.
Has a resume function – handy when there's an unexpected power outage.
Printing modes to double the speed – duplication and mirroring.
Versatile – works with PLA, ABS, TPU, flexible, HIPS, and more.
Has a double extruder.
Connectivity is via HDMI, USB, and SD card.
Comes with free tools and accessories – PLA spools, wrenches, clips, cutters, etc.
7. Dremel DigiLab 3D45 Award Winning 3D Printer
Are you seeking a really nice-looking 3d printer that you can put on your home or office desk? The Dremel DigiLab 3D45 is a good unit to consider. It's a pretty cool machine that looks great in any room.
This device packs numerous fantastic benefits that you will find interesting.
Firstly, it is fully enclosed. That means your prints are well protected from the external environment.
Your prints come out looking better as they are unaffected by factors such as dust and humidity. The lab-like environment of the enclosed area also keeps the fumes locked in, so the health risks are greatly reduced.
When using an enclosed printer such as this one, monitoring the printing process is usually not very easy. But this particular model comes with an innovative solution to the issue.
Cleverly, a HD camera is installed on the inside that allows you to monitor the process. The camera is connected to a cloud, so you can do monitoring remotely.
The device comes with a glass build plate. Hence, the heat is spread evenly, which translates to uniform laying of the resin. The glass plate also cools down evenly, therefore reducing the risk of deforming and warping.
With a build plate of 10 by 6.7 by 6 inches, the printer does not provide a very large space. Still, it offers you sufficient room for printing many small objects.
Are you looking for a machine that gives you various options for how to connect to devices? This printer allows you to connect your computer via USB, ethernet, and even wirelessly via Wifi.
Leveling is one of the most important processes during printing. You have to level the build plate properly for printing to be done flawlessly.
Thankfully, you don't have to do it manually when you purchase this bad boy. The gadget has sensors and it is able to do the leveling automatically.
Lastly, the printer handle PLA, ABS, nylon and PETG filament easily.
Highlighted features:
Fully enclosed printing space for safety.
10 by 6.7 by 6 inches build plate.
Connectivity is via USB, ethernet, and Wifi.
Versatile – works with PLA, ABS, PETG, nylon.
Has a HD camera built-in for remote monitoring.
Automatic leveling through sensors.
8. QIDI TECH ABS Printer
Here's yet another fully-enclosed model that makes the best 3d printer for abs, PETG, PLA, and other filaments. Apart from having an elegant design, the device has great features and prints beautifully.
This printer comes with a 10.6 by 7.9 by 7.9-inch build plate, perfect for building a wide variety of items.
The unit comes with a beautiful toolkit. Although it doesn't contain very many accessories, you're provided with the basic things that you'll need while using the printer. They include cutters, clips, screws, and a USB flash drive. Additionally, you get a 1kg spool filament to get your started.
If you want a printer that can handle a range of filaments, you'll find this one useful. It heats up to 300 °C, which makes it compatible with most of the common 3d printing filaments.
The amazing thing about the printer's capability is that it also allows you to print advanced materials.
And you know what?
The unit comes with two extruders – A and B. A is for the general filaments like PLA and ABS while B is for specialized materials such as carbon fiber and nylon.
Maybe you're new to 3d printing and you don't want a machine that will be troublesome to install. This printer is an ideal pick as it comes assembled, with very little installation work left to do.
You got to love the user manual. It is super easy to read and it contains nice pictures that guide you in a simple and effective manner.
If you have experience working with 3d printers, you might agree that vibrations are annoying.
Luckily, Qidi Tech is designed to avoid this problem. There is a rubber foot at all four corners, which help with stability and stopping vibrations. 
Monitoring your print is easy, thanks to the see-through acrylic front door as well as the top. Both are held in place by strong magnets.
Highlighted features:
Enclosed 3d printer.
2 extruders – one for general filaments and the other for special materials.
Works with ABS, PLA, TPU, nylon, carbon fiber, and PC.
4.3-inch LCD touchscreen with friendly UI.
Comes with a toolkit containing various basic accessories.
9. Monoprice Select Mini 3D Printer V2
Whatever you venture into, you don't just jump in. Rather, you start with baby steps. Well, for those who are looking to start 3d printing with no prior experience, the Monoprice Select Mini 3D Printer V2 is likely to be the ideal choice.
Apart from being inexpensive, this unit features a basic design that is easy for anyone to understand.
If you're a beginner, you may not be looking to struggle with assembly when your order arrives. Something special about this printer is that it comes fully assembled, meaning there is no work left for you to do.
Even the leveling is done at the factory before shipping. But sometimes, it can be knocked off-level during the shipping, meaning you have to level it yourself once it arrives.
As a matter of fact, this is one of the few models in the market that come fully assembled.
Once you get it, you can go ahead and print immediately. The only you need to do is check the machine to verify that everything is in place.
Isn't that convenient?
Another unique thing about this device is that it is incredibly small. In fact, you can carry it around with one hand. I bet it'd be a great choice for someone who loves to travel. Also, if you don't have much working/storage space, you'll find the unit suitable.
What is surprising though, is that despite the unit being only entry-level and small, it packs great features. Firstly, it has an all-metal nozzle that is resistant to damage.
At the front, it has a 3.7-inch screen, which is still very helpful despite not being a touchscreen.
The little machine heats up to a maximum temperature of 250 °C. That way, it is able to deal with a couple of materials, including PLA, ABS, and PVA.
When you purchase this unit, you get a couple useful items free. These include a scraper, micro SD, USB, wrench, and a sample PLA spool.
Highlighted features:
Small and lightweight – space-efficient and portable.
Has a 4.7 x 4.7 x 4.7-inch build plate – for small prints.
3.7-inch LCD screen for setting the controls.
Comes fully assembled – prints right of out the box.
Can be connected to devices via USB or micro SD.
Heats up to 250 °C.
10. Pyramid A1.1 Titan Direct Drive
Do you want a printer that allows you to print big items using any filament? The Pyramid A1.1 Titan Direct Drive is a device worth considering.
This large machine comes with a sizeable build plate of 11.8 by 11.8 by 15.8 inches.
Something amazing is that even though the printer is massive, it is not very heavy. Being made of aluminum, a lightweight material, the model weighs in at just 23.1 pounds.
The hotbed heats up to 110 °C and works with printing temperatures of up to 250 °C. Thus, it is an open material system that works with varying filaments, including PLA, PVS, ABS, flexible filament, and silk.
Ever used a noisy 3d printer? It can be quite inconvenient to have such a machine in your home because of the bother it creates. But if you want a unit that doesn't disrupt the peace in your home, you may want to choose Pyramid A1.1. This is one of the quietest printers I have come across.
If you're using a regular low-cost printer, a power outage can be disastrous. It can cause the printing progress to be lost, leading to wastage of material and time.
Conversely, things are different with this unit. Featuring the resume printing function, the machine is able to pick up right from where it left without defective printing.
Ease of use is a crucial factor that determines the value of a 3d printer. One of the things that make this model qualify as an easy-to-use printer is its relatively large 3.5-inch LCD touchscreen. It is super responsive and it makes setting the controls unbelievably easy.
Highlighted features:
Large printing surface – 11.8 by 11.8 by 15.8 inches.
Up to 110 °C hotbed temperature.
Supports a variety of materials – PLA, ABS, PVA, TPU, etc.
Runs pretty quietly.
Large 3.5-inch LCD touchscreen.
11. Monoprice 121666 Mini Delta 3D Printer
Our last product is a printer that is quite different from the 3d printers most people are used to. First and foremost, this unit has a cylindrical build volume.
The diameter is 4.3 inches while the height is 4.7 inches. That is, obviously, a small capacity, suitable for small prints.
As the capacity is limited, so is the size. If you want a unit that you can move with ease, this one will do. It is small and lightweight and even comes with a carry strap at the top.
A huge plus of this little machine is that it comes all assembled. You don't have to stress about putting the parts together as that is already done for you at the factory. Even the bed comes already leveled for you. 
This model allows you to print right away, making it a perfect selection for beginners.
When purchasing a 3d printer for abs and other filaments, it is worthy to look at the build quality. I imagine no one wants something that will break down soon.
What makes the Delta Mini worth getting with regard to that is the fact that it is all-metal, made of a black anodized aluminum frame. Hence, the gadget is durable and able to put up with abuse.
The printer is shipped with a few accessories. These include a plastic scraper that I don't think is so good, but the SD card and Allen keys are much appreciated.
The control panel is made of a 3-inch screen that looks like a touchscreen (but it is not) as well as three buttons on the size. Even though the screen is not a touchscreen, it is very intuitive and easy to use in conjunction with the three buttons.
When it comes to printing, there is a little bit of stringing, even though the shapes are well-formed. Actually, there's very little to be concerned about.
For someone trying to get their feet wet in the world of 3D printing, the Monoprice 121666 Mini Delta 3D Printer is a great choice.
Highlighted features:
Cylindrical build volume sized 4.3 by 4.7 inches.
Comes fully assembled and ready to print.
Steel and black anodized aluminum for durability.
Small and lightweight (10.2 pounds).
Intuitive 3-inch LCD screen and three buttons.
Comes with accessories – scraper, micro SD, filament holder, USB cable, etc.
Comparison Table for ABS 3d Printers
| | | | | | |
| --- | --- | --- | --- | --- | --- |
| | | | | | |
| Comgrow Creality Ender 3 Pro | | | | | |
| | | | | | |
| ELEGOO Mars LCD 3D Printer | | | | | |
| | | | | | |
| | | | | | |
| | | | | | |
| | | | | | |
| | | | | | |
| | | | | | |
| | | | | | |
| | | | | | |
ABS 3D Printer Buying Guide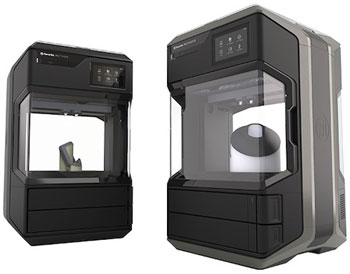 There are numerous 3d printers on the market for Acrylonitrile Butadiene Styrene material. While this means there are many options to choose from, it also makes selecting a suitable model quite confusing.
To make the decision easier for you, I have compiled a list of factors that you need to consider when looking for the best abs 3d printer.
Read More: How Long Does 3D Printing Take? If you're just getting into the world of 3D printing, you may be wondering how long printing takes. Here's what you should know!
Size
A small size is great for portability and also helps save space. Moreover, it is cheaper.
However, a small printer doesn't usually have much space for building items.
A larger printer, on the other hand, typically has more room for building products. But, it requires more working and storage space.
When considering the size, look at the dimensions of the model. A unit that is less than 20 by 20 inches is generally considered a small and portable printer.
Such a unit is perfectly suited for someone that doesn't have much space or someone that wants to be able to travel with the printer.
Build volume
Concerning the build volume, look at the dimensions as well. Mostly the build plate is a square or rectangle shape, so consider the length and width. The height is also important for determining the build volume.
Anything less than 6 by 6 by 6 inches is small-size while anything more than 10 by 10 by 10 inches is a large build volume.
If you're only getting started, a small printer with a tiny build volume will be okay. But if you're experienced in the business, perhaps a bigger machine capable of building larger items is a better choice.
Enclosure
Printers come in two categories based on the enclosure – enclosed and open. Open models do not have anything secluding the build area, while enclosed ones have something like a metal or glass case surrounding the area.
An enclosure is not a must to have, but it has two great benefits:
Keeps the area free of contaminants – wind, dust, and even variations in temperature are all elements that can ruin your print. By shutting them out, an enclosure enables you to have the finest prints.
Protects you from the fumes – gases produced during the printing process are dangerous. When you used an enclosed printer, you keep the chances of coming into contact with them low.
A printer that comes with an enclosure is a better choice for the sake of safety and the quality of the prints. That said, it is typically more expensive than one that doesn't come with an enclosure.
So, if you're on a budget, an open printer might be a more viable option. Just be sure to avoid inhaling the fumes.
Compatible Materials
While one 3d printer can handle all the common filaments, another printer may be able to work with only one or two types of filaments.
Therefore, before purchasing a unit, you got to think about the filaments it can print.
Even though this article focuses on printers for ABS, I highly suggest you think about the filaments you want to print. If you want a versatile machine, get a unit that can handle PLA, PVA, TPU, flexible, and other common materials.
Read More: How to Choose 3D Printer Tools as a Beginner. These tools are great for beginners!
Budget
A 3D printer can cost you between 150 and tens of thousands of dollars depending on the features you're looking for.
Some of the factors that determine the price include size and specs.
If you're a beginner or you don't want to spend much on the printer, a unit that goes for 150 to 400 dollars is worth considering. However, realize that such a machine only comes with basic features. Moreover, the printing quality is typically not professional-grade.
Want better printing quality that is still at the consumer level? You want to look for a model in the 400 to 1000 dollars price range.
For example, if you want a good enclosed printer, you got to be ready to part with more than a couple hundred dollars.
Also, features such as wireless connectivity, LED lights, and a responsive LCD touchscreen attract a higher cost. If you're on a budget, you may want to give up these features.
People Also Asked
Is a 3D printer worth buying?
The question of whether buying a 3d printer is a good decision or not depends on your hobbies, interests, or job. If you make or sell 3d models or if you love to make such items, then getting a 3d printer would be a great move.
Which 3d printer should I get?
If you're just getting your feet wet in the business, I'd recommend securing an inexpensive, small and lightweight printer. A model with basic features that will not get you confused.
Moreover, you don't want to spend much on a machine like this before you're absolutely sure having one suits you.
Conversely, if you're an experienced user, it is better to get a more advanced machine with features to give you professional results.
What should you look for in a 3d printer?
There are so many factors to mull over when looking for the right 3d printer. First, consider your budget.
If you're low on finances, then models in the 100 to 400-dollar range should be suitable. These don't come with the best features, but they are affordable.
On the other hand, if you have more money to spare, then look for the finest qualities.
Go for a model with a bed that heats up quickly and to at least 110 °C, a larger build volume, an LCD touchscreen, and other features that make operation a breeze.
Is it hard to use a 3d printer?
For something that is just starting out, 3d printing can seem like a complicated realm. If you jump in with a large model that has complex features, it's easy to get mixed-up.
However, if you get a simple model and follow the menu and watch videos, the learning process will be a cinch. Once you understand the basic terms of 3d printing, you can level up and get a more advanced printer.
Read More: What Causes Stringing in 3D Printing? We explore possible causes and solutions to stringing in this quick guide!
So, What is The Best ABS 3d Printer?
A 3d printer is one of the most useful gadgets you can have if you're an art enthusiast or someone that loves to make models and stuff.
Luckily, the device comes in many varieties for both beginners and experienced users. If you're a beginner, small and portable units such as the Monoprice 121666 Mini Delta 3D Printer would be a great pick. 
But as said before, such models don't come with great features. They're only good enough for familiarizing you with the world of 3d printing.
If you're looking for the best 3d printer for abs, the review above should point you in the right direction.
Up there, you'll find models with features such as a large and intuitive touchscreen, sizeable build volume, compatibility with multiple filament types, and other fantastic qualities.