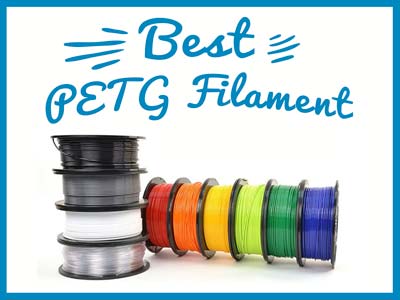 Did you know almost 600 thousand consumer 3D printers were sold in 2018? That is to tell you just how popular 3D printing has become.
When doing 3D printing, you will agree that the quality of the filaments plays a huge role in determining the value of the final prints.
These days, people are increasingly choosing PETG filament for 3D printing, and the reasons are obvious.
The best petg filament is soft and flexible, perfect for printing. Yet, the material is pretty tough, which makes it ideal if you look to make items that last.
With the rapid rise of the 3D printing industry, lots of companies have come up to offer you PETG. But not all of them are worth their salt. Without a proper guide, you can purchase bad, low-grade PETG.
Therefore, I have created this guide to help you find the right PETG filament for your needs.
Let's get started.
Read our related article, How Much Does Filament Cost for 3D Printing? We explore the different types of filament and their costs.
Our Recommended Top 9 Best PETG Filament
1. OVERTURE PETG Filament 1.75mm
Being in the industry for 8 years now, Overtue3D is a company that knows everything to do with 3d printer filaments. A close look at the OVERTURE PETG Filament tells you exactly why this brand is one of most reputed in the market.
If you want the best petg filament, then you're looking for a product that guarantees you smooth and stable printing. Designed to be tangle-free, bubble-free, and clog-free, the Overture offers you incredible smoothness and stability.
When looking for a filament for your project, size is a crucial thing to think about. The size determines not only how long you will use the filament but also the sort of prints you can come up with.
Speaking of that, the filament is 0.75mm in diameter, which is perfect for all sorts of 3D designs. The spool is really high-quality, printing stuffs that are functional and useful where mechanical strength is needed. I cannot begin to tell you how pleased I was with the adhesive nature of the filament, which packs the layers very tightly.
What I found fascinating is the fact that even though the spool is super tough, it is still flexible. That's a plus for your printer as a flexible spool is easy to deal with.
In case you print at high temperatures, you need a filament that resists heat effectively. The good news here is that the Overture is crafted to withstand up to 250 °C at the nozzle end and up to 90 °C at the bed end.
For a high-grade but fair-priced PETG that works with almost any 3D printer, go for the OVERTURE PETG Filament.
Highlighted features:
Very high mechanical strength yet flexible.
Long and suitable for large projects – 322m +/- 20m.
Comes with weight and length calibrations so you know the progress.
Consistent diameter of 1.75mm +/- 0.05mm.
Easy to use – clog-free, bubble-free, and tangle-free.
Tolerates high temperatures – up to 250 °C at nozzle end and 90 °C at bed end.
Comes with a free aluminum foil bag (resealable) for moisture protection.
2. HATCHBOX PETG 3D Printer Filament
Want to purchase PETG from a solid company that provides a great variety of the product and at some of the most reasonable prices in the market? Try Hatchbox.
It'd be an understatement to say that the HATCHBOX PETG 3D Printer Filament is tough. The filament is actually nearly indestructible. It is one of the sturdiest spools out there, perfectly suitable for making parts that will be used in mechanical operations.
If you want to make 3D prints that will last, then this product is worth purchasing.
Surprisingly, even though the spool is super tough, it is still pretty flexible in thin layers.
The overall quality of your prints depends on the consistency if the spool thickness. With that factor in mind, Hatchbox offers you a uniformly thick spool. The thickness is 0.75mm with minimal variations of +/- 0.03mm.
There's nothing more annoying when doing 3D printing than the layers refusing to stick. Thankfully, this filament's layers stick beautifully. That is great because it makes the prints strong and also helps to avoid warping.
Conveniently, the product is compatible with a wide range of nozzle temperature range. Anything between 230 and 260 °C will do.
At 70 °C, adhesion to the heat bed is perfect. Although it takes a little persuading to get the prints released, they do release cleanly.
Highlighted features:
1.75mm thick with variations of +/-0.03mm.
Extremely tough – nearly indestructible.
Pretty flexible in thin layers.
A great layer to layer adhesion.
Wide nozzle temperature – 230 to 260 °C.
Available in 4 colors – black, orange, white, yellow.
3. DURAMIC 3D PETG Printer Filament
When searching for a quality PETG filament, some of the features you're looking for include excellent adhesion and a smooth extrusion.
The DURAMIC 3D PETG Printer Filament is one unit that offers you both features. In addition, it comes with no warping or stringing problems.
Clearly, the manufacture of this filament is a rather rigid one. It comes up with a product that is free of clogs, bubbles, and that has very minimal tangling. The result is that you have a filament that makes the printing smooth and stable.
Did you know that moisture damages your unfinished spool? It is always recommended that you store your unfinished filament securely in a watertight space if you hope to use it in the future.
Thankfully, when you purchase this product, Duramic provides you with a free well-made resealable bag made of aluminum. The bag ensures your spool has all the protection it needs.
If you're working with high temperatures, then you definitely want a spool that holds up to that. The nozzle temperature needed here is 230 to 250 °C. As for the bed temperature, anything between 70 and 80 °C will do.
A lot of the spools out there are made of poor-quality material of recycled waste. The result is that they have a color that is not very consistent, which makes them bad choices for anyone who wants to make high-quality models.
The DURAMIC 3D PETG Printer Filament, on the other hand, is made from high-grade materials in the US. It, thus, has a consistent color with no traces of other colors.
Moreover, the thickness is evenly thick at 1.75mm +/- 0.05mm.
Highlighted features:
Quality-made in the USA.
Consistent colors – 22 colors including black, red, transparent, etc.
Tolerates a nozzle temperature of 230 to 250 °C.
Bed temperature of 70 to 80 °C.
Smooth printing – no tangles, clogs, or bubbles.
Consistently thick – 1.75mm +/- 0.05mm.
4. Clear 3D Filament Clear PETG Filament from Overture
If you've used 3d filaments for some time, you may know that a lot of brands out there that promise to sell you clear filaments don't keep the promise. You purchase from them and to your dismay, what is shipped is milky white filament.
Well, if you're serious about getting actually transparent filament, then you may want to check out the Clear 3D Filament Clear PETG Filament from Overture.
The filament doesn't have infill, and with 0.8mm walls, the product allows you to create prints that are crystal clear.
What is 3D infill? Discover more in this complete guide to infill patterns.
Apart from being beautiful, the clear appearance helps you identify mistakes in your prints easily.
Are you seeking a filament that is easy to use? Then you need something that is not only lightweight but also flexible. These terms perfectly fit the product.
Aside from being flexible and lightweight, the spool is incredibly strong and resistant to impact. The combination of these features makes the product ideal for creating RC planes.
Stringing and bubbling are two issues that can totally ruin your experience with PETG. But when using this PETG from Overture, those are problems you will not encounter. The filament gets laid down smoothly with great layer to layer adhesion and no strings or bubbles.
Lastly, the included build plate is really nice and it's a good size with a graduated scale.
Highlighted features:
Crystal clear filament – not milky white.
1.75mm thick +/- 0.05mm.
Comes with water-tight aluminum foil packaging.
Free 200mm x 200mm build plate with a graduated scale.
Less tangle with no bubbling or stringing.
Has a weight and length scale that shows you the usage progress.
5. SUNLU PETG Filament
Durability and ease of use are some of the most important qualities to look for when shopping for PETG filament. The reason why the SUNLU PETG made it to this list is that it comes with both benefits.
One of the things that make this unit easy to use is that it doesn't need you to heat the bed. That way, it makes the operation not only safer but also faster. All you need is to get the nozzle temperature t0 235 – 245 °C.
If you have the plans of creating solid crafts that will withstand the test of time, then you will want the filament to have firm layers. With regard to that, the Sunlu PETG is a product you can count on. Its layers stick strongly.
You don't have to worry about impact or even chemical damage. Moreover, objects made from it are resistant to heat.
It is no secret that the quality of 3D prints highly depends on the nature of the spool. A spool that is not evenly thick throughout its length is not likely to give you good creations.
But with the Sunlu, which offers a highly consistent thickness, making quality objects is a breeze. The spool is 1.75mm thick with very little error of 0.02mm.
This product comes in 3 rolls of red, blue, and green to help you handle projects that involve multiple colors.
Highlighted features:
Tough and durable.
Consistent thickness of 1.75mm +/- 0.02mm.
Glossy type finish.
Great bed adhesion – no heating needed.
Comes in vacuum aluminum packaging for protection from moisture.
6. eSUN 3D 1.75mm PETG
Have you ever created nice objects using PETG but then a few months down the line, they started losing shape? That was likely a shrinking issue, which usually results from using low-quality PETG.
If you're hoping to come up with high-grade filaments that do not shrink, you may want to check out the eSUN 3D 1.75mm PETG. The shrinkage rate of this unit is extremely low.
Furthermore, the filament stands up to environmental stress beautifully. The product's outstanding toughness and high impact strength make it a viable option for crafting objects that will be used in mechanical operations such as RC cars.
Another unpleasant issue that affects low-grade filaments is the odor. You make an object from them and months later, the object still has an annoying plastic smell.
The good thing about the eSun is that it is absolutely odorless. Objects made from it do not have any smell.
One aspect I love about this PETG is that it is very well organized in the roll. The good organization presents no tangling issues and the warp is orderly so you don't have trouble when printing.
The roll doesn't come with a measuring scale to show you the progress of the spool usage, but that is not a problem. It is designed such that seeing the progress is a breeze. In that regard, the case is transparent, providing a clear view of the spool.
If you have an FDM 3D printer that utilizes 1.75mm spools, then this is a filament you may want to try. It has a glossy black color for fine prints, but you can also get it in other colors including purple, red, green, and more.
Highlighted features:
1.75mm filament diameter with +/-0.05 with dimensional accuracy.
Excellent glossy finish.
High impact with great toughness.
Does not smell.
Reduced shrinkage rate.
240 to 255 °C nozzle temperature.
7. NOVAMAKER 3D Printer Filament
For a high-quality yet affordable filament that transforms your creativity into tangible objects, the NOVAMAKER 3D Printer Filament is worth considering.
I cannot begin to tell you how much I loved its strength. It is a truly tough filament, tougher than ABS and PLA I'd say.
Since the spool provides adequate stiffness, you need not heat the bed. The product sticks to the bed seamlessly. As for the printing temperature, any level between 230 and 260 °C will work.
The quality of the prints from this spool is something to behold. The filament creates beautiful items with a glossy finish. Aside from the blue color of this specific model, you can select other colors, like Black, transparent, yellow, or any of the other options that the brand offers.
No matter your kind of 3D printer, it is almost given that the NOVAMAKER 3D Printer Filament will work. With its 1.75mm diameter, the unit is compatible with virtually all FDM 3D printers out there.
Using the product is a piece of cake. That is made possible by the fact that the filament is resistant to warping, bubbling, and tangling. It lays down smoothly.
Lastly, the length scale on the case is extremely handy. It lets you know exactly how much filament has been used and how much is left.
Highlighted features:
Tough filament that lasts.
Beautiful colors with a glossy finish.
1.75mm diameter – compatible with most 3D printers.
Works with 230 to 260 °C printing temperatures.
Comes vacuum-sealed for moisture protection.
Has a length scale to show usage progress.
8. TECBEARS PETG 3D Printer Filament
When you first come across the TECBEARS PETG 3D Printer Filament, you might think you're going to get some piece of junk that will make bad prints. That is until you actually see the quality of the prints. To say that the quality is good is to understate things. It is absolutely amazing!
First off, the color is gorgeous. There are five color options when buying – black, orange, blue, white, and grey. The fantastic thing is the sheen – it makes your prints look beautiful.
If you're seeking a filament that meets the demands of a hostile environment, this is it. You can use it to make cooling fan parts and other items that are required to be tough.
One thing you can count on is the product's resistance to shrinkage. As it is high-grade, the filament bonds superbly from layer to layer. Objects made from it retain their shape for a long time even when subjected to environmental stress.
Recognizing the threat that moisture poses to unused filaments, Tecbears takes measures to protect its product. Before it is packaged, the PETG is dried for 24 hours, then put in vacuum nylon bags.
Thankfully, the bags can be resealed, so in case you don't finish the roll, then you can keep the rest of the filament secure for future use.
Highlighted features:
1kg with 1.75mm diameter and +/- 0.02 dimensional accuracy.
Comes in a resealable nylon bag for protection from moisture.
220 to 250 °C nozzle temperature and 70 to 80 °C.
Bubble free and clog-free with less tangle.
9. Polymaker PolyLite PETG
The last filament in this list is the Polymaker PolyLite PETG, an excellent selection for anyone who wants to produce printouts precisely.
If you've been doing 3D printing for some time now, you may have had issues with mechanical failure and wear in the past. While the condition of your printer also matters, the quality of the filaments might have been the problem.
To avoid such issues, you got to go for quality spools like the Polymaker. This filament does not cause wear or mechanical failure.
The filament is properly engineered to reduce the instances of jamming. And since it is clog-free and bubble-free, it prints smoothly and flawlessly.
One thing that is unique with this unit is that it gives you choices with regard to the spool size. You can go for the 1.75mm diameter or get the 2.85mm diameter spool. The diameter accuracy stays within +/- 0.05mm.
Concerning the color, this is one of those filaments that come in a wide range of choices. From blue and green to red and purple, the options are many, enabling you to create varied models. There's even a transparent spool, which is actually clear and not milky white.
When using this filament, be sure to get the temperature presets right. Between 240 and 250 °C for the nozzle and 85 to 90 °C for the bed. With that, the adhesion will be great and the bridging will be seamless.
Highlighted features:
1kg spool with +/- 30g accuracy.
2 diameter options – 1.75mm and 2.85mm.
Great range of color choices.
Comes sealed with a desiccant in a vacuum bag.
Excellently engineered to print smoothly, clog-free and bubble-free.
Top PETG Filament Comparison Table
| | | | | | | |
| --- | --- | --- | --- | --- | --- | --- |
| | | | | | | |
| | | | | | | |
| HATCHBOX PETG 3D Printer Filament | | | | | | |
| DURAMIC 3D PETG Printer Filament | | | | | | |
| Clear 3D Filament Clear PETG Filament from Overture | | | | | | |
| | | | | | | |
| | | | | | | |
| NOVAMAKER 3D Printer Filament | | | | | | |
| TECBEARS PETG 3D Printer Filament | | | | | | |
| | | | | | | |
PETG Filament Buying Guide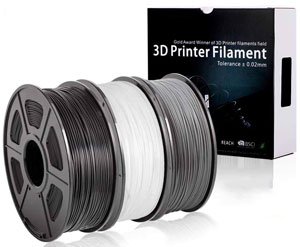 PETG is increasingly becoming the material of choice for 3D printing and you know why? It is almost indestructible. Quality PETG is super strong & tougher than ABS. Moreover, it is resistant to chemicals.
If you're building mechanical parts, such as Rubik's cubes or RC planes, then this is the material to use for its longevity.
Still, you will find that PETG models vary in quality. Before you purchase, it is crucial to look at the following factors.
Also Read: Get good quality ABS printer from our lists.
Moisture protection
Filaments are some of the most hygroscopic building materials ever. In their unused form, they attract moisture rather easily. Unfortunately, moisture ruins the spool by making the layer to layer adhesion difficult. You end up with bad prints.
When looking for the best petg filament compare to nylon filament, go for a manufacturer that ships their product properly sealed. Because you see, the product can easily become water-damaged during transportation if it is not packaged appropriately.
Proper sealing means putting the spool in a moisture-tight vacuum bag. Ideally, the bag should be resealable, so that each time you remove the spool, you can return the remaining spool to the same bag for moisture protection.
Safety
One of the reasons why PETG is so popular is that its chemical composition is safe. The material is even approved by the FDA for use in constructing items that will be used in food preparation.
Still, you need to check what the manufacturer says about the safety of their PETG. Is it safe for food preparation or storage? Testimonials from people that have used the product should also come in handy.
One of the indicators of safety is the odor. A good and safe spool should be completely odorless. If it has a chemical smell, that's a bad sign.
Size and weight
Size and weight are two factors you totally cannot ignore. Realize that not just any spool can work for your printer. If you get the wrong size for the 3D printer, then the spool will go to waste.
The most important dimension to consider is the diameter of the filament. Filaments come in a range of diameters, with the most popular size being 1.75mm. The reason why 1.75mm is popular is that it works with most printers.
Another reason why the diameter matters is that it also affects the size of the prints. If you want to create thick items, a size like 2.85mm might be better.
Also, look at the length and weight of the spool. When dealing with large projects, you may need to keep changing out the spool as it gets finished. A longer and heavier spool helps you minimize these interruptions.
Consistency
A spool that is not uniformly thick can create a disaster. If some parts are 1.75mm thick and some are 1.85 thick, creating fine objects with uniform shapes will be difficult.
But if the filament is consistently thick with minimal variations, making well-shaped prints will be a breeze.
When choosing, go for a spool with high dimensional accuracy. The spool's thickness difference should not be anything more than +/- 0.05mm.
Color
Obviously, you have in mind the sort of models you are going to make. You know the shapes as well as the colors you want the objects to have.
When shopping, you want to make sure the filaments are the right color. Fortunately, PETG filaments come in all sorts of colors.
More often than not, people purchase 'clear' PETG spools, only to discover they are actually milky white and not clear when they arrive. Hence, if you're looking for clear filament, it'd be good to listen to what past buyers are saying about the model you're interested in.
Also, if you want your objects to have a shiny appearance, you got to choose a filament that has some gloss.
Read More: What to Do With Old Filament Spools. If you have a ton of spools lying around, these fun ideas may help you to repurpose or recycle!
Frequently Asked Questions (FAQs)
1. What are PETG filaments made of?
The filaments are made of polyethylene terephthalate glycol strands. This material is actually a form of thermoplastic polymer with significant mechanical resilience. Your printer melts the material and extrudes the melted plastic into the print bed to create your preferred 3D models.
2. Is PETG any good?
The reason why PETG is increasingly becoming popular is that it combines the benefits of other filaments like PLA and ABS. PETG is smoother and softer yet flexible, making it ideal for 3D printing. The material is more resistant to shrinkage and it has a great layer to layer adhesion.
As such, objects made from it can withstand environmental stress more reliably. They are tougher and more resistant to chemicals such as alkali and acids.
3. Which is better between PLA and PETG?
When it comes to user-friendliness, both materials are almost equally good. Both are easy to use for 3D printing. However, with regard to durability, PETG is a better choice. It is stronger and more resistant to impact.
Read More: What is the Toughest 3D Printer Filament? We compared various filaments to see which was the strongest for your toughest prints!
4. What can I use PETG for?
Thanks to its excellent ductility and strength, PETG is useful in making robotics and mechanical parts. Also, you can use it to make durable rings, bracelets, etc. And since this plastic is certified as food-safe, it can be used to make food packaging materials and water bottles.
Final Word
PETG is quickly becoming the material of choice for 3D printing. With the best petg filament, you get to create prints that are beautiful yet super tough and durable.
The material is a great alternative to ABS and PLA, providing you with the combined benefits of both types of filaments, including flexibility, ductility, chemical resistance, and durability.
Still, when shopping, you need to consider various things. Firstly, realize that not all brands offer you good quality. Some sell badly-manufactured filaments that smell and that have issues like warping and stringing.
Go through the review and see which products fit your needs. Be sure to get the right size for your printer as well as the correct color for your project. Rest assured, all the items in the review are worth your consideration as they feature great craftsmanship.
More Accessories: