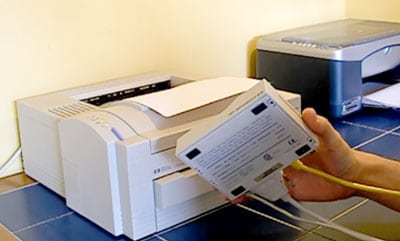 If you need to get printouts regularly and want to make the process as smooth as possible, then wireless print servers are the solution.
Print servers connect printers with computers via wireless connections from anywhere within the network.
Most people use their computers as print servers. But there are many drawbacks to running a dedicated computer just for getting printouts, including energy inefficiency and cost. Introducing a print server in your office or business can work like a charm.
We have researched the market and reviewed some of the best print server models. Read on to learn all about them.
Top 7 Best Print Servers in 2021
1. IOGEAR USB 2.0 Print Server
IOGEAR USB 2.0 Print Server is a palm-sized device that connects with any computer within the network to share a USB printer. It comes with USB 2.0 specifications.
Another exciting feature of the product is that it provides users with an auto-sensing Ethernet port compatible with both 10Base-T or 100Base-T networks.
The device integrates Internet Printing Protocol IPP in order to allow users to print over a LAN or WAN connection. Moreover, the device is compatible with several operating systems, including Windows XP, Windows 10, Linux, Mac, and more.
Users can configure and monitor the device through a web browser, thanks to the built-in web management feature. It offers convenience and control at once.
Users don't have to place their computer right next to the printer to get a printout. Now printing tasks can be completed from across the world just as quickly as possible from the same office.
Note that the product is not compatible with multifunctional printers. This is a drawback, considering that many of its competitors are providing the facility.
However, it's still considered the best print server by some as it features most other industry standards.
Highlighted Features
The device is compatible with Windows XP, 10, Mac OS, Linux.
It supports multiple network protocols.
The package includes a USB 2.0 port and CAT5 patch cable.
Features 10Base-T or 100Base-T auto-sensing.
2. TP-LINK TL-PS110U Network Print Server
The TP-Link TL-PS110U Print Server is an excellent addition to workplaces and businesses as it will keep your pc out of the loop during the installation of a printing setup.
All you have to do is connect the device to the printer through a USB port. You can also link the print server with the computer LAN and complete the print jobs.
The print server comes in a compact and smart design. The white body is sleek and fits right into modern households.
This server is compatible with the majority of the renowned brands in today's market. They also keep updating the product, making sure that they work smoothly with up-and-coming printer models.
The server also supports multiple protocols and operating systems. So, it is elementary to introduce the device to your printing network as it is likely to fit into almost any network environment.
TP-Link also features a high speed microprocessor that makes the operation even faster. The printing port is USB 2.0 compliant, a market standard, and among the most modern additions to the device.
All these incredible features make the print server extremely easy to use. Print jobs will get done in an instant regardless of where your computer is located.
Highlighted Features:
Compatible with over 320 printer models.
Features a simple installation process and operation.
Supports several protocols and multiple operating systems.
Features speedy microprocessor.
3. StarTech PM1115P2 Windows Compatible Print Server
StarTech PM1115P2 Print Server stands a class apart from most of its competitors due to its brilliant functionality.
With this print server, you will be able to convert a parallel printer network to a shared network since it incorporates advanced technology. It can be done at a speed of 10 to 100 Mbps network.
The parallel print server is compatible with multiple operating systems, including Mac and Windows. You can also monitor the system remotely thanks to the Simple Network Management Protocol, featured by the print adapter. Since it has broad compatibility, the product fits into almost all networks without any hesitation.
Moreover, installing this server is very easy. Whether you choose a windows-based installation wizard or a remote web-based interface, you can get your entire print network functioning effortlessly. 
And the best part is that the server will connect to the Centronics port by itself. You won't have to rely on a cable to secure the connection.
The box is so compact that it fits into the palm of our hands. It takes up very little space but serves a great cause in businesses and homes.
Highlighted Features:
The device supports Ethernet ensuring fast networking.
Offers convenient setup options with windows or other web-based configurations.
Has broad compatibility for use with most parallel printers on the market.
It is compatible with both macOS and Windows operating system.
4. HP JetDirect 620n Print Server
HP JetDirect 620n Print Server features advanced security and industry-standard functionality, making it the best USB print server on the market.
The device allows businesses and offices to establish printing networks easily. With wired connectivity technology, setting up the device feels like a breeze. It will also allow you to share the HP printers with the EIO slots around the printing network. In fact, any device with an internet connection can be connected to this print server.
The connecting ports are 10/100 Ethernet, ensuring fast connection at a data transfer rate of 100 Mbps. Moreover, the card supports an extensive range of operating systems, including Mac, Linux, and Windows. 
The print server has broad connectivity. It connects with Microsoft Windows, Linux 6.0 or later, Mac OS 8.6 or later, and more. It also supports multiple data protocols, including 10Base-T fast and 100Base-TX Ethernet data link protocol.
Moreover, it is compatible with most of the current printer models in the market. So, chances are, it will fit right into your setup without any trouble.  
It also features market standard storage space, with RAM of 16 MB and flash memory of 4 MB. The encryption algorithm of this device is pretty powerful – SSL and TLS.
Highlighted Features:
The form factor of this device is a plug-in module.
It offers a fast data transfer rate of 100 Mbps.
Connection technology is wired, with ports 10/100 Ethernet.
It is equipped with a 16 MB RAM.
5. TP-Link TL-PS110P Print Server
TP-Link TL-PS110P Print Server ensures that your computer does not stay on the loop as you're setting up a printing network in the workspace.
You can connect your computer through a parallel port just as easily and still achieve flawless printing. Moreover, you can connect the TP-Link print server to your LAN, and the computers will have access to the printer in an instance. 
The product has a single parallel port. It also connects via fast Ethernet cables. The product is compatible with most of the printers in today's market, offering you endless opportunities. On top of that, they keep updating their products to ensure an even better service. 
The USB 2.0 port connection makes sure that your printouts are coming out immediately and efficiently. Rapidity and performance prioritize both, which sets them apart from most of their competition. Besides, the product has wide applicability.
It is compatible with several operating systems, including Windows, Unix/Linux, NetWare, Mac, and more. The device also supports multiple protocols. The list includes TCP, RAW TCP, Apple Talk, NetBEUI, and more. These features help increase the range of its application, and the device gains more popularity along the way. 
Highlighted Features:
This USB printer is compatible with up to 230 printer models.
Features email alerts and power-on self-test.
The product supports multiple protocols and multiple operating systems.
It provides USB 2.0 connection.
6. DYMO 1750630 Wireless Linux Compatible Print Server
This print server by DYMO makes the connection process of multiple printers effortless. Whether you're in the same room as the device or a city apart, you will be able to connect the printers without any issues.
The print server will connect the printer with a fast and secure network to offer wireless printing. So, everyone connected to this servers' network can complete their print jobs through a wireless connection.
This print server is easy to install and get running. It can be connected using a USB 2.0 cable or an Ethernet cable. The server will likely be compatible with your office setup. This makes it one of the most widely compatible units available in the current market.
Due to its fast and consistent speed, the printer connected with this server will provide you with high-quality printouts within a matter of seconds.
The product is flexible in that and offers you a range of choices in printing. It is also very easy to use. The package includes easy-to-follow instructions that will help you navigate the device without any confusion.
Highlighted Features:
The device makes sharing a printer very easy.
Compatible with both macOS and Windows operating system.
It is extremely easy to setup.
The device connects via USB and Ethernet.
7. DNP WPS Print Server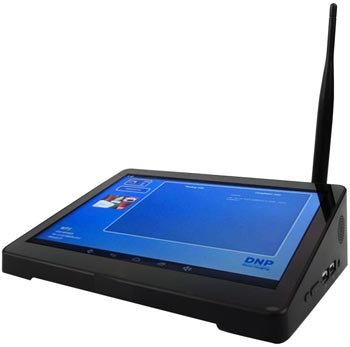 DNP WPS Print Server is the best wireless print server, and for all the right reasons. The product is designed to print via wireless connection with your mobile phone. It connects with both iOS and Android-based mobile devices without any trouble, always ensuring a smooth operation.
All you have to do is attach the server to one of the many compatible printer models and begin printing documents, photos, and whatnot. You can do so from either your computer or your mobile phone. Simply drag and drop the files into the shared folders, and you're good to go. You can also use the hard-wired connection.
The DNP WPS Print Server stands as a league of its own when it comes to construction. The product features a 7" multi-touch screen.
This allows you better control and manages a workflow straight from the server. Setting up the device and configuration is pretty straightforward, so you won't have to worry about installing it. 
The product is particularly in great demand among photographers as it facilitates a DSLR Shoot-to-Print feature. You can create a workflow with your camera using a third-party application. This will allow you to print your favorite photos immediately, regardless of where you are in the world. 
Highlighted Features:
The wireless printing supports Wi-Fi enabled phones, computers, and cameras.
The device features a touch-screen that has 5 point capacity.
The size of its screen is 7 inches.
Features a mobile status app showing real-time printing status.
Comparison Chart For Top 7 Print Server
| | | | |
| --- | --- | --- | --- |
| | | | |
| IOGEAR USB 2.0 Print Server | | | |
| TP-LINK TL-PS110U Print Server | | | |
| StarTech PM1115P2 Print Server | | 10/100 Mbps parallel network | |
| HP JetDirect 620n Print Server | Ethernet 100Base-TX, Ethernet 10Base-T | | |
| TP-Link TL-PS110P Print Server | | | |
| DYMO 1750630 LaberlWriter Print Server | | | |
| | | | |
How To Choose The Right Print Server?
1. Type Of Print Server
The print servers are basically of two types. They are internal and external printer servers. If you want to have a satisfactory printing experience, choosing the right type of print server for your printer is necessary.
a. Internal Print Server
The internal printer servers connect into the rear part of a PC, interfacing it directly to the motherboard. The benefit here is that they are outwardly unnoticeable, and the server can run on any of your PCs. Yet, remember that while printing with this server, you'll need to keep your PC switch on during the whole process.
b. External Print Server
The external print servers are straightforward to set up, and it will take you just a couple of seconds. Nonetheless, they can damage you. Don't store them in a protected spot.
You should go for a type of print server that meets your printing needs.
2. Compatibility
If you have to purchase a new printer just to activate the print server, then purchasing a good print server would add no value to your printing job. So, compatibility is one of the most crucial factors to consider while choosing a printer server.
A good quality print server makes your old printer usable in an advanced workplace. The best print server would have the ability to work with older printers and printer USB ports that don't offer Bluetooth or Wi-Fi connection.
3. USB Support
Conventional computers rarely offer Bluetooth or Wi-Fi connection. Thus, it will be a smart choice to buy a print server that has USB support.
The USB-supported units feature a key drive-sized USB dongle that joins to your PC through a standard USB port. When you connect the dongle, it will allow fast and two-way communication between the printer server and the PC.
4. Internet Printing
An internet printing enabled print server allows you to print from your workstation. You can also begin your print jobs while working remotely.
This is usually done by LPR or Line Printer Remote protocol. This helps to bring modern functionalities into old printers, making it extremely simple for the individuals who print documents for picking up later from the office.
Frequently Asked Questions
1. What Are The Functions Of A Print Server?
There are numerous functions of a print server. It can give access to a computer to print any resources, and it can also make the printing process smooth by putting the documents in a queue till the printer is ready. It can also provide the update of the printing job to the users.'
2. What Are The Benefits Of A Print Server?
A print server helps with adding new users, managing group settings, and updating printing permission with the growth of the company. So, the print servers can be beneficial to handle printing jobs in complex work environments.
Using a print server, you won't have to update the printer settings manually, wiping out both pressure and the potential for various issues.
3. Which Print Servers Are The Best?
A print server that offers an extremely low physical footprint and supports multiple devices will be ideal in terms of convenience. The print server that provides consistent performance and a stable connection will enhance the printers' printing performance.
4. How Do Wireless Print Servers Work?
A wireless printer server comes with a locally available wireless module that you can utilize to share documents through the organization without wasting time with wires.
To activate a wireless print server, you will only need two cables that include a feed cable to control the server and a regular USB to connect the printer.
Final Word
Sharing printers has become so much easier, thanks to print servers. They incorporate the most advanced technology to make sure you get all your printing jobs done in time, regardless of where you are in the world.
We have reviewed some of the best print server options in the market. Each of them promises efficiency, functionality and will keep your printers in pristine condition for years to come.
We hope our USB print server reviews will help you figure out what you need and nudge you toward the right purchase.
Also read: