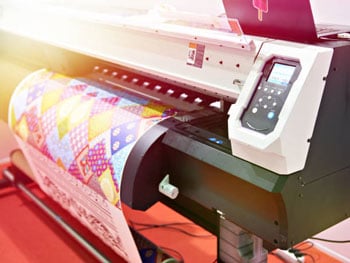 Photography is a job of passion and creativity. Typical printers with their limited range of colors and lukewarm resolution usually fail to capture the beauty of their original images.
That is why, professional photographers who want to materialize their digital hard work for presenting to clients or putting it up on the wall, need a printer that can do all that without compromising their artwork.
This is where large or wide format printers come into play. These devices are specifically designed to support photos of bigger sizes, vibrancy and elegant finish. They also try to keep up the efficiency if not boost it higher.
So let's see if we can find the perfect partner for you from the best large format printers for photographers we have compiled here!
Best Large Format Printers For Photographers
1. Canon Pixma iX6820 Wireless Large Format Photography Printer
Few printer manufacturing brands are as well-known all around the world as Canon. Although that should come as no surprise since it has been in the industry of imaging products for over 65 years!
Since they are heavily experienced in making both classic and modern cameras, Canon easily became the first choice of photographers who want to see their work come to life.
The iX series of Pixma lineup is an ideal inkjet printer for printing out high-quality photographs. Especially this model offers to print the images in very high resolution which can go as far as 9600×2400 dots per inch for colored photos. For monochrome photos, the resolution can be up to 600×600 dots per inch.
There are a total of 5120 nozzles in it which makes such incredible quality possible. Among them, 4096 nozzles are for colored images while the rest are meant for black and white ones. They are equipped with fine print head technology that is responsible for such exceptional printing detail.
The five ink tanks operate individually to make the colors in your photo truly pop! Streamline your regular tasks by accessing the printer through Apple AirPrint or Google Cloud and printing the photos in these online storage platforms.
Highlighted Features:
FINE print head technology in inkjet nozzles.
Five ink tanks to ensure high performance.
Maximum resolution of 9600×2400 dots per inch.
Can print images with AirPrint and Google Cloud.
Auto sheet feeder can hold up to 150 sheets.
2. Epson WorkForce WF-7720 Wide-Format Color Inkjet Printer 
Much like Canon, the Japanese electronics company called Epson is also a globally renowned brand when it comes to printers. Since 1942, their research and innovation have given us a lot to take advantage of.
Many of their printers now come in a series like the WorkForce – which has been specifically designed to boost productivity in the workplace.
However, this model does not only focus on the mundane black-and-white documents. Its inkjet quality is properly utilized here to ensure printing detailed and vibrant photos. So, understandably, it is considered by many as the best large format printer for photographers.
The Epson cartridge can print up to 10 images per minute in color and up to 18 images per minute in monochrome.
You can use it to print a high volume of photos since its two main input trays accept up to 500 sheets in total and the output tray can hold up to 125 sheets.
There is also a rear tray meant for specialty papers only so that you can print the photos without any interruption.
Finally, you can save bills while printing, scanning, copying or faxing the photos since it uses up to 80% less power than laser printers.
Highlighted Features:
Powered by PrecisionCore technology.
500 sheets input and 125 sheets output.
An auto feed of 35 pages and a rear feed.
Can also copy, scan and fax documents.
Uses up to 80% less power than laser.
3. HP DesignJet T210 Large Format Compact Wireless 
HP needs no introduction since it is widely known as the brand of technological products including computers, printers, software systems and more. Since 1960, Hewlett-Packard has been integral to this industry which is evident from how popular their many series of printers are.
DesignJet is one of such line-ups is DesignJet which HP claims to be the world's easiest large format plotters.
These were developed keeping the professionals in mind who constantly need to print diagrams, maps, posters, renders and other technical drawings.
By making the entire process simpler and more intuitive, this printer allows them to have more time to spend on other significant aspects of the project.
That is why, along with architects and engineers, photographers can also take advantage of its crispy prints and accurate lines.
Since people involved in all of these professions may regularly find themselves outside or in meetings, HP has made it possible for them to access the printer from anywhere!
After installing the HP Smart app on your smartphone and connecting it to your printer, you will be able to start the print wherever you are.
It prints on sheets and media rolls that are 24 inches wide. Set up the necessary parameters on the device through its intuitive color touchscreen.
Highlighted Features:
Ideal for printing maps, posters and renders.
Works with up to 24-inch media rolls and sheets.
Accessible from anywhere through the Smart app.
Connectivity includes Ethernet, Wi-Fi and USB 2.0.
Prints each A1/D size page within 45 seconds.
4. HP OfficeJet Pro 7740 Wireless All-in-One Printer 
If the printer above goes way beyond your budget limit, there is another HP printer you can opt for instead. This one belongs to the OfficeJet series whose main aim was to make the professional and convenient wireless printers much more affordable to the customers.
It will allow you to print photos in a wide format which can large as 11×17 inches. You don't have to worry about the longevity of these images since they are prepared to resist water, smearing and fading. As a result, the clients can happily preserve them for a long time after receiving the photos.
There is an automatic document feeder which can take up to 35 sheets – each of which can be as large as a legal paper.
Like the previous printer, it also has three trays – two of which have a capacity of 250 sheets each, while the third and rear one can handle 125 specialty papers at a time.
Use its Smart app from anywhere to set up the device, order toner and print photos directly from cloud storage.
Alternatively, manually fix the settings through tapping and swiping on its color touchscreen. In the long run, save up to 50% cost compared to color laser printers.
Highlighted Features:
Prints in the wide format of up to 11×17 inches.
Mobile app for setup, ordering toner and more.
Saves up to 50% cost per page than color lasers.
Produced prints resist fading, smearing and water.
Intuitive color touchscreen allows taps and swipes.
5. Canon imagePROGRAF TA-30 36" Large Format Inkjet Printer for Photography
Canon came up with this design of a printer for catering to the professionals of photography, fine arts, signage production, infographics and more.
That is why it focuses on the quality of photo-printing more than the standard printers of even its own brand. It ensures incredible speed, flexibility and more for a highly rewarding experience. However, all of those cutting-edge features come at a very expensive price point.
Although, the cost is justified since with each of these units, you will be receiving 330ml ink, poster creation software and a printer stand that can save space in your workstation.
Besides, you can save on the operational cost by using its Economy printing mode which uses 40% less ink than the standard mode.
This device can produce large photos like 24×36 inches at a decent speed of 113 per hour! As a result, you can handle more clients regularly without compromising on quality.
You can print them on glossy photo paper, banner paper and even fabric to offer more versatility to your customers.
No matter how many times you push the print button, the result will be consistent every time because of its advanced Air Feeding System that keeps the paper flat throughout the process.
Highlighted Features:
Prints 113 posters per hour that are 24×36-inch.
Economy printing mode uses 40% less ink.
Accepts glossy paper, banner paper and fabric.
Comes with a printer stand that saves space.
330ml ink and poster creation software included.
6. Canon PIXMA iP8720 Printer for Photographers
Say hello to another choice from the Canon Pixma series of printers. However, this one belongs to the iP line-up instead of the iX. Like other modern printers, it comes with loads of convenient technologies and versatile features.
First of all, it comes with FINE technology which stands for Full-photolithography Inkjet Nozzle Engineering. This patented technology of Canon allows the print head to fire ink droplets that are as small as 1 picoliter.
You can use it to print photos or web pages while minimizing the overall time. It can print 10.4 monochrome images per minute and 14.5 colored images per minute.
Along with higher speed, you can get crystal clear photos because of its maximum print resolution of 9600×2400 dpi.
Besides, the printer can do justice to your larger photos since it can print them in sizes up to 13×19 inches.
On the other hand, it can also print a small borderless photo of 4×6 inches within only 36 seconds! So you can find an ideal balance of efficiency, versatility and quality with this printer.
The best part is, you can do all these without disturbing anybody using its quiet mode. Access it from anywhere using either Wi-Fi or cloud storage like Google Cloud and AirPrint.
Highlighted Features:
FINE print head technology and quiet mode.
The ink system has six colors including gray.
Prints 10.4 ipm for color and 14.5 ipm for black.
Maximum print resolution of 9600×2400 dpi.
Printing enabled through Wi-Fi, USB and cloud.
7. Epson Expression HD XP-15000 Wireless Color Wide-Format Photo Printer
Let your vision be expressed properly in HD quality through the Epson Expression series of photo printers. It can support a maximum resolution of 5760 x 1440 dots per inch. This device utilizes the Claria Photo HD ink set which includes six individual colors including gray and red.
Due to the integration of this system, the printer can produce more smooth gradations in a wider range of colors. Even black & white photos come out with an enhanced grading because of the extensive ink set in its ink cartridge.
Boost your productivity at work by both fewer refills and faster printing. It has an output of 9 pages per minute in color and 9.2 pages per minute in monochrome. Rarely do we see such similar speed across both of the palettes.
Additionally, its front tray has a paper capacity of 200 sheets while the rear tray holds up to 50 sheets. This second tray is meant to print on specialty media like card stock.
The printer is meant to be a compact device capable of producing wide images. With a 30% smaller size than its previous model, it can fit easily into your workstation.
Highlighted Features:
Ultra HD photos in sizes up to 13×19 inches.
Prints 9 ppm in color and 9.2 ppm in black.
Claria ink cartridge made of six individual colors.
Front tray of 200 sheets and rear tray of 50 sheets.
Can print on both plain paper and card stock.
Top Large Format Printers for Photographers Comparison Chart
| | | | | |
| --- | --- | --- | --- | --- |
| | | | | |
| | | | | |
| | | | | |
| | | | | |
| | | | | |
| | | | | |
| | | | | |
| Epson Expression Photo HD XP-15000 | | | | |
Large Format Printers For Photographers Buying Guide
Laser Or Inkjet
Investing in an inkjet printer is non-negotiable when you are trying to find the best large format printers for photographers.
Compared to any other printing technology, inkjet produces the most supreme results in terms of quality. So make sure all the options on your shortlist are inkjet printers.
Print Size
This refers to the range of photo sizes your printer can provide as the output. It can be as small as only 4×6 inches, or an extremely large photo of 24×75 inches.
Your freedom of taking any photo and your capability of providing it to your client will depend largely on such size limitations of your printer.
On the other hand, spending more on a printer whose biggest size you will never use only results in wasted money.
So take all the factors into account – the available print sizes, the sizes you will need and your budget – before finalizing a printer.
If you are a beginner, you may consider some of the standard sizes like 13×19 inches. For a little wider canvas, choose a printer supporting 17×22 inches or 24 inches of width.
Ink System
Common printers usually have an ink system based on the CMYK color model – cyan, magenta, yellow and black. Based on such systems, we can understand the gamut of a printer – how many colors it can reproduce.
Basic systems like CMYK cannot provide a wide enough gamut required for professional photography. As a result, the printer fails to successfully reproduce some beautiful colors in the hard copy of your digital photo.
One way to extend this gamut is to invest in a printer based on more colors than four. Luckily there are now many printers that are developed with six ink colors – two new colors added to the usual CMYK model. They can be red and grey, orange and blue, or another pair of colors.
With these new members, the output photos look much more vibrant and similar to the original image.
Device Size
An abundance of features present in the printer doesn't automatically result in a large size demanding too much space.
If you are struggling with space at your workstation, find a compact printer that refuses to compromise with its output photo quality.
However, if you require large photos and your office space allows that much room, don't shy away from choosing a bigger device.
Connectivity
In the fast urban life, you may not always get to be close to the printer for starting the next batch of photos. That is why connectivity plays a significant role in keeping up with your deadlines.
So make sure your printer comes with wireless connectivity which allows starting the task from another room or floor.
It would be smarter to choose a printer that allows connecting to cloud storage like Apple AirPrint or Google Cloud. This way, you can start printing photos stored there right from your smartphone or tablet.
Printing Speed
For those of you who are always in a hurry, it would make more sense to invest in a printer that provides higher outputs. However, the ideal printing speed varies a lot.
It can be either 2 extremely high-quality large images per minute, or 22 black and white images on plain paper.
While the contribution of speed to overall efficiency is surely undeniable, the quality of the printed photos also matters.
So try to balance these two factors when you search for the ideal large format printer for photography. 
Print Resolution
Along with computers and mobile devices, the resolution of printers has also improved significantly over the years. Nowadays, the range of print resolution varies from 600×600 dpi to 9600 x 2400 dpi.
If you are not sure about which one you need, remember that the maximum resolution should be at least 4800×1200.
Frequently Asked Questions
How Do Large Format Printers Work?
Large format printers work with bigger sizes of photos or posters. The design you feed it digitally from the computer or mobile device is its blueprint.
Following this design, it will start spraying its ink on the paper surface and dry the photo after the recreation is completed.
What Is The Difference Between A Plotter And A Large Format Printer?
Both plotter and large format are two variations of printers that recreate tangible photos from digital images. The difference lies in their back-end processes.
Large format printers produce the photo using raster files made of pixels in a grid. On the other hand, plotters use a vector format instead to do the same.
How Do I Make An Image In A Large Format To Print?
If your image is not already in a large enough format, you can convert it by double-clicking on the image file and open it in preview on your computer's built-in photo editor. If it is more than one photo then select them all, right-click and select "Open". 
Pick Tools from the menu bar and then select "Adjust Size" from its dropdown options. Pick "pixels/inch" to set the resolution and "inches" to set both height and width.
Make sure the box beside "Resample Image" is not checked. Now set the resolution to 300 dpi and see the height and width both changing accordingly.
What Is Dpi?
DPI or dpi stands for dots per inch which is the unit of resolution for printed or scanned photos and documents.
If it is higher, that means there are colors at play per inch making the image more vibrant and accurate. The standard resolution measure is 300 dpi but can be a lot higher for modern printers.
How Large Can You Print A 300 Dpi Image?
The standard measure of image resolution is 300 dpi. Using this density, you can expect to print a photo of only 6.4 x 3.6 inches. The largest size you can reach with this resolution would probably be 11 x 17 inches.
However, remember to not consider this as a standard resolution while looking for large format printers. They can provide you thousands of dpi easily.
Final Word
A high enough resolution can bring out the most of your shots – be it portrait, nature, food or fashion!
It transforms from a mere photo on someone's camera to a tangible piece of art waiting to shine on another person's well-decorated walls.
But for it to retain the artistic properties, the original color palette of that photo needs to translate properly onto the paper. You can make it all happen with the right large format printer!
We hope, in this guide, you have found the best large format printer for photographers that can boost your overall productivity and elevate the current printing style.