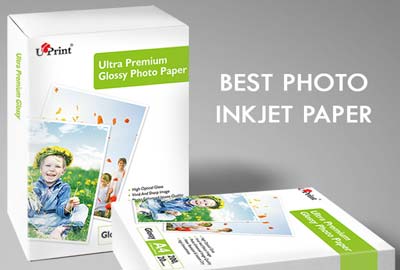 Let's talk about printing at home. More or less, the most common method people use to print photos is by using an inkjet printer.
There are a lot of fine art photographers that shoot and print their pictures on inkjet photo papers.
However, even if you have a high-end printer, you won't be able to get good quality photos if you don't use the best photo inkjet paper.
One thing I want to stress here is that there are numbers of printers available in all kinds of price points and ranges.
However, one thing that most of us tend to forget is the ink. Ink can be quite expensive, and you want to be somewhat economical here.
You don't want to waste ink on poor-quality papers. For the most part, most inkjet printers are fairly affordable, but when it comes to getting good prints, it's not all about the printers.
Inks, papers, resolution, and a bunch of other things also come into play. Don't get caught up on the specs. It's more important what kind of photo paper for inkjet printers you are printing.
The important things here are line resolution and paper, and in this article, I'm going to talk about inkjet photopaper.
Why Do You Need Photographic Paper For Inkjet Printers?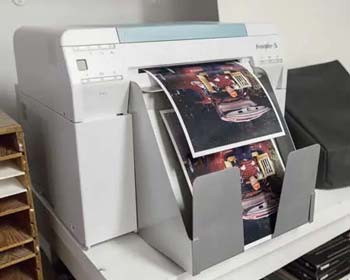 Let me tell you what you don't want to do. I've seen photographers do this a lot. Most of the time, they get really discouraged because they take a really good picture but end up using a paper that is meant for office documents only.
Office paper is just a really crappy paper that doesn't look good when you print. It doesn't have the clarity, the richness, and doesn't have any depth.
It doesn't matter if you have a budget printer. The more important investment is to have the right photo paper.
What you want to do is look for paper specifically that are designed to be photo papers, and they come in different finishes and things like that.
Even with a dedicated photo printer that you will use to print photos, the paper makes all the difference in the world.
Our Recommended Best Inkjet Photo Papers in 2021
1. HP CR759A Everyday Glossy Photo Paper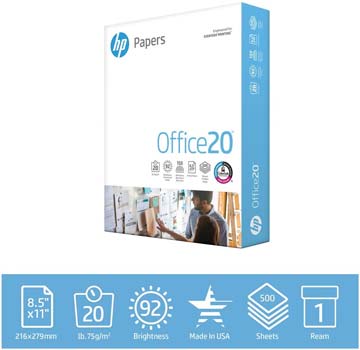 Kicking things off with a pack of glossy photo papers that you can use for your daily photo printing task. The HP Everyday photo papers are excellent for personal use.
It's very easy to print pictures with amazing clarity at home straight from your HP inkjet printer – no more messing around with color profiles.
If you are thinking about the printing cost, it's certainly cheaper than sending your photos out to a photo lab. These will be the go-to papers for photo printing, especially for those that are on the HP InstaInk Program. The prints are vibrant, and you won't have to worry about any smudging.
Keep in mind that these are photo papers for casual prints only. If you want something more professional, you should look at the HP Premium Plus photo papers. Those will be somewhat expensive but well worth the money for someone that wants quality prints without sacrificing performance.
In short, you are looking at a pack of 100 photo sheets that are ideal for arts and crafts, school projects, casual photos, and many more.
These papers have a GSM of 200 features a coated glossy finish. This results in consistent and exceptional print quality while maintaining a good cost-per-print ratio. 
Highlighted Features:
Environment-friendly photo papers.
Ideal for casual prints.
Glossy coated finish.
Works really well with HP printers.
2. Canon 7981A004 Matte Photo Paper Plus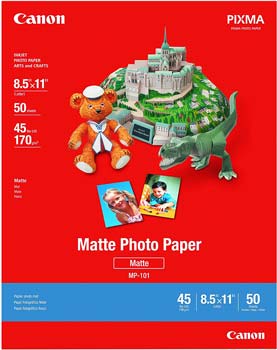 Print high-quality photographs without the glossiness with the Canon PIXMA matte photo paper plus. There are certain things that work best with each other.
For example, if you use Canon genuine inks with Canon photo papers and print using a PIXMA printer, you will get amazing results.
With these matte photo papers, you can print photo-lab quality photographs from the comfort of your home without having to worry about color profiles.
Just make sure you have a good inkjet printer from Canon. If not, you can use any other inkjet printer with the corresponding ICC profiles.
If you don't prefer matter papers, you can also find glossy and semi-glossy sheets from this brand. I personally prefer matte because of the ability to print photos at maximum resolution and high brightness. Since there is no glossiness, I can see the photos in vivid color, and the images are also very clear.
These are instant-dry papers thanks to the micro-porous coating on the surface. This coating helps the paper to absorb the ink quickly and prevents leftover ink from being left on the surface.
The papers are also rated to last a long, which means your family photos will last for generations to come. 
Highlighted Features:
Print vivid and clear photos without the glossiness.
Micro-porous coating on the surface.
Instant dry matte photo papers.
Lasts longer and doesn't fade easily.
3. Epson Premium Matte Photo Paper for Inkjet Printers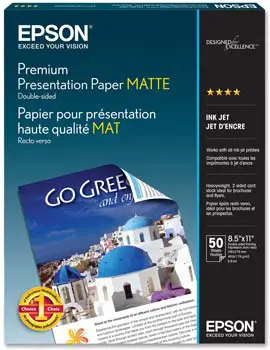 If you are looking to make presentations, cards, or art prints, this premium presentation paper from Epson is definitely recommended.
Fine Art photographers will highly appreciate this paper because of the vibrant color reproduction. The printed papers have a watercolor feel to them.
For those of you that want nice and crisp paper to print, you will love the texture and thickness of papers. I would say these are more suited for art prints than photo prints.
Another good usage of these sheets is to create a picture-book with photos because the matte finish clearly stands out from the rest.
There are photographers that don't like the reflective surface of glossy paper. If you are like that, you will love the finish on these sheets.
These are perfect for signage, craft projects, and, most importantly, non-glare photographs. The sheets are rated to last up to 72 years without fading if maintained properly.
The Epson premium presentation matte paper gives you the versatility of double-side printing, which is ideal for someone that requires both versatility and photographic image quality.
These coated papers are able to produce crisp and vibrant images on both sides without any smudges.
Highlighted Features:
Ability to print on both sides.
Crisp dark text and vibrant images.
No show-through prints.
Has a professional and sturdy feel.
4. Koala Glossy Thin Presentation Paper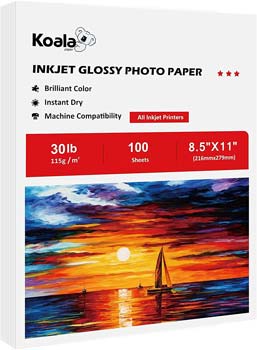 Meet the thinnest inkjet glossy paper on the market. Even though these are thin and lightweight photo papers, they are resistant to scratches and smudges. This package includes 100 fast-drying sheets that are compatible with all inkjet printers. Just make sure to use dye ink.
For professional prints, you might want to consider heavier papers because the sheets have a GSM of 115, which isn't ideal for high-quality prints. However, these papers have their own advantages.
You can print at high resolution without having to worry about smudges. The papers dry fast and have good ink absorption.
These sheets are flat with a good glossy finish and provide true color reproduction. The 8.5×11-inch sheets are perfect for scrapbooking, printing detailed graphics, flyers, magazines, bidding plans, special presentation reports, and even custom chip bags because you can only print on one side.
One thing to note here is that the papers don't dry the ink instantly. Although it's quick, if you use high-quality settings to print on these sheets, you will need to give them a few seconds or probably a minute for the ink to dry completely. This way, you won't get any smudges.
Highlighted Features:
Thin and flexible photo papers for crafts.
Can be used for making custom chip bags.
Prints well and dries the ink fast.
It doesn't crack or crinkle when folded.
5. HP Glossy Advanced Photo Paper for Inkjet Printer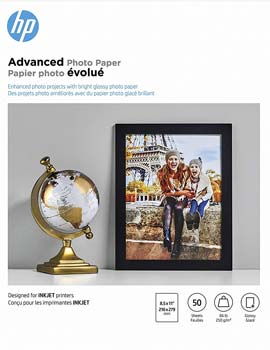 If you own an HP inkjet printer and want to print high-quality photos, these are perhaps the best compatible photo papers for you to print professional-looking photos.
The HP glossy advanced photo paper has a good cost-per-print ratio. These aren't very expensive nor cheap. You aren't sacrificing quality.
What you are getting is a pack of 50 inkjet printer photo papers that have a bright glossy finish. These quick-drying photo papers are thick and have a good weight to them.
These papers are thick enough to be considered high-quality, and I would definitely recommend them for wedding invitations.
One thing this paper lacks is the instant dry feature. However, this ink dries out quick enough to the point where it feels like instant dry paper.
To avoid smudges, make sure the papers are completely dry before you touch or stack them. However, once you dry them, the colors really pop out.
You can easily turn out professional-looking photos if you use the right color profiles and a decent inkjet printer.
It will be a lot cheaper to do so instead of sending all your photos to a professional printing company. This way, you can tweak and make the necessary changes to get the right tone and color.
Highlighted Features:
Good for scrapbooking.
250 GSM paperweight.
Can be used for wedding invitations.
Quick-drying inkjet photo paper.
6. Printworks Matte Inkjet Paper for Photos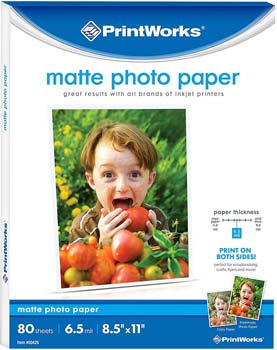 Printworks matter photo papers allow you to print from the comfort of your home with stunning picture clarity and details. These are inexpensive papers that can be used for scrapbooking, printing smaller custom sizes, and larger images for framing. You can also use them for your day-to-day photo printing projects.
These 6.5mil thick photo papers come in a pack of 80 sheets with a size of 8.5 x 11-inches. Printworks matte photo papers are compatible with any inkjet printer and feature instant dry technology. These sheets allow for easy handling and smudge-free prints. Just make sure to handle them from the sides.
You don't want your fingerprints on the print surface. That being said, the prints are absolutely stunning because of the built-in Tru Color technology.
This ensures sharp details and vibrant colors. These matte-coated papers have a smooth finish and allow for two-sided prints with sharp details.
These sheets are meant to be used for everyday prints with no show-through without sacrificing color. Keep in mind that these aren't your professional-grade photographers' papers.
The prints are okay, but if you want something for professional use, you should look for better quality papers.
Highlighted Features:
Sheets are printable on both sides.
Nice thick weight and feels good to hold.
Sharp and rich color reproduction.
Ideal for daily printing tasks.
7. ILFORD GALERIE Prestige Smooth Pearl Professional Inkjet Photo Range Paper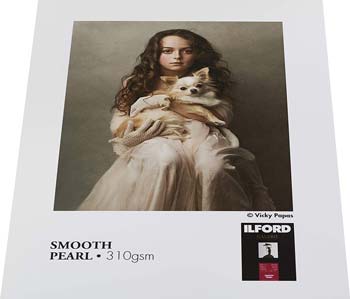 ILFORD is well known for its black and white films and professional photo papers. This brand makes some of the best photography papers on the market. These papers can really hold the grain, light, shadows and, give a beautiful prominence to the photography and produce images with superb clarity.
If you want high-precision and compatibility, this is the best photo paper for inkjet printers on the market. The papers are compatible with pigment based ink printer and dye-based inks as well as all high-end inkjet printers. Make sure to get the right ICC profiles for your printer if you want to get your desired print.
This pack contains 100 sheets of professional photo papers that very high-quality and versatile. The ILFORD GALERIE Prestige Smooth Pearl is perfect for portrait & framed prints.
Even though these sheets have a glossy finish, the surface is nonreflective and features instant ink dry along with HDR clear coating. 
Thanks to the resin-coated, high-density heavyweight base of these papers, you can get pro-quality prints.
The smooth pearl finish eliminates fingerprints and glare, and the paper's natural photographic white tint gives a true feel and looks to your photograph. In short, this is the best photo paper money can buy.
Highlighted Features:
High-quality and versatile photo papers.
Excellent color gamut and high-sharpness.
310 GSM heavyweight base and resin coated.
Instant dry nonreflective surface.
8. Hahnemuhle Matte Fine Art Textured Inkjet Photopaper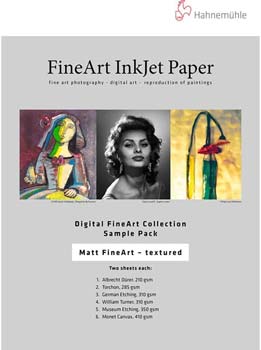 This one is a bit different. It's a sample pack from Hahnemuhle that contains two sheets of five different textured papers. The sheets are 8.5×11-inch with a matte finish.
You might be wondering, why a sample pack? Well, think of it as a good starting point for finding the best photographic paper for inkjet printers.
This pack contains two Museum Etching papers with a GSM of 350, two William Turner with a GSM of 310, two German Etching with a GSM of 310, two Torchon with a GSM of 285, and two Albrecht Durer with a GSM of 210. These are fine art papers that are able to produce stunning detail and color.
Additionally, you can also find a matte smooth sample pack and FineArt glossy paper sample pack from this company.
Looking for the best paper for digital art print, photo & fine art reproduction, or photography, I'm sure you will find the right one best suited for your needs, no matter what you intend on printing.
These papers are also good for high-detail, high-color digital illustrations/painting. Thanks to the variety of papers, these sample packs are a good place to start and experiment with different grades and finishes. These papers have a good feel to them, and thickness and weight are spot-on. You'll love it.
Highlighted Features:
Stunning color reproduction and detail.
Perfect contrasts and deep blacks.
The best sample pack of fine art photographers.
Package contains five different textured papers.
9. A-SUB Premium Photo Paper High Glossy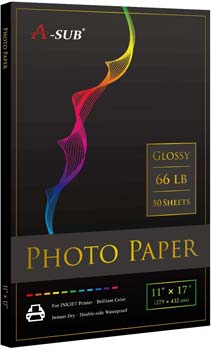 Up next, we have a sheet of 50 resin-coated, premium photo papers from A-SUB that will give you the best printing experience.
These papers are designed to provide exception print results with a high glossy finish. The smooth paper surface reflects natural light and delivers an image that is clear and exquisite.
You will mostly use these papers for printing family photos, scenery photos, artistic photos, travel photos, and so on.
These are long-lasting papers that won't fade or get yellow over time. This is possible thanks to the resin coat on the top that provides outstanding color maintenance.
Another cool feature of this photo sheet is the luster finish. The rough silky finish gives the sheets a grainy texture surface.
That being said, A-SUB also has high-quality luster photo papers and satin photo sticker papers. For this review, I'll stick with the high glossy version.
These sheets are 11 "x17″ with a paperweight of 250gsm. While 11×117" size papers can be quite pricey, these, on the other hand, are very cost-effective.
For a reasonable cost, you can print large size photos with ease. The papers are able to handle all tones really well produces rich and vibrant colors.
Highlighted Features:
Resin coated on each side.
Anti-scratch and waterproof.
Cost-effective inkjet paper for photos.
Warm tone papers with a high gloss finish.
10. PPD Inkjet Glossy Heavyweight Photo Paper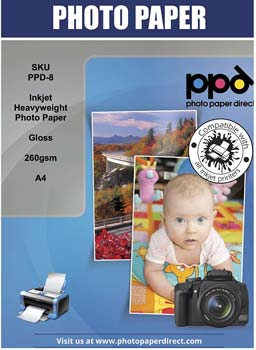 Last but not least, we have a nice and thick glossy photo paper from Photo Paper Direct. These heavyweight gloss papers are specially formulated to produce great prints and quality photos.
The photo papers are coated on one side with a gloss finish and have uncoated matt reverse where you can write or print text.
While it's not as heavy as other professional-grade inkjet papers, but it has a good color gamut. It's perfect for creating handmade greetings or invitation cards.
It has the right amount of thickness and sturdiness that makes it perfect for adding embellishments. These are also compatible with most printers.
These 8.5×11-inch papers come in a pack of 50 sheets and have a good cost-to-print ratio. If you ask me, I will say they are fairly inexpensive even though these are instant dry sheets.
What gives them instant dry quality is the microporous layer on top, which dries out the ink when the paper leaves the printer.
Unlike other glossy papers that are inexpensive, this one is a bit different. The photo prints are of professional quality, and the black area of the photograph won't smudge. The papers are fade and water-resistant and don't have any watermarks on either side.
Highlighted Features:
Heavyweight papers with good color reproduction.
Glossy photo papers that don't smudge.
Wide color gamut for a vivid and sharp finish.
These sheets are compatible with all inkjet printers.
Top 10 Inkjet Photo Papers Comparison Chart
| | | | | | | |
| --- | --- | --- | --- | --- | --- | --- |
| | | | | | | |
| | | | | | | |
| | | | | | | |
| | | | | | | |
| | | | | | | |
| HP Glossy Advanced Photo Paper | | | | | | |
| | | | | | | |
| ILFORD GALERIE Photo Paper | | | | | | |
| | | | | | | |
| | | | | | | |
| | | | | | | |
Photo Inkjet Paper Buying Guide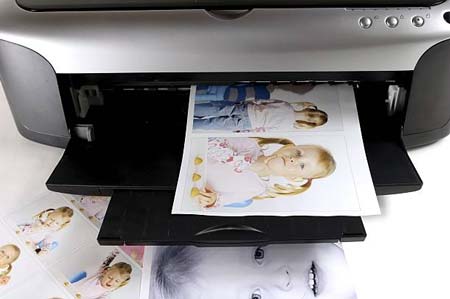 If you want to create long-lasting and high-quality prints, you will need to keep the following things in mind.
Make sure you have the right printing paper and printer.
The printer needs to have an up-to-date driver.
Use the right color profiles.
Balance the colors and tones.
Tweak as needed.
There is a lot of work involved when you want to get photo-lab quality prints at home. However, the most important thing here is that you use the right inkjet photo paper and a good inkjet printer.
Things get difficult when you have to decide on what type of paper you will use to print your photographs.
There is no best inkjet photo paper that will be suitable for all kinds of photographs. You will have to keep on experimenting to find your desired paper type.
Since there are so many varieties and so many types of papers, it's very easy to get confused.
There is also the matter of personal preference because photographs and prints are considered subjective. I might like a certain picture, but you might not like that.
1. Understanding Brightness Vs. Whiteness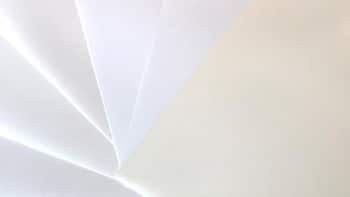 The whiteness and brightness of a photo paper can change how the print will come out. For example, paper with a warm tone is better for printing portrait photographs.
The brightness of a photo paper is something that you shouldn't think too much about because most of the manufacturers won't even bother to tell you this information. It's measured on a scale of 0 to 100.
Most of the printing sheets on this list are above 98. Bright photo papers are able to reflect more blue light off a page and results in vivid and sharp color reproduction. Whiteness is different.
If a paper is able to reflect the entire visible color spectrum, then it will have a higher percentage of whiteness. Again, you will rarely find this info on the spec sheet. In general, you will often see the term very bright, warm tone, etc.
Photo papers are like light bulbs and can be cool white, neutral, or warm. Certain subjects can be enhanced by these different hues.
For example, a good all-rounder is a neutral white paper. Portraits are better when printed on warm tone photo paper because it flatters skin tones.
For printing black and white high-contrast photos, cool white or bright-white papers are ideal. This tone is better at emphasizing winter scenes and blue skies. A paper that has more OBAs (optical brightening agents) will have a higher whiteness rating. 
On the other hand, it's more likely to be warm white if there is a lack of OBAs in the paper.
2. Fine Art Vs. Glossy Vs. Matte | Understanding Paper Formats/Finishes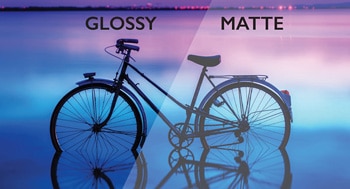 You might want to spend some time reading the following section because it's the most important choice you have to make when buying best inkjet photo papers. Whether you print your own photos at home or have them printed, the first choice you have to make is the format.
It's important that you choose the right finish that best suits your purpose because it will go a long way towards the actual handling and viewing experience of the photograph. First, let's talk about the most popular finish.
a. Glossy
First, let's talk about the glossy finish. The paper has a shiny, reflective surface because of the smooth coat on the printable side. Glossy papers are widely used for printing magazines, high-quality flyers, and brochures, and many more.
Even Hollywood casting offices use this type of paper to print headshots of actors and actresses because the print comes out very bright and vibrant. When you print on a paper with a glossy finish, the details really pop out with a magazine sheet.
The contrast is strong between the dark and light areas, and the colors look saturated and vibrant. Are glossy papers ideal for family photo collection? No. These papers are widely used for advertising or promotional purposes.
Also, glossy papers aren't suitable for framing photos because of the slick surface and glare. The surface is like a fingerprint magnet and easily stick and scratch the print. However, if you are presenting your photograph, you might want to consider printing photos with a gloss finish.
Gloss finishes is preferred by professional photographers because of the vivid color reproduction, sharp detail, and high contrast.
b. Drawbacks Of High Gloss Finish
Even though glossy photo papers are widely used, but they are not used to storing photographs because these papers don't last long. Some photo restoration labs don't even use glossy papers because they aren't used for that purpose.
However, if you want something shiny but don't want to use glossy photo sheets, you can use high-quality metallic paper instead.
Glossy paper is also a bad idea, especially for the people that live on the gulf coast. The humidity and heat can destroy or damage the prints quickly.
Ironically, most big-box quick print shops only offer luster or glossy paper. That being said, you can still provide your own photo papers and have them print your photographs.
Another drawback of this finish is that the fingerprint smudges are hard to clean because of the shiny and highly reflective surface. Depending on the angle of viewing and light condition, this glare can be a huge problem.
c. Matte
If you don't prefer a gloss finish, you might want to look at matte papers. Unlike glossy finish, matte papers have a glare-free, textured, or very smooth surface. Because of that, these papers are very long-lasting.
If you want to yield some truly spectacular results, make sure you use high-quality matter papers and have your photos printed by a professional photo processing lab. The textured surface of matte paper is better at absorbing liquids such as fingerprint oils.
The smooth matte paper surface isn't that good at dealing with fingerprints but is a lot better than a delicate glossy finish. Less visible fingerprints mean you will be able to handle photo papers without wearing gloves.
However, the quality of matte finishes varies from brand to brand. High-quality matte papers are expensive, and if you happen to buy 100 sheets of these under ten bucks from a local store, they are bound to produce less than spectacular results. 
This is because only a handful of reputable brands make matte papers that are actually good for photography.
d. Semi-Gloss or Satin
Semi-gloss sits right in the middle of the spectrum. Different brands have their own trademark name for this finish. This category of photo papers falls somewhere between matte and glossy.
However, there isn't any good example of a satin finish because these photo papers are still fingerprint magnets.
Even though different photo paper manufacturers use various techniques to reduce the high glare as well as the paper's susceptibility to fingerprints, the texture can still pick-up fingerprints.
On the brighter side, the sharp detail, contrast, and vibrant color is preserved, and that's why satin texture is so popular. This texture doesn't have that high glare but still produces great prints that pop out.
e. Fine Art Photo Papers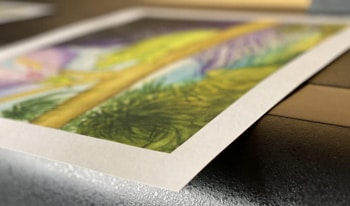 This type of photo paper is more than ideal for archival purposes because of the use of natural materials in high percentages during the manufacturing process. For example, cotton is used in higher percentages for inkjet papers.
Many enjoy the weight and high tactile quality of these papers. And when used with the right ink, these photos look amazing when framed. Fine Art prints are known for their longevity.
People love this type of print even though these papers don't have any emulsion on the front of the print. For this reason, fine art papers are somewhat delicate, but if you frame the image, it will last much longer than any other paper on the market.
3. Longevity & Durability
Most people don't even think about the longevity or the durability of these photo papers. If you are someone that wants to store your prints, you will have to check how durable these papers are.
For example, you will need to ensure the prints will stay the way they came out from the printer. This means the paper needs to have water-resistant and fade-resistant properties.
Some papers are inherently durable than others because of how they are manufactured. Also, the combination of paper and printer plays a huge role in the overall longevity of the print.
There are ways you can store your prints, but it all comes down to selecting the right paper for the job.
4. Brand Value & Price
Before zeroing onto one photo paper, in particular, it's important that you do a quick background check of the brand. For example, popular brands such as Canon, HP, Kodak are known for their quality lineups of photo printing sheets.
On the other hand, they do also make printers and inks. Now, there are a handful of photo paper brands that only specializes in making high-end archival quality photo sheets. Make sure to check out the various brands that are available on the market.
Also, photo papers can be quite expensive or dirt cheap, depending on the quality. For regular prints at home, you can get by using medium-quality sheets. However, if you want the best of the best, you will have to spend more.
If you are participating in a photography competition, you will have to opt for higher-quality papers. In some cases, you can buy sample packs to get the feel of the papers. This way, you can try out the actual product without having to buy in bulk.
If you think that photo papers are cheap, you are wrong. I've seen a lot of no-name brands selling 100 sheets of glossy papers under 15 bucks. Those are only good for scrapbooking.
For professional prints, you will have to up the price. You will have to pay more to get better printing paper.
For auctions and exhibitions, I would recommend using expensive papers. Cheap papers are only good for printing everyday images where average results are enough.
Tips To Print Good Quality Photos On Your Inkjet Printer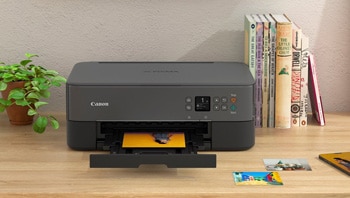 Photo papers come in different finishes. Some people prefer glossy papers. I, on the other hand, prefer a matte finish. You have to buy a couple of these to kind of experiment see kind of where you want to start and what appeals to your taste. 
Try Different Finishes
It's really important that you try different finishes just to see what your work looks best on. That's why the first tip I want to give to you is to start small. I really recommend starting with a small batch of papers because this won't cost a lot of money.
You could probably order two or three different categories of photo papers and start printing your photos on them. This will allow you to see what the different finishes look like and the different qualities of prints.
Go Small
Start by making small prints. The really cool thing about digital inkjet printing is that there is an enormous level of consistency between paper sizes. Just go and get a couple of small packages of small papers.
Keep in mind that you are not printing for the exhibition yet. You are just learning what papers look like and what your work is going to look best on. Then, when you get a good grasp on it, you can go for the larger papers.
Know When To Step Up
Once you are tired of using small papers and know what you are looking for, go for the larger sheets of photo paper. You will notice that more extensive papers cost more money and buying them in bulk isn't very economical either.
However, this is the time when you are truly getting into professional photo printing, so you can try buying a few at a time and print.
Formats
Paper comes in all sorts of shapes and sizes, and when it comes to inkjet printing, you will see formats that are plenty available. Try to print using photo paper that has the same aspect ratio as your camera.
Try Printing Using Heavyweight Papers
Look at the GSM of the paper. This denotes the weight of the paper. Try using really heavyweight papers, and you will really notice the difference in print quality.
As for me, GSM is really important for prints. In terms of archival quality and longevity, heavy papers tend to last longer.
Frequently Asked Questions
1. Is it better to print photos at home or send it out to a photo lab?
If you want to take total control of your photo printing process and have all the equipment necessary like a good quality printer, papers for printing photos on and know how to color calibrate and all that, well, sure you can print professional, exhibition quality photos at home.
On the other hand, if you don't want to bother with all the stuff that I just said, send your work out to photo labs, and they will do all the work for you.
If you give them a sample photo, the photo labs out there can quickly identify the type of prints you are looking for.
2. Why does my print look nothing like it does on my screen?
First of all, they are never going to look the same. However, you can try to get them as close as possible to each other. One hack I found is to lower my screen's brightness to 40-50% and edit at that.
You can also try to calibrate your monitor once a month. This way, you will be able to get the best, or should I say, the closest possible colors to a print.
3. What GSM is ideal for a photo paper?
GSM stands for grams per square meter. For photo papers, this will indicate how thick the paper is.
The higher the GSM, the thicker the sheets will be. Now, there is no ideal GSM range. However, thicker papers will feel better to hold than thinner papers.
Most common printing sheets that are used in offices have a GSM range from 60 to 120. For printing photographs, the ideal GSM range is from 200 to 400, depending on the type of photo you want to print. High-quality flyers and magazine papers use a thicker type of paper with a GSM range of 210 to 300. 
The thickness of the photo paper doesn't really matter that much when it comes to picture quality. The thicker or heavier paper will give you a better experience when you are holding the photo, but it doesn't affect the quality of the print.
4. How much will it cost to print photos at home using an inkjet printer?
The overall cost per print will depend on three things. The first one is the printer. On the contrary, this isn't the highest cost you will encounter. Sure, printers can be quite expensive, but the ink is actually more expensive than the printer.
Come to think of it; ink is something that you will buy again and again, whereas the printer is a one-time investment.
For example, ink runs out quickly. You will have to keep buying ink, and some inkjet printers won't print unless all the colors are present.
After the printer and ink, there is the cost of papers. By now, you already know that these sheets are quite expensive depending on the quality. Your printing purpose will also determine the cost.
For example, if you plan on selling off your prints or showcase them in an exhibition, you will have to use expensive papers.
Generally, high-quality papers will come at a higher cost. There are affordable photo printing sheets that will also give your good results.
On the other hand, cheaper papers are only good for regular everyday printing. That's why there is no fixed number or a fixed way to determine the cost of printing at home.
One thing is certain that it will be a lot cheaper than sending out your photos to a professional photo printing lab.
5. What are some of the most popular brands that make the best inkjet paper for photos?
Along with HP and Canon, here are some respected brands that are famous for making high-quality printing sheets. These are:
Innova
Museo
Inkpress
Ilford
Moab
Red River And
Hahnemuehle
Final Words
It doesn't matter whether you have someone else print your photos for you or do it at home; the way you present it is crucial if you want to get the most from any photo.
Sometimes, the frame is a deciding factor; other times, the finish plays a huge role. Even the size of the print can make a huge difference.
However, you should never underestimate the importance of using the best photo inkjet paper.
This can make or break the print. Also, make sure to adjust your printer's settings accordingly. Download the correct profile and use the optimal setting for your prints.
Related article you may like: