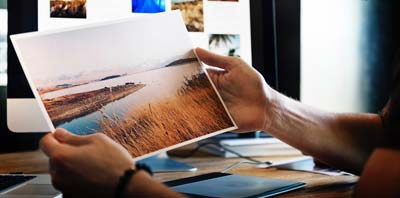 Printing art on paper has been introduced much before we started going to exhibitions where different aspects of life are portrayed on other papers.
With the advancement in technology, we now can print any digital art on paper in seconds, but if you don't take paper seriously, your art will most probably rupture into pieces in seconds.
Amongst hundreds of papers available in the market, which one should you buy for what purpose?
From beginner artists to expert professionals, everyone faces this challenge while buying the best paper for art prints but no useful resources to find what they want.
We promptly decided to run our hands through many papers for art paint and develop a comprehensive discussion to help you find out the best.
While you finish reading this write-up, you will be enlightened with a complete buying guide to help you and several bonus tips for perfect art printing on paper.
Sit back, relax, take a sip on your coffee, and let's get going!
Our 10 Best Paper For Art Prints – Reviews in 2021
We have chosen these 10 papers for art printing based on their overall quality of the finished print, durability, and a lot more. No matter what you invest, you will get a paper that holds your artwork better than ever.
1. Epson Premium MATTE Art Print Paper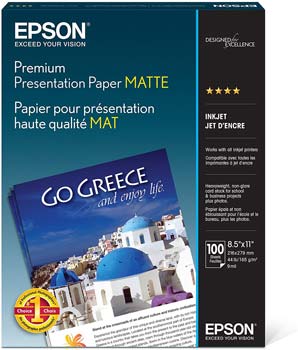 From professional photographers to digital artists, everyone will find Epson Premium as a feasible solution for their arts' perfect output. What it has in it to make the place on our list?
This high-quality paper's flat matte surface instantly prepares a platform for possible output of either photography or digital art. No matter what you print on this paper, it immediately becomes an exhibition itself.
If you pair this paper with Epson professional inks, the output should dry quicker than any other ink giving you comfortable handling all the way around. While the handling is easy, the color gamut should also be high for better color reproduction.
If you are printing something that doesn't require so much gloss, this model can be the suitable choice as it produces a highly saturated image where a high color gamut helps maintain shadow and highlights to the optimum level.
Though regular printers start printing in 300 dpi, this paper can be compatible with a high-resolution printer of up to 1440 dpi for high-resolution output.
While most of us are used to seeing high-quality images on our monitors, the same always doesn't remain on the paper when we print it. But not with this paper though!
Give this a try, and start printing your images today using a high-resolution printer and professional inks, and let it present you with an art print that lasts for a long.
Highlighted Features:
8.5×11 Inches printing surface is smooth to touch, and the flat matte texture gives great output.
Great for printing images, but you can print anything you want.
Provides the most accurate color and best detail.
It is compatible with high-resolution printers up to 1440 dpi.
2. Canon Luster Photo Paper for Digital Art Prints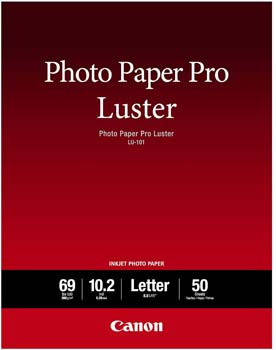 The word luster here indicates this Canon photo paper's luster texture used to print lab-quality photos at your home without much hassle.
This luster surface gives your photos a semi-gloss smoothness unlike any other paper for art prints at home.
Used to print images mostly, it produces exceptional image quality and makes the final print durable for a long time.
Also, it works fine with all the available printers but is the nice pair with the Canon PIXMA Pro photo printer, where the details are more accurate and sharper.
The color it produces is a visual satisfaction to the eyes and accurate to the sufficient detail. As the surface is smoother than most of its competitors, black and white colors are printed stunningly sharp to give you an edge over other papers.
As long as you select the right ink to print your photos on this paper, the output is protected from fading over time and is perfect for preserving your valuable memories for years to come.
Due to the smooth texture of the surface, generally, inks take a bit more time to dry, but the final result is mesmerizing once it is done.
Either for photos or other artworks, Canon Luster is a great choice to go with that holds a weight of 255 gsm to resist comfortable wear and tear.
Highlighted Features:
Luster surface gives unmatched smoothness for your photos to be bright and shiny.
High-quality color reproduction when paired with the perfect printer and the right ink.
High contrast print ensures all the colors have the same and smooth tonality.
Professional quality printing at home, so you don't need to go to photo labs for printing.
3. PPD Fine Art Printing Paper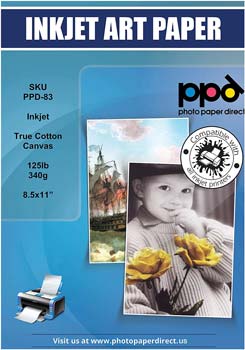 Well, it might not be the best inkjet paper for art prints, but it is the best canvas for directly printing your images or artwork, for sure.
This is not like other papers that are textured like a canvas. Instead, it is directly made from pure cotton to give you the features of a full-fledged canvas used in any regular inkjet printer. What an ultimate combination!
You can feel the light texture of this canvas with your fingers, and the surface is coated with high-resolution inkjet coating that helps print very high-resolution images at ease.
Whatever inkjet printer you use, feed this canvas directly into the printer, and it comes out smoothly bearing the image or digital art you wanna print.
Color reproduction was up to the mark, and the final product can be easily displaced by attaching the canvas to a frame.
But if you want to make your print last longer and resist fading caused by UV rays, spray the canvas with inkjet fixative spray and give a longer life to your prints.
As for the testing, this canvas with several different printers and inks, where some of them were dye-based, and some others were pigment-based.
The canvas performed beautifully in every case and gave excellent output we should expect from this price range material. Totally worth it!
Wanna give this a try? We assure you won't be disappointed.
Highlighted Features:
Original canvas made from pure cotton gives your artworks a more premium look and sustain better than canvas-like textured papers.
Fits perfectly into any inkjet printer to print whatever you want to.
Color reproduction is incredible and gives impressive detail.
Cotton absorbs the ink very well, so the paint dries faster than paper.
4. Epson Velvet Fine Art Paper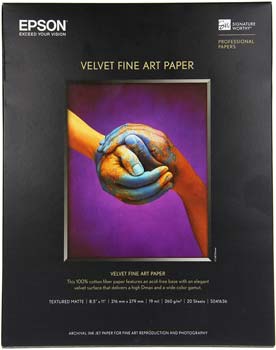 An ultimate beauty to print on! Epson Velvet fine art paper is undoubtedly the best paper for fine art prints, if you know how to extract the maximum out of it.
This textured, exhibition quality paper carries prints for decades without fading out and can be archived in a museum too.
What makes this paper so incredible? Its pure cotton rag build makes it stand out from the crowd.
You can see the paper's texture from a bit of distance, and it feels very premium to the touch, giving that canvas-like feel, and you assume you are in a museum of the past centuries.
You can archive your artwork on this paper, provided that you pair it with the right printer and ink. If projected correctly, the suitable ink will sit so well on this paper that your artworks might last for at least 100 years if you frame it.
This duration increases when you use any anti-UV protection on the printed paper or frame it inside a UV filtering glass.
Feeding this paper into the printer isn't entirely satisfying, though. Due to its higher weight than most other print quality papers, you might need to feed it manually, one at a time.
No matter how you struggle with feeding, the outcome will amaze you with all the sharp colors and matte finish, giving your artwork a livelier look and preserving the colors for years to come.
Get yourself a packet of these and start printing your dream right away!
Highlighted Features:
Made from pure cotton rag, so looks very premium and offers the canvas's feel while being a paper.
Has an ISO brightness of 94% and opacity of 96% to reproduce museum-quality color for your photos and artworks.
Matte finish gives your printing that retro look you have been searching for.
Balanced sharpness of the color is subtle.
5. HP Cheap Art Print Paper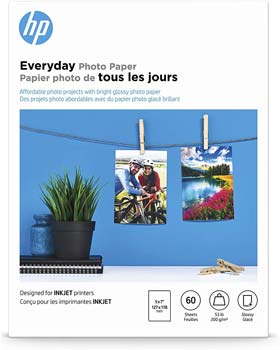 It is very clear from the name that you might need this paper for day-to-day use, either in your home or office for regular printing jobs.
 Though we don't expect much from such a paper, it can be a good friend while printing photos on a glossy surface. Also, money is a significant concern for those who use this paper for regular printing.
In that case, this is a pretty good value for money paper to print digital art and is affordable for everyone from the high school students to the office employees.
HP Everyday photo paper will be a great choice if you already have an HP printer or planned to own one because the paper is optimized to perform the best with HP printers.
The gloss finish on the paper holds the color entirely and produces high-quality images wherever you want.
Because of this paper's gloss finish, it is less prone to water damage, and you can preserve the photos for a longer time.
So, it can be a terrific glossy alternative to your regular papers. We don't expect it to be the best inkjet paper for digital art prints; it is not that either.
But what it gives is no less than it should provide at such a price point. And using this environment-friendly, recyclable paper means you are contributing to the wellness of the mother earth. A great deal indeed!
Highlighted Features:
High gloss output gives sharp and balanced colors that stay there for a decent period if cared for properly.
The sweet spot between quality printing and affordability, so suitable for regular use.
Completely recyclable, it does less harm to the environment.
Offers value for money with fantastic color reproduction.
6. Premium Arctic Matte Inkjet Photo Paper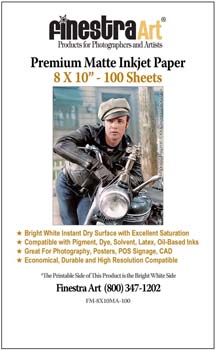 This bright white paper surface is the most suitable place for your photography or artworks to be. No matter with what printer you use this paper, you can expect the perfect result every time.
The great thing about the paper is its compatibility with any type of ink, whether dye-based or pigment-based.
Oil-based inks also perform very well on this matte-finished surface to give the ultimate color reproduction and sharpness of the detail and enhance your artwork's beauty.
As the surface is matte finished, it absorbs the ink quickly and dries the surface faster than high gloss papers, giving you an edge for carrying printed papers instantly, and the print doesn't get destroyed.
 This results in a print work that can be preserved for longer than you can ever expect making it the best paper for digital art prints. Also, pair it with some lacquer spray finish to increase its resistance to fading and water even more.
Choose the right spray to seal the print to be waterproof. You can also opt for a spray that saves the print from being exposed to UV as it can damage the print over time.
The glare-free matte surface is compatible with most of the inkjet printers available and produces professional-quality digital print or photography.
Though it isn't suitable for daily use due to the higher weight, it can be a fantastic choice if you are just starting to pursue your hobby.
Highlighted Features:
Anti-glare, matte surface is perfect to use for printing photography or digital print.
Works with pretty much every printer and ink type available out there and produces the best result every time.
Inks usually dries quickly to save the print from scratching and give better longevity.
Smooth and balanced color that hobbyists and professionals love alike.
7. Pacific Inkjet Paper for Fine Art Prints (25 Sheets)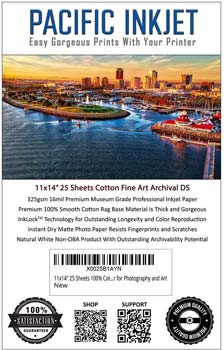 This thick, double-sided paper is arguably the best inkjet paper for fine art prints with its InkLock coating on both sides.
It's made from pure cotton to give it a different matte finish on both sides. It is excellent for printing landscape or nature photography, portraits, wedding photos, fine arts, and everything can be framed and archived no matter what you print on this gem.
With a higher thickness than most other available papers at 325 gsm, this makes your photos look sharp and vivid and stay as-is for a couple of centuries.
With the special coating used on both sides, this paper can resist fading for about 200 years. So, you know your artwork will be saved for generations to come.
This archive-quality paper produces high contrast colors and accurate details if you use the right printer and ink.
But as thickness is more elevated, matching it with any printer could be an issue. Try passing the paper directly from the intake tray rather than storing it inside the printer to avoid clutter.
Once the ultra-high-resolution print is done, the ink will dry quickly to make the print fingerprint, smudge, and scratch-resistant, which the professionals love.
Coating the print with an anti-UV spray will help elongate the durability of the print even further. Wanna sell arts or gift them to someone? This should be the inkjet paper of your choice.
Highlighted Features:
Made from pure cotton to be the perfect platform for printing any of your arts.
Klock coating on both sides to print on either or both sides.
Gives high-resolution print and sharp detail.
Resistant to fingerprint, smudge, and scratches to make your art durable for about 200 years.
8. Strathmore 59-701 Textured Inkjet Paper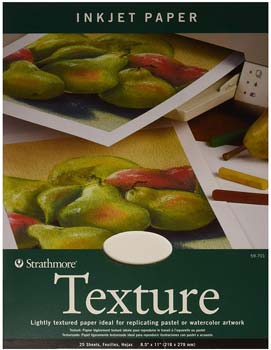 It doesn't need much saying about the quality and textured finish of the paper, which somehow helps the inks sit stable on the surface and lock in their place to dry quickly.
But the most notable thing about this paper isn't the texture. You can use it with almost any printer available to you, and the print quality will always be up to the mark when it comes to resolution and detail.
As the ink doesn't get many places to glide due to the textured surface, the finished print becomes a treat to the eyes.
The bright white-colored surface is perfect for printing any of your arts, including photography, digital art, fine art, etc.
Though the water resistance isn't that good on this paper, you can expect it to good scratch and smudge resistance to save your valuable print for a more extended period.
It can behave differently with different inks, so it is better to try several inks before you settle for one to use in all of your prints.
Also, test the paper's performance with dye-based and pigment-based inks to check what gives the awesome result. As the price is very affordable, it can be a go-to choice for beginners to print their artworks for practice.
There is no point in wasting a bunch of money until you are confident enough to give your best. Choose this inkjet paper for sharpening your skills by trying over and over again.
Highlighted Features:
Textured surface is perfect for sharp printing and quick drying.
Goes exceptionally well with any printer and ink but test in different cases for the best result.
Thickness is just on point and provides enough resistance to scratches.
Very affordable, so a great deal for beginners.
9. Finestra Cold Press Watercolor Fine Art Inkjet Paper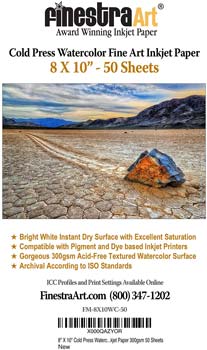 Another inkjet paper from Finestra Art for printing artwork should make you confident about their papers' quality and performance.
This paper just does justice to the brand and produces highly saturated prints for your fine arts or photography.
The watercolor texture on the paper is sublime and lifts your prints instantly to madness. And the good thing is, you can use this paper for archival as it is acid and lignin-free.
Also, the textured surface goes perfectly with the thick paper at 16mil, which is based on cotton. This allows the paper to absorb the ink quite fast to save the print.
The smooth print doesn't get scratched too easily to protect the finish as long as you should expect from a paper of this kind.
Despite its shortcomings in different aspects, it makes the place on the top paper list to print digital art for obvious reasons.
It is widely compatible with various printers and inks to reproduce high-density prints highly durable.
Plus, it is one of the most affordable ones in the 300gsm range, so you know it provides value for money making it the best paper for art prints at home.
But when the right ink matches with the right printer, this medium textured paper can outperform most others in its class.
We suggest you check your printer's capability as this paper is on the thicker side and might not fit all of your regular printers.
Highlighted Features:
Thick paper to preserve your print for a couple of decades if treated properly.
The medium textured paper produces high-density color that impresses anyone instantly.
Works with all kinds of inks but uses trial and error to find out what suits you the best.
Perfect for archiving your digital prints or fine arts.
10. Canson Infinity Edition Etching Rag Fine Art Paper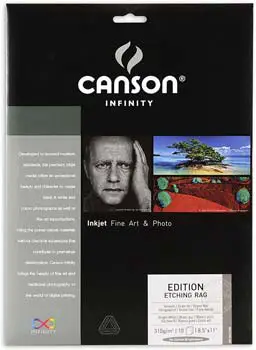 How we could end this list without the Canson Infinity Edition that resembles the texture of the genuine printmaking papers making it a museum grade fine art paper for all your needs.
With the brightest white surface of the paper, it gives high contrast colors with sharp detail. And the grainy texture of the papers helps in printing even the smallest detail in your artwork.
But the brightness of this paper is not like most other cheap papers you see here and there. To make print durable, no optical brightening agents are used to whiten the paper to the extreme.
This enables the paper to resist aging and keep your photos and artwork as is for generations. How could you not love this premium etching rag?
The color reproduction is just perfect and gives an edge over any other papers in the same category.
Beides, it resists gas fading overtime to protect your valuable artwork and spread the same old charm for years because of the internal buffering.
Due to its material, no matter whether you use pigmented or dye inks dries quickly. It gives a uniquely smooth finish that resists water and keeps your print safe from any consequential damage or degradation of the print.
But let us mention one thing here. As it is costly, it might not be the candy of your pocket. Professionals and industry experts love this paper for printing their artwork, but it doesn't offer much affordability.
If you are okay with the price, it will be the best fine art printing paper you have ever worked on, for sure.
Highlighted Features:
Made from pure cotton rag and the grainy texture resembles high-quality printing papers.
Free from artificial optical brightening agents to make sure the paint doesn't degrade over time.
Internally buffered to protect your print from gas fading and ensure consistency throughout its lifetime.
Meets all the industry requirements to be used as museum-grade paper.
Comparison Table of Art Print Paper
| | | | |
| --- | --- | --- | --- |
| | | | |
| Epson Premium Presentation Paper | | | |
| | | | |
| | | | |
| Epson Velvet Fine Art Paper | | | |
| | | | |
| Premium Arctic Inkjet Paper | | | |
| 100% Cotton Fine Art Paper | | | |
| | | | |
| | | | |
| Canson Infinity Edition Paper | | | |
Paper For Art Prints – A Complete Buying Guide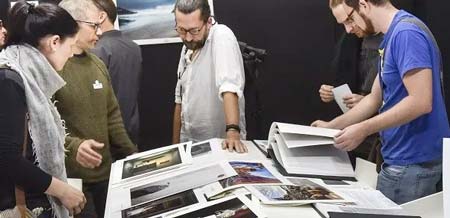 What to look at in a paper for art prints? The price? The size? The thickness?
It often becomes confusing for even experienced artists, so you understand how difficult it will be for the beginners who haven't bought such papers yet.
Here is a detailed guide on how to judge a paper whether it will serve your purpose or not, depending on various criteria. Go through this buying guide and feel confident while buying.
Material
The most crucial factor to consider when buying a paper for art prints is the material. For printing normal photos in daily life, you can use the standard paper that is also cheaper and provides a decent quality print with the right ink.
But for more precious items, you should go for something made of pure cotton to get that premium and antique look and feel. These papers are heavier and thicker but give a lot smoother print in the end.
Weight
The weight of the paper you are using affects the final print to a great extent. So, be very careful when choosing the best paper for art prints.
If you use a standard printer that can only pass lighter papers, you shouldn't buy any heavy paper of more than 200gsm.
Light papers are great for daily use and produce average quality prints. But heavier papers are suitable for printing sharp details and special effects, so these are often used to print artworks. To handle heavier papers than 300gsm, you might need a different printer that is compatible.
Gloss or Matte Finish
While gloss finish papers will give you a shiny look on the final print, they are easy to scratch and usually take longer to absorb the ink than the matte-finished ones. Gloss papers are used more in a day-to-day printing job.
On the other hand, matte-finished surfaces are excellent for printing highly saturated colors, and the ink dries so quickly on these papers keeping the final print intact.
Matte-finished papers are used more in printing high-quality artwork or images and to save them from degrading rapidly, hence is the best paper to print digital art.
OBA-Free
We all like papers that are bright white to print our fine arts. But have you ever thought about how these papers are brightened?
Often manufacturers use optical brightening agents (OBA) to make the paper super white to look attractive.
But these materials help the paper age quickly, and the quality of your print deteriorates over time. Papers can also contain different acids and lignin that do the same harm to your valuable artwork.
So, choose a free paper from artificial brightening agents to make your artwork sustainable for generations.
Tips To Get Perfect Art Prints at Home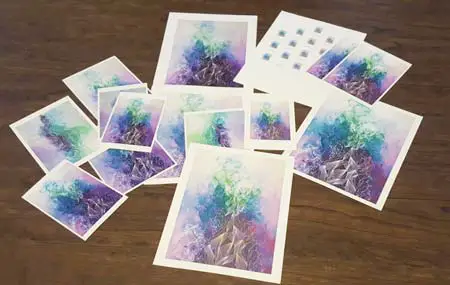 Getting your fine art printed on a piece of paper might be tricky if you don't know the secret tips behind success or didn't age much through your working experience.
Here will be a few pro tips that you can remember while working on your arts to get the perfect print every time. Thank us later.
Capture a high-quality image of your artwork to print as many details as possible on the paper. If you aren't taking the photos with a good camera, your painting might look blurry in the final print and not produce enough sharpness and depth of colors.
Use the right paper depending on your work. As the final print quality and sharpness depending on the paper's texture, select something that goes with your artwork. Also, consider how long you want it to sustain.
Get used to proofing images by tweaking as required. You might be going to spoil some paper and ink initially, but once you are familiar with the paper's behavior and the ink, you will save a lot in the future.
Remember that your image's color might look darker on the final print than the file on your computer. So, correct the color accordingly.
Invest in a good quality monitor that will show you the true colors of your image file. If you run out of your budget, try calibrating your monitor for better color.
If you are selling artworks, select the good paper and ink possible as it will be praised by other people in the future and have better longevity.
Don't stack up printed papers immediately after coming out of the printer. Lay them down separately to dry and then stack them up using clean papers in between.
Keep some bleed area on the final print to put your signature and a serial number of the art to make it look more elegant.
Pro tips: You can use these art printer for getting perfect print.
Frequently Asked Questions (FAQ)
Which is the best paper for art prints?
It depends on personal preference. If you are printing regular photos, then a bright white glossy paper will work fine.
But if you are printing something more valuable, you should go for cotton rag as they produce highly saturated colors and excellent detail. They also don't contain any harmful chemicals to protect your artwork against time.
How to get high-quality art prints at home?
To print fine arts at home, you will need a good camera, a good monitor that shows the perfect color, a photo editing software, a good printer, the right paper and ink, and some other necessary tools to get the job done.
What should be the size of the art prints?
There is no hard and fast rule about the size of the prints. It often depends on the size of the paper you are using.
Try to use the paper that matches the aspect ratio of your original artwork. If you don't find the perfect size, use a cutter to make your bespoke size.
Which is the perfect between glossy paper and matte paper?
For printing fine arts, matte-finished papers are considered the best as they give more saturated output than the glossy ones. They also help remove the glare when you preserve them behind glass.
Conclusion
Starting from the art print on the caves' walls where our primitive ancestors lived, we have reached an era where printing is easier than you can imagine. But still, people struggle a lot about printing their fine arts correctly on paper.
Everything is crucial in this business, from choosing the best paper for art prints and ink to knowing how to manipulate your images to get the perfect final print.
Many smaller details are often overlooked, especially by the beginners, such as don't emphasize the paper's texture or finish for fine art prints.
Take all our statements into consideration as you grow to become a veteran artist whose artwork becomes the signature, and people recognize them instantly.
Create something for this world that the far next generations will be compelled to praise!