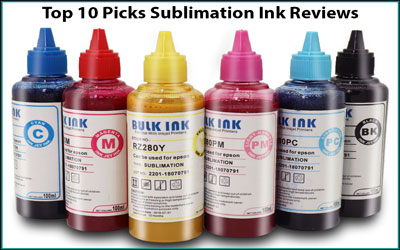 Over the past years, sublimation has skyrocketed. You see it everywhere. Mugs, T-Shirts, phone cases, you name it. But why is it? Customising and personalising products has become a popular and profitable business.
But if you want to run a profitable and successful sublimation, you need the right tools. One of them is sublimation ink.
As such, we've made a list to help you choose the best sublimation ink for your business.
You often see Shopify stores popping up out of nowhere now and then. Right now, it's just an easy way to make money on the side.
While it's true that there is a lot of competition, that doesn't mean it's too late to get in. Below, you'll find some sublimation inks to kick-start your sublimation business.
Best Ink for Sublimation: Our Top 10 List!
To run a successful business and stand out, you need to be smarter than your competition. But you also need the right equipment. So, here are the top 10 sublimation inks you can find.
1. TrendVision Technology Printers Jack 400ML Sublimation Ink
Choosing a sublimation Ink can be scary since you're probably going to get lots of them for your new business. However, this sublimation ink has everything you will need to take off your business.
This sublimation ink is compatible for WF7610, WF7010, WF7710, WF7720, WF7110, WF7210, WF3640, WF3610, WF3540 printers. Yeah, that's a lot of text, but you need to know that before you make a purchase.
With this sublimation ink, you can express yourself as much as you want. Christmas smug, Halloween T-shirts, anime phone cases, you name it.
You simply need to put your sublimation ink in your printer and then choose the mirror printing setting. After that, set the temperature for a specific amount of time. Now you need to apply pressure and enjoy how you turned your digitally printed image into a permanent image.
If you're worried about your ink fading into nothingness after you wash it, then you don't have to. This ink is fade-resistant, and it's also quite easy to install and refill.
It's incredibly annoying when your printer gets clogged after using many sublimation inks. Cleaning it just takes a lot of time. Especially if you run a business. However, this sublimation ink does an excellent job of preventing this and provides smooth printing.
Highlighted Features
Vibrant colors.
It doesn't fade away when washing.
Stunning performance on polyester.
Never clogs or dries up inside printers.
It's easy to use.
2. CoYIBod Ink for Sublimation Printer
This is the best sublimation ink available for inkjet. It has a wide variety of colors. They are vibrant enough, which helps get people's attention to your products which is great if you run a business.
Moreover, it is an excellent and top-rated sublimation ink. You can use it for mugs, t-shirts, phone cases, mouse pads, coffee cups, and so on.
It is also quite affordable compared to other sublimation inks. When running a business, it's also a great idea to save up money. You simply cannot go around throwing money, as this would significantly impact your business growth.
If you're worried about this ink coming out dark, then knowing it doesn't come out as dark will make you happy. These colors are vibrant, which is helpful when you want to get everyone's attention on your products.
Refilling ink can be annoying and time-consuming. However, the product is engineered to do a fantastic job when it comes to refilling. It has extended tips to make refilling ink into an ink drum a lot easier and less time-consuming.
Furthermore, the company is also kind enough to send you an ICC profile right after you purchase this sublimation ink.
Highlighted Features
It's super affordable.
It's easy to use.
Works for a wide array of projects.
Outstanding performance on different surfaces.
Extended tips for o easy refills.
3. Xcinkjet Sublimation Printer Ink
This sublimation ink is compatible with a lot of printers. Sometimes storing several sublimation inks can be tedious and time-consuming. You also have to keep in mind that they could easily leak if they are not stored properly. You won't have that problem with this one.
On the other hand, this sublimation ink has proper sealing, which is neither easy to leak nor easy to dry. So, don't worry about it leaking overnight and making you lose your cool as well as hundreds of dollars.
As a shop owner, you need a lot of different products to get more customers s from various niches. This ink can be used for many applications—T-shirts, pillows, mug cups, shoes, cloth printing, and so on.
Moreover, the ink has a lot of vibrant colors that are nice to look at. It also has a print effect contrast effect, which is pretty cool to have. Especially if you want to get a lot of eyes on your products, it won't let you down.
If you care about toxicity and inks that could put your health in danger, then this is an excellent product for you. It's not toxic, so you can use it at peace, knowing it won't cause harm to your health.
Highlighted Features
Wide range of applications.
Proper sealing to prevent leakage.
Pleasant colors to look at.
Non-toxic and less energy consumption.
Great customer support.
4. Inktec 6 X 100ML Professional Sublimation Ink
This top-notch sublimation ink is known for its fantastic performance, fast drying times on transfer paper. And it can be used in different products.
Inktec is a company mainly known for its top-rated products, quality management activities to keep up its customer satisfaction.
Your limit is beyond the sky. This sublimation ink can be used for innumerable things. You can use it for mugs, mouse pads, phone cases, shot glasses, T-shirts, and so on.
More so, this sublimation ink has vibrant colors. Vibrant colors are crucial nowadays. To run a successful business and stand out from the crowd, you must use vibrant colors. They are widely used since it's so easy to get everyone's attention on vibrant colors.
If you need to mass-produce several products and need to get back to many clients as soon as possible, then this is an excellent choice for you. This sublimation ink dries on transfer paper in a short amount of time. So, no need to waste a lot of time waiting for ink to thoroughly dry.
Highlighted Features
Fast-drying times.
Sticks for a long time.
Intense and vibrant colors.
Works with printing & heat-transfer.
It's environment friendly.
5. TBTeek Sublimation Ink for Heat Press
This a high-quality sublimation ink for those who want the best of the best. You also get a free ICC profile, which is always refreshing to get. This also makes it very good ink for sublimation heat press.
It's amazing just what you can do with a printer and some sublimation ink. You can build your very own customized mugs, T-shirts, phone cases, and so on. You can even sell your products and make a living off of it.
Additionally, the ink has been heavily tested several times before being put on sale. It is safe and easy to use. So, it's okay to assume that it won't be damaging your printer.
Color reproduction plays a significant role when choosing a sublimation ink. Some of them do a poor job of handling colors. However, this sublimation ink does an outstanding job when it comes to color reproduction. You get vivid and beautiful colors.
Fading can destroy your designs in just a matter of seconds. Many of us have experienced that horrible feeling of our hard work being damaged by water. This is why you must get fade-resistant inks. This sublimation ink is fade-resistant. So, say goodbye to fading.
Sun protective clothing has gained a lot of popularity throughout the past years. It is becoming more and more common as time goes by. This Anti UV refillable sublimation ink is durable enough, compatible, and can be used for many things such as T-Shirts and mugs.
Highlighted Features
It's completely fade-resistant.
Stunning color reproduction.
Wide range of uses.
The impressive high printing rate.
It's clog-free.
6. Inkxpro Brand 4X100ml Sublimation Kit
This is an excellent sublimation ink for those who are just getting started and want to design their own customised products.
Incidentally, this sublimation ink is the best sublimation ink for Epson 7710. So, don't be scared to turn your Epson printer into a brand-new dye sublimation.
Some sublimation inks make your colors look off and just not pleasant to look at. Moreover, this sublimation ink, on the other hand, has fantastic and vivid colors after being pressed into the surface.
Fortunately, it's self-explanatory. If you have no prior experience, setting up all of this may seem a little overwhelming. And I can't blame you because it is. However, this sublimation ink is relatively easy to use. You simply need to load it into your printer and follow the direction provided.
Even if you are a beginner, you don't want to spend hours trying to get something done as it discourages you from doing it again. This is where this sublimation ink shines the most. It's effortless to use and gets the job done incredibly quickly.
Clogging can occur over-night and stop you from getting things done the next day. This sublimation ink does not clog up even if you don't use it for a whole month.
Highlighted Features
Works well with A sublimation paper and Textprint R.
Great for mugs, and T-Shirts.
Water-based inks.
Effortless to use.
Beautiful and vivid colors.
7. Seogol Sublimation Ink
This sublimation ink outperforms most sublimation inks. It has beautiful and vibrant colors, as well as Anti UV.
With the right mindset and spirit, you can build just about anything. You can finally print your own designs on your T-shirts, mugs, pillows, phone cases, and so on.
What if your newly acquired sublimation ink fades away right after washing it? This is a frightening thought to have. Imagine all that money you'd be losing. But with this sublimation ink, you can sleep well at night, knowing it won't fade into nothingness just as easy.
Vibrant colors stand out from everything. This is precisely why sublimation is so popular. Everyone loves to have something printed on the T-Shirts that represent them and pleasant is to look at. So, with this sublimation ink, you get friendly and beautiful colors.
The Anti UV refillable ink is as strong as it can get. It is both durable and stable. So, don't worry about it breaking apart after a few uses.
Moreover, it's straightforward to use. If you read the reviews on the websites that sell this product, you will find that even beginners are happy with this purchase. It gets the job done in a fast and reliable way.
Highlighted Features
Works like a charm on polyester.
Bright vivid colors.
It's waterproof so doesn't fade.
Made of top-rated materials.
Color lasting stability.
8. AOPANE Anti-UV Ink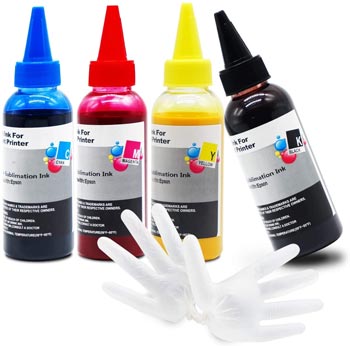 The AOPANE Anti-UV is the perfect sublimation ink for anybody who wants to make a gift for someone special. You can make just about anything with this sublimation ink if you put your mind to it.
Making your own personalised mug or phone case is not difficult at all. You simply need to choose an image, get some sublimation ink, and then enjoy your very own custom phone case.
If you want to wear a customised T-Shirt, you would want it to look as cool as possible. This sublimation ink provides smooth and vivid colors on any product.
Ink amount changes as your ink start to fade. It is a common problem and can lead to angry customers complaining about how poorly designed your products are.
And so, it's a great idea to buy a fade-resistant ink. This ink is fade-resistant, so customers wouldn't be knocking on your door.
For your average sublimation ink, this one is quite cheap. But that doesn't mean it is a cheap knock-off and you should stay away from it. It's actually quite the opposite. Despite its price, it is still the right choice, and by no means is it a low-quality ink.
Highlighted Features
Realistic and true to life colors.
Smooth texture.
Micron-3 stage filtration prevents clogging.
It's affordable for its quality.
It's scratch-resistant and waterproof.
9. Subnnur Sublimation Ink Heat Press Transfer
This ink has stunning and vivid colors to make your designs look as good as possible. So, you only need your imagination to make the best designs for your shop.
Everyone loves this sublimation ink. To think you get such a high-quality and top-rated sublimation ink for such a small amount of money. That alone makes it an excellent choice for many people who don't want to spend a lot of money on ink.
Don't let the price fool you. It might be cheap, but it doesn't mean that won't you get sterling results within a short amount of time. With this sublimation ink, you can finally bring your ideas and wildest dreams to life. So, it's not hard to see why it's the best ink for sublimation heat press.
Moreover, its vivid colors just make anything you make stand out compared to other sublimation inks. True to life colors mean a lot when you want to make your own personalised products and with this sublimation ink, you can make that possible.
Clogging can stop you from getting your job done and possibly make you lose a lot of money. For this reason, this sublimation ink was made to prevent clogging experience.
Highlighted Features
Incredibly powerful colors.
Outstanding durability.
Waterproof and fade-free.
Quick-dry formula.
No-clogging and no-drying in machines.
10. Topcolor Sublimation Ink Bottles 400ML Sublimation
Choosing your very first sublimation ink can be difficult and tedious, but at some point, you have to settle for something.
As long as you're willing to put in the time, you can build whatever is in your mind. With this sublimation ink, you get the right tools to bring to life anything you want. That's the beauty of art.
You don't need to worry about fading at all. The product was further designed to prevent the likelihood of clogging experience.
Fading can ruin your beautifully-designed T-Shirt and make your time go to waste because you now have to start over again. But no need to worry about such trivial things anymore. With this ink, you can make anything you want without having to worry about fading at all.
Sometimes after a while, you begin to notice cracking on your print. This may be a sign of under cured ink. Whatever the reason may be, it is always a downer to see that on your dedicated efforts.
Moreover, it ruins your design. Lucky for us, this sublimation ink guarantees no cracking on your prints.
Highlighted Features
Easy to set up and no clogging.
It can be used on many surfaces.
Comes in several bottle sizes.
No cracking or fading.
Accurate and smooth colors.
What To Look Before Purchase Sublimation Ink?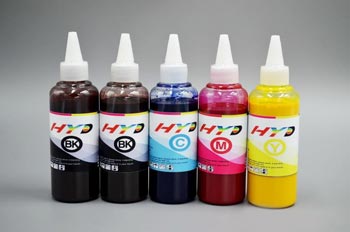 Choosing the best ink for sublimation printer can be a challenging task. Especially if this is your first and you have no idea whatsoever on what you should look out for. Thus, we've summarised the key points you should look out for when choosing the right sublimation ink.
Read More: How to Choose Sublimation Paper for Dark Shirts. Not sure what to use for dark fabrics? This short guide answers the most common questions.
Compatibility
This may not be surprising, but you would be surprised by how common it is to buy ink that doesn't work on your printer. Have you noticed those weird numbers on the ink you want to buy? Well, they are there to tell you whether the ink is compatible with your printer.
In addition to that, you should ask the manufacturer if your printer is compatible with your printer, just to make sure.
Color Quality
Have you ever realised that you can't seem to take your eyes off a beautiful rainbow? There is a reason for that. It is very appealing to the eyes to look at so many and beautiful colors. It's also easy to get someone's attention when there are many colors.
And so, it is crucial to get a sublimation ink that has vivid colors. Not only does it boost your sales but also your customer's satisfaction with your products.
Fade-Resistant
It's surprising just how easy your ink can fade away. It's really annoying to see just how much time you put into this one T-Shirt just to have it fade away like it's nothing.
To prevent this from ever happening, we recommend getting sublimation ink that is waterproof and does not fade away. Usually, manufacturers make it very clear in their products that their inks do not fade. So, pay attention when you want to buy a sublimation ink.
Clogging & Drying
You're always going to run into an issue, but if you can somehow reduce that number, your life will be substantially easier. Clogging is not an exception. When your printer gets clogged up, it stops you from doing your job.
Trying to unclog it also takes time. So, it's not like you can do it in a short amount of time. To prevent this from happening, we recommend getting sublimation inks that can handle this. Mentioned as before, manufacturers make it very clear that their products do not clog up.
Cracking & Peeling
Have you seen those old and scuffed up T-Shirts with cracking all over the print? That's pretty common, but that doesn't change the fact that it ruins your design. You really want to be careful here.
Low-quality products lead to angry customers s and fewer sales. So, an easy way to prevent this situation is to buy durable and robust ink.
Getting durable and reliable ink will not only save you so many headaches, but also a lot of money in the long run.
Read our related article on How to Get Printer Ink Off Hands. Ink stains are notoriously difficult to remove, but these tips and tricks can help!
How To Fill Sublimation Ink In Your Printer?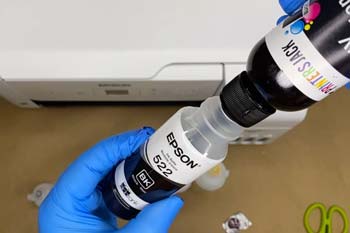 Filling sublimation ink in your printer is actually relatively easy and doesn't take much time either. You will be doing this quite often, so it's better to learn this now and get this out of your way early on.
At some point, you are going to run out of sublimation ink, and you will need to refill the cartridges to keep on printing more stuff.
1. Remove Ink Cartridges
Before you go any further, you need to remove your cartridges to refill them. Don't worry. As scary as it might seem, you won't break your printer in the process as long as you follow our step-by-step guide. Just make sure not to move the print head by hand, things could get messy if you do so.
Steps to Take
You first need to turn on your printer.
Gently open up the scanner.
Now press the stop button.
Slowly grab the cartridge and lift it up.
Grab the new cartridge and pull it out.
2. Fill The Cartridges
Since you got that out of the way, you can finally start filling the cartridges one by one. This is the hardest part and may seem a bit difficult if it's your first time doing so.
You are also going to need a few things to fill the cartridges. While it may seem like it takes way too many steps, once you get the hang of it and start doing this every now and then, you are going to notice how easy it becomes after a while.
Things You Will Need
Please be careful when using a needle. Some of them are incredibly sharp. The last thing you want to do is hurt yourself while filling cartridges.
Steps to Take
Poke a hole on top of the sublimation ink.
Slowly squeeze out the sublimation.
Keep doing this until you fill it up.
Put it down inside the cartridge.
Slowly fill it up.
You may need to angle it as you may get air bubbles.
Put your plug back in.
3. Put Cartridges Back In
As I have said before, it takes quite a few steps to refill your cartridges, but it's definitely going to be worth your time. It is tedious and troublesome, but you need to. Trust me, you will get used to it after a while.
This is the last step to fill your cartridges. You need to be careful when putting it back in to avoid any possible damage.
Grab the new cartridge and put it back in
Push it down until you hear a clicking sound
Close the scanner unit
Enjoy your new sublimation ink
And that's just it. All you need to do is stay focused when removing your old cartridge to prevent any damage to your printer. If required, you may have to read your manufacturer instructions to properly remove the cartridges.
Sublimation Ink vs Pigment Ink: Which One To Choose?
This is a question that often gets brought. You've probably seen it before but don't know the answer. So today, we are going to lay out some differences between them. What makes them unique in different scenarios to help you choose the best sublimation ink.
Choosing the right ink is what separates a good seller from a great seller. You must learn the differences between these two inks, as this will help you tremendously as you move on.
Using the wrong ink could easily ruin your design and overall design-quality. So, you really want to be careful here.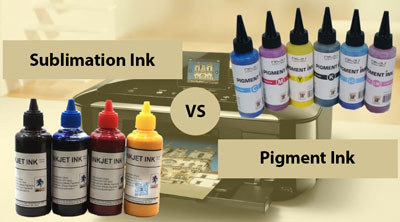 Pigment Ink
Pigment inks have special properties that make them useful for coloring. Pigments are used for many different things, such as coloring paint, ink, plastic, cosmetics, and fabric.
Additionally, this kind of ink is also fairly durable. To put into perspective sublimation inks, start to fade away after a few years, but pigment inks can survive up 200 years in proper storage and still go on strong.
Moreover, pigment ink is waterproof, so to take advantage of that, you should use pigment ink when you want to print dark and light cotton materials.
Plus, it is the go-to ink for photographers and fine art dealers and is mainly used by people who need high-quality images.
Sublimation Ink
Sublimation ink is the most common type of ink. You see it everywhere. It is often used on T-shirts, mugs, plaques, pillows, and much more.
Besides, sublimation ink is also more durable and reliable than pigment ink. It produces vivid and beautiful colors. That is important if you want people to buy your products as it's easy to get someone to focus on rainbow-like products.
Furthermore, sublimation ink is also waterproof, so no need to worry about water running your design. It's also impressive against cracking.
See our related article, What is Sublimation Ink Used For? Learn more about sublimation ink and its uses in this guide!
So, Which One Should I Choose?
By now, you know the main differences between them, but you might still be confused. As always, there are going to be times where you use pigment ink over pigment ink and so on. So, here are some scenarios where they do best at.
Pigment Ink Advantages
Pigment ink works best with natural fabrics and cotton
It's resistant against sunlight
When used on cotton, it looks phenomenal
Sublimation Ink Advantages
Vivid and colorful
Wide range of color selection
It's waterproof which is ideal for long-term use
Frequently Asked Questions
Now, we will go over the top 5 most frequently asked questions about sublimation inks that you may have.
How Long Does Sublimation Ink Last?
This heavily depends on the supplier as each one of them has different specifications as well as storage instructions. But it usually lasts for about six months. Then again, it's best to ask your supplier for precise instructions.
Can You Do Sublimation With An Iron?
Yes, you can apply heat transfer using a regular iron. You simply need to put a towel over and then hold the iron against for about 10 to 15 seconds. After that, pop it up and hold it down again on the other part, and you should be done by now.
Can You Sublimate On Metal?
It might be a little surprising, but you can sublimate on metal. The process is pretty much the same, so no need to worry about it not working correctly.
Is Sublimation Ink Waterproof?
Yes, it is indeed waterproof. Everyone loves sublimation ink because of how durable it stands against water and cracking.
Can You Use Sublimation Ink In Any printer?
Epson inkjet printers can be modified and used for sublimation. All you have to do is buy sublimation ink and refillable cartridges. After you've done that, you simply have to put the new cartridges in the printer, and now you have a sublimation printer.
Final Words
As overwhelming as it may seem, choosing the best sublimation ink is not tough and doesn't take much time. As you know by now, there are a few things to keep in mind before you make a purchase, but it all comes down to reading and doing some research.
Related article that you may like: