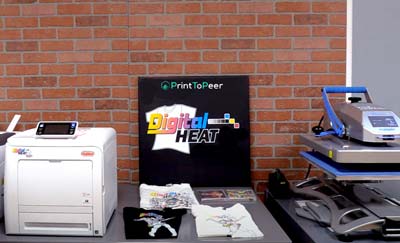 Imagine receiving an order to print a bunch of t-shirts or other garments.
You decide to do it by transferring the graphics using transfer paper and a heat press.
You have an old printer in the store, but when you try to use it to print transfer paper, you realize the results are not so good.
Do you know what you need? A high-quality modern printer with the ability to print specialty paper such as heat transfer paper.
With the best printer for heat transfer paper, you'll be able to transfer beautiful artwork to various surfaces.
In the review below, I will help you find a quality heat transfer printer for your needs whether you are a home user or a professional.
Let's jump in.
Benefits of Using Transfer Paper Printer
If you're just getting started with t-shirt printing or decorating other items with heat-transfer designs, getting a modern printer that can put artwork on transfer paper is a great step. The device offers you great perks, such as the following.
You save on costs
Taking your t-shirts or garments to a t-shirt printing store can be expensive. On the other hand, buying blanks and printing them yourself can save you some cash. The long-term savings outweigh the printer's initial cost.
You get the exact results you want
Ever taken your garments to a t-shirt printing professional, only to get disappointed by the results? Perhaps, if you print them yourself, you'll come up with the exact designs you want. All you need is a printer for iron on transfers.
Versatility – you can print other things
If you ever have paperwork or photos you need to print, you can use the same machine. Some printers also contain other handy features such as copying, scanning, and faxing, and you might find them useful as well.
The Best Printer for Heat Transfers in 2021: My Top 10 Picks
1. WorkForce WF-7710 Wireless Wide-Format Heat Transfer Printer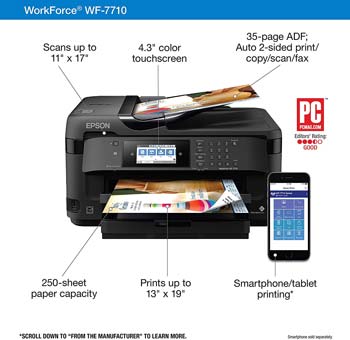 In the US and around the world, Epson is one of the most trusted printer brands. The WorkForce WF-7710 is an Epson model that comes with amazing features that you will find handy if you'd like to print on heat transfer paper.
One of these features is the PrecisionCore technology, which allows you to print borderless.
The printer has an input capacity of 250 sheets. Apart from that, there is a rear tray that carries specialty papers, including heat transfer paper.
But do you know why I think this machine is the best printer for heat transfer vinyl?
This printer uses pigmented inks rather than dye-based ones. Pigment ink delivers crisper results, and you can be certain the designs will be beautiful.
Another factor that attracts people to this device is that it is an inkjet. For that reason, it is low-cost, and yet the quality is fantastic. Moreover, inkjet printers are known to be reasonably fast and easy to use.
Something I find amazing in this inkjet printer for heat transfer paper is the screen. It is a 4.3-inch touchscreen interface that makes operation a cinch.
The screen allows you to quickly choose settings and access values such as the ink levels.
You might also appreciate the automatic double-sided printing functionality, which speeds up things and offers convenience.
Highlighted features:
All-one printer – scan, fax, print, copy.
Prints sizes between 4×6 to 13 x 19 inches.
Has a 4.3-inch touchscreen for easy control.
Has a 250-sheet capacity and a special rear feed for specialty paper.
Comes with Wi-Fi capability for remote printing.
Duplex (auto double-sided) printing for speed and convenience.
Uses four pigment-based inks for crisp results.
6 pages per minute for color.
2. Canon PIXMA G6020 All-In-One Supertank Heat Transfer Vinyl Printer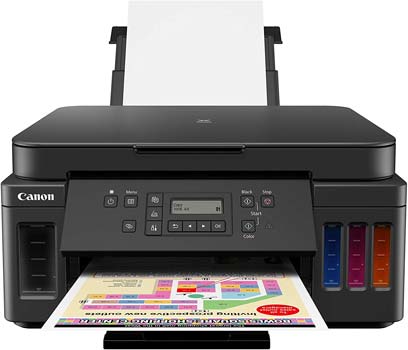 Do you Alexa at home or in the office? If so, wouldn't you like a printer that you can control using Alexa? Introducing the Canon PIXMA G6020 All-In-One Supertank, which is one of the Alexa-compatible printers.
Canon is yet another trusted brand, and if you're looking for a heat transfer vinyl printer, its PIXMA G6020 All-In-One Supertank will be a great selection.
Even though this machine is relatively cheaper than other models of its price range, the quality is great. That is why it is worth considering if you're on a budget.
The reason why this unit is suitable for someone seeking the best printers for transfer paper is that it creates quality prints. Its pigment ink produces sharp texts and images, resulting in fine transfers.
Amazingly, the printer offers the freedom to use pigment-based or dye-based ink.
When I first looked at the machine, I thought it had a small capacity. I can't explain how surprised I was to find that such a small printer had a capacity of 350 sheets. Aside from regular paper, the printer accepts glossy photo paper and HTV.
If you seek a printer that enables you to complete your tasks speedily, this is it. The printer offers you printing speeds of up to 6.8 pages per minute (PPM) when printing color pictures.
Highlighted features:
Prints photos of sizes between 3.5 x 3.5 and 8.5 x 11 inches.
Versatile – does printing, copying, and scanning.
Efficient printer with a 6.8 ppm printing speed.
Capacity of 350 sheets with ability to print specialty paper.
Uses 4 inks that can be pigment or dye-based.
3. Brother Wireless All-in-One Inkjet Printer for T-shirt
Would you like a printer that lets you retrieve documents from a cloud and print them directly on your heat transfer paper? The Brother Wireless All-in-One Inkjet Printer may be exactly what you need.
The reason why so many users think that this machine is the best inkjet printer for heat transfer paper is quite simple – it comes with a web function that allows you to print on your HTV directly from a cloud.
This capability allows you to easily share and download documents from a cloud or easy printing anywhere.
Another feature meant to facilitate remote printing is Wifi capability. You don't need cables to connect your media devices, as you can just use Wifi.
A unique thing about Brother Printers is that they consistently deliver reliability and quality, so you can focus on the greater picture. One way that is portrayed here is the convenient paper handling offered.
The machine has a generous capacity of 100 sheets, which is a big deal considering this is a compact device. Amazingly, you can print all sorts of paper from regular paper to cardstock and heat transfer paper.
The automatic document feeder is another well-appreciated feature.
Do you want to be able to enjoy a smooth workflow and navigate menus with ease? This printer is for you. Its 1.8-inch LCD makes navigation a cinch.
Highlighted features:
100-sheet input capacity with an adjustable paper tray.
Automatic document feeder for ease of use.
Comes with cloud-printing capability for remote printing.
Uses individual snap-in cartridges for ink.
6 ppm speed for color images.
Has Wifi connectivity for cable-free printing.
1.8-inch color LCD for effortless control.
4. HP Smart-Tank Plus 551 | printer for heat transfer and sublimation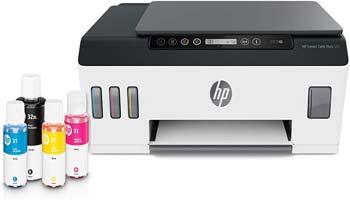 Are you seeking a more compact option that fits your limited space at home? Try the HP Smart-Tank Plus 551. Albeit small, this machine comes with several functions and it also has a good capacity for home-use or a small office.
The first reason why this unit is a favorite for many people is that it offers versatility. With the Smart-Tank Plus 551, you have the option of doing printing, scanning, or copying your heat transfer designs.
Quality is something you can't ignore when doing heat transfer printing. Thankfully, this printer has you covered in that regard.
The colors are vibrant and the printing quality is crisp. If you want to transfer beautiful graphics to your t-shirts, cups, or any other substrate, this is a printer you can count on.
If you're on a budget, printing costs are some of the factors you should pay attention to. I don't know if you're aware, but a printer that uses ink tanks is cheaper to run than one that uses cartridges. The Smart-Tank Plus 551 uses ink tanks and comes with enough ink to serve you for two years.
Another reason for getting this model is the wide range of printing size options available. You can print in the following sizes: 3×5, 4×6, 5×7, and 8×10 inches.
Moreover, you can print various kinds of paper – normal paper, envelops, and heat transfer paper.
Highlighted features:
Versatile functions – print, copy, and scan.
High printing speeds of up to 11 ppm.
Various printing size options – from 3×5 to 8×10.
Comes with wireless connectivity via Wi-Fi.
Compact and suitable for small spaces.
Has a good capacity for home or a small office – up to 100 sheets input.
5. Epson Stylus C88+ Inkjet Printer
Of all the factors that determine the best printer for t shirt transfer paper, one factor stands out – the quality of the prints.
A printer may have all the great features you can think of, such as Wifi connectivity and duplex printing, but if the prints it produces are not very good, the printer will not be very useful to you.
So, are you looking for the top printer for iron on transfers with regard to printing quality? What if I told you there's a printer that produces images exactly the way they appear on the screen?
Introducing the Epson Stylus C88+. Boasting an amazing resolution of 5760 x 1440 dpi, this printer transfers high-clarity images that are vivid and vibrant.
Have you ever encountered issues with smudging when printing? An ink smudge diminishes the quality of your prints and makes the images look absurd. To avoid this problem, you got to use a high-grade printer such as the C88+.
This unit prints flawlessly on all sorts of paper. You can feed plain paper, glossy photo paper, and even HTV.
As mentioned before, the kind of ink a printer uses plays a key role in determining the quality and durability of the prints. This machine uses the DURABrite Ultra pigment ink, which produces fantastic results and lasts long.
The ink is contained in cartridges, which makes it a breeze to replace individual colors.
Lastly, the machine prints in sundry sizes – 4×6, 5×7, 8×10, and 8.5×11 inches. This versatility is quite useful, giving you the freedom to print for different purposes.
Highlighted features:
High printing resolution for beautiful results – 5760 x 1440 dpi.
Efficient printing speed – 14 ppm for color images.
Great paper handling capability – 120 sheets input tray.
A variety of printing sizes – from 4×6 to 8.5×11.
Uses pigment ink for quality transfers.
6. HP OfficeJet Pro 9015 Inkjet Printer for Heat Transfer Paper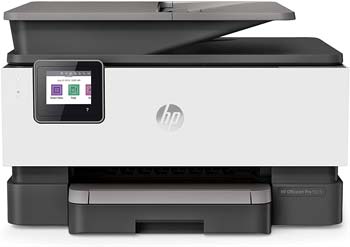 Are you looking for the best inkjet printer for transfer paper in terms of affordability? The HP OfficeJet Pro 9015 All-in-One Wireless Printer would be an excellent choice.
Although prices vary with time, this machine is one of the consistently inexpensive machines I have come across.
What I find fascinating about the machine is that it is not only expensive but also good-quality. It goes for a fraction of the price of some units out there that offer comparable value.
First off, this machine offers you a range of functions, including copy, scan, fax, and print. Thus, the device lets you complete a wide array of tasks. If you need a machine that will not only handle heat transfer paper but also work on other documents, this one would be a great pick.
One of the reasons for me liking this printer is that it is built to make operation a breeze. The first way you know that is true is that there is a built-in screen. It is actually a 2.65-inch color touchscreen that gives you easy control and lets you access various values, such as ink levels, more easily.
Another feature that makes the machine easy to use is the Wifi connectivity. With this, you don't need to connect any cables to print from your smartphone or PC.
The automatic two-sided printing also makes things quite simple. You don't need to flip the document to print the other side.
Highlighted features:
Comprehensive printer with all functions – print, fax, scan, and copy.
2.65-inch touchscreen for easy control and access to settings.
250 sheets capacity with a 60-sheet output.
Comes with wireless capability via Wifi.
Efficient machine – 18 ppm printing speed.
Features duplex printing capability for efficiency.
7. Epson EcoTank ET-2720 Printer for T shirt Transfer Paper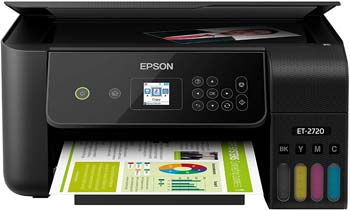 Epson is, without a doubt, a brand with a solid reputation. For anyone seeking the best printer for heat transfer paper, an Epson machine such as the EcoTank ET-2720 would be worth considering in printing. Let's go through some of this printer's features to see if it is suitable for your needs.
If affordability and low maintenance costs are some of the most important factors you're looking for, this unit suits you. Apart from coming at a relatively cheap price, this machine uses ink bottles instead of cartridges.
A lot of people don't realize it, but ink bottles are better than cartridges in terms of running costs. The printer uses 4 ink tanks, and the cool thing is, when you purchase this machine, you get enough ink to last you two years.
The only thing to keep in mind when using this printer is that using another ink brand apart from Epson might create trouble, even to the extent of damaging the machine.
Something else that is wonderful about this device is the scope of the paper and the sizes it can handle.
This is an extremely versatile machine that prints a wide range of paper types, including plain paper and glossy and matte specialty paper.
When it comes to the sizes, the machine offers the same versatility. You can print 3.5 x5, 4×6, 5×7, 8×10, 8.5×11, 8.5×14, A4, and A6 paper sizes.
While the Epson ET-2720 doesn't produce stunning results, it offers acceptable quality and handles almost everything you throw at it.
Highlighted features:
Compact size – suitable for limited spaces.
Limited paper capacity of about 30 ppm – fit for personal needs.
Long-term cost is unbelievably low, thanks to the cheap ink tanks.
Comes with an intuitive control panel that includes a 1.44-inch color screen.
Has remote printing capability via Wi-Fi.
Wide range of compatible printing sizes – from 3.5 x 5 to 8.5×14.
8. Canon IP8720 Wireless Printer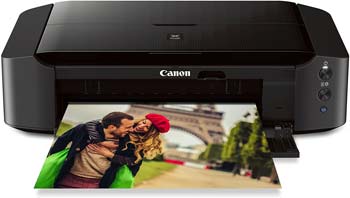 In the reviews above, we have mostly focused on printers that print up to 8.5×11 inches. But are you seeking a unit that goes an extra mile with regard to the maximum size printable? How about the Canon IP8720 Wireless Printer, which prints up to A3+ size?
This machine handles a variety of sizes, with the smallest size being 4×6 inches.
Do you want your heat transfers to have outstanding graphics with amazing detail levels? Then resolution is one of the main features to look out for when shopping for a T shirt printer. Speaking of that, the Canon IP8720 has an astounding 9600×2400 dpi resolution.
With such a super-high resolution, you're assured of fantastic details and beautiful transfers.
Aside from the resolution, another factor that allows the printer to produce great results is the ink system. This machine uses 6 ink tanks, with each tank having its distinct color. There's even a gray to ensure you have crisp images.
The ink that is used is pigment-based, so you're guaranteed quality and durability.
When shopping for a printer, the noise level is one of the issues you have to mull over. Thankfully, this machine works rather silently, without disturbing other people. There's even a quiet mode to keep things even more serene.
Ease of use appears to be optimized in this unit. Firstly, you don't have to turn on the machine every time. When you send documents to be printed, the machine automatically powers on.
Secondly, the printer comes with wireless capability. You can send your documents via Wi-Fi or Airplay.
Highlighted features:
Incredible printing resolution of 9600 x 2400 dpi – prints are outstanding.
Uses 6 inks, including a gray for amazing detail levels.
Can print wirelessly over Wi-Fi or Air print.
Automatic power on when you send documents to the printer.
Prints sizes between 4×6 and A3+
9. Epson WorkForce WF-7720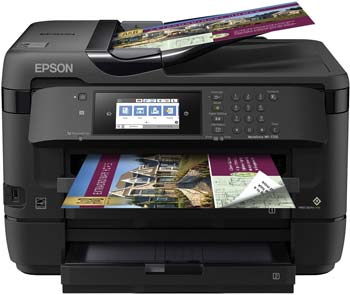 Need the best Epson printer for heat transfers to use in a busy office? You may want to learn about the Epson WorkForce WF-7720.
Built to carry up to 500 sheets of paper at a time, this machine is the ultimate solution for someone that needs to print in bulk.
The capacity is designed to be handled by two trays and an extra tray at the rear, which is specially designed for specialty paper.
When you have a lot of paper to print, speed is a key consideration. Thankfully, this printer is built with features to ensure efficiency is at its best.
One of these features is the automatic document feeder. Carrying 35 pages at a go, the feeder allows speedy feeding and printing.
Another feature built for efficiency is the duplex printing function. You can set your paper to be printed on both sides automatically to save time and reduce the effort needed to complete tasks.
Yet another factor that allows you to print quickly is the speed of printing. While other printers can do up to 15 pages per minute, this one does 30. Such a high ppm rate means that hefty tasks can be completed speedily.
If ease of operation is one of your deciding factors, a screen is something essential to have on your printer.
The Epson WorkForce WF-7720's screen is touch and it is 4.3 inches. For that, calibrating the settings and accessing the interface is a piece of cake.
Highlighted features:
Versatile machine with multiple functions – print, scan, fax, copy.
Prints a wide range of sizes between 4×6 and 13×19.
Comes with a 4.3-inch touchscreen for ease of operation.
Has a large capacity of 500 sheets and a 35-page automatic document feeder.
Does double-sided printing for speed.
10. Epson Expression Photo HD XP-15000
Finding a printer that can print large sizes that does not need great working space is quite a hassle. In most cases, printers that can create wide prints are massive and heavy.
Now, the last item on this list is a printer that Epson has designed to solve this issue. This machine is 30% smaller than others like the Workforce WF-7720, and even so, it can print the same sizes as these larger printers.
If you want to be able to print sizes between 4×6 and A3+, and you want to save space, this is the model for you.
Are you looking for a wide color range?
The benefit here is that you can work on broader assortments of projects and enjoy good results. With its 6 colors, including gray and red, the Epson Expression Photo HD XP-15000 effortlessly delivers vibrant colors and deeper blacks and whites.
Albeit featuring a space-saving design, this printer comes with a good capacity to enable you to work on bulky projects more quickly.
On the front, the machine has a tray that holds 200 sheets, and on the rear, it has another tray that can hold 50 sheets.
The rear tray is meant for specialty paper, such as cardstock and heat transfer paper.
If speed is of the essence to you, this is a printer worth getting. It features a 9 ppm printing speed, and for photos, you can create a 4×6 picture in under 30 seconds. Moreover, the machine does automatic double-sided printing.
Highlighted features:
2.4-inch LCD for easy navigating and setup.
Efficient printing – up to 9 ppm speed.
Comes with 6 ink colors for vibrant images.
Wide-format printing – up to 13×19.
Two trays with a collective input capacity of 250 sheets.
Optimized for mobile printing via Wifi.
Heat Transfer Printers Comparison Chart
| | | | |
| --- | --- | --- | --- |
| | | Maximum printing size (inches) | Printing Speed for Color Images (PPM) |
| | | | |
| | | | |
| Brother Wireless All-in-One | | | |
| | | | |
| | | | |
| | | | |
| | | | |
| | | | |
| | | | |
Printer for Heat Transfer Paper : Buyer's Guide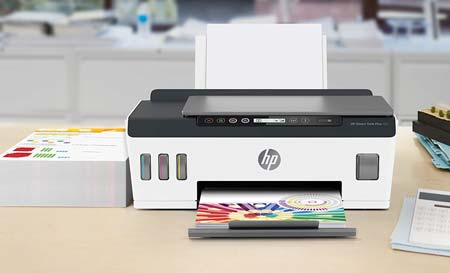 When shopping for a printer for iron on transfer, you can feel like all the machines are the same in terms of features and usefulness. However, printers are not the same. There are numerous bits of detail that vary across models.
For instance, one printer may have a touchscreen control panel while another may lack this useful feature. There are also huge variations in capacity, connectivity, printing speed, and so on.
To get the best printers for heat transfer paper, the following factors should be considered.
Material options
Some printers can only print normal white paper. Such models would not be very useful for iron on transfers, as these require special paper called heat transfer paper.
For that reason, material options are one of the most essential factors to consider when looking for the right machine.
A printer such as the Canon Pixma TS3320 can only print plain paper, and for that reason, it would be unsuitable for transfer paper printing.
On the other hand, the Epson Stylus C88+ prints a wide range of paper, including glossy and matte paper, envelopes, airmail paper, card stock, and heat transfer paper.
Read our related article on How to Use a Heat Press Machine. If you're new to heat pressing, you'll benefit from this guide! We cover all the bases.
Connectivity
Today, technology allows you to connect your printer to a wide range of media devices, including smartphones, tablets, computers, and even Alexa.
When it comes to connecting the printer to these devices, you have two options – using cables or using a wireless connection.
Cables include USB cords and Ethernet. These are okay, but they cannot provide the kind of convenience that a wireless connection such as Wi-Fi or Bluetooth offers.
A machine with wireless connectivity may be a little more expensive, but the ease of use offered is invaluable.
Read More: Sublimation Transfer Not Working. Here's how to get successful prints every time!
Speed
Are you in the t-shirt printing business? If so, efficiency is key. You don't want a printer that takes forever to do one iron-on print. Rather, you want a machine that helps you finish tasks quickly.
When deciding which machine to purchase, check the printing speed in pages per minute (ppm).
For normal paper, anything above 10 ppm for home use or 25 ppm for business use will do. On the other hand, for photos and transfer paper, a page per minute will be okay.
Quality of the prints
Whether you print your own t-shirts or you do it as a business, I take it that you care about the appearance of the prints. You want to see beautiful transfers with high clarity, right?
If that's the case, then you need to think about the quality that the printer produces. In that regard, check the resolution in DPI (dots per inch).
For quality's sake, a printer should have a DPI of at least 1200 x 1200. Of course, the higher the DPI, the better the quality of the prints.
Range of functions
You can get a printer that is only capable of printing. Or, you can get one that does more than just printing – faxing, copying, and scanning.
A printer with these extra uses might be costlier than one that does printing only, but it is more versatile and useful.
Paper Capacity
Do you know what the most beautiful thing about modern printers is? You don't need to stand beside them to feed it paper. You can print from a separate room if the machine has wifi or cloud capability.
What facilitates this is a feature called the automatic document feeder. Before buying your machine, you may want to check whether it has this feature, and what the capacity is.
Moreover, check the printer's overall paper-handling capacity. While some units can handle as few as 30 pages, others can hold up to 500 sheets of paper.
And of course, the higher the capacity, the greater the printer's size and weight. Thus, you'll need to consider your workspace when mulling over the capacity.
Screen
Not all printers come with a display screen. While this is not a totally necessary feature, it is extremely useful. A screen makes it super easy to navigate the machine's settings and access attributes such as the ink level.
A machine with a display screen might be more expensive than one without it, but the benefit provided is wonderful.
Top Heat Transfer Printer Brands on the Market

No matter what kind of printing machine we're talking about, certain names always come across as the best.
These brands, which are famous around the globe, include Epson, Canon, Brother, and HP. Buying from these, you're almost always guaranteed to get a quality product.
HP
Hewlett-Packard, or simply, HP, is a USA brand that was founded by Bill Hewlett and David Packard in 1939. The California-based company has a long and rich history, and through the decades, it has cemented its place in the electronics market.
Albeit being famous for computers, HP sells a wide range of products, including printers. Its printers are built with the customers' needs in mind, and thus, with useful features to make printing a breeze.
As HP enjoys economies of scale, it is able to produce quality products and sell them at reasonable prices.
Canon
Canon is a Tokyo, Japan-based multinational company. Founded in 1937, the company is a global leader in providing professional and consumer imaging equipment.
Some of Canon's products include cameras, printers, and copiers. What makes the brand special is its pioneering efforts and innovative ways in the world of imaging machines.
If you want the best inkjet printer for t shirt transfers or other uses, Canon is a brand you can rely on.
Brother Industries
Brother is a Japanese multinational company that produces and sells electrical and electronic equipment.
This company's history goes way back to the 1900s. At the time, the brand was known by a different name, and it only made sewing machines. It wasn't until the 1950s that the brand name Brother was coined.
Today, Brother sells some of the market's favorite sewing machines and printers. What makes Brother's printers special is that they are high-quality yet cheaper than similar products from other brands.
Epson
Epson is yet another company from Japan that is a global leader in manufacturing quality printers.
The company, which was founded in 1942, produces and sells some of the top-rated printers and printing accessories such as paper and ink.
In the debate of which is the best printer brand, Epson wins with regard to running costs. With its cost per text page averaging 6.9 cents, Epson keeps the costs low for you. Whether you are a home user or a professional, this benefit makes Epson attractive.
Tips to Use Heat Transfer Printer
If you're in the garment-printing business, you're likely already familiar with transfer papers. These are papers on which images are printed, with the intention of transferring these images to t-shirts or other substrates like canvas and wood.
In this section, I'll give show you the steps of printing transfer papers properly for great results.
Step 1: prepping the artwork
First of all, you need to choose a printer and have your transfer paper, fabric, and graphics ready.
The graphics can be images, writing, logos, or any other presentation that you would like to have on the fabric. You create the graphics or download them from the internet.
Of course, the graphics will be contained in a computer, smartphone, or any other media device.
Step 2: connecting the media source to the printer
To be able to print, you need to feed the graphics to the printer. Thus, connect the media source to the printer.
Depending on your printer's specs, you can connect the media device via a USB cable, an Ethernet cable, or a wireless network like Wi-Fi or Bluetooth.
Apart from that, you might need appropriate software such as Corel-draw, Adobe Illustrator, or the specific software that your printer uses. This will be installed on the media device and used to send the graphics.
Step 3: Print the paper
It is time now to print your transfer paper. Don't worry; there's nothing complicated about it. Printing a transfer paper is not different from printing regular paper.
Note: you need to print the coated side, not the other side with the tape.
Important tip: print the graphic as a mirror image, so that you can put it on the substrate, it will appear in the correct alignment. So, be sure to reverse the image before you hit print.
Frequently Asked Questions & Answers
What is the ideal printer brand to buy for printing heat transfer paper?
The same brands that are big names in normal paper printing make the ideal choices for transfer paper printing. These include Epson, Canon, HP, and Brother. If you want the finest quality of the prints, purchase from them.
How does transfer paper printing work?
Printing transfer papers works pretty much like printing normal paper. However, there are a few points to keep in mind. Firstly, you print the textured side. Secondly, you need to reverse the image before printing it.
After printing the paper, you stick it on the fabric using a setting machine or an iron and peel off the transfer tape.
Can I use any printer for transfer paper?
You can use a regular inkjet or laser printer to print artwork on transfer paper. However, keep in mind that transfer papers are not cross-compatible. That means an inkjet transfer paper cannot work if you're using a laser printer, and vice-versa.
What size of a printer for transfer paper should I get?
There are so many factors to keep in mind when searching for a printer for iron on transfers.
Regarding the size, you need to think about your needs. If you're a home user and only want to print t-shirts for you and friends or family, a compact unit with a small capacity will do.
On the other hand, if you're a t-shirt printing professional, you may want to get a bigger machine that can hold more paper and print at higher speeds.
Final Word
Whether you do heat printing for personal needs or your customers, you will benefit tremendously from a good transfer paper printer.
Since there are numerous printer brands and models, and not all of them offer the quality you need, you got to make your decision carefully. You see, most printers can handle normal paper, but the question is, can they print on transfer paper?
The point of this article was to help you get the best printer for heat transfer paper. I talked about different models with varying features.
For instance, the paper handling capacities vary. Also, some have a display screen while some don't. Be sure to keep your needs in mind when deciding which model to purchase.