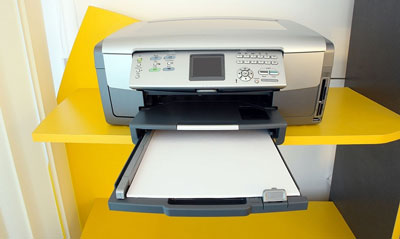 Pigment ink printers are the new hype in both the corporate and creative arena. After all, who doesn't like crisp black and white documents and prismatic colors on dazzling photo papers at the same time?
Their rich printing quality, wireless controls, and ease of use will cause quite a stir in your office space. Not to mention, the best pigment ink printers will go the extra mile to make the perfect prints that are consistent and true to color!
From making your DIY ideas a reality to printing HD photos from your last trip, they are fabulously resourceful in the world of art!
Today we are going to put some brilliant pigment ink printers to test in terms of resolution, speed, ink quality, network connectivity, duty cycle, and many more. So, if you're looking for an all-in-one printer, you're at the right place!
Our Recommended Best Pigment Ink Printers 2021
After much research, we have come up with 11 top quality pigment ink printers with a bunch of awesome specs. Let's find out what they are! 
1. Canon MX922 All-in-One Printer | Best Pigment Photo Printer
The MX922 has an automatic double-sided printing option that lets you cut down paper consumption without any hassle from your side. Now you can print 4″×6″ colorful borderless photos with its stellar 9600×2400 color dpi. How cool is that? 
First off, this one-of-a-kind printer supports a variety of media other than your A4 papers for regular office use.
Also, it is an outstanding printer in terms of image quality, speed, and responsiveness. That's why many consider it one of the best pigment ink printers on the market.
Scanning is also done with remarkable precision. Although pigment inks produce slightly less vibrant hues, the black color is satisfyingly dark, and it's the best for printing important office documents on the go.  
Its memory card slot and auto expandable output tray other than the wireless function made the MX922 our top choice of pigment ink printers for office use.
Moreover, the AirPrint feature allows you to connect the printer to your iPad and iPhone over Wi-Fi. Similarly, Google Cloud Print compatibility offers wireless printing. Plugging its USB 2.0 cable to your office PC or laptop will produce lightning-fast prints.
Also, the MX922 amazed us with its Full HD Movie Print option. It lets you print a still from the high-definition clips that you recorded on a compatible Canon EOS DSLR camera, PowerShot, and VIXIA camera. And yes, its CD/DVD printing tray addition lets you print photos on Blu Ray DVDs for a personalized, fun touch. 
Highlighted Features:
5.0″ LCD touchscreen for quick selection and adding creative filters.
Automatic double-sided printing option.
6 color individual ink system and a Photo Blue ink tank.
Supports AirPrint, Google Cloud Print, Wireless, and plugged-in printing.
CD/DVD printing is possible.
FHD Movie Print option for printing frames from your recorded HD videos.
2. Epson Stylus C88+ Inkjet Printer | Best Pigment Printer
This desktop model inkjet printer by Epson is truly a great one considering its speediest printing capacity and colorful, smudge-resistant prints all the way through.
Ultra-fine droplets of ink are used in printing your documents or giving your assignments a lively, professional look. The printer works with both Mac and Windows OS other than the traditional USB B port. It includes a handy photo editing software for creating your personalized photo book, calendars, and more.
What we dug about this printer is that it offers BorderFree photo printing in multiple frame-ready sizes! You can now print 4″×6″, 5″× 7″, 8″× 10″, and 8.5″×11″ photos on your devices. This is so convenient because you get to dabble in DIY creative projects as well!
You can print up to 23 black text documents or make 14 color prints in just one minute. Thanks to its individual ink cartridge system that lets you replace only one color that has run out, saving your money and ink usage.
Epson Stylus C88+ uses the extraordinary DuraBrite Ultra pigment ink for printing high-quality photos and documents on both plain and glossy photo papers. Printing up to 5760×1440 dpi means that graininess is something you likely never have to worry about.
Highlighted Features:
Individual ink cartridges for easy replacing of a specific color.
Prints frame-ready photos in 4 sizes.
Incredibly high page per minute (PPM) count.
Uses DuraBrite pigment ink for rich vibrancy and minimum graininess.
The user-friendly software helps create photo books, calendars, etc.
3. Canon Pixma iX6820 Wireless Business Printer
A Canon wireless office printer with its excellent color quality and user-friendly features is ready to be the glory of your office. The Pixma iX6820 printer incorporates a full photolithography inkjet nozzle engineering to make outstanding documents.
Thanks to its 5 individual ink tank system, you can save a good deal from your paper and ink budget every month. Its maximum resolution is a stunning 9600×2400 dpi that lets you print high-quality, smudge-resistant documents.
It also supports Google Cloud Print, AirPrint, and Pixma Printing Solutions for taking the printing commands. 
Making financial reports, handouts, or printing your term paper can be done in the shortest amount of time. You'll be blown away by the types of documents you can create with the iX6820. For starters, you can print the teensy 4″×6″ mailers, 11″×17″ spreadsheets, and huge presentation charts in 13″×19″ sizes!
Just when you thought the iX6820 got a lot of features already, it's ready to amaze you with the My Image Garden software. It packs all your necessary printing features, special filters, Full HD Movie Print in simple controls. Lastly, you will be granted access to Creative Park Premium for downloading unique creative content!
Highlighted Features:
Prints a 4″×6″ borderless photo with ChromaLife100+ function in around 36 seconds.
9600×2400 dpi for excellent printing quality.
Prints 13″×19″ presentation charts as well as 4″×6″ mailers.
Access to My Image Garden and Creative Park Premium.
Has a Quiet Mode and Auto Power On for starting as soon as you send a file over wireless.
4. WorkForce WF-7710 Pigment Based Inkjet Printer
Now you can make quality prints like that of a print shop in your office. Wonder how that's possible? Check the WF-7710 out!
Printing 4″×6″ borderless photos have become quite common in the advanced, high-end printer models. But the WF-7710 really gives the other printers a run for their money because it makes a whopping 13″×19″ borderless photo in stunning quality!
The DuraBrite Ultra ink cartridges are the best deal in the printing arena when you want colors popping in your creative documents.
It uses 80% less power compared to color laser printers, and its sheet tray provides innovative management to different types of paper. A rear feed for specialty other than the 250-sheet tray truly keeps everything shipshape.
Moreover, the WF-7710 has a 35-page auto document feeder, and it supports automatic double-sided print! Print, copy, fax, and scan – you name it, the printer does it all!   
If you're in sales or fashion designing, the printer can take you to greatness because your work will have you use the WF-7710 up to its full potential! And its easy buttons make printing and making copies as hassle-free as it can get.
Highlighted Features:
4.3″ color touchscreen for easy navigation.
Is able to scan 11″×17″ documents and print 13″×19″ borderless photos with PrecisionCore technology.
35-page auto document feeder and 4 DuraBrite Ultra ink cartridges.
Has a 250 sheet paper capacity and a rear feed for special papers.
5. Canon IP8720 Pigmented Ink Printer
The IP8720 inkjet printer is all you need to take your creative productivity up a notch. It not only prints those never-ending office documents in crisp, consistent ink but also brings out the exact colors in your photos.
And its 6 color individual ink tanks are one of the top-notch ink systems you'll come across for the price. It also includes gray, something that many high-end printers do not include. Moreover, the rich, pigmented black ink is the best for printing office docs.
Let's talk about its 9600×2400 max color dpi and what it can do to your photos and files. For starters, this is an incredibly high dpi count, and coupled with ChromaLife199+, a top-class print head technology, the IP8720 prints the most brilliant colors ever!
If you own a Canon EOS SLR, PowerShot digital camera, or VIXIA camcorder and have photos or frames from videos to print, this inkjet printer is right for the job.
Print photos directly from your camera with Wireless PictBridge support without needing a smartphone or PC at all. On top of that, you can now make your photos come to life with its borderless prints up to a whopping 13″×19″ size!
Moreover, the IP8720 also has a setup for color printing CDs and DVDs. Furthermore, Prisma Printing Solutions (PPS) app lets you send big files and photos with all the necessary commands, and the printer turns on automatically to finish the task!
Highlighted Features:
Prints up to 13″×19″ colorful borderless photos.
6 ink color system with Full-photolithography Inkjet Nozzle Engineering and ChromaLife100+ technology.
Average printing speed with 10.4 images per minute with color option.
Has a slot for color printing CD and DVD.
6. Epson Expression Photo HD XP-15000 Printer
A sleek, compact, and fast printer is necessary when you have a packed office space. Epson lets you explore boundless opportunities with this one of a kind printer. 
You get to enjoy a rich color gamut with its 6 individual Claria HD ink system. It includes gray and red inks that give your photos a punch of vibrancy. 13″×19″ borderless prints benefit the best from its intensity of colors.
Not to mention, the fact that they are printed with pigment ink makes them less susceptible to water damage and fading. Moving on to its printing capacity, it flaunts a 200 sheet tray with an automatic double-sided printing option. The best part? A 50 sheet rear tray for holding specialty papers!
Its operation is fairly quiet and remarkably fast. Dash Replenishment, a super handy feature that keeps track of your everyday ink usage and orders more ink when the tanks are running low, is the very good for offices with high ink usage.
One thing you need to know prior to your purchase is that the Epson XP-15000 printer supports only Epson cartridges. Third-party pigmented ink might affect printer life.
The good news is that it prints wide-format A3+ papers while being 30% smaller than older Epson printer models. It's comparatively lightweight and takes little space on your desk.     
Highlighted Features:
Auto orders ink with activated Dash Replenishment.
50 specialty sheet rear tray for photo papers and cardstock.
Crisp black and fast-drying prints for hassle-free storage.
Red and gray inks make its ultra-wide color gamut rich and vibrant.
Prints borderless photos from 4″×6″ to 13″×19″ size.
7. Canon Pixma MG5520 Color Printer
Take your creative projects and paperwork to new heights with the Canon MG5520 pigment ink printer. It can print on both sides and support the popular cloud services for wireless printing.
Make full use of 5 individual ink tanks and the famous ChromaLife100+ system for printing awesome photos and high-quality documents. However, the maximum 4800×1200 color dpi is not as impressive as its other features.  
While 9600×2400 dpi could have been more appreciated, the MG5520 still has a few mind-boggling specs in store for you. For starters, it offers a wide range of connectivity.
You can connect it to your office laptop with the USB B cable and print a huge stock of documentation in a short time. The fact is that its 4 dye-based inks and 1 pigment-based black ink are not only fast-drying but also smudge-resistant really sealed the deal for us.
Then there is the Full HD Movie Print feature. It gives you the opportunity to print stills and frames from your Canon EOS or PowerShot digital camera.
And you can make prints of these photos completely borderless and print-store style up to 8.5″×11″. Moreover, on its tiny 2.5″ screen, you can see a preview of the photo so you can double-check what you're printing. You will find the compatible ink cartridges available everywhere as well.
Highlighted Features:
You can preview the photo on the LCD screen before printing.
Compatible with AirPrint and Google Cloud Print.
Pigment-based black ink for printing crisp, high-contrast black and white documents.
You can access the ink tanks easily.
8. WorkForce WF-7210 Wide Format Pigment Photo Printer
Who said you need to visit a print store to get the perfect prints? The WF-7210 pigment photo printer is all you need to shine. Using up to 80% less power, it also provides an economical solution to energy consumption in your office.   
To begin with, it has a generous 500 sheet capacity. So, if you've been writing a novel for the last couple of months, you can most definitely make a hard copy of that.
Store a whole ream of paper in its dual tray, and the printer will output 125 sheets on the go. You also get to enjoy double-sided printing and cut down the total paper usage by 50 percent. That's right! It allows double-sided printing up to 11″×17″ documents for rigorous office use.
If you know about printers, you might have already heard about the DuraBrite cartridges that produce the awesome colors. They come in handy when you have a 13″×19″ borderless photo to print. But the color gamut is not as exemplary as that of a 6 individual ink system.
The fact that this printer doesn't have a scanner option makes it less suitable for an office. You can still make excellent wide format prints. Needless to say, the 2.2″ LCD screen made it very convenient to navigate various options. 
Highlighted Features:
500 sheet capacity on the dual trays.
4 DuraBrite Ultra Ink cartridges.
No scanning feature.
Decent printing speed of 18 ISO black ink ppm and 10 ISO color ppm.
9. Canon PIXMA PRO-10 Pigment Ink Inkjet Printer
You simply cannot go wrong with Canon pigment ink printers. The PRO-10 is another affordable printer by Canon with some amazing features for you to try out. For starters, it delivers a maximum of 4,800 dpi resolution for grain-free prints.
Pigment ink and Chroma Optimizer combo truly take the printing quality up a notch when you want premium glossiness, dense blacks alongside rich, intense colors.
It also shares good compatibility with individual PGI-72 ink tanks in both matte black and photo black, gray, magenta, cyan, red, yellow, and so on.
The 10 individual ink tanks coupled with its smart mix of colors really take some key factors such as color reproduction, tonal gradations, anti-bronzing, anti-metamerism, and black density into consideration and make your exhibition quality photos a reality.
Chroma Optimizer levels the ink height in the ink tanks, boosting the Optimum Image Generating (OIG) system for printing impeccable, balanced photos.   
Apart from its sleek look and excellent usability, what else caught our attention is the innovative output tray. It supports papers in a decent range of materials and sizes. You can give printing commands over Wi-Fi and Ethernet other than AirPrint or Google Cloud Print on your smartphone, PC, and laptop.    
Highlighted Features:
10 ink tanks, including Chroma Optimizer for balanced and natural printing quality.
Sophisticated ink balancing technology and rich color gamut for studio-grade prints.
Built-in Blu-ray disc printing setup.
Deep black texts and glossy, grain-free photos on photo papers.
10. Epson SureColor P600 Pigment Based Printer
8 UltraChrome HD Inks, including 3 black colors in different intensities, make the SureColor P600 one of the best Epson pigment ink printers you can get.
Professional-grade B&W printing is now possible with its 3 ink tanks dedicated to quality black and white photos. And the other 5 ink tanks chip in for making a colorful soft copy a crisp, vibrant print.
The P600 supports the most common photo sizes. You can make 13″ wide prints with a borderless printing option. But what we loved about this model is that it's a printer for both home and commercial use. For example, other than regular photo papers, the P600 supports roll papers, canvas, CD, DVD, and even artboards!
If you're looking for a printer for important archival use, this is a great one considering its 200-year archive life for color prints and 400 years for black and white documents. The colored touch screen lets you set all the controls in a jiffy and kickstart the cartridges for printing high-quality photos right away!        
Highlighted Features:
3 black ink tanks for bringing out a better contrast in b&w photos.
Prints on art board, canvas, roll paper, and CD.
A pigment-based inkjet printer with robust wireless connectivity.
Excellent archive life and color vibrancy.
11. Epson SureColor P400 Pigment Printer
Be it art paper, photographic paper, or roll paper, the SureColor P400 is an all-rounder pigment printer for a comfortable home, office, and commercial use. Supporting 13″ wide format prints, it provides versatile paper management and efficient printing.     
Unlike the cheap pigment ink printers where the color inks are dye-based, and only the black ink is pigment-based, the SureColor P400 uses high-quality pigment ink tanks for all 8 colors!
Thanks to this, the prints have an incredible archive life up to 200 years for colored prints and 400 years for black and white office documents. Since the ink tanks are individual, you only replace the ink that ran out and leaves the other tanks unchanged. A big save on the budget, without a doubt!
You have no reason to be sad about the fact that it misses out on printing dedicated b&w photos like from Epson SureColor P600. It has something that is way better! You have the opportunity to print 129″ panorama photos with remarkable color intensity and glossiness. 
The red and orange pigment ink cartridges help deliver a top-notch warmth to the photos. In short, if you're on the hunt for a high-performance printer that uses pigment inks, P600 is the one!
Highlighted Features:
Prints 129″ high-quality panorama photos.
Suitable for photo printing, illustration and scrapbooking.
8 individual 14mL pigment ink cartridges.
Wi-Fi connectivity and fast printing operation.
The prints are true to color with no graininess or smudging.
Comparison Chart Of Best Printer for Pigment Ink
| | | | | |
| --- | --- | --- | --- | --- |
| | | | | |
| | | | | AirPrint, Google Cloud Print, Wireless LAN |
| | | 4" 6", 5"×7", 8" x 10", 8.5" x 11" sizes | | |
| | | | | Wireless LAN, Ethernet, Hi-Speed USB, AirPrint,Google Cloud Print |
| | | | | Smartphone, Wi-Fi Direct, Ethernet, NFC |
| | | | | AirPrint, Google Cloud Print, Wireless PictBridge |
| Epson Expression Photo HD XP-15000 | | | 6 color Claria Photo HD ink | AirPrint, Google Cloud Print, Wireless LAN |
| | | | | AirPrint, Google Cloud Print, Wireless LAN |
| | | | | AirPrint, Google Cloud Print, Wireless LAN |
| | | | 10 color LUCIA pigment ink with Chroma Optimize | AirPrint, Google Cloud Print, Wireless PictBridge |
| | | | 8-color ink (includes 3 dedicated black ink) | AirPrint, Google Cloud Print, Wireless LAN |
| | | Up to 13"×19" and 129" panorama | | AirPrint, Google Cloud Print, Wireless LAN |
Pigment Ink Printers Buying Guide: How To Choose Right One?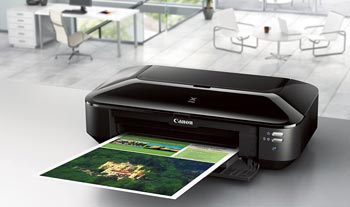 Why visit the printing press or photo studio when you can make the same professional-style prints in the comfort of your home and office? If you want to buy the best printer for pigment inks out there, you need to make sure that it has all the features below!
Individual Ink Tank System
Pigment ink printers have a number of ink tanks, and both the printing quality and color intensity depend on this valuable resource.
Multiple ink tanks are necessary for getting the right amount of detailing on your photos besides ensuring the fact that they stay true to color. On top of that, better quality ink cartridges make outstanding color permanency possible and boost their archive life.
Individual ink systems could be the sole reason as to why you should buy a pigment ink printer in the first place. If a single color cartridge runs out, you can replace only that specific color.
Epson Expression Photo HD XP-15000 has a Dash Replenishment feature that monitors and orders extra ink over Wi-Fi when a color is running out.  
Color Resolution
Pigment ink printers usually support a top-notch resolution. They use a sophisticated imaging technology identifying the best suited tonal gradations on different types of papers. You can also choose the dpi, which is basically how many dots the print heads will put in an inch.      
Canon PIXMA PRO-10 has the Optimum Image Generating (OIG) system for deciding the perfect ink mixture. At first, a good printer will have to produce pitch black texts that dry fast and don't smudge when the sheets are stacked up over one another.
If you have a pigment ink printer for professional use, go for a Canon Pixma printer or the IP8720 that has a maximum 96200×2400 color dpi. A high resolution undoubtedly calls for better detailing and richer color on printed photos.
You might choose a 4800 dpi printer, which also makes cool, phenomenal prints. Higher-end printers wrap up the printing task in a short time while producing the same brilliant colors might take twice the time. 
Borderless Photo Printing
The best thing about pigment printers is that they can print borderless photos in various sizes starting from 4″×6″ and all the way up to 13″×19″. Epson Stylus C88+ Inkjet Printer supports 4 different sizes up to 8.5″×11″.
Although it prints up to 14 high-quality color photos in just one minute, we are sold on Epson's other two models- SureColor P600 and SureColor P400.
The first one does a great job with 3 dedicated black inks for printing phenomenal b&w photos while the P400 amazed us with a whopping 129″ panorama with marvelous color pallets.
Additional Features
The best pigment ink printers will have some extra features for making your experience as hassle-free as possible. For starters, almost every pigment printer has an automatic double-sided printing feature that saves your paper use.
If you are also concerned with energy consumption, go for WorkForce WF-7210 or WF-7710 with a 35-page auto document feeder and an 11″×17″ scanner bed.
Lastly, a good pigment ink inkjet printer will have broad connectivity over mobile and computer applications, Wi-Fi, cable, Ethernet, etc. It will have a rear tray for specialty papers and, most importantly, support a multiple of paper types such as A4, A3, A3+, different sized glossy and matte photo papers, artboards, etc.
Read our related article on How to Get Printer Ink Off Hands. Remove stubborn ink stains with these tried and true methods!
Benefits of Using Printer That Uses Pigment Inks
"What is a pigment ink printer good for?" is a question we hear everywhere. Because let's face it, they are still not that common. But pigment ink printers are toppling the laser printers in terms of technology, colorfastness, wide paper compatibility, and ease of use. Up next, we are highlighting their top features below.
Best for Archival Use
Even the cheapest pigment ink printer will have more shelf life than dye-based ink. Pigment ink cartridges are marvelous when it comes to storing important documents for long-term purposes. The printed papers won't smudge or feel damp from ink to the touch.
Withstands UV Exposure
Pigment inks don't fade under UV exposure. The prints successfully withstand the damaging effects of direct sunlight better than dye-based prints.
Color Stability
Pigment inks work the best with matte or semi-gloss papers compared to their dyed alternatives. Dye-based inks have more vibrant colors, but they cannot produce black texts as deep as those printed with pigment ink cartridges. Side by side, there is an almost unrecognizable difference.
Water-Resistant Ink
We all know how dye-based inks can sometimes disperse all over the paper when water is spilled. It happens largely to regular paper intended for office use. That said, pigment ink printers are the safest for printing office documents. They also dry instantly!
People Also Asked (FAQs)
Here we have the most commonly asked queries regarding a pigment printer:
Can I use pigment ink in my old printer? 
If you use pigment ink cartridges in a dye-based printer, the pigments will soon clog its inkjets and damage the delicate parts inside. Use the recommended ink and paper for your printer type to get consistent prints.
Does printing high-resolution photos consume more ink?
Your inkjet printer's ink consumption doesn't actually depend on resolution; rather, it depends on the quality of the paper you're using. Low-density papers cannot take large ink drops for quality control issues. Higher resolution on the same paper means less ink usage because the printer will be using smaller drops.
On the other hand, the same resolution on a photo paper will consume more ink because it can receive a richer color intensity.  
Why is my pigment ink printer printing inconsistently?
Your pigment ink printer might be facing ink leveling issues in the ink tanks. A uniform ink height is necessary to print photos that stay true to color. It also depends on your printer's image analysis and execution system.
However, use only the compatible ink brands and paper types, as mentioned in the manual for the best results.  
Is pigment ink better than dye?
Although dyes are cheaper than pigment ink cartridges, the latter delivers a smudge-free and water-resistant print that holds up for long years.
How can I connect my pigment ink printer to Wi-Fi?   
If your printer has a touchscreen, you will find the Wi-Fi option right away. If not, press the button that says Wi-Fi or Wireless. After that, find your Wi-Fi routers' WPS button and press it. When the connection is automatically established, the Wi-Fi light on the printer will turn solid.
Read our related article on How to Get Printer Ink Off Hands. Remove ink from your hands with these tried and true tricks!
Conclusion
This was our rundown on the best pigment ink printers available right now. Pigment ink printers are fun, sophisticated and they offer a lot of controls you wouldn't find elsewhere.
And as you have seen each of our recommended product offers something different and it's now up to you to decide which one appeals most to you.
If you have any queries on your mind regarding pigment ink printers, shoot them in the comments, and we'll try to answer them soon.
So what are you waiting for? Go and purchase the printer right now!
Our More Tools Reviews: