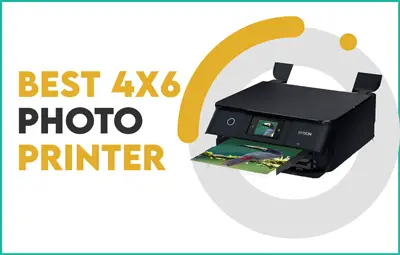 Technological advancements have come far and wide and with that, printers for photographs have not been left behind.
Be it memory shots, professional images, or competition entries, any photograph can be printed instantly these days with high-quality printers.
With a handy photo printer, you can print your holiday memories, images of festivities, or just an object that caught your eye and you captured it on camera. These photos last a long time and won't fade away or become discolored.
The are many brands of 4X6 picture printer, but not all of them will ensure good quality output. Therefore, to help you on your journey to get the best 4X6 photo printer, this article covers the top products along with their features.
Read on to discover what you should look for before buying a portable photo printer 4X6. With the right information in your hands, you can make a purchase decision that you wouldn't regret later on. Dive in to know more!
| | | | |
| --- | --- | --- | --- |
| | | | |
| | Canon Selphy CP1300 Wireless Compact Photo Printer | | |
| | Kodak Dock & Wi-Fi Portable 4x6" Instant Photo Printer | | |
| | | | |
| | Epson PictureMate PM-400 Wireless Compact Color Photo Printer | | |
| | HP Sprocket Studio Photo Printer | | |
Our Recommended Best 4X6 Photo Printer Reviews 2021
1. Canon Selphy CP1300 | Best 4×6 Printer
Be the heart of any party with a portable photo booth that takes instant prints of your favorite selfies and collages!
The compact and portable photo printer produces high-quality prints of various sizes and formats of your photos by using dye-sublimation printing technology. Besides 4X6 prints, you can get square prints and collages printed directly from social media posts.
The Party Shuffle feature combines multiple images into a collage. You can also get two strips of photos on 4X6 paper, which can then be cut and distributed to your friends.
With a guarantee that your photos will last for 100 years, printing your memories and retaining them could not be easier! The photos dry instantly so that you waste no time in sharing them. Moreover, they are water-resistant, making sure they don't get smudged.
Print conveniently and wirelessly with a USB port or the internal memory card or the Canon app that lets you connect your mobile devices to the printer. The compact design can be carried around easily or stored at home without taking up much space.
With the optional battery pack, you will never run out of printing opportunities. The 3.2-inch LCD tilted screen allows you to select options and edit right from the printer. The device features a postcard size paper tray for carrying 18 sheets.
The temperature range in which the printer can function is between 5 and 40 degrees Celsius. There are 5 sheets of postcard size with ink, a paper tray, and a power adapter besides the printer.
Highlighted Features:
Compact, on-the-go design for ease of portability.
Prints various sizes and formats for maximum options.
3.2-inch tilting LCD for convenient navigation and printing.
Long-lasting and high-quality output resistant to water.
Wireless connectivity through multiple options for maximum flexibility.
2. Kodak Dock & Wi-Fi Portable 4×6" Instant Photo Printer
A printer dock that's easy to carry also doubles up as a charger for two smart devices!
The print quality of this product will leave your jaws hanging as the vibrant colors are ready to come to life. The details in the images are amazingly clear.
The D2T2 heat transfer printing technology ensures no bleeding or fading. Plus, the lamination layer will ensure your photos will last a lifetime. Moreover, non-ink usage means no spills or inky messes.
The one-touch printing feature makes the process faster and easier as there's no need to transfer the files to a memory stick or computer.
Thanks to the built-in WIFi network, you can print directly from your smartphones as an Android dock pin is included along with an iOS adapter. Therefore, you can print from multiple devices like digital cameras, memory sticks, as well as iPads. It's strongly recommended to use the adapter included for iOS.
Besides enabling you to print wirelessly from smart devices, you can also print directly from digital cameras with the PictBridge Connect. Download the Kodak Photo Printer App to add fun to your photos with elements like filters, frames, stickers, collages, etc.
This product doesn't need any installation as it's ready to use out of the box. Cartridges are easy to refill as you need to use your two fingers to pull out the current one and push another in its place. Each cartridge produces up to 120 prints.
Getting professional-quality prints quickly and easily is now at your fingertips!
Highlighted Features:
Compact and lightweight printer for carrying around easily.
 Vivid and detailed, professional-quality prints in a jiffy.
Multiple device accessibility for maximum printing options.
Charges two smart devices and works as the printer dock.
No-ink printing technology for a mess-free experience.
3. Victure Photo Printer
The convenient dimensions of 7 by 4 by 5.5 inches makes this device small enough to fit in your bag and accompany you anywhere you go.
Get 4X6 prints easily at the touch of one button after you download the Victure app in your Android or iPhone. Using a Bluetooth connection, you can be guaranteed of a more stable and dependable connection. The app is also great for making collages and adding frames, stickers, filters, and templates to your memories.
You'll be surprised at the picture quality this small machine can produce. To help you get started instantly, the package includes 40 sheets of paper and an ink cartridge. Also included are a power cord, power adapter, paper cassette, and user instructions.
Besides taking prints of memory shots, you can make customized postcards with your pictures with this device. With the option to do some editing like adjusting contrasts and color saturation, you can be sure of getting the print quality you want.
The dye sublimation thermal transfer technology of printing used by this device results in vibrant colored prints with even the smallest details visible. The auto-lamination feature makes the prints resistant to tearing, fading, and water, making them last forever.
The special feature of this printer is its integrated ribbon cassette that eliminates the need to add ink. Moreover, it's easy to replace.
Whenever you want to use an easy to operate photo printer, you can rely on this machine to give you quick and good quality prints.
Highlighted Features:
One-touch easy printing from Android and iOS devices.
7 by 4 by 5.5 inches for easy portability and storage.
Integrated ribbon cassette that eliminates the need to add ink.
The package includes 40 sheets of paper, ink cartridge for instant printing.
Requires the Victure app for editing and printing.
4. Epson PictureMate PM-400 Wireless 4×6 Photo Printer
When the moment passes, the intensity wears off soon so, to hold on to this feeling, nothing works better than an instant photograph!
To etch into your heart the memories of special moments, bring home this compact photo printer for 4X6 and 5X7 high-grade and vibrant photos. The borderless pictures can be printed in as little as 37 seconds from this lightweight and easily portable machine. It also takes up less storage space.
The inkjet color photo printer connects to your mobile devices like iPhone, iPad, and other smartphones using WiFi Direct or a wireless network, making it possible for you to make your cherished moments into instant memories to share with family and friends.
With the 2.7-inch color display, you can preview and edit your prints. The built-in memory card eliminates the need to be connected to a computer so that you can have more freedom.
The result is scratch-free, water-resistant, and anti-fade photos that will last for up to 200 years. The prints will not get smudged either if you store them in albums.
With 100 sheets of 4X6 and an ink cartridge included, the machine is ready to print as soon as it's out of the packaging. Also included are five glossy photo paper sheets, a power cord, an AC power adapter, and an installation and user manual for your convenience.
Please note that only genuine Epson cartridges are compatible with this device.
Highlighted Features:
Printing time of 37 seconds on glossy paper.
Scratch-free, smudge-free, water- and fade-resistant durable output.
2.7-inch color display for editing and previewing.
Wireless connectivity through WiFi Direct and wireless network.
Built-in memory that eliminates the need for a computer to print.
5. HP Sprocket Studio 4 x 6 Photo Printer
Endless fun with photos is what this little device is all about!
You can take high-quality and instant 4×6 photos with your smartphone using Bluetooth connection. Alternatively, you can choose the HP Sprocket App to take the prints. Take prints straight from social media, Google Photos, and other sources.
The glossy prints are smudge-free, tear-resistant, waterproof, and guaranteed to last for up to 100 years. As these dry instantly, you don't even have to wait for the fun to begin.
The compact printer is packed with features that are easy and fun to use. The perforated tab on the printer makes it convenient to tear off the 4X6 prints conveniently. The personalized LED color shows the operating status of the machine.
The HP Sprocket App allows you to adorn your pictures with filters, stickers, frames, and also to make collages and cards. Moreover, you can take pictures of your artwork and turn them into stickers.
You can share hidden videos and watch print queues with the augmented reality feature of the printer. This also allows you to make videos of your still images and go over the precious moments.
There are ten sheets of 4X6 glossy photo paper and an ink cartridge to get you started on printing adventures. If there is no power outlet around, don't worry as the device comes with a power bank to charge up the batteries so that your printing fun goes unhampered.
Highlighted Features:
HP Sprocket App and Bluetooth enabled wireless printing.
Tear-resistant, waterproof, smudge-free, and vibrant output.
Battery backup for use in absence of power outlets.
Augmented reality for photo videos, viewing photo queues, and hidden files.
Included are 10 sheets of 4X6 glossy paper and ink cartridge.
6. High-Speed 4X6 Thermal Shipping Label Printer
When you want to print special labels on different occasions, this printer is the ideal solution for your printing needs.
Using thermal direct printing technology, this device doesn't need to use ink, ribbons, or toners, thereby making printing a hassle-free and mess-free experience.
It's suitable for printing 4X6 labels along with other sizes like a maximum width range of 1.49-inch to 4.1-inch and a maximum length of 11.81 inches. Therefore, you get plenty of size flexibility.
The machine claims to be two times faster than other printing devices as it has a high speed of 150mm/second or 6 inches per second, which is effectively one sheet per second of printing labels. It can print continuously for 12 hours to produce a whopping 43,200 sheets of labels on one side of the paper.
The print quality is bold and clear too. The labels are compatible with most e-commerce and courier platforms like Shopify Etsy, UPS, FedEx, eBay, Amazon, etc. Along with these platforms, the printer can be comfortably used by Windows and Mac operating systems.
Inside the package, you will find a flash drive for the USB port that includes usage and setup instructions and ten 4×6 label sheets for free, so that you can get printing as soon as possible.
You can also take prints of clear bar codes and monochrome images with a resolution of 203 dpi. Weighing only 2.64 pounds, the printer is portable and saves space as it takes very little space for storage.
Highlighted Features:
Monochrome printer for black and white images, barcode, and label printing.
High speed of 6 inches per second for a faster and more efficient process.
Lightweight at only 2.64 pounds for ease of portability.
Mac and Windows OS-compatible.
Multiple label sizes printing capacity for maximum flexibility.
7. Kodak Dock Plus Instant Photo Printer
Borderless or with border – if that's the question, then this printer has the solution for you as you can print either format on the same type of paper!
There are many factors that make Kodak Dock Plus one of the best 4×6 photo printer models. It uses 4Pass dye-sublimation technology to print lifelike images of your moments so that you can make them immortal. Simply connect with a Bluetooth-enabled device and get printing instantly!
The layers of ribbon produce impeccable print quality. With a final layer of lamination, your photo prints become resistant to fading, fingerprint marks, water, and scratching, ensuring they last a lifetime. The 80 sheets included in the package will help you on your way to printing amazing memories immediately.
The free Kodak App allows your iOs or Android smartphones to be connected to it, therefore enabling you to choose, edit, and print photos from any social media at all times.
Not only that, but the app also enables you to turn simple pictures into stickers. You can add filters and frames to fit different occasions. The various templates allow you to print photo cards for more personalization. You can also print photo IDs easily with this machine.
Printing has been simplified as there's no need to use PictBridge with this device. A lightning connector for iOS devices is included. With a printing speed of fewer than 50 seconds, this printer can churn out hard copies of your moments in no time!
Highlighted Features:
4Pass dye-sublimation printing technology for lifelike images.
Bluetooth connection and iOS and Android compatible App for seamless printing.
Printing speed of fewer than 50 seconds for getting prints fast.
Anti-scratch, anti-fingerprint, fading- and water-resistant output for longevity.
Anywhere, anytime editing and printing with free Kodak app.
 8. Sony Picture Station DPP-FP90
Capturing images of street life or family celebrations has now become more rewarding as you can print your photos instantly from wherever you are!
This device redefines the way a compact device functions. With a handle to carry it around easily, this could be your constant companion in the celebration of life!
It supports a wide range of flash drives to enable you to print pictures wirelessly. Moreover, you can print directly from Sony Cybershot cameras using PictBridge.
The print quality is highly commendable as the advanced dye-sublimation technology enables 256 shades of each of the three colors – cyan, magenta, and yellow – to produce remarkably vibrant prints with natural gradation.
It takes only 45 seconds to get 4X6 photo prints but before you do so, you can use the free-angle 3.6-inch LCD screen to preview your photos. You can also use the contact sheet of thumbnail images for a quick look before you decide which photos to print. This device is a veritable photo lab with all the features and functions.
If you're not satisfied with any image, the printer enables you to make a quick fix with its one-touch auto-touchup control that takes care of over-exposures, red-eye effects, and out-of-focus shots.
Often our photos don't turn out well in backlit or low-light situations. This printer has face detection and D-range optimizer features to bring out the facial expressions even under these conditions.
The additional photo-editing features give you a wide range of options for getting the most personalized output.
Highlighted Features:
Compact design with a handle for easy portability.
Compatible with most flash drive types and all Sony Cybershot cameras.
Magnificent print quality with depth and natural gradation.
Quick reference thumbnail images for choosing the best images to print.
Auto-touchup feature to reduce the effects of exposure, red-eye, etc.
Top 4X6 Printer Comparison Chart
| | | | |
| --- | --- | --- | --- |
| | | | |
| | | | 3.2-inch tilt-up touchscreen display |
| | | | Printer and charger in-one |
| | | | Integrated ribbon cassette |
| | | | 37 seconds of printing time |
| | | | |
| High-Speed 4X6 Thermal Shipping Label Printer | | | High speed of 150mm/second |
| | | | Less than 50 seconds of printing time |
| Sony Picture Station DPP-FP90 | | | |
4X6 Photo Printer Buying Guide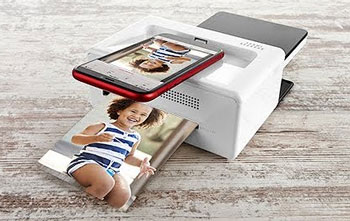 Before you make the payment for a 4X6 photo printer, you should consider the following factors to enable you to make a smarter choice that would suit your needs.
Color Or Black & White
Whether you take color or black and white photos will determine the printer you should choose. Many printers cannot give a good black and white output. There are tints of different gray shades that do not show the true beauty of monochrome photos.
However, before making up your mind about a 4X6 printer, check the quality of both color and monochrome output to help you make the final decision.
Printing Technology
The most widely used printing technology in a 4X6 photo printer is dye-sublimation technology. This technology uses heat to get the embedded dye crystals on the photo paper to vaporize and form images. The degree of the heat determines how vivid the colors on the output will be.
Check whether these special photo papers or smartsheets come with your printer. The best 4X6 photo printer models use a combination of three colors – cyan, magenta, and yellow – to produce the images and add a layer of lamination to make the photos last longer.
Size
Printers for printing images can come in either large or small sizes. The large ones are the desktop types that cannot be easily carried to an event. These are the near-dedicated inkjet photo printers that print photos of large sizes like 13X19 inches.
However, if you are looking for a portable option that can print 46 photos instantly, then choose a printer that uses dye-sublimation to print images. These are usually small enough to be carried in your pocket or bag and come in handy when you are taking prints in an event or when you are outdoors.
Battery-Operated
You may want to have a printer that can be operated by batteries. This is because you may not have access to power outlets when you go camping or on a picnic and want to take prints of photos instantly.
Hence, check if the printer can be run on batteries and how many prints you can take when it is fully charged.
Connectivity
Depending on how you want to print your photos, you can choose a wireless 4X6 photo printer that can be connected using a USB port, WiFi Direct, or WiFi.  Some models support a memory card where you can store your pictures and print them directly.
Other connectivity options include Bluetooth whereby you can print directly from your phone or any other Bluetooth-enabled devices. However, check the compatibility with your Android or iOS devices. Also, there is a new technology called PictBridge that allows you to print directly from cameras.
Therefore, decide how you want to take the prints before taking the buying decision.
Quality Of Output
Check the output quality before you buy a portable 4X6 photo printer. If you are planning to buy an inkjet printer, keep in mind that you need to buy the manufacturer recommended paper and ink separately.
On the other hand, a photo printer that uses dye-sublimation technology will include cartridges and paper in the package. The number of papers included indicates the number of prints you can take.
Both the inkjet and the dye-sublimation type printers will produce a standard quality of output.
However, there is a third type of printing technology called ZINK or zero ink technology. It doesn't use any ink cartridge but instead, it produces images when the printer produces heat on the special ZINK paper that contains chemicals.
The output quality of ZINK printers is not so high as the resolution is only 300 by 300 dpi or dots per inch. Only small and portable printers use this technology to print photos that you can keep in your wallet. If you want decent print quality, then choose a printer that produces at least 4200 X 1200 dpi resolution.
Paper Type
Before deciding on which 4X6 photo printer to buy, consider what type of paper it can handle as the paper can be matte, glossy, fine art type, metallic, canvas, or watercolor. The type of paper used will also affect the final output look and quality.
Maintenance
It's not only enough to get a 4X6 photo printer as you need to maintain it too. Inkjet printers are low-maintenance machines and are also more friendly to the wallet. On the other hand, printers using dye-sublimation technology needs more maintenance.
Read More: How Much Should I Charge for Sublimation Shirts? See where the market is at!
Frequently Asked Questions (FAQs)
1. What Kind Of Paper Can Be Used In 4X6 Photo Printers?
Answer: You can use matte, glossy, semi-glossy, watercolor, fine arts, canvas, metallic, and luster types of paper for photo printing. Each type of paper will give a different output depending on the texture and shine of the paper.
While the glossy paper has a shine, it can result in vibrant colors. The matte type does not have the shine of glossy paper and shows a better contrast between colors. Semi-glossy or luster paper combines the good bits of both matte and glossy paper.
Metallic paper is premium and gives a special, chrome-like effect. Watercolor and art paper are good for printing works of art. Canvas paper shows better colors and contrasts and is ideal for photo prints that give a professional look.
2. What's The Difference Between A Dedicated And A Near-Dedicated Photo Printer?
Answer: A dedicated printer prints only photos and does not have the feature to accept paper sizes like letter or legal to print other types of documents.
These are usually small-format type or printers. Moreover, they are not dependent on computers and function independently. These offer additional features like editing, internal memory, etc.
Near-dedicated photo printers can take prints of other documents besides photos. However, they are larger in size and can give outputs of size 13 by 19 inches or even larger. These do not offer additional features.
3. Does The Printing Speed Matter When Choosing A 4X6 Printer?
Answer: When it's about taking prints of photos, getting the fastest 4X6 photo printer isn't mandatory, the quality of the photo is more important than the speed of printing.
However, most 4X6 photo printer models these days offer a reasonable speed of at least 2 minutes per print.
4. How Does A Pocket Photo Printer Differ From A Compact One?
Answer: A pocket printer is portable and usually compatible with a Bluetooth-enabled handheld device to make instant printing more convenient. These use ZINK or zero ink printing technology and are consequently, less messy.
On the other hand, a compact printer is not as portable as it's more suited for office or home use. Plus, these use ink cartridges. It also may have additional functions like scanning and copying.
5. Can A 4X6 Printer Support Other Sizes Of Paper?
Answer: Yes, some models of 4X6 photo printers can print other small sizes like 2X3 and 5X7. However, if you are looking for larger sizes, then you need to choose a printer that can facilitate the extended size.
Conclusion
Although we take a lot of pictures on our cell phone, we also want to print them out sometimes and put them on the wall to remind us of great times or cherished memories.
If you have the best 4X6 photo printer, then taking prints regularly becomes much easier. You can do it anytime from anywhere as you are wirelessly connected and your printer is a portable one.
Keeping a few points in mind can lead you to buy the ideal printer. Depending on where you want to use the printer, the printing technology that suits your needs, preferred resolution and other factors, choose the perfect deal for you.
Hope this post will assist you with all the relevant information regarding 4X6 photo printers. Here's to many prints of beautiful memories!
Some other resources that you may know: