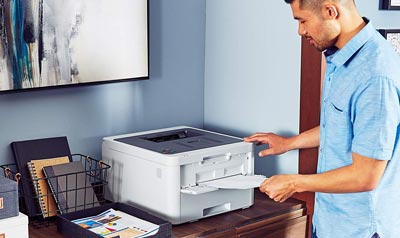 Laser printers are widely recognized for producing high-quality monochrome and text documents in bulk. They're speedy, economic, and widely available. As such, you'll see them in lots of offices.
You may already know that laser printers cannot produce beautiful photo prints the way inkjet printers can. While that is definitely true, it's also unrealistic for every establishment/home to have both a laser and an inkjet printer just for photos.
Yes, the best color laser printer for photos exists somewhere out there for you, and that's what we're proving today.
Whatever your intended purpose for your new printer, we're sure you'll find a good match from our 10 picks. Otherwise, you have our buying guide to assist you.
Let's get started!
| | | | |
| --- | --- | --- | --- |
| | | | |
| | Canon Color ImageCLASS MF644Cdw | | |
| | HP Color LaserJet Pro Multifunction M479fdw Wireless Laser Printer | | |
| | Brother HL-L3270CDW Compact Wireless Digital Color Printer | | |
| | HP LaserJet Pro M254dw Wireless Color Laser Printer | | |
| | Canon imageCLASS LBP612CDW Color Laser Printer | | |
Are Laser Printers Good for Photos?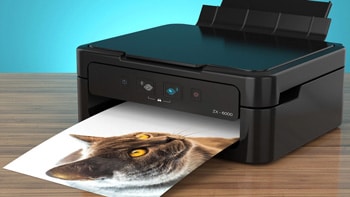 If high-quality, vivid photo prints in high volumes are what you seek, then an inkjet printer will suit your needs far better than a laser. However, that doesn't mean that you can't get good-quality photo prints from a laser printer; it all depends on which one you buy.
That's why it's good to educate yourself about what makes a good printer. What really matters in determining the color laser printer photo quality is the printer's DPI capacity and color reproduction. If those are of satisfactory standing, then the printer type is a secondary concern.
More importantly, if you require color prints infrequently, it makes much more sense to go for a color laser photo printer than to spend money on an inkjet one that you won't even use.
Furthermore, the laser printers of today are receiving frequent upgrades to their technology that endow them with untold benefits. We discuss that below.
Our Recommended 10 Best Color Laser Printer for Photos 2021
Without any further ado, let's jump into our top color laser printer reviews. After considerable research and analysis, we have gathered 10 printers for every income group and purpose.
1. Canon Color Laser Photo Printer(MF644Cdw)
No matter the extent of your knowledge about printers, there's a very small chance that you haven't heard of Canon. From a brand that has revolutionized photo technology, their printers are definitely standouts.
Especially those in the ImageCLASS line, such as this one. This AOI printer is capable of printing high-quality text and image prints, besides providing a fast and reliable scan, fax, and copy services.
What's more, it's equipped with all the necessary wireless connectivity options. You will not only be able to print wirelessly from the smart devices but also enjoy seamless wireless copying, faxing, and scanning.
One of the main reasons behind this printer's popularity is undoubtedly its overall affordability. Besides being reasonably priced, the printer is also fitted with a high-capacity all-in-one cyan cartridge that significantly reduces toner and paper costs as a whole.
All that being said, it's important to understand that this is not primarily a photo printer. Especially given that it runs using a single cyan cartridge, the quality of printed photos might not suit your needs if you plan on printing a large volume of photos frequently.
However, given its price, wireless connectivity, and overall usability, this is one of the best printers we have found for small businesses and home offices. And if you're only going to be making photo prints every now and then, we see no other reason not to consider this printer!
Highlighted Features:
The 5-inch color touchscreen allows for easy and smooth navigation and access.
All-in-one capabilities allow for seamless scanning, copying, and faxing.
Comprehensive wireless connectivity options including Wi-Fi Direct.
Economic thanks to low supply costs and double-sided printing capabilities.
2. HP Color LaserJet Pro Multifunction M479fdw Wireless Laser Printer
No review article of printers would be complete without an HP machine, and when it comes to laser printers, it's inconceivable that we won't discuss the LaserJet line!
This multifunctional printer is one of the most efficient units we have found during our research and is often termed as the best color laser printer for photos –here's why.
First, let's look at some specs. The single-pass functionality of this printer allows for dependable efficiency, while two-sided scanning speeds your task along. The auto document feeder has a capacity of 50 sheets, and the input tray can hold up to 250 sheets of paper.
But beyond its constructional efficiency, this printer is also designed to facilitate a smooth workflow. This machine is able to recall customized settings, which are easy to set using the super easy-to-use touchscreen control panel.
Undoubtedly our favorite thing about this printer, though, is the integrated security. As you may know, printer networks are quite susceptible to external threats.
But the HP security features embedded in this printer safeguard your data from the get-go. This even includes PIN/pull printing that you can avail at your own convenience.
And yes, this printer is wireless! Using Wi-Fi Direct, you can easily hook up your smart devices to the printer for remote printing. All in all, it's quite easy to see where this printer gets its high rating!
Highlighted Features:
Uses 4 color toner cartridges for printing high-quality photos and text.
Integrated HP security features such as optional PIN/pull printing and threat notifications.
Equipped to accept and recall customized settings.
In-built Wi-Fi Direct allows you to connect smart devices directly to the printer.
Compatible with Amazon Alexa.
3. Brother HL-L3270CDW Compact Wireless Digital Laser Printer for Photos
The next photo laser printer that we have selected for your consideration is from another brand that has justly earned its high reputation: Brother. This laser printer comes equipped with a number of lucrative functions.
Firstly, this guy has a quite stable paper handling system, thanks to the paper tray with its 250 sheet capacity (which can be adjusted for legal or letter paper as well).
The manual feed slot, although lacking a high capacity, is able to accommodate a variety of paper types including envelopes and card-stock.
Beyond Ethernet and USB connectivity, this printer also comes furnished with the ability to handle Wi-Fi Direct and NFC. You know what that means: fast, efficient remote printing!
Not only that, but using the 2.7″ color touchscreen, you can also avail cloud services such as Dropbox and Google Drive directly from the printer itself.
But why this printer is special for printing best quality photos? Despite its single-toner system, this printer is capable of producing clear, sharp images that will perfectly suit any small or commercial business for the purposes of printing brochures and other important promotional documents.
The lack of multi-functionality may be a dealbreaker for some of you reading this, but would you rather have lower photo quality in an AOI printer or a speedy and efficient machine producing vivid images? Plus, given the nearly unbeatable price, we think this is definitely a printer to look out for.
Highlighted Features:
Offers several connectivity options including Wi-Fi Direct, Ethernet, and USB.
Directly print from and save to various cloud platforms e.g. Dropbox.
The manual feed slot accepts various paper types and sizes.
Brother's high-yield TN227 toner produces sharp and vivid text and photos.
4. HP LaserJet Pro M254dw Wireless Color Laser Printer
For our next pick, we bring you another selection from the HP LaserJet line. Its compact size and internal set-up together make it one of the most efficient photo laser printers we have come across, to say nothing of the plethora of other features.
For starters, HP claims that this printer is capable of the fastest in-class duplex printing compared to most standard models. Although the 22ppm speed of this printer is lower than that of the other LaserJet model we reviewed, it's still quite impressive given the printer's other capabilities.
Besides, with the 250-sheet capacity paper tray, there's no question as to the printer's ability to keep up with the demands and needs of a small business. You might miss the presence of an auto document feeder.
But remember that this is not an AOI printer. If that's what you need, the other model we reviewed would be better suited to you.
But what really wows us about this printer is its wireless capabilities. Not only can it be connected with ease to your smart device using Wi-Fi or Wi-Fi Direct, but the integration of the HP Smart App also allows you to print directly from cloud platforms such as Google Drive and Dropbox.
Moreover, you can even order supplies through the HP Smart App.
The quality of the photos produced by this printer certainly stands out. This is thanks to HP's JetIntelligence toner cartridges, which not only produce beautiful color but a larger page yield as well!
Highlighted Features:
Effortless mobile printing thanks to Wi-Fi Direct and cloud capabilities.
Offers a print speed of 22ppm and a paper tray capacity of 250 sheets.
Ethernet connectivity is ideal for small workgroups.
HP Smart app integration allows you to control the printer remotely.
5. Canon imageCLASS LBP612CDW Color Laser Photo Printer
The Canon ImageClass line, as we have already established, is one of the forerunners of color laser printing.
The LBP612CDW is not as high a performer as the MF731Cdw that we reviewed earlier, but it comes with a package of features and functions that will appeal to any business that's serious about printing their own resources.
With a decent print speed of 19ppm, this machine is outfitted with Canon's famous V2 Vivid and Vibrant color technology.
That, combined with the high-capacity toner, allows the printer to produce such high-quality texts and images without sacrificing clarity or color balance. You can expect a relatively higher yield, as well.
Because this is not a multi-function printer, it comes with less of the specs that you might be used to by now. But that doesn't mean that Canon has skimped out on equipping this printer with the latest technology.
Not only will you be able to enjoy the benefits of Wi-Fi Direct, but also seamlessly operate Apple Air Print, Canon Print Business, Google Cloud Print, and Mopria Print Service.
Overall, this is a printer that is perfectly suited to the operational printing needs of a small business. That being said, the relatively lower ppm and lack of multi-functionality can prove to be a setback if you're looking to streamline your paper processing systems.
Highlighted Features:
Enjoy wireless connectivity with Wi-Fi Direct and cloud printing services.
Easier toner installation thanks to auto seal removal system.
Integrated V2 (Vivid and Vibrant) technology enhances the color gamut.
High-capacity toner allows for a larger yield with a smaller footprint.
6. HP Color Laserjet Pro M180nw All-in-One Wireless Color Laser Printer
Yes, you guessed right; other than the Canon ImageClass line, the HP Laserjet group is another one of our absolute favorites. Compared to our last LaserJet pick, this one has a slightly lower speed, but it makes up for that with AOI functionality. Let's see what it has to offer.
The input tray paper capacity of this color laser printer is 150 sheets, allowing you to make the most of a busy workday, with ease. Its speed stands at 17ppm, which is certainly more than enough for any small business.
Whatever you're printing, though, you can depend upon the amazing color quality this printer is capable of. For best results, though, you'll have to make sure to always use the original HP204A toner cartridges. Although these cartridges are expensive up front, they make up for it with a high yield.
And of course, you're getting the benefits of HP's Smart App with this machine as well; that means not only will you be able to enjoy seamless mobile printing, but also order toner and other supplies directly from the app. What's more, you are able to easily link up with cloud services such as Google Drive and iCloud.
Although this machine does not come with the ability to fax, it can scan and copy your documents effortlessly. We would have liked it to have an auto document feeder, especially considering the price, but the necessity of that ultimately comes down to your specific requirements.
Highlighted Features:
Offers a speed of 17ppm with 150-sheet capacity input tray.
Directly set up your printer from your smartphone using HP Smart App.
Ethernet and Wi-Fi Direct capabilities allow for effortless printing.
HP 204A toner cartridges produce beautiful clear photos and text.
7. Xerox Phaser 6510/DNI Color Printer for Image
With their beginnings as manufacturers of copiers, Xerox has become a household name in the world of printing technology. The Phaser 6510, despite its low price, has specifications that easily endow it with the title of best laser printer for photos in this price range.
With a print resolution of 1200×2400 dpi and a heavy-duty monthly output capacity of 50,000 pages, this Xerox machine even offers a speed of 30ppm (which is much higher than some of the printers from big-name brands we've looked at today).
Not just that, but this printer also comes with automatic duplex printing. You also have the option of availing a secondary paper tray that allows you to load 550 extra sheets if you require uninterrupted printing.
The wireless printing capabilities of this printer are also quite impressive. You can avail of Apple AirPrint, Mopria, and Google Cloud Print. Furthermore, should you choose to, you can also use Xerox's Print Service Plug for your Android device.
But what about the photo quality? We're happy to say you will be satisfied on that count as well. The Phaser 6510 utilizes Xerox's advanced EA Toner formulation, which facilitates a faster and more efficient dot production.
All things considered, we would say this is one of the best budget laser color printers we have come across. The lack of AOI functionality and Ethernet capabilities may be a dealbreaker for some, but we think the low price point and myriad features more than makeup for it.
Highlighted Features:
Supports Apple AirPrint, Google Cloud Print, Mopria, etc.
Integrates advanced security features to keep your sensitive documents safe.
Offers a speed of up to 30ppm and a resolution of 1200×2400 dpi.
Comes with Wi-Fi and wired connectivity.
8. Brother MFC-L3770CDW Compact Wireless Digital Color All-in-One Printer
Our second pick from Brother is one of the brand's most popular multifunctional printers for small or commercial businesses. Its affordable prices, high printing speed, and an array of useful features are only part of the charm. Let's see what else this printer is capable of.
Let's start with the printing quality–without a doubt one of our favorites. Brother is known for the high quality of their toners, so this is not surprising. On top of that, you can also enjoy lower prices, which is always a plus.
We really like the design and construction of this printer as well. It's paper handling capabilities amount to a 250-sheet paper tray, an auto document feeder with a capacity of 50 sheets, and a multi-purpose tray with 30 sheets. Clearly, this is a machine built for efficiency.
Speaking of which, you will no doubt appreciate the myriad wireless connectivity options you can avail with this printer. Besides built-in Ethernet, Wi-Fi Direct, and Wi-Fi, this printer also comes with NFC capabilities to further enhance and speed up your work process.
Plus, using the color touchscreen, you can easily access your cloud platforms as well.
This AOI printer is equipped with a lot of the features that some of the others we've reviewed today are missing, not to mention its high print quality. It's worth noting, though, that the toner consumption of this printer is somewhat high. When you consider the benefits, though, we think it's alright!
Highlighted Features:
Vivid photo prints thanks to high-quality Brother toner cartridges.
Multiple paper handling sources with high capacity.
Scan to and print directly from cloud apps such as Dropbox and Evernote.
Included 3.7″ color touchscreen allows for easy access and navigation.
Offers several wireless connectivity options.
9. Canon Office Products MAXIFY MB2120 Wireless Color Photo Printer
While we're on the topic of affordable AOI printers, skipping the Canon MB2120 would be a huge oversight. This budget printer will surprise you with its range of capabilities. Not only is it equipped with multi-functionality, but it can produce prints of surprisingly high quality, as well.
This printer offers a monthly duty cycle of 20,000 pages, which makes it the perfect fit for home offices and start-ups. Since its printing speed is quite low, however, we would not recommend this for larger businesses.
But that doesn't mean this can't handle big jobs occasionally. Its paper tray is capable of holding up to 250 sheets, while its Dual-Resistant High Density (DRHD) Ink System is built for producing prints with resistance to smudging and highlighter.
You'll be able to avail wireless printing thanks to the built-in Wi-Fi as well.
On that note, you will also have the option to utilize the Canon PRINT app, which allows you to hook the printer up directly with your cloud platform of choice. So printing directly from your smart device is going to be a walk in the park.
Highlighted Features:
Dual-Resistant High Density (DRHD) Ink System produces sharp, high-quality images and text.
Built-in Wi-Fi allows you to print remotely with ease.
Automatic power on feature saves you time and energy.
Automatic double printing allows you to save on paper costs.
Compatible with a number of popular cloud apps.
10. Brother HL-L3210CW Compact Digital Color Printer
Our final pick comes from what is undoubtedly one of our most favorite brands: Brother. With wireless capability, and efficient paper handling system, and intuitive design, this printer is meant for small businesses looking to save money on printing costs.
That's thanks to Brother's popular high-yield toner system, with which you can also choose to avail Save Mode if you really wanna be cost-efficient. The capable paper handling system helps you with that, thanks to its 250-sheet paper tray.
Moreover, the manual feed slot is built to accommodate many different paper types.
When it comes to wireless connectivity, you won't have to worry at all. Directly print from your smart device or computer thanks to the built-in Wi-Fi. Otherwise, you can use the USB interface to connect to a single computer. Whatever your input source though, the 19ppm print speed will leave you satisfied every time.
One drawback of this printer is that it does not come with auto duplex printing capabilities. However, you will still be able to do that manually if you have the time, so it's not a complete loss! Given the print speed and high print quality at this price range, though, we think this guy is definitely a steal.
Highlighted Features:
Affordable printing thanks to efficient Brother toner and intuitive paper handling system.
Print directly from your handheld devices using the printer's in-built Wi-Fi.
Manual feed slot accommodates a variety of paper types and sizes.
Sturdily constructed to serve you for many years to come.
Comparison Chart Of Top  10 Laser Printer for Photos
Canon imageCLASS MF731Cdw
Wireless and wired

HP Color LaserJet Pro Multifunction M479fdw

Canon imageCLASS LBP612CDW

HP Color Laserjet Pro M180nw

Canon Office Products MAXIFY MB2120

19.0 ipm Black/13.0 ipm Color
Things to Consider Before Buying Color Laser Printer for Photo Printing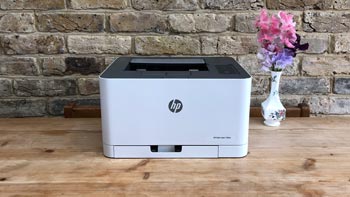 Before you decide on a laser photo printer for your photo printing needs, it's important to keep a few determining factors in mind. They are outlined below to help you find the best laser printer for photos. We also reviewed another laser printer that will be comes with dual tray in other article.
Paper Handling
As you may already know, printers come in a wide range of sizes to match varying printing needs. The vast majority of standard printers are rated to handle A4 size paper, but not higher. So, if you're going to be printing larger documents and photos, your printer has to be able to handle that.
Look for printers with large paper trays if you will be printing in high volumes. On that note, Automatic Document Feeders can also speed the printing process along significantly. Duplex printing (also called double-sided printing) is another important feature that allows you to save paper and time.
Maximum Capacity
Every printer has a maximum capacity of the number of prints in a certain period of time (usually a day or a month). The benefit of laser printers is that they have a higher capacity compared to inkjet ones, with some going up to tens of thousands of prints a month. But the higher the capacity, the higher the price also tends to be.
Connectivity Capabilities
The best thing about modern printers is that most of them don't need to be hooked up to the input device. Beyond USB connectivity, a printer can also be equipped with Bluetooth, Wi-Fi Direct, or Apple AirPrint capabilities.
This allows you to print documents and images wirelessly directly from your devices. You can imagine the benefits of that in a large establishment!
Printer Speed (PPM)
Yes, there is a measure reserved solely for the speed of a printer, and it's PPM – pages per minute. The PPM measures the amount of time it takes a printer to produce one standardized page. Let's say your chosen printer has a PPM of 20. That equals to 20 pages per minute.
Thankfully, laser printers are fast, to begin with. However, color laser printers are typically slower than their duo-chrome counterparts. So it's important to look into the specs to ensure they match your printing demands.
All-in-One Functions
The printers of today are not only limited to printing. A large proportion of printers that are manufactured by big brands come with the capacity to scan, copy and fax, besides printing–these are called All-in-One or AOI printers. They are both convenient and economic.
Do note, however, that printers with multiple functionalities do tend to produce lower-quality prints than standalone ones, and might also be relatively slower. So it depends entirely on your preferences and whether you're okay with that.
User-Friendliness
There's no point in fancy features and specs if your printer is difficult to set up and use. Look for printers with easy driver installation, a control panel that's easy to use and accessible, and supports importing ICC settings and profiles from existing printers.
And especially if you're buying the printer for an office, look for printers that can remember custom settings.
Benefits of Printing Photos on Laser Printer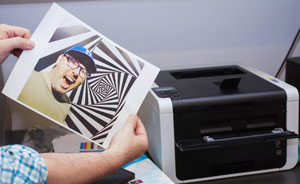 Worried about photo printing quality on a laser printer? Consider the benefits of a color laser printer over an inkjet one.
Lower Cost Per Page
The most prominent benefit of a laser printer is its cost-effectiveness. While inkjet ink cartridges cost less than laser toner, the cost per page is higher for inkjet printers. This means that a laser printer can produce more pages than an inkjet with the same amount of ink.
No Streaking or Smearing
Unlike the dye ink of inkjet printers, laser printers make use of laser toner, which is a dry powder. Because there's no wet ink involved, there's also no chance of smearing. Consequently, printed texts and images are always clear and sharp.
Easier Maintenance
Replacing a toner cartridge for a laser printer is easier by miles than when dealing with an inkjet printer. You don't have to worry about dried-up ink or perfectly aligned print heads. Just click print and go about your day!
More Paper Choices
Compared to inkjet papers, you have a wider range of paper types to choose from for your photo laser printer. Not just that, but they're cheaper, and come in bigger packages as well!
Tips to Make Your Photo Printing Quality Better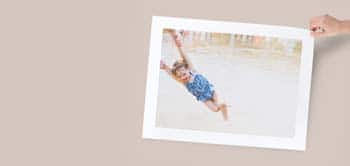 What is the best color laser printer for photos for you?
The answer to that loaded question lies not only in the printer but also in you. Here's what to do to get that great photo quality.
Use Recommended ICC Profiles
First of all, make sure you have the printer manufacturer's recommended ICC profiles. This will allow you to optimize the ink and paper combination for your specific printer, leading to clearer images.
Learn The Printer Software Well
Every printer comes with its own software that allows you to customize the printing parameters and quality. Look for the highest-resolution options while printing photos, making sure that they are adjusted to match the type of paper you are using.
Use the Right Paper
One major advantage of laser printers is that they accept more types of paper than inkjet ones. That being said, it's important to be informed about what paper your printer can and can't handle. Follow the manufacturer's recommendations for paper thickness, type, etc.
Take Care of Your Printer and Toners
Keep your printer safe from excessive heat, humidity, and moisture. Clean it regularly to avoid debris/dust build-up. Store toners in dry, cool spaces. And always keep your software and drivers updated!
People Also Ask ( FAQs)
Can color laser printers print photos?
Absolutely. However, the quality of the print varies depending on various factors, so it's important to do your research. The printers reviewed today are all recognized for their high-quality photo prints.
How do color laser printers work?
When the printing process starts, the toner powder is transferred via heat to the receiving paper. When printing photos, use laser-optimized paper for the best results.
Who should buy a color laser printer?
The low maintenance cost and size of a laser printer make it ideal for professional use, e.g. in businesses that are looking to produce their own brochures and flyers. Color laser printers are also preferred for low- to medium-duty home use.
How do I know if a color laser printer is right for me?
If you want cheap and fast color prints and aren't too crazy about photo quality, then a color laser printer is the right choice.
What are the drawbacks of using a laser printer for photos?
Laser printer photo quality is invariably lower than that of an inkjet printer. Because the former only uses the four CMYK toner colors, the color gamut is lower. And, because the brightness, color balance, and contrast settings of each printer are different, some toggling is required.
Is it okay to use inkjet printing paper with a laser printer?
Absolutely not! Inkjet paper comes with a special coating that allows it to absorb wet ink more easily. When combined with the heat of a laser printer, this can not only cause image feathering but actually harm your printer.
How many pages does a single toner cartridge yield?
It's in a large range that varies depending on the printer, so you're looking at a yield of anywhere between 2,000 and 10,000 pages per cartridge. Choose wisely!
Conclusion
So, Which one is the best color laser printer for photos? We think that the answer entirely depends on your particular needs and preferences.
That being said, we're inclined to name the HP Color LaserJet Pro Multifunction M479fdw as our favorite from this list. With its high printing speed, vivid print quality, and multi-functionality, it's the perfect companion for a small business.
Not keen on AOI printers? Then you can consider the Brother HL-L3270CDW. And if you're on a budget, the Xerox Phaser 6510/DNI is a clear winner.
May your prints always be sharp, clear, and most importantly, beautiful. Good luck!
Other resources that you may like: