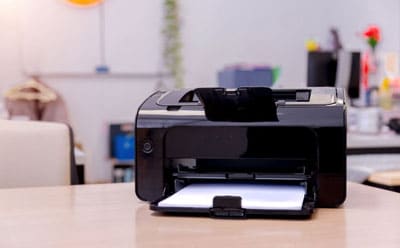 Printers are a very basic part of any modern business. Most of our work is now done digitally, on printed paper.
Starting from business cards to contracts to office notes, a printer takes care of it all.
So, it's very important that when your business takes a step towards greatness, you get the best commercial printer around.
And this is where we swoop in to be your guardian angels who guide you to the right choice when it comes to the right commercial printer.
That is why we have put together reviews of 10 of the most preferred commercial printers out in the market right now. So, without waiting any further, let's jump in, shall we?
| | | | |
| --- | --- | --- | --- |
| | | | |
| | Brother Monochrome Laser Compact All-in-One Multifunction Printer | | |
| | HP Color LaserJet Pro M283fdw Wireless All-in-One Laser Printer | | |
| | Brother Compact Monochrome Laser Printer | | |
| | HP OfficeJet Pro 6978 All-in-One Wireless Printer | | |
| | Epson WorkForce WF-7710 Wireless Wide-Format Color Inkjet Printer | | |
Benefits of Using Commercial Printer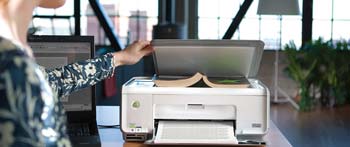 Before we move on to the reviews and all the technical features, we'd like to lay out the different benefits that you can get from using a commercial printer.
Now, these printers are packed with different features in general that give birth to endless possibilities. So, let's see what they have to offer.
Creative Control and Versatility
Firstly, a commercial printer gives you and your employees full creative control over what you want to print out.
These printers are called commercial printers because of their versatility and range of use. So, you have a complete creative station at your disposal when you keep a commercial printer at your office.
Efficiency
Secondly, we have the benefit of efficiency. These printers are designed to print at amazing speeds. So, mass printing is given priority.
Hence, brochures for clients and other paperwork can be completed at proper speeds, which can give your business an edge when it comes to competition.
Accommodates Every Size
Lastly, you have the factor of size not mattering at all. You can print at almost any size with a commercial printer.
This lets you prepare any kinda sample that you want to present to your clients at the shortest notice. So, we definitely deem it to be a proper benefit.
10 Best Commercial Printers Reviews in 2021
Here, we have put together reviews of 10 printers that we would like to recommend to you. So, here goes-
1. Brother Monochrome Laser Compact All-in-One Multifunction Printer
The first entry on our list is by the world-renowned printer brand Brother. They are known due to their top-of-the-line printers that give them an extra edge against their competitions.
As a matter of fact, this one does prove Brother's worth as a printer manufacturer. So, let's check out the features.
For starters, the printer has an amazing feeder capacity of 250 sheets. So, you won't have to think about refills after you fill it once with paper. This can increase efficiency at the workplace if combined with wireless printing.
Moreover, this commercial laser printer is capable of printing all kinds of professional documents.
Along with all that, the printer also happens to have quite an amount of space for printing flexibility.
So, you can stock your envelopes and cards right in the printer so that official documents can be prepared from thereon. That contributes to efficiency and will surely increase productivity when it comes to printing.
But this is a monochrome printer and is meant only for documents.
So, you won't get any color prints out of it. But, thanks to monochrome printing, the printing speed is faster and it is also affordable. In one of our article we are talking about some more laser printers.
Highlighted Features:
Stores 250 sheets of paper inside for fewer refills.
Manual feed slot for flexible paper handling.
Specially engineered for productivity.
Has Wi-Fi connectivity for wireless printing.
2. HP Color LaserJet Pro M283fdw Commercial Color Laser Printer
This entry is by none other than the great Hewlett Packard, also known as HP. They have always been known for their top-of-the-line products.
Starting from laptops to monitors to printers, they have done it all. And now, they are a brand to reckon with. This commercial color laser printer is no different.
To start, this printer is not monochrome. So, it can print in color. But that's not it. It sure does print color, and it does so in high quality. Now, not only you can provide printouts to customers at tremendous speed but also they are going to be of outstanding quality.
Moreover, the printer has a speed of up to 22 ppm. You can use that to your advantage and increase productivity at the office. To add to that, the automatic feeder also happens to have a capacity of 50 sheets of paper.
On the plus side, the printer can also be controlled remotely thanks to HP's mobile app. So, you can print stuff on the go thanks to these added features from HP.
So, this one gets a recommendation from us if you're looking for the best commercial laser printer on the market.
Highlighted Features:
Color LaserJet for better quality color prints.
Can print at a speed of up to 22 ppm.
The automatic feeder has a capacity of 50 sheets.
Can be controlled remotely from HP's mobile printing app.
3. Brother Compact Monochrome Professional Printer
Here's the second one among four entries here from Brother. This one is also packed with features that we expect from Brother printers. And they are sure to amaze you as they did us.
So, without waiting any further, let's jump in and check out all the good features that this model from Brother has to offer.
At first, we would like to make it clear that just like the last one from Brother, this commercial printer is also monochrome. So, you cannot color print with this one.
But this also means that you will be able to print documents at amazing speeds to get your efficiency up a notch. Pretty convenient, right?
Speaking of efficiency, this printer is actually optimized for it. According to Brother, it can print 36 pages in 1 minute.
Now that's what we like to call impressive! Along with that, it also has a pretty hefty paper tray that can hold 250 sheets of paper.
Moreover, the printer also has scanning and faxing options, so that it can scan document and photos also. So, you can scan a document and get a copy out of it on the get-go.
Adding to that, it also supports wireless connectivity like Wi-Fi and does a great job with its colored touchscreen that can print straight from the popular clouds.
Highlighted Features:
Optimized for efficiency at 36 pages per minute.
Has Wi-Fi connectivity for wireless communication.
Can print straight from clouds.
Monochrome printer for dedication to official documents.
4. HP OfficeJet Pro 6978 All-in-One Wireless Printer for Office
Here's another printer straight from the factories of HP. The OfficeJet series is specifically made for workplace efficiency, packed with the right features that give your business exactly what it needs when it comes to printing documents and other things. The OfficeJet Pro 6978 lives up to its billing and much more.
For starters, unlike the previous one from Brother, this one is a color inkjet printer.
So, you can print out some high-quality documents with this and create some impressive files for your clients to look at when you kill that presentation and land the deal.
Along with that, the OfficeJet 6978 can be controlled remotely thanks to HP's mobile app, which you'll see us mentioning a lot because it is really that significant.
This will let you print your files even when you're on the go around the office, helping others do their jobs.
What caught our eye the most about this one is that it is supported by Alexa. So, one command to Alexa can both start and stop your print work.
Moreover, it is also built for business, so you can save 50% more than lasers and print efficiently at the same time.
Highlighted Features:
Color inkjet for high-quality business documents.
Can be remotely controlled with a mobile app.
Built for business, so you can save 50% more on ink compared to lasers.
Compatible with Alexa for added accessibility.
5. Epson WorkForce WF-7710 Wireless Wide-Format Color Inkjet Printer
The next entry here is by another giant when it comes to printers. We are talking about none other than Epson. This brand has revolutionized the world of printers like no other with their scanners and printers.
And this time, they have not failed to impress us. So, let's talk about the features of this printer, shall we?
Firstly, this is an all-in-one printer. So, you can expect complete productivity out of this printer without a single doubt. This commercial color printer can scan & print documents that's will be helpful for teacher or such kind of profession, and even fax also. 
So, you have a unit here that can take care of all of your paper-related issues by itself.
Secondly, this printer, like the last one by HP, is also a color inkjet printer. It is one hell of a printer with a wide format, which gives it a span for printing that makes it amazing for printing vibrant visuals. You can easily impress your clients with this printer at your disposal.
Lastly, it has all the wireless connectivity features that you'll need to make it as accessible as possible. Along with that, you can control it remotely using a smartphone app and print on the go.
And to put a cherry on top, this printer is also compatible with Alexa, so you can literally boss it around by just sitting around.
Highlighted Features:
All-in-one capability for productivity.
Wide-format color inkjet for more range of color printing.
Packs in all wireless features for connectivity.
Works with Alexa as an added feature.
6. HP LaserJet Pro M404n Monocromatica W1A52A
Here's the last entry from HP on our list, and this one's got a twist. Just like all of HP's other products, this also doesn't disappoint.
It takes care of all the features that you might need from a commercial printer and nails them down pretty well. So, let's get down to business and check out just how good this one is.
Unlike the other HP printers on this list, this printer is monochromatic. So, it does not print in color, just black and white.
But that means the printer can give out faster prints and contribute to your business's efficiency. So, that's a plus point for us either way.
This one packs in quite the punch at an affordable price. To do that, they have kept all the basic functions that you'll need in a commercial printer.
HP has focused mostly on growing businesses for this one. So, we can actually call this one the best commercial printer for small businesses.
Even though this printer doesn't have wireless features like Wi-Fi, it can run properly in a network with the help of proper Ethernet.
So, if your business is small and you need a printer within a tight budget that would fulfill all your printing needs, this is the printer that you might want to get.
Highlighted Features:
Monochromatic printing for faster prints and better efficiency.
Gives all the basic features at an affordable price.
Specially designed for growing businesses.
Supports ethernet for better connectivity.
7. Brother HL-L6200DW Industrial Printer
Here's the third entry on our list from Brother, so you can guess that they are actually the best brand out there for commercial printers like these.
This one is no different from the previous one. Rather, this one packs in an extra punch with its features. So, let's check them out, shall we?
The first thing about this printer is that, like all the Brother printers we mentioned before, this one is also monochromatic.
It's designed mainly to print official documents at high speeds so that the workplace gains an edge when it comes to getting the print jobs done.
And the second thing that caught our eye here is the storage. This one can hold a little more than twice the number of sheets that any other printer we have mentioned till now can, i.e., 520 sheets.
With this printer, you can forget about refilling for a little longer. That is pretty convenient, to us at the very least.
Lastly, we think this printer is worthy to get a place at your office because of its added features. It has all the wireless features that you'll need and even works remotely with help of the likes of AirPrint and Google Cloud 2.0. Features like these add value to the printer and make it worth more.
Highlighted Features:
Monochromatic printing for speeds as much as 48 ppm.
Can hold up to 520 sheets for fewer refills.
Can be used remotely with AirPrint and Google Cloud.
Triple-layer security to protect documents on the network.
8. Brother MFC-L8900CDW Office Printer
This is the last entry from Brother on our list, and this one is rather interesting. The features in this printer are top-of-the-line and worth recommending to you since you're looking for a commercial printer to give your company a competitive edge. Now, let's see what these features are.
Firstly, this printer is specifically designed for businesses. It is larger in size and perfect for high-volume printing. Most importantly, it's not a monochromatic printer like the other entries from Brother. It's a color printer that prints extraordinary copies that can impress any client.
Secondly, this printer is designed to increase productivity. So, it can work at great speeds, be the print be color or grayscale.
It can print at speeds up to 33 ppm and scan at speeds of 58 ipm. That's some amazing numbers if you ask us. This can surely contribute to an increase in efficiency at your workplace.
Lastly, this printer comes jam-packed with added features, like wireless connectivity and Gigabit Ethernet compatibility.
These are features to die for and definitely worth every penny. That is why we consider this printer to be one of the best industrial printers out there.
Highlighted Features:
Good for high-volume printing.
Prints at a speed of 33 ppm for more efficient performance.
Has Gigabit Ethernet compatibility for faster file transfer before printing.
Color laser printing for high-quality printouts.
9. Xerox WorkCentre 6515/DNI Color Multifunction Printer
This printer is from a brand known throughout the world for its amazing photocopy machines and mass printing technology.
We are talking about Xerox, the household name. They have always created top-notch printing technology and this one is yet another one.
For starters, the name WorkCentre of this series of printers already tells us that it is designed for the workplace. Keeping the workplace in mind, Xerox has packed the whole unit with all sorts of features.
One of these features is the industrial build of this printer, which lets it run at peak productivity.
Even though it is a color printer, it runs at fast speeds while ensuring that you have proper time efficiency nailed down.
As an all-in-one printer, it also has the feature of scanning documents and printing them right on. Even the scanning happens fast, at 37 ipm for black & white and 21 ipm for color.
Along with all that, this printer also has an integrated USB port which you can use to directly print files on the spot.
So, we can say that this printer is actually the best commercial printer around at this point. That is why we can openly recommend this printer to you without thinking twice.
Highlighted Features:
Designed especially for the workplace which increases productivity.
Scans and prints fast.
Has integrated USB port as an added feature.
Printing can be controlled with a color touchscreen interface.
10. Ricoh Aficio C2003 Commercial Copier
For our last entry, we have an enthusiast's favorite. Ricoh Aficio is not a brand that a normal person would recognize, but those who know the world of printing know just how good this brand is.
That is why we have added this color copier from Ricoh Aficio to our list of recommended products and included a review. So, let's jump in.
The first thing about this one that caught our eye is its ability to store sheets of paper. It has a capacity of 1200 sheets, which takes care of refilling for quite a long time. This also proves that this printer is good for high-volume printing.
Moreover, the printer also contributes to time efficiency thanks to its speed. Along with that, this copier has all the basic functions you'll need to carry out high-volume printing.
So, if you are on a budget but want something capable of high-volume printing, both color and grayscale, we recommend this.
Highlighted Features:
Has a capacity of 1200 sheets.
All-in-one functionality for better productivity.
Prints at speed up to 20 ppm.
Perfect for high-volume printing.
Commercial Printer Buying Guide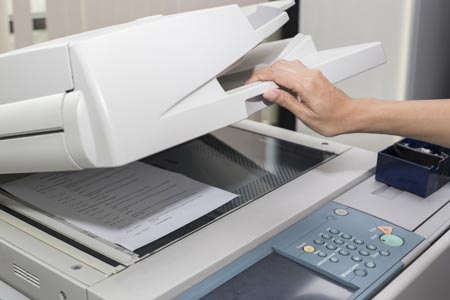 Now that you have checked out all the reviews, we'd like to talk about the things to look out for when choosing a commercial printer in general.
These will help you properly check a printer before buying it, especially if it is out of our list. So, let's check out these qualities one by one and see how they benefit you.
Printing Speed
The first quality to look for in a commercial printer is the speed that it prints at, as time-efficiency is one of the key benefits of commercial printers.
If you want to be efficient in work and print all your stuff in an instant, you must take the printing speed into account. Compare the speeds of different units before buying.
Proprietary Technology
The second thing to look out for in a commercial printer is the kind of proprietary technology the manufacturer has used to give their product a competitive edge.
These features are usually game changers and give the printer extra value compared to the other ones on the shelves.
Paper Compatibility
The next thing to look at while buying these printers is the kind of paper that they're compatible with. Remember that this is completely dependent on your business's needs. .
If you make contracts regularly, then A4 and letter-sized papers are more important for you. So, check if the printer supports the paper you use.
Connectivity
Next up, we have connectivity. Since we are in modern times where wireless printers are somewhat of a norm, you should check the connectivity capabilities of your printer to get the most out of it. Wireless printing is a basic necessity now since you're paying top dollar for the printers. The rest of the features are bonuses.
Cartridge Availability
This is something that most of us tend to forget. Your printer must have cartridges readily available in the market.
You'll need to change your cartridge a lot since you're going for a commercial printer. It will run out of ink pretty often, and you'll need to run to get another cartridge for your work.
Feeder Capacity
Feeders are a neglected region of printers since we don't actually understand their necessity. If you have a proper feeder, you won't have to worry about refilling paper every half hour.
So, check the feeder capacity of your commercial printer and make sure that it has a proper capacity since it is for your business.
Ink Combinations
Another thing to look out for is the kind of ink combinations that your printer uses.
For printing illustrations or business card and other color-intensive documents, you'll need a printer that uses the CYMK combination of ink.
 So, keep the kind of ink combination that you need in mind and choose the printer accordingly.
Added Features
Lastly, you should try to get in as many added features as you can to make it more productive. For example, printers compatible with Alexa are pretty popular nowadays, and so are those with Wi-Fi and Ethernet capabilities. So, be sure to look for added features like these in your printer.
Tips to Take Care of Your Commercial Printer for Better Longevity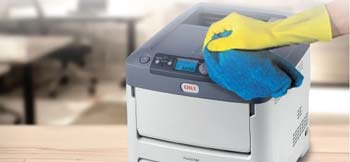 Now that you know about all the features that make a commercial printer of good value, let's talk longevity.
These tips will help you keep your printer a-okay for quite a while. So, let's check them out, shall we?
Safely Unplug It
The first one would be to properly unplug it after you're done using it for the day. This makes sure that the printer does not fall victim to a power surge of some sort.
So, that takes care of the electrical issues, which takes away a lot of the pain.
Put It in a Proper Space
Next up, we have the tip of keeping the printer in a spot where it'll have enough space to work without obstruction.
So, make sure you put it in a spot with ample free space and where the printer gets enough air to not let dust accumulate.
Keep It Clean
Speaking of dust, you also need to keep the printer clean so that the hardware does not get slowed down due to dust.
So, always keep a cleaning kit beside the printer so that people can occasionally clean it after use to keep it running in top-notch condition.
Look out for Clogged Ink Nozzles
Lastly, keep an eye out for clogged nozzles. While using ink, sometimes, it might dry up and clog the nozzle. That can damage the printer if not handled properly.
Frequently Asked Questions
What kind of document file should I use for printing?
For documents, you should always go for PDF files. Along with that, make sure that your PDF is of high quality if you're targeting high-definition prints. This will give the print proper clarity.
How accurate is the print compared to what I see on my monitor?
This depends on the kind of monitor that you are using, to be very honest. Printers and monitors produce colors in completely different ways.
But you can get the most accurate color by setting your color tone to CYMK as most printers use the CYMK ink combination.
What is color separation?
The process of color separation is when the colors used in the photo or document are separated into the primary colors before printing.
For CYMK printers, the colors are separated into Cyan, Yellow, Magenta, and Black.
Do we consider white to be a color while printing?
In the case of paper that is white, places that are white are left blank by the printer. But if the paper is of a different color, the printer paints white. Therefore, it is considered a color.
What kind of resolution should I maintain for printing
For printers, the resolution is calculated in dots per inch or dpi. Now, the ideal resolution for print materials is 300 dpi, which gives out a really good output.
Final Words
And that was all of our efforts on helping you choose the best commercial printers for your business. We hope that our reviews and all the other information in this article helped you. 
Now, we expect you to put this information to good use and get some efficient work out of the printer that you choose.
We also appreciate feedback from our readers. So, if you feel like there's something we left out in this article, or you have a new idea for us, feel free to reach out. We would love to put your opinions to good use.
Other than that, stay safe and happy printing!