Imagine you are starting a business. What is the best way to attract new clients and customers?
Well, the simplest way to do this is by making a stylish business card that embodies the services that you offer. But printing a business card is not as easy as it may sound.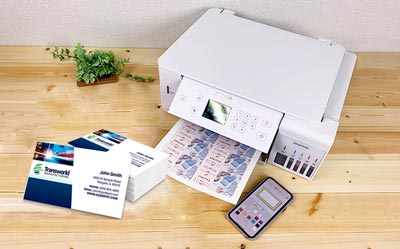 Sure, you can go to a printing shop and give them your design. But getting the best printer for business cards will give you the option to experiment with different designs and print as many copies as you want. Besides, for any business organization, a printer is almost always a necessity.
But choosing a business card printer might not be as easy as it sounds. First of all, you need to understand that not all printers can handle this task.
Since you are dealing with thicker papers than normal, you need a specialized machine that will not jam up when using this type of paper.
Top 7 Best Printer for Printing Business Cards
In this article, we will give you a complete rundown of everything you need to know about choosing printers that can print business cards. So, without further ado, let us jump in.
1. HP Color LaserJet Pro M454DW Wireless Laser Printer
We will be kicking things off with one of the finest choices you can make when you are buying a business card printer.
Although the M454DW is a laser printer, which some may view as the wrong choice for card printing, the performance it delivers for this task is undeniable.
Paper handling is one of the key selling points of this unit. It allows for duplex printing and comes with an automatic document feeder. In addition to its 300-sheet paper tray, you also get a 50-sheet override tray for printing cards or envelopes which is a must-have for your business.
With a printing speed of 28 pages per minute, you will be able to print stacks of cards within a short period.
For duplex or two-sided printing, the unit scores a speed of around 17.3 images per minute. It also boasts excellent color output, which means you can get creative with the designs.
Because of its compact design, you will be able to place it anywhere, even if you have a cramped workspace. It supports Gigabit Ethernet, Wi-fi, and USB 2.0 for PC connectivity and also supports mobile connectivity. The only downside of this unit is its printing cost which is a bit higher than its competitors.
Highlighted Features:
Compact form factor.
Expandable 300-sheet paper tray.
Fast printing speed.
Excellent smartphone compatibility.
2. Canon Pixma iX6820 Wireless Business Printer
If compact and efficient printers are your thing, then look no further than the infamous Canon Pixma iX6820. This wireless printer is a good choice if you are on a budget and want something inexpensive to kickstart your business. Despite its affordable price, the performance it offers is excellent.
At the price you are paying for this printer, you cannot expect insane levels of paper handling. But it delivers more than other similarly priced products giving you an automatic sheet feeder with a capacity of 150-sheets. Unfortunately, you do not get any duplexer which means two-sided printing is not an option.
When it comes to speed, the unit can deliver a respectable 2.8 pages per minute, which should be enough for most startups. But the best part about this unit is its output quality. If you want to work on intricate graphics, this unit will surely deliver thanks to its 9600 x 2400 dots per inch maximum print resolution.
The connectivity options in this unit are surprising, considering the price. IT comes with Air Print, Google Cloud Print, and Pixma Printing solution allowing for robust mobile connectivity. Apart from that, you also get the basic Ethernet and Wi-Fi connectivity options making it a great choice for just about anyone.
Highlighted Features
Excellent maximum printing resolution.
150-sheet automatic document feeder.
Support smartphone connectivity.
It comes at an affordable price.
3. Epson EcoTank ET-4760 Color Printer for Business Cards and Flyers
If the last printer on our list was a bit too simple for you, this one by Epson might be a better choice. It is priced a bit higher but offers many excellent functions that make it a good option for small office or home work environments. In addition, its low running makes it a highly appealing device.
The unit offers a solid print speed with a rating of 15 pages per minute which is excellent if you are planning on printing bulk amounts of cards.
When you are printing graphics and photos, you will steel get a respectable 7.6 pages per minute score. This should be sufficient for almost any work space.
Despite the smaller form-factor, the unit handles paper efficiently. You get an automatic document feeder with an auto-duplexing function with a capacity of 30-sheet. Furthermore, the 250-sheet paper tray comes in handy if you want to use the device for frequent printing.
This printer comes with all the basic connectivity options, including Wi-Fi, mobile connectivity options, Ethernet, and USB 2.0 for PC.
However, the lack of USB scanning and printing might be a bit of a drawback for some. For the price though, the performance it offers is fantastic.
Highlighted Features
Compact, space-saving design.
Excellent paper handling.
Fast printing speed.
Low cost per print.
4. Canon TS9521C All-In-One Crafting Photo Printer
For our next option, we will be going back to Canon with another excellent unit from their Pixma line of printers. The TS9521C is an AIO printer that will give you all the tools you need to print top-notch business cards or any other sort of media regardless of your requirements.
Although the unit comes at an entry-level price, the performance it offers is quite decent for an all-in-one unit.
It can hold around 200-sheets in total, split between the front and rear tray. In addition, you also get a rear tray with a 20-sheet capacity for different paper sizes.
The reason it falls short of the competition, however, is its meager speed. It can deliver only around 15 pages per minute for monochrome prints, and for color, the speed falls down to 10 pages per minute.
If you stick to business cards, it might be enough, but for more heavy-duty stuff, the performance might be a bit lacking.
On the other hand, the connectivity options in this unit are superb, featuring Ethernet, Wi-Fi, USB, Bluetooth, and also a plethora of options for mobile connectivity. You can also use voice commands by pairing them with your Amazon Alexa or Google Assistant devices.
Highlighted Features:
Entry-level price tag.
Excellent paper handling.
Smart connectivity options.
Decent print quality.
5. WorkForce WF-7710 Wide-format Color Inkjet Printer
Next, we will be looking at the top-of-the-line printer from the WorkForce line of products by Epson. The WF-7710 is considered by many as the top choice when buying the best printer for flyers and business cards. Its compact size and robust functionality come in handy for any business organization.
With a monthly duty cycle of 20000 pages, there is no question that this unit can handle heavy-duty printing tasks. Its single-pass auto-duplexing ADF has a 35-sheet capacity which is a must-have if you are serious about printing cards for your business. In addition, the unit features a 250-sheet paper tray for standard pages.
It offers a respectable speed of 18 pages per minute for single-sided pages. If you want to print photos or graphical designs on your paper, its excellent color output will leave you stunned.
The main reason behind its excellent color and resolution is the Epson PrecisonCore technology that powers the unit.
As for connectivity options, this unit features almost anything and everything you could ask for from a printer for business cards.
This means you get Ethernet, Wi-Fi, Wi-Fi Direct, USB, NFC, and even voice activation using Alexa. All in all, it is undoubtedly one of the best printers for business cards and flyers.
Highlighted Features:
Beautiful color output and resolution.
Decent paper handling.
Compact design.
Robust connectivity options.
6. HP ENVY 7855 Cheaper Cartridges Photo Printer
Many who are looking to buy a printer for printing flyers choose to go with photo printers because of the better colors it delivers. The Envy 7855 by HP is one of the best printer for business cards and flyers if you want to go that route. It is an entry-level option that is capable of giving you high-resolution prints without any complaints.
The unit ships with a rated speed of 15 pages per minute. When put to the test, the unit maintains the speed relatively close to its rating.
Although the speed is a bit slower than what you may get even at this price range, it is not the end of the world. After all, speed is not the main focal point of the unit.
It delivers high-quality photo graphics, which is the main reason you might want to get it. The colors are well saturated and vivid, ensuring your business card graphics look classy and stylish.
In terms of paper handling, you get a 125-sheet paper tray, along with a 35-sheet automatic document feeder and auto-duplexing options.
The unit is a smart and classy option that does not take up much desk space. Its connectivity options include USB, Wi-Fi, and ethernet, along with Bluetooth and HP wireless Direct for smartphone connections.
It might not be the best printer for flyers and business cards, but it is definitely a strong contender for it.
Highlighted Features:
Compact and smart design.
Affordable price tag.
Decent paper handling.
Excellent color output.
7. Canon IP8720 Card Printing Machine
We will be wrapping up this list of best printer for printing business cards with another excellent photo printer, but this time by the brand Canon.
The IP8720 is the unit of choice by many photo enthusiasts because of its affordable price and fantastic performance for the cost.
On top of that, the cost per print is also quite low, making it a true budget king. The design of the printer is pretty simple and straightforward.
You get a simple 150-sheet paper tray. If you would rather use photo papers, you should be able to fit at least 20 papers in the tray.
Because of the wide design of the tray, you can use 13 by 19 inches sized paper with it. The speed of the unit is somewhat slow, clocking in at around 2.7 pages per minute.
However, the output quality of both text and graphics is superb, making it an excellent candidate for printing business cards.
You can get creative with your cards without worrying about any resolution or color issues. Keep in mind, this is not a unit aimed at professionals and works better as a secondary printer.
It offers basic connectivity options and features a compact design that goes well on a cramped desk.
Overall, the price of the unit and the performance it offers are quite appealing if you do not have a heavy requirement.
Highlighted Features
Compact design.
Highly affordable price tag.
Excellent color output.
Can print media of up to 13 by 19 inches size.
Printer for Business Cards Buying Guide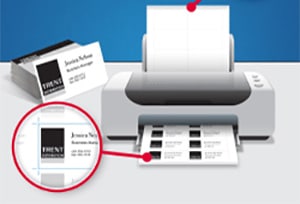 When you are buying a printer that can print business cards, you need to know about a couple of factors.
For cardstock or business card printing, the printer needs to feature some specific functions. Options like automatic duplexing can make things go a lot smoother if that is your primary reason for buying the unit.
For a beginner, a printer can be a complex machine. There are so many small bits and pieces to consider that it can become overwhelming to cover it all. However, with our help, you will be able to develop a good understanding of the elements that you need to focus on.
In the following section of the article, we will take a look at some of the aspects you want to consider when buying the best business card printer.
Read our related article, What is a Digital Transfer Printer? We take a deep dive into Digital Transfer Printers, their uses, cost, benefits, and cons!
Laser Vs. Inkjet
The first thing you need to understand about printers is there are two primary variants based on how they operate, laser and inkjet. If you are printing business cards, most people would advise you to go for inkjet printers. 
However, that is not absolutely necessary as laser printers can also serve well for this type of task.
The main advantage of inkjet printers is that they can print through thicker papers like cardstock.
However, some high-quality laser printers can also handle thick papers, and since laser printer inks are waterproof, they might even give you a better result.
Image Resolution & Quality
If you want your business cards to feature nice graphics and texture, you need a printer with high output resolution and image quality.
The resolution of a printer is measured in dpi or dots per inch. As a simple rule of thumb, the higher the dpi value, the better the output resolution.
However, the resolution is not the only thing that is important. If the printer does not handle colors well, the print might look washed up.
Color fidelity is something you need to check before you buy the printer. In case of resolution, you should opt for at least 600 dpi for decent performance.
Print Media Size
Will you be strictly printing business cards, or you want to use the printer for other works too? If you are solely focused on business card printing, almost any printer can handle it.
However, for a versatile performance, you should look into the media size that the printer can handle.
Most printers can work with standard A4 size paper or other basic sizes. However, if you want a printer that can print custom sizes, you need to consider the options that you get with the printer. Not all printers give you this feature, so you need to pay attention before investing your money.
Cost Per Print
An often-overlooked factor while buying a printer is the cost per print. If your think that buying a printer is the only cost you have to worry about, then you are wrong. Each page you print using the printer has a cost of ink that is consumed while printing.
There are many options in the market that have a high upfront cost, but the low cost per print makes it a better investment in the long run.
You want to find a unit that offers a good balance of both will ensure you are not drowning in upkeep costs. Overlooking this feature will weigh heavy on your wallet.
Printing Speed
Another key aspect you want to consider before buying a printer is its printing speed. Nobody likes to wait around waiting for their business cards to print.
With a fast, high-speed printer, you will be able to print a large stack of cards within a short period.
The printing speed of a printer is measured in ppm, which means pages per minute. You want a high ppm for your printer if you want fast performance.
For duplex printing, you might find a term called images per minute. This refers to the time it takes for two-sided printing.
Paper Thickness
Since you are printing business cards, the papers you will be using are thicker. This means you need a printer that is capable of working with thick paper. Unfortunately, not every printer, especially low-priced models, can handle thicker papers.
You should go through the product specifications of the printer you want to buy and look for the maximum thickness of paper it can handle.
Unless it can print the thickness of your choice, you will not be able to get the full performance out of it. This is another factor that most amateurs tend to overlook.
Printing Volume
People often confuse printing speed with printing volume. With a fast printer, you will be able to print papers fast, but with a large volume printer, you will be able to set up a large project without having to micro-manage. This is especially useful; you want to print bulk volumes of business cards.
Before you make your choice consider your requirements carefully. A high-volume printer can be quite expensive, and if you do not need it, getting it might be a waste.
However, if you know you will be printing thousands of copies every month, it is worth the added cost.
Ink Configuration
Ink configuration of the printer plays a part in its upkeep cost. You want a unit that utilizes the cartridges efficiently, allowing you to use them for a longer period without having to replace them.
That way, you will not have to worry about buying new ink cartridges or toners every few months.
Ideally, the more cartridges the printer uses, the longer the ink lasts. Most printers that we reviewed on our list use at least four cartridges. 
With this configuration, you should be able to get at least a year of heavy usage out of the printer without any issues.
Connectivity
When printers first came into existence, they did not have too many connectivity options. Ethernet, wireless connection, etc., were only a thing of imagination. However, these days, you will hardly find a unit without at least a few different connectivity options.
To get the most out of your budget, you want a unit that offers you the connections that you might want to use.
If you want to work using your smartphone, some models feature robust smartphone connectivity via wireless, Air Print, or similar cloud-based programs.
Printer Size
Lastly, you also want to consider the size and structure of the printer. Not everyone has the luxury of having a large workspace.
Some people only have a cramped desk where they need to place their machine. If you have a similar situation, consider getting a compact printer.
However, if you do not need to worry about space, you might as well get a larger unit with more paper handling capacity.
It is strictly a matter of personal preference and situation. So, make your choice, depending on your work conditions and requirements.
Brand Value and Price
When it comes to printers, you want to avoid going with knock-off brands and stick to reputed ones. Since it is a complex machine, you want a reliable name behind your printer that has a reputation for delivering quality products. Besides, a well-known brand also cares for its customers.
You also want to think about your budget when you are making your decision. These days, printers come at all sorts of prices, and even if you have a low budget, you can find an excellent product. Make sure you check all the features we mentioned above for the product you want in your price range.
Read our related article on How to Get Printer Ink Off Hands. If printing business cards has resulted in hands stained with printer ink, check out these tips and tricks to help you remove ink quickly!
Tips to Print the Perfect Business Card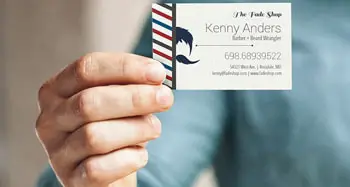 Now that you know all about the printer you want to get let us talk about how you can get the perfect business card.
A business card is all about making an impression, and you do not want to give off any unwanted vibes.
The following few tips will greatly help you out if you are making a business card for your organization.
Target Audience
The first thing you want to think about is who will read the card. Your audience and how they think should be your priority when you are making a card that is meant to attract them.
For instance, if you are making a card for designers, you want to use colorful graphics that show off your creativity. But bankers have no need for your creativity and might respond better to your sense of professionalism.
Use Proper Fonts
Choosing the right font can make a world of difference when you are printing your business card. Before settling on a straightforward font, try experimenting with different options to see what goes better.
We are not telling you to use Comic Sans or Goth, but Times New Roman is not the only font out there that is worth using for business. Furthermore, make sure the font is legible once you print it on your card.
Honor Negative Spaces
Cramming all the information you can in a business card is a common pitfall for many people. However, that is not the best way to go if you are trying to make an attractive first impression.
You should never try to fill the entirety of your card and choose only the most essential information. Keeping some empty space in your card allows it to get a cleaner look. The saying "Less is more" is true for business cards.
Study The Competition
Taking a look at some of your competitor's business card is a good way to get an idea about how yours should look like. But that does not mean you should steal the idea of another organization.
However, getting inspiration from different sources is completely fine, and as long as you do not rip off the design completely, you are doing nothing wrong. Besides, you can get some innovative ideas by looking at other business cards.
Simple Is Good
Sometimes a simple logo and basic information are all you need to make a good business card. Do not feel pressured into going overboard on graphics and designs with your card just because others are doing it.
There are many successful businesses out there that have a simple card. Overdoing a business card might not be the best way to go, especially if you are not entirely sure about it yourself.
Proofread Carefully
Just because you have your designs and information does not mean you should start mass printing it. It is a good idea to print just one or two copies for the first time to check for errors.
The last thing you want is to print hundreds of business cards with a typo or graphical glitch. So, take some time to proofread your card and see if everything is as it should be before finalizing it.
Frequently Asked Questions
1. Can I print business cards with any printer?
No. Business card printing requires you to work with thicker paper, and that is not possible for any printer on the market. Unless your printer is equipped to handle thick cards, you will not be able to use it for printing business cards.
In addition, if you want to print both sides of the card, you want a printer capable of two-sided printing.
2. Which software is best for designing business cards?
There is no definitive "best" software for designing your business card. It depends on what you are comfortable with.
Whether you are working on Mac OS or Windows also plays a part in your choice of software. Some of the commonly used software are Adobe Photoshop, Adobe Illustrator, Canva, Microsoft Word and Google Chrome Business Card Manager.
Also, if you do not want to design card yourself then you can search good designer at freelance marketplace like Upwork, Fiverr etc. there have lots of talented designers who can fulfill your design requirements and you will get sunning business card.
3. Should I buy an inkjet printer or laser printer for business card printing?
It entirely depends on your preference. Both variants can work well for business card printing as long as the other factors are covered.
Inkjet printers are traditionally cheaper than laser printers, but the lower cost per print of laser printers makes up for the high upfront price.
Final Thoughts
Starting a business without a business card is not a good idea as you will not attract new clients for your projects.
With the best printer for business cards, you can make smart and stylish cards that will make a lasting impression in the minds of your potential clients.
Our detailed review of the best ones available in the market should give you all the information you need to make the right choice.
We hope you enjoyed our article and wish you all the success with getting the perfect printer for your needs.