Are you a creative person with a real knack for business? If so, starting your own T-shirt printing business might be the ideal pursuit. T-shirts are a staple piece of clothing, the profit margins are high, and the equipment required to get the business off the ground is affordable.
If you're thinking about starting your own T-shirt business, this guide will cover the t-shirt printing business equipment you'll need so you can start printing designs right away. We'll also explain why investing in T-shirt printing equipment is such a great idea in the first place!
What Equipment Do You Need for a T-shirt Printing Business?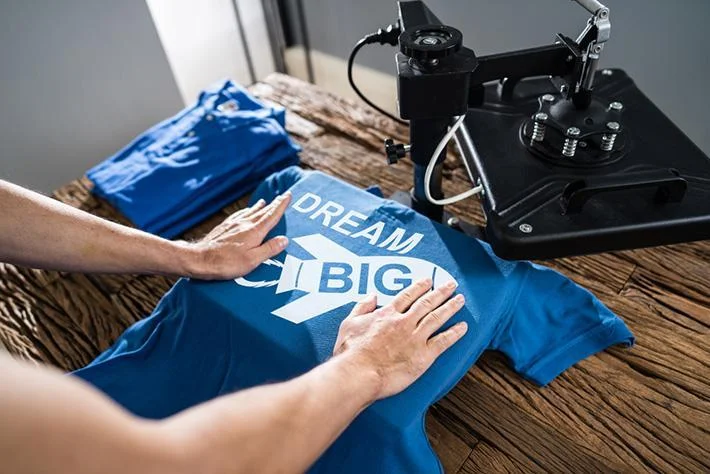 To help you avoid spending money on equipment that you do not need, we are providing an equipment checklist.
Each piece of equipment will be explained so you can invest your start-up money in the right places and give your new business the best possible chance of succeeding!
1. A Heat Press
A heat press will be one of the most important pieces of equipment you purchase for your T-shirt printing business.
As the name suggests, the heat press generates heat and pressure, which is used to transfer the design onto the T-shirt itself.
If you're new to t-shirt printing, see our related article on the Best Heat Press Machine for Beginners!
How Do You Operate a Heat Press?
To operate a heat press, lay the T-shirt flat on the bottom plate and put the transfer paper with your design on top. Then, bring the plate down and hold until the design is transferred to the shirt. While the technology is simple, heat presses can vary in sophistication and cost.
Additionally, it is also important to set your heat press to the correct temperature for the heat transfer paper you are using, as well as the type of fabric the T-shirt is made from.
The cost of this machine will be determined by whether you choose a manual heat press or an electric, computerized model. The former, which is sufficient for beginners, is much cheaper. You just pull the top plate down, hold, and release to transfer the design to the shirt.
Once your new T-shirt printing business grows and stabilizes, you can upgrade your heat press to a more advanced machine. These models are easier to operate and allow for some level of automation, making them much faster.
This type of speed can be important when your sales have increased to a level that is difficult to maintain with a manual heat press.
TIP: For a T-shirt printing business, you will need a heat press with a table that is at least 16" x 20". Anything smaller could limit the type of designs your business would be capable of producing.
2. A Screen Printing Machine
Rather than a heat press, you can choose to screen print your T-shirts. There's a major difference between heat pressing and screen printing, so you should familiarize yourself with the two options and determine which method works better for you.
WARNING: Screen printing machines require a lot of room. They're expensive, especially since you'll also need one professional screen for each color you incorporate into your design.
This is limiting, as adding more colors will increase the cost and the amount of time it takes to print the T-shirt.
On the other hand, heat presses are relatively inexpensive and take up significantly less room, making them more common for beginners. They're also far less restrictive on the amount of color you can add to your design.
What About Emulsion?
If you do decide to go the screen printing route, you will need to purchase a significant amount of emulsion. The emulsion is applied to the screens, as they are extremely sensitive to light. The emulsion coats the screen and reduces the negative effects of light exposure.
Given how important emulsion is to the end result of your screen-printed T-shirts, you will want to apply it in thick coats. This means you will need to make sure that you purchase it in bulk.
3. An Appropriate Printer
Another vital piece of equipment that you will need for your new business is a printer. As you would expect, the printer is what you will use to print your digital designs onto heat transfer paper, which is then used to add your design to the surface of a T-shirt.
How to Choose the Right Printer for T-shirt Printing
There are four main types of printers used in the T-shirt industry. As you'd expect, these printers vary in price according to their sophistication and how crisply they're able to print your designs. The four types of printers are inkjet, laser, sublimation, and solvent.
While it is possible to use a basic inkjet printer, the results can look unprofessional if you choose a basic model. This can seriously hurt how your business is perceived by prospective customers. This explains why many will choose a laser printer or one of the high-end inkjet printers.
NOTE: While they are more expensive, they produce much cleaner images and tend to work best with vector-based images, which will be what you will work with for the majority of your printing jobs.
If you have more capital to work with and desire a large-scale T-shirt business, you may want to upgrade to a solvent printer, which offers the cleanest prints. With that being said, solvent printers are pricey and may be too much of an upfront expense when you're first starting out.
A sublimation printer can be beneficial but it operates in a very different way. Rather than transferring ink to a slide or piece of heat transfer paper, a sublimation printer uses special types of ink and transfers the design directly to the T-shirt material.
The ink used in this type of printing is closer to a dye than standard printer ink. The ink is embedded into the fabric, making it less prone to fading. However, it's only suitable for T-shirts containing polyester. It doesn't work very well on more common T-shirt materials, like cotton.
Read More: How Much Should I Charge for Sublimation Shirts? See where the market is at!
4. A Cutting Machine
While it is possible to cut your designs by hand, it can be very time-consuming, frustrating, and difficult to do accurately. A cutting machine will take an image and cut out the heat transfer for you so you can add it to the T-shirt much faster.
You will want to invest in a high-quality cutting machine, as this will ensure that your designs are cut out accurately and none of them are removed accidentally. While this purchase is not mandatory, it will make your life much easier.
5. A Drying Machine or a Drying Rack
If you're screen printing your T-shirts, you may need to invest in a drying machine. The drying process will ensure the ink cures to the fabric properly. If you're heat-pressing your designs onto your T-shirts, you can probably get away with just using a drying rack.
As you'd expect, electric drying machines are far more expensive than drying racks, but they're worth the extra money if you're screen printing your T-shirts. They'll help improve the overall quality and appearance of your T-shirts and reduce the amount of time it takes to dry them.
6. A Computer That's Capable of Running the Necessary Software
As you would expect, you are going to need at least one computer that is capable of running the required graphic design programs, as well as the program required to operate your cutting machine.
Some of the programs you will need to familiarize yourself with to make appealing designs can be quite demanding. For example, Photoshop and CorelDraw are two popular T-shirt design programs, but a dated computer will struggle to run them.
If you are serious about getting your T-shirt business off the ground, it may be worth putting some money aside for a new computer. You can use a Mac or a PC, but just make sure they can run the programs you will need.
It will also be much easier to run these design programs if you have a mouse, so remember to purchase one if you are planning to do the bulk of your design work on a laptop.
Read More: What is the Best Type of T-Shirt for Printing? Discover different materials and which shirts are best for various printing styles!
Other Supplies You'll Need for a T-shirt Printing Business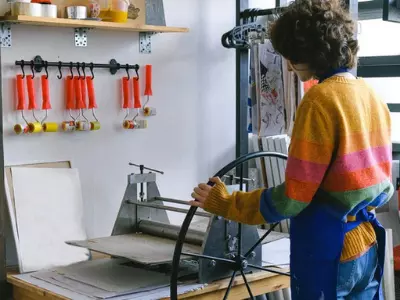 Now that you know what main t-shirt printing business equipment you'll need, we can go over some of the supplies and accessories you will need to get the most out of that equipment.
Heat Transfer Paper
Transfer paper is required if you are planning to use a heat press to put your designs on your T-shirts. Using high-quality transfer paper will ensure that your designs will look their best, so it is worth paying a bit extra.
There are different types of transfer paper available for inkjet and laser printers, so make sure that you are buying the appropriate type of paper for the specific type of printer you are using.
You should also remember that there is transfer paper that is specifically designed for white and light-colored fabrics, so make sure you are buying different types. You will also need dark heat transfer paper for darker fabrics.
Inks
As you'd expect, you're going to need plenty of ink. High-quality ink is critical if you're screen printing. Fortunately, it is one of the easiest things to get your hands on. It can be purchased from Amazon and other major retailers at surprisingly low prices.
Even when they're just starting, T-shirt printers will use a lot of ink and different colors, so make sure you don't cut corners. You can lose business if you can't accommodate a client's request, and it can make your new T-shirt company look unprofessional.
Do yourself a favor and purchase ink in bulk. It will save you a significant amount of money and a great deal of frustration. There is nothing worse than going to print a batch of T-shirts, but not having the ink required to complete the job.
T-shirts
While it may seem fairly obvious, you will also need to purchase the T-shirts that you will be printing on. If you are hoping to stand out from the competition, you should use high-quality T-shirts that have a modern and fashionable fit.
Organic cotton blends and T-shirts that make use of sustainable materials that won't fade and fall apart after a few washes, like bamboo, can set your business apart. After all, you want your customers to actually wear the T-shirts you design.
Whether you are printing custom designs for your customers, or you are planning to print your own range of designs and sell them, choosing to print on high-quality T-shirts can be the decision that sets your business apart.
Design Programs
As mentioned previously, you'll also need to purchase the graphic design programs required to turn your designs into printable images. These are necessary to create custom images and art that you can print on your T-shirts.
Unfortunately, these programs tend to be rather expensive. For example, Adobe Photoshop, the most popular design program for T-shirt printing businesses, requires a high-performance computer and costs as much as $240 per year.
If you are doing custom designs for your clients, having the proper graphic design programs will make your work much easier, and it will allow you to impress your clients with stunning designs.
Read More: Best File Format for Shirt Printing. Low-resolution files make low-quality prints. Here are the best file formats for professional shirts!
Why Should You Consider Starting a T-shirt Business?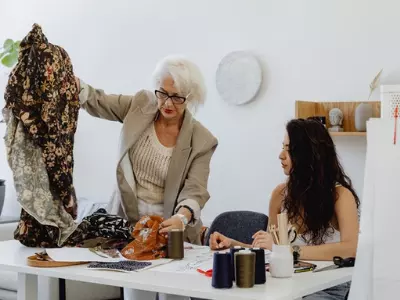 Now that you understand more about t-shirt printing business equipment and supplies you'll need to get a T-shirt business off the ground, you may be wondering if starting one is worth the hassle and all the upfront costs.
While all of this equipment can seem intimidating when you're first starting out, it's worth noting that most of it will last for many years. The return you'll see on your investment can be very significant. Here are some of the reasons you should start your own T-shirt business:
Serious Growth Potential for Your Business. Just about every single person wears T-shirts. In fact, Grandview Research found the global custom T-shirt printing market was valued at USD $3.64 billion in 2020, and it's projected to grow 9.7% annually! (grandviewresearch – Custom T-shirt printing market projections)
Opportunity to Sell Your T-shirts Anywhere. It's now easier than ever before to build your own online store. This will allow you to sell your T-shirts all over the world, making these popular among both beginner and experienced e-commerce entrepreneurs.
High-profit Margins. Given that T-shirts are very cheap to source and ink is very affordable, the profit margins are considerable. This is even truer if you're running an online store, which doesn't have the expenses associated with brick-and-mortar stores.
The Chance to Be Your Own Boss. Starting your own T-shirt printing business lets you be your own boss. Once your business has grown, you can begin hiring employees, which will allow you to focus on running and growing the business.
The Ability to Make a Living Through Your Own Creativity. Designing T-shirts allows you to profit from your own creativity. For artistic people, there's nothing more satisfying than having complete strangers purchase products that you designed yourself.
T-shirt Printing Businesses Can Be Very Flexible. You can design your own T-shirts and sell them as part of a fashion label, or you can customize for others and charge a fee. You can also do bulk orders for various occasions, such as sporting events and much more!