Whether you want to add your own designs and artwork to T-shirts and other surfaces, or are starting a custom T-shirt business where customers can choose their own designs, you'll need a heat press. 
While choosing a heat press sounds straightforward, how do you choose the best one, especially if you're a beginner and don't know where to start?
We recommend a clamshell or swing-away heat press design with custom heat control and a built-in electric timer that lets you use heat press vinyl.
Keep reading our best heat press for beginners review to see 2 of our top picks!
What is a Heat Press?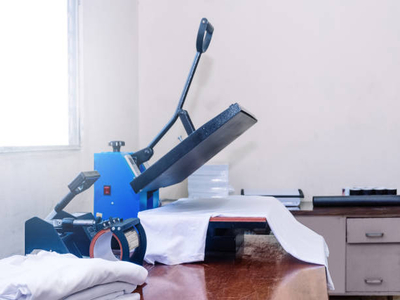 A heat press is a simple machine used to permanently fuse designs from heat transfer paper onto garments and other surfaces using a combination of time, heat, and pressure.
There are various types of heat transfers that offer their advantages and disadvantages, but the basic process of merging the heat transfer to your desired surface is almost always the same. 
Place the printed heat transfer onto your chosen garment in your preferred position.
Then, place the two inside the heat press, which closes around them to apply the heat and pressure required to fuse the heat transfer design to the desired garment or another surface.
Read More: Screen Printing vs Heat Press. What's the difference between screen printing and using a heat press? Here's everything you need to know about their uses!
What is a Heat Press Used For?
As mentioned, a heat press machine creates the exact heat and pressure required to apply a heat transfer onto a surface of your choosing.
You can also use a handy heat press temperature chart to determine how much heat is best for your project.
Transferring designs to the outer surface of various types of garments is the most common reason people learn how to use a heat press machine.
More specifically, people use heat press machines to transfer designs to T-shirts, hoodies, and tank tops, as these types of garments often feature bold and colorful designs.
With that said, some heat press machines can also transfer designs to mugs, water bottles, metal signs, and more.
Features of the Best Heat Press Machine for Beginners
As is often the case with printing equipment, heat presses range dramatically in price and complexity.
When you first start, you do not necessarily need an advanced machine. A basic budget-friendly heat press will offer more than enough to get you started.
Starting with a simple press will also help you learn the basics of pressing custom designs. 
When you're searching for t shirt printing business equipment like a heat press machine, keep an eye out for the following features.
Clamshell or Swing-Away Design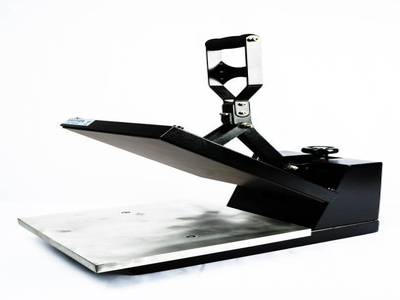 These are the basic designs for heat presses and they simplify the pressing process.
A clamshell or swing-away heat press will make it much easier for you to operate your heat press and easily transfer your designs onto your chosen garments using the perfect heat distribution and pressure.
Ability to Use Heat Transfer Vinyl
Heat transfer vinyl is generally considered the easiest to work with, as it makes it very easy to print custom designs.
They also happen to be the most affordable option – a major advantage for beginners.
Custom Heat Control
If you can afford to pay a little extra, a temperature control knob will make it much easier to press your designs.
Some of the most basic options operate on a simple On/Off principle, so it is on the operator to know when the heat press is at the right temperature.
If you can fine-tune the temperature, it will be easier to know when to open the heat press and remove your garment. 
Built-in Electronic Timer
Just as a custom temperature control knob is helpful, a built-in timer will help when you are first starting.
Being able to program the exact length of time required to fuse your heat transfer to your chosen garment will help you avoid making common errors, like leaving the heat press on for too long or not long enough.
Both of these issues can damage the heat transfer and reduce the chances of it staying adhered to the garment.
Other Heat Press Considerations for Beginners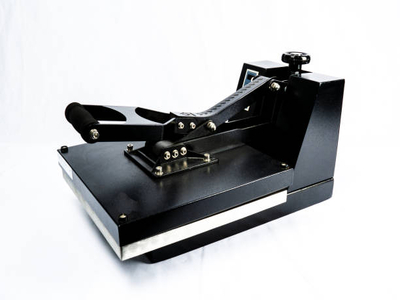 Think about what types of products you will be pressing.
If, for example, you only plan on pressing designs onto T-shirts, look for a single-purpose heat-press, as it will be more affordable and easier to use.
The multi-purpose heat presses are far more expensive and often have more complicated features, such as interchangeable heat plates.
Additionally, choose the highest quality heat press that you can reasonably afford, as the cheap models tend to break down prematurely.
If you are starting a business, think of your heat press as an investment that will allow your business to get off on the right foot. 
With that said, remember you will also need to purchase other equipment and various supplies.
A good-quality vinyl cutting machine, a printer, heat transfers, and plain T-shirts are all fairly common and significant expenses when you are first starting. 
As you get more practice, you may also want to get something to work with different materials, like a plate press or a heat transfer press mug.
Or look for other perks, like adjustable pressure, an improved heat distribution, or a heat plate with a Teflon coating.
It is also important to choose a heat press in an appropriate size for your workspace. As you can imagine, heat presses are available in a wide range of sizes.
If you are looking to press basic designs onto T-shirts, you can usually get away with a 12" x 14" or 16" x 20" model, so there is no point in choosing one of the larger options that can handle large-scale items, like flags, signs, and more.
Best Heat Press Machine for Beginners Reviewed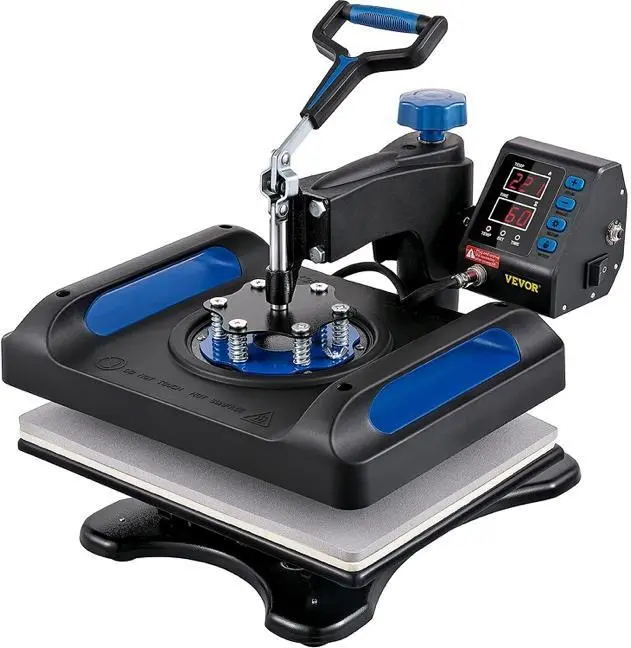 This multi-purpose 12" x 15" heat press has precise electronic controls and a convenient 360-degree swing-away design that is incredibly easy to operate.
The entire unit is reinforced aluminum alloy and the perfect balance between durability and weight.
It also has an anti-scald cover, so it doesn't damage any table or countertop that you place it on.
Overall, this heat press is incredibly beginner-friendly, as it is affordable, simple to operate, and incredibly efficient!
---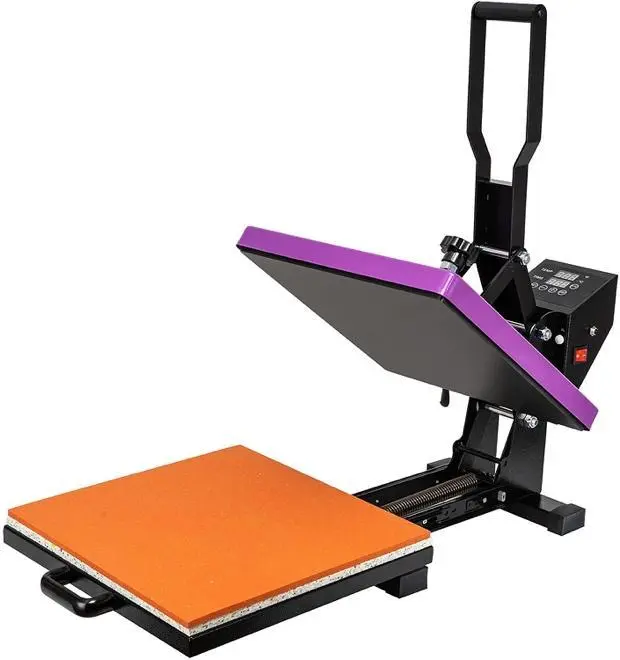 The Sopbost Heat Press is a practical option for businesses and hobbyists, so it has a very straightforward design but still offers outstanding results.
The slide-out heat plate press makes it easy to lay your garments out evenly, while heat-resistant pads protect your hands, as well as any surface the machine is operating on.
The digital control panel allows you to select your preferred temperature setting and time, so you can adjust all of the important settings with the touch of a few buttons.
Like the VEVOR Heat Press, the Sopbost is an excellent choice for beginners, and it is available at a very reasonable price point.