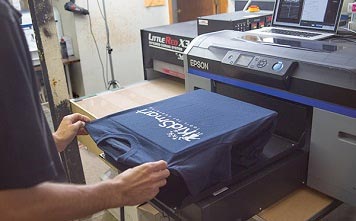 The clothing industry has seen a lot of big changes over the past few years with the advancement of technology in terms of printing.
These days, DTG printing is all the rage in the industry because of its excellent performance and quality output.
If you are planning on starting your own clothing line, whether big or small, you need a DTG printer for yourself. The sheer number of utilities these machines offer is too good to pass up.
In this article, we will give you a thorough rundown of all there is to know about this equipment, along with our review of the best DTG printer for small businesses that you can buy to skyrocket your business.
| | | | |
| --- | --- | --- | --- |
| | | | |
| | DTG Printer T-Shirt Printing Machine | | |
| | Automatic A3 Size T-Shirt Hoodies Printing Machine DTG Printer | | |
| | Epson SureColor F-Series DTG T-Shirt Printers | | |
| | DTG Printer, DIY Printing Automatic LED UV Flatbed Printers | | |
| | DTF L1800 Printer A3 Heat Transfer PET Film Printer | | |
What Is DTG Printing Technology And What Are The Benefits Of Using It?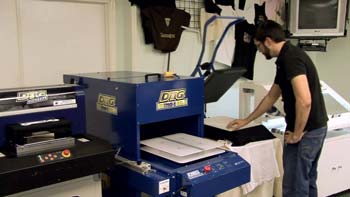 Before we head any further, we think it best to give you a quick rundown of what exactly is a DTG printer. If you do not understand the full extent of what it is and what it can do for your business, you will never be able to appreciate the quality of a decent DTG printer.
The term DTG stands for Direct to Garments. As the name implies, where a home inkjet printer prints on paper, a DTG printer prints directly on fabric. For any clothing business where you have to print designs on garments, a DTG printer is almost essential.
This type of printer can offer a significant boost to both your production quality and quantity. It gives you a lot of advantages while printing design, but it also has a few potential setbacks.
In the following section of the article, we will help you understand both the benefits and drawbacks of using a DTG printer for your small business.
Advantages of Direct to Garment Printing
The major advantages of using DTG printers are:
It allows you to work with a wide range of colors compared to other printers that you can use to print designs on fabric like a sublimation printer.
You can create a unique design with extreme details and high levels of precision using a DTG printer. With other types of printers, the quality might fall with greater detail.
A DTG printer is quite fast, and some models even allow you to print multiple garments at a single pass. This quality makes the DTG printer a highly efficient piece of equipment.
Although mostly used for short production runs, you can also use a DTG printer for the mass production of garments.
It has a relatively low setup cost, and with the right model, you will not have too much difficulty while using it.
The quality of the print will not falter with a decent DTG printer. This would, in turn, boost the reputation of your business.
Since the ink in a DTG printer is mostly water-based, you do not have to worry about any bad effects on the environment. It is extremely eco-friendly.
You can use a wide range of software on both Mac and Windows to get creative designs. If you are a beginner, you can make use of the thousands of templets available online for inspiration and create your own unique designs.
Read our related article, What is a Digital Transfer Printer? We cover everything you need to know about these printers including price, use, and more!
Disadvantages
There are also a few issues with using the best direct to garment printer for small business that you need to know about before you buy one for yourself:
You will mostly be limited to using cotton garments for DTG printing. However, since cotton is a popular fabric type, this is not as bad as it might seem. This fabric is weatherproof, durable, and quite comfortable to wear. Still, being limited to a single type of fabric might not be a good thing for everyone.
It is not very cost-effective if you want to use it for mass production. The cost per print would be higher, and even though you can print a large volume of clothes in a short time, replacing the ink and print heads will set you back a decent amount. A DTG printer is better suited as short production equipment or for testing the fabric.
Although the DTG printer is quite efficient, when you compare it with sublimation printers, the speed does seem a bit lacking. However, the unit makes up for it by giving you a larger printable area in most cases where you can print multiple numbers of garments at a single pass.
One of the major drawbacks of the DTG printer is where you want to place the design. If you require a unique placement, for example, the sleeves of the shirt, you might not be able to get it done with this type of printer. This might be the biggest limiting factor of a DTG printer.
A DTG printer is a very expensive printer, especially when you compare it to a home inkjet or sublimation printer. Although the cost of operation is lower from a business viewpoint, the high upfront cost might be a bit intimidating for some people.
Read our related article where we compare Dye Sublimation vs DTG to help you decide which is right for you.
Our Top 10 Recommended Best DTG Printer for Small Business
Here are a couple of low-cost direct-to-garment printers that are good enough to start a small textile/merch business.
1. HRM DTG Printer Machine for T-Shirts/Onesies/Socks/Bags
Starting things off with a low budget DTG printer from a brand called HRM. There is nothing much to say about the brand, but the printer is something worth looking into.
This is an A4 DTG flatbed printing machine that is perfect for someone looking to get into the merch business on a small scale.
The first thing to look at when it comes to choosing a DTG printer is the manual. You will have to set it up properly to start using the machine.
Although the instruction that it comes with isn't very clear, the tech support and customer service are top-notch. They will do all the work of setting it up for you.
As for its printing performance, this machine works great on thin fabric. However, things get tricky when it comes to printing thick fabrics.
For t-shirts, this printer will be more than enough. The only time you will have a problem is when you try to print on sweatshirts or something big and thick like that.
The primary reason why I'm recommending this machine is that it works amazingly well when you try to print on thin kid's shirts.
If you are a first-time DTG owner, I would highly recommend this machine. The only thing you will have to keep in mind is that it doesn't come with any ink set.
Highlighted Features:
2. Automatic A3 Size T-Shirt Hoodies and Other Garment Printing Machine
Up next, we have an A3 size model printer machine that is perfect for printing on thick clothes such as sweatshirts and hoodies.
This garment printer can be used to print on pants, onesies, hoodies, and t-shirts. This machine allows you to set the print height automatically. You also have the option to set it manually.
Keep in mind that this A3 DTG printer doesn't come with any ink set. You will have to buy the ink separately.
As for the printer itself, it is capable of printing both color and white at the same time. This also improves the overall production efficiency of the printer. This is a must-have feature for small businesses.
To avoid manual printing errors, this printer features special technology to sense the best printing height automatically.
This flatbed printer features a micro-Piezo print head and uses a non-contact inkjet printing method. To save ink, this machine has intelligent drop transform technology.
Since this is a flatbed printer, you should only print on flat surfaces. Don't try to print on canvas shoes.
To make printing more accessible, this machine comes with AcroRIP White ver9.0. Keep in mind that this software only supports the Windows operating system. 
Highlighted Features:
Automatic printing height adjustment.
Ideal printer for printing on thick material.
Features Micro Piezo print head.
Intelligent drops transform technology.
3. Epson DTG Printer SureColor F-Series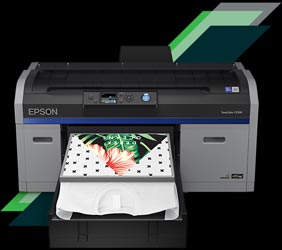 Epson knows how to make the best DTG printer for small business. The F-series of DTG printers from Epson is their number 1 shipping printer for a lot of reasons. The SureColor F2100 is designed to reduce maintenance, increase overall production, save money and time.
Before you decide to buy one, it's recommended that you see the versatility and the quality live at one of Epson's dealers.
This printer's printing quality speaks for itself—both the F2100 and the F3070 use Epson PrecisionCore® Printhead Technology for crystal clear prints.
And the results are simply stunning. Thanks to the 1440 dpi print resolutions and the latest printhead technology, garments that are printed using these printers are flawless.
The line art and text are extremely clear and sharp. Instead of traditional platen hoops, these printers use quick-load grip pads.
This reduces the time it takes for a printer machine to load garments and allows for quicker garment loading. Thanks to newer and innovative design, the F2100 garment printer now has faster garment printing as well as reducing overall print times.
Highlighted Features:
Simultaneous printing of both color and white.
Uses quick-load grip pad for garment loading.
Faster print speeds with great clarity.
Optional platens and accessories available.
4. CHENJIU DTG Printer
Up next, we have a versatile DTG printer that can print both A3 and A4 in size. With this machine, you can print on T-shirts, phone cases, sweaters, and much more. This printing machine comes in a complete package so that you can use it right after you receive it. No need to install anything.
Let's talk about the specs first. This printer uses an Epson L800 print head, features a six-color continuous ink supply as well as an independent ink cartridge.
Combine all of these, and you will get digital high-definition printing. This state of the art printer also uses an infrared sensor for automatic height adjustment.
To improve the printing speed, this machine uses a square rail and hydraulic track to make the positioning more accurate.
By using the servo motor, this printer avoids the blank spaces and only prints the positions with ink. To keep this printer functional, it features both water- and air-cooling technology.
This fully automatic flatbed UV printer can be used to print on just about anything. You can print on cloth bags, create your own DIY clothes pattern, print advertising materials, tile decoration, wallpaper, create DIY printing of metal patterns, mobile phone case, and much more.
Highlighted Features:
Automatic infrared height adjustment.
Hydraulic track and rail to speed up printing.
Epson L800 print head.
Multi-functional and versatile DTG printer.
5. DTF L1800 Printer A3 Direct to Garment Printer
Up next, we have a two-in-one printer from a popular brand called Punehod. If you are looking for the best t-shirt printer, this is the one.
Technically, this is a heat transfer PET film printer. This combination eliminates the need to pre-process the cloth for printing. It's also faster than a regular direct to fabric printer.
All you have to do is print the PET film using a DTF printer. After that, you will need a heat press machine to transfer the print directly to your t-shirt.
Not only is this process faster, but it will also give you better results at a fraction of a cost. By now, you already know how expensive a direct to textile printer can get.
If you want to save on DTG printer cost, I highly recommend getting this machine. It's very popular among small business owners because of its cost-effectiveness.
This printer uses the same print head like most other DTG printers on the market. The Epson L1800 print head is known for its reliability.
The PET oven has a very practical design. Compared to an industrial oven, this one is lighter and cheaper, making it more convenient.
There is no doubt that it's a very practical machine. With this oven, you can heat up any A3 or A4 size patterns because of the large 44x30cm heating area.
Highlighted Features:
A DTF printer and PET oven combo package.
Works faster and better than DTG printers.
The printer machine uses an L1800 print head.
Cost-effective solution for small business owners.
6. Refretonic Digital Textile Printer MT-TA3
The Refretonic MT-TA3 is a digital textile printer that uses dye sublimation printing technology to print on fabric. If you have a small t-shirt printing shop, this is the printer to get. It doesn't require any printing plate and the best part about this machine is its one-piece quantity production.
This DTG t-shirt printer has an A3 size print area. With this machine, you can print polyester using sublimation ink and cotton using pigment ink.
This one is a  customized textile printer that is modified from the Epson R2000. This manufacturer also provides essential training materials.
It's easy to operate and comes with everything you need to start your business. If you are ever in a pinch, you can call or e-mail them for support.
They have an amazing tech support team. As for the printer itself, you can use it to customize designs for printing on bags, t-shirts, scarfs, shirts, etc.
You can work directly on polyester fabric, cotton material, and more, thanks to its good material compatibility.
Also, this printer is capable of printing on both light and dark-color t-shirts. The work procedures are very simple. Simply press a button for one product, and it will start printing.
Highlighted Features:
A modified version of the Epson R2000 printer.
Compatible with both polyester and cotton.
Fast and efficient printing.
Good technical support.
7. Brother GTXpro DTG Printer

The Brother GTXpro has all the functions you need to start printing t-shirts on a production scale. The new GTXpro has the advantages and features that make it a powerhouse of a direct-to-garment printer. This printer has the advantages of the bigger GTXpro BULK on a compact form factor.
This is a flexible printer that allows you to easily print on a variety of garments like caps, shoes, trousers, and more. That's not all. By using the same link, you can even print on polyester, silk, and cotton, and more. Also, thanks to the automatic cleaning process, this printer is able to increase productivity drastically.
You won't have to worry about installation or setup. All the training and installation will be done by an authorized technician.
Now that's out of the way, let's talk about the performance. The white print head is newly designed that reduces the use of white ink needed for cleaning.
This is possible thanks to the internal ink circulation. To prevent ink mist and ensure excellent print quality, this DTG printer comes equipped with new sensor technology.
Because of this additional height sensor, this printer is able to control the optimum height of the platen when printing.
Highlighted Features:
Compact and flexible direct-to-garment printer.           
Optimized design to increase productivity.
New and improved print head.
Automatic print platen height adjustment.
8. PUNEHOD DTG Printer for Business
Up next, we have another A4 size DTG printer that is fully automatic and has amazing printing accuracy. This A4-18 printer from PUNEHOD features infrared ray technology that adjusts the printing height automatically. With this cheap DTG printer, you can print from any image.
However, PNG format will give you the best results. If you are just starting your textile printing business and don't have a lot of money to buy a DTG machine, go with this one. It's an affordable unit that features smart touch controls for easy usage.
This upgraded and the large touch control is easier to use, quicker, and has a more user-friendly design. The prolong the service life of this machine, there are different cooling systems installed. This machine features a triple cooling system: air, water, and passive cooling. 
As for the installation, you won't have to do anything. After purchasing this unit, simply contact the manufacturer, and they will assist you remotely.
They will arrange an engineer for you that will help you set up the printer and teach you all the things you will need to know in order to start printing.
Highlighted Features:
Works great on horizontal surfaces.
It uses DuPont textile ink.
Automatic height adjustments.
Triple cooling system.
9. A4 UV Flatbed Printer with Touch Screen
This is one of those new generations of high-performance that comes equipped with the new and original Epson print head. Some of the highlights of this print head are true to color and automatic cleaning. These are possible thanks to the variable ink technology and the brand-new system software.
You can use this machine for cylinder printing, canvas bag printing, mobile phone case printing, t-shirt printing, and more. Just like the previous unit, this too features a triple cooling system and advanced processing control system with optimized algorithms and color reproduction programs.
Rapid cooling, water cooling, and even air cooling are present to effectively prolong the service life of this printer. You won't have to worry about any nozzle blocking because of the automatic flash spray.
It sprays the nozzle automatically after every print. The best part about this printer is its compatibility.
You can use different UV inks on this printer to match with different printing materials. As for its performance, it has all the technology of a DTG printer like automatic height adjustment, higher resolution, short process flow, and more.
Highlighted Features:
High-quality prints with less ink cost.
Good technical support.
Better speed and accuracy of prints.
Touch screen control and productivity.
10. POLYPRINT TEXJET ECHO DTG Printer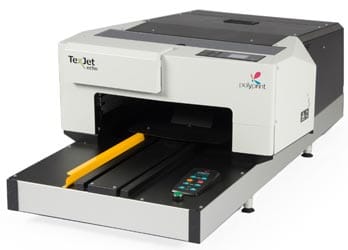 Enjoy photorealistic print quality with a high-end DTG printer like the TexJet® echo. It's one of those specialty printers that feature superior build quality. This printer offers an affordable price point, low maintenance, and running costs which makes it the ideal printer for a small merch business owner.
If you are looking for an entry into the digital textile space, this is a good affordable DTG printer to get started. It has a print area of 16×23-inch. This is the size of the standard platen that it comes equipped with. It's the ideal print surface and size for all-over fashion prints.
One of the key benefits of this printer is its Snap-On platens. The additional platens are designed for different garment shapes and sizes. The standard platen is also compatible with all the additional platens. Also, don't mistake this direct-to-garment system for a regular tee printer.
It's much more than that. You can use this machine to print on skirts, hoodies, polo shirts, t-shirts, pants, leggings, baby bodysuits and bibs, sleeves, socks, underwear, pockets, and much more. The TexJet® echo is easy to use, has a large print area, and offers reliable and longer-lasting printing performance.
Highlighted Features:
Easy, user-friendly operation.
Low maintenance and running costs.
An affordable price point.
Snap-On platens.
Things To Consider When Buying The Best DTG Printer For Small Business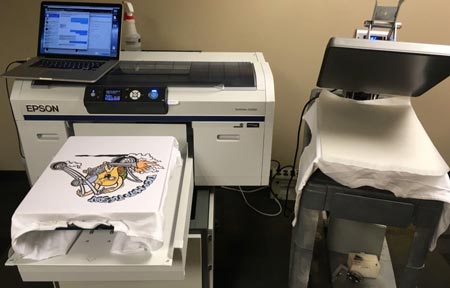 Since you are investing for your small business, you need to be very careful about choosing your DTG printer.
These machines are not exactly cheap and making the wrong choice will not only result in wasted money but also impact your ability to maximize your profits.
There are several different factors that you should consider and most of them varies based on your requirements. For instance, not everyone will print the same type of fabric.
As long as you have a decent idea about your printing requirements you should be able to pick out the right unit. So, without further ado, here are a few essential things that you must consider before investing in a DTG printer for business.
Printing Resolution
Since you are printing clothes, you obviously want a high-resolution image in print. If the image or design comes out blurry, it does not speak a lot about the credibility of your business. That is why you should opt for a DTG printer with a decent resolution output.
The unit of resolution in printers is dpi which stands for dots per inch. For garment printing, you want at least 1440dpi resolution from your printer.
If the number is even higher, you will be able to print at better resolution and get a sharper image. However, 1440dpi should be enough for most situations.
Printing Speed
Since you are running a clothing business, you need to be able to print a large volume of clothes daily. For that, you need a high-speed DTG printer.
Unfortunately, speed is not always the prime concern of this type of printer. So, you need to think carefully about the model you choose.
Features like single pass printing really come in handy as they can drastically enhance the production process.
You can also find models that deliver a decent volume of prints within an hour or two. Make sure you check the printing speed of the model you want to buy before investing your money.
Ease of Use
A DTG printer is not usually a user-friendly machine. In some cases, you need to hire a professional trainer who can teach you the basics of using this type of printer. However, there are still some models that make the operation process a bit easier for a new user.
You should look for a unit that comes with an intuitive design making it effortless for a beginner to handle.
Epson printers, for instance, have a reputation for creating easy-to-use machines that require little time to learn. With an intuitive machine, you will be able to use the device to its fullest potential with little trouble.
Printable Area
The ability of the printer to deliver designs quickly is not the only factor that contributes to its speed.
Some printers come with a large printing area where you can print multiple garments in a single pass.
These printers are a great choice if you want a bit of additional printing power in your hands.
If you are going for a compact model, you obviously will not have a large printing area. But with industrial units, you often can find options that allow you to print up to five full-sized t-shirts at a time. These can be a good choice if you want maximum printing efficiency from your machine.
Quality of Print
An obvious factor that you want to check while buying a DTG printer is the quality of the print. This depends on both the maximum output resolution and the color accuracy of the printer. A DTG printer that delivers clear and accurate colors is the one you want for your small business.
The best way to check the quality of the print is to print out a sample with the printer before you buy it. However, that might not always be possible.
In that case, you want to check out user reviews to get a good idea about the experience of other people who have used the printer previously.
Type of Clothing
Although most people opt to go for a DTG printer when printing t-shirts, you might not have the exact requirements.
You might want to print sweatshirts or aprons, or maybe even tote bags. A DTG printer works excellent in all of these applications as long as you are investing in the right unit.
This type of printer requires different platens and fixtures that allow you to apply your decoration in the specific garment.
If you want to solely focus on t-shirt printing, you need to get a unit that specializes in that section. This decision will drastically impact your satisfaction with a specific machine.
Total Cost of Ink
A DTG printer is quite an expensive piece of equipment, and if you want to maximize your profit, you also need to know about the running or operating cost of the printer. The first thing you need to know is the average cost per milliliter of the ink in the cartridge.
Furthermore, the cost of printing varies depending on whether you are printing white, black, or color images.
And if you are planning on using the printer frequently, you also need to think about the cleaning cost. Some printers come with automatic maintenance features that might save a bit of money on cleaning.
Maintenance Necessities
Any DTG printer requires maintenance from time to time. However, if you end up with a unit that requires frequent maintenance, then it is not very profitable for your business.
Furthermore, if the maintenance procedure is challenging, you need to hire a professional every time your machine starts acting up.
Thankfully, some DTG printers in the market come with a simple and easy maintenance procedure that will take away a lot of the hassles from you.
These units also come with an extensive owner's manual containing clear instructions on how to take care of your machine. For the most hassle-free experience, these units are worth considering.
Read our related article on How to Get Printer Ink Off Hands. These methods remove ink from your hands in no time!
Different Garment Printer Technologies Other Than DTG Printer
DTG printers are a relative newcomer to the industry despite their massive popularity. Before this technology was conceived, there were other printing methods used by clothing manufacturers. Here are some of the other printing technologies for garment printing, along with their pros and cons.
Screen Printing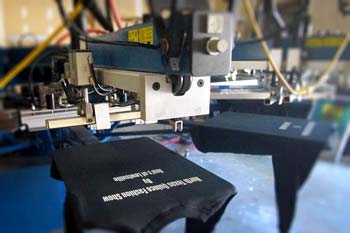 Screen printing is also popularly known as silk screen printing. Even to this day, it is considered one of the most popular and easy methods for printing designs on clothing. In this method, the ink is applied directly to the fabric using a silkscreen made of mesh.
For different colors, you need to use a different mesh screen. This means you will need to have a wide range of screens if you want to work with a versatile range of colors.
Pros
It offers a high-quality finish.
You are not limited in terms of fabric choice.
It is a great choice if you want to mass-produce garments.
Cons
Not very cost-effective if you want to work with small batches and simple designs.
Sublimation Printing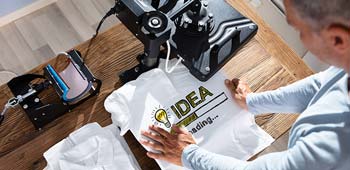 Sublimation printing is another popular method of printing design. It is widely used in the fashion industry, especially for t-shirt printing. This method requires you to use a heat press or transfer printer and transfer paper to transfer the design to the fabric of your choice.
The best part about sublimation printing is that it works extremely fast. The quality of the image is also quite decent as long as you use a good printer. But it also has its fair share of flaws.
Pros
Quick and easy way to print designs on a t-shirt.
It gives you photo-quality designs.
Can print full covers without any issues.
Cons
You can only use 100% polyester white fabric for sublimation printing.
Heat Press Printing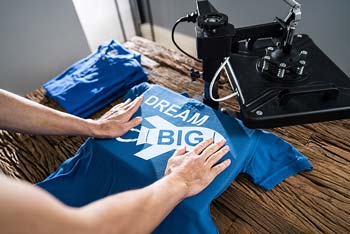 Although some people think of heat press printing and sublimation printing as the same, the two processes are, in fact, quite different. The chemical process that results in the printing of design in the two processes is also drastically different from each other.
With sublimation printing, you do not have any additional layer over the top of the fabric. However, with heat press printing, since you push the ink into the garment physically, you can notice an additional layer on the fabric. The pros and cons of this type of printing are:
Pros
Heat press printing is the cheapest way to print designs on fabric.
You can deliver a large batch quickly with this printing method.
The quality of the design is quite decent.
Cons
The design can fade away over time.
How to Print Your T-shirt Using DTG Printer Like a Pro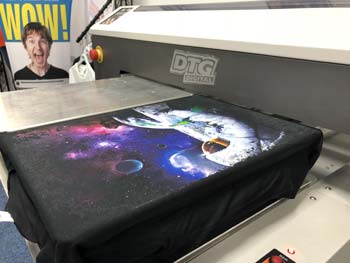 By now, you should have a pretty decent idea about DTG printers after reading our extensive direct to garment printer reviews.
After choosing your printer, you might want to start printing your t-shirts. However, we have seen many beginners struggle with this step because of the lack of proper guidelines.
To make things easier on your part, here are four simple steps that you can follow to print t-shirts using a DTG printer like a pro.
Prepare Your T-Shirt
The first step to printing t-shirts is also the most important step, which the professionals call pretreatment. This step involves you preparing your t-shirt to help the colors attach to the fabric better. If you want to work with tougher fabrics like canvas or denim, you need to pretreat them properly.
Typically, you should get a pretreatment hand spray when you buy the printer, but we recommend buying one from the store that better suits your needs. Make sure you spray the entirety of the garment smoothly so that it covers the whole surface.
If you have a pretreatment machine, you can also use it for this step. However, hand spraying is fine as long as you are careful with the application.
Creating the Design
The next step is to create the graphics or design that you want to print on the fabric. With DTG printing, you can get excellent color output and resolution, but this also means that you cannot compromise when it comes to creating the design on your software.
We recommend using professional-grade graphics software such as Adobe Illustrator or Core1DRAW for the best results.
Make sure the design is of high resolution, and the quality is excellent, as it would impact the quality that you get after printing on the fabric.
Unfortunately, if you cannot create a quality design on the software, you will not get quality output in printing. So, it is best to get some experience in using that software for the best output.
Printing the Design
Once you have your design, you are ready to transfer the print to your fabric. For this step, you need to use another software that is called RIP or Raster Image Processor.
This software essentially translates the design in a way that the DTG printer can understand and transfer to the fabric.
Most DTG printers on the market these days come with their own RIP software that you can use for this step. If yours does not come with one, you need to buy it from third-party companies.
This software also allows you to tweak some of the color details to help you get the best printing output.
Finishing Up
With the printing done, you need to give some time to the t-shirt so that the design can attach to the fabric properly.
This period is known as the curing period, and it enhances the durability of the design. At 160 degrees Celsius, it takes only two or three minutes to cure your t-shirt.
However, since it is not easy to maintain this temperature, especially for small businesses, it is best to let your t-shirt sit for around 24 hours for it to cure properly. Once the curing period is done, you will be able to wash and use the t-shirt without any issues.
Frequently Asked Questions
1. Do DTG printers require a lot of maintenance?
Not necessarily. As long as you handle the equipment with care, you should be okay with maintaining it once a month.
2. Is DTG printing profitable?
Yes, it is. If you are printing custom t-shirts, the low printing cost of a DTG printer is extremely useful.
3. Are DTG prints long-lasting?
Although most manufacturers suggest DTG printed designs last only 50 washes, the reality is these designs often last the lifetime of the garment.
4. Is screen printing better than DTG printing?
Not necessarily. DTG printing is a much faster process, and also the design lasts longer than screen printing. However, screen printing can work with a wider range of fabrics. Here we compared about most common t shirt printing methods.
Final Thoughts
There is no doubt that a DTG printer is must-have equipment if you are planning to get into the clothing business.
The quality of print you get from this machine is excellent and will help you stand out among the competition. As for their price, these units don't come cheap. You won't find any DTG printer under $1000.
Even an entry-level digital garment printer price is well above three grands. Since these are production quality printers.
I suggest you pay close attention to the reviews.  We hope our article on the best DTG printer for small business helped you find the perfect tool for your requirements.
Up Next: Laundry scent boosters for effortless laundry odor control.