A high-quality printer is all you need to kickstart your very own art business. From nailing creative school projects to supplying designer media for marketing campaigns, the duties of a good printer are not limited to printing documents sitting atop an office desk.
It's true that printers have come a long way from their loud whirring and super slow functionality.
Now you can send fully-customizable printing commands over Wi-Fi and get a whole picture book printed in tip-top condition within two minutes.
Can't make up your mind about the best printer for screen printing? Today we are here to review the best-in-class yet affordable printers that fit your budget, meet your digital art setups, and business requirements the same.
| | | | |
| --- | --- | --- | --- |
| | | | |
| | Canon Pixma iX6820 Wireless Business Printer | | |
| | Epson Expression Photo HD XP-15000 Wide-Format Printer | | |
| | HP OfficeJet Pro 8025 All-in-One Printer | | |
| | Epson EcoTank ET-2750 Printer with Scanner | | |
| | Canon Pixma TS9520 All-in-One Wireless Printer | | |
10 Best Printer for Screen Printing Reviews
Looking for an excellent printer for high-volume commercial printing or regular home use? Have a look at our list below!
1. Canon Pixma iX6820 Wireless Business Printer
When it comes to giving your creative business ideas their right shape and colors on paper, a first-rate printer from the Canon Pixma series is the one you can trust. From printing 4″ ×6″ mailers to 11″ ×17″ spreadsheets, you can enjoy its flexibility and superior color vibrancy in a lot of different sizes.
To begin with, Pixma iX6820 provides an incredible 9600×2400 color dpi, which is just perfect for a colorful and detailed art project as well as creative DIY ideas. You can print high-quality borderless photos in only 36 seconds. It allows you to maintain deadlines and make copies much faster than before.
Canon Pixma iX6820 prints 14.5 images per minute (IPM) in black and 10.4 images per minute in color. Its ChromaLife100+ Print head technology works best on original Canon photo papers with up to 300 years of shelf life.
The printed materials are exceptionally sharp and detailed, thanks to the one-picoliter ink droplets delivered by Canon's very own professional inkjet nozzle engineering.
Lastly, My Image Garden, a software compatible with both iOS and Android, will offer you a rich bundle of creative features for inspiring your projects. Utilize the Pixma Printing Solutions app for printing all your essentials wirelessly.
Highlighted Features:
Wireless connectivity with the PPS app available for iOS and Android users.
Supports Google Cloud Print for wireless printing from mobile, laptop, and PC.
Hi-Speed USB and Ethernet for printing through a wired office network.
Access to Creative Park Premium, AirPrint, and My Image Garden for one-stop controls.
Prints a 4″ ×6″ Borderless photo under 36 seconds.
13″ ×19″ presentation charts.
2. Epson Expression Photo HD XP-15000 Wireless Wide-Format Printer
Epson manufacturers the best printers for screen printing. The XP-15000 is one of their best-selling masterpieces. You'll be getting rich vibrancy, brilliant borderless photos, and a wide variety of sizes in this printer model.
The XP-15000 prints at an unbelievable speed and delivers top-of-the-line finish in both regular and specialty media papers that will leave you in awe. A dedicated 50 sheet rear tray for photo papers and specialty media alike makes sure that you're equipped with all that you need for a last-minute hustle.
It supports automatic two-sided printing and wireless functions, so you wouldn't have to leave your desk. This Epson transparency printer sure gives Canon Pixma serious competition with its incredible speed. You can now print 4″ ×6″ borderless photos in 27 seconds, which is pretty amazing for this compact printer if you ask us.
If you were content with 13″ ×19″ presentation charts in black, you'll be elated about the fact that Epson XP15000 also makes 13″ ×19″ borderless High-Definition photos with a remarkably rich color gamut. We found this feature to be much helpful to the up and coming artists and creative entrepreneurs.
That said, this workhorse of a printer sure can give your new business a boost in terms of quality and promptness. For those of us who only need black and white scripts with an option to print exclusive photos and documents from time to time, this one is an all-around package.
Its 200-sheet front tray covers the needs of the busiest office, and outstanding printing agility makes sure that none of your coworkers are standing in line. If you want to get a lot of work done in little time, our money's on the Epson XP1500.
Highlighted Features:
200 sheet front tray and 50 sheet rear tray for specialty paper and cardstock.
Only compatible with Claria Photo HD 312 ink cartridges.
Supports borderless color printing from 4″ ×6″ to 13″ ×19″ sizes.
Wireless and wired connectivity.
Prints 4″ ×6″ borderless color photo in 27 seconds.
2.4-inch color LCD monitor for simple and fast navigation.
Comes with a cleaning sheet.
3. HP OfficeJet Pro 8025 All-in-One Wireless Printer
Boosting productivity at the office and getting things done faster is now made possible with the HP OfficeJet Pro.
This is a widely-used printer not only in office space but also is a working nook of a rising graphic designer. For a wireless printer, its features are not restricted to printing only- you can make copies, scan, and fax documents as well!
What's unique to the OfficeJet Pro 8025 is undoubtedly the fantastic built-in security measures. The printer protects your sensitive and confidential data with basic encryption, password protection, and document protection.
On top of that, the printer's body is made of recycled plastic in a compact and lightweight casing. It sure saves that much-needed desk space you have better use of.
Now, moving on to its user-friendly specs, OfficeJet Pro 8025 helps you eliminate time spent on repetitive office tasks by introducing you to QuickBooks and Smart Tasks.
These options help you to organize business documents, digitize receipts on your computer and mobile phone, so you can give printing orders anytime without getting back to square one. The self-healing Wi-Fi feature is basically reconnecting to the network automatically after facing network disruption.
In addition, this HP screen printing printer allows you to navigate controls such as monitoring ink levels, accessing both the printer and the scanner through the HP Smart App from the phone. It also orders extra ink every month before running out of ink at crucial times upon your pre-set instructions.
High-resolution photo inkjet paper, plain paper, envelopes, labels, and cardstock are the compatible print media for this model. The 35-sheet auto document feeder works flawlessly, and a 60-sheet output capacity is more than enough for handling extensive orders at the office.
Highlighted Features:
Syncs to QuickBooks for saving time on repetitive tasks.
Wireless printing with HP Smart App.
Provides basic encryption and security to your documents.
35-sheet auto document feeder.
2.65-inch color touchscreen for quick printing commands.
Automatically reconnects to Wi-Fi after a network issue.
Prints 20 black and white documents a minute.
4. Epson EcoTank ET-2750 Wireless Printer with Scanner
If you're a freelance artist or a photographer, the glory of Epson printers for screen printing should not be unknown to you. We are here with EcoTank ET-2750, another impressive yet affordable Epson screen printer, for your daily home office and business necessities.
What's different with the ET-2750 is its cartridge-free printing. Coming with up to two years of ink in 4 uniquely keyed auto-stop ink bottles, the printer is packed with enough ink equivalent to thirty cartridges!
On top of that, you can curb down the printing budget by a whopping 80-percent with these low-cost replacement bottles.
Automatic two-sided printing is also supported, and you can cut down paper costs in the same way. This is an economical solution for graphic designers and startups on a tight budget.
The printer easily prints from iOS devices, Android smartphones, and computers over Wi-Fi. Moreover, with the maximum print resolution being 5760×1440 dpi, you can expect crisp colors on envelopes, plain paper, and labels.
And finally, a built-in memory card slot, a 1.44-inch color display as well as the supersized ink tanks with a dynamic color gamut come together to make this budget-friendly screen printer as awesome as it is!
No wonder it has such a good rating on PCMAG.com; packing some of the first-rate features at an affordable price point deserves applause indeed.
Highlighted Features:
Easy-to-fill ink tanks.
Includes up to two years of ink.
RoHS compliant technology.
Built-in memory card slot.
Compatible with Amazon Alexa.
Comes with wireless printing capability.
Best-selling SuperTank printer by Epson.
100 sheet paper capacity.
5. Canon Pixma TS9520 All-in-One Wireless Printer
A highly-functional screen printer with a flatbed scanner and an auto document feeder is as lucrative as it sounds. When it's made by no other than Canon, you know you'll be getting your money's worth and reach a stonking level of productivity!
Those of us who have experience with a transparent printer will understand how aggravating it is to wait for a color print. Luckily for you, the Pixma TS9520 is a super-fast one.
Not only does it support a wide range of print media options but also allows you to choose from a diverse collection of paper sizes; that's right, from a tiny 3.5″ ×3.5″ square photo to a whopping 11″ ×17″ spreadsheet.
And the fact that it supports genuine Canon photo papers in both glossy and semi-gloss versions as well as Photo Paper Matte and Photo Paper Lustre was pretty impressive. Its compatibility with the Easy PhotoPrint Editor App, Mopria Print Service for Android devices, and AirPrint for iOS devices is also worth mentioning.
We loved how responsive the printer is to these remote controls and how rapidly it prints multiple color pages a minute! Besides, the Canon Print App will be the most helpful in scanning or printing documents from the Cloud.
Highlighted Features:
Supports glossy, semi-glossy, matte, and photo paper luster.
4.3-inch LCD Touchscreen.
Excellent ISO print speed of 15 bnw IPM and 10 color IPM.
SD Memory card reader slot.
Auto-duplex printing.
Compatible with Amazon Alexa.
Syncs with Canon Print App, EPP Editor, AirPrint, Mopria Print, Message in Print app.
6. WorkForce WF-7210 Wireless Wide-Format Color Inkjet Printer
The WorkForce line by Epsom consists of extraordinary printers, and the WF-7210 is all set to take your office productivity to new heights. Enjoy print-shop quality graphics, agility, and laser-sharp black letters with exquisite borderless color prints in the best inkjet printer for screen printing by Epson!
For starters, four DURABrite Ultra ink cartridges grace the printer's remarkable color quality. Its fast printing capacity is met with an equally outstanding navigation process. The 2.2-inch LCD screen packs all the controls for your ease of use.
Other than that, you can sit back at your desk and push commands from your iPad, personal computer, laptop, and any iOS and Android smartphone very easily.
The Workforce WF-7210, Epson's top-tier screen printing film printer, consumes 80-percent less power having the same print quality all the way. For a printer that delivers print-shop quality documents and images, the price point is much reasonable for a home office and newly booming business.
Its 500-sheet paper capacity remains unparalleled in this price range; so is its ability to print 2-sided documents up to unbelievable size of 11″ ×17″. A rear feed is securely attached behind the dual trays of plain paper for storing specialty print media such as envelopes, matte and glossy photo papers for laser printer, etc.
Highlighted Features:
Dual trays hold 500 plain papers, and the rear tray holds 50 specialty papers.
Dash Replenishment for tracking ink usage and auto-ordering ink.
125-sheet output tray.
2-sided printing up to 11″ ×17″.
Easy-to-follow instruction manual.
Uses 80-percent less power than color laser printers.
Rapid printing capacity.
2.2-inch LCD screen for faster commands beside wireless controls.
7. HP ENVY Photo 6222 Wireless Printer with Craft It! Bundle
On the lookout for the best printer for screen printing transparencies? From crafting your art projects to printing a huge load of office documents- this one does it all. Its dedicated paper trays automatically find the compatible print settings with the paper type, saving valuable time and work from your side!
ENVY Photo 6222 is a printer that offers versatility, richness of color, easy controls, and all-around print media options in sleek packaging. It produces stunning prints, outstanding marketing materials, and crisp bnw documents at great speeds. The printing functions are amazingly quiet and speedy for a film printer.
Its dual-band Wi-Fi connectivity will have you experience the best-in-class wireless controls with on-time responsiveness. Moreover, it supports different types of photo papers and has a separate tray of photo papers only.
The Craft It! bundle includes all a crafter, a DIY-enthusiast, or a designer needs for a solid boost in their work.
You get the highly-rated Print Artist Gold 25 software, Hallmark Card Studio Select software, twelve HP iron-on transfers for screen-printing on other media, and finally, some HP photo papers to get you started.
Highlighted Features:
Dual-band Wi-Fi connectivity and Bluetooth.
2.2-inch mono touchscreen.
Crisp black and white documents.
Decent print speed up to 13 ppm black and 8 ppm color.
Dedicated tray for photo papers.
Comes with Print Artist Gold 25 software.
Scans to email and prints from Cloud.
8. Canon Pixma Pro-100 Wireless Printer
Enjoy going borderless in large format paper with the Canon Pixma Pro-100. This exceptional printer captures the authentic colors in your photographs and delivers high-quality print in a broad range of media papers.
Its 8-ink dye based ChromaLife100+ is an excellent printing technology and coupled with the best-in-class nozzle heads available.
Besides, its Optimum Image Generation (OIG) System analyzes the color depths in different areas of your photos and chooses the best ink combination, so you're able to see vivid, bright, and true colors on paper.
And as for the print media support, Canon Pixma Pro-100 sports a rear tray for storing fine art, glossy photo papers alongside a manual slot for thick, plain media to meet your basic printing needs. In conclusion, it is one of the best affordable printers for screen printing film with some major must-haves.
Highlighted Features:
Supports Wi-Fi, Ethernet, and USB.
Optimum Image Generating System.
Eight dye-based ink cartridges.
Comes with the Print Studio Pro software.
Rear tray for glossy and fine art photo papers.
9. Epson Artisan 1430 Wireless Color Wide-Format Inkjet Printer
A wide-format inkjet printer that prints high-definition borderless photos up to 13″ ×19″ is the one you need for extensive designing and creative media printing. It's definitely a step up from average inkjet printers that struggle to meet the demands of freelance artists.
First of all, the Artisan 1430 impressed us with its Ultra HD photo printing capability in different sizes. Its convenient wireless connectivity allows you to send printing commands via smartphone apps.
Additionally, you are able to print directly on compatible CDs and DVDs, eliminating the need for labels. The color gradations are smooth and accurate, thanks to the 6-ink Claria cartridges.
Although it misses out on an auto document feeder and the ability to scan documents and images to your Cloud network and social media as seen on many Epson printers, the Artisan 1430 performs wonderfully when it comes to printing crisp, detailed documents with a remarkable 5760×1440 dpi resolution.
The 1.5 picolitre sized ink droplets are unbelievably durable; breaking the records of basic photo lab prints. You can easily get gallery-worthy copies of your artwork with authentic colors.
However, the fact that it doesn't support glossy photo papers as a compatible print media can prove to be a downside for professional photographers. The speed being 2.8 black and white prints per minute also fails to stand out.
Highlighted Features:
High-definition, gallery-ready borderless photos up to 13″ ×19″.
Compatible with plain paper only.
Wireless, mobile, and USB connectivity.
No auto document feeder and rear specialty paper tray.
Claria HD Ink cartridges provide professional quality prints.
10. Epson Stylus C88+ Inkjet Printer
From regular bright whites to glossy photo papers, bond papers to presentation papers- the Epson Stylus C88+ is hardly incompatible with any type of print media you have in mind. It is an excellent inkjet printer for screen printing for students and professionals alike!
With a maximum printing capacity of 14 color prints or 23 black and white prints per minute, the best printer for transparencies is no other than the Stylus C88+.
Its input tray holds 120 sheets for high-volume office printing on the go, and its unparalleled speed, color gradations, and vibrancy will undoubtedly make a huge difference in your media quality.
In addition, it offers borderless photo printing in 4″ ×6″, 5″ ×7″, 8″ ×10″ and 8.5″ ×11″ frame-ready sizes. The printed documents are smudge-resistant, sharp, and vibrant in all compatible media.
Moreover, the DURABrite Ultra pigment ink works its wonders on glossy, semi-gloss, and matte photo papers- saving you trips to a photo lab for high-quality and durable prints.
It can produce a big bunch of quality brochures and other marketing media to make your business documents look more professional. You're going to love its quick-drying ink formula, BorderFree photos, and the super handy photo editing software for creating calendars, receipts, photo books, and so on.
For a highly-functional printer such as the Epson Stylus C88+, this cost-effective approach was a necessary one.
Highlighted Features:
5760×1440 optimized dpi and 3-picoliter ink droplets.
DURABrite Ultra pigment ink.
Frame-ready, borderless photos in various sizes.
Fast-drying ink and superior printing speeds.
Compatible with legal papers, envelopes, card stock, Air Mail, matte, semi-gloss, glossy photo papers.
ArcSoft Photo Impression software included.
USB and parallel port connectivity with networking options.
10 Best Screen Printing Printer Comparison Chart
| | | | | |
| --- | --- | --- | --- | --- |
| | | | | |
| | 14.5 IPM black and 10.4 IPM color | 5 individual ink tank system | | |
| Epson Expression Photo HD XP15000 | 9.2 ISO ppm black and 9 ISO ppm color | 6 Claria Hi-Definition ink cartridges | | Plain paper, cardstock, glossy photo paper |
| | 20 ppm black and 10 ppm color | Standard yield HP cartridges | | Envelopes, card stock, labels, glossy photo paper, high-resolution paper |
| | | | | Plain paper, envelopes, labels |
| | 15 IPM black and 10 IPM color | Five individual ink tank system | Up to 11" ×17" or 12" ×12" | Plain paper, cardstock, glossy photo paper |
| | 18 ISO ppm black and 10 ISO ppm color | Individual DURABrite Ultra Pigment Ink cartridge | | Plain paper, labels, high-resolution papers, glossy paper, envelopes |
| | 13 ppm black, 8 ppm color | Standard yield HP cartridges | | Plain paper, labels, high-resolution papers, glossy paper, envelopes |
| | | Individual ChromaLife100+ dye-based ink tanks | | |
| | | 6 Claria Hi-Definition ink cartridges | | |
| | 23ppm black & 14ppm color | Individual DURABrite Ultra Pigment Ink cartridge | | Plain paper, label, bond, presentation paper, bright white, glossy, semi-gloss, matte, envelope |
Printer for Screen Printing Buying Guide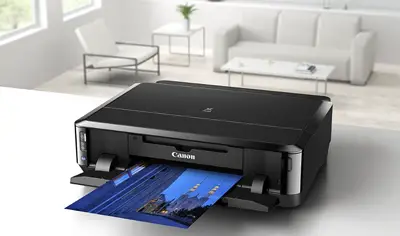 Nowadays, printers come with many features that are a bit hard to follow, if not entirely confusing to navigate!
Before investing in a screen printer for your work, you need to know about its print speed, color gamut, network connectivity, media support, and a couple of user-friendly features.
Give our screen printer buying guide a read for making a well-informed decision.
Printing Speed
Printers that support high-volume printing are able to deliver as many as 23 black and white pages or more per minute. As for the photos and color documents, you can expect 14 pages per minute in only the top-of-the-line screen printers.
Epson Stylus C88+ is a good example of speedy printers. Then again, borderless photo printing is a highly sought-after feature for people in the creative arena. Workforce WF-7210 supports border-free photo printing up to a 13″ ×19″ frame-ready size.
Color Gradations
When it comes to choosing the best printer for screen printing positives, the authenticity of colors matters a great deal.
Use only the original ink cartridges for great durability and color authenticity. Third-party ink cartridges might seem like a more economical option, but they can be troublesome and damage the print heads in the long run.
Inconsistent printing, print head malfunctions, washed-out colors, and smudged prints are some of the common issues.
Now, let's talk about resolution. Most screen printers will print at up to 5760×1440 optimized dpi. The size of the ink droplets affects a printer's fast-drying capacity.
Small ink droplets dry faster on media and provide an enhanced richness compared to ink droplets of bigger sizes. The Epson Artisan 1430 printer uses droplets as little as 1.5 picolitres.
Read More: Best Shirts for Sublimation Printing. We lay out the top materials for sublimation printing and the fabrics you should avoid!
Compatible Media
Since photographers, artists, and marketers need a wide range of printing media options, plain white paper barely cuts the deal. The Workforce WF-7210, HP Envy Photo 6222, and Epson Stylus C88+ are three outstanding printers that support borderless printing in a diverse selection of sizes.
They can print in glossy photo papers, semi-gloss, matte, bright white papers as well as envelopes, Air Mail letters, legal documents, etc. The Pixma TS9520 performs the best for a professional crafter and photographer.
You can print the best quality borderless photos on Canon glossy square papers and make DIY greeting cards, scrapbooks, photo albums, and so on.
Ink Type
Whether your printer supports dye-based ink, pigment-based ink, or both, the ink technology of a printer shouldn't escape your mind.
Printers with Optimum Image Generating system selects the best ink combination by themselves. You can enroll in the HP Instant Ink plan for availing free ink, fast shipping of extras, and recycling of ink cartridges too.
Multiple dye-based ink tanks and a black pigment-based ink tank work together to produce vibrant images in inkjet printers. Lastly, the individual ink cartridges allow you to replace the ones that have run out; without having to change the whole batch.
Connectivity
Both wired and wireless connectivity are equally important because a packed office space can benefit a lot from printing docs over Wi-Fi.
You can connect the printer to the office LAN, your personal computer, or smartphone. Wireless functions also include brand-specific phone apps and software other than your Google Cloud storage and device media.
The multifaceted wireless connectivity offered by top-shelf inkjet printers covers a lot of useful applications. They help you explore the creative arena with artistic insights, calendars, stickers, collages, and many more!
Interestingly, the Canon Pixma TS9520 has a memory card slot for printing photos and docs straight from your camera, camcorder or laptop.
Read More: How Do I Make My Sublimation Brighter? Here's what you need to do to make your designs stand out!
Customization
Documents printed through a dedicated printing app have enough scope for exploring the contemporary style.
Most inkjet printers with Wi-Fi will support an iOS or Android app made only for that specific model. You can choose photo paper size, filters, stickers with access to navigate several formats of business documentations, commercial receipts, task organizers, journals, and so on.
Software & App Support
An easy-to-navigate software should come included in your brand-new wireless inkjet printer box. It can make the repetitive and time-consuming tasks the easiest to finish and your creative ideas a fresh, new reality.
On that note, Print Studio Pro, a new plug-in software in the box, has everything in store to integrate with your creative ideas for a fun, thoughtful touch.
Moreover, you can make copies, scan documents, and mail them all together, thanks to HP Smart App. This mobile application also lets you print borderless photos in a variety of sizes from Google Cloud, social media sites, and movie stills.
Read More: Are 3D Printers Noisy? Learn how to reduce noise!
Top 3 Transparency Printer Brands on the Market
By this time, you're already familiar with the best printer brands for screen printing. They are no other than Epson, Canon, and HP as of now. These top-tier companies have a lot of good printers for both versatile and dedicated use. We're simply summing up the printers reviewed here for your convenience.
Epson
Epson, a renowned Japanese electronics company, is currently one of the world's largest manufacturers of printers of various sorts. OfficeJet, EcoTank, Workforce are some of its top-notch lines of printers.
The WorkForce WF-7210 is equipped with dual trays with 500 plain paper capacity and a rear tray for photo papers. On the other hand, the EcoTank ET-2750 comes with two years' worth of ink and helps save a valuable budget you can now spend elsewhere.
Canon
Canon Inc. is another Japanese multinational corporation nearing a glorious century of imaging expertise.
Their Pixma iX6820 is a Cloud compatible screen printer that utilizes the finest print technology with authentic color deliverance. Pixma TS9520 features an auto document feeder, a flatbed scanner, and extended wireless connectivity for comfortable use.
HP
HP Inc. is a familiar name in the printing world- mostly because they offer quality printers for different types of users and launch updated configurations on a frequent basis.
The HP OfficeJet Pro 8025 is an all-in-one wireless printer with a flatbed scanner. It sports wide connectivity options for easy controls and secures your printing data with encryption.
Frequently Asked Questions
1. How can I fix dried up ink cartridges?
You can run the printhead cleaning procedure on your printer to troubleshoot this problem.
However, if the problem is severe, try removing the ink cartridges and soaking them in warm water so that only the printer head is under the water. The clogged ink will flow out after receiving heat. You can also try injecting isopropyl alcohol into the clogged printhead for dissolving the ink inside.
2. Which printer is the best for school projects?
Epson Expression Photo HD XP-15000 is an all-in-one wireless printer with incredibly fast printing speeds.
It has a rear tray for photo papers that can help you with school art and science projects, assignments, and club work. Moreover, it supports wide-format A3+ borderless printing as well for DIY and creative projects.
3. What does the IPM count mean in a printer?
Impressions Per Minute or IPM refers to scanners that scan both sides of the page simultaneously. Thus, a machine that scans at 50 pages per minute can provide 100 IPM.
Although IPM is now used for denoting images per minute for understanding a printer's capability and speed, a mid-range printer will be able to print 10+ IPM in black and white documents.
4. How to unclog print heads?
In order to dissolve ink buildup from the print heads, you need to remove them safely at first. Then use a cotton swab for rubbing alcohol on the print head. Use a paper towel after the cleaning process to wipe away excess ink from the print head.
5. Is ppm a good measure for printers?
PPM denotes the number of A4 pages printed per minute on your printer.
There is no fixed resolution for measuring a printer's ppm, unlike its IPM. The finer the ink droplet size, the slower the printer functions. This way, printers with larger ink droplets or lower resolution have a higher ppm count, which doesn't help in picking the better of the two.
Final Words
If you're not new to the printing media world, you surely know how much time and paper are wasted every day waiting for the perfectly crisp print.
That said, you'll experience whole new levels of productivity at home and office with the best printer for screen printing. We hope that our list could guide you to a suitable printer that ticks all the boxes!