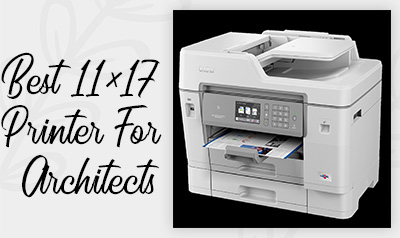 Following a productive meeting with an exciting new client, you sit resolutely down at your computer.
The days tick by as you work feverishly until the proposals are ready. You sit back and regard your handiwork with pride, and you text your client to let them know it's done.
With utmost satisfaction, you click the "print" button and wait.
But–what's this? Your printer's malfunctioning… again!?
Groaning, this time you make up your mind. And that's how you find yourself on our best 11×17 printer for architect's reviews.
A top-notch printer is crucial to the dedicated architect. So, apart from our reviews of the 10 best ones, we've also included a buying guide to help you make an informed purchase. Let's go!
Our Best 11×17 Printer for Architects & CAD Developers in 2021
We know you're busy, so we've saved our thoroughly-researched reviews first. Otherwise, you can scroll down to find our buying guide.
1. Epson WorkForce WF-7710 Wireless Wide-format Color Inkjet Printer
If you know anything about printers, then you already know that the Japanese brand Epson is a household name.
The WF-7710 is bedecked with all the most lucrative features to be found in printers today, starting from remote connectivity to multi-functional capabilities. In fact, many consider it to be the very good 11×17 printer for architects. Let's learn what it has to offer.
This versatile inkjet printer offers, first and foremost, the ability to produce borderless prints of dimensions up to 13×19. The quality of these prints will have you ooh-ing and aah-ing all throughout, even more so when you realize that it's achieved with only 4 cartridges.
That's because this printer disproves the notion that a low cartridge count equals less clear prints. For that, you can thank the manufacturer's PrecisionCore technology, which streamlines the printing process to boost speed while its high-density print chip produces vivid prints.
What's more, this printer comes with a 250-sheet tray and additional rear feed for specialty paper. So it's perfectly capable of being the best tabloid printer for your busy architecture firm.
Did we mention that this thing can also scan, fax, and copy? That's right; you won't have to look elsewhere to fulfill those needs. And, using the 4.3″ touchscreen, getting your prints ready will be a walk in the park.
And it can do all that without needing to be hooked up to your devices. This printer is equipped with Wi-Fi Direct, Ethernet, and NFC capabilities, so you can print directly from your smart devices with ease!
Highlighted Features:
Creates prints of up to 13×19 and scans up to 11×17.
Multi-function capabilities: double-sided printing, scan, fax.
Equipped with a 250-sheet tray and rear specialty paper feed.
The color touchscreen allows you to navigate with ease.
Compatible with Ethernet, Wi-Fi Direct and NFC.
2. HP OfficeJet Pro 7740 11×17 All in One Printer
The next tabloid inkjet printer we have selected for your consideration comes from a brand whose name is instantly recognizable. Yes, Hewlett and Packard are at it again, and they've come to blow your mind with this multi-functioning wide-format inkjet printer.
With a straightforward, no-nonsense look, this printer is capable of handling high-resolution photo paper, glossy photo paper, and labels. It will not only print your plans and schemes but also handle your scans, copies, and faxes with ease.
Equipped with an auto document feeder capable of producing 35 double-sided sheets at 22 pages per minute, this is certainly one of the fastest printers at a low price that we've found.
And because we're in the 21st century, this printer comes fully equipped to handle all of your remote printing needs. Using the HP Smart app on your smartphone or tablet, you can directly send images for printing to the OfficeJet Pro 7740. And yes, this printer is Alexa-compatible!
What's more, the printer comes with business apps pre-loaded to allow you to scan your files directly to your office network, email, or the cloud. And you'll no doubt enjoy the swiftness of the in-built touchscreen controls.
Highlighted Features:
Compatible with optional HP high-yield cartridges.
Has the ability to email or upload scans directly.
A touchscreen control panel allows easy accessibility.
Equipped with fast fax, scan and copy functions.
Comes with seamless wireless connectivity.
3. Canon Pixma iX6820 11×17 Printer
This Canon 11×17 printer that we've granted a place in our top 3 comes from their renowned and revered Pixma line. This office printer means business, and it's here to prove its worth.
With the capacity to produce high-quality, high-resolution prints, this printer can also handle charts of up to 13×19. Thanks to its DPI of 9600×240, this printer will leave you amazed at the quality of your photos every time.
That owes itself to the printer's cartridge capacity of 5. This gives it a palpable advantage over any printer limited to the standard 4 cartridges, as your images will come out truer to their original color.
This might not be the right fit for those looking for a multi-function printer. But the fine print head technology imbued into it more than makes up for that. Its air printing capabilities are the best in its class, and it's furnished with advanced inkjet nozzle engineering.
Beyond producing beautiful prints, this Pixma will enhance your life in myriad ways. It comes equipped with Solution Templates which you can download to create beautiful documents on the go.
And with My Image Garden, you can have your pick from a number of lucrative Canon printing features that you won't find anywhere else.
Highlighted Features:
Compatible with Apple AirPrint for effortless direct prints from your Apple device.
Equipped with LAN, hi-speed USB connectivity and built-in Wi-Fi.
Able to print borderless 4×6 photos in about 36 seconds.
Comes with My Image Garden and Creative Park premium (subscription required).
Prints images with a DPI of 9600×2400.
4. Brother MFCJ6945DW Inkjet Printer
We admit it. Here at [insert name of website], we have a special liking for the big names in printer brands, and we're unapologetic about it. The big names stand out for a reason, and Brother fits in cozily in those upper leagues.
This inkjet wide format printer from them comes sailing on a wave of sparkling reviews to rest in front of you.
So why is it called the INKvestment Tank? Let's ask the brand's landmark "tank technology", which is recognized in the market for its superb productivity and professional quality of printing.
But Brother doesn't just talk the talk, they walk the walk; they've fitted this printer with a year of ink, which is made possible thanks to the high-capacity tank. And you'll be able to effortlessly scan, copy, and fax as well, along with super-fast double printing.
What's more, this printer comes with dual paper trays, which together can hold up to 500 sheets. And thanks to the Page Gauge, you can easily monitor ink levels in your cartridges; never be unprepared! And of course, the touchscreen controls make everything that much easier.
All that being said, it's good to keep in mind that this printer is not suited for the needs of a large architecture firm. For small businesses and academic purposes, though, this is one of the best choices.
Highlighted Features:
INKvestment Tank comes with 1 year of ink in-box.
Advanced reengineered cartridges have a higher ink capacity.
Outfitted with dual paper trays to avoid frequent refilling.
Supports copy, scan, fax, and single-pass double printing.
5. Epson Expression Photo HD XP-15000 Wireless Color Wide-format Printer
We present to you yet another printer from Epson, although this one is far more affordable. If your architecture firm is small or if you're looking to buy a printer for use by a specific workgroup within your firm, you're going to love this one.
Capable of producing borderless prints of dimensions of up to 13×19, this printer stands out from the others we've reviewed today for one main reason: it comes with 6 cartridges. Yes, you heard that right, and yes, the price really is that low.
Plus, given that the cartridges are Epson's own Claria, you'll be amazed by the vivid image quality of true HD prints.
Something we really love about this printer is that it's capable of handling a large variety of paper types, including (but not limited to) glossy photo paper and even card-stock paper. The rear tray where specialty papers must be inserted is able to accommodate up to 50 sheets, as well.
One noticeable drawback of this printer is its lack of wireless and cloud capabilities. The wide color spectrum that 6 Claria cartridges can provide you at such a low price, though, is unbeatable. Especially if you're a small business, you'll no doubt relish the big saves!
Highlighted Features:
Outfitted with six individual Claria photo HD cartridges including gray and red.
Can handle various types of paper finishes for your convenience.
Able to produce borderless prints up to 13×19 dimensions.
The front tray holds 200 sheets and supports double-sided printing.
6. Canon Pixma Pro-100 Wireless Color Professional Inkjet Printer
One universally agreed-upon the truth in the world of printers? The Canon Pixma line is a group of absolutely top-notch printers, and the Pro-100 is one of the most potent proofs of that fact.
Compared to all of the other inkjet printers we have reviewed today, this one is rated for handling 8 separate cartridges (gray, black, light gray, magenta, photo magenta, cyan, photo cyan, and yellow).
So you can already imagine the print quality. These 8 cartridges will come together to produce images of 4800×2400 dpi, allowing you to enjoy vivid detail in your prints.
And those prints can be made on a variety of paper types in up to 13×19 dimensions–with 6,144 nozzles, the Pixma will set to work in delivering beautifully vivid images and prints.
Furthermore, thanks to the printer's AirPrint capabilities and built-in Wi-Fi, you'll have your prints ready without ever having to leave your desk.
So what does this printer look like? Encased in its sleek black-and-silver design is an output tray with a capacity of 150 sheets of plain paper, 10 letter sheets, 20 4×6 photo papers, and 1 A3 (11×17) sheet. On the printer's body are three simple control buttons.
While this highly efficient printer is definitely one of our favorites, we don't think it's suitable for large-scale operations. So if you're in need of a printer for a large firm, then we would suggest that you look elsewhere.
Highlighted Features:
8-ink ChromaLife100+ cartridge system produces vivid high-density prints.
Has a DPI of 4800×2400.
Dual paper feeding with a rear tray for specialty paper.
In-built Wi-Fi and AirPrint capabilities allow you to print remotely.
In-built DVD and CD printing available.
7. HP DesignJet T130 24-in Large Format Printer
For our next pick, we're going back to one of HP to review one of their most long-enduring inkjet printers. This 24-inch wide printer operates using six separate dye-based inks. Although it's been a while since this printer was released into the market, it still fares impressively in the face of more recent big-name printers.
That is no doubt thanks in part to the innovative design of the machine. With an efficient snapping-in mechanism for all of its cartridges, the DesignJet makes it easy to go about your day. The ink monitor placed on the front LCD panel, meanwhile, keeps you notified about ink levels.
The front-loading tray of this printer can handle paper sizes of up to 18×24, making it the largest wide-format printer we have reviewed thus far. A rear feeder allows you to insert specialty paper with ease. Additionally, there's also a front paper feed.
The high quality of the images produced by this printer is something any user of the machine will agree upon. However, it's also important to note that this isn't the fastest printer out there. A 24×18 print at Max detail (the highest resolution available) may very well take up to 30 minutes.
This is definitely one of the most durable and capable printers you will find at this price, to mention nothing of the excellent photo quality. However, in a busy workplace, the printer's speed can be a setback, as can the lack of wireless connectivity. So choose wisely!
Highlighted Features:
Produces sharp, high-res photos with 6 separate inks.
Accepts a variety of paper types including glossy photo paper and satin photo paper.
An in-built fan keeps the printer cool while working.
Does not require that much upkeep or maintenance.
Supports paper dimensions of up to 18×24.
8. Epson Expression Premium EcoTank (ET-7750)
Another Epson printer? Count us in. An Epson printer with an EcoTank? Just take all our money! Yes, we sound overenthusiastic, but there's a good reason for that. If you wanna know what that reason is, read on!
This highly-rated Epson Inkjet printer is, first and foremost, a multi-functioning, all-in-one printer. You can enable the copier and scanner function with ease, and using the Ethernet connection capability, linking up with your colleagues will be a walk in the park.
But what makes the EcoTank stand out the way it does? The fact that it's completely cartridge-free, of course. Yes, instead of cartridges, the Epson Expression makes use of spacious ink tanks. These tanks are very easy to refill and reinsert back into the printer.
What's more, the in-box supply that you get with your purchase will allow you to print up to 9,000 pages. That would take 30 ink cartridge sets to achieve with a standard printer. And the 5760×1440 dpi will blow your socks off, guaranteed.
In case you needed more convincing, yes, this printer does come with full wireless capabilities. Beyond Wi-Fi Direct and Ethernet functionality, this printer is also rated for direct printing from smart devices. You can even use the built-in memory card or USB slot for direct printing.
Could it be that we've stumbled upon the absolute best 11×17 all in one printer? Well, that's for you to decide!
Highlighted Features:
EcoTank system utilizes large economical ink tanks instead of cartridges.
Affordable ink replacement bottles allow you to save up to 80% on ink prices.
Dedicated photo and paper feeding trays with specialty rear feed.
Offers USB, SD, Wi-Fi Direct, Ethernet and smart device connectivity.
Offers a print resolution of 5760×1440 DPI.
9. Canon PIXMA TS9520 11×17 Color Laser Printer
Many prospective printer buyers are possessed of the idea that inkjet printers are always expensive, so they might just end up looking for the best 11×17 color laser printer thinking it will cost them less. But the Canon Pixma TS9520 is here to prove that you can have your cake and eat it too.
What do we mean by that?
Equipped with an individual ink system consisting of 5 colors, this Canon printer is able to produce almost unbelievably sharp, vivid photos and clear black text. And it can do that on a variety of paper types.
The straightforward design of this printer conceals a multitude of advanced functions and capabilities. Capable of oversized scanning and equipped with an auto document feeder for multi-sheet documents, this printer allows you to handle myriad printing activities with little effort.
And that's to say nothing of the machine's impressive connectivity capabilities: not just Direct Wi-Fi and USB, but also Bluetooth and Ethernet. Yes, AirPrint and Mopria Print service too! So no matter what device you're using, just send your material over to the Pixma and it will take care of the printing.
Although the range of what you can achieve with this printer is huge, we would still not recommend it for a large business. However, if it's for a small workspace or bustling home office, then we think this printer is a perfect fit!
Highlighted Features:
Canon Print app, EPP Editor App, Message in Print App integration.
Offers myriad connectivity options in USB, Ethernet, Bluetooth, AirPrint.
Utilizes Individual Ink System with 5 colors for sharp and vivid prints.
Touchscreen control panel for easy and quick access.
10. Brother MFC-J6930DW All-in-One Color Inkjet Printer
For our final pick today we bring you a second selection from the globally renowned brand Brother. This all-in-one printer is one of the most efficient we've come across despite being so low-key. It's decked out with a number of functions both crucial and advantageous to your business. Let's see what it has to offer.
This machine comes fitted with 4 ink cartridges, namely cyan, black, yellow (high yield), and magenta. Combined, these inks will produce gorgeous, vivid prints on paper dimensions of up to 11×17.
You will no doubt appreciate the single-pass double copy/scan function, not to mention the double-sided printing. No matter how much you print, copy, and scan, though, the generous 500-sheet tray will ensure you don't have to keep refilling papers.
One of the most truly impressive features of this printer is its plethora of wireless connectivity options. You can connect, with ease, to Kindle, Apple, Android, Windows Phone, or even Blackberry devices.
That's thanks to the integration of Google Cloud Print, Brother iPrint and Scan, and of course Apple Cloud Print. This guy even has NFC capabilities! Hugely convenient for a large and busy office.
You can even connect to cloud services like Dropbox and OneNote directly from the printer using the highly user-friendly 3.7″ color touchscreen control panel. And the app integration doesn't stop there. Brother also has a series of Cloud Apps that you can use to transfer information directly to the printer.
Highlighted Features:
Utilizes 4 cartridges to produce startlingly vivid images.
Offers a wide range of wireless connectivity options including AirDrop and NFC.
Integrated single-pass double copy/scan and auto double-sided printing.
Offers direct cloud connectivity (Dropbox, Facebook, OneNote, etc.).
Outfitted with a large 500 sheet paper tray and an auto-document feeder.
Top 11×17 Printer for Architects Comparison Chart
| | | | | |
| --- | --- | --- | --- | --- |
| | | | | |
| | 8.7 ppm black; 6 ppm color | | | |
| | 22 ppm black; 18 ppm color | | | |
| | 14.5 ipm black; 10.4 ipm color | | | |
| Brother Inkjet Printer, MFCJ6945DW | 22 ppm black; 20 ppm color | | | |
| Epson Expression Photo HD XP-15000 | 9.2 ppm black; 9.0 ppm color | | | |
| | 8.0x10.0" Image ~ 51 seconds (A4 paper, with border); 11.0x14.0" Image: ~ 1 minute 30 seconds (A3 paper, with border) | | | |
| | T130: 35 sec/page on A1, 70 A1 prints per hour | | | |
| Epson Expression Premium EcoTank | 13 ppm black; 10 ppm color | | | |
| | Approx. 15.0 ipm black; Approx. 10.0 ipm color | | | |
| | | | | |
What to Look for Before Buying 11×17 Printer for Architects?
We've reviewed the top 10 options for the best 11×17 printer for architects to give you a wider range of choices. However, you won't be able to find the right printer for yourself unless you're informed. Consider the following factors before making your purchase.
Inkjet vs Toner
When buying any printer, the first consideration is whether you want it to be inkjet or toner-based. Inkjet printers use water-based ink and are capable of producing sharp and vivid photos. So, if color printing is what you prioritize, then an inkjet printer will be right for you.
Laser printers, on the other hand, use fine-powder toners. That makes them perfect for printing duochrome images and official documents. They also cost less to operate.
So the question is, how big is your architecture firm? What level of operation are you buying your printer for? Keep in mind that laser printers are not completely incapable of producing color images; it depends on your requirements whether the quality will suit you.
Printing Quality
An all-important question you should ask while buying a printer is how high its photo resolution is. It's not enough to simply look into printers that print 11×17 images, you must also be informed about the factors which determine image quality. Let's have a look at each in turn.
The droplet size a printer is capable of producing is expressed in pico-liters. The lower this figure, the sharper a picture you will get. Ideally, your printer should have a droplet size between 4 and 12pl (pico-liters).
An important indicator of a printer's image quality is its DPI: dots per inch. The higher the dot density, the higher the printed image resolution will be. For architecture needs, a minimum of 1200dpi is required.
Ideally, the printer you choose will allow you to change the dpi configuration. Up to 100,000dpi is possible to achieve by a printer, so your options are limitless!
The accuracy and sharpness of your printed images are determined to a great extent by the number of cartridges your printer is equipped to hold. The more cartridges your printer has, the more accurate the results.
A printer typically has between 4 and 12 cartridges. Many modern printers come with the option to include green and orange cartridges, which makes a wider spectrum of colors achievable.
Printer Size
Although in our reviews we have only looked at 11×17 printers, the needs of your firm might dictate that you will need a larger or smaller one. If you're printing extra-large blueprints, for example, an A0 printer might be better suited to you. We recommend getting a printer that goes up to 13″x19″ sizes.
Printer Speed (PPM)
Just how fast do you need your printer to churn out your plans and designs? This is an important question to answer, because generally, the faster the printer is, the lower the image quality.
Is that something you're willing or compelled to sacrifice? Or can you afford a printer that is not only fast and accurate but can also produce images of various resolutions? Because they're certainly not cheap!
When considering speed, also look into the printer's pages per minute (PPM), which measures the speed at which a printer can produce a standardized page. For example, if your printer has a PPM of 25, it has the ability to print 25 pages per minute.
Connectivity Functions
Most printers of today no longer need to be hooked up to your computer to produce your prints but can communicate with your device wirelessly. This can be very convenient in a large office or one where multiple users are sharing a printer.'
That being said, wired printers are faster, and ultimately, more reliable. This is because they're less susceptible to being intercepted digitally (i.e. hacked!). So even if you do opt for a wireless printer, keep in mind that you'll have to provide for security.
Ease of Use
A treasure trove of specs and features is always appealing when it comes to electronics. But in our opinion, there's no point if that takes away from the ease of using the machine. Accordingly, we recommend going for a printer that offers a user-friendly experience.
For example, does the printer driver installation require a professional? Is the control panel accessible and easy to understand by most members of the office? How easily can you import ICC profiles and settings from existing printers? Is your printer able to recall custom settings?
These are only some of the questions that answer to a printer's usability.
Multi-functionality
Finally, consider what you expect from your printer. Many modern printers are equipped with not only the ability to print but also scan and copy. This may sound convenient, but multifunctional printers are typically slower than standalone ones.
That being said, as a rule, it's definitely cost-effective to buy a machine that performs multiple functions.
What are the Benefits of Using 11×17 Printers?
That's a very good question because it has a lot of benefits. Let's get to know them.
High-Quality pictures
A wide format printer like the 11×17 is beneficial for one main reason: its ability to give you high-quality pictures. A standard printer won't be able to give you that, no matter how much you coax it; advancements in printing such as advanced droplet technology are more readily found in 11×17 printers.
Great Speed
Furthermore, a wide format printer allows you the benefit of speed. In an architecture firm producing multiple large-format images in a day, a standard desktop printer or the multifunction printer simply can't keep up.
Even in the office of a smaller establishment, there's so much that needs to be printed during the workday.
Shows Professionalism
Now if you're thinking more narrowly, consider this: an architect must produce numerous schematics for a single project. Do you think a standard printer is suitable for such purposes? We didn't think so. Surely your clients won't be pleased with a low-res plan of their future building, hastily printed on A4 paper!
Professionalism is extremely important in today's competitive world; don't skimp out. Building your brand should be your priority, and an 11×17 printer is crucial in doing just that.
How to Take Care and Maintain Your 11×17 Printer?
Your 11×17 printer requires maintenance in order to function properly. Without upkeep, you also risk shortening your printer's life. Follow these maintenance guidelines to keep your 11×17 printer running smoothly.
Don't let your printer sit idle
Even if you're not using your printer for official work, you should keep it minimally engaged daily. This not only ensures that the printer's components won't malfunction due to misuse, but lets you know that it's working properly.
Clean your printer
You should aim to clean your printer at least once a week using rubbing alcohol and a soft cloth. The roller/platten should be cleaned to remove any accumulated ink (this usually causes streaks or smears while printing). Use a vacuum cleaner to remove sneaky dust particles that have gotten inside your printer.
Treat cartridges with care
Even if you're in a hurry, never put your cartridge into the printer with undue force. This can not only damage the cartridge itself but also the printer. Also, never touch the cartridge's bottom.
Use the latest drivers
Update your printer's drivers and software as soon as updates are available. If you're unsure where you can find the latest drivers/updates, you can always search the manufacturer's website or put in a call to their hotline.
People Also Asked
1. What is the difference between a laser and an inkjet printer? Which should I choose?
While inkjet printers use ink to produce images, laser printers use toner. The former is better able to handle a wider range of materials and produces sharper and more vivid colors.
Laser printers, on the other hand, are faster and better for volume prints. However, they don't offer good quality colored prints. So it really depends on what your particular imaging needs are. Generally, an 11×17 laser printer won't suit an architect's needs.
2. What is the name given to printing paper measuring 11×17?
Papers having this measurement are most commonly referred to as tabloid or B-size papers. In some countries, they are also called A3 papers.
3. What type of ink should I use when making my architectural prints?
Architects are no strangers to busy construction sites, where blueprints are frequently required. To stop those important plans from getting damaged, always choose high-quality water-resistant, and smudge-free paper to print on. Pigment-based inks are best suited to this purpose.
4. Can my regular inkjet desktop printer print 11×17 pages?
Yes, some desktop printers can, but not all. When printing, look for the 11×17 size specification in the printing software. If it's there, you can print it. We can't speak for the quality, though.
5. Why does the number of cartridges in a printer matter?
The short answer is that the more cartridges your printer has, the more colors it will be able to produce. If you want highly accurate, vivid colored images, then a larger number of cartridges will help you.
6. Why are their smears and streaks on my printed materials?
That's a sign that your cartridge, platen or printer's rollers need to be cleaned. Make sure to do regular maintenance to keep your printer in good working order.
Final Words
When it comes down to it, the best 11×17 printer for architects depends entirely on the need of the consumer. Consider the required speed and capability, and always keep in mind the printing quality. If your needs are not imaging-related, then you can consider looking into the top 11×17 color laser printers.
One final piece of advice is that always ask yourself before purchasing, "are the features worth the money?" If the answer is yes, then go for it. If the answer is no, you have to consider if you are willing to pay the extra bucks for those features.
Good luck!
Other Printers That You May Like: