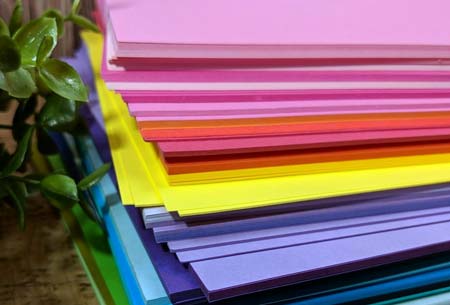 The number on the weight scale matters in the world of paper!
The stunning wedding card you just received wouldn't look as nice if it was printed on a thin copy paper, would it?
Nope!
And that's why the weight of the paper is the single most important factor while you are trying to create a great printed piece!
When it comes to business cards, wedding invitations, educational certificates or the menu card of your favorite restaurant, a typical writing paper just doesn't cut it.
You need something thicker, more durable material that makes your ink and design come together. And that's where the Cardstock Paper helps you out as it has all of these features to help you make good-quality marketing material to impress everyone!
Today, in this article, we will learn about what is card stock paper, how it's used and most importantly when's the right time to use this paper as your printed material.
Before we start, get your pen and paper ready and take notes.
We are about to spill some beans to make your next cardstock project look F.A.N.T.A.S.T.I.C!
What is Card Stock Paper?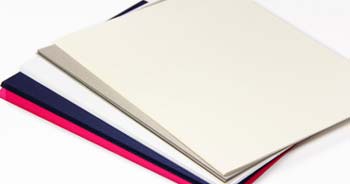 Card stock paper is also referred to as "Cover Stock" or "Pasteboard".
It's typically thicker than your average writing ones, yet thinner than a paperboard.
As it's heavier than standard paper, it can hold different types of liquid and heavy embellishment applications quite well. You will find card stock paper available in different colors, sizes, weights, textures and a variety of designs.
Generally speaking, it has a smooth surface. However, for decorative purposes, it has metallic or glossy versions available as well.
Read More: What is Paper Crafting Called? Walk through different paper crafts and how to get started!
Different Uses Of Card Stock Paper
Card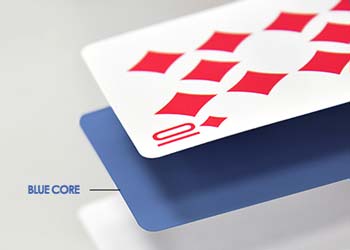 This one is rather obvious, isn't it?
What's not so obvious is how versatile these cards can be!
From business purposes to personal interests, these pasteboards are good for every occasion.
You can use these materials for printing out business cards, postcards, seasonal greetings, wedding invitations, restaurant menus, posters, flyers, brochures, holiday cards, bookmarks and many more interesting items.
Also Read: A guide to choose right ID card printers.
Cover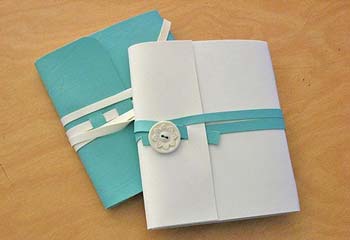 Pasteboards make excellent cover for your books!
As this material comes in different finishes and textures (we will get to that a bit later in this article!), you can use this to cover the inside as well as the outside part of your book.
You can also make a cover for your photo album, scrapbook or create a colorful place-setting placard or gift tags for wedding guests!
Décor Item
For special days and other holiday occasions, we love decking up our house with beautiful ornamental items. And cardstock material is an excellent way of doing that!
You can make wonderful gift boxes to surprise your loved ones. Along with that, you can make star-shaped ornaments to deck up your tree and create personalized social media photo banner to celebrate special occasions!
Craft Projects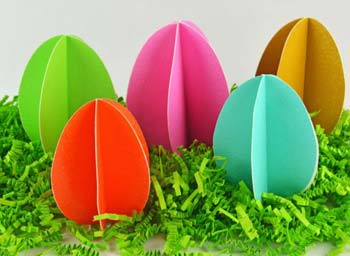 For people who love craft items, cardstock paper is like a strawberry shortcake to them!
Once you get desired cardstock paper, you can try your hands at making 3-D hot air balloon paper craft, pinwheels, flower wreath, travel folio and last but not the least, creating mini envelopes to send love letters to your loved ones!
Check it: 15 paper crafting tools list.
Photo Print
Your last travel photos on the beach will look even sunnier on a cardstock, did you know that?
The thick paper helps make the photos stand out and create a custom gallery wall inside your room. As cardstocks are a bit on the heavier side compared to your regular paper, you need to choose the right printer that can do this job properly.
Also read: How to use sticker paper?
Types Of Cardstock Paper
There are different varieties of cardstock material available on the market. If you are just getting started in this world and don't know which types are better suited for your purpose, here are some ideas-
1. Cotton Cardstock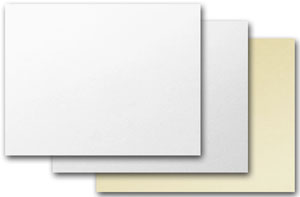 Do you LOVE laser printing?
We do too!
And for this reason, cotton cardstock is the best!
The smooth look and the organic feel of cotton pasteboard are second to none!  This material is used to make cool invitation cards or business cards if you want the receiver to feel the luxurious feel of this item.
However, we do agree, the price is a bit high on this one. and you will get only three shades of colors to choose from: White, Grey and Ivory.
2. Parchment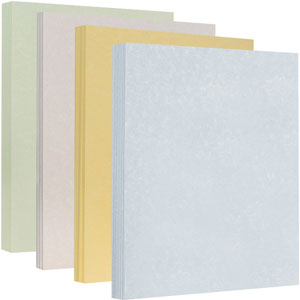 If you want to have an antique vibe to your project, then parchment cover stock is more suitable for you.
Parchment is semi-translucent stuff that has a marble-type appearance. It doesn't come in that much color variations. However, it can make a good combination with cotton cover stock while giving off a nice and soft feel to your hand.
It's compatible to work with a laser printer, inkjet printer and copier.
3. Canvas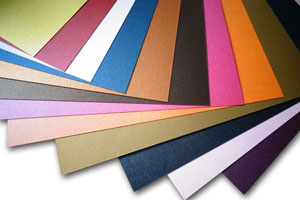 Canvas pasteboards are a bit on the higher range price-wise.
It has the finish and texture of a woven fabric. The basket-like texture of the surface is so evident that you won't be able to forget the feel even if you want!
The material is a bit thicker than other versions available. It comes in a wide variety of colors so you can choose the one that goes well with your project quite easily.
4. Linen
Linen cover stock has a lot of similarities with the "linen" fabric.
It has a muted embossed texture with a zigzag pattern that's also seen in a linen tablecloth.
As linen material has a forgiving nature to hide flaws, you can use linen cover stock for making restaurant menus, business letterhead etc. that requires an elegant look.
Cardstock Paper Weight And Sizes

Whether you want to use pasteboards for crafting, card making, scrapbooking or other purposes, you will find a suitable size for every project!
Typically, these papers are measured in inches. The popular sizes that are available include 6×6-inch, 8×8-inch, 8.5×11-inch, 12×12-inch.
If you want to print cards using your standard printers, then the 8.5×11-inch cover stock would be a better option for you.
For scrapbooking purposes, we recommend using 12×12-inch for the best result or legal size.
As for weights, it ranges from 65 pounds to 110 pounds. The standard weight of a business card is 80 pounds. Index pasteboards come in 90 pounds and 110 pounds.
Cardstock Paper Surfaces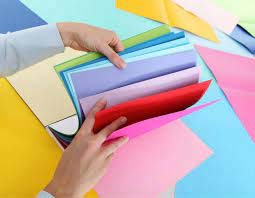 Done with choosing the weight and size of your preferred paper? Now it's time for the fun part. The surface choosing process!
Here are some surface examples that are available:
Glossy:
Do you love shiny things? Cause, that's EXACTLY what a glossy surface refers to!
The ultra-smooth shiny surface is suitable for printing brochures, coupons, advertising, flyers, posters etc. whereas regular cover stock's weight is measured in pounds, glossy ones are weighted in points. The more the point is, the thicker the paper.
Patterned:
Patterned cardstock is perfect for making DIY projects, especially for creating beautiful, fun backgrounds for your card making! They are also often used for scrapbooking projects.
Usually, the patterns are printed on one side and the other side is kept blank. These materials weigh around 65 pounds in general.
Mirror:
Mirror pasteboards feature a glass-like surface that adds a special look to your project.
It has a metallic effect that creates a dramatic scene that really pops out and catches everyone's eyes! A 100 pounds mirror paper is better printed through laser/offset printers. Depending on what kind you bought, the mirror-effect can be on one side or both sides of the paper
Matte:
If you are looking for good-quality prints without the extra glam effect, then a matte surface is more suitable for your need.
Matte finishes refer to a soft, chemically-treated surface that has a satin-like finish. You can use both dry and pigment inks on this surface as they are both compatible. As the matte surface is resistant to smudging or leaving fingerprints, this one is more suitable for making greetings/invitations/business cards.
Coated:
Coated cover stocks rock!
They don't tear or get worn out and is resistant to water and dirt!
An extra layer of coating is applied on top of the surface in this case. This helps keep your printed material look crisp for a longer time. Usually, this type of surface is chosen for making calendars, art prints, book covers and catalogs.
Glitter:
It is exactly how it sounds!
Glitter-embedded papers are perfect for people who love shiny and shimmery looks. This kind is especially popular for scrapbook projects. A good-quality glitter surface should be thick, smooth to touch and hold up well with intricate designs.
Iridescent:
Iridescent refers to a coated surface that displays a combination of shimmery colors. The specialty of this pasteboard is that it changes color when you change your position!
Depending on what type of paper you purchase, you will find a one-sided or double-sided iridescent surface.
Benefits Of Using Cardstock Paper
1. Durable
Cardstock materials make a good impression that lasts for a long time.
The resume, restaurant menu, save-the-date cards that you make with this material lasts longer than any normal paper. As the surface is thicker and smoother, it creates a good base for making greetings/invitation/commercial cards.
2. Versatile
It's hard to find something this much versatile!
Pasteboards come in a variety of materials, textures, colors and shades for you to choose from. Since the material is available on the market, you have a lot of flexibility while choosing the right ones for your creative projects.
You can either purchase a single sheet or assortment packs (Where you will find options like bright color, matte finish, pearl tones, parchment color etc.) to suit your need.
3. Adaptable
You can use your home printer to print on your cardstock!
The weight and thickness of this material is such that it's compatible to work with most standard printers. Typically, LaserJet and OfficeJet are recommended for cardstock printing.
As the surface of cover stock is sturdier and more durable, it's also compatible to work with hot glue and heavy embellishments quite easily.
4. Affordable
Making your own DIY greetings card is a more affordable option than paying for the expensive Hallmark ones.
All you need for creating a homemade card is some low-cost rubber stamp, cardstock, ink and you are done!
Also, if you are looking for printing out small quantities of business cards, we recommend doing that at home. Using cardstocks to print at home is a much affordable option rather than going to the printing company if you are on a budget.
Things You Need To Know Before Printing On Cardstock
Remember we promised to help you out for your next projects at the beginning of this article?
Here are some things to consider and tricks to follow while printing on a cardstock!
Take Note Of The Thickness:
How thick is your cardstock?
That's the first question you should ask before printing!
Thickness is measured in points here. Most printers are capable of handling materials ranging from 10 to 17 points. However, you should always check your printer's manual before proceeding.
Make Attractive Custom Invitation:
Thinking about creating your very own custom invitation cards?
We applaud your bravery!
To make it something really memorable, we suggest using a high-quality cardstock that has a luxurious feel to it. For instance, you can opt for a metallic finish/translucent vellum/textured/linen cards as they have a superior look that goes with your big event!
Mix It Up:
Since this material comes in a lot of variations, it's possible you are torn between 2 options.
In that case, why not mix it up and have a bit of fun?
You can get a textured cardstock paper which is also colored/perfumed for your convenience!
Apply Techniques To Stand out:
To take your customization to another level, you can apply different techniques like die cutting to make it all the more interesting!
For special events like family gatherings or wedding, you can add embossing to make it more spectacular. Foil stamping is also a good idea if you want your cards to sand out from the crowd.
Conclusion
No matter what your occasion might be, you will find a suitable cardstock material for each one of them!
Yes, card stock is versatile and really fun to work with. However, you need to grab a clear concept about what is card stock paper, how it's used and the techniques of using it on your big event.
In this article, you should find ample information on those. Hopefully, this guide will inspire you to get started with a cool project and ensure a crisp, professional look for your customized pieces!
Stay tuned if you liked this article, we will bring you some more next time.