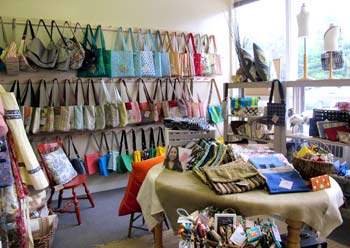 Just imagine sitting by the side of a fireplace to keep yourself warm, drinking your favorite coffee, and taking orders online for your craft-works. You can even go out for a pizza; there will be no one to bother you.
Every creative individual who is somehow related to crafting, have a dream of starting their own business.
Some want to turn their hobby into a business, while others just like the idea of having their own company. Everyone loves being their own boss.
However, acting like a boss is easy, but when it comes to choosing an appropriate business and maintaining a good profit rate, this is where the struggle begins.
Print To Peer experts writes always try to find some cool ideas for their readers.
This article is for those who want to make their dreams a reality. I will talk about some creative crafting business ideas.
If you haven't made up your mind about what to start with, the list of business ideas will help you a lot in this regard.
Also, the article will include effective ways to make the most out of your business and some tips and tricks to run the business successfully.
Why Should You Start a Home Crafting Business?
Nowadays, most people clamor for handmade products, which opens the door for crafting businesses.
If you can make something unique, which is not easily available, it is highly likely that people will not want to miss the chance to get their hands on your product.
People don't get crazy about products that are easily available in the market. If you can make a well-crafted product and adopt an effective promotional policy, you will get a good response from the customers.
What It's Like to Start a Crafting Business?
A crafting business can be big or small; in both ways, this type of business is well recognized.
But the thing is, you first need to decide on the products you want to sell. Choosing the right product is important. You need to consider about the customers, local market, purchasing ability of the customers, the taste of the customers, etc. while choosing a product.
Also, you have to be creative when you present the products to the customers. Having a proper business plan and setting a strong marketing strategy is required to bring the most out of your business.
You cannot choose a service or product and try to sell them in a market that doesn't have any demand for such products.
However, if you start the business based on your hobby, even if the product has less demand in your area, you can sell the products online by targeting customers from different areas.
Moreover, you have to ensure that the pricing of your crafting products provides great value to them. Starting a crafting business requires you to balance your time, be efficient at production, and promote the business in the most effective ways.
Top 45 Crafting Business Ideas
The following list is made considering the potential market demand, customer demand, and various factors of the business.
1. Bookbinding Business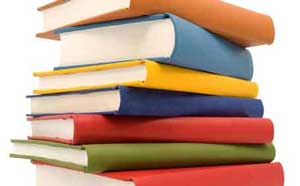 This business is perfect for someone who previously had work experience in the printing and press business. Bookbinding is one of those businesses that require precise work. Also, the more design you can create, the more profit your business will bring.
If you have a good network among the publishers or can build connections with them, it will bring huge profits as well as brand marketing. Even though it's relatively less expensive, if you decide to purchase professional equipment, it will require some capital.
Earning profit will depend on the kind of material you give and the number of orders you get. Doing business under the contract of publishing houses will ensure a more stable income and growth potential.
2. Soap Making Business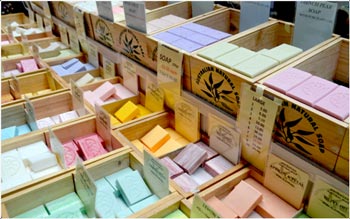 Soap is something that people regularly use, which opens a profitable business opportunity if someone can successfully penetrate the market. If someone knows how to combine such a hygiene product with aromas and make eye-catching designs from scratch, this can be an ideal business option.
What makes starting a soap making business so easy is that you can produce soaps using relatively inexpensive supplies found almost everywhere. However, when you get more orders or think about producing large quantities, you will need a larger workspace.
So, you can start the business with minimal materials without spending additional money on managing a space. Your marketing skill and production quantities will determine the earning potential.
Targeting artisan soap may bring good results as it's one of the most profitable niche markets. On top of that, the demand for non-generic soaps is rising, so this sector has some potential factors to consider.
3. Pottery Business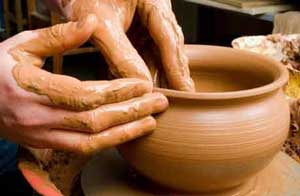 People will always admire classy pottery creation regardless of the price. If you are very good at working with your hands and find interest in the pottery sector, you can consider engaging in such a business.
Apart from your skill, talent, and creativity, you would also require setting up an effective marketing plan to sell the products, whether it's online or offline.
The startup cost for producing pottery products is relatively high compared to other handmade craft businesses. If you manage to work from your home, you will save a lot of money. However, considering mass production, you will need a workspace.
Having proper equipment, a suitable venue, and skills to make high-quality pottery products will enable you to set your own prices. As far as the artisan pottery is concerned, you will find the customers willing to pay a good price for the products.
4. Furniture Upcycling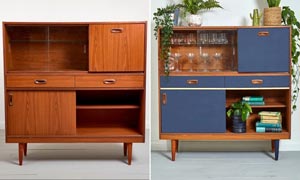 If you are good at bargaining at yard sales or antique stores and have experience of buying refurbished furniture, this can be a profitable business idea for you. The process of starting such a business is pretty straightforward; you buy used furniture at low cost, refurbish them, and sell at a higher price.
You don't require a high amount of capital to start the business. If you have initial funds for purchasing the furniture and do a little marketing in your local area, you will do fine initially.
Furniture upcycling is popular among couples who are willing to furnish their apartments or houses. So, here, targeting the market is relatively easy in this case.
5. Making Greeting Cards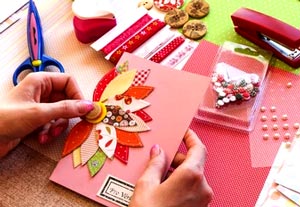 If you love pottery and have good designing and writing skills, you will find this business bringing money for your talent. There will always be birthday celebrations, reunions, holidays, and many life events near us. Making greeting cards with quirky messages can be an excellent money-making option in those events.
You can sell the greeting cards exclusively to the customers or the retailers. Selling directly to retailers will bring profit much sooner.
However, if you manage to bring heavy traffic to your website, directly selling to the customers will bring even more profits for your business. The startup cost of the greeting card business is extremely low. The card stock paper post has some additional tips to use as different types of greetings and invitations purposes.
Read More: What is Paper Crafting Called? Explore different paper crafts and how you can start them!
6. Leather Business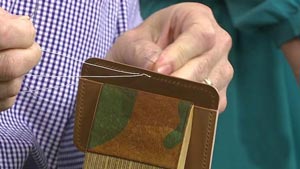 The leather business has a wide range of sectors. You can sell leather products to retailers, use in making clothes, accessories, or repair leather items. But, having a good understanding of how it's made is important for doing this business.
Depending on the nature of the business, the startup cost will vary. If you focus on a particular service or niche, it will bring you a good amount of profit within a short period.
7. Picture Framing Business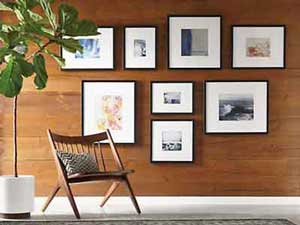 In this age of cloud storage and digital photography, picture frames still a popular way of displaying family photos, art, and noteworthy documents, calligraphy, and more. If you have knowledge about carpentry, color coordination, design, and have experience in printing and photography, you can consider engaging in this business.
The cost of running the business will depend on the material you use for making frames. But most of your capital will be spent on getting a high-traffic location to sell the frames. Besides, you always have the option to use the internet to expand your market.
Your local market demand, as well as online marketing, will determine the potential earning for the business.
8. Screen Printing Business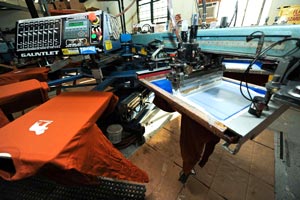 These days, custom t-shirts and labels are almost everywhere. You collect a popular picture or saying from the internet and print it on a t-shirt, you will easily find people buying them. Starting such a business requires you to have some basic knowledge about editing software like photoshop, and graphics design.
Although this business doesn't require any big investment, you will need to invest in a specialized printer, supplies of t-shirt, and accessories. If you find several clients or get bulk manufacturing orders, there is a high chance of making a good amount of money from this business.
Read our related article on T-Shirt Printing Business Equipment. Learn what it takes to get started!
9. Stained Glass Business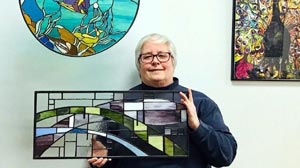 Stained glass has a wide range of applications, as well as appeals. This type of glass adds flair to various structures and products. You must have a very good understanding of stained glass design and its production.
To start the business, you will require different types of glass cutting tools, safety gears, flat and large surfaces to cut for working on the glasses. The good thing is, these supplies aren't that expensive.
Whether you produce a small size stained glass ornament or a large window, you can charge a high price for your masterpiece. If you get a consistent stream of clients, there will be a high chance of making a huge amount of profit from the business.
10. Upholstery Business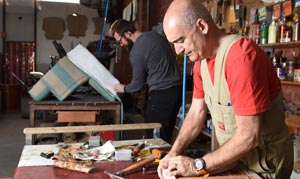 There are people who rarely throw their old furniture away. You can target such customers through the upholstery business. As a beginner, one must have vocational training in furniture repairing and upholstery. To get started, you need to get a workspace, necessary tools, and a vehicle to transport the furniture to the customers.
11. Bead Making Business
Bead making business is gaining more grounds day by day. Due to potential growth, more people are coming to this industry. If you can creatively design anything, you have the potential to thrive in this sector.
Your earning will highly depend on your creativity level and quality of the material. People love creative bead-made products, and they are willing to purchase unique ones at a high price as well.
12. Bag Making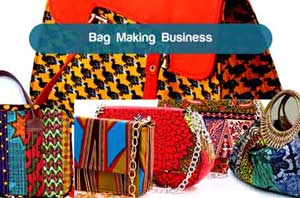 Women just love buying bags, and it will never end, no matter what. Why don't you take advantage of it and start engaging in bag production? Men are also into bags, but not as women. Whatever it is, don't stereotype if you are planning to make bags. There are countless types of bags to venture into this wide industry.
You will require the necessary equipment, accessories, and a workspace for the business to start with. As far as the selling is concerned, retailers are always there to appreciate unique quality bags.
Besides, if you can manage to do online marketing, and if the designs of the bags are very attractive, you are going to have a very tough time to place the orders.
13. Shoe Making Business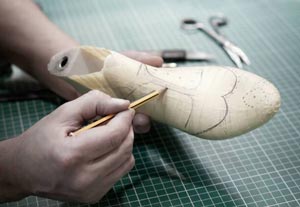 People wear different shoes for each event and occasion. That's why there will always be a high demand for shoes, especially for young people. Shoemaking also involves leather business to some extent. If you want to produce leather shoes, then you will also engage yourself in the leather industry.
Apart from having a creative mind, you must have knowledge about crafting shoes as well. You can enroll in a crafting school and learn shoemaking from there.
Once you are well-trained, combine both your lesson of unique designs and concepts of shoes and show it to the world. People will always welcome attractive designs and good quality shoes.
14. Bronzing Business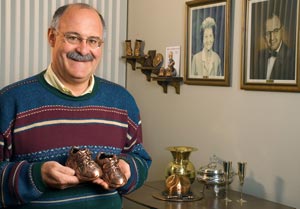 After the decline of the bronzing market, the large companies left the industry, which opens up the door for small bronzing businesses to enter into the market. There are people who are willing to preserve their old mementos such as baby shoes, stuffed animals; bronzing is done to preserve these items.
Although this business is a niche demographic, this business can still bring consistent earnings. To start the business, you need to train yourself to acquire the necessary skills at first. Bronzing kits are inexpensive, which shouldn't be an issue. You can operate this business even from your garage or a workplace similar to it.
Although the bronzing business has a relatively low ceiling when it comes to earning potential, if you have the right marketing strategy, you will be able to build a stream of clients, which can boost your profits.
15. Calligraphy Business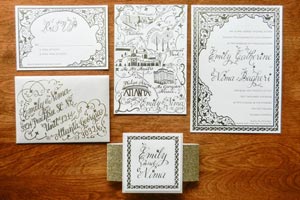 If I have to name some crafting businesses that will never fade away no matter how modernized the world becomes, surely calligraphy business will be there.
When it comes to calligraphy, it's all about creativity and innovation that a calligrapher puts onto a material or surface. Even if someone loves calligraphy but doesn't know how to do so, he can easily master this art with proper guidelines and practice.
To be successful in this field, you must have smart and reliable marketing skills and strategy. By mastering calligraphy, you can earn in various ways, such as – doing calligraphy, selling calligraphy items, teaching classes, and designing for clients.
The cost of starting this business is low. But if you want to teach others about the art, you will need to invest in managing a classroom and necessary furniture for it. Targeting businesses that regularly host events will bring a high amount of profit.
16. Candle Making Business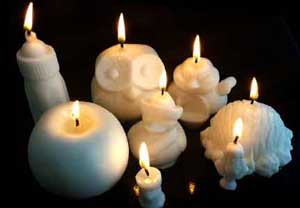 People still use candles for decorative purposes, whether it's home or restaurants. This business suits best for individuals that love making candles and has the ability to innovate new design.
Candle making is relatively inexpensive and doesn't require technical skills or a large workplace. The key to becoming successful in this business is to have a solid marketing strategy. Also, the effective marketing approach can differentiate your business from others and make it a lucrative business, as well.
Initially, selling products online is the safest option. After building a client base, you can think about opening a physical store.
17. Dried Flower Business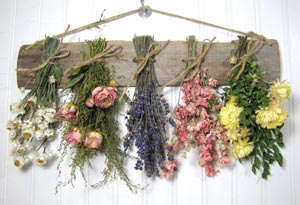 All the gardening enthusiasts out there, you can turn your flower garden into a profitable business venture. People use dried flowers in arts and crafts, to preserve flowers and bouquets for events. This business is very popular among the individuals involved in scrapbooking.
The initial cost of this business is, basically, that of owning the gardening supplies and a piece of land. If you already have a garden, it'll be much easier for you.
As the niche market is relatively small, your earning potential will depend on how much quantity you can supply as well as your marketing strategy.
18. Glass Blowing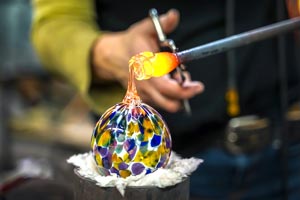 It's not a new thing; forming glass ornaments is a century-old practice. If you already have working experience with glass and have the skill to make ornate glass sculptures, glass blowing can be a profitable business for you.
The startup cost of this business is pretty high as it requires you to rent a studio, purchase necessary tools, and a furnace. But as soon as your products hit the market, your earning will make up the initial cost. But keep in mind that, long term profit margin is fairly smaller in glass blowing business.
19. Scrapbooking Business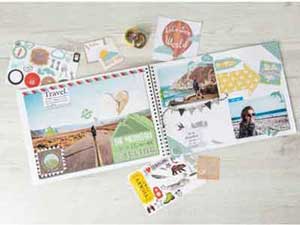 If you are good at hand designing and looking for a business idea that doesn't require a massive amount of investment, consider engaging in scrapbooking business.
The annual revenue of this industry is about $4 billion, which tells you how much potential this sector has.
It creates an excellent opportunity for those who love arts and crafts with some experience in similar works.
People who love to preserve their day-to-day memories in an attractive format will be your targeted customers. The objects mostly include letters, family photos, nostalgic memorabilia, etc.
Both the supply purchases and operational expenses are quite low in scrapbooking. However, you must have a website for taking orders and promotional purposes.
You need to introduce new concepts and attractive designs in the market to distinguish your business from the competitors.
20. Quilting Business
One might think quilting business is a fun hobby to have. However, you can turn this hobby into a thriving profitable business.
Quilting requires you to collect fabric pieces from large blankets of various materials and designs.
Then a piece of art is created by stitching those different pieces. Learning how to quilt is easy.
But, creating attractive and interesting designs requires creativity as well as aesthetic knowledge.
The startup cost is pretty low as you only require materials and a sewing machine.
Potential earnings largely depend on how appealing your design and how good the quality of the material is.
Also, you have to take initiatives for marketing the business to get more clients. For specialized quilts, you can even charge 50% above your hourly rate.
21. Sewing Business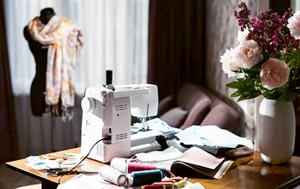 If you know how to sew, then why not take advantage of your skill and make some money out of it?
This business is best for fashion enthusiasts. They know how to make their own garments. Sewing business includes making, altering, and customizing clothes or fabrics.
This market of custom garments and cloth altering is always growing. So, you should start this business before it's too late.
Initially, you will need a sewing machine, necessary materials, and a few minimal expenditures to get started with. There is no need to rent a workplace during the first stage of the business.
The major advantage of this business is its low-cost operation.
Besides, if you can make new designs, you can turn the business into boutiques, which will open a door for expanding the business and increasing your profit margin.
22. Woodworking Business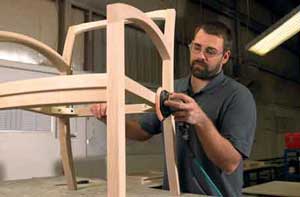 If you are a DIY person who loves to do projects as a hobby, woodworking business can be a great source of earning. It's an industry of about $6 billion and continues to grow as a prosperous business endeavor. So the potential of earning is much higher than other businesses similar to it.
Woodworking involves making furniture, performing modification through works of art, and decoration.
It requires you to do hands-on work and have some experience as well as technical knowledge of this field.
This business requires a moderate investment than other craft businesses.
But if you can manage space in your home that can accommodate machines and necessary equipment, you can save a lot of money.
Even though it requires a moderate investment, the potential earnings that come from this business are pretty high. If you can provide customers with attractive pieces of work, you are most likely to get paid even more.
23. Carpentry Business
Carpentry is the bigger brother of woodworking. It requires you to create designs and build or repair larger wooden structures.
To take carpentry as a business, apart from woodworking skills, you must have knowledge in math and basic structural engineering.
If you don't have any labor workers, it might also require someone to have the physical fitness to carry wooden materials on large structures.
There are courses on carpentry that provide the students with the necessary certification.
Obtaining such a course is expensive, and it also takes time to complete.
However, once someone gets the certification, he/she can earn a good amount of money annually, just from a few clients.
24. Ice Sculpture Business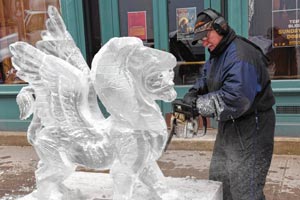 People who are engaged with ice sculpture business create eye-catching and attractive art using an ice block and a chisel for various events and weddings.
To run this business, you need to learn how to be an expert in sculpting.
Even though a chisel and an ice storage unit are all you need to start the business, you will also require big investments. Large ice sculpture businesses use carving machines and software that cost about $5,000.
You can sell individual sculptures for a few hundreds of dollars, at least. So, the potential earnings are very high if you manage to get the stream of clients.
25. Goldsmith Business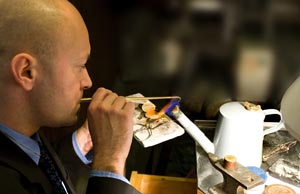 Most of the gold and silver made products that you see around you are the works of goldsmiths. They are very expert in melting and molding materials with great precision.
If you already have experience in this field, you can start it right away. However, a beginner must get proper goldsmith training before starting a business.
There is no need for a huge working space; you can start in a room inside the house that has enough space for the materials to accommodate.
Therefore, the initial investment isn't that much.
26. Tie and Dye Making Business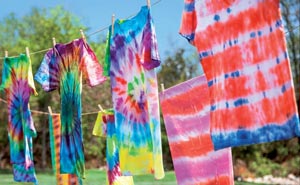 People are still trading tie and dye cloths, and the numbers are increasing. Starting this business is relatively easy.
All you need to know is how to tie and dye the fabrics. If you don't know how to start, there are many videos available on YouTube to learn from.
27. Hat Making Business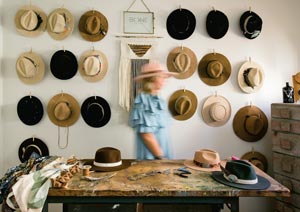 As long as people travel, there will always be a high demand for hats. Not only for traveling, but there are also various fields where hats are a necessity.
That's why people around the world are coming into this business and making a good amount of money with minimal skill and effort.
This business doesn't require a large amount of investment. With little sewing skills and a little knowledge of operating machines, you can start making hats all by yourself.
You can recruit labor workers once you start gaining profits.
28. Interior Decoration Business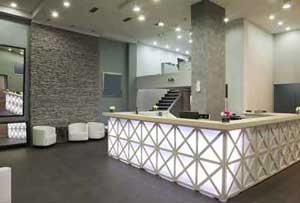 Interior decoration is a vast industry. If you are highly creative and have a powerful imagination, a successful career is waving at you. Home, office, school, restaurants, etc. are the primary places that the interior designers are requested to show their creative talents.
29. Translating Business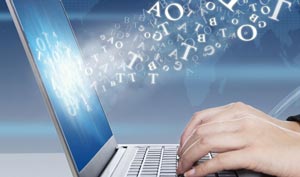 If you know multiple languages that have high demand in the field of translating, start working as a language translator.
English translation of literature in languages such as Spanish, French, Germany, Italian, Portuguese, Chinese, etc. has a very high demand nowadays. This business allows you to read more and make money from it.
30. Language School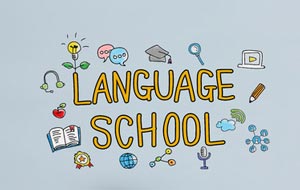 Again, this one also requires you to have good command over various languages. You can target a particular community and approach them with your marketing strategy.
For example, if you know Spanish well, target Spanish speaking community and offer them courses about how to learn English.
31. Painting
If you are a painter and are very good at painting, why don't you make the best use of your skill and make money out of it?
Turn your hobby into a profession. Learn more and more about painting, and bring perfection to your arts.
As a newbie, you shouldn't sell your paintings at a high price. Once your paintings are very much appreciated, then you can increase the rate of your creations.
32. Arts Auctions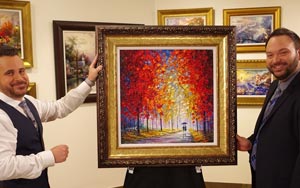 By nature, this business is quite similar to the business that I just discussed earlier. You will be required to buy paintings from various painters, and rent a shop to display and sell them to the customers.
Asking a fixed price or allowing the customers to bid for paintings will bring you a good amount of profit.
Haggling over the price with clients is the skill you require for this business.
You have to buy the paintings at a lower price from the suppliers. If the painting is unique, you can ask a good price for it.
33. Bamboo & Cane Handicrafts
Bamboo-made products have their own characteristics and elegancy. These products are popular among the customers as they last longer with minimal maintenance.
Also, their different appearance attracts the customers easily.
Whether you have experience of making handmade bamboo products or not, you can start with a little training.
There are thousands of videos on YouTube about making various types of products using bamboo.
If you can make unique bamboo and cane baskets, trays, mats, lampshades, wall hangings, flower vase, ornament, and even furniture such as sofa sets, people are more likely to pay you more for your creativity.
34. Bonsai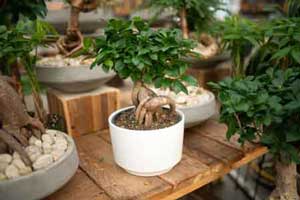 Bonsai is one of the most expensive trees. Due to its uniqueness and unusual beauty, people always look for good and healthy bonsai tree regardless of the price.
If gardening is your hobby and you know some basic things about gardening, with little knowledge about this plant, you can start producing bonsai in your garden and sell them at a high price.
35. Craft Supply Store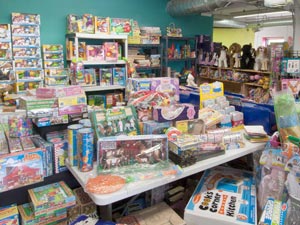 In the world of crafts and arts, every individual who is engaged with such business or activity, require crafting supplies.
With this business, you are basically targeting a massive group of the people of the crafting industry, which sounds like a pretty profitable matter.
The initial investment requirement is moderate. It's not too high, or too low.
36. Crocheting
Basically, it's a different type of knitting. The knitting requires different types of threads. Various utility items, as well as scarfs, shrugs, bags, stoles, are made by crocheting.
Still, there is a separate market and demand for this type of product.
People who admire this business will surely pay you more if you can satisfy his/her needs.
37. Customized Mug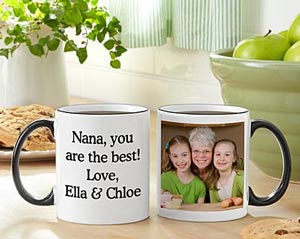 One of the most popular and trendy gifts of these days is customized mugs. Starting this business is relatively easier than others.
With a minimal amount of investment and technical skill, you can start the business anytime and anywhere.
You need a printer and apply the customized designs to mugs.
Initially, a home-based service is preferable. However, depending on the customer response, you can rent a retail store as well.
38. Customized Mobile Skin/Cover Printing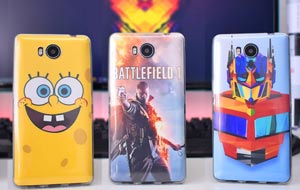 Almost everyone wants to protect their smartphone without ruining the appearance. Most people use a protective cover to protect their smart devices from damage.
Covers don't appeal that much as the original back part does.
Taking this advantage, there are customized cover businesses that allow the customers to put whatever design they want on the cover.
Similarly, there is a skin wrap that wraps the back part of the smartphone with quality material such as leather, alligator skin, bamboo design skin, etc.
These customizing options are getting more popular day by day. This business doesn't require you to have special technical skills.
You need to buy a machine that makes customized skin wrap and a hairdryer to wrap the skin around the back part of the phone.
With attractive designs, effective promotion, and marketing strategy, you will be able to get a regular stream of customers.
39. Gift Basket
It has become a multi-million dollar industry due to the increasing demands all around the world. During festival seasons, the demand rises to its peak.
Making gift basket requires a little investment for purchasing materials; there is no need for any technical skill whatsoever.
You can step into bulk production and sell the baskets to the retailers, or you can take orders directly from the customers.
If you want to handle the customers directly, then you have to produce and customize the baskets according to their demands and requirements.
40. Wall Murals
For both interior and exterior purposes, wall murals are trendy. 3D printed ones have the maximum demand among the customers.
You can either design and make wall murals and sell online, or get orders for customized wall murals and deliver it to the clients.
The price you will get for each of the murals is pretty high.
41. Jewelry Making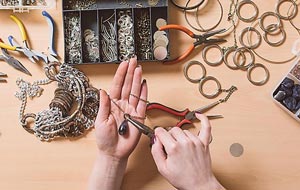 Some businesses will never become redundant. Jewelry making business is one of them. This multi-billion dollar industry is pretty steady when it comes to making ground for businessmen.
You can make jewelry using accessories such as jute, beads, seashells, pearls, etc. These items are cheap, and jewelry that are made of these items attract customers the most.
Initial investment doesn't need to be a big amount. However, if you want to rent a retail store, it will require a good amount of money.
Selling jewelry online is another option that also brings good earning if the marketing strategy is solid.
42. Lamp Shades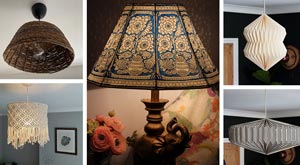 This is another craft business on the list that you can easily start from home. You will require a moderate amount of investment to start this business.
However, you have to pay a bit more price for the items and accessories if you want to produce top quality lamp shades.
So, yeah, production can be expensive depending on the materials you choose.
Additionally, if you want to rent a retail store, it will add more to the initial investment.
However, if you operate your business online, it will reduce a significant amount of money needed to start the business.
43. Jute Bag Making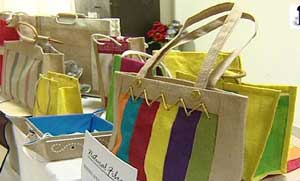 The demand for eco-friendly jute bags is increasing. People warmly welcome this new product as it is durable and disposable.
You can make jute bags of different sizes, designs, and patterns. To make them more appealing, you can use beads, mirror work, and embroidery, but it will require more investment.
44. Mobile Art Gallery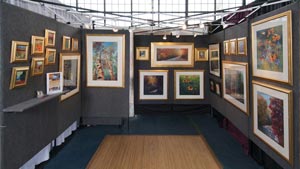 Unlike the traditional art gallery, the initial investment for starting a mobile art gallery is quite low.
The primary requirement for such a business is proper planning and strategy. Depending on the items you want to display, you also need to have some basic experience in that department.
45. Nursery Designing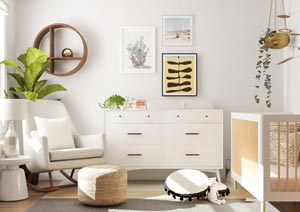 The last crafting business in this list is nursery designing. You can also address it as a lawn care business.
To start the business, all you need is a lawnmower, necessary tools, and basic mowing knowledge as well as experience.
You can start by offering your service from the neighborhood. If the customers are satisfied, they will refer your service to others.
Tips to Follow to Turn Crafting Hobby into a Business
Plan for the business structure.
Acquire all necessary licenses and permits.
Properly file and pay taxes.
Produce or collect unique and original products for the niche market.
Give the customers proper value by providing a safe and easy transaction.
Make it easy to reach you.
Design the products in such a way that embody your brand.
The workplace should have a proper working environment.
Take flawless product photos to show the customers.
Try to purchase supplies and accessories in wholesale if possible.
Create a professional website.
Make the best use of email marketing.
Keep a good relationship with the customers on social media.
Suggestions Related to Developing Business Plan
There is no business without the potential risk of failure. Don't be afraid of it. Instead, act as early as possible so that you don't have to regret later.
Once you take the first step, everything will go with the flow. Taking the first step is the hardest one.
Do market research and try to figure out what demand or gap exists in the market. Also, figure out what challenges you might have to face when you enter the market.
Don't sell everything to fund the initial investment. See what kind of response or feedback you are getting from the customers. Depending on that, take further decisions wisely.
Don't freak out if anything goes wrong. All the biggest business endeavors have experienced setbacks. Have alternative plans to tackle hard situations.
Minimize the costing of production as much as possible. But, don't compromise with quality while doing that.
When you set the price of the products, wisely price them considering the market you are targeting. The price should be affordable for the customers of that market.
As soon as you are enjoying your hobby, you will always find ways to overcome tough times. Make sure your hobby doesn't turn into a burden.
​​​Using Social Media for Business
Opening a Facebook page and an Instagram account is free. And this is where most people spend their time on. If you can make the best use of these social media platforms, you can easily reach the widest audience possible.
Make promotional posts and ads on these two vital social media, and surely your sell will increase. Always make sure you have enough stock to handle the overwhelming orders.
The appearance of your products on these social media also plays an important role. So, your product photos need to be crisp and clean. Do some research on how to improve product photography; it will attract more customers.
Final Words
If you have talent, don't waste it. Even if you work as an employee in a corporate house or a multi-national company and earn a good amount of money, your talents are being put to good use. Your expertise adds more and more bricks to their company goal.
Why shouldn't you keep your talent and make the best out of it? And why should you let someone else use your ability for whatever amount of money, which is insignificant compared to what you can do for yourself?
It's high time to think.
With a proper business plan and proper investment, you are making sure your talent is utilized in the most effective ways. Choose a business wisely considering the market you want to target. Be efficient while producing and set a good price for the products. Take care of customer satisfaction as well to bring more clients.
Also read: