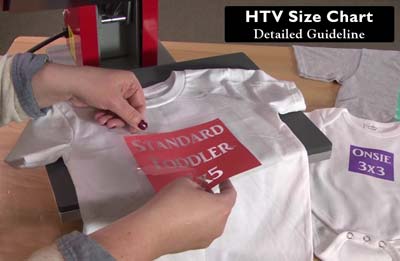 Vinyl is undoubtedly a popular material for the current t-shirt design industry. One of its many varieties is HTV that relies on the power of heat.
Being among the preferable materials for such garments, it can be cut into almost any size that the vinyl cutter machines allow. But which one of them will suit your purpose the best?
That is exactly what we are trying to find out here. We will compile the most important information in a comprehensive HTV size chart and discuss other essential aspects within its detailed guideline.
What is HTV?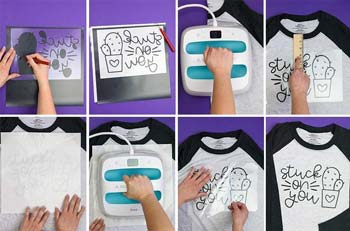 For those of you who are unfamiliar with the term, HTV is short for heat transfer vinyl. This polyurethane material is used to prepare designs for garments or decorations.
Our detailed guideline today will be focused on clothes like t-shirts where HTV cutouts are transferred using heat. That is where the acronym comes from!
It is becoming more and more popular in the apparel industry because of its convenience. HTV is a very thin and flexible material that can be weeded out with ease. Since they can be prepared easily using any vinyl plotter or cutter machine, you can also implement any intricate design with this material.
Importance of HTV Size
Not getting the size right for HTV designs can make your final garment look quite unprofessional. For instance, if the design is oversized, it will look distorted or out of focus after being printed on the t-shirt. On the other hand, if it is too small, the entire piece will look misplaced on your clothes.
That's why, in order to keep the appeal of your design intact, you must maintain proper sizing of these t-shirts. Especially for professionals or entrepreneurs, being careful about the measurements is crucial. Otherwise, the customers may question the integrity of your brand.
HTV Sizes- Explained
1. Onesie
If you are looking forward to making a cute little onesie for a newborn baby or an infant, there are two major size groups you can follow. The babies who just came into the world would require a size of 3 to 4 inches. This range also applies to babies aged less than 6 months.
For infants who are 6 months to 9 months old, they can wear HTV onesies in size 4×4 to 5×5 inches. If they are even older but less than 18 months in age, you can extend the measurements up to 6×6 inches. In all these cases, the design below neckline should be just one inch.
2. Toddler
The kids who are between the range of 2 to 5 years in age need to follow the toddler size guidelines specified for HTV outfits. These are divided into two distinct groups. The first one deals with toddlers who are 2-3 years old. Their size should be 5×5 inches ideally.
In the case of kids whose age is between 4 and 5 years, the size of around 6×6 inches will suit better. Similar to the infants, their designs should also include an inch below the neckline for proper placement. For the toddlers who are between 12 to 18 months old, you can try making outfits of 4 to 5 inches.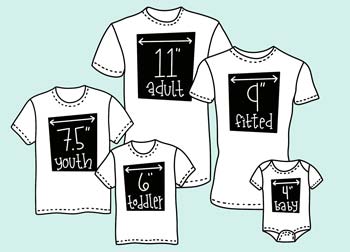 3. Youth
HTV t-shirts are very popular among the youth. The modern edition of this vinyl makes the wearer comfortable with its softness. By donning these flexible t-shirts, the young students and employees can complete their daily tasks and maintain their hectic schedules easily!
Since the customer-base of this category is enormous, the size range here has been further divided into multiple groups. There are five distinct sub-categories in youth, namely XS, S, M, L and XL. Their measurements are 6.5, 7, 7.5, 8 and 8.5 inches respectively.
While manufacturing HTV t-shirts for youth, be sure to keep 1.5 to 2 inches of placement below the neckline.
4. Adult
For the older demographic, there are two major groups of HTV sizes. The first one is for those who prefer fitted garments, while the other one is centered around regular measurements. In the case of fitted adult sizes, you can make them in XS, L and XL categories. Their dimensions revolve around 9 and 10 inches.
The standard size of adult HTV outfits is usually available as XS, S, M, L, XL and 2XL varieties. You need to make them by maintaining the specific measurements of 9×9 inches for XS, 10×10 inches for S or M, 11×11 inches for L or XL and 12×12 inches for 2XL. For larger people, the last size can be expanded as needed.
In terms of neckline design placement, you need to keep 3 to 3.5 inches below that line for standard t-shirts and 1.5 inches for the V-neck ones.
5. Others
If your t-shirt design includes a pocket, you can set its size as 4×4 inches. Those of you who love the comfort and convenience of hoodies can modify the size up to 12×16 inches. Its measurements down the sleeve can be either 2.5×14 inches or 2×11 inches. To make a hat out of HTV, maintain a size of 4.75×2.75 inches.
HTV Sizes Chart- At A Glance
The size chart provided below dictates the necessary measurements and categories applicable to the rectangular HTV design area.
Top Of Design Placement Below Neckline (Inch)

0-6 months
6-9 months
9-18 months

3x3 - 4x4
4x4 - 5x5
4x4 - 6x6

3x3 - 4x4
4x4 - 5x5
4x4 - 6x6

6.5x6.5
7x7
7.5x7.5
8x8
8.5x8.5

6.5x6.5
7x7
7.5x7.5
8x8
8.5x8.5

3x3 - 4x4
4x4 - 5x5
4x4 - 6x6

3-3.5 (Standard)

1.5 (V-Neck)

3x3 - 4x4
4x4 - 5x5
4x4 - 6x6
HTV Placement Tips
Always keep a ruler close to your crafting area so that you can take the measurements anytime necessary. It will help you both during the design phase and while applying the HTV cutout on your garment.
Before placing your design, fold the shirt lengthwise and iron it. Do the same by folding its top and create the crease along its armpit area. Ironing both of these segments in this way will make two lines respectively. Using them, you can then easily figure out the center of this whole area.
Conclusion
As you can see, use of HTV is not limited to t-shirts only. You can also make cute onesies, hoodies and more out of it if you want. The limits of creativity can be endless with this one!
However, the limitations of HTV size chart are crucial to follow here. Otherwise, the entire piece may fall apart in the eyes of your potential customers.
Also read: