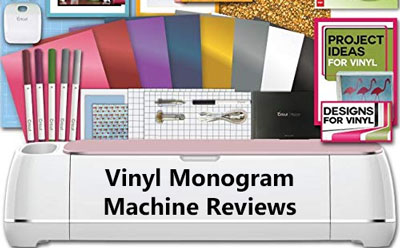 So, you want to pick up the best vinyl monogram machine but have no idea where to get started? Well, no more stressing out because you've finally found the right guide.
Choosing the right Cricut machine can be hard – especially if it's your first time choosing one. Perhaps you want to use it for cutting different materials such as craft projects, vinyl, card stocks, iron-on, and even thicker.
Whatever the reason might be, we will help you choose the best monogramming machine. So, you won't have to spend hours researching on your own. Here you will find the top 7 most efficient vinyl monogram machines that we have found to be outstanding for your business.
7 Best Vinyl Monogram Machine Reviews
It's not surprising that you want your Cricut machine to be as good as possible. After all, you are just trying to bring your beautifully-designed to life and possibly try to sell it. And if you want to accomplish that goal—you need the right gear.
1. Cricut Explore Air 2 Machine Bundle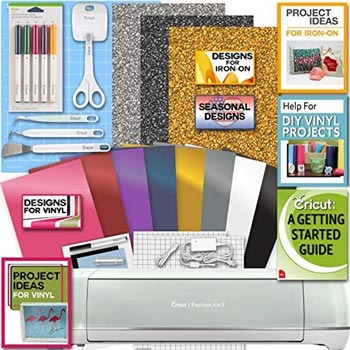 If you are just getting started into Cricut, it can be a bit intimidating to use. But this machine makes it very easy for anybody to use.
It comes with a lot of documentation that you can read. This is ideal for beginners who are just trying to get their feet wet as possible and might be a little overwhelmed by it. On top of that, you have a lot of information online that you can quickly lookup if needed.
As long as you have an idea, you can bring it to life. This is the perfect Cricut machine to make anything you want. Perhaps that design you've been putting off for a while could find its way into a lovely T-Shirt.
No matter what device you are on, you can connect it to your machine. Sometimes you just don't feel like using your computer, well you could use your iPad or even your smartphone.
Working under a deadline can be stressful, and it doesn't really help if your machine is incredibly slow.. And in today's world, it is common practice to optimise your time and environment.
A great way to do so is to get a machine that can speed up your workflow. This machine is fantastic for anybody who needs to get the job done. You can cut over 100 materials without wasting time.
Highlighted Features
Comes with a wide array of accessories.
Completely easy to use and reliable.
The next-level variety of features & extras.
Compatible with most computers & devices.
High reliability from a fantastic company.
2. Silhouette America Inc White Cameo 4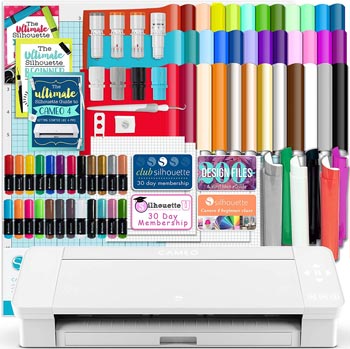 This time around we've got a product from a well-known company. They mainly manufacture electronic cutting tools and pretty much anything related to the crafting industry.
More so, this silhouette monogram machine is incredibly useful for anybody who wants to run a small business or simply wants to have a hobby on the side. It also makes the machine easier to use as sometimes it's bothersome to work on computers and there may be situations when it's inaccessible.
Moreover, sometimes the cables are not long enough, and there are going to be times when you need to stay a bit further from your machine.
Sometimes it can be hard to find tutorials on things you buy. That is enough to discourage some people from even getting their hands on the product. For this reason, it comes with a helpful E-Book when purchased with clear instructions to help you out.
Furthermore, to prevent this machine from getting stuck, they added an excellent rotary blade high pressure. This silhouette cameo is also super helpful for cutting. It even goes back to the starting position when it's done cutting.
It's super easy to set up. You don't need to watch hundreds of tutorials, just get it running. This is beneficial if you are a manufacturer and can't afford to waste time.
Highlighted Features
Doesn't need internet to work.
Comes with cross-cutter & roll feeder.
Allows complete wireless operation.
It works like a charm with thicker materials.
Performs well for professional results.
3. Cricut Maker Machine Beginner Cricut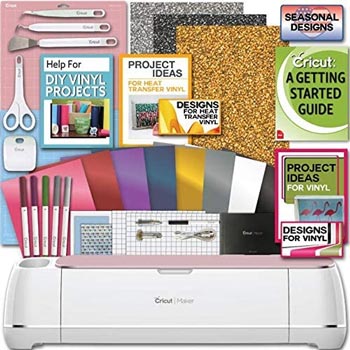 This is an excellent monogram machine vinyl for beginners and even people who are more experience with Cricut machines
Additionally, it has Bluetooth built-in and is great for the times when you can't get too close to your computer. Or, when you simply want to use Bluetooth over traditional wired methods.
USB cables can be useful sometimes, but at this point, most of the companies are going wireless.
Even if you are just getting started or a professional, you will find this machine to be rather easy to use. This is something important to always keep in mind. If you are pretty much a beginner, you will spend a lot of time looking up things. And that might make you want to quit early on.
You can connect to this machine using different devices. If you ever want to use it on your computer, you can. Also, you can use it on your iPad, smartphone, and tablet if needed. This is a nice feature to have since it's pretty much all-around, and you might not always be able to use it on your computer.
Furthermore, this monogram vinyl is a life-saver for many people. It has a lot of helpful built-in features that just make it an excellent purchase for many people.
Highlighted Features
Works fast and efficiently.
Perfect for businesses & quality results.
Includes useful data for handy operation.
Rotary blade delivers precise cutting.
Works with a vast array of materials.
4. Silhouette America Portrait 2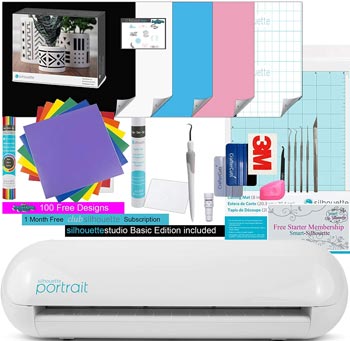 This is a great vinyl monogram machine for more casual use. Just like a home printer, you plug it into your computer with a USB cable.
Everyone loves this machine. It has just about anything you would want to get from a monogram machine. It is easy to use, and it looks just as advertised. And you get terrific results.
This machine from Silhouette is the perfect tool if you want to use it more like a hobby or make a bit of money on the side.
You can even cut iron-on vinyl; you simply need to adjust the cutting depth for the thickness of the vinyl, and you should be able to cut as much iron-on vinyl as you want.
Moreover, it can also be used on most devices. If you ever feel like using it on your iPad you can, you can also use it on your computer, smartphone, and tablet if you want to. Although some options can only be used on the PC version.
Upon purchase, you also get a starting kit. It comes with a hook, scraper, vinyl, and a CD in case you need help setting it up.
Highlighted Features
It is compatible with deep-cut blades.
Comes with power cable and a USB cable.
It is compatible with Bluetooth.
Boasts an audio software for practicality.
Includes tons of online tutorials for easy use.
5. Brother SDX125E ScanNCut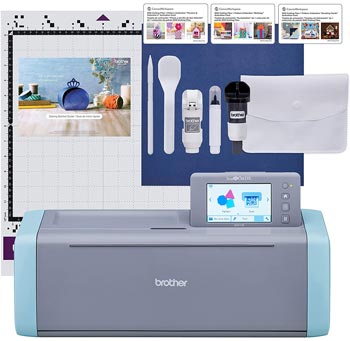 This machine comes right out of the box with everything you need to get it working. It is so easy to set up that you probably won't have to read the documentation.
This is one of the best vinyl monogram machines for clothing. It has a built-in system that detects the thickness of the material you're trying to cut. It is super helpful since the device can adjust the precision for better results.
Creating your designs can be stressful and time-consuming, and sometimes you lose the track of time when you're trying to create the perfect design, but you don't seem to be getting anywhere with it.
To help you in your creative process, manufacturers made it so you could have access to 682 built-in designs so you will never run out of ideas.
It's relatively easy to set up and use, but if you still need help, or would like to read the manual, then you are going to get excited to know that it comes with a handy startup guide.
Furthermore, with this machine, you can create just about anything you want, and get stunning results at the same time.
This is the only cutting machine that has a built-in scanner. You simply have to scan your drawing, or photo and then you can convert it to a cut file. You can also accurately place designs.
Highlighted Features
Detects the thickness of material for smooth operation.
Cuts up to 3MM thick materials.
Outclasses other machines when cutting.
You can cut pretty much anything.
Accurate precision when cutting for better results.
6. USCutter MH 34" Vinyl Cutter Plotter Bundle
This is very good vinyl monogram machine for beginners. It is backed up by a trusted company. And it is also the perfect machine for any entrepreneur who wants to start a business on the side.
Moreover, this has been the best-selling vinyl cutter in the country for the last 10 years. And there is a reason for that. Its performance is outstanding. You can do so many things with it and stunning results so quickly.
Running a business can be hard and sometimes quite stressful. I mean, you are probably spending a lot of money, and you just want to see some profit. But at some point, you have to settle for one. And this is the one you're looking for.
This machine is just on a whole new level. Its performance is top-notch, and it should be more than enough for any entrepreneur who wants a vinyl lettering machine. 
If you want to customise your machine and play around with the settings, you can do so. You can fully adjust the pinch-rollers as well as the speed and pressure. So, it's pretty convenient when it comes to versatility and durability.
And if you need even more precision, it comes with a duty knife with cap, round aluminum handle. It is good enough to cut any lightweight materials such as paper, thin metal, and clothes. And it also includes one No.11 blade as well as a safety cap.
Highlighted Features
Comes with fully optimised & free software.
Ideal for business-like results.
Performs fast & efficiently for any purpose.
You can adjust the speed & pressure.
Decent cost for the quality it offers.
7. Swing Design GCC Professional Expert II LX Vinyl Cutter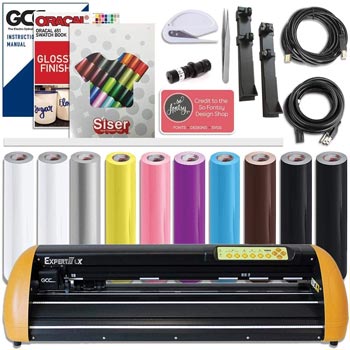 This is one of the most stunning machines to make vinyl monograms we've found so far. It is much faster than your average Cricut Air or Silhouette.
To make it stand out from other machines, they've made so you can cut up to 400 mm a second with 350 grams of downforce. This is incredibly good if you're short on time and need your machine to be as efficient as possible.
They also have excellent customer support available. If you don't have a CD drive, you could just call the company, and they will gladly send you a link.
It is strong enough to last for many years to come. It's quite irritating when your machine stops working all of a sudden, and now you can't complete your design.
To prevent that from happening, we highly recommend this machine as it is durable enough, and you won't have to worry about it.
Sometimes your creative side just isn't kicking in. You might feel as though you're not getting anywhere sitting on your chair, trying to come up with an excellent idea that nobody has ever thought of before.
We've been there, and it just feels awful. This is one of the many reasons we recommend getting this machine. It has over a thousand designs for commercial and personal use.
Highlighted Features
Performs fast and efficiently.
Comes with sample sheets & formats.
Works well with other designing software.
Comes with commercial and personal designs & fonts.
Delivers useful accessories & extra features.
Monogramming Machine Buying Guide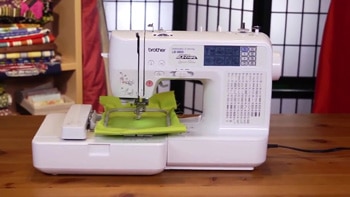 We know how hard it can be to choose the right vinyl monogramming machine. After all, you just want to get a tool that gets the job done and doesn't break as easy.
But you don't know where to start as it can be overwhelming to see so many options in the stores. Thus, we've made a list to help you pick up the best and most efficient monogramming machine.
Thickness
What if your machine can't handle your material because it's too thick? Yeah, that'd be a total waste of time, and we want to avoid that. Unfortunately, we don't have unlimited time. So, getting one that can pretty much cut through any thickness should be the number one thing to keep in mind.
Adjustable Depth
This is pretty similar to the one above, but you also need to be able to set up the depth of your machine. There are going to be times when you need to adjust the depth of your device, and if you can't do that, you're going to have a messy time.
Editing Software
Some of these machines do have an editing software that you can download from their website. But some of them do not have editing software.
This is necessary because you're going to spend a lot of time on that software editing your images to make them look as good as possible. So, not being able to do that right out of the box without having to install third party programs is kind of a big deal.
Performance
Whether you're going to start a business or you're going to be doing this as a hobby, you would still want to get stunning performance. What if your vinyl cutter machine doesn't cut things accurately and gets stuck every often?
That would be frustrating, you'd be wasting money on something that doesn't work correctly.
Extra Features
Sometimes, some machines do have some extra features to speed up your workflow. You might want to get them, or you might want to pass on it. Whatever choice you make, it's always nice to have extra features in your machine.
Compatibility
This might seem obvious, but you should keep this in mind. What if your newly acquired monogram sticker machine doesn't work with your device? Perhaps the editing software is only compatible with Windows, and it doesn't run on your Mac.
So, always make sure to read what devices your decal machine is compatible with.
Precision
Being able to have control over your precision is a nice feature to have. This is important when cutting as you want to get the best design possible from your machine. And so, you should get one that allows you to adjust precision as much as you need.
Tools You Might Need
Does it have whatever you're looking for? Always make sure to read from top to bottom to find out if your machine has those features you are looking for.
Built-in Designs
Some machines have some built-in designs. This is super helpful because sometimes you might find yourself not coming up with any ideas, and that might be stressful. If you ever find yourself in a situation like that, having built-in designs that you can use to get motivation from is quite helpful on its own.
Warranty
If by any mishap, your machine malfunctions after a few days of use, or doesn't arrive in the best condition, you can replace it with a new one or get it fixed with a warranty.
 So, it's always smart to have a warranty on anything you buy.
You never know when you're going to need it. Most companies offer a warranty, and you should probably get one from the companies who provide it.
User-Friendly
If you're a beginner, you might be confused by your monogram vinyl machine or the number of tools you get from a machine.
Some of them are hard to get started with. So, this alone might discourage a lot of people who are just trying to get started. If you are one of those, we recommend getting one that is self-explanatory.
Manufacturers make it very clear when their monogram machine is user-friendly. They usually include a lot of information you can read and self-explanatory features, even if you have no experience.
Frequently Asked Questions
Here are some of the most popular questions about vinyl monogram machines that you could have.
Can You Cut Cricut vinyl with scissors?
You don't need a Cricut vinyl machine to cut vinyl. You can just use scissors, or you could even use your knife. But if you need better results, you may need to get one.
Which is better: a Silhouette or a Cricut?
They both are outstanding and it's quite hard to pick one. But overall, the Cricut performs better than the Silhouette.
What materials can Silhouette portrait cut?
You can cut over a hundred materials. The most common ones being; Cardstocks, Tissue Papers, Iron-on transfer, lightweight fabric, and much more.
How do you use silhouette portrait vinyl?
Setting it up is quite easy and doesn't take my steps to get it running for the first time. Here's how to do it:
Go to the Silhouette website to download the editing software.
Install the blade.
Now you want to plug it in.
Choose the image that you want.
Load a piece of vinyl into it and press the print button.
Now it will start to cut your design.
Can you make stickers with Cricut?
Yes, you can. Creating stickers with your Cricut is incredibly easy, and you don't need any extra tools.
Final Words
By now, you should be able to pick up the best vinyl monogram machine on the market. There is a lot of information to process, but you know you are good to go and should also be able to decide which one to choose.
Our Printer Related Article: