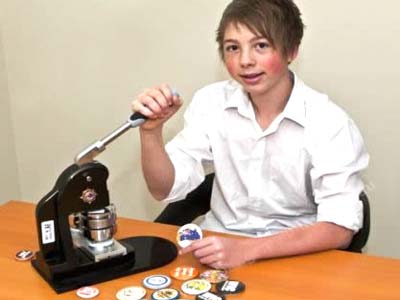 Something as small as a button can make a world of difference in the way your clothes look. It can change a simple top to a stylish one if the right shape, color, and size are used. Whether for a small home-based business or a full-fledged one, buttons can do wonders.
Besides making a fashion statement, what could be better than making customized buttons and badges to show your favorite idea or a social cause you support!
With the best button maker at your disposal, you can turn your hobby into a small business or your large-scale business into a unique one. There are many brands available for pin making machines and not all of these will meet your requirements.
Hence, this post has been compiled after much research and user reviews to help you select a button maker machine that would be a great find for you. Dig in to see all that's in store!
Our Top 12 Best Button Maker Machine Reviews
1. Mophorn Button Maker
A multipurpose machine can truly make our lives easier, especially when we are in a business where short lead-times are crucial to retaining clients.
This attractive red photo button maker machine is a vital tool to keep your clients happy by delivering their orders timely. With a speed of 200 to 300 pieces of output per hour, it can produce a batch of 500 buttons easily. The 3-inch or 75-millimeter diameter is the perfect size for most types of buttons.
Its die-cast aluminum framework is sturdy, hence assuring you of durability. The handle is made of steel and will resist rust and corrosion, therefore, giving you a long time of reliable service. The metal base allows you to change the molds easily, thus increasing your efficiency.
Assembly is very simple – after installing the base, place the top mold first and then the two lower ones. The final step is to install the handle by turning it inside the fuselage. The handle is easy to operate and very user-friendly. Its ergonomic design gives a comfortable grip and makes your work lighter.
Besides making buttons, you can also produce other merchandising materials with this device like key chains, bottle openers, incense boxes, rope ties, and badges. Its wide application gives you more opportunities to expand your hobby or business.
The compact design of the machine makes it portable and easy to store as it doesn't take up much space. While the base is 11.5-inch in length and 6.3-inch in width, the height of the device with the handle is 19 inches.
The package includes the button maker along with a set of 75-millimeter dies, 500 button sets consisting of plastic and metal parts with transparent covers, a cutter to cut the plastic film, accessories for the machine, and a user guide.
Highlighted Features
500 sets button quantity.
Speed of 200 – 300 units per hour.
3-inch or 75-millimeter diameter button size.
Ergonomic handle for a comfortable grip.
Sturdy metal base for durability.
2. OrangeA Affordable button maker
Make personalized pinback badges and buttons to let the world know a cause you're supporting!
The 25-millimeter or 1-inch button size provided by this machine creates endless creative opportunities for you. You can also make key chains, rope ties, and bottle openers with the same device.
Other applications include Christmas gifts, customized giveaways, souvenirs, and event badges.
With a metal body and a plastic base, the machine is easy to carry around and store in a corner. Moreover, it is durable and guarantees you many hours of easy pin-making. Whether you want to add embellishments to your stitched fabrics or your home décor, this device will make it all possible!
The dimensions are base size of 11.33 inches length and 6.22 inches width. The total height is 20.27 inches. The handle length is 11.81 inches or 30 centimeters.
A button quantity of 500 pieces is featured in this device. It has a speed of 200 – 300 buttons per hour. The handle is cushioned to give you a firm but comfortable grip.
The installation and operation are simple, especially as the positive stop feature ensures perfect alignment between the top and bottom molds. Make sure to use a laser printer for printing images, logos and texts as these will come out more vivid and much sharper on the badges and pins.
Users have praised this product for its lightweight and simplicity to use as strong arms are not a prerequisite and even the elderly can use this comfortably.
Highlighted Features
25-millimeter or 1-inch button size.
A button quantity of 500 pieces.
A speed of 200 – 300 buttons per hour.
Cushioned handle for a comfortable yet firm grip.
Plastic back makes it portable and lightweight.
3. FASTTOBUY Red Button Maker Machine
The execution of unique ideas needs equally unique but easy to operate tools. One such is this badge maker that will make pins and buttons to represent your unique ideas.
It offers a 58-millimeter button size and includes 300 buttons set, a circle cutter, one stainless steel badge mold, and 20 round art papers of high quality to take clear prints of your desired text, image, or logo.
The body of the machine is made from aluminum alloy casting, promising high quality, sturdiness, and durability. The stainless steel mold is resistant to rust and guarantees durability.
Moreover, with a handle designed ergonomically, it provides a firm and comfortable grip so that you don't struggle and stress over making buttons and get tired or waste time in the process. It's long and made from stainless steel and silicone-covered, ensuring it lasts long without getting corroded.
The quantity of button sets is 300 that's offered in this product. The spring action lever featured in the circle cutter makes punching easier and more comfortable. It also saves time and gives precision as you don't have to cut by hand. All in all, the machine is easy to set up and operate.
The machine comes in a convenient size so that it can be kept on any workbench easily and stored away after use without needing much space. The base has a length of 29 centimeters or 11-3/8th inches and a width of 17 centimeters or 6-3/4th inches. The total height is 20 inches including the handle.
It is recommended to use the right type of papers with this device – photographic paper that's not more than 41 pounds and multipurpose paper of 20 pounds.
Highlighted Features
300 button set capacity.
58-millimeter button size.
Aluminum casting body for durability.
Long, ergonomic, silicone-covered comfortable handle.
Circle cutter with spring action lever for precise and easy cutting.
4. BEAMNOVA Button Badge Maker
Got an event coming up and you need hundreds of buttons produced within a short time? Worry no more! This button maker is your trusted tool!
With the 1,000 button parts and a circle cutter, this machine will produce the perfect 32-millimeter badges and pins for you!
It's not only simple to install but equally easy to operate. The fiberglass base coupled with the cast iron body of the device makes it durable, sturdy, and stable when you place it on a flat surface.
The fast operation of the tool is credited to the long and ergonomically designed handle that requires less stress and increases your productivity as you can produce more buttons in the same time.
The aluminum railings give a cheerful and shiny look to the machine. On top, they are resistant to rust and corrosion, guaranteeing a long life and endless hours of badge making.
The recommended paper weight range for your pin-making project is between 100 grams per square meter and 157 grams per square meter. Choose either color inkjet paper or coated paper for optimum results.
The low failure rate of this machine is attributed to the accurate metal side plate that can track the operation fast. Because of the elevated part, it'll be a breeze to adjust the dies as they are prevented from slipping away from the machine while placing the badge in the right alignment.
If you own a digital document camera and a good printer, you have an endless button-making scope. You can make personalized gifts for friends and family, take small orders to get your business off the ground, or simply make buttons for a good cause.
It's better to use buttons and other parts of the same brand with this machine.
Highlighted Features
Comes with 1,000 button parts and a circle cutter.
Produces buttons of size 32 millimeters.
Fiberglass base and cast iron structure for lasting long.
100 grams per square meter and 157 grams per square meter paper range.
High success rate and more accuracy with side metal plates.
5. Neil Enterprises 2-1/4 Inch Neil Button Machine
If you're looking for a cheap button maker to start your hobby of making pins and badges for family gifts and mementos, there's nothing better than this product to set you on the right path!
It can produce buttons of size 2-1/4th inches. With the package, you will also get mylar, pinbacks, shells, and a circle cutter. With easy installation and operation, you can make many customized buttons and as there are 100 buttons included, it's a breeze to make a start.
The glass base of the circle cutter should be handled with care and kept away from the bench of your work table to prevent it from falling. Just refer to the enclosed usage instructions and you can soon produce professional-looking buttons.
You have this device to make badges to promote any social cause close to your heart, political campaigns, charity and fundraising events, businesses, and advertising promotions of various products and services.
As it's sold as a single piece, you can get to work with it quickly. The construction is solid so that you can enjoy endless hours producing badges and pins.
The compactness of the tool makes it easy to carry around and stash away anywhere after use. The handle features grooves to place your fingers easily and comfortably to get a firm grip. You won't need to struggle with this handle or apply excess pressure.
A regular paper of 20 pounds weightage works very well with this machine. As the transparent films are very thin, make sure you have chosen only one per button as otherwise, the machine can get jammed.
Highlighted Features
Easy on the wallet and also easy to operate.
Includes 100 button sets for convenience.
The firm grip provided by the handle and needs no extra pressure.
Any 20-pound regular paper is suitable.
Produces buttons of size 2-1/4th inches.
6. Yosooo Cheap Button Maker
Transform any piece of clothing or home décor with customized buttons to add more chutzpah!
Presenting a high-performance button maker that can produce 1.25-inch size buttons and pins so you can add glitz and glamor to mundane fabrics or turn a drab wall into a work of art.
The construction of the machine has been made with materials that guarantee durability and hassle-free operation. With a slide base that allows fast slide track operation, you are assured of more precision when placing the badges.
The right alignment of the molds ensures you print your desired image on the pins exactly in the right place. The raised part prevents the dies from moving away when you are adjusting them.
The secure handle has a comfortable and sure grip and you won't need to exert extra pressure to get the printing done. Hence, it's easy on the hand and also ensures faster completion of your projects.
Owing to the ergonomic handle design, you will have a lower failure rate as it will always guide you to create the perfect pins. These pins and badges make great gifts for family and friends. You can also use them for any event or social cause or as promotional materials for products and services.
The dimensions of the machine – height 20.4 inches with the handle, 6.3 inches base width, and 11.4 inches base length – make it convenient for placing anywhere and storing in small spaces after use. It's also portable and convenient for you to work from anywhere.
The package includes a set of dies, 1,000 sets of button parts, 2 dowels, 2 washers, 2 screws, and 2 hex keys for easy installation and operation.
Highlighted Features
Button size of 1.25 inches.
Slide base for accuracy and right alignment.
Sturdy construction for durability.
Ergonomic handle for comfortable and fast operation.
Compact design for portability and easy storage.
7. Badge-A-Minit 2 1/4″ Starter Kit Button Press
This is probably the smallest and most convenient button maker you could ever come across!
With the kit including 10 sets of all that you need to make buttons and 10 ready-to-use designs, this is sure to trigger your passion for creativity and making customized pins in a jiffy!
A speed of 50 buttons an hour from this handheld device is praiseworthy. You can literally put this 2-1/4-inch device in your pocket and carry around anywhere without feeling its weight. The size of the buttons this product can churn out is 2-1/4th inches, enough to have texts, images, or logos on these.
It makes the perfect gift for beginners and anyone can produce personalized buttons within minutes if you have a printer and digital camera. It's a great way to start a small business as well as this doesn't need a lot of investment but can enable you to make a neat profit in a short time.
The simple mechanism doesn't need any installation as such. The operation is also easy and safe for use by children. It can introduce kids to the world of fun badges with imprints of their favorite animations.
The hard plastic construction of this pocket-size button making kit is durable and lightweight. The lever is easy to push down and requires no extra strength and is, therefore, easy on your hand.
Besides buttons, you can also make other merchandising items like bottle openers, keyrings, magnets, mirrors, etc. For both kids and adults, there's no easier way to adorn their personal items like backpacks and wearable products.
Highlighted Features
2-1/4th inch hand press that's lightweight and portable.
Perfect for beginners and safe for kids.
Hard plastic construction for durability.
A speed of 50 buttons per hour.
2-1/4th inch button size.
8. CO-Z Button Badge Maker Machine
Make pins and badges of all conceivable shapes and sizes – hearts, squares, circles, triangles, and all – with this photo button maker machine!
With a wide variety of unique shapes and sizes, your buttons are the ultimate mark of personalization and can turn any craft, fabric, or home décor from simple to simply fabulous! This is a large button maker that can produce buttons of size 25 millimeters.
The high rate of accuracy and precise alignment and placing is attributed to the special swivel mount technology of the product. It helps you with perfect placement and imprinting, guaranteeing that your logo, text, or image will be exactly where it's supposed to be in the pin.
The machine doesn't waste your time and increases your productivity and efficiency to bring profits for your business. It's for both seasoned professionals and amateurs who want to start a fun hobby.
For expediting the process, the magnetic lower die makes the process of interchanging molds smooth and hassle-free. It also secures the button placement so that each one comes out with the perfectly-aligned image.
The one-unit handle is easy to use and comes with spring bearings that have an extra thickness so that you need not struggle with it but can push it without tiring your hands. Besides, it's made from steel that is durable and also resists rust.
The aluminum alloy construction of this badge maker makes it sturdy and durable, guaranteeing you of high-performance for many years. Moreover, with consistently great results, you will have a low failure rate with this tool. With the circle cutter and 600 button sets, you're all set to produce masterpieces!
The anti-slip pad prevents the machine from slipping and sliding while you're working. Counting the handle, the product dimensions are 43-centimeter by 28-centimeter by 8-centimeter.
Highlighted Features
Button size of 25-millimeter and comes with 600 button sets.
Produces all types of shapes like hearts, squares, triangles, etc.
Swivel mount technology for proper placement and alignment.
Steel and durable handle for smooth and stress-free operation.
Aluminum alloy construction for durability.
9. Inex Life Button Maker Badge Making Machine
A multipurpose machine like this for making buttons and badges is all you need to take your craft to the next level!
Besides the regular pins, you can also use this tool to your advantage to make keyrings, bottle openers, promotional pins, rope ties, gift tags and greeting cards that the receiver will want to keep, and also use these as creative ways to wrap gifts. This tool can take your paper arts and crafts to a new level.
This product helps you to create pins and buttons in a simple, seamless way. In the kit, you will find one 58-millimeter button mold, one button maker, an industrial-grade circle cutter punch press that's super easy to use, and 1,000 circle button parts including shell and pinback to get you started immediately.
The high quality of this button making kit is ensured by its solid, aluminum die-casting construction. The cast iron and injection combination makes it the best button maker machine you can have. The build quality is overall dependable, durable, and ideal for heavy-duty usage.
Fabulous buttons are only two steps away with this machine. It's easy to install and operate, plus the long, ergonomic handle contributes to its simple operation. The handle is made from steel to make it durable and rust-resistant. With a comfortable grip, you can make buttons faster and be more efficient.
The speed of 200 – 300 pieces per hour speed is impressive and makes the process faster.
With the circle cutter featuring a spring-action lever, you need not manually cut the paper and film but use this to make perfect circles. Use regular paper to make buttons of professional quality.
The base of the machine is large and concrete to prevent it from slipping away from the workbench and posing a hazard.
Highlighted Features
58-millimeter button size.
1,000 button sets included in the package.
Speed of 200 – 300 pieces per hour.
High-quality and sturdy construction for durability and stability.
Ergonomic and steel handle for comfort and durability.
10. VEVOR Button Maker
If you've been putting off your secret desire to start a business making buttons, here's your chance to finally get it off the ground!
You'll be making a good investment in this full metal bodied machine that is sturdy, stable, dependable, and durable. Even the base is made from metal to provide you with the ultimate stability and ease of operation.
The mechanism of the base is a rotatable one to facilitate the interchanging of molds with greater precision, thereby increasing productivity and reducing time wastage. The base is also resistant to wear and tear and thus durable.
With a die size of 2.3 inches, you get the same size of buttons. The package comes with 200 round button sets, one set of dies, an instruction manual, a set of machine accessories, and a plastic paper cutter.
Along with the ease of installation and user-friendliness, the machine features a long, ergonomically designed handle to give you a firm and comfortable grip. You don't have to apply extra pressure as the handle is easy to push without a Herculean effort.
Make badges, key chains, bottle openers, magnets, mirrors, rope ties, and pins you can use at any event, to promote a social or political cause, add to dull fabrics to give them a color pop, enhance your handiwork like embroidery, paper arts and crafts.
It takes only three steps to install this button maker. That means you are just three steps away from a dream hobby and business! The heavy-duty machine will work hard for you so that you don't have to break your back.
Highlighted Features
Button size of 2.3 inches.
A rotatable base for easily interchanging of molds.
Full metal construction for ultimate durability and heavy-duty usage.
Comfortable and well-designed handle for ease and efficiency.
Includes 200 round button sets.
11. Yescom Button Badge Maker
Got some cool and clever designs and graphics on the paper but wondering how to bring them alive? Here's the perfect solution to give wings to your creativity!
Show the world your creative genius by making buttons that flaunt your design or copy! This is the best button machine if you want to start by working in small volumes. The guaranteed low failure rate means you're less likely to cause wastage.
A cast iron construction renders the device stable, durable, and sturdy, and able to handle long hours of work. To ensure accurate alignment and operation, the metal slide plates are there for fast sliding.
The base is made from acrylic and is sure to last for a long time. This material also makes the weight of the machine just right for easy portability. The dimensions of the tool make it easy to store.
You have all you need in this kit to get you off the mark – 1,000 button sets including transparent film, top, and pinned back. The size of the button is 2-1/4th inches. The interchangeable molds allow more flexibility as you can produce buttons of various sizes.
It's easy to install and operate. You can refer to the enclosed manual for detailed instructions. Installation accessories like 4 Allen keys, 8 screws, and 2 blades are included in the kit. There is also a circle cutter for precise measurements and cutting.
The 15.8-centimeter handle is plain and easy to operate with no additional pressure needed. The recommended weightage of paper to be used is between 100 grams per square meter to 157 grams per square meter.
Besides buttons, you can also make other merchandising items like rope ties, key chains, bottle openers, magnets, and mirrors.
Highlighted Features
Button size 2-1/4th inches.
Acrylic base and cast iron body to provide both durability and portability.
The kit includes 1,000 button sets.
Interchangeable molds for more size variations.
15.8-centimeter easy-to-operate handle.
12. ChiButtons Button Maker Kit
This all-in-one button making kit is sure to keep you occupied for hours as you will lose yourself in the fun of making customized buttons for your friends and family.
The 25-millimeter round mold produces buttons of the same size. The circle cutter included in the package is adjustable to give you more flexibility. As there are also photo paper and 500 button sets included, you have no reason to look for accessories elsewhere.
The exceptional combination of stainless steel and aluminum makes this device strong, reliable, durable, and resistant to corrosion and rust. At the same time, it is easy to carry around without your hands feeling weighed down. What's more, the button press is also rust-resistant and durable.
To make interchanging of molds seamless and hassle-free, the machine features a swivel mold base with slots for a quicker and more accurate process. The ergonomically designed handle gives you the right balance of grip and comfort. Hence, you waste less time struggling with it and more time creating.
With the non-slip base, you are guaranteed of a safe workplace as there's no chance of the machine slipping or sliding away from the bench and falling. There are endless items you can create from this machine – button, rope ties, mirrors, key chains, magnets, hanging badges, etc.
For any event where brands or any cause needs to be promoted, buttons are the ideal way of doing so and with a machine like this, your work hours turn into exciting and fun times.
The dimensions of this machine are 15.7 inches height, 5.5 inches base length, and 3.4 inches base width, making it easy to store after use.
Highlighted Features
Button size of 25 millimeters.
Includes 500 button sets.
Aluminum and stainless construction for durability.
Swivel mold base for easy and fast interchanging of molds.
Non-slip base and ergonomic handle for comfort and stability.
Comparison Chart For Top Button Makers
| | | | |
| --- | --- | --- | --- |
| | | | |
| | ChiButtons Button Maker Kit | | |
| | | | |
| FASTTOBUY Red Button Maker Machine | | | |
| BEAMNOVA Button Badge Maker | | | |
| | | | |
| | | | |
| Badge-A-Minit 2 1/4" Button Machine | | | |
| CO-Z Button Badge Machine | | | |
| Inex Life Badge Making Machine | | | |
| | | | |
| | | | |
| ChiButtons Button Maker Kit | | | |
How To Choose The Right Button Making Machine?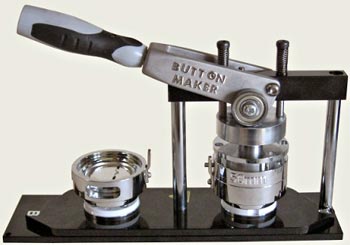 Since you are going to put in some investment into a best button maker, keeping in mind the following factors before you buy one is a wise thing to do. So hear us out!
Purpose
Ask yourself why you need a button maker in the first place. Do you own a business where you need a high-end machine that can churn out large volumes of buttons with different features?
If you need to make buttons in large batches and have to use the button maker often, then choose one that will be durable and will give you the option of making various sizes with multi-molds, color varieties, and pin parts for making badges.
However, if making a few buttons is just a way of adding to your sewing hobby, then you should choose a good quality button press machine that is easy to assemble, portable, but not meant for heavy-duty use.
Structure
The structure of the button maker you choose should give you a fair idea of how sturdy and long-lasting it would be. So, check the materials used to construct it and go for one that's made from cast iron or stainless steel as these are good for resisting rust. However, you can also choose one of aluminum.
Check if the base of the machine is made from acrylic or plastic. It should be okay for short-term and light use but don't compromise on the material of the side plates. These should be made of metal.
Machine Size
Check out the size of the button badge maker as to where you will store it should determine the ideal size for you. Try to choose one that has a compact design for easy portability and storage. After all, you don't need a large space to produce a small item like buttons.
Speed
The speed of the machine will determine how many buttons you can produce per hour. If you are in the business of making buttons, then you need a fast machine that can produce around 300 buttons per hour. However, for DIYers and small businesses, a machine that produces 50 buttons per hour will suffice.
Button Size
The button size will also determine the kind of button machine you should get. If you need sizes that are larger than 3 inches or smaller than 1.5 inches, it means you own a fabric business. Hence, you should choose a machine that can give you buttons of all sizes.
Look for the button molds and see if these can be changed according to the size of the button you want. While you are at it, also check if the machine can produce various shapes of buttons. That way, you will get the maximum variety of buttons.
Accessories
Accessories like a cutter are also important to consider before buying a button maker. Some machines come with a built-in cutter, while others come without one. In the latter case, you need to buy a separate cutter as per the shape you want.
Ease Of Operation
Last but not least, you have to have a button maker kit that's both easy to install and to use. Check for the installation and usage instructions that come with each machine and see how easy it is to set up and operate. Most of these button makers are easy to use as they require no batteries or power.
For a simple button-making machine, check how much pressure you need to exert. It should not be a high-pressure one if it's a simple and basic button maker.
Benefits Of Using Button Maker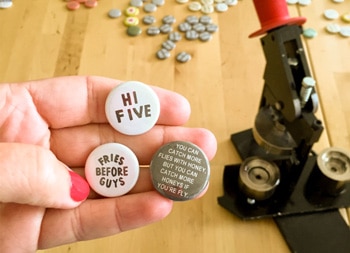 Any machine helps to expedite a process and speed things up as opposed to doing things solely by hand. The button making machine is no exception. The following are the benefits of using a button maker-
Precision
Is it possible to make buttons by hand and keep the shape and size exactly symmetrical? Maybe a couple of times, but not all the time! Precision is required to cut the button in the exact shape and size you want and that's why a badge maker comes to the rescue.
The cutter in this machine enables you to make perfect circles or any other shape every time.
Customization
It would be boring if all badges, buttons, and pins looked the same, right? Enter the button badge maker! It helps you achieve a great degree of customization.
The machine enables you to print badges and pins as per your chosen logo or image. A multi size button maker also allows you to make buttons of every conceivable shape and size, hence making it possible for you to add personalization to the products you make.
Time-Saving
The humble button maker can save your time as it can produce a large number of buttons at one go. This saves your time and increases your productivity and efficiency, which are important in meeting deadlines if you are running a business and want to keep your clients happy.
Creativity Inducer
With a button maker, you can stretch your creativity as the tool will trigger your imagination by the different options it offers. Once you start working with this machine, you will find out that you can make it work according to your express creative desires. This will further hone your creative skills.
Top 5 Button and Badge Maker Brands on The Market
Educate yourself on the top brands of button making kits available so you can choose from among only the good quality ones. The following will give you a snapshot of the top 5 brands.
Mophorn
This brand produces not only button making machines but also other appliances, totaling an impressive 495 products. The company aims to provide a superior shopping experience to customers.
Exceptional customer service and high-quality products are what set the brand apart and hence, it is no surprise that they have been lauded both at home and in the international markets.
Beamnova
Beamnova is a Chinese brand and its parent company was established in 2015. The focus of the company is on manufacturing and exporting products that satisfy the customer and also offer the most competitive price.
The company specializes in manufacturing and trading business and industrial products, home and garden products, and LED lighting.
Badge-A-Minit
This company has been at the forefront of button-making for professionals and hobbyists for the last 45 years. Offering all types of button makers to suit all the different needs, the brand makes the whole process faster, easier, and better.
Their in-depth knowledge of buttons has taken the company to its peak.
Vevor
Vevor has been in the business of manufacturing and exporting for 10 years. The company specializes in a host of business, kitchenware, machinery, and other product categories. They aim to provide high-quality products at affordable prices.
All their products undergo stringent quality tests to ensure each customer gets a professional-grade product.
YESCOM
An e-commerce business based in California, this company started its journey in 2002. They provide all types of commercial, business, and home products to both retail and wholesale channels.
Their mission is to create a seamless supply chain among logistics, suppliers, and consumers. Through their platform, customers can choose from a wide selection of products at competitive prices.
Using Guideline For Button Maker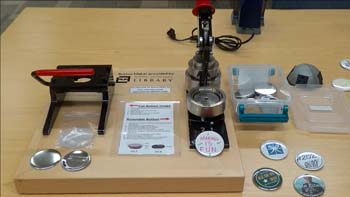 Although button makers come with the installation and usage instructions, the following will give you the general guidelines and steps regarding the same.
Set-Up
Different machines need a different type of set up as per their design. But the general rule is to attach the grip and the stick to the main part of the machine. Check for the bolts that come with the package. Screw the two bolts into the base plate.
The next step is to install the top and bottom molds and you're good to go.
Getting The Design Ready
Print your logo or the design you want on a normal paper. With the round cutter, you can cut the design to match the size you want. Also, keep in mind that the design you cut should be of the same size as the transparent film to keep the alignment right.
Mold Setting And Picture Placement
Put the bottom mold on the machine and the top mold over it. Now place the metal cover inside the top mold cover.
Locate the round slot on the left-hand side where the die is and place the metal top there. Place the picture of the design or the fabric and a transparent film on the metal cover. When putting the picture, make sure to have the printed part up.
The Final Step
By pressing down the handle, the picture will be imprinted on the button. Keeping the zigzag part facing upward, put it in the right-hand side die, and press down the handle to complete the process. There should be no space in the upper die when you press the handle down.
How To Take Care Of A Button Machine?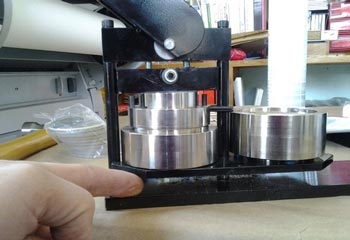 A button making machine is, thankfully, a low-maintenance product since it doesn't run by batteries or electricity. Hence, with the minimum time you spend on taking care of it, it will go a long way for you. The following shows you how to care for your button maker machine.
Dusting
Use a wet rag or a small brush to clear all the accumulated dust inside the inner and outer rings. Paper and fabric pieces that are fed into the machine may give rise to dust particles. Hence, to avoid getting misalignments, a regular cleaning regimen is recommended.
Oiling
If the product manual mentions oiling the machine to keep it smooth, then do so by all means. Oiling is normally required after the production of 1,000 to 5,000 buttons.
Tightening
Check the bolts and screws and tighten them because after you put manual pressure on the handle, it's only normal that the screws may become loose. Use a screwdriver to tighten the bolts so that the body of the machine remains tight and sturdy.
Greasing
The joints and the lever of the button maker need to withstand pressure, especially if the machine is used regularly. Hence, putting some grease on these parts will keep the machine supple and well-functioning. Add some in between the die carrier and the base plates.
Frequently Asked Questions (FAQ)
1. What Are The Top 3 Safety Tips When Operating A Button Maker?
Answer: The top three safety tips when using a button maker are-
1) Always keep your fingers at a safe distance from the dies when pressing down the lever.
2) Keep the machine away from children and never leave it unattended.
3) Put the machine away from the edge of the table to prevent it from falling over and causing injuries and damaging the machine itself.
2. What Else Can I Use The Button Maker For?
Answer: You can make plenty of merchandising materials besides buttons. You can make badges, pins, key chains, bottle openers, magnets, rope ties, and mirrors. Just make sure you get a 58-millimeter machine to enable you to make all these items.
3. What Are The Different Sizes Of Buttons A Machine Can Produce?
Answer: You should be able to get 3 to 4 different sizes of buttons from your button badge maker.
The 1.5-inch and 2.25-inch circumference button sizes are ideal for company or political party logos, texts, and names.
The larger sizes – 3-inch and 3.5-inch circumference – are good when you want to print pictures.
4. What Should Be The Type And Thickness Of Paper Used For Button Printing?
Answer: Regular paper is good for button printing although you could use a high-end type for better results. With a laser printer, the printed logo and graphics turn out to be much sharper than with inkjet printers used for the same tasks.
The thumb rule is to use paper with a weight between 22 and 28 pounds.
Final Word
As with any business or hobby, the tools you use to create a niche or a mass market are important. This is also in the case of making personalized buttons.
Hence, the pin button makers you use can add value by helping you create unique patterns and shapes that others don't offer.
Although a button maker kit is simple enough to set up and use, you ought to know how to use it properly and maintain it so that it continues to serve you for a long time. After all, it's not every day that one can replace a damaged badge maker.
If you choose the best button maker as per your needs and take care of it well, you can benefit from it over the long run. Just make sure to abide by all the safety tips while you are working with it. Here's to years of rainbow badges and funky buttons!