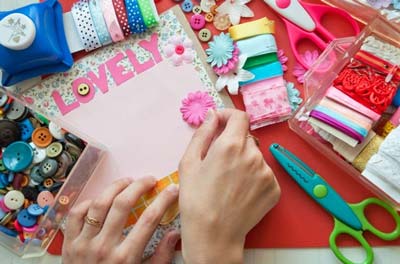 When you have a Cricut machine, you need to create your Cricut designs. And for that, you use PC software. Here's where Cricut Design Space enters into action.
It is the most popular and practical software program for making this kind of piece. But sadly, it is also one of the most expensive – and it may not have all the features you need.
That's why looking for a Cricut Design Space alternative is totally valid. Even if you have a Cricut machine from Cricut – you may find some of its alternatives even more useful.
Whatever you want to create, we're sure each one of the following alternatives for Cricut Design Space won't let you down.
Keep reading to learn more about them!
Top 4 Cricut Alternative Software List
1. Sure Cuts a Lot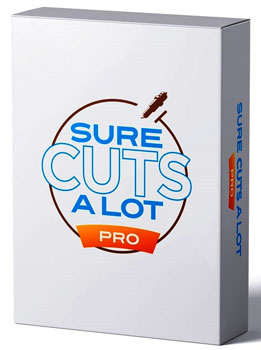 This is the most popular option behind Cricut Design Space. And it happens because it works well with a wide array of Cricut machines, going from the Cricut standard to the Silhouette, the Craft ROBO, and even the Wishblade – among many others.
You will have the chance to draw, design, color, and edit all kinds of stuff so you can create the most interesting drawings. At the same time, it offers the chance to transform random images to die-cut designs, for even better results no matter what you're looking for.
Sure enough, Sure Cuts a Lot is also a piece of cake to use and delivers excellent features that you won't find in other programs. We do a deep dive into cricut explore air 2 vs silhouette cameo 3 post to know a powerful cutting machine.
Here's a better idea of the different functions and benefits that Sure Cuts a Lot offers:
Easy Operation
The first thing you'll notice when using Sure Cuts a Lot is the straightforward interface it provides. You won't have to spend hours figuring out how to use the program – it makes the whole process effortless.
There are many different functions to use on the sides, allowing you to change color, the thickness of brushes, stroke softness, and more. You can even zoom on your designs to edit with more accuracy. And with the layer system, you won't have any problem making the most complex designs.
On top of that, you can customize how you want the worktable to look, so it fits your needs. Finding the function you want to use will be a piece of cake. For files, you have the chance to organize however you prefer, and save them in custom folders and with custom names for later use.
When it comes to using Sure Cuts a Lot, you won't have a single thing to complain about.
High Compatibility
This is a program that works well on almost any computer. It is compatible with PC and Mac while offering total support. And you can make it work with more than 30 different Cricut machines – which is outstanding.
The software also lets you match the machine you're using. This way, you can pre-set materials, blades, and other essential factors before printing anything.
And sure enough, you can make it work anywhere in the world with the measurement system you prefer. Whether you use centimeters (cm), millimeters (mm) or inches (in.) – this software doesn't let you down.
Extra Plugins & Functions
In case you want to create unique designs for the most exciting Cricut results, then you'll find the wide array of plugins more than ideal. These plugins are compatible with most Cricut machines as well, adding the extra touch of convenience.
Pros
Offers total control of the designs & interface
Works well with most die-cutting machines & computers
Updates automatically with complete support
Offers tons of plugins and extra features
Cons
Some features may not be compatible with Mac computers
Only allows one project at a time
2. Make the Cut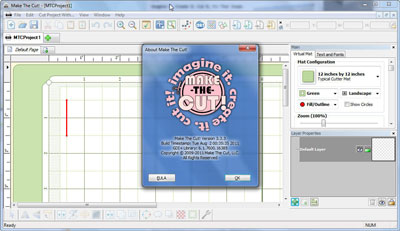 Another third-party software system you can use for edit die-cutting designs is Make the Cut or MTC. It offers precisely what Cricut Design Space offers, going from maximum design features to excellent compatibility with most machines.
From editing shapes and coming up with unique designs to adding exciting effects and even marking the Cricut pattern – Make the Cut offers it all.
But the real advantage comes from its capacity to work with a wide array of files. So it does not only offer the chance to enjoy excellent editing but also unbeatable compatibility. Another advantage is how long it's been in the market – making it a hugely prestigious and reliable option to have.
Want to have a more in-depth idea of what it offers? Here are some of its features:
Convenient Editing
There's nothing you can't do with this application. You can enjoy the free-hand drawing, the shadowing feature, the auto-tracing, node editing, and external font installation.
There's also the jigsaw design system, the lattice design function, and the extra pre-set design features you can use as necessary.
With the Pixel Trace tool alongside the graphic capacity it offers, you can transform even the most intricate design into a vector path so it can be die-cut. And with the TrueType font system, you can print any type of message on the images as necessary.
If you're a fan of extra-handy applications, then this one won't disappoint you.
Next-Level Compatibility
Another benefit of this program is the ability to work with almost any die-cutting machine in the market. You can make it work with a Gazelle, Roland, Wishblade, Craft ROBO, and others. While it doesn't work with Cricut machines, it is still one of the best options you can get.
At the same time, it offers the chance to work with a wide array of files. You won't have a problem working with PDF, SVG, JPG, AI, EPS, and PNG formats. At the same time, it works well with imported projects from other applications for files like OTF, TTF, EPS, PS, GSD, AI9, and WPC.
The compatibility level you get with Make the Cut is simply unsurpassable.
Fast and Well-Made
Last but not least, this is one of the fastest programs you'll find. If you want an app that works fast and doesn't demand much effort to use – then this one will do the job.
At the same time, you can expect it to provide decent support and little to no errors. While other programs may shut down themselves out of nowhere, this one will stay working even while working on the most extensive and demanding designs.
Pros
Fully-equipped editing with tons of features
Compatible with most die-cutting machines
Superb file format compatibility
Reliable and fast system
Cons
Not compatible with Cricut machines
Faulty compatibility with Mac computers
3. Inkscape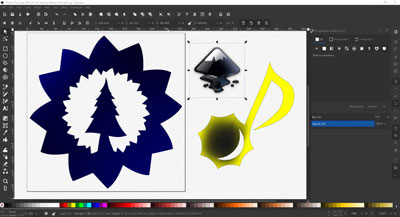 In contrast with the two previous apps, Inkscape is an open-source program. That means you can get it for free, and it will deliver all the best features at no cost.
That means you get everything from object creation and manipulation like drawing, cloning, layering, and transforming, to rendering, importing, and exporting files with maximum support.
There's a unique vector path system as well, the capacity to create logos, charts, lines, text designs, and even import the most elaborate pieces of art to edit them.
And being an open-source program, you can expect it to have excellent support in every way, as well as tons of tutorials and guides to follow when necessary.
There's a lot you get with Inkscape, so we decided to summarize it for you:
Powerful Editing
The editing tools you find on Inkscape are, in short words, ultra-potent. There's almost nothing you will find challenging to do.
For example, if you need to fill colors, you can choose whether you want solid, blurred, linear, or gradients. At the same time, you can adjust the transparency of lines and colors while having the chance to add all kinds of text & fonts as needed.
There's also embedding, optional tracing, vector graphics, raster sources, and more. And sure enough, you move, scale, rotate, and skew designs without limits. Despite being an open-source program, it offers everything you need and more.
Outstanding Import & Export
Another considerable advantage is the ability to export and import all kinds of files with no limit and or issues. From SVG to DXF, PDF, sk1, EPS, PNG, OpenDocument Drawing, and even Postscript formats – you have it all with Inkscape.
You may also edit and watch files live from the XML editor, work with command-line options, convert different files on different formats, and more. The best of all comes from the speed and convenience it offers, making it all a piece of cake to do without errors or time-wasting processes.
Best Compatibility
Lastly, Inkscape delivers the best compatibility in the die-cutting design program market. You can make it work with Linux-based systems, with Windows computers, and even Apple macOS desktops without a problem.
The compatibility is exceptional with each and offers the same kind of features with almost no limit or restraint.
Pros
Feature-filled editing system for any purpose
Works with almost all design file formats
Totally compatible with Linux, Windows, and macOS
Won't cost you a single dime to use
Cons
Editor tends to lag in large projects
Slightly complex interface
4. Silhouette Studio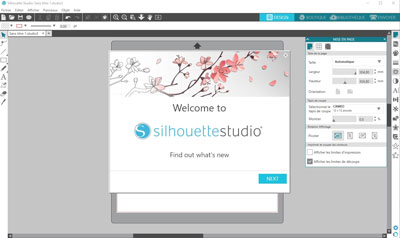 To finish our list, we need to mention the Silhouette Studio. This is not exactly a program for die-cutting, but for textile designing and embroidering. However, it works just like the previous ones.
What makes it such an excellent program is the powerful editing system plus the top-notch rendering capacity. You can create small designs with tons of different layers and edits, but also the largest ones with even more items without feeling a difference.
The application is also easy to use and works well with almost any machine. On top of that, you can make it work with different computers, and it manages to work seamlessly well on any. If you want a robust and practical design system for your Cricut designs – this one will work wonders.
Want to know more about Silhouette Studio? Here's a little more about its features:
Excellent File Integration
Everyone loves design software that works with different files. And that's precisely what Silhouette Studio offers.
You can import files like TTF and OTF, GSD, GST, as well as STUDIO and STUDIO3. And this is without mentioning the different kinds of image formats, going from PNG to JPG, BMP, GIF, and TIF.
There's another huge advantage with this system: you can import from CorelDraw and Adobe Illustrator/Photoshop as well. And you can save the projects in PDF, SVG, and high-end JPG. But these features are only available on the premium versions – which require extra installation & activation.
Unique Editing Tools
Once you import a project or image, you can start enjoying the magnificent tools it offers. From the Sticky Notes and the Pop-Up creator that allow unique stamps on your designs, to the Font Management system, the Warp, Trace, and even the Glyphs system – it offers everything.
You will also enjoy a unique editing feature with the Rhinestone tool. It will let you craft unique rhinestone elements and put them on your designs for exceptional results. You can also place them wherever you want for even better looks.
Works with All Machines
It doesn't matter what Cricutting machine you're using or what computer you want to install it on – Silhouette Studio works with almost all of them. With compatibility with operating systems like Windows and macOS – there's nothing to worry about.
While the installation can be somewhat tricky for those who understand little about computers, it is still straightforward. And you can update to the premium versions in minutes without a single compatibility issue.
Pros
Works well with a wide array of file formats
Delivers potent and uniquely helpful editing tools
Highly compatible with Cricut and other die-cutting machines
Merges well with other crafting & editing applications
Cons
Some functions are paid only
Installing & activating can be tricky
Conclusion
As you can see, finding a Cricut Design Space alternative is not hard. There are many options you can go for, and they all offer amazing features to consider.
So, it's all up to you. Find the best model according to our small reviews and make sure it matches your standards.
Then, you'll have the chance to enjoy excellent Cricut designs without having to waste any time or effort looking for the ideal tool out there.
Hope you find alternative to cricut design space. Choose one of these now and let your creativity fly with excellent Cricut designs. You won't regret it!
Related: