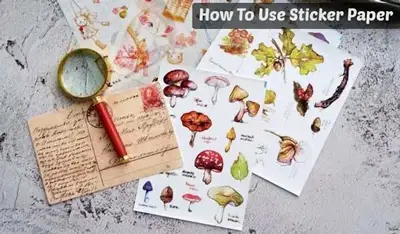 There is hardly anyone among us who never took the adhesive layer off a sticker and placed it where we want with a big smile!
From the free stickers given with chips in childhood to the brand new eye-catching stickers we purchase for our laptop covers – these seemingly little things have brought us a lot of joy throughout our life.
Now that we're grown up, should we let go these little joys? Heck No!
You can make some on your own with sticker paper! They are readily available in many stationary shops in different textures. When you have one in hand, go through this guide to learn how to use sticker paper like a pro!
Sticker Paper Variations
Sticker papers are not limited to just one mundane form. It comes in distinct variations so that there is something for everyone! Choose the one which will suit your personality or project requirements the most. Some of the popular variations are discussed below-
Transparent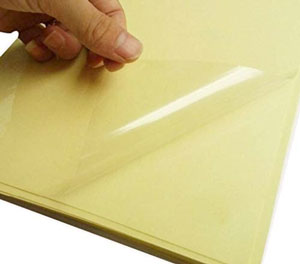 These sticker papers are the ones you often see on glass windows of street shops. The transparent papers are specifically produced for uses on see-through surfaces like glass. Its adhesive surface is the same as the main sticker side. As a result, you can paste it such that the blank side is faced up.
Matte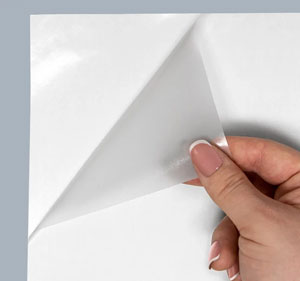 Matt sticker papers are mostly used for making car stickers. You can try printing multiple images or designs this way since one A4 sheet can handle two matt stickers.
The more formal use of matte sticker papers includes mockup designs and modeling for trains, planes and automobiles.
However, these stickers are never meant to be permanent ones unless you take the extra measure of laminating them.
Glossy
To make things a little interesting, you can bring in some shine and sparkle with the glossy sticker paper! These are used mostly to print out funky or bright stickers for applying on laptop and smartphone covers. You can personalize even more items with them by using the glossy stickers on book covers and albums.
They are great for printing posters of your favorite animations, quotes and other things you may love.
How To Use Sticker Paper?
Necessary Items:
Designing Software or Microsoft Word
Inkjet Printer
Sticker Paper
Paper/Circuit/Laser Cutter
Design
Whenever you see a sticker, what is the first thing that you notice? Of course, its design! That is why, before starting the process of using sticker paper, you need to first come up with a suitable design for it.
If it is for professional reasons, keep the requirements of your client in mind while creating the draft. For promotional or logo stickers, all you have to do is obtain the prepared image from the client company in a compatible digital format.
In other cases, you may have to come up with a unique design reflecting the particular message your client wants to convey to the potential customers.
However, making stickers for personal projects is a lot more fun!
It gives you the freedom to try out different styles and components to come up with innovative designs. You can control all aspects here including color combinations, fonts, background image and more.
This would be a great chance to print out an amazing piece of art based on your favorite shows, comics, celebrities or some fandom. Additionally, you can put your own spin on these pieces or create a brand new one from the scratch!
It is best to rely on editing or designing software to create these designs. This way, you can manipulate every feature to the T.
Printer Setting
Stickers look the best when their featured design is printed with flawless precision. Therefore, it should not have any blurry portion that ruins the entire appeal. While this obviously means that the digital image should be in high definition, it also requires the printer to be in the right setting. If you know a little about the printer for sticker, we've done on our another post.
So the second step of using a sticker paper is to adjust the printer's setting in high resolution. This will guarantee a high quality product for your chosen image or design.
Testing
Before making the main print, try out the printer with a test page to see if it is doing the required job correctly. Any normal paper will be good enough for this test.
If you are satisfied with the result, proceed to the next step. However, if you notice any discrepancies, adjust the printer settings to fix the mistakes or go back to the digital file for making modifications. Test as many times as you need to receive the perfect print-out.
Placement
Now that you are happy with the printer results, take the sticker paper and place it into the printer's tray. Remember to place it properly so that the correct side is facing the tray. This means, the sticker paper's side on which you want the design has to be downwards.
A good hack for this stage is to use multiple sticker papers in the tray. When you place the main paper on top of this stack instead of regular paper stack, there will be less friction. As a result, your paper will go in and come out smoothly.
So insert it properly and then go to your software to give the printing command. Remember to choose "other photo paper" in the printer properties if sticker paper is not an option.
Make sure that the sticker paper is not inside the printer for too long. Otherwise, it may come out on the other side with yellowish edges.
Cutting
When you are done with printing the sticker, prepare to cut it carefully. Attention is necessary in this phase since the customer will expect the sticker to be free of debris and extra space. Precision is the key when it comes to cutting this sticker.
Start by cutting the space around outlines of your main sticker without cutting out its actual edges. If there are tiny spaces still present around it, cut them now so that the entire piece becomes even.
Although scissors are an easily accessible choice for this task, circuit cutters or laser cutters will help you even better to guide each line or curve accurately.
Conclusion
As you can see, using sticker papers is pretty easy! There are some aspects you need to keep in mind and carry out carefully to ensure best results. But other than that, it is quite a simple task.
If you practice it regularly, the steps will become even clearer. You will be able to teach others on how to use sticker paper in no time!
You may also read: