You don't always need grand expensive things to draw the attention of a group or enhance the aesthetic of an item.
Sometimes, it can just be the right sticker at the right place! However, finding the perfect sticker could prove to be hard. That is why now you have the option to print them by yourself!
One of the most indispensable elements of this printing process is the sticker paper. This is the surface on which your designs find new life. So it is imperative that your chosen paper can materialize the pattern accurately while maintaining high quality.
Let us walk you through the best sticker paper options available in the market at present so that you can pick the most effective product.
Our Top 7 Best Sticker Paper Reviews in 2021
1. Online Labels Sticker Paper for Inkjet or Laser Printer
The brand called Online Labels has been manufacturing an impressive range of stationery items including printable sticker papers.
Along with the standard white matte material, you can also look for other varieties of such papers from them like glossy, fluorescent, vinyl and more.
As a result, you don't have to compromise your preferences or requirements while getting a sticker paper from here. You can easily pick the most suitable one from its versatile collection.
Besides, there are certain varieties that aim to provide a specific functional advantage like being weatherproof or removable.
These papers work for both inkjet and laser printers which means you don't have to invest in a new printing machine. Online Labels don't manufacture them with back-slits on their liners.
Because of this feature, you will find them to be the best sticker paper for Cricut and other adhesive cutting machines!
Since this particular variety is considered to be the "standard", it comes in the usual size of 8.5 inches in width and 11 inches in length.
It will not turn yellow, cause smudges or fall out. These smudge-proof permanent sticker papers come in packs of 10, 100, 250, 500, 1000, 2000, 5000 and 10,000 full sheets.
Highlighted Features:
Comes in packs of 10 to 10,000 sheets.
Each full sheet is sized at 8.5 by 11 inches.
Works with both inkjet and laser printers.
No slits on back for electronic cutting machines.
Non-yellowing, smudge-proof and permanent.
2. 9527 Product 100 Sheets Sticker Labels
If you often face troubles while peeling off the stickers or get complaints from previous customers about this aspect, you can switch to the 9527 sticker papers.
They are manufactured with the goal of resolving this particular issue by taking the help of labels.
Labels are usually much thinner than stickers. Besides, they can be peeled off faster and with less effort. That is why you will often see them as the professional wrapping material on soft drink bottles or similar packaging.
The main sheets here come in the standard size of 11 inches in length and 8.5 inches in width.
However, the stickers embedded in them are a bit smaller – ⅛ of the sheet size to be precise.
So if you have been looking for a little more compact size for your stickers, you can definitely choose these sticker papers.
Once you print the design of your choice, the stickers will prove to be a highly durable investment for your clients.
These papers come with permanent adhesive which helps the sticker to last for a long time on the respective surface.
You can find these convenient sticker papers in packs of 100, 200, 500, 1000, 2000, 3000 and 5000 labelled sheets.
Highlighted Features:
Available in packs of 100 to 5000 labelled sheets.
Each page is the standard size of 8.5 by 11 inches.
The sticker size is ⅛ smaller for easy peeling.
Permanent adhesive helps the sticker last long.
Compatible with both laser and inkjet printers.
3. Milcoast Full Sheet 8.5″ x 11″ Shipping Sticker Paper
The Californian brand called Milcoast has maintained its sharp focus on paper and label products for a while now.
Among its wide variety of such products, there is the full sheet label with a glossy finish. This kind of coating helps to bring out the colors of your sticker design by enhancing their contrast.
Along with improving the vibrancy, this glossy polishing of premium quality increases the waterproof qualities of your stickers.
While it doesn't make the adhesive protected even when submerged in water, it can save the sticker from being affected by a few drops or a splash of water.
The adhesive used with them creates a pretty strong bond. As a result, you can rely on it to last for a long time.
Even though the adhesive is commendable in its force, you can get rid of it anytime without the fear of smearing that area. That is why you can think of this as the best glossy sticker paper.
These shipping address labels come in three packs of 100, 200 and 1000 full sheets. They are sized at the standard measurements of 8.5 inches in width and 11 inches in length.
Compared to many of its competitors, you may find these sticker papers at a much more affordable price point.
Highlighted Features:
Comes in three packs of 100, 200 and 1000 sheets.
Glossy finish on white sheets for multipurpose use.
Can resist light splashes and light water drops.
Strong adhesive bond without smears.
Available at an affordable price point.
4. RBHK Paper for Planner Stickers
The sticker paper for printer made by RBHK is a usual label with a laminated finish. This means it can also provide a mildly waterproof exterior like the previous sticker paper.
If water or any other liquid gets spilled on it a little, you don't have to worry about its quality. Just gently wipe off the spill with a clean cloth.
It comes with a very strong adhesive which should last for years on end. Such a permanent adhesive combined with its moderate water-repelling capabilities can significantly extend the lifespan of your stickers.
So if you want durability to be one of the prime features of your labels, these sheets can surely be a great option.
They come in the standard size of 8.5 inches by 11 inches. These full sheets are made to be 1up which means you can print only one sticker on each label.
You can use them as planner sticker paper or something similar with both laser and inkjet printers.
Unfortunately, unlike most of its competitors, RBHK sticker labels come in only one pack containing 100 sheets.
Although you can have them in a single quantity, it is one of the most economical options you will find in today's market. Each unit costs significantly less than other brands offering the same number of full sheets.
Highlighted Features:
Every pack contains 100 laminated sheets.
Full sheets which come at the standard size.
One page can print only one sticker design.
Permanent self-adhesive for durable results.
Compatible with both laser and inkjet printers.
5. TownStix Matte White Glossy Sticker Paper
TownStix is dedicated to come up with as many useful variations as possible for sticker papers. Their collection includes labels meant for color-coding, name, reward, printing, scratch off and more! One of those products is this matte white sticker label which comes with a number of convenient features.
In addition to the usual letter size of 8.5 by 11 inches, they come in a smaller size of just 2 inches by 4 inches!
So, those of you who constantly need to modify the standard sticker papers into smaller versions can now breathe a sigh of relief! Just use these compact labels to get the perfect stickers instead.
While glossy surfaces do offer certain advantages, matte ones like this also have their own share of benefits.
For instance, you can draw or write on such matte white surfaces easily using all the common writing tools like pens, pencils and markers. Its texture makes the labels similar to the usual writing paper.
This kind of surface also keeps the label relatively safer from getting smudged by ink.
Since the sheets are self-adhesive, you can just peel and paste them on a range of materials. They stick well to cardboard, paper, plastic and almost any other flat surface.
Because of so many useful aspects, it can easily take the crown for the best sticker paper for inkjet printer! You can find it in packs of 30 or 150 sheets.
Highlighted Features:
Comes in two sizes of 2×4 and 8.5×11 inches.
Matte surface prevents smudges from ink.
Allows writing on it with pens, pencils and markers.
Self-adhesive sheets can be peeled and pasted.
Available in packs of 30 sheets and 150 sheets.
6. Limia's Care Printable Vinyl Sticker Paper for Inkjet Printer
If you are bored with the same kind of sticker paper material by now, you can check out these alternatives prepared by Limia's Care.
They are made of vinyl which will bring a set of uncommon features to the table, along with certain challenges. It is often considered to be the best sticker paper for planner stickers.
Like many of the most convenient sticker papers, they are self-adhesive and resistant to water. As a result, you can use them for both indoor and outdoor projects.
Their glossy finish will prove to add some extra shine to any decor. As an additional perk, you don't have to worry about an accidental spill damaging it.
Each of these sheets has the standard size of 8.5 inches by 11 inches. You can use them to print out high-resolution images of complex designs.
Enjoy showing off their beautiful details to others without compromising with the quality! They don't leave a sticky residue behind.
Along with maintaining the vibrant color palette of your stickers, they can also prove to be extremely durable.
They usually last for a long time since these papers can protect themselves against scratches and tears. The catch is – you might have to put more effort into cutting them out and the ink may smudge a bit.
Highlighted Features:
Each sheet is made of vinyl and has glossy texture.
Capable of showcasing images with high resolution.
Meant to be used with inkjet printers specifically.
Self-adhesive paper has water-resistant properties.
Comes in sets of 15 or 50 sheets of US letter size.
7. Betckey iLabel Printable Sticker Paper
Betckey has been the leading supplier of direct thermal labels meant for a range of compatible printers. Just like the majority of their labels, this one also manages to offer plenty of convenient features and a variety of sizes to choose from. Among them, the most popular is the standard letter size of 8.5 by 11 inches.
It comes with a matte white surface that can fight off scratches easily. Besides, its adhesive is quite strong which lasts for a long time.
The powerful glue sticks your design well to almost any surface. You can print out your preferred design or image on these sticker papers with crystal clear quality.
There is no slit on the backing of these labels which makes it quite ideal for using with the electronic cutting machines.
So it can be the ideal sticker paper for Silhouette Cameo to make your cutting experience more smooth and satisfying than usual.
As it is compatible with iLabel, you'll have the advantage of creating, storing and printing from your Android phone or tablets!
You can get these sticker papers in packs of 50, 100, 200, 300, 500 and 600 full sheets. Being one of the best printable sticker paper options, they can be used with both laser and inkjet printers.
Highlighted Features:
Available in packs of 50 to 600 sheets, or labels.
Letter size iLabel compatible with Android devices.
Powerful adhesive sticks well and is highly durable.
No slit on backing for smooth electronic cutting.
Can be used with both laser and inkjet printers.
Sticker Paper Buying Guide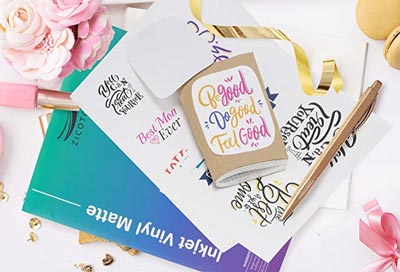 1. Size And Shape
Sticker papers – both online and offline – usually come in the US letter size. Its measurement is 8.5 inches in width and 11 inches in length.
However, some high-end or experienced brands offer a wide variety of sizes ranging from just 1×4 inches to 12×18 inches used for industrial labels.
Although most of them are rectangular in nature, there are many available in circular shapes as well. You can also get creative and find other fun shapes like heart or clouds for the stickers.
2. Split Down Back
Many sticker papers come with a back with splits to make the peel-off easier for users. While this is great for making casual stickers, it can be troublesome if you want to do kiss cuts. So be sure about what end results you are looking for and then find sticker paper matching those requirements.
3. Material
The most common material of sticker papers is the normal copy paper. Because of their abundance and ease of accessibility, it is easily the most economical choice you can make.
Apart from paper, the other popular materials for printing stickers include vinyl, polyester and polypropylene.
a. Vinyl
Vinyl label works great for outdoor use since it can fight against UV radiation, chemicals and weather issues. Because of its impressive flexibility, vinyl makes a good choice for stickers to be pasted on curved surfaces.
The best vinyl sticker paper is used for items like rental equipment, pipeline, cable tray and fleet decals.
b. Polyester
Polyester labels are some of the most aesthetic ones. They end up giving your sticker a stylish chrome or mirror-like finish which is perfect to grab attention of others. These sticker papers come in many shapes to meet all kinds of decorative requirements. Its high durability suits both indoor and outdoor projects.
c. Polypropylene
The sticker papers made of polypropylene offer supreme solvent resistance and impressive clarity at an affordable price. If you fail to find vinyl labels for some reason, they can be a great substitute. They come in transparent, white and chrome or silver variations.
d. Others
Apart from these options, sticker papers are also made from satin, foil paper and fluorescent materials. Besides, you can invest in recycled labels to help out the environment and its living beings.
The satin labels are used for wine or spirit packaging. Fluorescent ones come in many vibrant colors to alert people, while foil paper labels come in dull and metallic colors for holiday and food items.
Read More: My UV Resin is Sticky – why? Here's what makes UV resin sticky plus more helpful tips for 3D Printing!
4. Printer Compatibility
Of course, the sticker paper should be compatible with the printer type or model you own. Most sticker papers can work with both inkjet and laser printers.
Among the leading models manufactured by renowned global brands, there are Epson Expression, Canon PIXMA and HP OfficeJet.
5. Surface Texture
This is the factor which most people use to categorize sticker papers. There are mainly two types of surface texture for sticker papers – matte and glossy. The first one is usually white or transparent in color. It is similar to regular copy paper and thus you can write on it if necessary.
Glossy sticker papers on the other hand are more suitable for projects where clarity of the photo is necessary.
They do a better job of showcasing the details and bringing more vibrancy to the end product. Besides, who wouldn't want their stickers to look lustrous?
6. Adhesive Strength
Just because all stickers come with adhesive, it doesn't mean their strength is of the same level. The adhesives of sticker papers are mainly three types – permanent, removable and aggressive.
Unless you require powerful glue to last for years, the removable adhesive would be the ideal one to pick since the customers can reposition it when they want to.
7. Durability
If your stickers are meant to last a long time, they should be printed on an equally durable paper. There are many good options that offer high durability by making the paper resistant to water or liquid spills, tears, chemicals, weather and many more common issues.
Tips For Printing Great Stickers at Home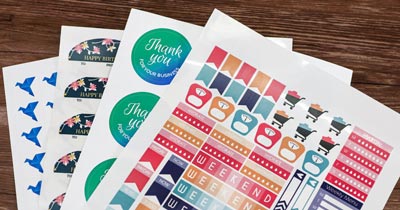 1. Color Accuracy
Producing the colors of your sticker accurately is incredibly important while printing them at home. This is because certain tweaks in the CMYK processing can lead to noticeably different results.
Especially in the case of solid-colored areas, the inaccuracy can stick out like a sore thumb even on the top-notch sticker paper!
That is why you will need to pay extra attention to produce 100% accurate colors while printing your designs.
Pantone can help in this issue by providing the required precision. Even though it may seem to be a little more expensive than the usual method, they can produce solid colors the best.
2. Right Color Values
While printing out vibrant stickers can be a lot of fun, producing the ones with a lighter color palette can be quite the struggle.
This is because the CMYK values which are below 10% are almost invisible on the screen. It is recommended to keep the light colors either 10% or above if you don't want the value to be zero.
3. Break Up Solid Color
Another good idea to get the ideal results in terms of color production is to break up the solid color into smaller portions. This is a must when that same solid color has to cover a large area of your sticker.
Each solid color is produced by combining multiple basic colors of the CMYK palette like cyan, magenta and yellow.
For instance, red is the combination of yellow and magenta, while black is the combination of all three. So you need to break up solid color areas to lower the background stress.
Frequently Asked Questions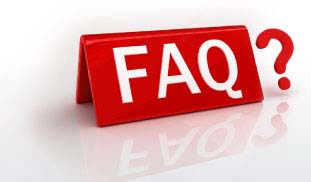 1. Can You Put Sticker Paper In A Normal Printer?
Answer: The ideal approach to take is always checking if the sticker paper is compatible with your type or model of printer.
Typically, there are separate sticker papers for inkjet and laser printers. An inkjet sticker paper should not be used with a laser printer and vice versa, because it can lead to melting of the label. This article will help you to understand way to use sticker paper.
2. What Does 1-Up Mean For Sticker Paper Printing?
Answer: Terms like 1-up, 2-up, 3-up and so on are used to tell the potential customers about how many stickers can they print on one sheet. For instance, 1-up is usually used for the standard size of sticker papers measuring at 8.5 inches by 11 inches. This means that you can print only one sticker on each of its sheets.
3. How Long Do Homemade Stickers Last?
Answer: The longevity of homemade stickers largely depends on the material of its paper. For instance, the ones made out of vinyl can last up to five years or longer even with outdoor use. Most stickers meant for outdoors are made to serve three to five years in general. At the very least, it should last six months.
4. Can You Epoxy Over Sticker Paper?
Answer: Epoxy resins are used to produce a wide range of items including paints, coatings, plastics, adhesives, sealers and primers for flooring, construction or similar projects.
When it comes to sticker papers, you can use epoxy resin over them as long as the paper is sealed, since they vary a lot in thickness and quality.
4. Can You Wash Vinyl Stickers?
Answer: Yes, you can wash vinyl stickers using a soft cloth and a detergent solution. Put them together to remove any dirt from its surface. If you find any mold or mildew in the sticker, you will need to take the help of sodium percarbonate cleaner to get rid of those particular substances.
Final Words
Find the best sticker paper for your personal or professional projects from the wide variety of materials, textures, sizes and more.
Since there are so many options to choose from, narrowing down the final choices should be an exciting journey.
Think about the area of application for those stickers, as well as how well they will hold up against time and tears before reaching your conclusion.
If you are not sure, you can just order the smallest unit of your preferred sheets and see how they work out for your sample designs!