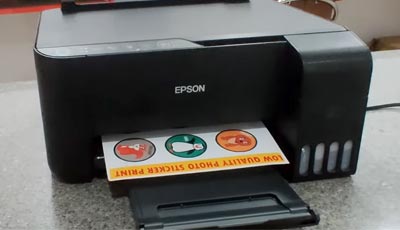 Sticker labels help you keep things organized. Once you start making and using them, you will never go back.
That is when I realized the importance of having a printer that can print stickers. It took a lot of painstaking research to decide on the perfect printer finally.
Printing stickers is quite different from printing a regular set of documents. Unless you are using the right printing device, the colors in your sticker will come out weird, and its durability will take a severe hit.
In any case, the sticker will not be as strong as bumper stickers you see on cars. After I started using the best printer for stickers, not only did it help me create better stickers, but it also made making holiday cards or Christmas gifts for children a lot more fun and exciting.
Top 10 Best Printer for Stickers
Here are our picks for some of the finest sticker printing machines you can buy on the market. So, without further ado, let us dive in.
1. Phomemo M02 Portable Thermal Sticker Printer
We will be kicking things off with a portable pocket printer by the brand Phomemo. This is the perfect choice for people who do not want to commit to a full-sized printer and whose sole purpose is to print stickers. It might not offer much in terms of versatility, but for sticker printing, it does the job perfectly.
Some might argue that such a small-scale printer might not be enough for heavy-duty tasks, and they will be right in most cases. This unit is not for professionals.
However, as a Christmas or birthday gift for children, this unit is the best choice. When it comes to printing stickers, it delivers excellent results.
The Phomemo app is the best part about this unit. With this unit, you can utilize a lot of cute templates to make your job easier.
Since it works on thermal technology, you do not need to spend any money on ink cartridges. Its maximum resolution is 300 dpi, which is enough for a unit like this.
The unit comes in a compact size that you can fit into your pocket. Its built-in 1000mAh battery has a decent lifespan and on standby mode can last for an entire week. Compatibility-wise, it works with both android and iOS and has Bluetooth 4.0 connectivity option.
Highlighted Features:
Compatible with both android (4.0 and above) and iOS (8.0 and above).
Bluetooth 4.0 connectivity.
Includes a mobile app.
Ink-free thermal printing.
2. Epson EcoTank ET-2720 Wireless Printer for Sticker Printing
If we had to pick just one printer for all our needs, then we might probably go with the Epson Ecotank ET-2720. It is a budget-friendly printer that delivers exceptional performance and versatility for the price. Some might even say this is one of the best printers for sticker printing.
This printer comes with a 100-sheet input tray along with ten sheets of envelope or 20 sheets of photo paper tray. As a result, you can print a large volume of stickers without having to feed a single paper each time. This feature also comes in handy if you are printing other types of documents.
The print speed of the device is also quite decent. For monochrome printing, you can expect a rate of 10.5 pages per minute, and for color prints, you will get around five pages per minute. For sticker printing, this speed should suffice most hobbyists. However, professionals might prefer something faster.
Its overall color output and resolution are also excellent. Whatever design you print on your sticker will retain its original color accuracy without you having to tweak anything on the printer. The cost per print is also quite low, which makes it a great budget printer for just about anyone.
Highlighted Features:
Compact and durable construction.
Excellent color output.
Decent paper handling and speed.
Affordable price and low cost per print.
3. HP ENVY 7855 Photo Printer for Sticker Paper
For people who want the reliability of HP without having to spend a huge amount of money, the ENVY Photo 7855 is a great choice. You can also avail of the HP Instant Ink subscription for this printer saving you a lot on ink replacement. Overall, it is a solid contender when it comes to the best printers for sticker paper.
Although dubbed a photo printer, this device can handle any other application quite well. It is a versatile machine that can go in any workspace because of its compact and lightweight design. You also get a small 3.5-inch color touchscreen to access the different functions of the printer.
The device features a 125-sheet input tray along with a separate photo tray with a 15-sheet capacity. However, the lack of an automatic document feeder might be a problem for some people. Since it is a photo printer at its core, the resolution and color output it provides is not that surprising.
The speed of print is also quite good, featuring 12.7 pages per minute for black and 4.6 pages per minute for color or graphics-heavy printing.
Although it might not be the fastest, for the price, it is excellent. Along with traditional Ethernet, this unit also supports Bluetooth and Wireless connection and also cloud-based printing.
Highlighted Features:
Access to HP instant ink subscription.
Wireless and Bluetooth connectivity.
Excellent print quality.
Works with Alexa.
4. Canon Selphy CP1300 Printer for Labels and Stickers
If you like portable printers, then we promise you will love the next product we have for you. The Canon Selphy CP1300 wireless printer is a compact little unit that can give many high-quality full-sized printers a run for their money. Despite its small size, it is still one of the best printers for planner stickers.
The print quality of the device is what stands out the most among its other features. It delivers sharp, vibrant colors without you having to tweak any of the options. With a reasonable cost of 35 cents per print, you will be able to keep your expenses at a minimum with this printer.
It has a large LCD screen on the top to access all of the printer features effortlessly. The unit lets you connect it to a device using Wi-Fi, Bluetooth, or a Mini USB cable. Sadly the lack of wired connection means if you plan on hooking it up with your PC, you need to get a mini USB cable from the stores.
With portable printers, you rarely get any paper trays. Surprisingly this unit features a small tray of 18-sheet capacity, meaning you can enjoy a streamlined printing experience. It is a sleek and stylish little printer that is suitable for people who like to keep things moving.
Highlighted Features:
Compact and portable design.
Wireless and Bluetooth connectivity.
Affordable price tag.
Excellent printing output.
5. Brother Wireless All-In-One Inkjet Sticker Printer
There are very few brands in the world of printers that are as popular as Brother. In fact, go to any printing shop near you, and there is a chance that you will find a Brother printer there. This all-in-one Inkjet printer by the brand is a great choice if you want to put your money behind them.
The paper handling capacity of this unit is extremely efficient, giving you a 20-sheet automatic document feeder along with an input tray holding 100 sheets of standard papers.
However, it does not feature any automatic duplexing, so two-sided printing will have to be done manually.
The speed and performance of this unit hold up against some of the high-end models despite its affordable price tag. With a speed of 11.8 pages per minute for monochrome printing and ten pages for color printing, you will be able to print stacks of stickers easily without wasting any time.
This printer has all the connections you could ever need from the best printer for printing planner stickers.
So, you will get both wired and wireless connectivity, along with USB 2.0 and a direct to USB connection for connecting to a PC. It also supports wi-fi direct and NFC to connect your smartphone to the printer.
Highlighted Features:
It comes with a 20-sheet automatic document feeder.
NFC and Wi-fi direct for smartphone connectivity.
Respectable speed and color quality.
Entry-level price tag.
6. KODAK Smile Instant Digital Bluetooth Printer for iPhone & Android
Instant photo printers are often underrated when it comes to high-quality printing stickers. However, with this unit by the infamous Kodak, any doubts you may have about this type of equipment will disappear. And the best part; this device is extremely low-cost, making it a good choice even as a gift for a friend.
This device is compatible with both iOS and Android. So you can hook up your smartphone and instantly print out a sticker that you design without any hassle. Sure, you will not be able to print large volumes; but if you are printing stickers for yourself, this unit will work just fine.
The surprising part about the unit is the color quality and printing output. Despite its small portable size, it shows no compromise when it comes to the output. The color that you see in your smartphone is what you will get after you print it out on your sticker paper.
Besides, you can use the Smile Editing Studio app from your smartphone to make small tweaks and adjustments to your photo before printing it out. It requires no ink or toner. The device runs on a rechargeable battery and has a decent lifespan giving you true portable freedom.
Highlighted Features:
Works on rechargeable battery.
Excellent output quality.
Compatible with both iOS and Android.
Includes a set of Zinc paper to get you started.
7. Epson Expression Premium XP-7100 Sticker Making Printer
The Expression Premium XP-7100 is another fine offering by Epson. If you want a compact printer but do not want to go with the limited functionality of a portable one, then this is a great choice. It is another budget-friendly device that can handle some heavy-duty tasks, let alone sticker printing.
The biggest improvement you will get with the unit is the inclusion of a 30-sheet automatic document printer with two-sided printing.
This can help out a lot if you are planning to use your printer for other projects as well. Apart from that, you get a 100-sheet input tray and a 20-sheet cassette for envelopes or sticker papers.
When it comes to graphics and printing output, the unit does not disappoint. You can get vibrant colors and dark backgrounds without any issues. That, combined with the low running cost of the printer, makes it a great choice for both home or office environments.
The printing speed of the printer is also quite decent. With a rated speed of 15.8 pages per minute for monochrome and 11 pages per minute for colored prints, the speed is much higher than some of the competitors in this price range. As far as a printer for sticker making goes, this is one of the finest out there.
Highlighted Features:
A small yet powerful device.
Excellent connectivity options.
Impressive printing speed.
Supports single pass automatic document feeder.
8. HP ENVY Photo 7155 Printer for Planner Stickers
The ENVY 7155 is an older version of the 7855 we reviewed before at a much more affordable price. Despite being an older model, the performance of the unit holds up quite well to this day. It retains a lot of the great features that you find in the ENVY 7855.
The major noticeable difference with this unit is the lack of an automatic document feeder in the unit. This means you will have to feed documents one at a time, which might be a bit time-consuming. However, you get a 125-sheet input tray and another 15-sheet photo tray with the device.
With a rated speed of 14 pages per minute for monochrome and 11.7 pages per minute for colors, you should have no complaints when it comes to printing speed. In fact, the speed is very close to what you would get with the newer version, which is quite surprising considering the bump in pricing.
This unit also features all the connectivity options you would want, including dual-band Wi-Fi, USB, and Wi-Fi direct. It even supports AirPrint and Eprint utilities along with connection support for any Alexa device. It is quite a versatile little unit that should satisfy your every need as a home printer.
Highlighted Features:
Affordable entry-level printer.
Excellent value for the price.
Robust connectivity options.
Decent printing speed.
9. Canon IVY Mobile Mini Photo Printer
For our next product, we will be looking at another portable unit. But this time, the name of Canon will be there to back it up. Although mostly known for its contribution to the photography sector, the brand also has an excellent reputation in the realm of printers.
The color resolution and printing output of the unit are amazing, allowing you to get high levels of color accuracy with every print. This quality is due to the 400-dpi resolution of the unit, which at this compact form-factor is quite surprising. It prints 2×3 inches stickers that you can make in a matter of seconds.
You can use this unit with your smartphone regardless of whether it is an iOS or an Android using Bluetooth. Furthermore, you can use the Canon mini print app from the store, and do minor tweaks and adjustments to your sticker and choose the proper output quality.
The IVY Mobile Mini printer is the perfect addition to a hobbyist who likes to print stickers from time to time. Yes, it is far from the ideal professional tool, but if you want to do some lightweight sticker making, this will do the job perfectly. And considering its laughable price tag, it also makes for an excellent gift.
Highlighted Features:
Quick printing of stickers.
Extremely portable and compact.
Works with both iOS and Android.
Affordable price tag.
10. HP Color LaserJet Pro M255dw Wireless Laser Printer for Stickers
If you are looking for the best laser printer for stickers, then this last product on our list of reviews is for you. The LaserJet Pro M255dw is an excellent choice that comes from the reputed HP. Although the price is a bit high, if you want quality, the investment is well worth it.
The strength of this printer is both its printing speed and output quality. It offers rich colors, and the graphics in your printer will look stunning after print. In terms of speed, you can expect a whopping speed of 19 pages per minute regardless of whether you are printing monochrome or colors.
It also gives you a wide range of connectivity options, including cloud printing and Wi-Fi direct for smartphone operation.
Since it is an HP device, you can also avail the HP instant ink service to get your ink delivered right to your doorsteps when you are running low.
The only downside of the unit is its bulky size. It is not the most compact model out there and will eat a decent chunk out of your desk space if you buy it. If you are fine with the pricing and the size, then this unit should be able to satisfy your every need, including sticker printing.
Highlighted Features:
High-speed printing.
Excellent build quality.
Wide range of connectivity options.
Sturdy and durable.
Things to Consider When Buying the Best Printer for Stickers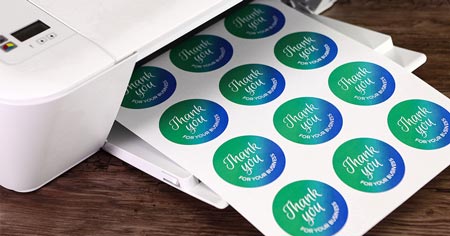 Making stickers is a fun-little activity that you can enjoy if you have a printer that can print stickers. However, not all printers can give you the same level of performance for this task.
You need to understand which features are important when you are planning to buy the best printer for making stickers.
In the following section of the article, we will discuss some of the key aspects you want to check when you are on the market for a printer for labels and stickers.
Type of Finish
When it comes to printing stickers, there are two types of finish you can get, glossy and matte. Not all printers can deliver the same level of quality in both types of finish.
Sure, you can get a high-end unit that does everything perfectly, but it would cost a lot. The best way to go if you are on a budget is to decide what type of finish you would need in most cases.
Then you can go with a model that specializes in that type of finish. However, if you are getting a sticker printing machine for professional use, it is better to go with an expensive unit that can handle all types of finish.
Print Quality
Print quality is something that you do not want to overlook when you are buying a printer for sticker making. If you want to create stickers with beautiful graphics and detail, you need to ensure you buy a printer that is capable of handling that heavy-duty task.
You need to check both the resolution of the printer along with the color fidelity. Checking the resolution is pretty easy as it is listed in the product specifications as dpi. The higher the dpi, the better resolution you can get. For checking the color fidelity, you should print out a sample sticker using the printer.
Print Speed
The speed at which the printer can deliver stickers can entirely make or break your experience. If you are the impatient type, waiting around for your stickers to print might not be something you want to handle.
However, keep in mind, getting a high-speed printer for your sticker-making hobby might not be a wise idea. But for a professional sticker or banner-making company, a high-speed printer is a necessary investment.
Time is money in business, and the faster the printer can deliver prints, the more profit the business can generate. So before going with a printer, give the print speed some thought.
Feeding
The feeding capacity of a printer varies from one model to another. Some models allow you to keep 100 pieces of paper on the input tray, while some units do not even come with an input tray at all.
For people who want efficiency, having a decent capacity feeding tray in the printer is a must. That way, you will not have to feed one paper after another when you are printing several stickers at once.
You can simply send the design and select the number of prints you want, and the printer will automatically take the paper and print it as long as there are enough papers.
Paper Handling
You also need to account for the paper handling capabilities of the printer that you are planning to buy. Sticker papers come in different varieties. For instance, if you want to make vinyl stickers, you need a printer that can handle the material. Otherwise, you might not get the best results.
Furthermore, if you want to print multiple stickers at once, you want a unit that can handle large volumes.
Most of the affordable printers will let you print only a few stickers at a go. With a unit with better paper-handling options, you will be able to print continuously without having to readjust after every print.
Brand Name
When it comes to printers, going with a known brand is almost always the better choice. So, we recommend going with a brand like HP, Epson, Brother, etc. since you will get better aftermarket services from them if something goes wrong with your printer.
Yes, going with inexpensive off-brand printers might be easier on the wallet, but in most cases, they will break down after a couple of months.
Going with a reputed brand means that you are getting exactly what you are paying for. Off-brand printers also tend to exaggerate their products capabilities.
Essential Functions
A printer these days come with many features and functions to make your task easier. Are you looking to make stickers only, or do you also want to fax or scan using the printer?
Do you need an automatic document feeder? Without a clear understanding of your requirements, you will not be able to make the best choice.
However, not everyone might need a printer that can scan, copy or fax. But if you do get a versatile printer, you will have that option if you need it somewhere down the line. So before investing in a printer, make sure to give some thought to the functions you want it to have.
Ink Cost
The cost of ink can vary from one printer to another. Availability of the ink is also another factor you need to consider. Some printers, even though they might be expensive, has a very low cost per print. If you are planning to use it frequently, getting a low-cost printer is always better.
Make sure you check out the cost per print of the printer before investing in it. Also, check which type of ink cartridge it uses and whether you can find it nearby.
In HP printers, you get a service called HP Instant Ink which essentially lets you order the ink cartridge from your home when you run out at a low cost.
Printer Size
If you have a limited desk space where you need to place the printer, you should give its size some thought too. Not everyone has the luxury of unlimited space on their worktable. The last thing you want is to invest in a printer that you cannot even fit on your table.
Thankfully, there are a lot of compact yet powerful models available that will give you excellent performance without being too bulky.
If you are struggling with space, you might benefit more from a compact printer. On the other hand, if space is something that you do not have to worry about, this is not a big issue for you.
Price
Buying a printer is not a cheap investment. Unfortunately, not everyone can afford the top model on the market, and that is completely okay.
These days, you can find a great printer at a much more affordable price than it used to be. As long as you know how much you are willing to spend, you can get a good unit that suits your purpose.
For a good shopping experience, it is important to have a fixed budget. It would allow you to filter out the products that you cannot afford and help you focus on the units that you can.
That way, you will be able to check out the features carefully and pick out a unit that meets your every requirement.
DIY Tips To Print Awesome Stickers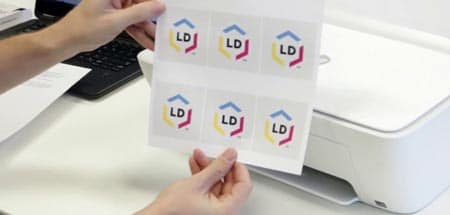 Creating awesome stickers has a lot to do with consistency and patience. It takes both skill and creativity on your part to come with ideas and print them using your printers.
And if you are a beginner, you will make many mistakes. It is a part of the learning process, and as long as you take lessons from your mistakes, you are on the right track.
In the following section, we have compiled a few tips that can help improve your sticker making skills after you buy the best printer for printing stickers.
Color Processing
Color is an important part of making stickers. And if you want your stickers to really pop off, you want to make sure you are getting accurate colors.
A problem that beginners often face is that they set a specific color in the image editing software that comes washed off or different after printing.
To preserve the color accuracy, we would advise you to print using CMYK color processing. This type of printing is both budget-friendly and accurate, making it an excellent choice for hobbyists and professionals alike. All of the printers in our list of reviews use CMYK color processing.
CMYK color processing layers colored inks in dots over one another to get the perfect color tone that you set in your image editing software. As a result, the final output is quite accurate.
For vinyl sticker printing, another popular color processing system is Pantone color. In fact, Pantone printing is much more accurate, especially for large solid blocks. However, this process is much more expensive and not a viable option for DIY users.
Choosing the Right Colors
Knowing how the colors work after printing is just as important as choosing the correct image processing system. For instance, in CMYK processing, 10 percent of the lightest colors in the spectrum do not come out good, if at all. This might be the only real downside of CMYK colors.
So if you are using light pink color on your sticker, it might come out whiter and, in turn, will make your sticker look washed-out.
Balancing the colors is a subtle dance that can make or break your sticker. If you balance out the colors, not only will the sticker look accurate but also beautiful.
Even if you use a lot of blacks, unless you use colors that compensate for it, it will not come out good.
You need to use the correct ratio of black and colors to get the desired effect. For a beginner, this might be a bit overwhelming. However, there are plenty of resources online that can help you understand it better.
Durability of your Sticker
The durability of your sticker depends on a lot of variables. Everything from the ink you use, printing process to even the paper you use for printing contributes to the permanence of your sticker. So you need to understand how each of the factors affects the overall longevity after printing.
If you are a hobbyist, you might not need a permanent sticker. A sticker that lasts a couple of months could be good enough for you.
But for business purposes, your sticker needs to last longer. For instance, if you print bumper stickers for cars and they start fading out after a couple of months, it does not inspire a lot of confidence for your brand.
Die Cutting
A good way to emphasize certain design aspects of a sticker is to cut it out in a unique way. Custom cutting stickers and decals are a common technique, and to do that, die cutting is the way to go. If you have a laser printer at home, you can do this quite easily.
However, if you are printing from a professional printing press, the job becomes much easier. For professional printing, it might be a bit expensive.
But the improvement to your sticker makes the increased cost often worth it. Keep in mind, though, not every type of sticker go well with die cutting.
Breaking Up Blocks Of Color
If you are printing large blocks of solid colors, your printing cost will be higher. It is not a very efficient way to design stickers. Even if you use CMYK printing, the cost will be much higher. And in most cases, you have to go to a professional printing press to print it.
A good idea to get around this problem is to spread out your colors so that you do not have to print large groups of solid colors.
Not only will it lower the cost, but it will also be easier on the eye. Besides, printing solid color groups are not easy, and there is a chance of the design looking washed-up.
Print Using The Best Quality
Regardless of the print driver, print server or the printer, you will get a lot of different options in selecting the printing output quality. Y
ou might also get the option to customize the print speed and ink consumption. To optimize your printing quality, you need to be able to modify these settings.
While printing your sticker, make sure you choose the best print quality. Even if it takes a bit longer to print your stickers, the quality will be much better, and the colors will also be quite accurate.
Ink Cartridges
Before you start printing stickers, always make sure your ink cartridges are topped off. If you are running low on ink, it can cause many issues.
For instance, if you have low quantities of a specific color that you are using in your print, the printer will try to compensate for it with another color which can cause inaccuracies.
However, this raises the issue of cost. The best advice we can give you is to avoid buying branded ink cartridges and instead go with reputed retail shops.
Most of the time, the ink cartridges you get from there are just as good as branded ink, with the added benefit of costing less.
Note: Always dispose your cartridges properly. If you do not dispose it in right way it can harmful for environment.
Paper Compatibility
Each printer has a limit to the thickness of paper it can handle. If you are using a compact printer for instance, it might not be able to handle thicker sticker papers. Using thicker papers than what your printer can handle can cause clogging. Inkjet printers
Besides, you also need to think about the type of sticker papers that you are using. Some printers react well with certain papers whereas give poor result with others. For example, if you are using inkjet printers, glossy sticker papers will often net you a good result.
Frequently Asked Questions
1. What else do I need to print stickers apart from the printers?
If you have your printers covered, you will need sticker paper and an image editing software of your choice.
2. Can I use an inkjet printer to print vinyl stickers?
Yes, you can. However, the ideal way to print vinyl stickers would be to use a vinyl printing machine.
3. Can I use a laser printer to print stickers?
Ideally, we would recommend using inkjet printers for printing stickers because of their lower cost. However, if you have a laser printer at home, you can use it for sticker printing.
Final Thoughts
Printing stickers, whether you do it professionally or for fun, is definitely made easier if you have the best sticker printer in your arsenal. We hope our extensive article could help you figure out which unit would serve your needs perfectly.
Patience and consistency are the main factors when it comes to printing awesome stickers. You will have to understand how the printer works and how it deals with different materials and ink. So, make sure to choose the right printer from the start.
Related to read: