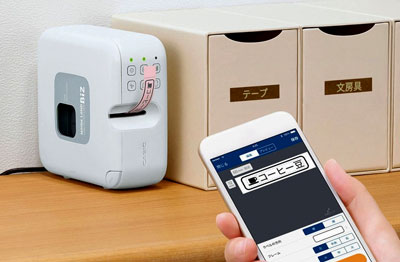 If you run a small business and sell a lot of stuff on eBay, having the best label printer for eBay or any of the major online selling platforms is a must if you want to grow your business.
You don't want to keep on taping USPS labels on your packages all the time.
Dedicated label printers do have a high price point, but that's the only investment you will have to make since these thermal printers don't use ink. And you already know that ink is costly.
If you want eBay label printers that are pretty much future-proof and will give you a good value, you can have a look at the following options.
Our Recommended Best Shipping Label Printers For EBay in 2021
Whether you are looking for an easy-to-use thermal printer or want something to print a lot of labels super-fast, have a look at these eBay label printers.
1. ROLLO Label Printer – Commercial Grade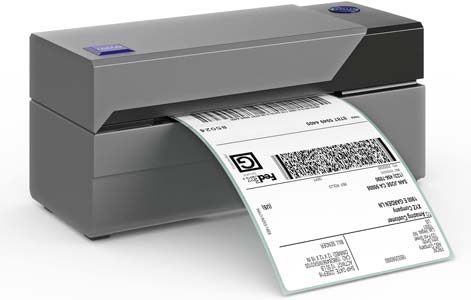 If you own a small business and need to print a lot of labels, you can rely on a commercial-grade printer like this one from ROLLO to make your label printing life easier. This label printer is easy to set up, use and maintain. Thanks to its commercial-grade design, it can print crystal clear labels all day.
It's compatible with mac and windows systems and allows you to print directly from any application. Also, you are not limited to using only proprietary labels since this machine will work with any direct thermal label. It has a printing speed that is twice as fast as the closest competitor without losing print clarity.
This label printer installs and works like a regular printer that allows you to print directly from Adobe PDF, browsers, MS Word, and other text editing software.
You can also print customized labels directly from all the major online selling platforms, including Etsy, eBay, and more.
Since you can use pretty much any third-party labels, including the ones you can get free from UPS, you will be saving hundreds, if not thousands of dollars, on label costs. Stop buying a printer that requires you to use proprietary labels that are highly overpriced and use ROLLO labels printer instead.
Highlighted Features:
Identifies labels automatically.
Works with all third-party labels.
It's easy to set up and works like a regular printer.
Super-fast print speeds up to 150 mm/s.
2. MUNBYN Thermal Label Printer for Ebay Shipping Labels
Spend less time worrying about the technical side of things and more time doing business with the MUNBYN thermal label printer. This one is hands down the best eBay label printer on the market that will bring more convenience to your business. It's the ideal label printing solution for small businesses.
It's easy to set up thanks to its almost plug-and-play installation. The design of this printer is truly commercial grade with amazing build-quality and durability. Thanks to the overheat protection design, this machine is capable of printing 700 sheets continuously. It will also automatically pause printing to protect itself.
Loading different sizes of labels are super easy and quick, and the device can automatically detect the characteristics and size of your labels.
It supports any thermal label size from 1.57-inch to 4.3-inch. With this machine, you can print high-quality shipping labels and barcodes using any size thermal label.
All you have to do is insert the label, and the printer will automatically catch and feed it. The best feature of this printer is its compatibility.
Your mac and windows system will recognize this one as a regular printer which allows you to customize and print labels directly from any software.
Highlighted Features:
Heat dissipation technology for continuous prints.
One-click, hassle-free installation.
Identifies, catches, and feeds labels automatically.
It can print up to 72 labels per minute.
3. DYMO 1755120 4XL Thermal Shipping Label Printer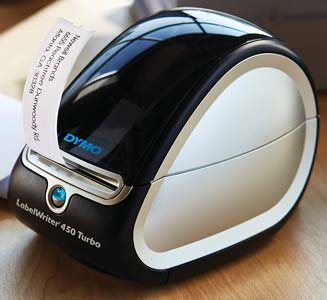 Quickly and easily print from different online selling platforms with this wide format label printer from DYMO. The Label Writer 4XL is a cost-effective and fast label printing solution that prints warehouse labels, extra-large shipping labels, different styles of labels for mailing, name badges, folders, and more.
As for label compatibility, you can use DYMO labels as well as other compatible labels from different brands. Make sure the label is compatible otherwise, it won't work. The best part about shipping from home is that it is cheaper than having to go to a post office. In the long run, this printer can easily pay for itself.
You can also save a lot of money by using generic labels that are compatible with this printer instead of relying on DYMO's own product.
By using the free software that it comes with, you can customize graphics and text and choose from over sixty professional templates to create and print high-quality labels for shipping.
If you want the best performance, it's recommended that you use authentic DYMO labels. This way, you won't have to worry about messing up your prints as the printer can automatically detect the sheets and print accordingly. As for its printing speed, it can print up to 53 address labels in a minute.
Highlighted Features:
Supports large-format labels and other popular formats.
Fast and efficient label printing solution.
Easy to use software.
Prints stamps and labels at the same time.
4. Comer EBay Shipping Label Printer
For a casual eBay seller, this is one of the most affordable thermal printers you can get your hands on right now. If you print more than a few labels every day, I will highly recommend this one. This commercial-grade printer is very cost-effective because it will work with most direct thermal labels.
You don't have to use any specific labels for this machine. Since it uses direct thermal technology, you won't need any inks or toners.
This printer has a good balance between clarity and speed. It's not very fast, but it's not very slow either. This one can print at a speed of 150mm/s to maintain speed and clarity.
As for the print head, this one uses a Japanese ROHM ceramic printing head. The feature I liked most about this address label maker is its automatic label identification. It can catch the label automatically and feed it into the print head. It accepts labels from 1.18-inch to 4.3-inch wide.
It's a fairly standard printer that works on both Mac and Windows PC. You can print labels from eBay, Etsy, Shopify, FedEx, Poshmark, and other major online platforms with this device.
With purchase, you will also get a label holder, which is required for roll-type labels. You can also use it for stack type labels as well.
Highlighted Features:
It can print up to 83 labels in a minute.
Heat resistant ceramic print head.
Easy setup and driver installation.
Detects and identifies labels automatically.
5. Arkscan 2054A Shipping Label Printer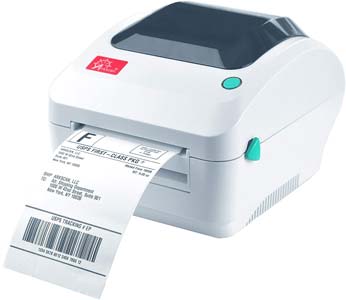 Print all of your labels with the Arkscan 2054A and witness the difference for yourself. It's the best thermal printer for eBay for a lot of reasons. It's the modern seller's choice because of its fast printing speed, crisp and clear graphics, and the ability to print using any third part label, including the ones you get free from UPS.
This shipping label printer for eBay makes doing business easier. This smart machine is capable of printing all kinds of coupons, product labels, shipping labels, thermal labels, barcodes, and more. This is a highly versatile label printer that prints just about anything you need to ship your products and earn money.
This label printing machine supports all popular shipping label software. You can print directly from UPS, eBay, FedEx, ShipStation, Stamps.com, from your browser, and even from PDF. This printer is also more ecumenical since you don't have to rely on any proprietary labels, which will end up saving you a lot on printing costs.
In just one second, the Arkscan 2054A can print high-quality four-by-six labels. With purchase, you will also get a free label customizer software that is easy to use. This software also supports barcodes, images, texts, and it can also generate unique serial numbers for each label automatically.
Highlighted Features:
It can print all label formats.
Comes with label making software.
Multi-functional printer that supports all third-party labels.
Precise and clear high-quality prints.
6. Brother QL-800 High-Speed Professional Label Printer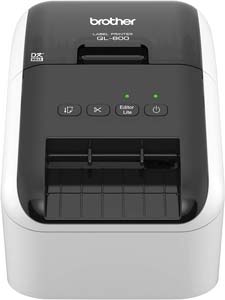 If you are looking for a professional label printer that can print labels really fast in high resolution, the Brother QL-800 is the right machine for the job. If you use their proprietary tape, which is the Brother DK-2251, you can even print black and red over the entire label. Now that's a feature you definitely want.
Moreover, this is the only office category label printing device that lets you print two colors at once. Combine this technology with its high-speed printing, and you have got a reliable, efficient, and professional-grade high-speed printer. Because of its direct thermal printing technology, you don't need to use any ink or toner.
This super-fast eBay shipping label printer is capable of printing 93 high-quality standard address labels while maintaining a 300DPI resolution. This will help you save time on big shipping projects, and you won't have to worry about the writings disappearing anytime soon because of the high-res prints.
This device has its own label customizer app that you can download for your android phone. However, you will need a USBtoGo cable for this if you want to print directly from your phone. You can also edit and print labels from MS word, outlook, and excel. Since it's plug-and-play, you don't need to install any drivers.
Highlighted Features:
Up to 93 labels per minute printing speed.
Compatible with windows, mac, and android devices.
Automatic label cutter built-in.
Capable of printing black and red labels.
7. MFLABEL Label Printer, 4×6 Thermal Printer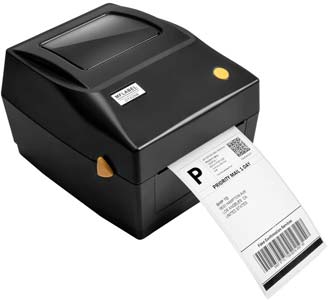 Experience fast and stable label printing speed in high resolution with this multi-functional thermal printer from MFLABEL. This device can be used for printing FBA labels, ID labels, warehouse labels, bulk mailing labels, shipping labels for eBay, barcode, and more in wide format.
This thermal printer for eBay shipping labels has a maximum print width of 108mm and a maximum print speed of 127mm/sec. This wide format printer uses a premium print head is perfect for printing 4″ x6″ shipping labels in bulk, and you won't be experiencing any paper jam.
With this device, you won't need a professional-grade label maker since this one is perfectly capable of printing labels in a variety of styles and sizes. You can use any direct thermal label with this machine which makes it perfect for Stamps, PayPal, Etsy, eBay, and other major online platforms.
It's easy to connect via USB cable and only supports Windows PC. Keep in mind that it's not Wi-Fi supported and won't work with mac operating system. It's very compact and easy to use. You will get a CD containing the driver for this printer with purchase. Also, the best part is that it doesn't require proprietary labels.
Highlighted Features:
Easy to set up and use.
A wide-format multi-functional printer.
Solid build quality and very compact.
It doesn't use proprietary labels.
8. DYMO Label Printer & Digital Scale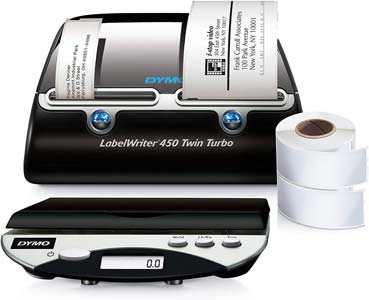 Label your packages, envelopes, mails, boxes, shipping, business, and more with the DYMO label printer. It's more than just a printer. This device comes with a digital scale so that you can accurately weigh your products and label them at the same time. This saves you a lot of time and increases efficiency.
The LabelWriter 450 Twin Turbo can simultaneously print two different sizes of labels. With this device, you can efficiently print postage or address labels without having to swap the label rolls. The machine allows you to quickly switch between rolls of labels and prints in precise quantities.
In addition to that, this thermal shipping label printer eliminates cost of toner and ink and the hassle of sheet labels. You can easily create and customize your labels directly from text using google contacts, notepad, MS Outlook, Excel, and Word and print them directly via this device.
What makes this one better than most other label printers are its ability to hold and print from two label rolls. If you are a large volume seller on eBay and need to print different sizes of labels, this device can greatly increase your printing efficiency. As a bonus, you will also get a digital scale.
Highlighted Features:
It's capable of holding two label rolls.
Dual-roll capability.
It can print barcodes at a resolution of 600×300 dpi.
It has a print speed of 71 labels per minute.
Top 8 eBay Label Printer Comparison Table
| | | | |
| --- | --- | --- | --- |
| | | | |
| ROLLO Label Printer - Commercial Grade | | | |
| | | | |
| DYMO 1755120 Label Writer 4XL Thermal Label Printer | | | |
| Comer Shipping Label Printer - Commercial Grade | | | |
| Arkscan 2054A Shipping Label Printer | | | |
| Brother QL-800 High-Speed Professional Label Printer | | | |
| MFLABEL Label Printer, 4x6 Thermal Printer | | | |
| DYMO Label Printer & Digital Scale | | | |
Label Printer For eBay Buying Guide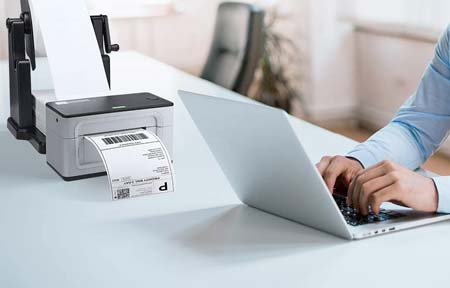 It will take a bit of time and research to find the right thermal printer for your online business. However, once you have found the best printer for eBay labels, the cost and investment of patience will soon pay off in the end.
The right thermal label printer will greatly simplify your label printing process, and you will soon be on your way to a worry-free, fast, and simplified label-making process. That being said, you will have to know how to find the right label printer for your business.
A high-quality thermal printer will always print out high-quality labels. This, in return, will make your packaging more professional. A neat-looking package will make your business appear to be more professional.
When it comes to product or shipping labels, eBay is notorious for maintaining some standard rules. If you want your trading to go smoothly, you will have to make sure the labels are crisp and clear. For that, you should not settle for anything less than the top-label printer for eBay.
Resolution
300DPI is the highest resolution you will find on a thermal label printer. While this is the maximum, a printer with a 200DPI resolution will be more than enough to print out professional-looking labels. The main goal here is to get a printer that will print clear and crisp labels.
This way, most major online selling platforms will approve your package for delivery. Poor quality labels might wear out during shipping which will result in lost product/shipping. Inexpensive thermal printers with a low resolution might be tempting to buy at first, but they will cost you a lot in the long run.
You will be able to tell the maximum resolution of a printer by looking at the DPI number. DPI stands for dots per inch. Higher is better. The minimum DPI that is acceptable is 200; anything below that, and it's not worth buying that label printer.
Label Compatibility
There are some label printer manufacturers that will recommend you use their proprietary labels. However, that's a trap that you don't want to fall into. The thing is, their label rolls will cost a lot, and in the long run, you will end up paying more buying label rolls.
You should look for a printer that can accept any third-party sheets. This way, you can buy a lot of label sheets cheap and save a lot of money on printing costs. Thermal printers don't use ink or toner. Instead, these printers print by using direct thermal transfer technology.
In this sense, any label sheets should be able to work with the printer. Also, if you sign up on UPS, you will be able to get free rolls of labels from them. That's why you should not stick with a specific brand.
The most cost-effective solution would be to buy a label printer that can work with every kind of thermal label roll.
Size & Weight
Most thermal label printers are small in size. Unlike your regular printers, these label printing machines are compact and lightweight. That is because these machines don't use any toners or inks. However, some commercial-grade label printers are somewhat large.
Also, you will find machines that are capable of printing two different sizes of labels simultaneously. Since those machines have two print heads, they will be bigger than your standard label printer.
Now, for a small business, you might want a printer that is capable of printing a lot of labels in one go. This means you will have to opt for something that is commercial grade. If you want to print labels on the go, you can use smaller devices that are lightweight and more portable.
Print Speed & Format
If you sell a lot of items on eBay, you might want to consider a printer that has a fast printing speed. For example, there are thermal label printing machines on the market that can print up to 92 labels in a minute without any distortion.
Also, ensure that the printer you are choosing is capable of printing different sizes of labels. You will need to be able to print different types and sizes of labels. That's why having a wide-format label printer comes in handy because those printers are capable of printing different label formats.
Installation
Most printers on this list are compatible with windows and mac systems. The best ones will offer one-click installation and easy setup. However, the cheaper ones will give you a hard time configuring the device to work with your computer.
Most printers on this list have a straightforward installation. You will need to connect the printer to your computer via a USB cable, and a setup window will popup. Install the proper drivers, and the printer should start working immediately.
Price
When it comes to price, these printers don't come cheap. This is because printers are costly, and the only reason why regular printers are cheap is that manufacturers sell them at a loss and make up their profit by selling inks and toners at an absurd price.
Since label printers don't use ink, they are typically expensive. However, this will be a one-time investment because, after that, there will be no printing cost except for the label rolls. You can further reduce the printing cost by using free label rolls that you can get by signing up for UPS.
Also, a lot of people are working from home and running their business online right now, and that further increased the demand for this type of printer. 
Benefits Of Using Label Printers For eBay Sellers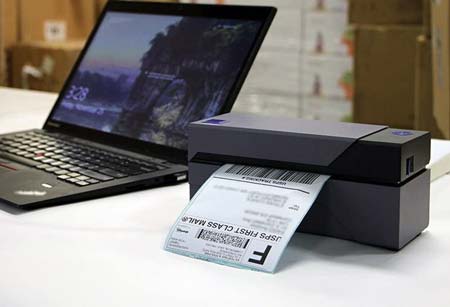 If you have a small business or you are a large volume seller, these printers for eBay shipping labels are something that you can get years of usage and save money in the long run because printing your own labels is a lot cheaper.
Along with home businesses, these thermal printing machines can also be used for commercial purposes as well as other online platforms that need printing in the PDF 4×6 platform-specific label.
There are a lot of reasons why you should use the best shipping label printer for eBay.
It is actually a lot faster because you can mass print out your labels really fast. It's also cheaper, quicker, and easier to do thermal printing.
Thermal printers don't require ink since the printer doesn't take any ink; your initial investment is on the printer and the labels.
In the long run, thermal printers made for printing labels end up cheaper if you consider the cost of ink and paper.
If you sign up for UPS delivery, you will get free labels from them. And if you have a thermal printer that accepts third-party labels, you will be able to save a lot on printing costs.
With thermal labels, there is no cutting involved. There are special rolls that have their own adhesive. You won't have to peel, pull, or apply any glues to your sheets.
Thermal printers are usually smaller and cheaper, and more power-efficient than regular printers.
Label printers aren't super cheap, and even the low-end models cost around 100 bucks, but it's definitely an investment because you are going to get your money back pretty soon.
Tips To Print Perfect Label For eBay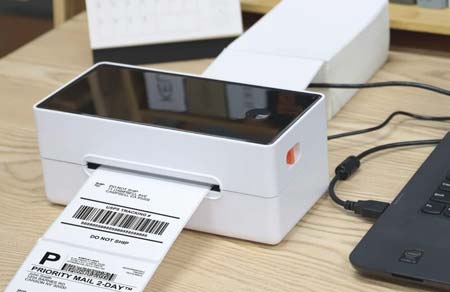 The cornerstone of eCommerce and online shipping business is to print high-quality and perfect shipping labels at home. On eBay, you can print your own shipping labels for all the items that you have sold and save time and money.
It's also cheaper in the long run if you let eBay handle all the label printing tasks. Their negotiated rates allow you to save more money on printing costs, and it ends up being cheaper than what you would typically pay to a carrier or at the post office.
So, my primary suggestion would be to let them handle it. Another advantage here is that you won't have to stand in line. If you are a managed payments seller, they will add the cost of printing to your invoice.
1. First of all, you will need to sign up for UPS Savings Program For eBay Sellers.
2. If you want to learn how to print labels on eBay, follow this link: Printing And Voiding Shipping Labels.  
This is the hassle-free method of printing labels for eBay on eBay. Additionally, you can also print your own labels at home using a label printer.
Frequently Asked Questions
1. Can I use inkjet printers to print labels?
Yes, but you shouldn't do that because inks are expensive, and you will end up spending a lot of money just buying inks and papers. On the other hand, a label printer will allow you to do all the printing work at a fraction of the cost and also more efficiently.
Using an inkjet printer to print all your labels is like throwing away all your money. Since more and more people and doing business online and from their homes, you will need to find more efficient methods of printing labels, and this is where a thermal label printer comes into play.
If you are currently using a regular printer to print labels, stop doing that. Throw it away and invest in a proper thermal printer. Your workflow and your wallet will thank you. You will be glad you made the switch.
2. How to print 4×6 shipping labels using a thermal printer at home?
If you want to print your own labels at home and have a thermal printer, you can follow these tips below to print out high-quality shipping and address labels. Although you can use different printers to print out labels, the best way to do that is to use thermal labels.
Make sure you are using 4×6 adhesive labels and a label printer. I always use a label printer because it makes the whole process so much easier. It's also highly convenient, and that's why it's my favorite way to print addresses and shipping labels.
Also, since these printers are designed to work with thermal label rolls and sheets, all you have to do is customize the label, put all the necessary information, and press the print button.
3. What is the ideal size for a label printer?
When you are shopping for a label printer for eBay, weight and size are an important factor because you will be moving around a lot, and when you are dealing with a lot of packages, space is an issue.
Ideally, you want a printer that will take up less space on your table. However, you shouldn't go for the lightest or the smaller label printer on the market. Having a bit of extra weight will help keep the printer stable during printing.
Final Words
If you have chosen to sell on eBay, you will have to use the best label printer for eBay to handle all your label printing tasks. By now, you already know that a thermal printer is better than a regular printer for a lot of reasons.
If you are just starting your online business, the ROLLO label printer is an excellent choice for sellers. It's a commercial-grade unit that is efficient and has a fast printing speed.