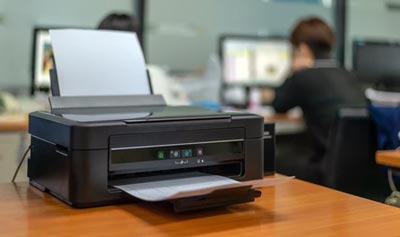 In the world of business and commerce, it is imperative that you have a printer for legal documents.
If the printer is not efficient enough, you will suffer from a loss of working hours and resources. That is why you must add the best printer for legal size paper in your department.
For people in the legal business, having faulty or inefficient machines can ruin your work performance and thus your reputation. Printing legal documents is one of the core functions any office has to maintain.
Now comes the question – How to choose the printers that print legal size paper? Our review guide will help you with that.
5 Best Printer for Legal Size Paper 2021
We present the most feature-rich printers for legal size paper in 2021. We have also included a precise buying guide for finding a legal size paper printer. To help you find the finest legal printer, we have reviewed and evaluated our top 5 picks.
1. HP OfficeJet Pro 8025 Legal Size Paper Printer
HP brings its one of the best inkjet office printers, HP OfficeJet Pro 8025. Thanks to the HP Smart App, you can continually monitor your printer's status and print, scan and copy from your smartphone on the go. How convenient!
The unit is fast and efficient in printing legal documents. It can print up to 20 pages per minute. It also features automatic two-sided printing, which adds to productivity.
The unit can also organize your documents using cloud-based innovative task services. This legal size scanner printer copier combo is one of the best in its trade.
It is also designed for smaller work environments. The printer takes up little space, leaving you a breathing room in your workplace. The 35-sheet automatic feeder lets you work more efficiently.
With an input-output capacity of 225 sheets-60 sheets, you can be done with a large pile of papers faster. The 2.65-inch colour touchscreen allows you to operate the machine comfortably.
Highlighted Features:
Embedded HP smart app allows to print, copy and scan on the go.
A stable and reliable Wi-Fi connection system ensures constant connectivity.
Guarantee of Genuine HP 910 ink delivered to your workplace for a monthly subscription.
Built-in security protection secures your data, documents, and network encryption.
Compact design makes it more portable and saves space.
2. Brother MFC-L8900CDW Business Printer for Legal Documents
If you are looking for a good laser printer for printing large volumes of documents and legal size papers, the Brother MFC-L8900CDW  printer is the answer. This gigantic device can print up to 33 pages per minute, boosting your work rate.
Made for heavy-duty works, this one has a 250-sheet capacity paper tray holding up to 1300 pages adding multiple paper trays. With a maximum monthly duty cycle of up to 60,000 pages, this machine is built for an enormous workload.
Added Wi-Fi connectivity and gigabit ethernet support let you print, scan and copy from anywhere you want. Its advanced scanning option gives you the freedom to scan large documents and creating pdfs. This printer is also capable of minimizing your printing cost. Its efficient inking capabilities save you a lot of cartridges.
Highlighted Features:
Capable of printing large volumes of documents efficiently.
A 5-inch colour touchscreen gives you more accessibilities while operating.
250-sheet capacity input trays for faster processing.
Both wired and wireless connectivity for printing and copying effortlessly.
Triple-layer security to safeguard your documents and network protocols.
3. Canon Color Image CLASS LBP622Cdw
Canon is widely famous for its reliable printers. Canon Color Image CLASS LBP622Cdw is no exception to this. This printer's main selling point is that it is compactly designed for small works.
Also, this thing is easier to set up, and five different devices can connect to this model wirelessly. It can be easily considered as the best legal size printer.
Made for light work, this laser printer is mobile-ready. You can print from this printer just by being connected with the same Wi-Fi network as your phone. It can create its hotspot and connect with your devices without needing an extra router or print server.
Print up to 22 pages per minute with this superb device. It offers excellent performance and high-quality prints and has the capacity of 250 sheets in the standard paper tray.
The LBP622Cdw printer uses Canon Genuine Toner 047 Black, a premium toner to give you exquisite print quality while printing legal papers.
Highlighted Features:
Excellent wireless connectivity with multiple access points.
Print from your mobile devices easily.
Compact design makes it suitable for tight workplaces.
Fast printing ability, print as fast as 10.3 seconds only.
All-in-one cartridges minimize overall supply cost.
4. HP ENVY Pro 6455
HP offers its newest edition HP ENVY Pro 6455 printer for home and office alike. Its attractive feature is its simple yet engaging multitasking ability. Being an inkjet printer, it saves your printing cost but can deliver a bit slowly. Printing legal size papers is efficient enough with this thing.
HP ENVY Pro 6455 has a printing capacity of up to 10 pages per minute. A hands-free-automatic 35-page auto-feeder lets you breeze through documents easily. It is easier to set up thanks to HP Smart App.
Using this software, now you can print, scan and copy legal documents from anywhere. You can also share and download documents to Google Drive or dropbox using the app.
Equipped with a flatbed scanner, this model has excellent connectivity accessibility. It can work via Dual-Band Wi-Fi, Bluetooth, and even USB flash drives. This certainly adds to more productivity.
Highlighted Features:
Wi-Fi, Bluetooth, and USB flash connectivity for more accessibility.
Automatic two-sided print, scan and copy feature.
An automatic 35-sheet document feeder saves your time and effort.
Send Fax from your mobile devices using HP Smart App.
High-quality printing using HP 67 Ink series.
5. Lexmark C3224dw
Lexmark C3224dw is truly a masterpiece in its trade. With an excellent colour DPI and print quality, this printer is also designed to be compact so that it fits into any small workspace.
Its duplex printing capability and efficient inking are going to boost your office's productivity. In short, this model a great contender for the best printer for legal size paper title.
With a single-sheet feeder and 250-page capacity tray, this model takes up a little space. It can print up to 24-pages per minute. Thanks to both wireless and wired connectivity, you don't have to depend on any particular method anymore.
Lexmark also provides its Lexmark Mobile Print app for further convenience. Lexmark's print quality is always applauded. It offers 4800 colour quality (600×600 dpi) for both black and colour prints.
The unit is exceptionally energy-efficient. Lexmark has integrated an intelligent sleep-mode feature in this printer. In sleep mode, it only spends 0.86 watts per hour.  This one goes from sleep to print to sleep automatically. It is a perfect printer for legal documents.
Highlighted Features:
Excellent print quality that gives you rich, vibrant colours in seconds.
Compact design makes it suitable for most workplaces.
Energy efficiency reduces production cost by a mile.
Wireless and wired connectivity for enhanced performance.
Standard automatic two-sided printing.
Comparison Chart of Top 5 Legal Size Printer
| | | | | |
| --- | --- | --- | --- | --- |
| | | | | |
| | | | Envelopes, Plain Paper, Glossy Photo Paper | |
| | | | Envelopes, Paper (plain), Card stock, Labels | |
| | | | | |
| | | | Paper (plain), Glossy photo paper | |
| | | | | |
Printer for Legal Size Paper Buying Guide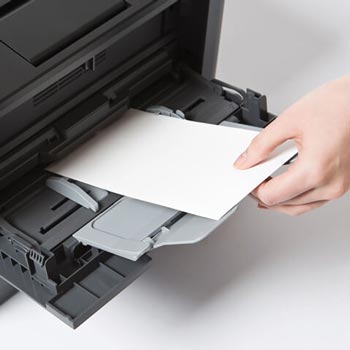 When you are looking to buy the best printer for legal size paper, you need to be wary of a few criteria. Just by spending a lot of money, you will not get the most prominent printer for your office. You have to consider your requirements for a printer. Let's get to know them.
Inkjet or Laser?
When buying any printer, the first question to cross our minds is whether to buy inkjet or laser?
Both of them come with different advantages and disadvantages. You have to know which you are compatible with.
Inkjet printers layer liquid ink on papers to print and copy, whereas laser printers use a heated laser to apply toner. Laser printers are fast and also have a lower cost-per-page. They are made for printing large volumes of documents within a short time. However, laser printers cost a lot compared to inkjet printers.
Laser printers are often unable to print coloured copies too. In this case, inkjet gets the upper hand. Inkjet printers can print excellent grade colour prints, and they are cheaper.
But these printers can not print a lot of documents and have a high cost-per-page. Inkjets also deliver slowly. All things considered, a laser toner printer should be the preferred machine for most offices. A reliable black & white printer can get your office through thousands of pages each month without a sweat.
Printing Capability
A printer's printing capability depends on how fast it can print pages. The unit most used is PPM or pages per minute. A printer's PPM determines its efficiency. For most offices, a higher PPM is recommended as it boosts production rate, and a faster printing rate saves time.
Maintenance
A printer is the heart of any workplace. If it is having a technical breakdown or out of service for whatever reason, it ruins the workflow. That is why you need a reliable machine that is easy to maintain and resupply. Also, look for a printer with reliable and easy-to-find components if you need to change them.
Cost Per Page
If you have to print a whole lot of legal documents per day, you have to consider the cost per page. You can't afford to spend extra money on printing.  It would be best if you got a printer that uses cost-effective toners and cartridges. Doing so reduces supply costs.
Some printers are more efficient in inking than others. Some printers are also more energy-saving and minimize the overall cost. You should take this into consideration.
Paper Sizes and Types
Not all printers can print and accommodate all types and sizes of paper. It would be best if you got a machine for your needs particularly. There are various types of papers, such as inkjet paper, Laser Printer Paper, Matte Paper, Glossy paper, Cardstock paper, etc.
You have to choose the printer for the exact paper type you will be working with. The particular size we are talking about is legal size paper. Officially in the US and Canada, a legal-size paper is 8.5×14 inches.
You need to look for printers that print legal size paper. Most all-in-one printers have the ability to print legal size papers along with other sizes.
Extra Features
These days printers offer multiple extra features like cloud-based services, wireless connectivity, additional security protocol, on-the-go printing and scanning, and many more. It doesn't hurt to have some extra advantages with the printer—the more, the merrier!
Read our related article on How to Get Printer Ink Off Hands. Remove ink stains with these quick and easy tips and tricks!
Frequently Asked Questions
Can all printers print legal size papers?
Not all printers are perfect for printing on all sizes of paper. But most printers can print on the legal size. You have to change the settings from the navigation panel of your printers that print legal size paper.
Which type of printer is best for printing legal size papers?
Laser printers are fast, and their heavy-duty working cycle makes them the best fit for printing legal size papers. They also have a low cost per page.
Which are the best companies for printers?
Multiple companies provide excellent printers for your work. They each have distinctive traits and features. If we are talking about the most popular brands would be HP, Brothers, Cannon, Lexmark, and Epson legal size printer.
Are my documents secure in a printer?
Yes. All printers come with a security feature to keep your documents, data, and network protocols safe. It prevents data from leaking and hacking.
How to replace my toners and cartridges?
Unfortunately, every printer has its own method of replacing the toners and cartridges. There is no universal method to do this. Please consult the company customer care and support to know about how to replace toners and cartridges. You can also find it in the manual book that comes with the machine.
Final Words
Choosing the best printer for legal size paper is crucial, and I hope reviews have been of help.
For office works, our best pick would be the Lexmark C3224dw Color Laser Printer. It can print faster with excellent colour copies while being efficient in inking and energy-saving.
Another good pick would be the HP OfficeJet Pro 8025 for its unique HP Smart App.
Hopefully, you now know how to choose your printer. We would be delighted if this article helped you even a bit. Always stay productive and efficient.