When you've got tons of things to print, but you're stuck with a printer that takes ages to get something done, you would probably spend most of your time cursing at the machine. The poor thing is indeed giving its best, but it can't do more than it can handle, right?
If it is the speed you're looking for without sacrificing printing quality, then you should get a laser printer. Add an extra tray component to it, and you'll be printing with astonishing speed.
Allow us to introduce you to the best dual tray laser printer units on the market so that you don't have to go on a wild hunt!
| | | | |
| --- | --- | --- | --- |
| | | | |
| | Brother Business Color Laser Printer, HL-L8360CDWT | | |
| | HP LaserJet Pro M426fdw All-in-One Wireless Laser Printer | | |
| | Brother Monochrome MFC-L5900DW Laser Printer | | |
| | Brother Monochrome Laser Printer, HL-L5200DWT | | |
| | HP LaserJet P3015X P3015 CE529A Laser printer | | |
Top 7 Recommended Best Dual Tray Laser Printer Reviewed
Take a look at our list made with a wide range of multi tray printers that are worth considering. We've got printers for both your home and work so that you don't have to look elsewhere!
1. Brother Business Color Two Tray Laser Printer
In our opinion, the Brother Business HL-L8360CDWT is the best dual tray laser printer because it offers excellent performance at a budget. Thanks to its sleek and attractive design, it's sure to fit your office décor. You can set this thing up and start printing in no time.
This model works with incredible speed as it will print both black and color papers at the rate of 33 pages a minute. Even so, the quality will remain untainted, so you'll be getting high-quality printing results every time. Moreover, the colors will be vibrant. Any document you print with this one will be super clear.
It comes equipped with dual trays, each capable of loading 250 papers. So, that's 500-sheet capacity overall! As a result, there will be a lot less waiting time when you need a massive amount of prints.  What's more, you can expand the capacity to 1,300 by installing extra trays.
Aided by the automatic duplex printing feature, it can provide professional results at a reduced cost. With the WiFi and Ethernet connectivity, you can share the printer with other devices by easily connecting it to a network.
Highlighted Features:
Sports a large 2.7" touchscreen display for easy navigation.
Features an advanced security system to prevent unauthorized access.
Allows printing from mobile devices.
Offers super-fast printing and comes with a 500-sheet capacity.
2. HP LaserJet Pro M426fdw All-in-One Wireless Dual Tray Printer
The HP LaserJet Pro M426FDW is a multifunction printer that outperforms most of the devices of its caliber without emptying your wallet. You'll get outstanding speed out of this thing without sacrificing the quality. Overall, it's a superb dual tray laser printer all in one.
Aside from its attractive design, this model is sure to leave you in awe with its remarkable print speed. You'll be printing 40 pages per minute. Once you've got it in your office or home, slow printing will be a thing of the past! Additionally, it offers fast scanning, copying, and faxing performance.
You can easily fit up to 350 sheets into this dual tray laser printer scanner and freely print up to 4,000-pages per month, making it ideal for home and small business use. If equipped with HP's toner cartridges with Jet Intelligence feature, you'll be able to get more pages out of it.
Connecting this product to your network will feel seamless as it features WiFi and WiFi Direct connectivity. So, it can be shared between multiple users. Furthermore, it even lets you print right from your mobile devices.
Highlighted Features:
A high-speed multifunction monochrome laser printer.
Built with a large 3" touchscreen display for easy controlling.
Offers two-sided printing for even faster operation.
Allows you to print wirelessly and scan right to your cloud storage.
3. Brother Monochrome MFC-L5900DW Double Tray Laser Printer
This is one of the best dual tray printer units available on the market today, offering professional quality monochrome printing at super-fast speed. It will help you move forward in business as you'll get to print everything without having to wait.
The reliable performance of this unit comes from a plethora of unique features. It can send the scanned documents right to your cloud storage.
With the auto duplex printing feature combined with an astonishing print speed of 42ppm, you will get to complete large volume printing in almost no time.
You can control everything and navigate through the menus easily using the clear and large 3.7" color touchscreen display. Even if you're new to printers, you'll still find it pretty easy to operate. You can store up to 300 sheets, which prevent frequent reloading.
In addition to fast printing, it can help you cut down the cost as each replacement toner cartridge set allows you to print 8,000 pages.
Highlighted Features:
70-page ADF offers fast scanning and copying.
Allows you to share the printer using WiFi and Ethernet connectivity.
Capable of high-quality printing monochrome.
Prints with 42ppm speed for fast and efficient printing.
4. Brother Monochrome Laser Printer, HL-L5200DWT
When you've got a considerable volume of documents to print, you need a fast and efficient printer like the HL-L5200DWT to help you sweep through the task. That's because it offers swift printing without getting interrupted and in sharp resolution.
This double tray laser printer reduces the rate of paper refills using the total capacity of 520-sheet. So, you can easily give it the command to print a large volume of papers.
Thanks to the 42ppm print speed and automatic duplex printing, it won't take up much time to provide outputs. It's especially suitable for handling huge tasks.
Aided by the Ethernet and wireless connectivity, it quickly gets into your network and becomes available to be shared by multiple users and multiple devices. Even though it prints out everything relatively fast, there is no loss in quality. The results will always be crisp and clear!
You can depend on this product whenever you've got a workload. It's pretty cheap too, so buying this won't put much pressure on your wallet!
Highlighted Features:
Offers high-speed duplex printing at the rate of 42 papers per minute.
Boasts dual trays for added convenience.
Designed to get into any network with ease.
Comes with an advanced triple-layer security system.
5. HP LaserJet P3015X P3015 CE529A Dual Paper Tray Printer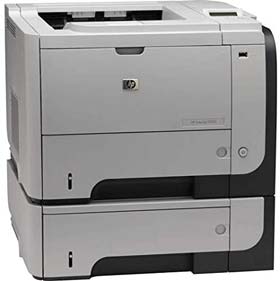 When it comes to superior performance and durability, HP is a brand you can put your faith in completely. It's designed to print documents with remarkable speed and excellent resolution to make your life easier.
You won't be able to get much of your work done if printing takes out most of your time. That's something this two tray laser printer is committed to eliminating. You'll be able to get back to your work faster as this thing prints at 42ppm speed with the help of a powerful 540 MHz processor.
Furthermore, it can print at the maximum resolution of 1200 x 1200 dpi, which is remarkably straightforward. So, you don't have to worry about the print quality ever. You'll get to load up to 1100 sheets into the trays, allowing you to work with more convenience.
This product will seamlessly get into your network so that you can share it with others. The advanced security feature will give you peace of mind as your valuable information will be protected, and access will be limited.
Highlighted Features:
Boasts a powerful processor for high-speed printing.
Prints in high quality with decent resolution.
Features HP's advanced security system.
Comes with a large paper capacity.
6. Brother Monochrome MFC-L5700DW Laser Printer
If you're looking for reliable performance and versatile connectivity, then look no further! The Brother Monochrome MFC-L5700DW comes with everything you want in the best dual tray printer.
In addition to being an excellent laser printer, this unit is also an advanced scanner that allows you to send the documents right to your phone. Of course, you can print from your mobile devices as well thanks to the wireless connectivity. It can enter into your Ethernet network as well.
Your documents will be printed and ready in no time as this thing prints at an impressive rate of 42 papers per minute. Don't worry, there will not be any loss of quality. Although it comes with a 250-sheet capacity, you can expand it to get up to 520-sheet capacity which is pretty amazing.
Overall, this is a decent product that's equipped with lots of amazing features. For secure printing performance, there is even a triple layer security system.
Highlighted Features:
Offers easy operation using 3.7" color touchscreen display.
Allows mobile printing as well as scanning.
Prints with an excellent speed of 42ppm without any trouble.
Easily shareable after connecting it to a network.
7. Brother HL-L6200DWT Wireless Monochrome Laser Printer
Breeze through high volume printing with the Brother HL-L6200DWT laser printer. It offers fast and reliable printing whenever you want without jamming up or slowing down!
This model is perfect for busy offices where you need tons of printing every day. For that, you'd need incredible speed if you don't want to slow down your business operations. That's exactly what you'd get from this product. With 48ppm print speed, finishing the heavier workloads won't take up all your time.
The versatile connectivity comprised of WiFi and Ethernet makes it a convenient unit, allowing you to easily share it with others. It will even take print commands from mobile devices. Additionally, this thing features an excellent security system to disallow unauthorized access.
Highlighted Features:
Prints fast with impressive quality.
Equipped with dual trays that offer 520 paper capacity.
Allows mobile device printing.
Comes with a decent security system for added protection.
Comparison Table of Dual Tray Laser Printer
| | | | | |
| --- | --- | --- | --- | --- |
| | | | | |
| | | | | |
| | | | | |
| Brother Monochrome MFC-L5900DW | | | | |
| | | | | |
| | | | | |
| Brother Monochrome MFC-L5700DW Laser Printer | | | | |
| | | | | |
How to Choose Right Dual Tray Laser Printer?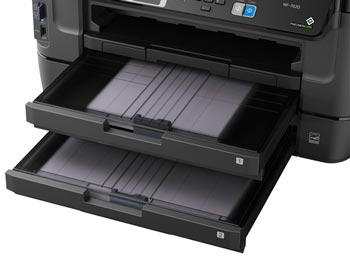 Not every model in the market will deliver what you're looking for. Some are downright tacky that comes with issues and fails to live up to the expectations. However, if you keep your wits about you, you can easily choose the best dual paper tray laser printer.
Capacity of the Tray
Since you're looking for a dual tray laser printer, you're looking for something that is capable of holding more paper than average printers. So, when you're in the market, be sure to check whether its dual tray or not among other things.
The trays can be differently designed so make sure they match your preference. For instance, some can hold an equal amount of sheets while others can handle print media sporting different shapes as well as weights. You can even find multipurpose trays that are designed for dealing with specialist media types.
Print Resolution
No matter how fast the printer prints, it holds no value unless the printed documents are clear and sharp-looking. What's the point if you can't read or understand what you've printed? That's why the print resolution is extremely important.
Although a resolution of 600 x 600 dpi is enough for giving you clear results, you actually want at least 1200 x 1200 dpi for the truly sharp monochrome documents. But that won't be enough for color printing. Make sure the printer offers at least a resolution of 2400 x 1200 dpi if you want the printouts in color.
Output Tray
When you're working with the best two tray laser printer, you're going to be placing a lot more pressure on the output tray. Therefore, it must be designed to handle a huge amount of load.
Otherwise, it will quickly fill up and your documents will start flying around. You'll be struggling with picking up the papers from the floor and organizing them after every printing session. So, before purchasing, make sure the output tray is capable of handling pressure.
Duty Cycle
It is extremely important to know the duty cycle of your printer as it represents the number of pages a printer can print per month. You want to print less than the duty cycle states. Overprinting can wear your printer out and you might have to get a new one sooner than you want.
You will find the duty cycle to be separated in recommended and maximum. It's best to not print more than the recommended duty cycle dictates although the maximum duty cycle may be a lot higher than that.
People Also Asked (FAQs)
What's the difference between a laser and an inkjet printer?
A laser printer uses toner to print while an inkjet printer works with inks. Laser printers are faster than inkjets and designed for high volume printing. However, they are more expensive to maintain. Inkjets, on the other hand, are ideal for low volume printing and offers superior printing quality.
Do printed results from a laser printer last longer?
As a matter of fact, they do. Toner is more durable than ink; so they are likely to survive longer. However, it's far more expensive.
Can laser printers print high-quality photos?
Laser printers can definitely print high-quality photos. There are some really high-quality laser ones that can print photos with excellent quality. You just have to find the right one to do the trick.
Do I have to get special papers for my laser printer?
Both inkjet and laser printers can work with the same kind of paper. You can squeeze in the cheap office copy papers and get printed results. However, there are some specialized papers that will enhance the performance.
Is it okay to opt for multifunction printers?
Of course, the finest dual tray laser printer all in one will offer equal printing, scanning, copying, and even faxing performance. You just have to be a little careful in choosing a high-quality product because offering multiple functions isn't an easy task.
What is the perfect dual tray laser printer now?
The "Brother HL-L8360CDWT Laser Printer" is one of the best dual paper tray printers due to its top-notch quality, excellent performance, and remarkable efficiency. You can rely on it to offer fast and clear printouts.
Final Words
The best dual tray laser printer will allow you to complete your printing projects with excellent speed. Printing will no longer take up all your time. If you want a seamless printing experience, there is no alternative to investing in a decent laser printer.
Other printer related article: