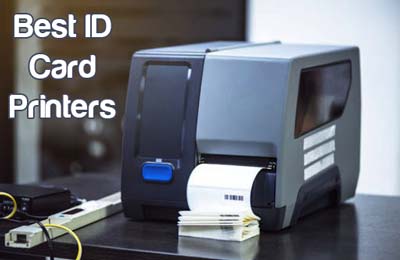 In this age of big data and analytics, it's important to put an identity on everyone and everything for security purposes. Therefore, both individuals and business entities need a formal ID card for professional, social, and other activities.
Many organizations need ID cards in a huge quantity for their employees and often they need these within a very short time. Such situations make it difficult to go to a vendor and have these cards printed. This is where ID card printers come in handy.
The best ID card printers save time, provide professional outlook, and can be tailored to print according to your needs. With so many brands of ID cards available, how do you know which one is the right for you?
This article has been put together after in-depth research on the ID card printers widely available in the market. The user reviews have also been taken into account so that you can make a wise decision. If you want to know the details, read on to learn more!
What To Look For Before Buying ID Card Printers?

Buying an ID card printer should be a long-term investment as it's not something that you would want to replace before it has run its time. Therefore, you need to pay careful attention to some factors before buying a printer for ID cards. The following will reveal the details-
Space
Determine the space where you will keep your printer as that will give you an assessment of the size of the printer you should choose. You will most likely use the printer often and therefore, your space should be such that it's easy to access.
Number Of Prints
Before you purchase a printer for ID cards, make a rough estimate of how many cards you will need the whole year. Since all printers don't have the same capacity, you should pick one depending on the number of cards you need.
It may not only be ID cards for the employees that you need. Many organizations keep cards for visitors or offer loyalty cards to long-term customers. So, you need to factor these in when you calculate the number of cards you need per year.
Speed
The speed at which a printer can churn out ID cards varies from machine to machine. While some may take hardly 10 seconds to print an ID card, others may take up to 35 seconds. Depending on how fast you want your printer to do the work for you, choose one that's appropriate.
The speed of a printer also depends on whether you're taking monochrome or colored prints. Monochrome printers have a faster processing speed as they work with only one color.
Design
You could choose a printer based on whether you want a single-sided or a double-sided ID card. The former type is enough for basic information like name, designation, ID number, and a photo.
If you want to add more information like address, blood group, etc. then you need a printer that can print information on both sides of a card at the same time.
Color
Many printers print only in black or any other single color like red, blue, etc. Others can give you ID card prints that have as many colors as you want. Monochrome or single-color printers work faster than the other type. Select a printer depending on the colors you want on the ID card.
Software And Technology
The best ID card printer models usually come with simple software for easy operation. They enable you to customize templates easily.
A printer uses either a DTC or direct-to-card technology or reverse transfer technology. In DTC, the printer prints directly on the card through a process called dye-sublimation. This technology is faster but leaves a small white border around the image.
DTC allows you to control the temperature and color settings.
On the other hand, reverse transfer technology takes more time as it involves two steps. The text or image is transferred first on a clear film in reverse. Then the printer applies enough heat and pressure for the image to be transferred to the card.
The reverse technology of printing creates images that are brighter, sharper, more durable, and resist the effects of moisture.
Encoding
Encoding is the process of storing important identification data inside the component of an ID card. Not all printers come with this high-end feature.
Due to security reasons or the nature of the work, you may need to encode ID cards. In that case, pick a printer that can print encoded ID cards.
Best ID Card Printer Reviews: Our Top 12 Picks!
1. Magicard Pronto ID Card Printer
All that you need for ID card printing comes in this compact but useful package!
Make photo, ID, membership, or loyalty cards at the touch of a button with this card printer. The machine prints single sides and comes with its easy-to-use software, full-color ribbon, photo ID camera, and 300 PVC cards. You can either take a photo or use your images and designs.
Choose from either a colored or a black-and-white photo ID for printing. The former takes 35 seconds while the latter type a mere 6 seconds. Just follow the enclosed instructions for simple plug-and-play operation.
Compatible with both Mac and Windows, the USB port and the LCD screen make it easy for an out-of-the-box function. For more security, there are four watermark designs you can select that will discourage unauthorized copying.
The compact design of the printer makes it easy to place in a corner of your home or for medium and small businesses. It can print up to 500 cards per year and is guaranteed to be durable.
You can print a host of cards with this ID maker machine – key cards for hotels and motels, promotion cards, student and employee IDs, membership cards, and gift cards. All these with a professional-grade print to reflect the quality of your organization.
The software included makes it easy for beginners to design and take prints. There are built-in templates to choose from and you can drag and drop images and texts to add customization.
Highlighted Features:
Windows and Mac compatible for flexibility.
Includes a photo ID camera for convenience.
Single-sided printing with watermarks for greater security.
Easy to use software with room for customization.
300 PVC cards included.
2. Magicard Enduro 3e Dual Sided ID Card Printer
From student ID cards to membership and loyalty cards and more – print cards to suit your needs with this efficient machine.
With full-color capabilities, get ID cards with clear pictures and texts in no time! This cheap ID card printer can be had by small and medium-size businesses as well as individuals who work by themselves.
The package includes 100 cards for printing, a simple design software, and a full-color ribbon. It takes only 25 seconds to print cards in full color. If you want to print in monochrome, you will get results within only 7 seconds. The machine uses direct-to-card or DTC technology for fast output.
With both Ethernet and USB connectivity, you have more flexibility to use your printer even from other computers. For more security, the ID badge printer adds a watermark using its built-in HoloKote technology. Choose from four patterns of globes, waves, keys, and rings at no extra cost!
The design software offers many options so that you can create ID cards with relevant information easily. You can add logos, texts, barcodes, photos, and more at your will. Pre-loaded with 50 design templates, you can also choose from among these to design your card.
Since the software is user-friendly, even beginners can use it without any fuss. The printer includes a webcam to make your life much easier. You can use it to take a photo for the ID card. Compatible with both Mac and Windows operating systems, this machine is suitable for all.
Highlighted Features:
Suitable for both monochrome and full-color prints.
Includes 100 cards for printing.
Compatible with both Mac and Windows.
User-friendly design software with 50 pre-loaded templates.
Takes monochrome prints in 7 seconds and full-colors in 25 seconds.
3. Badgy100 Color Plastic ID Card Printer
Taking care of all the aspects of printing ID cards, this plastic ID card printer enables you to seamlessly design, encode, and print these cards with zero hassle.
Making an in-house ID, photo, or any other type of card has never been easier. Use the included webcam to take photos for your cards. With 50 blank white cards included in the package, you can easily print on-demand cards without wasting time.
A full-color ID takes 45 seconds to print. You can set the machine up without any fuss, thanks to its plug-and-play technology. The instructions are clearly mentioned so that you can use it right away. It's compatible with both Windows and Mac users, giving you more flexibility.
Its unique notification feature will forewarn you about the full-color ribbon running out. Besides, it has a compact and portable design, allowing you to carry it around and place it anywhere without creating a mess. The ergonomic feature makes it comfortable to handle.
The patented software included helps you to design your cards easily with just the right degree of customization, with or without photos. There's room for signatures and barcodes. If you want to print on the other side, just flip the card.
With its internal database, you can store the information so that you don't have to key it in again for reprinting jobs.
It's a really useful machine for both small and medium enterprises. Make sure to take advantage of the free updates available to keep your printer working efficiently.
Highlighted Features:
Easy software for hassle-free printing.
Internal database storage for convenient reprinting jobs.
Mac and Windows compatible for flexibility.
45 seconds for printing full-color cards.
Free updates for increasing workflow and efficiency.
4. Fargo DTC1250e ID Card Printer
This single sided ID card printer can give you professional-quality output within minutes!
The package has all you need to get printing right away, out of the box. The full-color ribbon is equipped to give you an all-color 250 photo or membership ID cards. Since it's very simple to use the printer with its user-friendly features, it doesn't take a long time to get the printed cards.
The company also encloses 300 sturdy and high-quality PVC cards so that you don't need to rush anywhere else for the raw materials. You don't even need to tweak the size of these cards are these are completely in synch with the printer, software, camera, and color ribbon.
If you look at the software, you will see that even a kid will have no trouble using it to design ID cards. Pre-loaded with pro-looking templates, make changes in your design by easily dragging and dropping text boxes, logos, images, etc. The professional quality will amaze you!
This printer serves the ID card printing purpose well in small business set-ups, offices, and schools. In its category, it's one of the fastest printers to produce 50% more color-rich and clear visuals and texts within only 15 seconds per card.
The compact and convenient design enables you to put the printer anywhere without any space wastage. To print on both sides of the card, simply flip the cover of the card. The built-in technology can encode these cards to protect against copying and counterfeiting.
Highlighted Features:
Prints each card in only 16 seconds in full-color mode.
Easy to use technology for faster customization and prints.
Pre-designed templates for convenience.
Compact design against space wastage.
Includes 300 top-quality PVC cards.
5. Complete AlphaCard ID Card Printer Bundle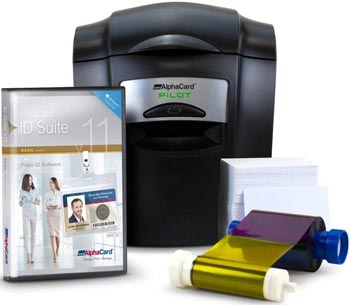 Take your business to the next level by giving out loyalty or membership cards to all those who walk into your store.
But first, you need a printer that will support your dreams of reaching the next rung in the ladder. That's why this ID badge maker machine exists! It's meant for small-scale printing jobs so that it wastes no resources while being efficient.
With 7 seconds for monochrome and 35 seconds for full-color cards, each is fed to the printer manually for individual printing. The package also includes 100 premium-quality blank cards for more convenience. These are compatible with the software and the printer. This id card printer may be compatible with 7 id card printing software we discussed in our another article.
The printer uses a dye sublimation technology to print directly on the card. The AlphaGuard watermark system is included to give your cards more security.
This is the best ID printer meant for low-volume printing output, with built-in software that has limited functions understandably. It is user-friendly especially for the entry-level users who want to keep things simple yet elegant. Remember that it is not a heavy duty ID card printer.
The software also allows barcode printing and encoding so that the information on the cards is absolutely secure and anti-counterfeit. Do keep in mind that the software does not come with an internal database. So, whenever you print, you need to key in all the required data.
Without any connectivity to Ethernet, the software does not support connection to external databases. However, it's compatible with both Windows and Mac operating systems.
Highlighted Features:
Low-volume machine for individual printing.
7 seconds for monochrome and 35 seconds for all-color printing.
100 premium-quality blank cards compatible with software and printer.
DTC technology for faster operation.
Built-in encoding for security.
6. Fargo HDP5000 Dual Side ID Card Printer
Sometimes you don't like to have a white border around the printed image or information. That's when you can buy one of these ID printing machines that use reverse transfer technology.
Besides 100 top-quality PVC cards included in the package, an easy-to-use designing software compatible with Mac and Windows, transfer film, and a full-color ribbon that can print up to 500 cards. As the printer uses reverse transfer for printing, it prints from edge to edge without leaving a border.
You can print a variety of cards using this machine – gift cards, loyalty cards, membership cards, ID cards, credit cards, and security cards. You can also print badges. This product is meant for medium-volume printing jobs. You can print both sides of the card simultaneously.
The reverse transfer printing results in high-quality and beautiful images and texts that are durable. It gives the same superior quality results on chip-embedded smart cards. The compact size makes it easy to place in any corner in your office or home.
With the user-friendly software, designing access cards and ID cards is a breeze. Choose to print with or without photos and design and encode as per your requirements. The printhead is protected from damage with the reverse transfer technology, making this dual sided ID card printer durable.
Although there are dips near the chips of smart cards, this device doesn't leave any gaps, unlike printers that use a direct-to-card printing method. That's why the images produced are sharp and have almost a 3D look.
Highlighted Features:
Dual-sided printer to print both sides at the same time.
Reverse transfer technology for sharper images and texts.
Suitable for printing chip-embedded smart cards and other types of cards.
100 top-quality blank cards included.
Easy-to-use design and printing software.
7. Magicard Enduro 3e Single Sided ID Card Printer
No need to rush out again to print membership, photos, or ID cards! Get professional output using this simple single-sided ID card printer.
It comes with the entire bundle to make life economical and easier for you. Take instant photos using the photo ID camera. Use the software included to produce amazing designs for your ID cards. Choose from monochrome or full-color options and print within 7 or 35 seconds, depending on the choice.
The printer is ready to use out-of-the-package. With easy instructions, operations have been rendered a child's play. Just plug and play to get ID card printing going without wasting any time.
Compatible with both Windows and Mac, it is fitted with an LCD screen, Ethernet, and USB ports for more convenience and flexibility in usage. For securing all the data properly, make use of the four watermark patterns that will prevent the cards from counterfeiting or unauthorized copying.
The compact size and lightweight features of the ID printer mean you can safely store it in a corner without its getting in the way. An input hopper of 100 cards makes bulk printing faster. The edge to edge printing indicates that you will not have a white border around your images.
You can print up to 5,000 cards per year on this device. It's the ideal printing solution for medium-sized businesses like universities, hotels, clubs, schools, etc.
Use this printer for a wide range of applications like access cards, promotion cards, student IDs, loyalty cards, membership cards, gift cards, and more.
Highlighted Features:
Professional, best quality edge-to-edge prints.
Hopper for printing 100 cards at one go.
5,000 card printing capacity per year.
Mac and Windows compatibility.
Plug and play operations for speed and ease.
8. Evolis Primacy Dual Side ID Card Printer
Besides membership cards and ID cards, print gift cards, access cards, and more with this convenient and efficient dual-side printer.
Included in the package are the printer, full-color ribbon, 100 high quality blank PVC cards, and design software to help you make professional-looking cards. This product is ideal for medium-range printing jobs suitable for small organizations.
It's easy to print all types of ID cards with this machine as its software is user-friendly and it produces vibrant images with its top printing facilities. With an input hopper for 100 cards, you can get quick results when you're in a hurry. Both sides can be printed at the same time at a speed of 20 seconds per side.
There is an optional magnetic stripe encoder in case you want the data on the ID cards to be secure. The USB port enables you to connect the printer to your computer for easy setup and operation. You can track the work progress by looking at the LED screen.
The software allows you to add your logo and any background that's specific to your brand. Both the front and the back sides of the card provide you with unlimited text fields. A live camera or a photo file on your computer will take care of the photo field.
Moreover, the software is simple to set up and offers the most popular design elements. There are 50 pre-designed templates or you can make your design. With a choice of 20 barcodes, choose one to suit your purpose.
Highlighted Features:
50 pre-designed templates for a wider option.
20 barcodes to choose from.
Easy to set up and install both printer and software.
100 PVC cards included.
Double-sided prints with a hopper for 100 cards.
9. Fargo DTC4250e Dual-side ID Card Printer
When you set up your business, one of the basic things you need is an ID card printer. Make sure you get one suitable for small and medium-sized printing jobs.
This product enables you to print top-quality ID cards and badges most efficiently. The package contains not only the printer but all the necessary accessories to help you start your printing project at the earliest.
There's a full-color ribbon that can print up to 250 credit card sized cards. The printer prints on both sides of the card at the same time. To get you on your way smoothly, there are 100 blank PVC cards so that you can print right away. Both sides take 45 seconds to print while one-sided prints take 20 seconds.
The compact design makes it a good device for convenient storage and use as it doesn't take much space. Make sure to keep it away from direct heat and sunlight.
With Mac and Windows compatibility, you can install and use the design software easily. It gives you the added features of 20 barcodes, 50 pre-loaded design templates, and unlimited text fields on both sides of the card.
Your print commands may be simple or complex but the smart control panel with an LCD screen on the printer makes it easy for you to adjust the settings and keep track of the work in progress.
If you want to add more security to the ID cards, choose the magnetic stripe encoder.
Highlighted Features:
Dual-side simultaneous printing.
100 PVC cards included for a speedy beginning.
User-friendly printer and software with useful features.
A smart control panel with an LCD screen for easy monitoring.
Enclosed full-color ribbon can take 250 prints.
10. Datacard SD260 Single Sided ID Card Printer
This product is the answer to simple but high-quality desktop printing requirements.
Suitable for producing batches of ID cards, this ID printing machine is food for organizations like hospitals, hotels, schools, fitness clubs, and other small to medium enterprises.
It's full of features that have been the result of industrial innovations. That's why this cheap ID printer makes desktop printing economical but professional-grade.
You will notice how fast the printer works compared to others on the same scale. It takes less time to print the same number of cards and hence, gives a boost to productivity. Its TruePick anti-jam feature doesn't jam the tray and picks up both thin and standard cards effectively, without manual adjustments.
Oftentimes the colors we see on screen do not match the printed output. In this case, however, the printer uses superior technology to ensure there's a close match between the two. No matter how many batches of cards you print, you end up with the same crisp and vivid results.
The soft-touch panel makes it easy for anyone to operate this printer for ID cards. The icons are intuitive and the LCD screen makes the whole experience easy and rewarding. The full-color ribbon has been ergonomically designed and comes with a cleaning roller in a drop-in design.
With easy to load features, you can't go wrong. Seamlessly connect to your own or third-party systems with the USB and Ethernet ports. It takes 18 seconds to print full-color and 4.3 seconds for monochrome cards.
Highlighted Features:
Economical and professional-grade prints.
Innovative and easy-to-use features for convenience.
Anti-jam technology for clean operations.
18 seconds for full-color and 4.3 seconds for monochrome printing.
Ergonomically designed color ribbon with drop-in cleaner.
11. ID Zone Badge Express IDZ-31S ID Card Printer
Getting edge-to-edge printing with a lower cost per card is the dream of anyone just starting their business of ID card printing.
With this printer, you can make your in-house cards for a wide range of businesses like hotels, motels, neighborhood clubs, and ID cards for employees and students, etc.
The entry-level printer is for those looking to print ID cards on one side with the minimum information. You will get top-quality cards with exceptional and bright images and texts.
You can print 156 full-color, one-sided cards in just one hour. That translates to less than a second per card, which is phenomenal and gives a huge boost to productivity. For monochrome cards, it takes an hour to print 720 of these.
Fitted with 80 card input hoppers and 20 card output hoppers, you can simultaneously print 80 cards with print on one side only. All the features of this product have been made for businesses of medium and small size.
To produce ID cards with clear and sharp images and texts, the printer produces an image quality of 300 dpi or dots per inch. As it is easy to use, anyone can use it to print ID cards with ease.
For superior graphic quality cards in the minimum time, the full-color CMYK ribbon is included. There are 100 PVC cards of top quality included in the bundle to give your printing job a head start.
The CloudBadging software enables teams to work together on a cloud-based workspace.
Highlighted Features:
Single-sided printer for medium and small businesses.
156 full-color and 720 monochrome cards in one hour.
Simultaneous printing of 80 cards.
300 dip resolution for clear images.
CloudBadging software for collaborative design and print work.
12. Zebra ZC100 LT ID Card Printer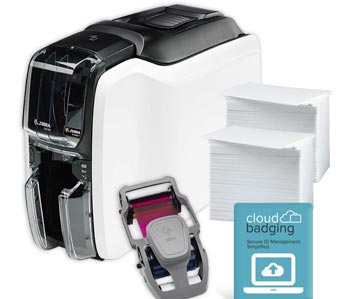 The compact design of this ID card printer is packed with innovative and useful features to give you the maximum ease and efficiency in your printing projects.
The professional looks of the printer won't make it look out-of-place in your business environment. You can place it within your reach as it won't take up all the space on your workstation. Plus, its design makes it easy to put face front in retail stores and anywhere where there is customer interaction.
The printer is easy to install and use with its plug-and-play feature. The card feeder is simple for loading the blank cards and it makes adjustments to cards of different thicknesses.
The hopper design is innovative and contributes to its simplicity. Changing the ribbon is an equally simple and foolproof step, making it the best ID card printer available in the market.
With the graphical interface, it is a matter of seconds for getting the print settings right and to control the entire process. You will get a professional quality photo ID, membership, and promotion cards every time.
The full-color ribbon can print 200 cards. 200 blank PVC cards of premium quality are also included in the bundle. The built-in advanced security feature checks the authentication of the host giving the print command to prevent any unauthorized use of the machine.
With its encryption system that equals any government-grade one, you can be sure of protecting sensitive information while you're printing ID cards. Cloud Badging software included for remote, collaborative work.
Highlighted Features:
Compact design suitable for retail and other customer-facing formats.
200 blank PVC cards included.
A highly secure system of printing and data protection.
Innovative hopper design for comfortable loading.
Automatically adjusts to varying card thicknesses.
Our Top 10 Comparison Chart For ID Card Printing Machine
35 secs for color
6 secs for mono cards

35 secs for color
6 secs for mono cards

45 seconds for color
12 seconds for mono

35 secs for color
7 secs for mono cards

Datacard SD260 Single-Sided

ID Zone Badge Express IDZ-31S
Benefits Of Using ID Card Printers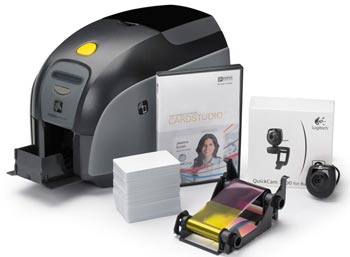 There are a few key benefits of owning a printer for ID cards which is why it's a popular machine to have. Read on to know the advantages of having one.
Economical Benefits
An ID card printer saves you the money it takes to get the cards printed from a third-party vendor. As it is a business for them, they keep an amount for their profit. You can avoid paying this by having your own machine to print the cards.
Time-Saving
With a printer, you can save a lot of time by producing cards for your employees or any other purpose. If you had to go to a vendor, there's the time involved in briefing them about the job, transportation time, and the time needed to follow up on the work.
Independence
An ID printer will save you from the uncomfortable situation of depending on someone else to take the prints and deliver them to you. You can straight away take prints after having completed the design without depending on someone else. This is especially beneficial for rush jobs.
Customization
With an ID card maker machine, you have the freedom for customization in terms of colors and printing on a single side or both sides of the card. You can easily make these customizations if you own a printing machine.
Plus, you can choose either the DTC or reverse transfer technology also depending on how sharp you want the image to be.
Top 5 ID Card Printer Brands On The Market
Bodno
Bodno prides itself on providing printers and all accessories related to ID cards that include lanyards, covers, and all. They are focused on products that serve the purpose of small and medium-sized businesses efficiently.
The company offers a range of high-quality products with an affordable price tag. Their expertise and knowledge in ID card printing are second to none.
Magicard
Established in 1992 in the United Kingdom, this company has been at the forefront in the ID printing industry. A team of engineers conducts regular research to introduce innovative and efficient products.
The organization has crossed its borders to establish offices and distribute its products in more than 100 countries. It's a trusted name in the secured ID cards sector.
AlphaCard
This organization is based in Oregon and has been in the business of providing secured ID cards and printing accessories since 1998. They have the expertise to help customers choose the right machine according to their specific needs and budgets.
It prides itself on superior customer support in the USA and abroad from pre-sales to the post-sales journey.
Card Imaging
Based in Chicago, this company was formed in 1984 and is one of the leaders in the sector of plastic card printing and ancillary services. It has successfully sold more than 1,000 fully-integrated printing services including software and materials.
The company believes in complete follow-through with customers from the beginning to the end of the purchase journey and even beyond.
Evolis
Headquartered in France, Evolis has more than 400 distributors in 140 countries. They are the expert in all things related to plastic card printing. The organization is single-mindedly aimed at making plastic card printing facilities available widely.
Their goal is to provide plastic printing solutions that are affordable but fast and on-the-spot. They are the global market leader in this respect.
Useful Tips For Taking Care Of ID Card Printers
A long-term investment needs proper care to give you more bang for the buck. Hence, follow the tips below to take care of your ID card printer.
1. Find The Right Space
Make sure the printer for ID cards is placed in a cool corner away from direct sunlight. As you keep using it, it will generate some heat. Therefore, further heat mustn't do damage to the sensitive parts that make up the machine. Choose a place with lower temperatures.
2. Handle The Print Head Carefully
This is the most delicate and most expensive part of the printer. Whenever you are changing the color ribbon, exercise caution. A light rub against the print head with your hand will cause damage even to the best card printer, leading to unwanted replacement cost.
3. Clean Regularly
If the photo ID card printer is not used regularly, you should get a dust cover for it to keep dust, dirt, or any accidental spills from damaging it. Whenever you change the color ribbon, follow up with a thorough cleaning using any cleaning solution recommended by the manufacturing company.
Frequently Asked Questions (FAQ)
1. What Are The Types Of ID Cards A Printer Can Print?
Answer: Most ID card printers can print on PVC and other cards with magnetic chips embedded on them.
However, printers that use the DTC printing method may leave gaps near the surface of the chips. This is not so if the printer uses a reverse film method of printing.
For laminated cards, some devices come fitted with lamination technology.
2. What's The Benefit Of Laminating ID Cards?
Answer: Lamination or a clear plastic film over the printed ID card increases its life span, hence saving the money required for reprinting. It also prevents the card from the effects of daily handling. Images and texts on laminated cards preserve their clarity and color as they are protected against UV rays.
3. Can You Design A Card Without Using The Printer Software?
Answer:  Yes, you can design ID cards without using the provided software that comes with the printer. There are many other design software available online for free. You can use these to design your ID cards.
4. Why Is Encoding Needed On ID Cards?
Answer: Some professions need their employee information to be very well secured. Hence, an encoded ID card has magnetic stripes that store all the information and can be read only with the help of a decoder. Therefore, no unauthorized can access such data.
5. What Is The Benefit Of Using PVC Material For ID Cards?
Answer: Polyvinyl chloride or PVC is the sturdiest type of material for ID cards. It has the feel of plastic and is not easily subject to prolonged wear and tear.
This material is also versatile in the sense you can have them either plain or embedded with magnetic chips. It's also lightweight and easy to carry around. Therefore, a PVC ID card printer has key advantages over other types.
6. Is It Better To Buy A Single-Sided Or A Dual-Sided Printer?
Answer: It will depend on the purposes you want the ID cards to serve. If you get a single-sided printer, you can use it for printing basic information like a photo with a name, an ID number, and designation which will be on the front face.
However, if you want to add more information like signatures, blood group, etc. you will need a dual-sided printer that can print on the flip side. You can also include magnetic encoding to store more information.
Conclusion
You must have figured out by now that there are many brands of ID card printers available, each with different benefits for varying printing purposes. This article aimed at giving you the basic but necessary information to enable you to pick the best ID card printer that will suit the size of your business.
Selecting a plastic card printer machine is a matter of simple but careful consideration. If you know the number of ID cards you will print every year and the amount of info needed, you automatically rule out many brands to narrow down your options.
A printer for ID cards is a simple machine but gives you a lot of financial and time-saving advantages. Once you purchase one, it is important to take proper care while changing the color ribbon and cleaning it so that the print head is not damaged. Here's wishing you a successful ID card printer shopping!
Related article that you may like: