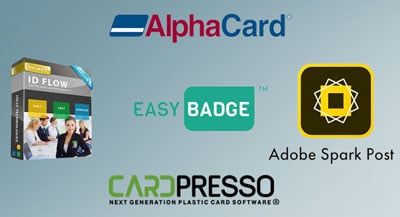 Getting a new ID card is an exciting part of landing a job or starting a new chapter of student life.
It can be one of the more effective steps you can take to inspire a new employee or student.
Of course, the main intent of issuing ID cards is to ensure the security and efficiency of all the people working for you.
To help you make the most unique official cards without compromising with either of those factors, we are here to discuss seven instances of ID card printing software for Mac and Windows. You can try any of these to create functional cards with impressive designs.
7 ID Card Printing Software For Mac and Windows
1. Adobe Spark Post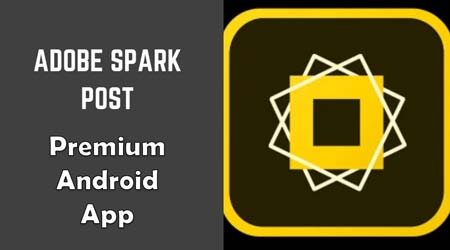 Globally renowned company Adobe has several software systems which offer you a bigger platform of creativity without compromising your efficiency.
Keeping both of these in mind, Adobe Spark was launched in May 2016 to open up more doors of designing business necessities like an ID card.
For taking a different route from the standard ID cards, you can try out their thousands of templates along with your preferred colors, fonts and images.
In addition to printing, this software will allow you to share the newly designed ID card in a digital format with others for business or bureaucratic reasons.
It can run on both operating systems of Mac OS X and Windows 7 or later. You can also use its apps on an iPhone or iPad running on iOS 8 or later.
2. ID Flow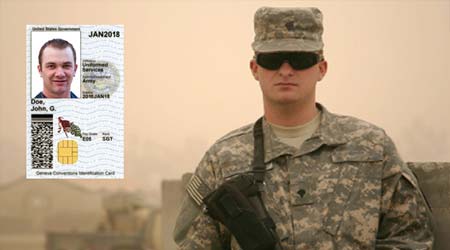 The software named ID Flow was developed by the California-based Jolly Technologies Inc. to design and print out professional ID cards. 
You can use it with a plastic card printer to print on one or both sides of the card. It supports magnetic stripe encoding, smart cards and UV panel printing.
Along with the basic information like full name and photographs, you can also use it to include data that guarantees a modern and more effective identification of your employees or students.
Such data includes biometrics like fingerprint images and signatures. It is ideal for small to mid-sized organizations.
For further security, include encoding in them to be suitable for door access control systems, as well as turnstiles. Its design can include both one-dimensional and two-dimensional barcodes.
You can use it to scan a driver's license to enter his or her required information into the designated fields automatically.
3. Card Desiree CS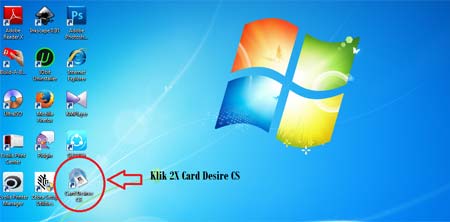 The tech company from Taiwan called HiTi developed this software to make printing ID cards easier for the users.
A major advantage of Card Desiree CS is that you can get it for free. You can use it to design both the front and the back of your ID cards through an easily understandable interface.
However, this software comes with many restrictions. The biggest one among them is how you can only use Card Desiree with the printers of the CS series manufactured by its owner company HiTi. As a result, it dramatically limits your scope of use unless you invest in a printer of that specific series.
Besides, the software does not work with macOS or Linux operating systems. It is made to be used with only Windows devices.
4. Formtec Design Pro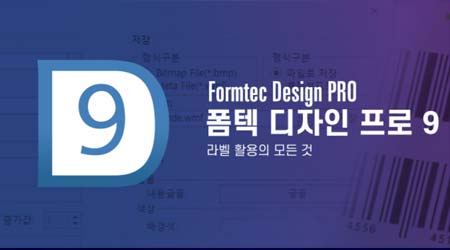 The Korean company Formtec is mainly known for manufacturing complex labels and adhesive materials.
Besides, they developed a software called Formtec Design Pro in 2001 for helping businesses and schools make their ID cards. It is another viable choice for those of you looking for a free software for id card printing.
As with most free softwares, this one too comes with a set of restrictions. For starters, it can only work with Windows operating systems and contains no clip art you can use for your card design.
However, you can include the essential personal information on it using your chosen text, geometric shapes, images and WordArt.
5. EasyBadge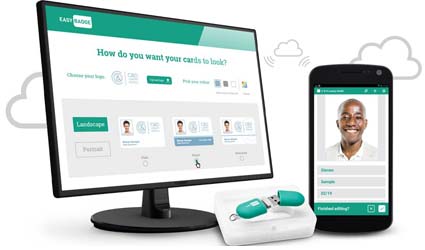 EasyBadge comes as an efficient way to materialize your ID card design ideas. It can print plastic ID badges easily through its simple interface and get you rid of all the stress!
The developers guarantee that the whole designing process will take less than 10 minutes and you can get to printing them immediately!
The procedure starts from choosing the type of ID card you need according to its purpose. Then you can choose from their templates, colors and logos, or create a completely new design all by yourself!
At the last stage before printing, import all the required information from your database or enter them one by one.
This paid software also comes with UV security overlay, built-in 24/7 support and a free mobile app.
Although it can do both single and double-sided printing, it can only print to Windows printers. It has two versions – one with a single database of 100 records and another with unlimited databases.
6. AlphaCard ID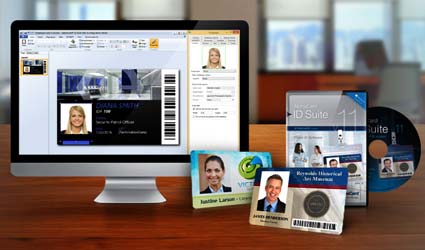 Since 1998, the brand of AlphaCard has been a reliable source of expert advice on making ID cards.
They have both software and hardware (printers) required to make an entire batch of ID cards from scratch. The software will let you design the cards and manage the relevant information of your employees or students.
There are many editions of this software depending on the number of users, the number of cards, 2D barcodes and the presence of certain advanced features like removing image background.
In the case of printing, you will need to invest in the pricier packages to do batch printing, get post-print database updates or use an automatic print server.
The cheapest package called Light only allows dual-sided printing, selective black panel supporting and printing usual materials like laser, inkjet, thermal, plastic etc.
You can try their free trials which are available for up to six weeks. They work with both macOS and Windows operating systems.
7. CardPresso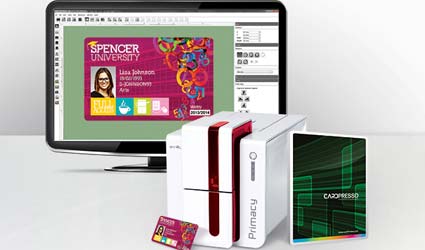 CardPresso is another great choice if you are looking for an plastic card printing software that works with both Windows and macOS systems. 
It combines the latest innovations in different fields like ID security technologies and database management to prepare ID cards with perfect functionality.
There are several editions of CardPresso ID card software including XXS, XS, XM, XL and XXL. With the later versions, you will get advantages like QR code, 2D barcodes, automatic face detection, multi-layout designs, encoding view, query records and document password protection.
While the software is available for Windows and Apple devices, many of its advanced features are only present in the Windows edition.
Comparison Chart of ID Card Printing Design Software
Final Word
ID card printing software for Mac and Windows come both free and paid. If you are running low on budget, look into free ones.
However, the features of free software are very limited and their out-of-fashion design elements may not be able to impress your potential clients.
That is why, investing in an affordable package of the paid versions might be more fruitful for your budding business at the end of the day.
Also read: