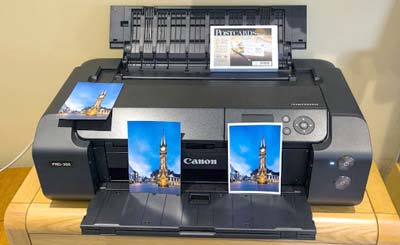 Let's face it! These days, every printer looks almost alike. That's why we, sometimes, get confused in terms of selecting the best printer for postcards.
If you're also confused about choosing the right one for printing out some postcards and aesthetic images, this writing is just for you.
Here, I'll give you a clear idea about a postcard printer, and most importantly, I'll show you my favorite picks, which I've got after doing plenty of research.
Indeed, the printing technology, connectivity settings, and some other essential features make a postcard printer different from others.
So, if you want to learn more about this device and need to get the best one, keep on reading the reviews until the last.
Our 10 Recommended Best Postcard Printers in 2021
Here, I'm going to present some of my favorite printers designed particularly for printing postcards. Do you want to know about them deeply? If yes, then feel free to start reading the reviews right now:
1. Canon Selphy 2235C001 Printer for Postcards
Do you need any introduction to know about Canon? I don't think so, and this model from Canon is already one of the most popular choices amongst the users as well as one of the bests if not the best printer for postcards.
Speaking of connectivity, you'll enjoy a lot using this one, ask me why? Well, it easily connects your tablet and smartphone with the "Canon Print App3" it gets.
And guess what? You can print anything you want directly from USB as well as from the memory card2 of your device.
I'm pretty sure the picture quality can take the wow out of your lips, the photos you'll get will be instantly dry and water-resistant, and these will look pretty awesome for no less than 100 years.
The thing that makes it stand out from the rest is the portable design it gets. You can bring this super-duper printer with you wherever you really want. And thankfully, there is an optional battery included for your convenience.
You're getting two different colors to choose from, including black and white. But I personally picked the exquisite "white" one.
Whether it is glossy photo paper, labels, or even postcards, anything can be printed out within a breeze. You're getting a paper cassette (postcard size) with 18 sheets and the resolution of print is about 256 LPC (levels per color).
Fortunately, the printer suits a 2.1 x 3.4 inches card and 2.1 x 2.1 inches square label, making it great for multiple applications. I've picked the version that includes only the printer.
But here, you can also choose the printer with ink bundle or the KP-108 ink with paper set. The range of prices will be different for sure.
Highlighted Features:
Canon Print App3 for connecting your smartphone and tablet.
Water-resistant pictures with a resolution of 256 levels per color.
Portable design and wireless feature makes it super handy.
Sleek design along with 2 different color options to catch your eyes.
Suits4.0 x 6.0 inches paper sizes postcards with multiple-sized papers.
2. HP OfficeJet 3830 Printer for Printing Postcards
Printing postcards is definitely a fun project, I personally enjoy it all. And if you also want to make it more enjoyable, having the printer from HP is essential. Let me show you what it has to offer.
With inkjet printing technology, the printer right here can do a scan, copy, fax, AirPrint, wireless printing; making it multi-functional and suitable for various projects. Even you won't have to deal with ink run out on account of its Instant ink capability.
Trust me, it won't let you down when we talk about connectivity; it lets you scan from tablet or smartphone and print from Google Drive, iCloud, and Dropbox. Feel free to print photos (lab-quality) and documents (laser-quality) from the tab or smartphone you're using.
I really want to share a unique feature of this printer that'll make you feel awesome; there is an "optional quiet mode" that aids in turning the noise level down straight away. Therefore, you won't have to face annoying noise while printing.
Along with a classy "black," it comes in a compact shape to let you adjust it in every single place. And you see, the all-in-one design makes it compatible with your shelf, desk, and other such areas.
This wireless printer is designed for printing envelopes, postcards, glossy photo papers, plain papers, and so on. With both white and black, the highest printing speed is about 20 ppm (pages per minute), making it extremely fast.
The output/input capacity is nearly 25 and 60 sheets; you can see everything on its stylish touch-screen display (2.2 mono). Additionally, you're getting a document feeder (auto), high-yield cartridges, individual photo trays, and many more.
If you're looking for some more accessories, you can go with the other available versions, such as – printer with XL ink, printer with instant ink, and printer with papers.
Highlighted Features:
It lets you connect it with your smartphone and tab for printing purposes.
Capable of doing a copy, fax, AirPrint, wireless printing, etc.
The quiet mode reduces the amount of noise while running.
 It prints photos, documents, postcards, envelops, and many more things.
Comes at a printing speed of around 20 pages per minute.
Offers high-yield cartridges, individual photo tray, and document feeder.
3. Epson Expression Photo HD XP-15000 Color Wide-Format Printer
To get professional-quality photos and postcards within minutes, you should pick up the Epson Wireless Printer without a second thought! It helps you print out card stock paper and plain papers with HD quality, the credit goes to its six vibrant color ink.
But this one has a drawback; it only works with "Epson Cartridges," which means you can't apply any other options here. I hope it won't cause any harm when it comes to printing out postcards, what do you think?
Well, the level of sound pressure is nearly 49 dB (A), making it pretty quiet and comfortable for users. Alongside the benefit, it fits almost every desktop without creating any problems, even this one is 30% smaller than the typical ones.
The unique part? It's capable of supporting two-sided document printing, plus, you're getting a front-tray that features about 200 sheets. So there is no doubt that the printing task is going to be much faster and enjoyable.
From 4" x 6" to 13" to 19," it works great with multiple types of papers. And don't worry about the ink running out, the dash replenishment system has got you covered!
The ultimate wired and wireless connectivity makes it quite friendly with IOS and Android operating systems. In addition, it delivers an Ethernet networking system as well. Last but certainly not least, its 2.4-inch LCD display lets you observe everything in a smart way. 
Highlighted Features:
Suits a variety of papers from 4 x 6 inches to 13 to 19 inches.
Six vibrant colors are included to give HD quality pictures and postcards.
It supports two-sided printing (document) and features 200 front-tray sheets.
The 49 dB (A) makes it quiet during operation.
Suitable for both IOS and Android operating systems.
Inkjet technology with Ethernet networking system are included.
4. Kodak Portable Postcard Printer
If portability is your concern, then I'd say you should consider getting yourself this one from Kodak. The name speaks of itself, it's only about 3.45 pounds, ensuring maximum convenience in terms of transferring it from place to place.
Also, you can print out your favorite 4 x 6 inches color photo instantly from smartphones. Without a doubt, it's compatible with your Android devices, as well as IOS and Bluetooth devices.
The maker of this brand has developed a unique "Kodak App," enabling you to decorate stickers, real pictures, filters, and frames in the way you really want. Besides, it lets you print out postcards anytime, anywhere!
Particularly for IOS devices, the portable postcard printer gets a lighting connector and utilizes a USB-C docking pin that's pre-installed.
The printing quality is stunning, and at the same time, it works really fast to get your job done within seconds. Users can get both bordered and borderless pictures with ease and quick.
The best part? Its 4pass technology allows you to print out lots of photos at once, and that too without much effort. Interestingly, you can take your favorite pictures out of your mobile phone through glossy photo paper.
There is no need to describe its overall appearance. I like to call it "beauty and beast," because it's both aesthetic to look and multi-functional. So I think you can consider having this one if you're in search of the best postcard printer.
Highlighted Features:
The 3.45 pounds of weight makes it portable.
It's able to print out 4 x 6 inches color photos immediately.
Works pretty well with IOS, Android, and Bluetooth devices.
Offers a Kodak App for filtering, framing, and decorating stickers.
4pass technology to produce tons of postcards at once.
Includes 10 photo sheets, paper cassette, and cartridges for 10 photos.
5. HP M15W Postcard Printer
I'm here with another postcard printer machine from HP. The maker claims that it's the World's tiniest printer (laser) when we compare it to the similar options available. The little bomb is almost 35% smaller than the traditional printers out there.
Despite being small, it can easily print around nineteen pages per minute, and the first page you'll get within 8.1 seconds or so.
Like my earlier choices, it also enables users to scan or print something from smartphones and tabs; besides, it works great with Android, IOS, and Dropbox.
The wireless capability allows you to print, access, and share some essential resources on a particular network. The output/input capacity is about 100 and 150 sheets, making it far better than the typical models.
Measuring approximately 13.6 x 7.5 x 6.3 inches, it fits perfectly with almost every area. Most importantly, it assists in saving energy with its Auto Off-On technology. This feature makes me a big fan of this model!
Speaking of printing media, the printer works for plain paper; getting postcards will be a piece of cake with its advanced laser printing technology.
I like this printer very much from the overall shape to the beautiful "white" color. But if you think this single printer isn't enough for you, ensure to go with another version that packs a Black Toner additionally.
Highlighted Features:
Compared to the traditional printers, it's almost 35% smaller.
Creates a connection with IOS, Android, and Bluetooth devices.
Automatic on/off technology to increase the printer's longevity.
Capable of printing 19 pages within a minute.
Laser printing technology lets you create postcards with ease and quick.
6. Epson PictureMate PM-400
Epson is one of my favorite brands when it comes to printers. And this makes me interested in picking up another model from this masterpiece – the compact wireless printer.Multi-functional, stylish, lightweight, you name it, this one right there comes in an ultra-compact design, allowing you to keep it everywhere. That's why it's pretty well-known for saving space.
The postcard printing machine is only compatible with Epson cartridges, so, unfortunately, you can't use any third-party ink to print out 4 x 6 and 5 x 7 inches color photos, which will last about 200 years.
But definitely, you'll like the picture quality the printer shows off. It lets you get a borderless photo within 36 seconds or so, ensuring maximum speed to complete your task quickly and efficiently.
Most interestingly, the photos you'll get from it will be water, fade, and scratch-resistant. Be sure to print your postcards and necessary pieces of paper from iPhone, iPad, smartphones, and tablets. With an excellent white color, the printer comes in a sleek design to catch your attention, especially if outlook matters a lot to you. Overall, it's fantastic!
Highlighted Features:
With an ultra-compact design, it comes in a lightweight structure.
5 x 7 and 4 x 6 inches color photos last for longer; up to 200 years.
Allows users to get a photo (borderless) within just around 36 seconds.
Compatible with IOS and Android operating systems.
The modern sleek design with a classy white color makes it quite beautiful.
7. Xerox Multi-functional Postcard Printing Machine
On number 7, I'm going to present a versatile piece of printer from Xerox that's relatively compact, lightweight, and most importantly, it can do both copies, scan, print, as well as wireless printing to ensure a better performance.
From small and medium business to home office with 1 to 5 persons, it's ideal for such places to work without facing much of a problem. It can give you a single printed page within around 8.5 seconds.
The point to be noted, it can smoothly print around 31(black and white) pages per minute, making it super-fast in terms of delivering photos, postcards, and stuff like that. With laser printing technology, it mainly suits plain papers best.
From now on, you can keep on your printing task more securely from your personal laptop, mobile device, or even desktop with the assistance of the Google Cloud Print, AirPrint, and Android support.
Here, I'm going to show you a unique part of this printer, ask me what? The versatile printer reduces environmental impacts dramatically with some of the essential features, such as Green World Alliance, EPEAT, Toner Saver, and much more.
The built-in WIFI direct gives you a secure connection from the printer to other devices. Consequently, anyone can print anything without the help of a specific router. Printing from USB is permissible as well if you get yourself the post card printer.
Highlighted Features:
Capable of doing both copy, scan, and wireless printing.
Ideal for home office and small business.
Gives 31 pages per minute (black and white).
Suits AirPrint, Google Cloud Print, and Android support.
The built-in WIFI gives you a better connection from printer to smartphone.
8. Postcard Making Printer from Victure
Let it be your office or even your home, you can print some color photos and postcards anytime with the Instant Photo Printer from Victure. Just take a look at this little boy; it seems to be so cute and I personally like this one very much on account of its compact and tiny size.
Have a look at the name "instant photo printer," it's capable of delivering 4 x 6 inches color photos within seconds. Plus, this printer offers a downloadable "instant color app," which allows you to beautify your lovely pictures with card templates, filters, stickers, collage maker, etc.
You can keep on your printing pretty smoothly by connecting it with a specific Bluetooth device. Also, the portable printer ensures a better connection with the Android and IOS operating systems.
The name "portable" suits best with this little printer. It's only about 3.12 pounds, making it extremely lightweight and easy to transfer from home to office. And guess what? It eats up a small space as well.
Let me tell you something more about its picture quality. It lets you get waterproof, fade-proof, and tear-resistant pictures, ensuring that the photos you're going to get will be more durable and more long-lasting!
Highlighted Features:
Delivers 4 x 6 inches color photos within a shorter period.
Extremely portable and suits small areas perfectly.
Gets Android, IOS, and Bluetooth compatibility.
The printer gives fade-proof, tear-resistant, and water-resistant photos.
Offers power adapter, cord, paper cassette, and user manual.
9. KODAK Wireless Instant Printer
On the list of the best printer for printing postcards, my next model is brought to you by KODAK. It really helps you print some colorful photos without the assistance of cartridges, ink, and toner; the credit goes to the ZINK Zero Ink Technology it comes with.
The digital printer lets you make printing, editing, and sharing your personal mobile phone pictures. With wireless technology, it uses zero ink to print out 2 x 3 inches (sticky-backed paper) photos.
Its trendy "pop-open" design along with the pleasing green color makes it stand out from the rest.
However, if you think you're looking for something different in terms of colors, then you can go with the other available options out there, including white, black, and red.
Unlike the typical printers, it is much compact and lets you adjust it to almost every little surface without taking a lot of space. The weight is another plus point of this little product. It's just around 1.0 pounds, making it one of the most lightweight printers I've seen so far!
Don't worry about connectivity, it's highly compatible with your Android, iPad, iPhone, and other smartphones. Alongside the benefit, you can open a specific app designed by the manufacturer of this brand. It aids in correcting colors, adding frames, cropping, and stuff like that.
In just a single charge, you can make 40 prints at once. Besides, this little piece of stuff requires no more than two hours to get entirely charged. And good to know, it's just a single printer at a fair price range.
But if you think you can pay some extras to get additional accessories with the device, feel free to check other alternatives, such as – printer with gift bundle, printer with starter bundle, or paper bundle (50-pack).
Highlighted Features:
Zink Zero Ink Technology removes the requirement of using ink.
Offers 2 x 3 inches photos (sticky-backed paper) without taking hours.
A unique pop-open design with exquisite color options.
It comes in a compact shape with a weight of only 1 pound.
The smile printer takes about 2 hours to get charged completely.
Suits IOS, Android, Bluetooth, and other smartphone devices.
10. Canon TS6120 Commercial Postcard Printer
Well, now I'm going to wrap up the comprehensive list with a commercial postcard printer from Canon. It's designed to inspire your creativity when we talk about printing tons of photos and postcards.
No need to compromise on quality and speed; all you have to do is put the specific ink system (5-color) to work and that's all. The masterpiece can smoothly make borderless printing (5 x 7, 4 x 6, and 5 x 5 inches photos) and requires plain papers specifically to get the job done.
3-in-1; this is why I like to call it a multi-functional printer. Not only it's designed for printing, but it also can be used for scanning and doing copy at the same time.
Just make sure to connect the device with your smartphones, which can either be Android, IOS, or even Bluetooth. So let it be the Bluetooth4, Cloud5, social media2, or anything else.
Here, you'll find a built-in touchscreen LCD display (3.0 inches) that allows you to choose what you require. And guess what? The total weight of this printer is only about 2.0 pounds, ensuring better portability.
Thankfully, it suits every single place in your house with its compact design. Talking about the colors, you're getting two different options to choose from; black and white.
Ink bundles, ink, and paper bundles are selling by the makers separately. So, you might have to pay extra euros if you want to get them along with your printer, now the choice is yours.
Highlighted Features:
5 individual ink-color system to work with efficiency.
Provides 5 x 7, 4 x 6, and 5 x 5 inches borderless printing.
Comes in a 3-in-1 technology for doing both copy, printing, and scanning.
Compatible with Cloud5, Bluetooth4, and social media2.
Relatively compact and only 2 pounds of weight for portability.
Postcard Printer Buying Guide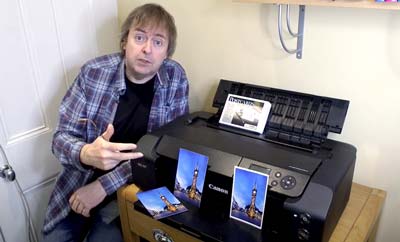 I think things are getting too complicated when it comes to purchasing the best postcard printer. The current market gets over hundreds of different printers, but unfortunately, all of them aren't ideal for printing quality photos and most importantly, postcards!
So, without paying attention anywhere else, be sure to read the buyer's guide where I've added a couple of essential things to consider. Let' get started!
Connectivity
Without a doubt, the best postcard printing machine will let you connect your printer with almost every single device, including IOS, Android, Bluetooth, etc. So if you get your hands on the one that's unable to make a connection with these sources, then this printer isn't the right option for you.
Printer Size
The overall size really matters when you're in the shop to get a postcard printer. A printer with huge weight can't be transferred from place to place. So, if you're searching for something that lets your print out pictures and postcards on the go, having a compact-sized model is very important.
Wired vs. Wireless
In this case, the wireless one deserves the crown! It helps you operate your printer anytime and anywhere. So let it be your own house, office, or even outdoor, printing postcards and some other essential things will be just a snap!
Versatile
Versatility matters a lot, especially if you're wondering about getting a piece of printer for not only printing but also doing a copy, scan, etc. I always suggest having a multi-functional printer. It makes sure you do printing photos or postcards and scanning important photos & documents.
Printing Speed
What will you do with a printer that prints out photos and postcards at a snail's pace? It'll be a real bummer when you need to print lots of postcards within a shorter period.
So, I feel pretty safe and comfortable using a printer that gives me documents and pictures within no time. And hope you're also searching for something like this, right?
Well, the list is loaded with a couple of models, which can be your go-to option if speed is your concern.
How to Print Postcards at Home?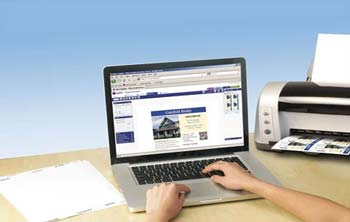 Printing postcards isn't rocket science! However, if you're not familiar with the knows-hows, it might be challenging for you to perform the specific task at home. So, let me show you all the instructions you need to follow:
Step-1: Creating a Piece of Document
Be sure to print a postcard that's around 4 inches long and 6 inches wide. It's the perfect size according to me.
Step-2: Including Photos, Clip Art, and Text
Move on to the insert option of the "word processing software." Feel free to fill the whole space of your card with message or image. All you need to do is drag and click the little squares at your image's corner to increase the size.
Step-3: Printing the Postcard
Usually, card stock is a bit thicker compared to computer papers. So, adjusting the particular setting becomes essential on your postcard printer. In that case, make sure to open the printing option, choose your desired paper type and properties.
Afterward, pick up the card stock option and press "ok."
Step-4: Cutting the Card Stock
Ensure to cut the piece of card stock at a size of 6 x 4 inches (rectangular) through a scissor.
Step-5: Using the Postcard
In order to write down an address or a message, you can pick the blank side of your postcard if you want. You should select the center part of your card to draw a line right away with a pencil or pen.
Picking up the right side for the address and the left side for the message will be a good idea to create a layout of postcards.
Frequently Asked Questions:
What's the right way of printing photos from my social media page?
Pretty simple; choose a printer that offers a specific "app" along with the device. It'll let you access pictures and other stuff from your social media page, for which you can print, save, or even edit them.
Is it really necessary to replace the battery if I'm using a wireless postcard printer?
Not at all! A printer with wireless technology offers a rechargeable battery, which means you won't have to change the battery when it gets low. Just make sure to recharge it immediately for the next usage.
Which one should I pick if portability is my concern?
Thankfully, most of my picks are equipped with a small frame and lightweight structure, but if you're looking for the most portable one, be sure to get yourself the KODAK RODSMMPGNAMZ since it's only about 1.0 pounds for users' convenience.
Are postcard printers expensive?
It depends on your purchase. Frankly speaking, some of my choices cost a bomb. But fortunately, I've got a couple of models as well that you can get without spending a fortune.
So make sure to get a postcard printer from my comprehensive list depending on your budget.
Final Words
If you, unfortunately, choose the wrong tech, it'll be nothing but a pipe dream to think about printing postcards and essential documents or pictures.
So I'd suggest getting any of one from my list of the best printer for postcards. Each and every model I've picked are from well-known brands, and these will definitely help your get your desired postcards and photos effortlessly.
However, if you want my opinion, I'd give my thumbs up to Canon Selphy 2235C001.