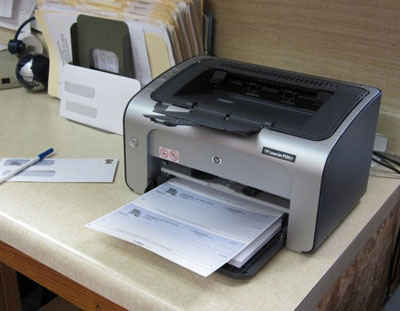 If your business involves plenty of dealing with vendors, then you probably need to hand checks out to them frequently.
Sometimes you may forget asking your bank to issue checkbooks to you. This can be an untoward situation especially when you have promised someone to pay them.
Instead of relying on your bank or ordering checks online, your business can run smoothly with a printer for printing checks. Depending on the volume of printing, you can choose a small or large size with high or moderate printing speed.
As there are many brands of laser printer for check printing available in the market, how would you pick the best printer for printing checks that suits your needs?
There are quite a few factors to consider before you buy the printer. To give you all the relevant information and details to help you make a good purchase decision, this post covers all that there is to know about check printers.
Dive in to get the important bits that will enable you to make a winning choice.
| | | | |
| --- | --- | --- | --- |
| | Brother HL-L2340DW Compact Laser Printer | | |
| | Renewable Toner Laserjet M15w Check Printer | | |
| | Renewable Toner ImageCLASS LBP6030W MICR Check Printer | | |
| | Brother Compact Monochrome Laser Printer | | |
| | HP Laserjet Pro P1109w Monochrome Printer | | |
Top 9 Best  Printer for Checks Reviewed in 2021

1. Brother HL-L2340DW Compact Laser Printer for Printing Checks
A business owner running their enterprise from home or small office needs to keep a sharp eye on cost-saving activities.
To help you do so, this compact laser printer is here to occupy very little space on your desk in your home office.
Expect sharp, clear, and professional-looking prints with a resolution of 2,400 by 600 dpi. Get your spreadsheets, multiple-page reports, invoices, and other documents printed at a high speed of 27 pages per minute. The duplex feature enables automatic printing on both sides to save paper.
For the ultimate flexibility, you can take prints from anywhere, anytime as the wireless connectivity allows remote printing using software that's compatible with your device. The USB port allows printing from any computer.
Fitted with an adjustable tray, the printer has the paper holding capacity of 250 sheets of letter or legal size. Plus, you can print letterheads and envelopes also using the manual paper feeder.
The LCD screen on the product makes navigation and selection from the menu a matter of seconds. It also helps to set up a wireless connection easily. A wide range of connectivity is available – Blackberry, Apple, Windows Phone, Kindle Fire, and Android.
The square design of the printer along with the business-friendly features makes it the best printer for checks for small business owners. It's reliable and versatile, ensuring you never lose time in printing important documents.
Easy to set up and connect to multiple devices, the device affords all possible ways of printing.
Highlighted Features:
 2. Renewable Toner Laserjet M15w Check Printer
If you think the most efficient printers use the most energy, think again!
Coming from the house of Hewlett Packard, this is the most energy-efficient laser printer for printing checks that does not compromise on the print quality.
The world's smallest laser printer can sit pretty in any corner of your home or office without taking up much space. Easily portable, you can take it along with you anywhere.
With MICR fonts and a compatible check printing software, the productivity and efficiency of your business processes will reach new heights. However, you need to buy MICR fonts and software separately.
The printing speed of this device is 18 to 19 PPM, enabling you to speed up the printing process and lose no time. The print quality of this dedicated check printer is professional-grade and the clarity is exceptional. You will have no complaint regarding check validity or acceptance.
You can take prints anytime, with or without a network. While a network can connect multiple devices to the printer, you can use the built-in wireless connectivity feature to print remotely using your phone or tablet with Wi-Fi Direct.
The standard yield is 1,000 pages. You can print 3,000 checks with 3 on each page. Users have recommended to let the machine cool down after printing 40 pages.
The package includes besides the printer, a pre-installed MICR toner, and a power cord. With detailed instructions enclosed, setting up the printer can be done in no time.
Highlighted Features:
 3. Renewable Toner ImageCLASS LBP6030W MICR Check Printer
A bundle deal is always the best deal and you can expect no less in this one!
Along with the dedicated black and white check printer, this bundle offer includes a compatible MICR toner cartridge to enable you to print volumes of checks from the comforts of your office or home.
The professional-quality printing ensures your checks will be accepted and never be questioned about validity or authenticity. That's why the magnetic ink is of the highest standards to make sure your checks never bounce due to any doubts regarding genuineness.
With a standard yield of 1,600 pages, the printer can give an output of 4,800 checks with 3 checks on each page. The printing speed is 19 pages per minute, guaranteeing your work is expedited and there is faster processing.
The 600 X 600 dpi resolution gives sharp and clear output every time, hence there won't be any confusion about the special characters and digits at the bottom of the check.
The 5,000-page monthly duty cycle is enough for you to print plenty of checks every month. With a front-loading paper tray, it's very convenient to feed paper to the tray that has a capacity of holding 150 sheets.
Easy to set up, taking prints is equally easy. You can print from your cell phone or tablet through the use of an app. Thus, you are not restricted if you are not connected to a computer.
Another convenient feature is the Simple Solution keys that remember the most used functions.
Highlighted Features:
 4. Brother Compact Monochrome Laser Printer For Checks
When you have a high volume of printing to be done regularly in a busy office environment, you need additional features in your printer to make your workload light and help you work smarter.
That's why this printer comes with a flatbed scan glass to make copying and scanning easily accessible to you. The high-class print quality of the device, along with features like wireless connectivity and high printing speed makes it the best printer for printing checks from QuickBooks.
The print speed of 32 pages per minute certainly bumps up your efficiency and with the capacity of the paper tray to hold 250 sheets so that you need less refilling, you save precious time.
Tedious chores are minimized when you have this device. It handles both letter and legal sizes of paper as well as other sizes so that you can get professional output on envelopes and other official documents. The feed slot for paper is manual, giving you more control over the output quality.
The quality of output is clear and of high resolution so that there is no difficulty in reading the document. Even if you are away from the office network, you can still give the print command from your mobile devices, thanks to the built-in wireless connectivity.
The USB port makes it simple to connect it to any laptop or computer to get printouts.
You can save paper with its duplex printing feature and also save money by using the toner in the Save mode.
Highlighted Features:
5. HP Laserjet Pro P1109w Monochrome Laser Printer for Check Printing
When using the available space optimally is on your mind, get this super-sleek and industrial-grade printer!
The compact design with a width of only 14.4 inches can fit anywhere in your office or home without creating desk clutter. The space-saving design leaves you with more room for accommodating other necessary items.
No need for cables for printing as you can connect to the device wirelessly from your phone or tablet. Suitable for 1 to 5 users, this machine will improve team efficiency.
Pump up your productivity with a high printing speed of 18 pages per minute for A4 sized papers and 19 PPM for letter-sized ones. The Instant-On technology starts and ends printing jobs without causing delays.
The paper tray can input 150 sheets and give an output of 100 sheets. The monthly duty cycle lies within a range of 250 to 1,500 pages to give you enough room for maximum printing.
Green technology is clean technology and that's what this product embodies. It has energy- and paper-saving features to decrease wastage. Its Smart Print feature prints only what you want to print without wasting extra ink or paper. The automatic on/off feature ensures you don't waste power.
With the wireless connectivity feature, you can connect the printer to your handheld devices and take prints whenever you need to. This lifts all restrictions and gives you more freedom and mobility.
The 1200 resolution provides clear and sharp texts and images that can't be missed.
Highlighted Features:
6. HP Color LaserJet Pro M283fdw Printer
A color laser printer packed with business-friendly features is what it takes to get your productivity to the next level.
The all-in-one printer features copy, print, scan, and fax utilities so that you don't have to go out or to another machine to get all the jobs done.
Save paper with the automatic dual-side printing feature. With a high printing speed of 22 pages per minute, taking prints of multiple-page reports and other documents can be done in minutes. The paper tray has a capacity of 250 sheets so that you need it to be refilled fewer times, hence saving time.
The HP Smart app enables you to set up, scan, get notifications, and take prints remotely using your mobile handheld devices. Therefore, you get the desired flexibility of moving around without your work getting hampered. Moreover, special features get your documents in order 50% faster, saving your time.
Wondering how to connect wirelessly? The dual-band Ethernet and Wi-Fi networking feature on the printer makes it a breeze! You get the same consistent performance every time.
No need to worry about security issues regarding confidential documents as the built-in security features in the machine take care of that and give you peace of mind.
With the 2.7-inch color touchscreen, navigating, selecting from the menu, and giving print commands become a much easier job.
The novel JetIntelligence feature ensures the toner is put at its optimum use without wasting any ink. You get professional-grade and clear prints along with anti-fraud technology.
Highlighted Features:
 7. VersaCheck HP Deskjet 1112MX - MICR Printer
When you need just a dedicated check printer with no frills, this compact machine will do the job for you.
The inkjet color printer is white and its compact design has been engineered keeping in mind the space constraints faced by small business owners.
To enable you to print checks with full validity and authenticity, the printer comes with MICR ink, guaranteeing that your checks will not be rejected. Moreover, the kit includes Versa Check presto software so that you can download it and start printing immediately. Even the check papers are included.
Besides printing checks, you can also take prints of other types of documents and images. The paper tray can hold 60 sheets of paper.
For quick printouts, the printing speed is 7.5 pages per minute for black and white and 5.5 pages per minute for color printouts.
This printer cannot be connected over a wireless network so that you can be sure about the security of your checks. There is little or no chance of fraud with this machine as it cannot be accessed remotely.
Windows, Apple, and other operating systems are compatible with this printer. With 1200 dpi, you will always get bold and sharp text and images printed. The monthly duty cycle is sufficient for your needs – 1,000 pages.
Highlighted Features:
 8. Renewable Toner Phaser 3260DI Wireless Monochrome Laser Check Printer
If you have a small team of colleagues who need to print checks in a hassle-free way, you could opt for this machine.
It's a monochrome laser printer dedicated to printing checks. The small size of it makes it ideal when you have a small office space or you need to put it on a desk in your home.
The MICR toner cartridge included in the bundle offer has a specially crafted toner to ensure clarity and bank acceptance.
With a printing speed of up to 29 pages per minute, you are guaranteed of quick printing. Also, this does not compromise the quality of the output as you get 600 X 600 dpi resolution.
This small but efficient machine is one of the best check printers when it comes to keeping your expenses at bay. Another super-saving feature is the duplex printing that allows you to print on both sides of the paper, thereby preventing wastage and being conscientious about the environment.
You can print them at your convenience using devices enabled by WiFi. You don't even need a current wireless connection to do so. You get the maximum flexibility as you can do remote printing from your cell phone.
The standard yield is 1,500 pages and with 3 checks on each page, you can print 4,500 checks.
The check printing software and the MICR fonts need to be purchased separately.
Highlighted Features:
9. VersaCheck HP Deskjet 3755MX, MICR All-In-One Printer
All-in-one printers are multifunctional and occupy a lot of space, right? Wrong! You get all your printing, scanning, and copying needs fulfilled by this super-compact inkjet printer!
At only 5.13 pounds weight, not only does it save space in your office or home, but you can also carry it with you easily if the need arises. Print away four-color checks with the MICR ink and you don't have to worry about validity or acceptance by banks.
The built-in wireless connectivity is there to give you the option of printing from your handheld devices. As the check paper and compatible software are included in the package, you have no reason not to start printing instantly and waste no time!
The 60-sheet input tray has just the right capacity to prevent frequent refilling. Thus, you get to save more time.
With this printer, there is a wide range of paper types that you can print on – glossy brochure paper, plain paper, matte brochure paper, envelopes, photo paper, and other types of specialty paper.
The color or monochrome printouts have a bold and clear output with up to 1200 X 1200 dpi resolution. The printing speed is 8 pages per minute for black and 15 pages per minute for color prints. The duplex printing option is manual and prevents paper wastage.
Besides check printing, this machine can also be used to print normal documents. Just remember not to use the MICR toner cartridge when you do so.
Highlighted Features:
Top 9 Printing Checks Comparison Chart
| | | | |
| --- | --- | --- | --- |
| | | | |
| Renewable Toner Laserjet M15w | | | Cell |
| Renewable Toner ImageCLASS LBP6030W | | | |
| Brother Compact Monochrome Laser Printer | | | |
| | | | |
| | | | |
| VersaCheck HP Deskjet 1112MX | | | |
| Renewable Toner Phaser 3260DI | | | Cell |
| VersaCheck HP Deskjet 3755MX | | | |
Check Printers Buying Guide
Type Of Printer
You could opt for a normal inkjet printer that is widely used for office purposes to print different documents. As long as you are using MICR toner when printing checks, any type of printer can take prints.
If you want to use a printer for printing checks only, you can do that too. Just remove the MICR ink when you want to use it for printing ordinary documents as these won't need the special characters printed at the bottom.
Efficiency
Some printers feature efficiency features like saving paper, energy, and ink by offering automatic on/off or double printing facilities. Before buying a printer for checks, you may want to look at such features as these translate into long-term savings for you.
Connectivity
Printers come with connectivity features like a USB port, WIFi connectivity, connection through the office network, etc. These make it easy to print checks from anywhere, anytime.
Since printing checks also need to be a safe and secure process, you may not want a printer with wireless connectivity as you would not want just anyone to connect to it. Hence, check the security features that the printer offers before buying one.
However, if you want access to your check printer from anywhere to give you more flexibility, then you should choose one with wireless connectivity.
Size Of Printer
Both large and small printers come with their pros and cons. While the small ones are handy, can be portable, and take up less space, they won't necessarily have the value-added features that make them efficient.
On the other hand, the large size of printers offers more efficiency features and bigger cartridges. However, they can occupy a large share of office space, especially when the paper trays are open.
Print Resolution
Dots per inch determine the print resolution or how sharp and clear the print quality is. Try to choose the best printer for checks in terms of resolution. A high resolution will enable your checks to have clearly printed details on them and look professional.
Software Compatibility
The software that you are planning to use to design and format your checks must be compatible with the printer. All printers are not compatible with Mac and Windows operating systems, so you should find out about the software compatibility before you purchase.
Number Of Trays
If you plan to get a large printer, most likely it will come with multiple trays for holding sheets of paper of all sizes. Some printers also have a bypass tray that holds thicker paper like card paper. These trays feed such paper to the printer without folding them.
Speed Of Printing
If your office needs to print a large volume of checks and frequently, then you should get a printer with high speed. The printer speed is measured in lines per second or pages per minute. A laser printer with high speed can print 20 to 40 pages per minute.
For light to medium frequency and load of printing, you can go for a printer with moderate speed. This is especially applicable if you are going to use it for personal purposes.
Duty Cycle
The duty cycle of a printer refers to the maximum number of prints it can take per month. Going beyond this stated maximum could damage the machine. Choose a printer with a duty cycle higher than your forecast so that even if your monthly prints are higher than your expectation, it will still be within the recommended limit.
Prints Per Cartridge
Although the number of prints per toner cartridge is an estimated number, still you should check this number before buying a printer for printing checks. This should give you a hint of how often you need to change the cartridge although it should not be too often.
Quality Of Ink
Besides having an impact on the quality of the print, the ink quality is key to the validity and security of your checks. Hence, make sure you choose MICR toner or magnetic black ink.
Ease Of Use
The printer of your choice must be easy to use. Some features make it easy to operate the printer like a hands-free automatic document feeder that frees up your hands so that you can do other jobs.
Other such features include an automatic feature for printing on both sides of the paper.
Many printers also come with an app that you can download on your cell phone and print with it remotely.
Quiet Mode
If you are going to use your check printer in an office environment, it mustn't have a high noise level and create a disturbance. Check if it has a quiet mode to be switched to while taking printouts. Or, it may have a way to reduce the noise level.
Extra Features And Functionality
Extra features like storage media in the form of USB ports and memory cards enable you to print without a computer. Printers can come with fax and scanner to save time, cost, and space. You should choose such a printer only if you can use all the features and functions efficiently.
Printers with auto document feeders can save your time as they can quickly fax, scan, or copy multiple documents. If you need a printer for a busy workplace, such features will increase work productivity and efficiency.
Safety Issues That You Should Follow While Printing Check
Getting the best printer for printing checks is not enough. How you're making use of the versatile features is also equally important.
Safety issues regarding check printing can be physical as well as related to security. Read on to know more about both.
Physical Safety Issues

Security Issues
Frequently Asked Questions (FAQs)
1. Why Do I Need A Specialized Printer For Printing Checks?
Answer: There are several advantages if you use a specialized printer for printing checks. To make sure your checks are valid, a printer to print checks is enabled with security features that are accepted by the industry.
Secondly, you don't need to design the layout every time you want to print checks. These check printing printers are compatible with the software that you are using in your computer, allowing you to format the layout and hence, saving time.
Another way that it saves time is by enabling you to print multiple checks within a short time.
Moreover, the Federal Reserves should recognize the checks you print yourself. The only way to ensure that is if you have a MICR printer that uses this specific toner or ink.
2. What Is MICR Ink And Why Should A Check Printer Use It?
Answer: The extended form of MICR is magnetic ink character recognition. MICR toner is special as it prints characters on the lower part of a check or any other document used for negotiation.
It's important to use a check printer with MICR ink because it is valid and accepted by the Federal Reserves. Moreover, a check printed with a MICR printer has fewer chances of getting rejected. Also, it adds authenticity to the check and removes the chances of any fraud.
3. Can I Print Checks With An Inkjet Printer?
Answer: Yes, you can print checks using your inkjet printer. All you need to do is use MICR toner or ink to enable the characters to be printed on the bottom of the check to ensure validity and security. Therefore, your inkjet printer should be compatible with the MICR toner.
4. Can I Use The Check Printer For Normal Printing?
Answer: Yes, you can print other documents with a check printer as long as you are not using the MICR toner or ink. That's because you don't need special characters at the bottom of your normal document.
Moreover, it's smarter to save the MICR ink for your checks only. Therefore, use a normal toner when printing ordinary documents.
5. Why Should I Print My Checks?
Answer: There are many advantages to printing your checks. Instead of buying them, you can print your own if your business needs to give checks regularly and you use them often.
Plus, this is a more efficient way of keeping track of your financial transactions and accounts. The software will keep a record of the checks you are printing. As you deal with different third parties, printing your checks helps to be more efficient as the software handles these different accounts seamlessly.
Last but not least, you can save time as you don't need to fill in the checks manually. They come out all ready and printed.
6. What Are The Most Popular Software For Printing Checks?
Answer: The top software for printing checks in your home or office includes Online Check Writer, Checkbook, Checkeeper, CheckBuilderPro, and Print Checks Pro.
Conclusion
Printing checks not only saves time, but it also gives you more control, and the software can keep a tab on your transactions and maintain a proper record. Thus, you are getting a lot more services than just a simple printout.
To choose the best printer for printing checks, determine the volume of prints your company needs monthly. Then you can figure out the speed, duty cycle, and other factors that come into play when you're in the market for this device.
Other Accessories That You May Like: